Since I already posted my 8 reasons you might want to do a staycation post you already know that we decided to forgo a traditional vacation this year and do a staycation instead.  We had several reasons but the main one was that our kids are not good car riders and the thought of a 4, 8, 12, or more hour drive somewhere for vacation did not sound appealing at.all.  We decided instead to stay home and do a staycation.
Friday – Sunday
The first weekend of staycation was kind of a wash.  Hudson, Michael and I all got some sort of stomach thing but poor Hudson had it the worst and threw up for the second time in his life.  (I had just started making my own water kefir and we had all started drinking it…I'm guessing that threw our stomachs off and I think that's why we all got some degree of tummy trouble).  I was super bummed because I was already kind of unsure of if a staycation was actually going to feel like a true vacation and then here we were kicking it off cleaning vomit up off of everything.  But trying to keep it positive I knew that at least we were in the comfort of our own home and not having to put off travel or deal with this at a hotel.
Monday
Hudson wasn't 100% by Monday and we didn't want to travel over an hour to our first day trip with him still being iffy so we took another day to just stay home, rest, watch tv, and read.  But when Tuesday rolled around we were ready to get going!
Tuesday: Louisville Zoo
We finally got to really start our staycation and we kicked it off with a day trip to the Louisville Zoo.  That's about an hour and a half from us so not a terrible drive.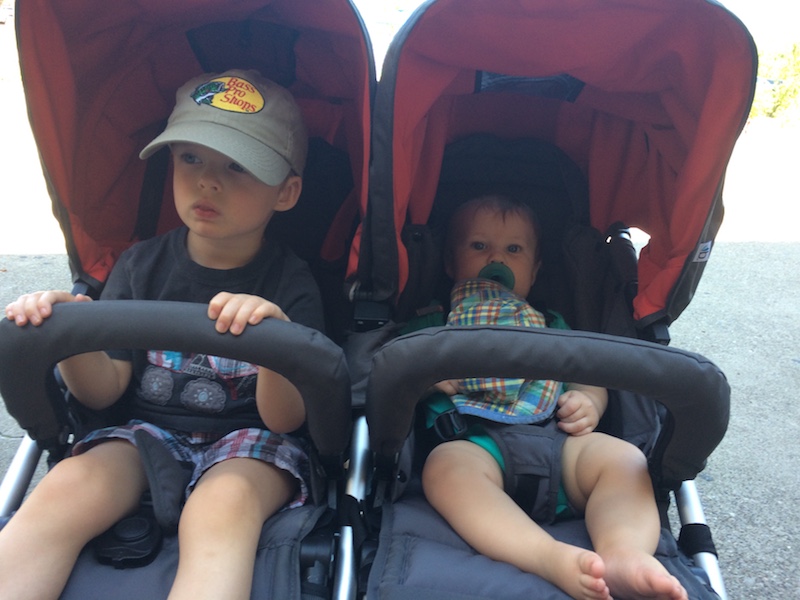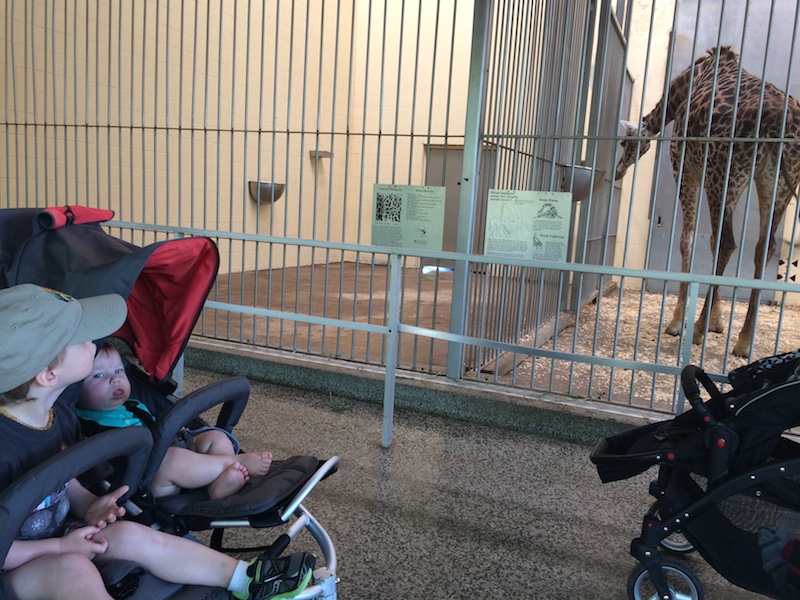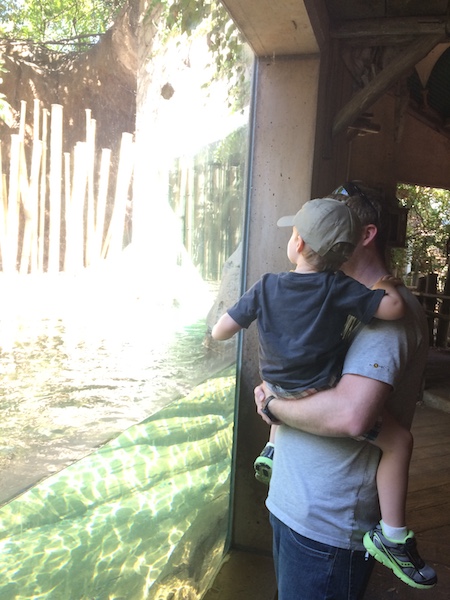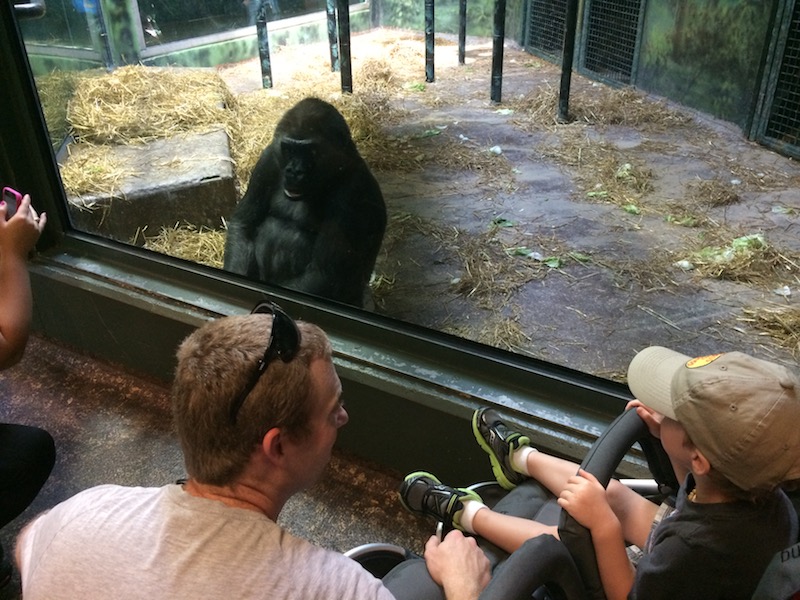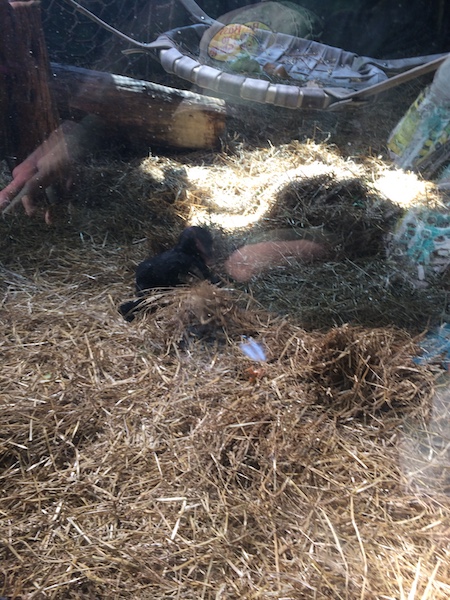 This tiny baby had just been brought to the zoo and it was so adorable!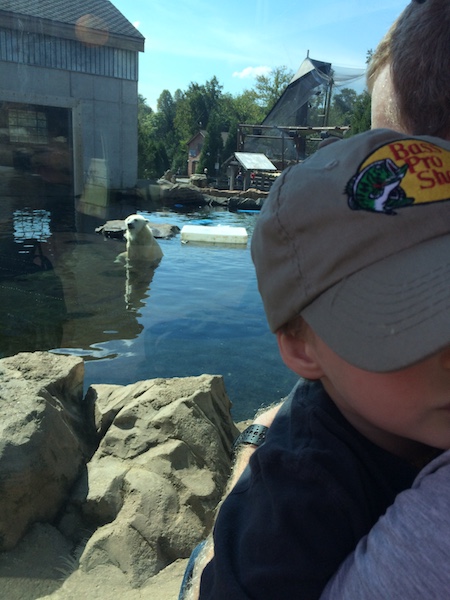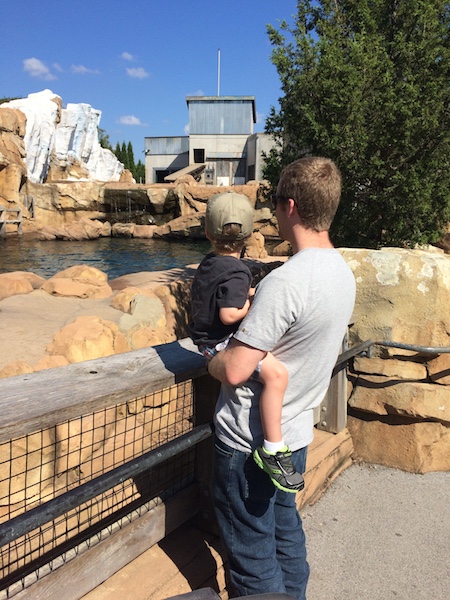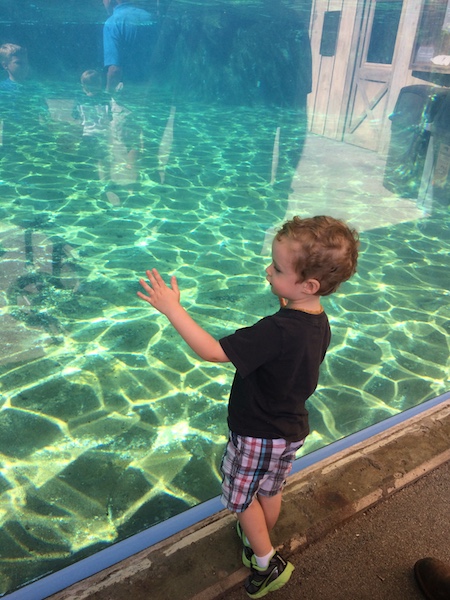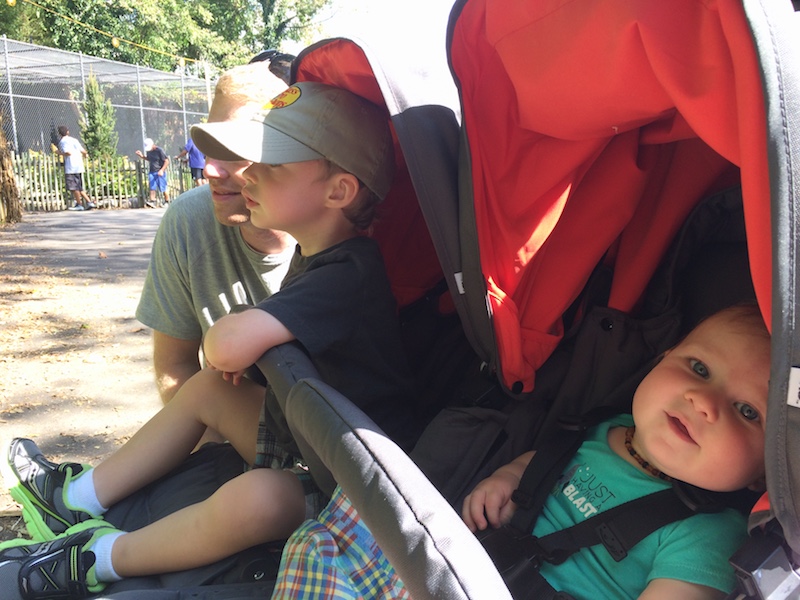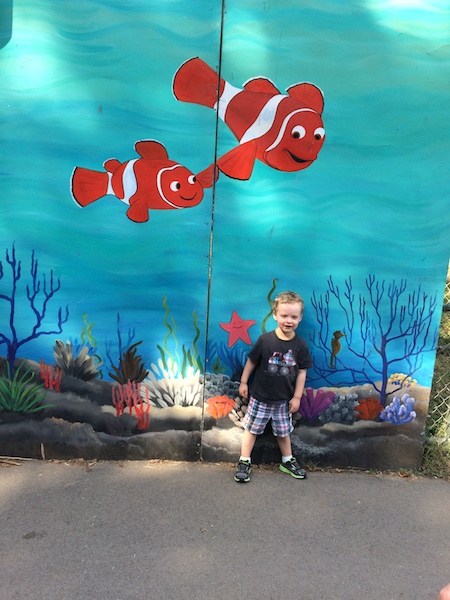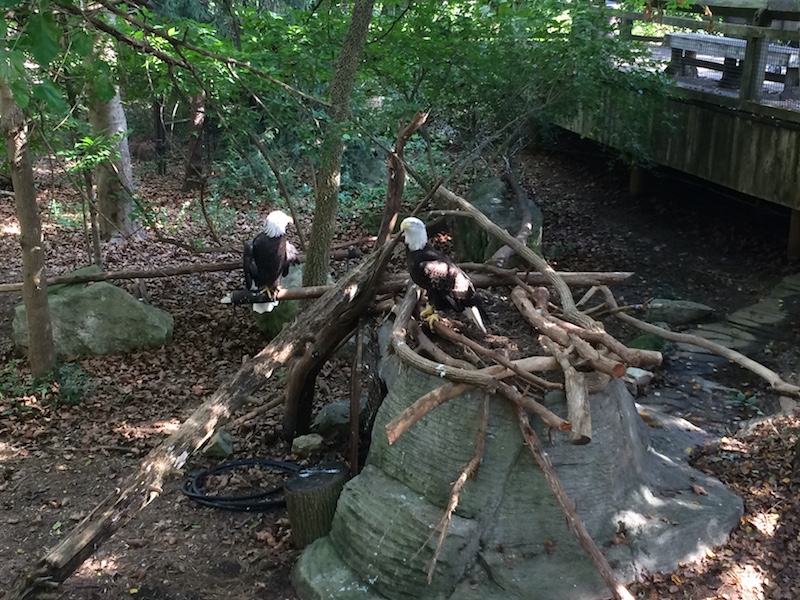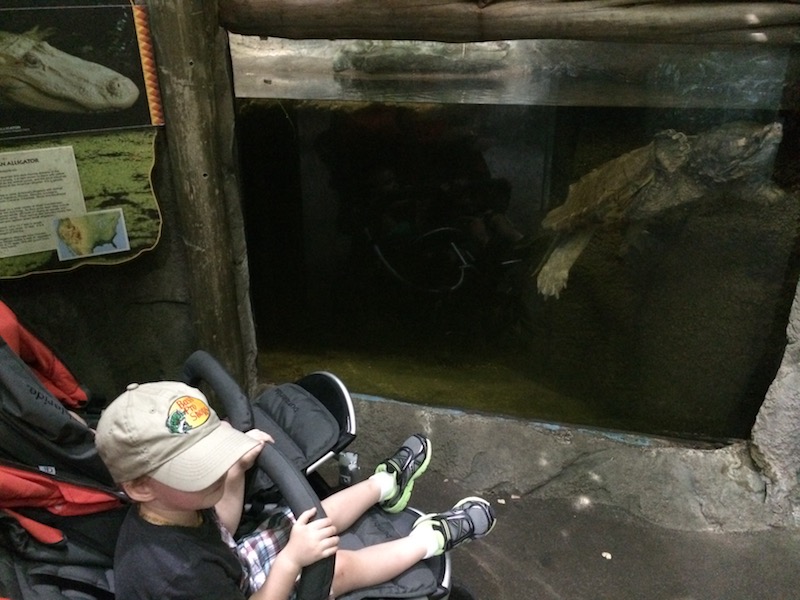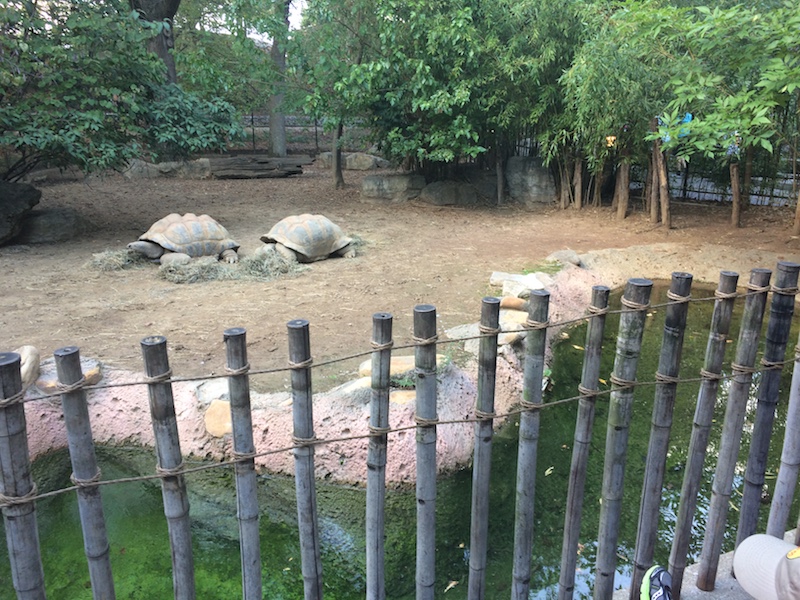 Wednesday: Jackson's Orchard and the Train Depot
Wednesday we decided to stay local and do some things around town.  We started the day off with a trip to Jackson's Orchard.  They have hay rides, a petting zoo, apple and pumpkin picking, and some other fun activities but for this particular trip we just played on the playground and ate apple cider slushies.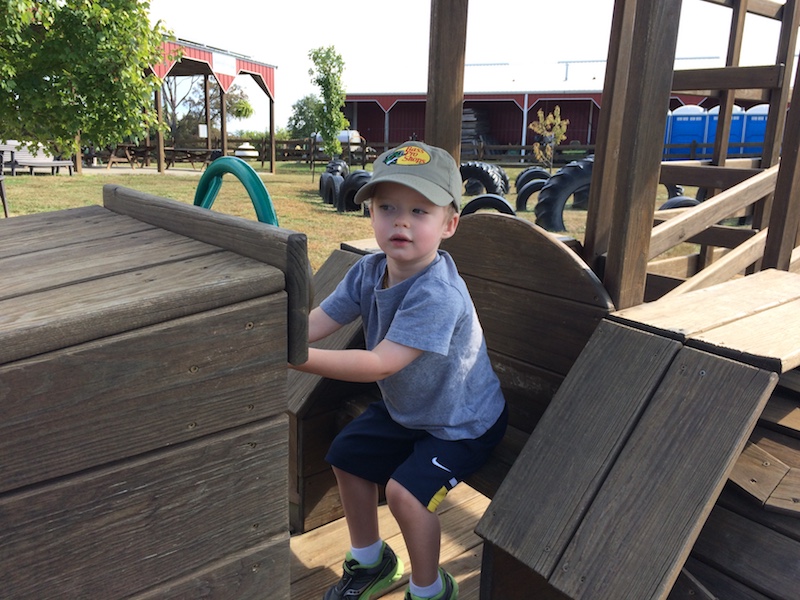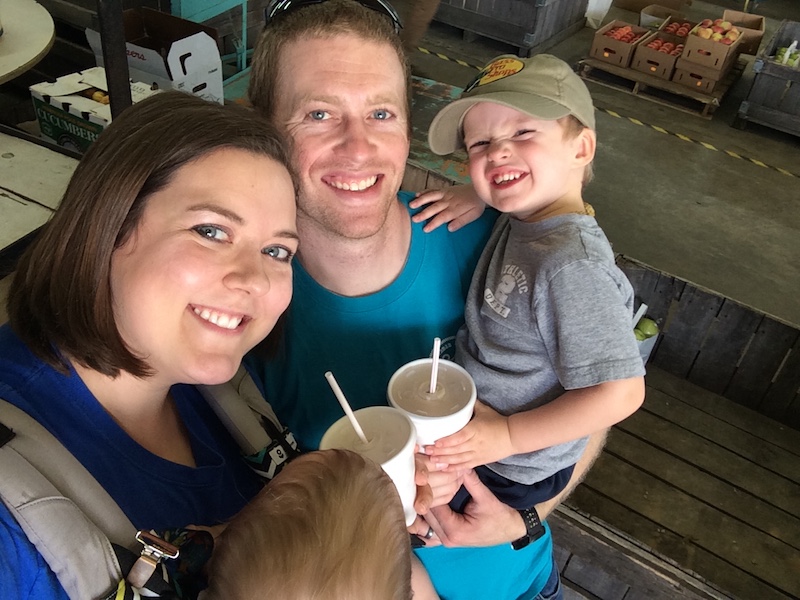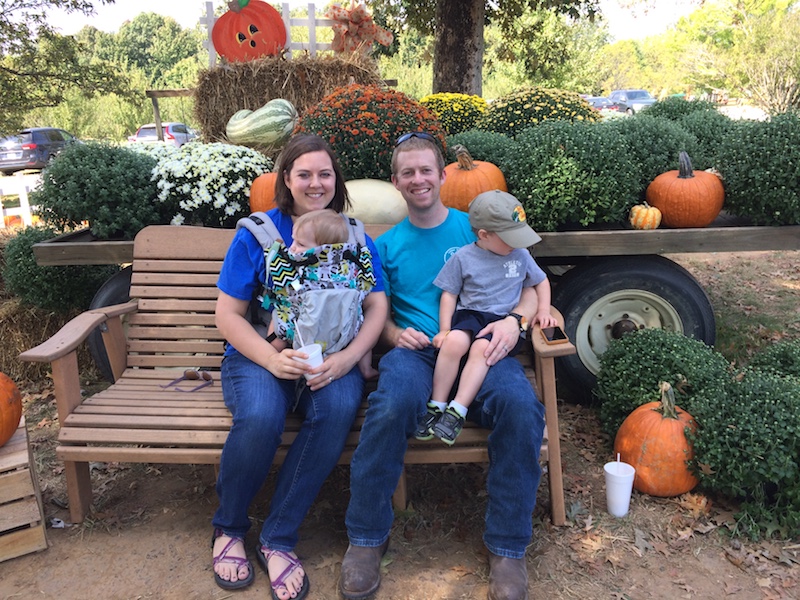 After lunch and a nap we went to the train depot.  This didn't quite turn out the way I expected it to; I for some reason had thought they did actual train rides but it turns out they just do train tours on a stationary train…and the tours were over for the day already too.  But they had a gift shop area with a little train Hudson could sit in and model trains that we all enjoyed looking at.  So that didn't go exactly as planned but we still had fun.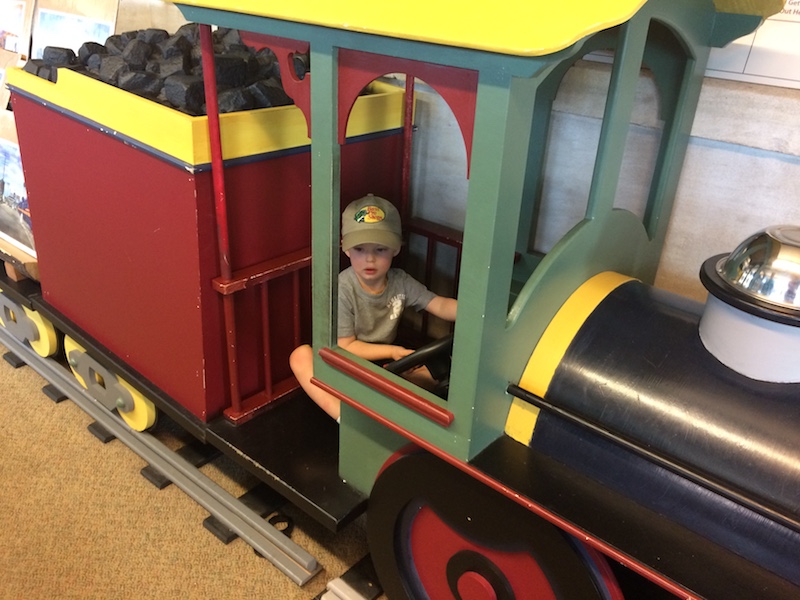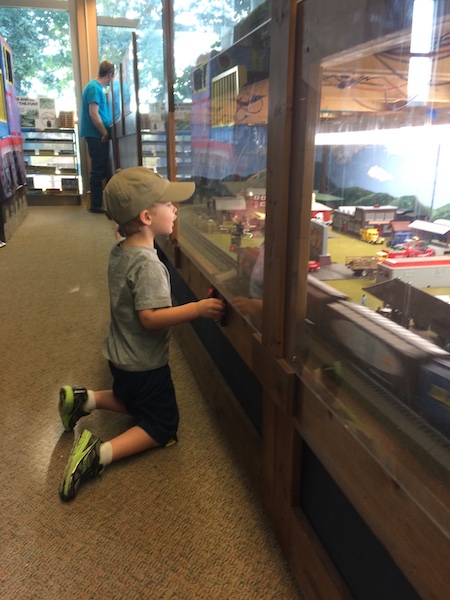 Thursday: Adventure Science Center and Nashville Zoo
Thursday we headed south to Nashville.  We started the day off at the Adventure Science Center.  It had been at least 10 years since I'd been there and I guess I thought it there was more for little kids.  Apparently I thought wrong because the majority of the center was geared toward much older kids and was way over Hudson's head.  We walked through most of the exhibits and he did enjoy parts of it but we didn't stay too terribly long and decided to move on to something else.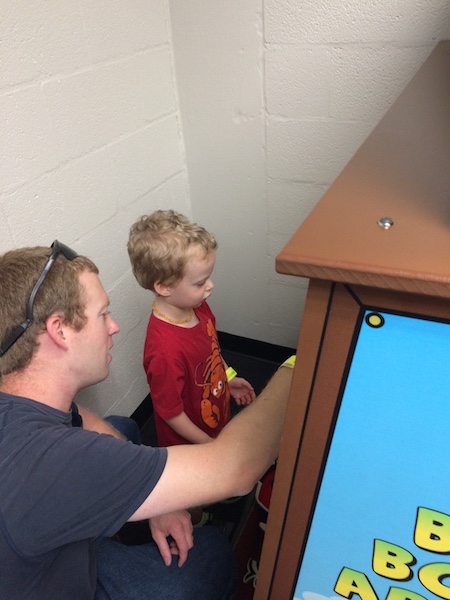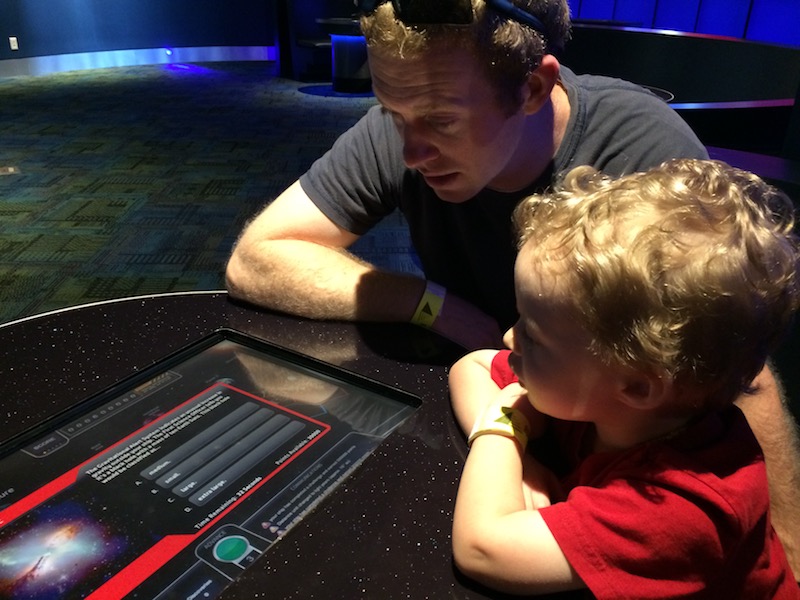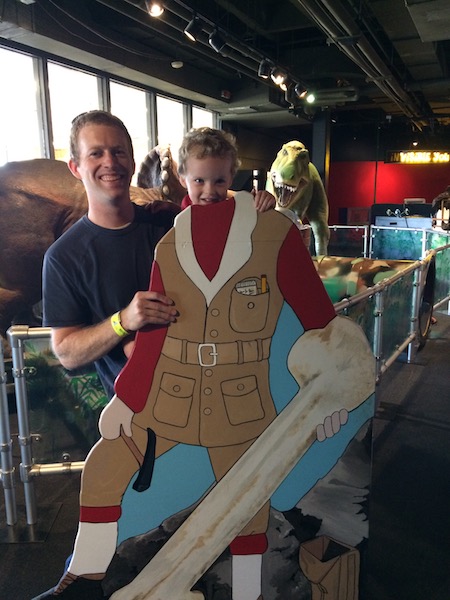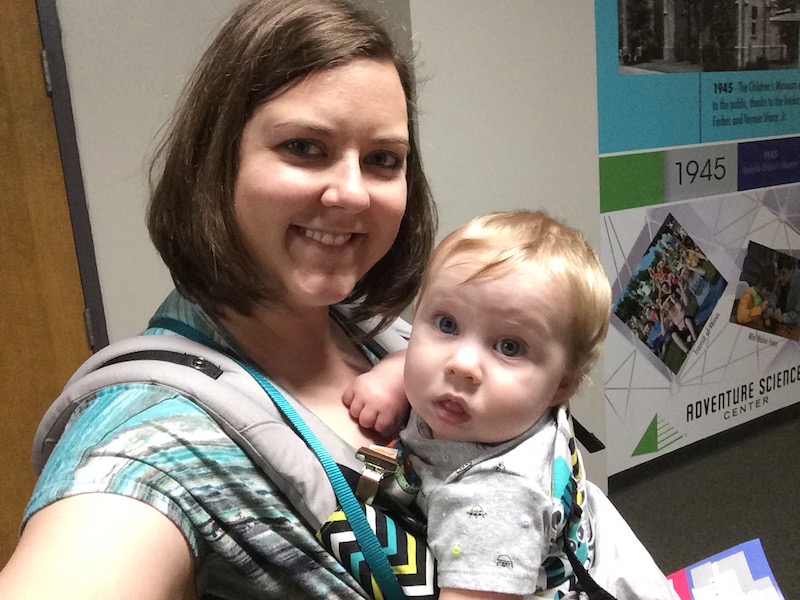 After lunch we decided to head over to the Nashville Zoo.  This ended up being a much better fit and we had a blast!  We absolutely loved the zoo and at the end of the day decided to go ahead and get a membership so that we could keep coming back! While the Nashville Zoo doesn't have as many big zoo animals (like elephants, gorillas, etc.) as the Louisville Zoo we preferred the closeness of Nashville.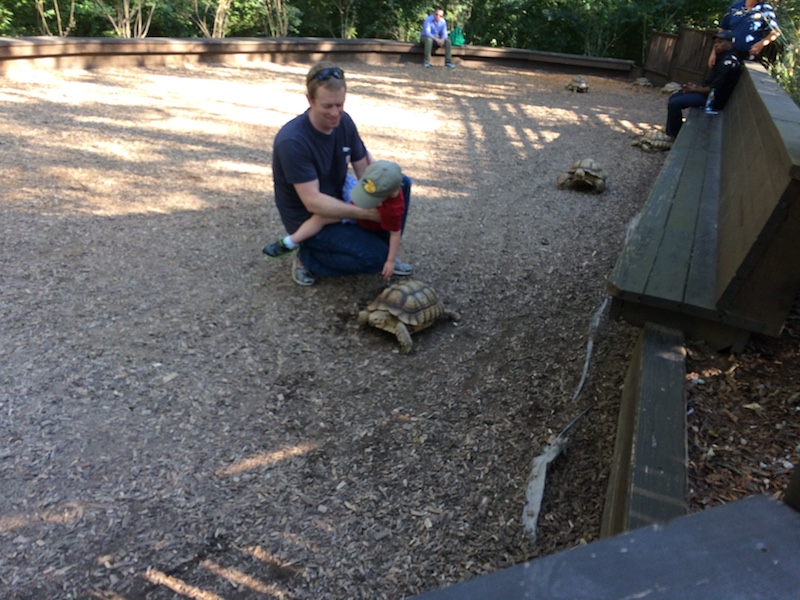 I know this picture is blurry but Y'ALL. This is huge.  My child who has been terrified of all animals since, um, forever is touching an animal for the very first time!  He was tentative and wouldn't let Michael set him down but yep, Hudson touched a turtle.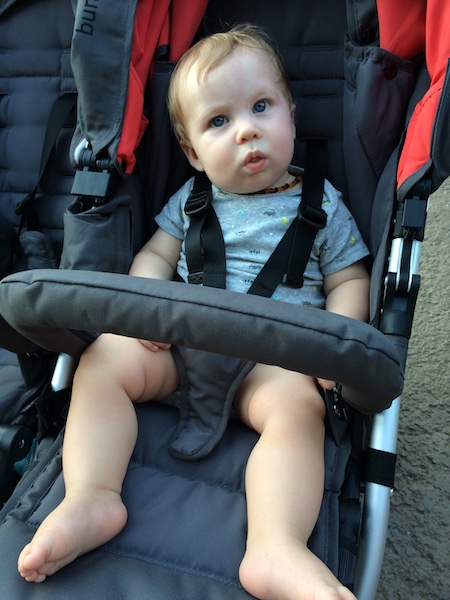 Friday: Rest Day
We took Friday as a stay-at-home-and-rest-some day.  We also splurged on some nice steaks that Michael grilled for supper that night, which was fun.
Saturday: back to the Nashville Zoo
Because we had so much fun at the zoo earlier in the week and because we were now the owners of a shiny, new zoo membership, we decided to go back again on Saturday.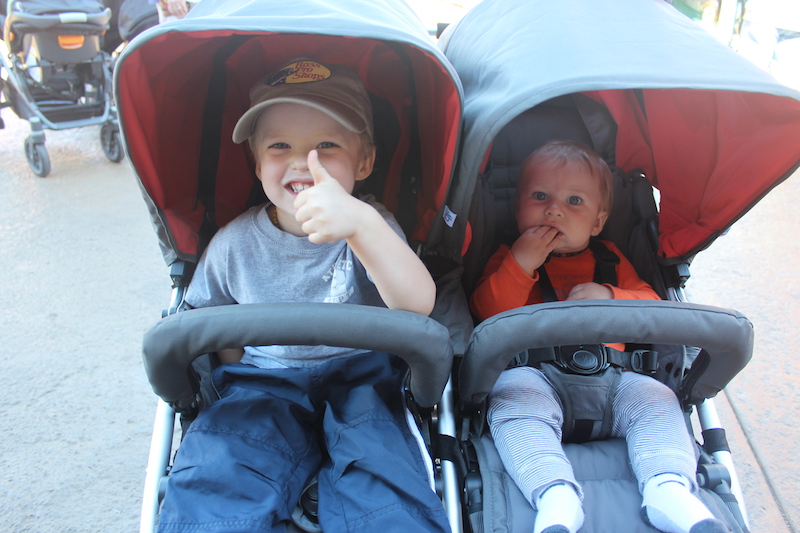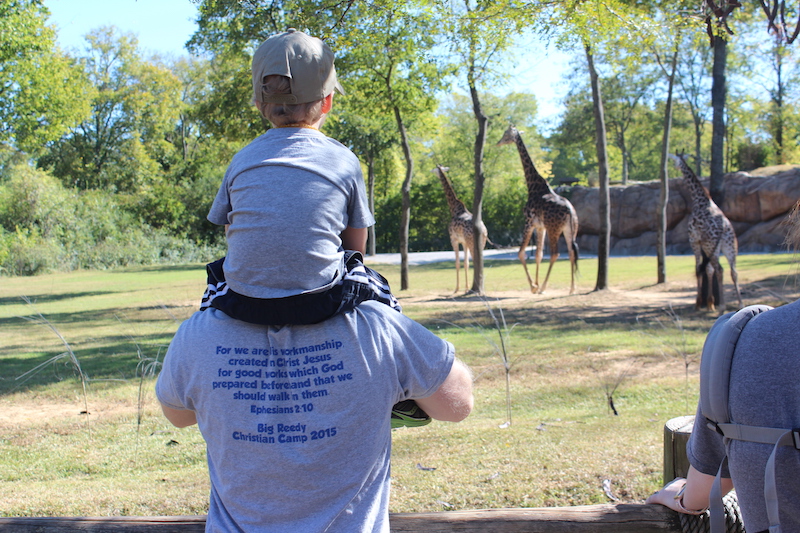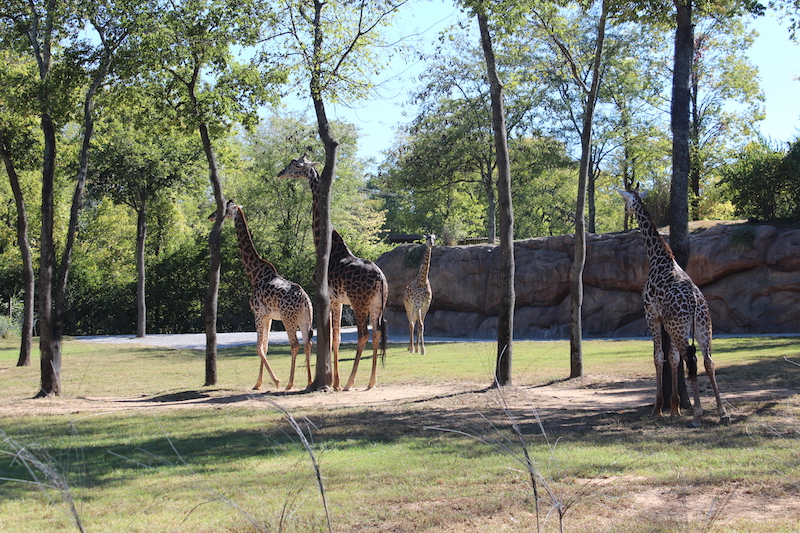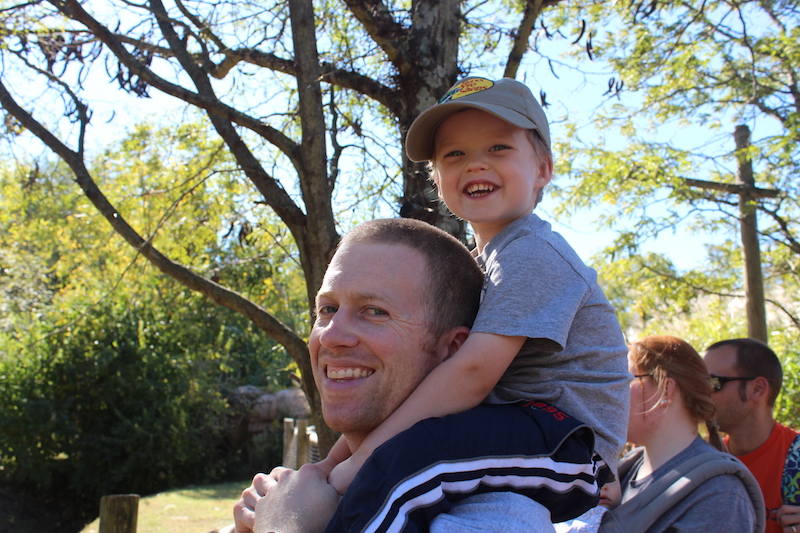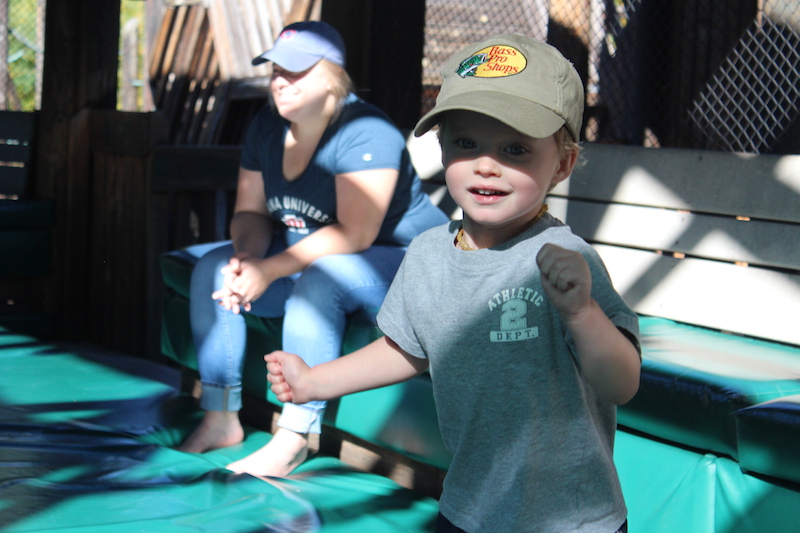 One of our (and especially Hudson's) favorite parts about the Nashville Zoo is the large play area.  They have one particular spot that is just for small children which I think is really nice.  Hudson had a blast!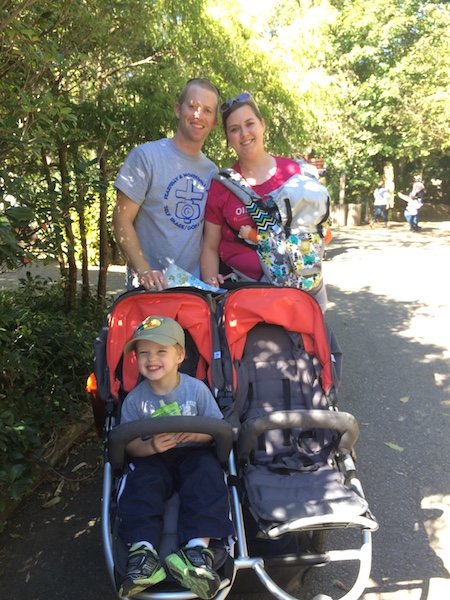 I always appreciate it when people offer to take pictures for us!  Oh and P.S. I am totally breastfeeding Parker in this picture.  I never figured out nursing in a carrier when Hudson was a baby but I've gotten pretty good at doing it easily and discreetly with Parker.  #momwinning
Food
Since we were on "vacation" we ate out quite a bit.  One thing we tried to do even though we were eating in our home city was to eat at restaurants that we hadn't tried yet.  We had a good time searching out new restaurants and trying new things!  Some of the new ones we visited in Bowling Green were Blaze Pizza, Azzip Pizza, Roosters, Wild Eggs, Boyce General Store, and Corner Bakery. One day while we were in Nashville we ate lunch at the Tin Roof.
Final thoughts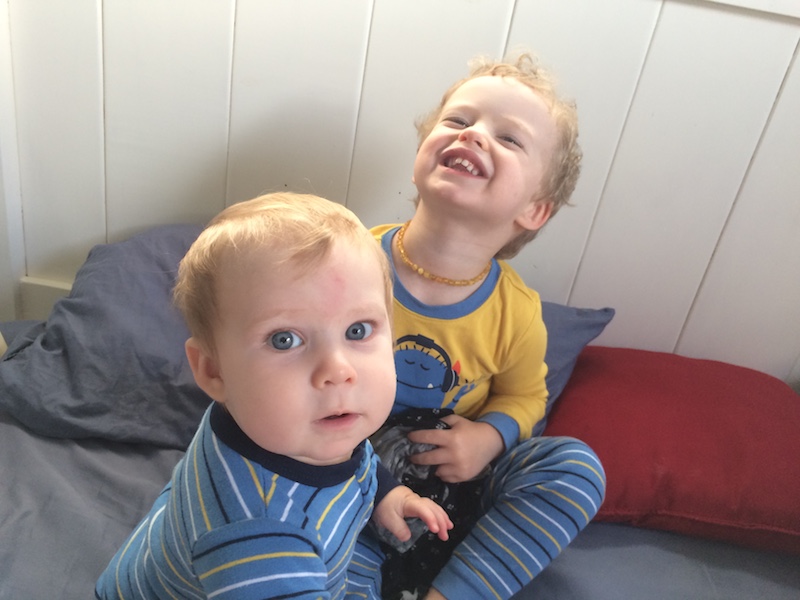 Our staycation was amazing!  After the rough start we had we still ended up having a fantastic time.  It was SO nice to be able to be at home in our own beds, have a normal nap time for the kids on the days we were in town, have access to our kitchen to eat healthy at least part of the time, not have to pack everything up and drive a long distance, and be able to do laundry if we needed to.  I definitely don't think we would want to do this every year and never go on a real vacation but it was certainly perfect for us this year and something that we'll probably do again in the future.
If you read my post about why you might want to do a staycation and why you might not, you know that what I was most worried about was that I'd feel like I needed to continue my normal day-to-day routine of cleaning, doing laundry, and other household chores.  I made sure to make a concentrated effort to act like I was on vacation so other that fixing some easy food for breakfast or lunch, running the dishwasher, and doing a couple of loads of laundry (all things I would have done on vacation in a hotel or condo with a kitchenette anyway) I relaxed on vacation too.  Usually once the kids are in bed Michael and I work on things around the house, or I work on my oil business, or we clean or work on whatever projects we had going, but during our staycation week we just relaxed and hung out or watched tv at nights.  It was nice to kick back and be lazy for a bit!