Did you know it is SUPER easy to make almond milk at home?  Yeah, it totally is.
I'd never used almond milk until I started Trim Healthy Mama a few months ago.  Cow's milk is not on the THM plan and so I needed a milk substitute for certain recipes.  Enter almond milk.  I like to make homemade when possible and after looking up some almond milk recipes I realized this was something that I could easily make on my own!
---
This post may contain affiliate links.  If you purchase a product through an affiliate link I make a small commission at no cost to you.  This helps keep my blog running so thanks for your support!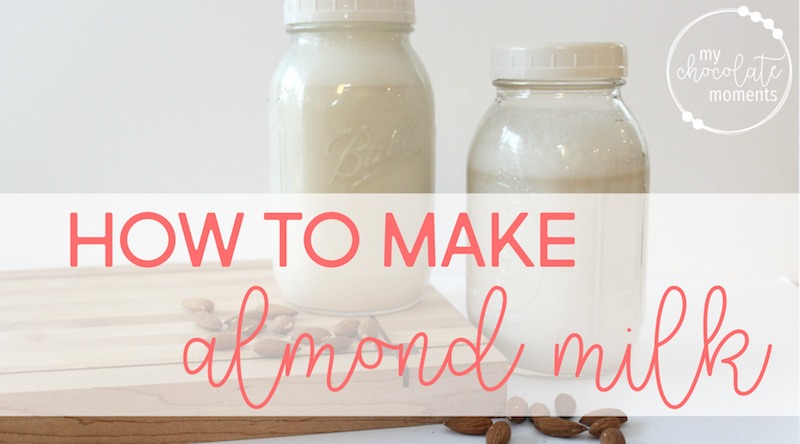 Recipe:
Soak 1 cup of almonds in water overnight
In the morning pour the water off and rinse almonds
Add almonds to blender with 6 cups of water
Blend until there are no large almond chunks left (in my old blender this took 2 minutes, in my new blender this only takes 1 minute)
Strain the liquid through a nut milk bag (you can also use cheesecloth but that's a one time use option, I like using the bag more because it's reusable and easier to handle, in my opinion)
Store in the fridge (I keep mine in mason jars)
Yields about 3.5 cups of almond milk.
You can easily change the ratios of almond milk to water if you want thicker or thinner milk.  I use 1 cup of almonds to 6 cups water but you could do 1 cup almonds to 4 cups water for thicker, or 1/2 cup almonds and 4 cups water for thinner.  Play around with it and see what you like!
I don't drink this by itself, I just add it to things like oatmeal or use it to make hot chocolate, but you absolutely can if that's your cup of tea…err…almond milk ;).
For my THM gals (and guys)
I do not know how this compares to store-bought almond milk as far as the fat content goes, so for those of you following THM I would err on the side of considering this an S food instead of a FP like store-bought (I'm guessing mine has a higher fat content) if you're wanting to avoid crossovers.  I use this in E meals like oatmeal but I'm breastfeeding so I don't worry too much about having crossovers.
Now I just need to figure out what to do with the almond meal that is left after straining the milk!  I've tried a couple of things that haven't been very good so I'm going to keep experimenting.  Any suggestions?