I'm pretty sure I blinked and Hudson went from a little baby to a big boy who just turned three.  I have done a terrible job of keeping up with updates recently and it's been 6 months since our last one, but rather than make six separate posts to catch up I'm just going to roll it all into one.  So here's Hudson's three year update – lots of pictures coming at you!
(I had both my computer and my phone die within a month of each other and although I didn't lose any pictures (thankfully!) they are all scattered on different hard drives, on Michael's computer, etc.  So basically what I'm saying is I'm not quite sure where everything – as I wrote this post I noticed some things were missing.  But posting with partial pictures is better than never getting this posted at all so here we go.)
Some info about our brand new three year old:
The name of the game for the last 6 months has been potty training.  Yes, still.  It has been a very slow process for sure.  Even though we went straight to underwear 6 months ago (other than at bed time) and he did well right off the bat there hasn't been much improvement since then.  I don't know if it's that he doesn't want to stop to go to the bathroom or just plain stubbornness but it's for sure been challenging.
We had Hudson's 3 year well visit and he was 41 inches tall (99th percentile) and 38 pounds (93rd percentile).  I knew he was tall but I didn't realize he was that tall!  He is in size 3T shirts but needs 4T pants for them to be long enough.  He's wearing a 9.5 shoe but they're too snug and I need to get him some more.  He has totally lost all of that "little baby" look and looks SO grown up to me!'
He talks nonstop.  Like NONSTOP…from the time we get up in the morning until the time he falls asleep he is chattering.  And questions.  So.Many.Questions.  He also sings all the time; not only does he sing songs he knows, but he also likes to make up his own songs.
My parents had a nickname for me when I was little: HP.  It stood for House Police because I always kept tabs on what everyone was doing.  Boy am I experiencing that tenfold with my own child!  Hudson wants to know every little detail of what's going on "What's your plan tonight?" is a question he asks daily.  "What's your agenda?".  And of course "What are you doing Mommy?" about pretty much everything."
He's constantly asking what time it is, even though he doesn't really understand time.  If you tell him "lunch time" or "nap time" he says "No!  The number!"
Right now he is on a big kick of wanting to know about roads when we're driving "What kind of road are we on?" means "What is the name of the road we're on?" and he asks that over and over while we're driving.
I WISH I had all of his funny sayings written down.  I bet I text Michael 10 times a day with funny Hudson quotes.  There are so many!
Also, I know I'm totally biased, but I think he's super smart.  He remembers EVERYTHING he hears (which is very scary sometimes).  We don't do any formal education yet and I don't do a good job keeping up with what all he knows, but we weave it in to our every day life and he's picking up lots.  He can count up to 16 or 18 I think.  He knows his whole alphabet.  He can identify some letters and numbers but not all.
He is such a mix of Michael and me.  He adores reading and being read to just like me and loves building (and is pretty good at it, I think, for a 3 year old) things with his mega blocks like Michael did when he was little.  And he loves sports, which isn't like either of us at all!
Behavior wise….wow.  He is QUITE the spitfire.  He can be incredibly defiant.  I know part of it is just being a 2 or 3 year old but I think he's also very, very strong willed and that plays in to it as well.  Sigh.  He can be sweet sweet sweet and so fun, but he can also be totally difficult and exhausting to deal with.  We sure love him, but man…he may drive me insane from having to deal with him!
Here are some pictures from each month that I missed doing full updates on:
2 years, 8 months
I love a little boy in a suit!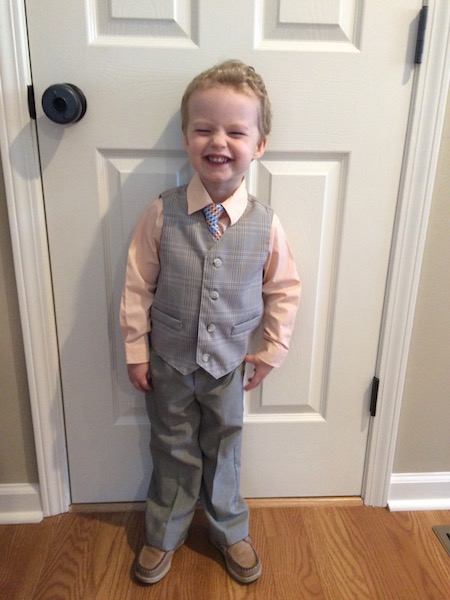 picking apples at the apple orchard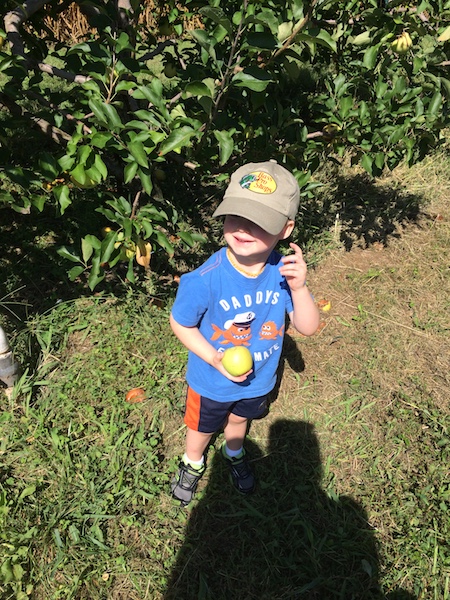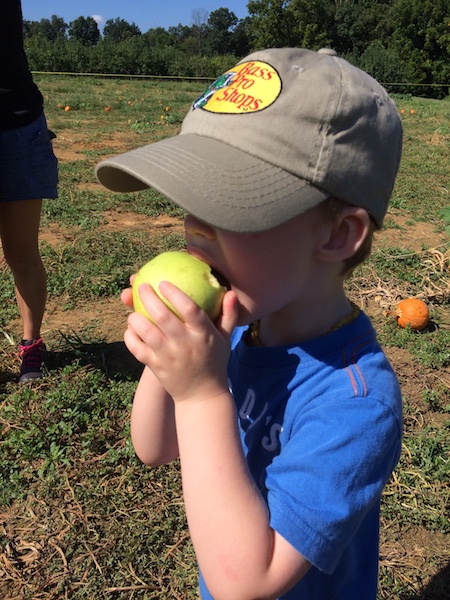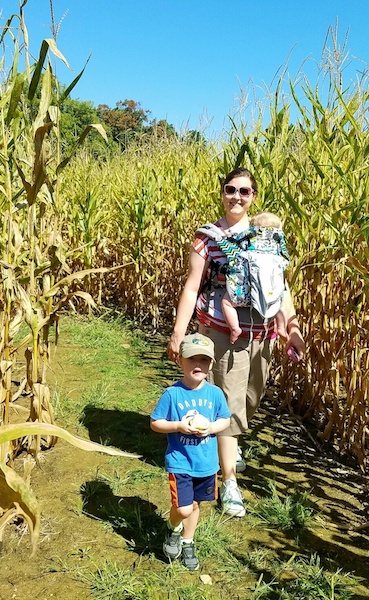 Precious brothers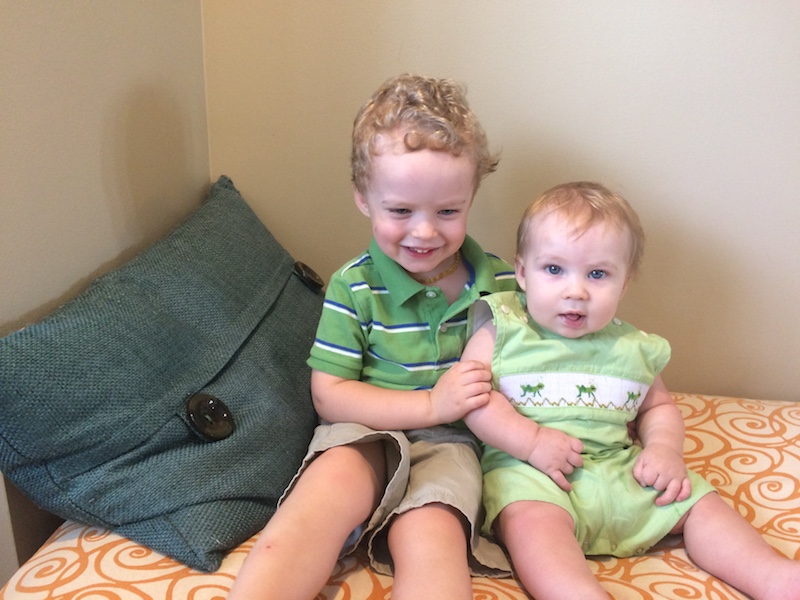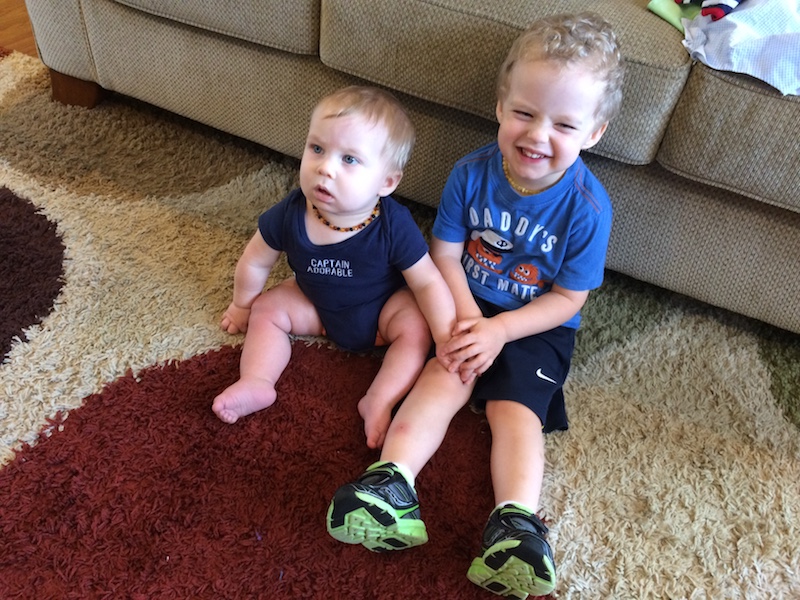 Hudson has had several haircuts but this was the first one where he let us put the cape on him during the cut.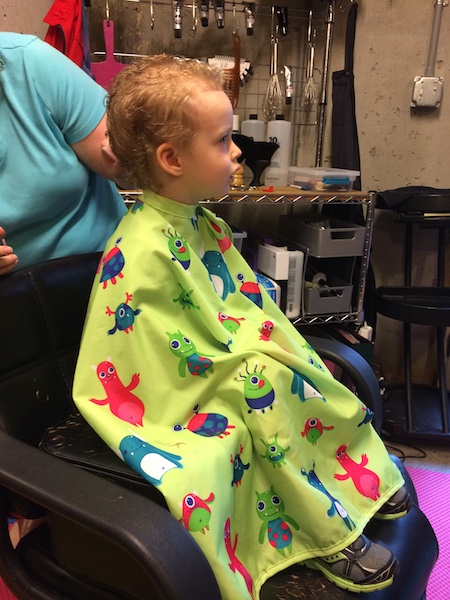 making DIY playdough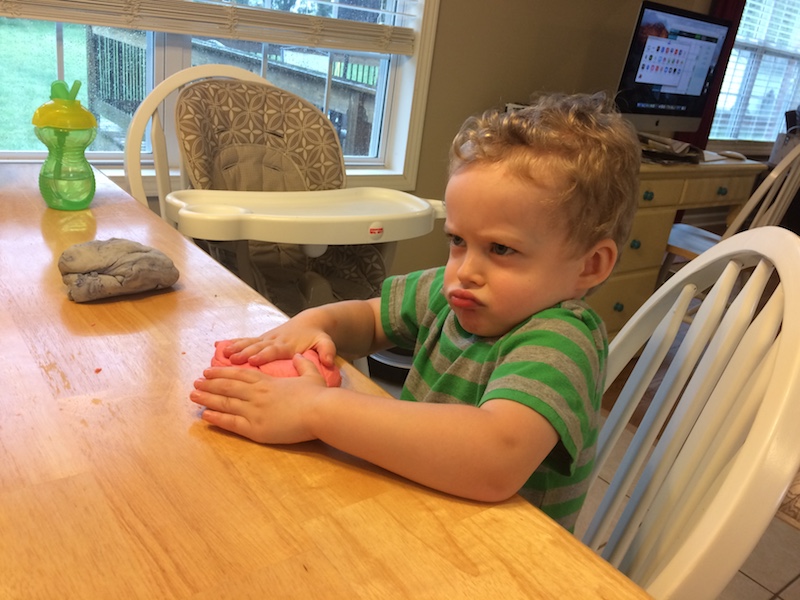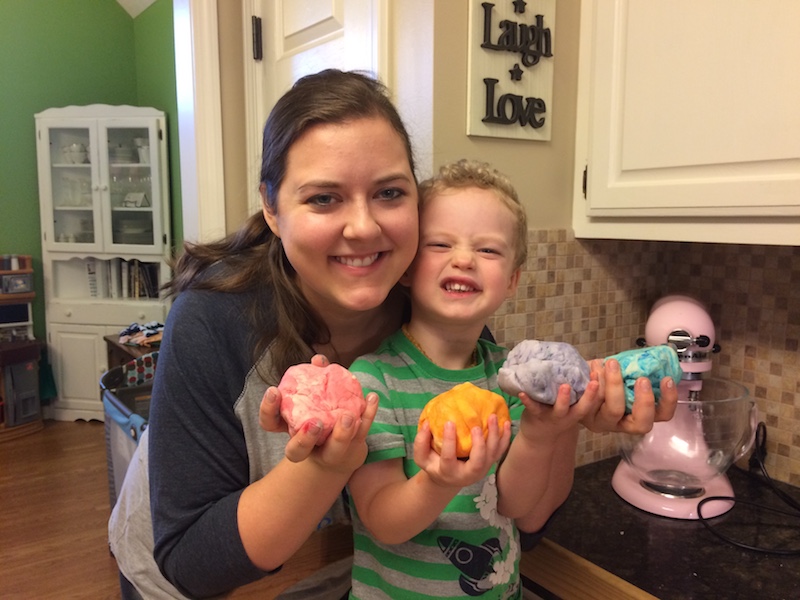 This boy LOVES his paci but we've now gotten down to only using it at nap time and a bed time.  He was upset the first day or two that he wasn't allowed to have it anytime he wanted but that passed quickly.  The next step will be getting rid of it completely!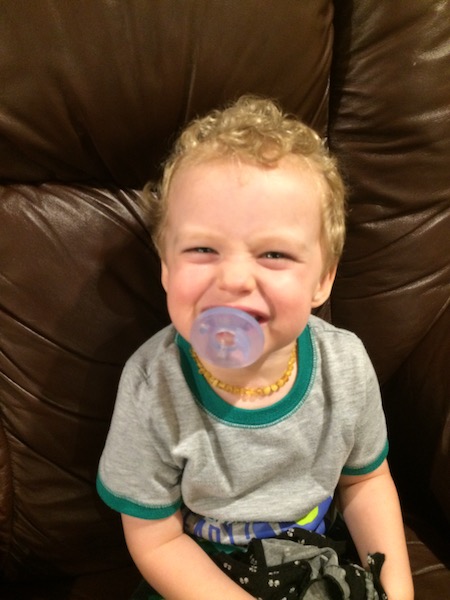 A friend at church had a birthday at a local gymnastics place.  Hudson had an absolute blast running and playing with the Nerf guns.  He loved it so much that we decided to have his birthday there too!

Fuffle is still our most prized possession.  Sometimes Hudson likes to wear it like a cape or a dress or use it to wrap up his baby dolls.  It's a very versatile tank top ;).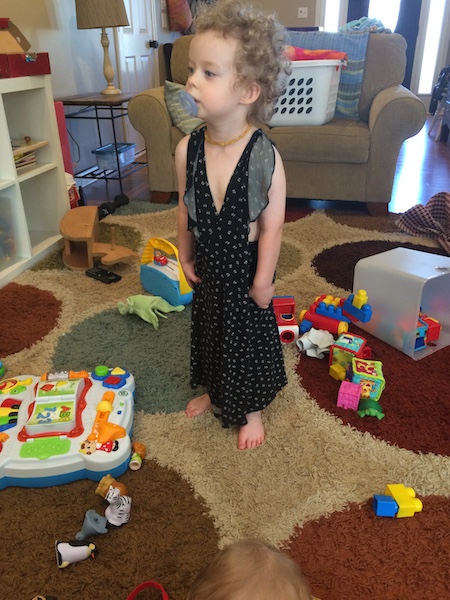 Making scarecrow puppets at playdate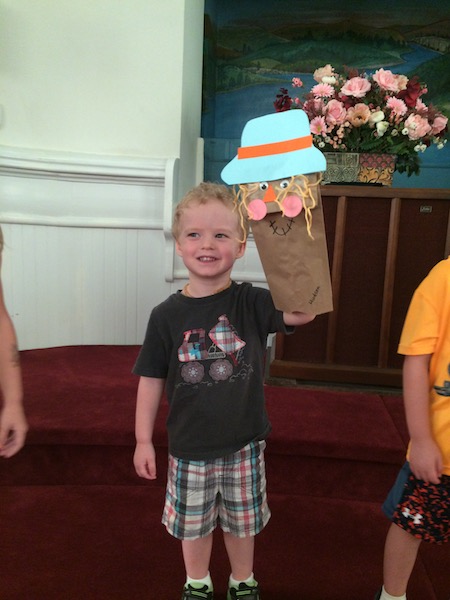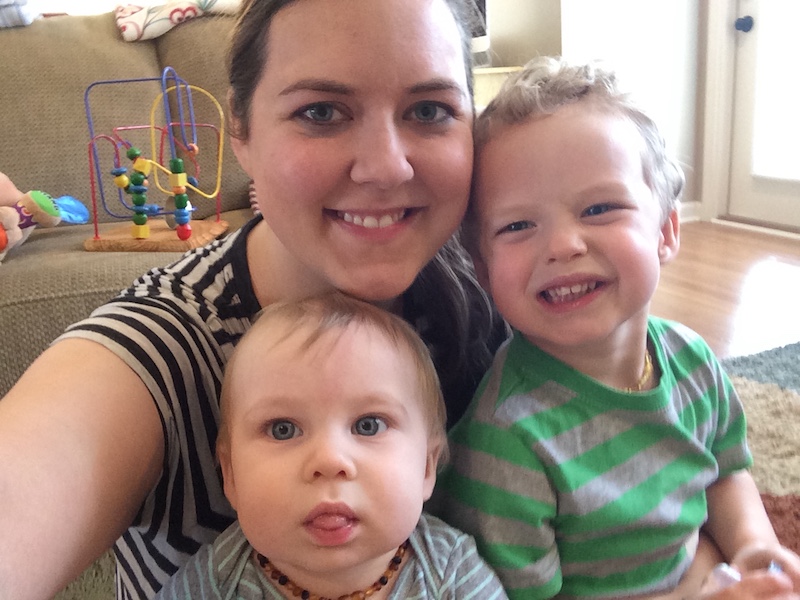 Tandem wearing both boys – Hudson in a Lillebaby Carry On (toddler sized carrier) and Parker in a Lillebaby Complete.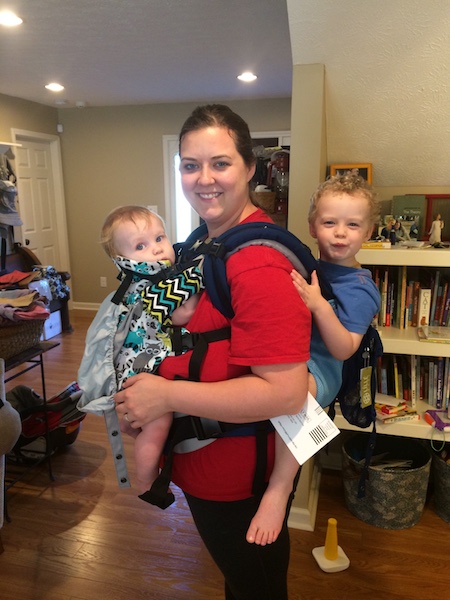 Nap time snuggles are my favorite!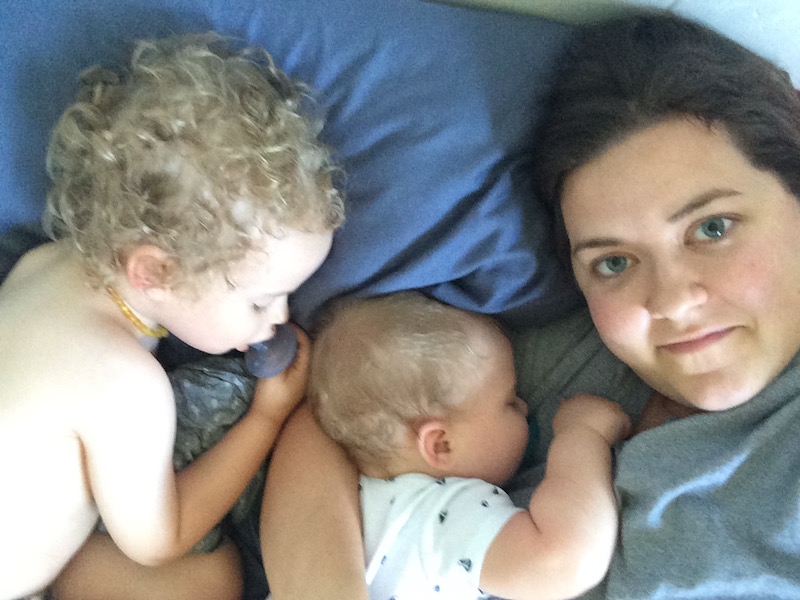 2 years, 9 months
He wanted to wear his baby on his back like I do so we improvised with a scarf of mine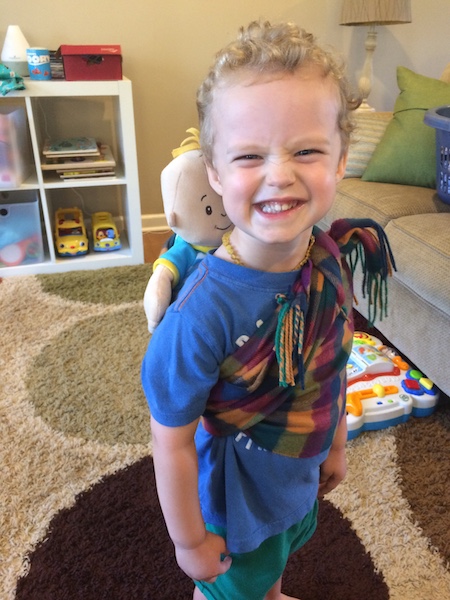 This month was when we went on our family staycation and had fun visiting the zoo.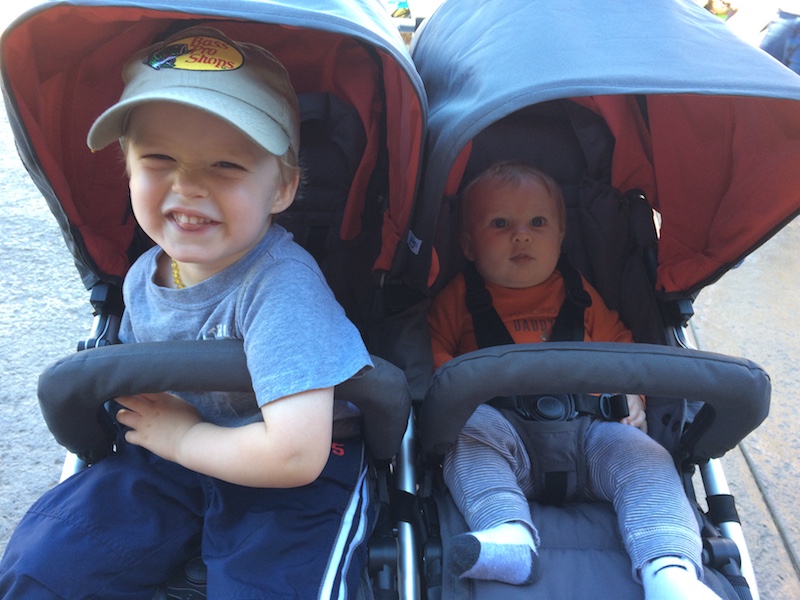 You can read all the details in my staycation post but one big thing was that Hudson touched a turtle!  He has always been SO terrified of animals that this was a huge step (even if he still refused to let Michael set him down).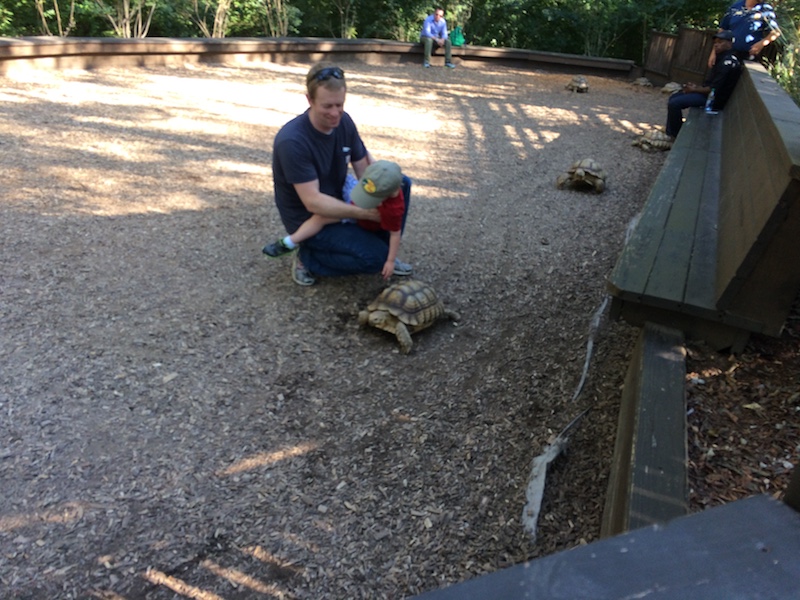 Matching pajamas.  I die.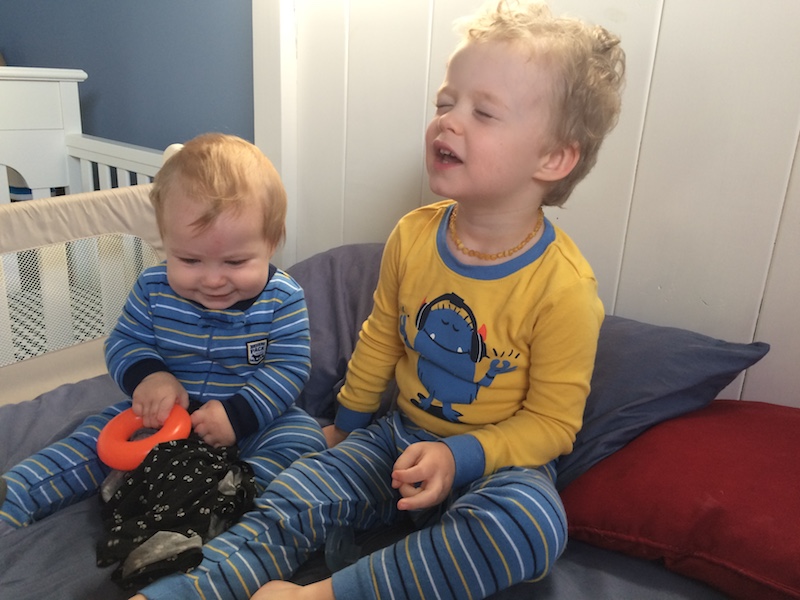 Hudson has always been very obsessed with phones and tried to grab them any time he could.  Now that he's tall enough to reach the counter where I usually set my phone he has started getting it when I leave the room and taking a zillion pictures (I have my phone locked but you can still use the camera even with the rest of it locked).  This was one of his first selfies – ha!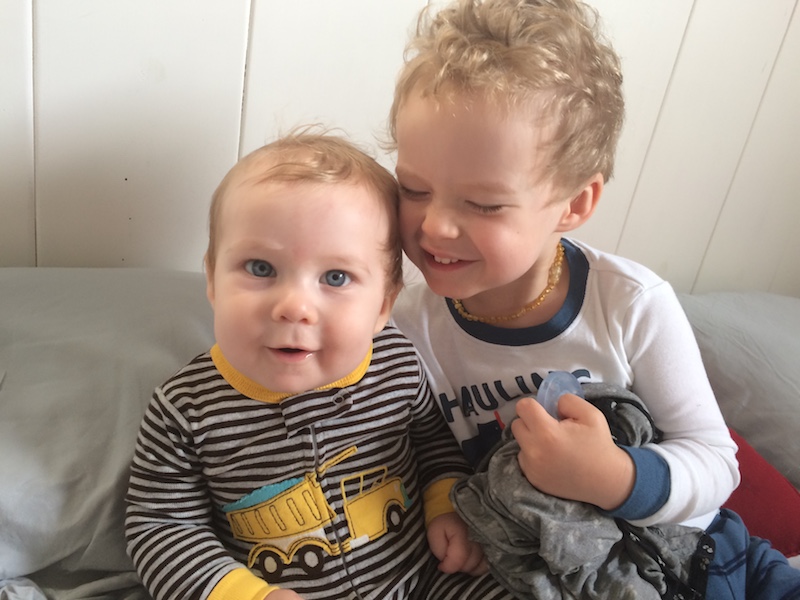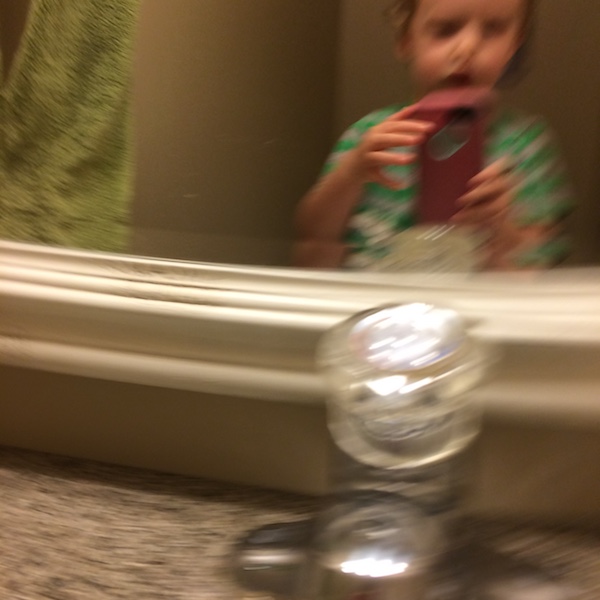 Painting pumpkins and running in three-legged-races at our church's family retreat.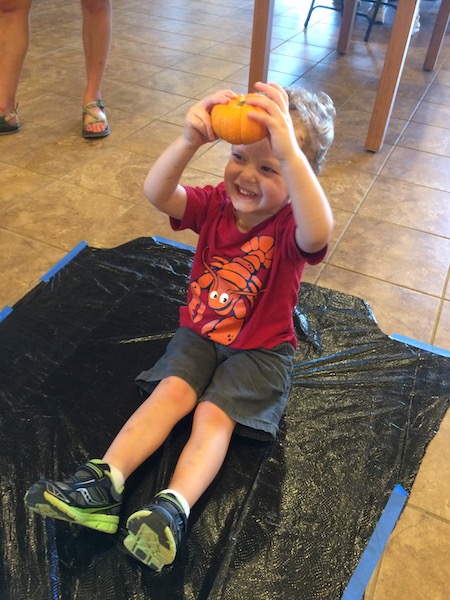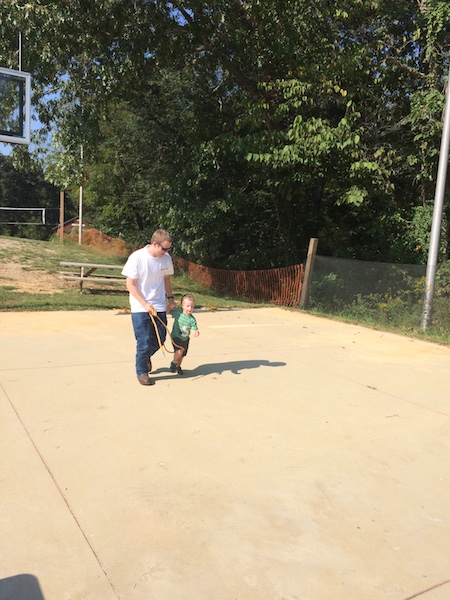 listening intently at playdate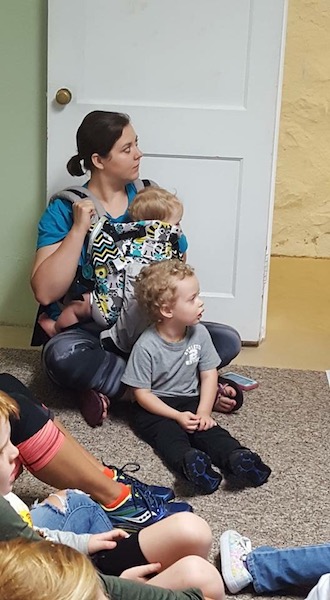 Trying to breastfeed his baby doll – so adorable!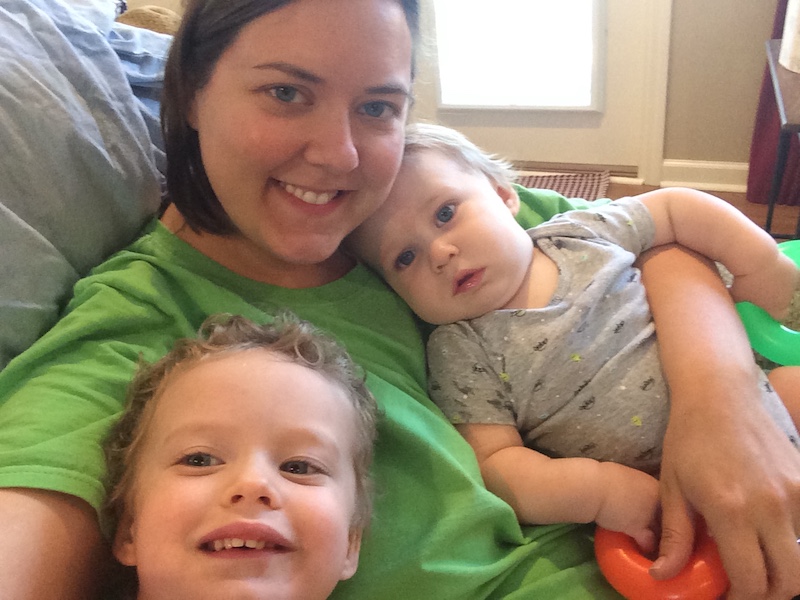 playing at Jackson's Orchard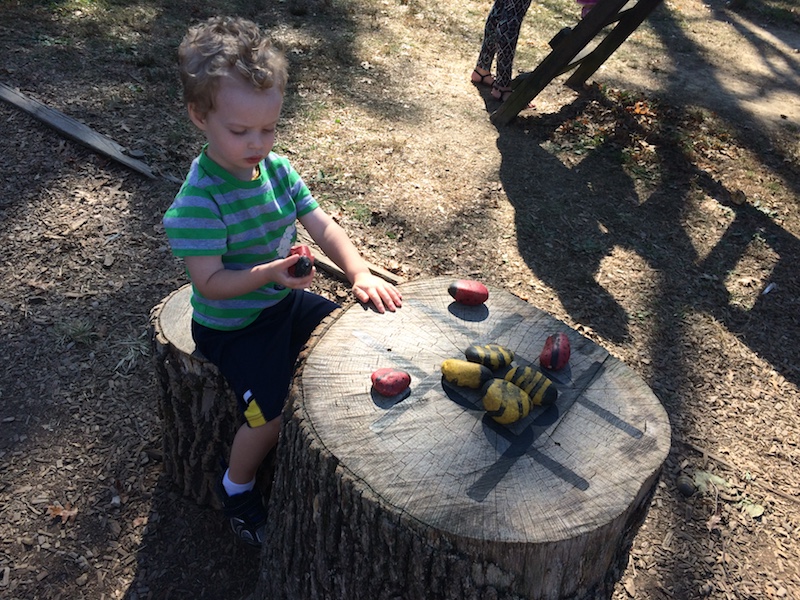 2 years, 10 months
I went through the Couch to 5K program in the fall and the boys went with me for my runs 3 days a week for the 10 week program.  They were troopers!  With our crazy Kentucky weather some days were warm enough to not need shoes…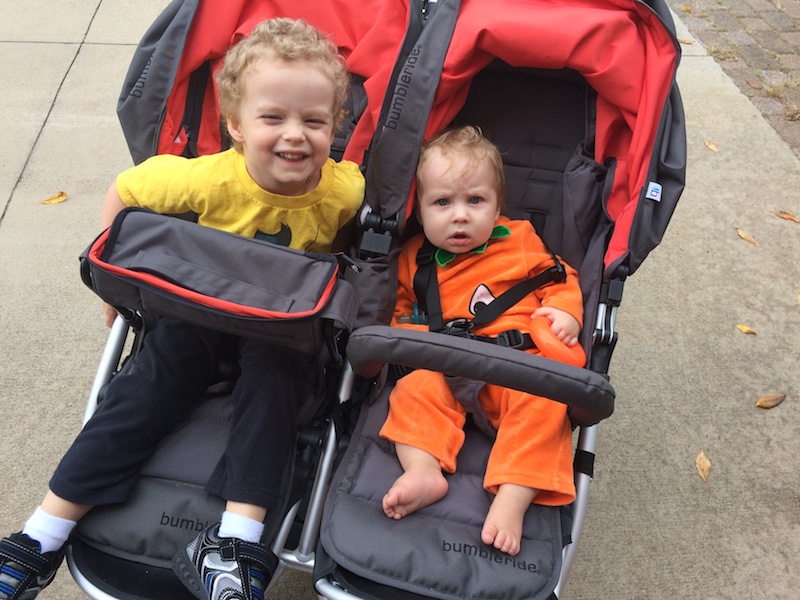 …and other days required hats, coats, and gloves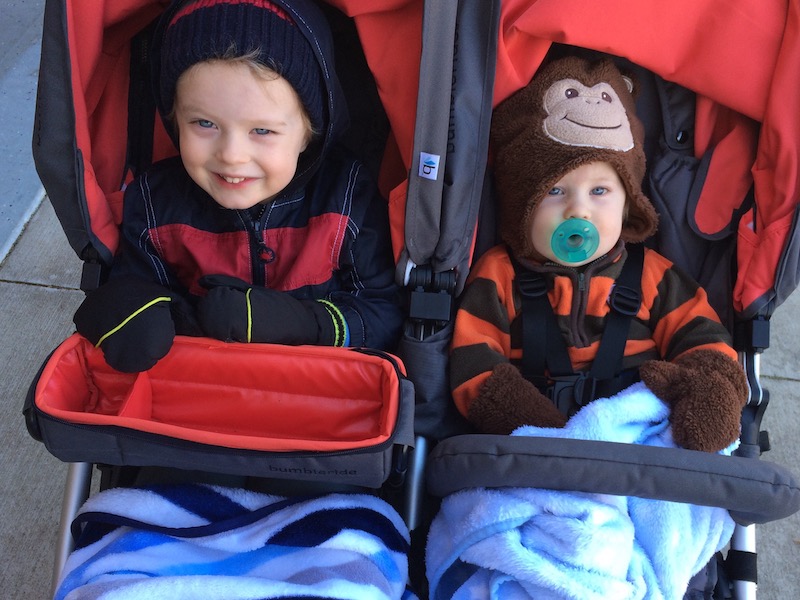 fall family picture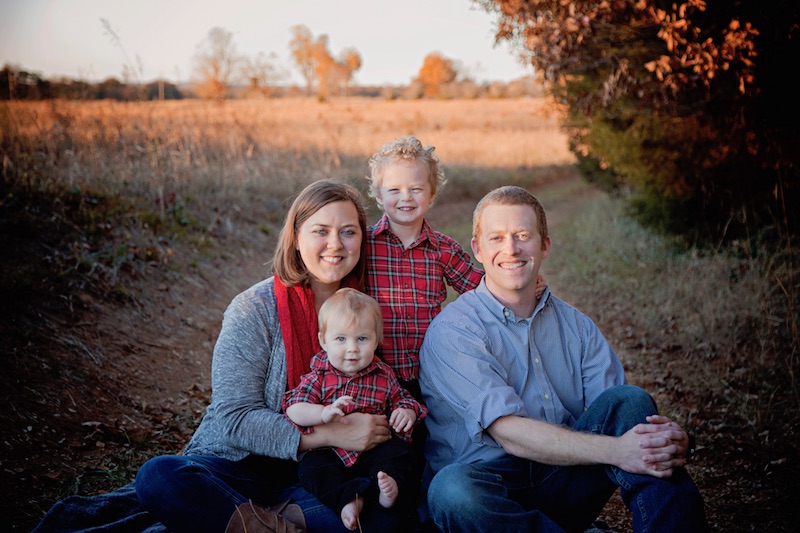 Our playdate group took a field trip to the fire station, which Hudson loved!

watching YouTube videos with Daddy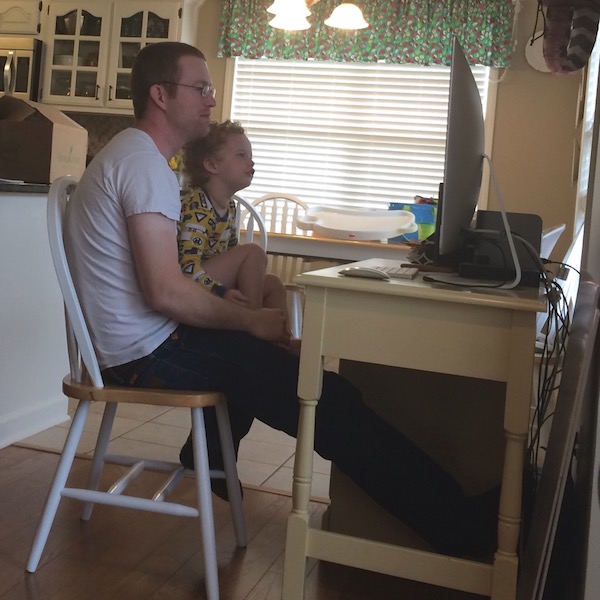 The kangaroo exhibit at the Nashville Zoo is so cool, you actually get to walk through the area while they're hopping around you.  On this particular day we were able to get very close to them.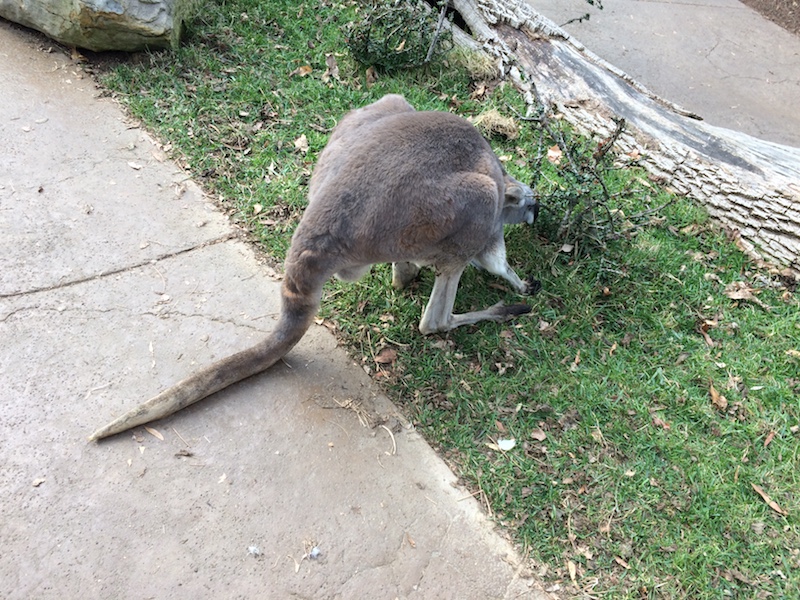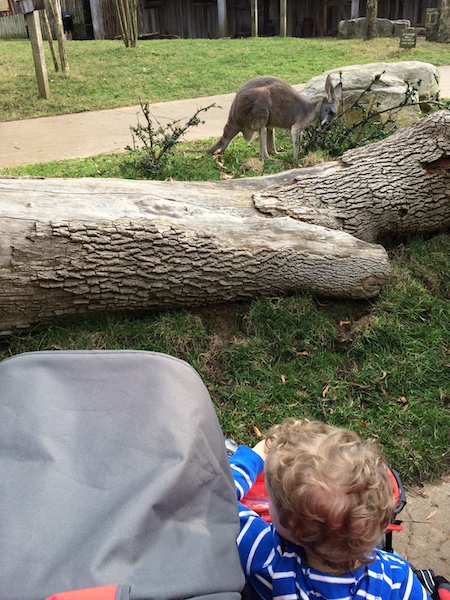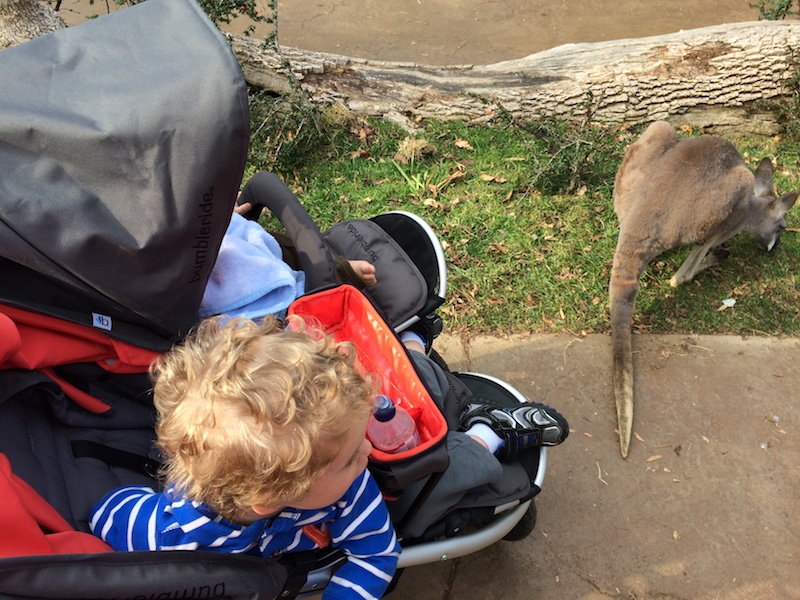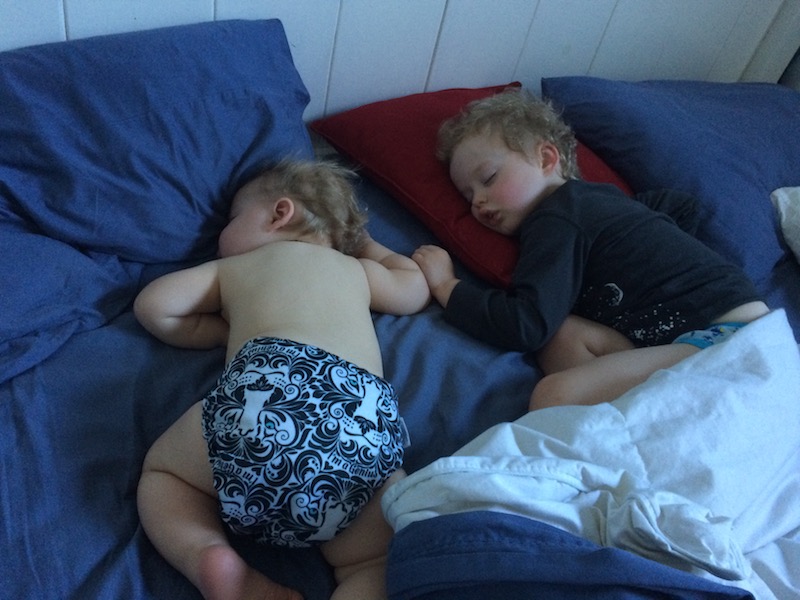 Waiting patiently at Parker's 9 month appointment.  He did SO good but the appointment ended up running almost 2 hours long and by the end of that 2 hours he was so DONE.  Poor guy (and poor mommy, usually Michael is able to go with me to appointments but he wasn't able to that day so I was trying to wrangle them both)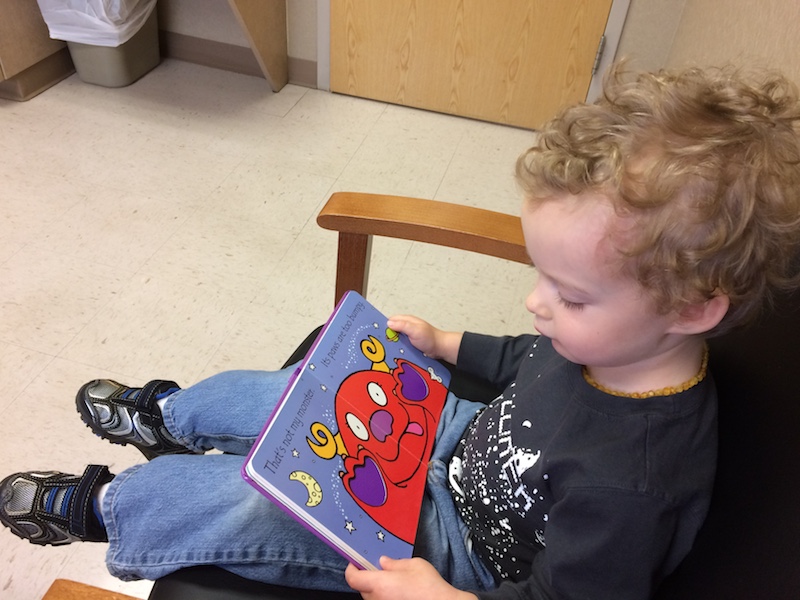 2 years, 11 months
More matching.  So adorable.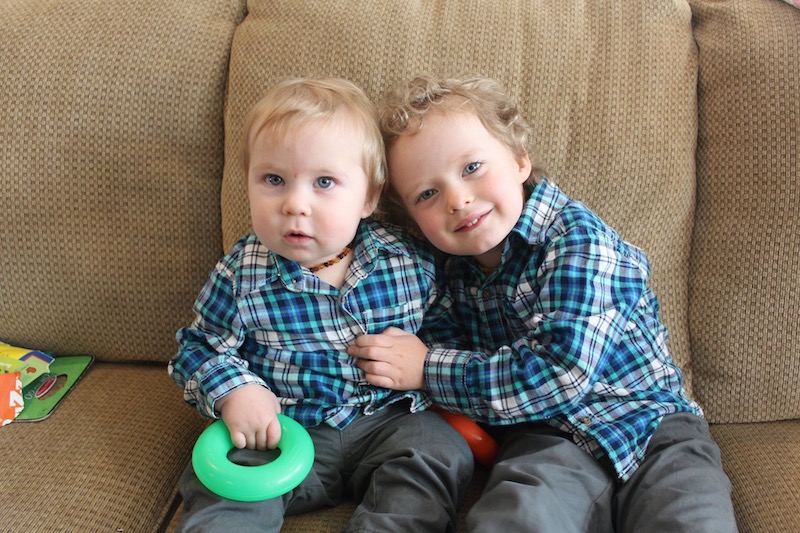 A selfie with my #1 cheerleaders on the day I complete the Couch to 5K program.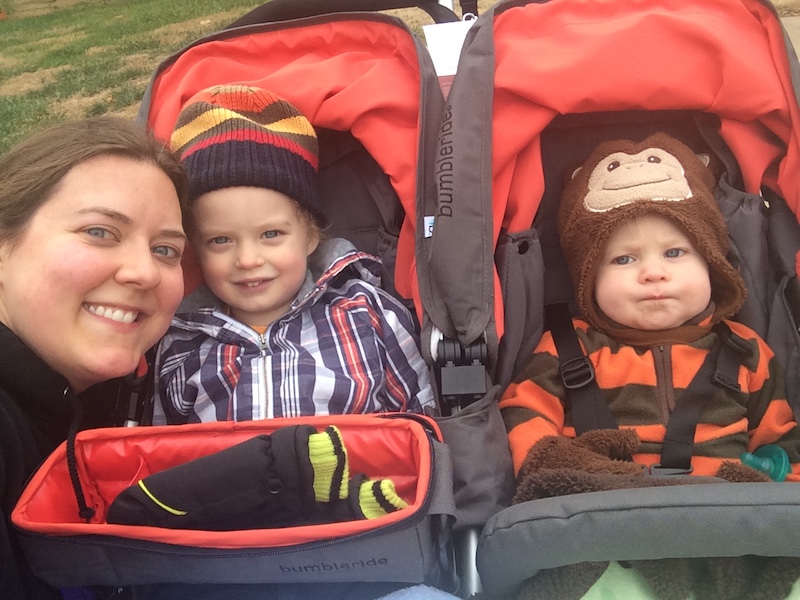 Hudson likes to help me feed Parker and one day Parker was eating Puffs while I washed dishes; I turned around to see that Hudson had "helped" by dumping a million Puffs out for Parker.  So funny!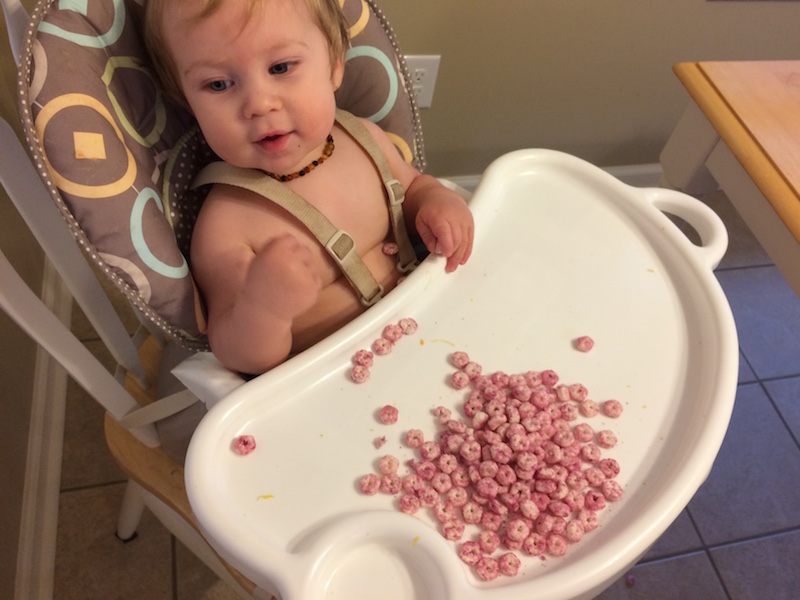 Hudson likes to put his finger up on his lip and say "mustache!" in this funny voice.  He especially does it after he drinks his Ningxia Red in the mornings because it almost always gives him a red mustache.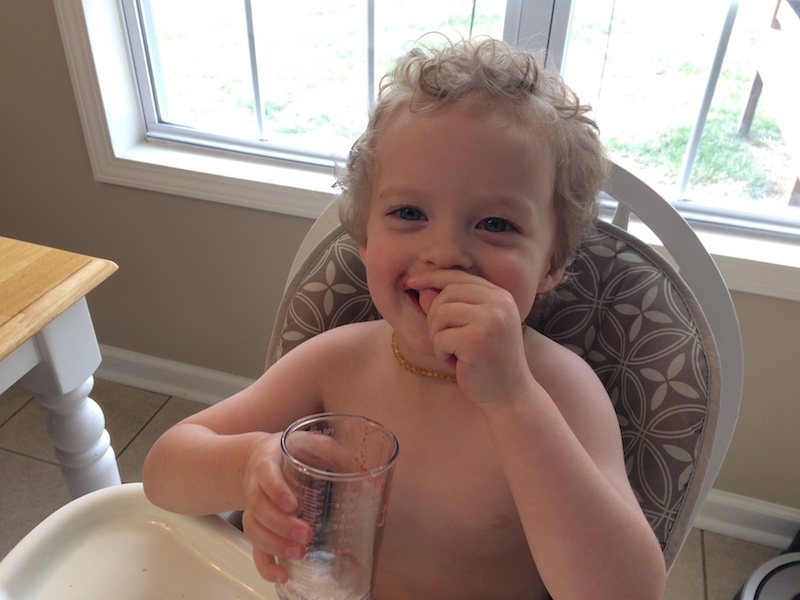 Sweet napping boys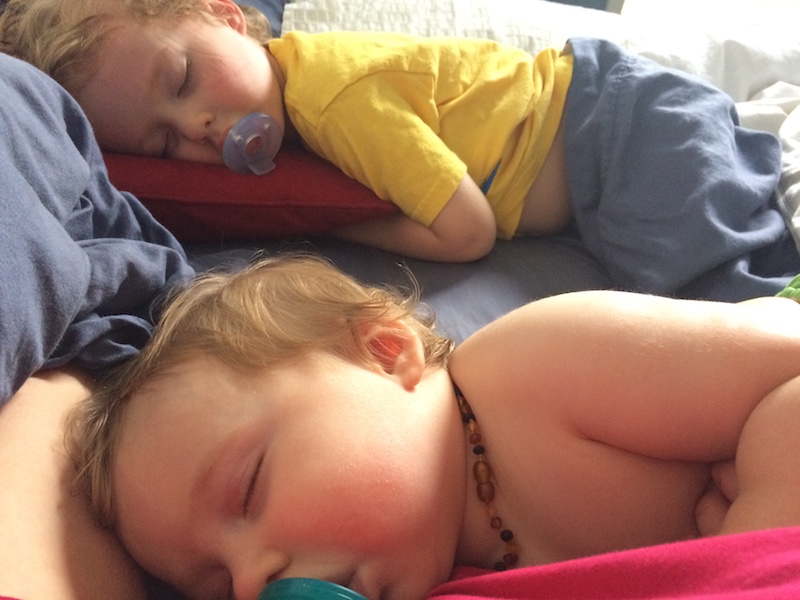 picking out our Christmas tree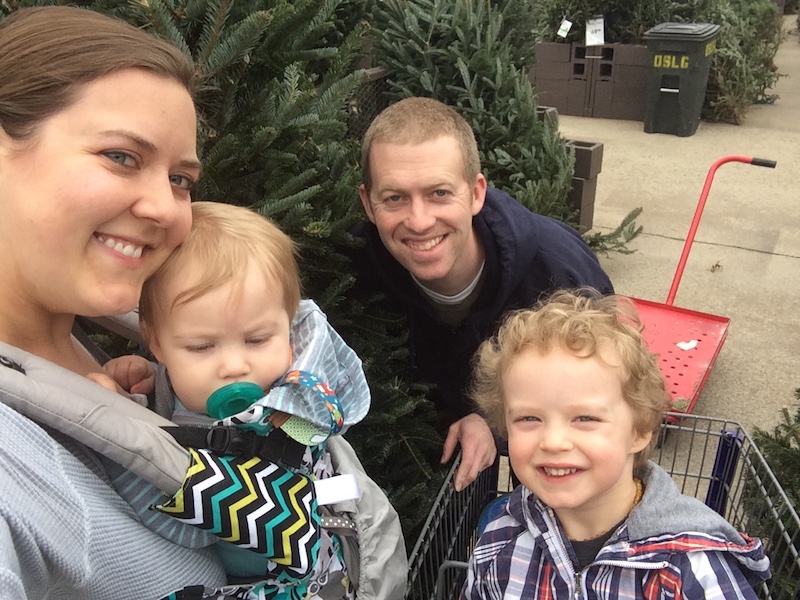 We did not officially go visit Santa this year but he was at Lowe's when we went to pick out our tree to we saw him while we were there.  Hudson was not exactly a fan.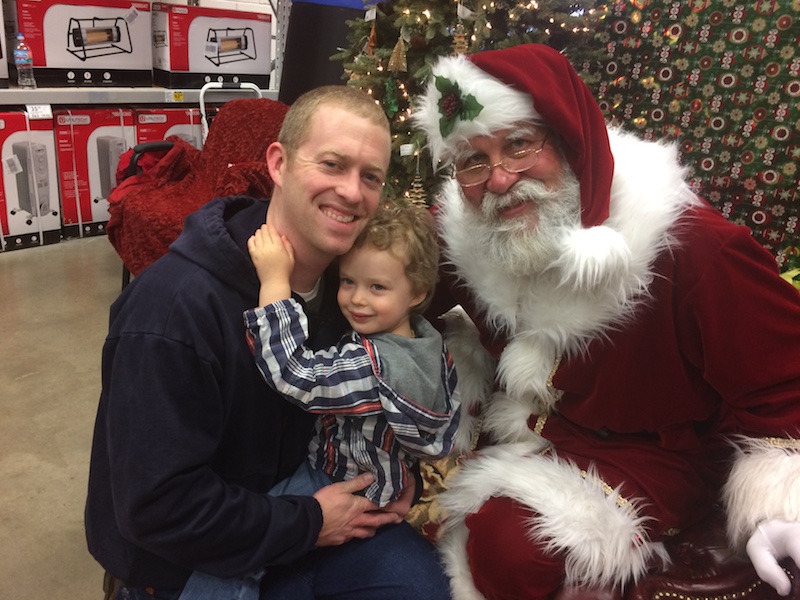 Making "soup" with rose petals; I gave him some petals off some roses I had and they kept him entertained for hours!  It's so funny what can do that.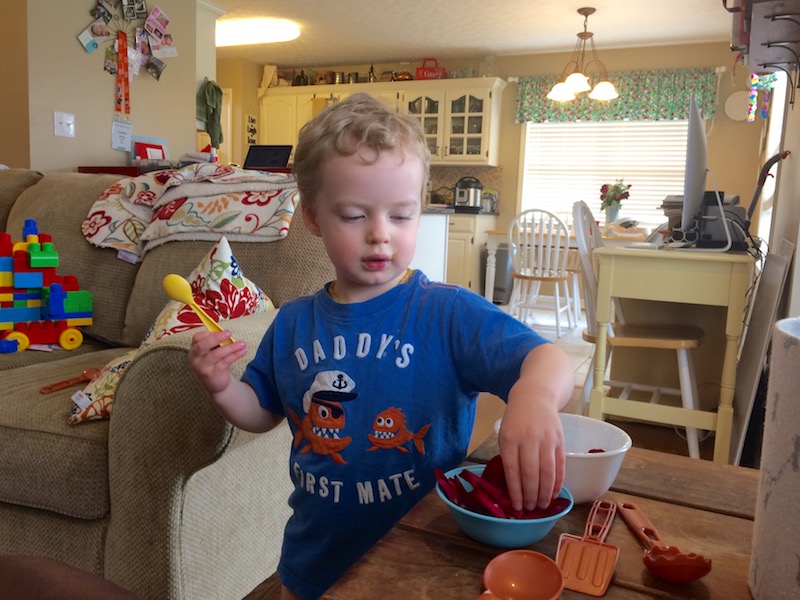 Literally the best spot in the world and the best job ever.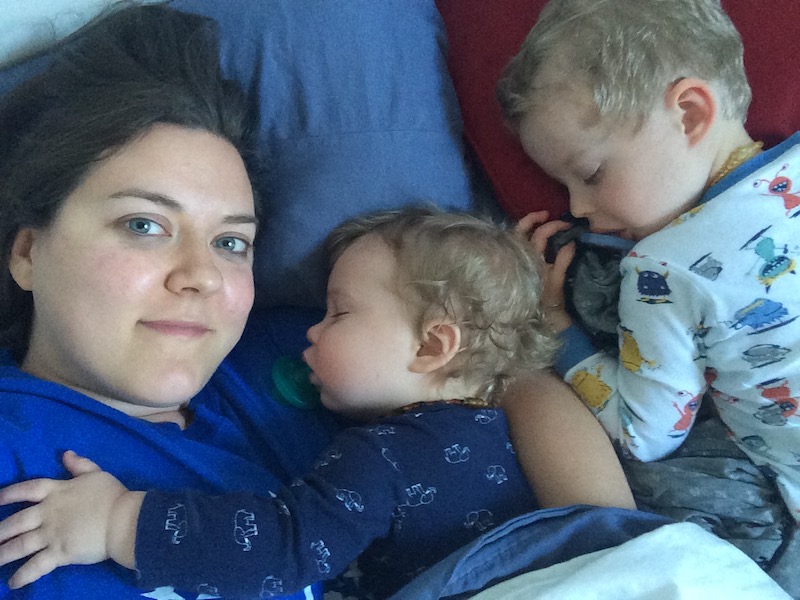 Wearing Mommy's warm headband like a sweat band.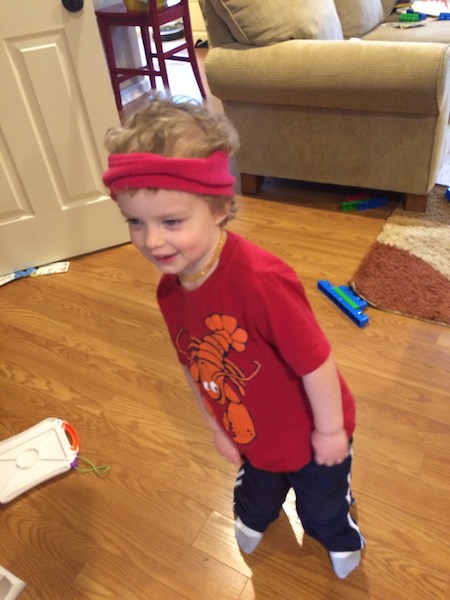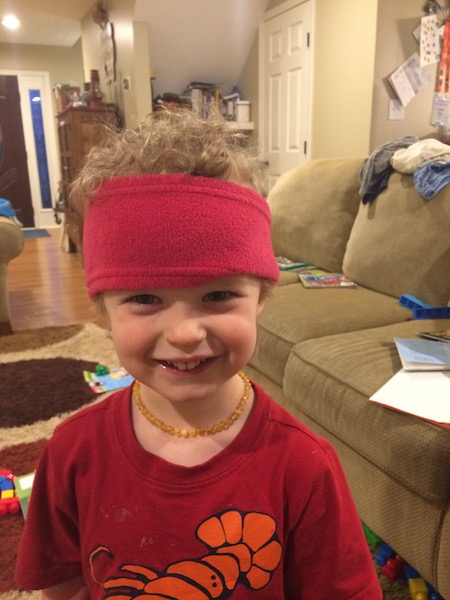 Three years
Christmas was SO much fun with the kids, but especially Hudson, this year.  He loved Christmas music (Jingle Bell Rock was his favorite) so we listened to music all day every day.  He loved looking at our decorations and talking about Christmas and watching Rudolf the Red Nosed Reindeer.  It was so much fun for me to see him enjoying everything!
Super blurry picture but Christmas eve in coordinating jammies!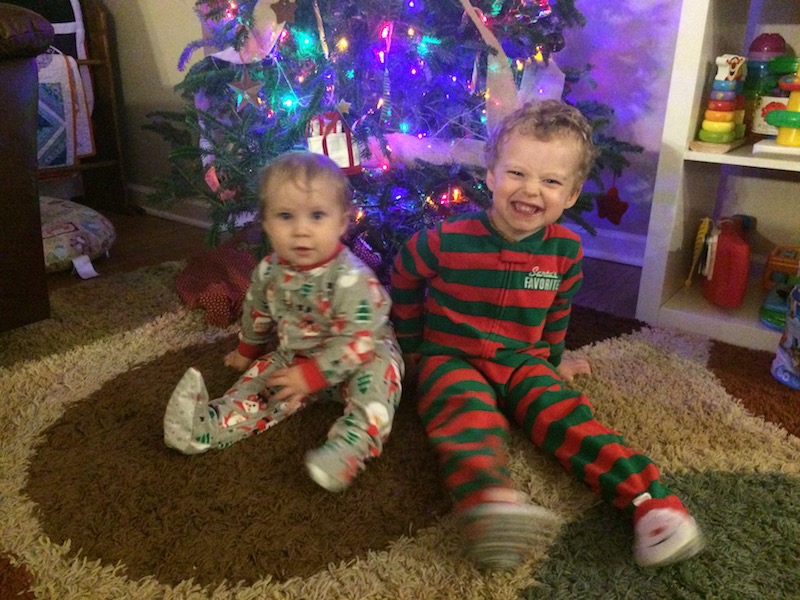 setting out cookies for Santa (since our Santa happens to be a Trim Healthy Mama…err…Santa, these were some THM approved cookies ;) )

When they woke up Christmas morning it was so funny.  Sad, but funny.  Because Hudson thought Santa himself was going to be in the living room on Christmas morning and he cried and cried when he found out that was not the case.  Bless.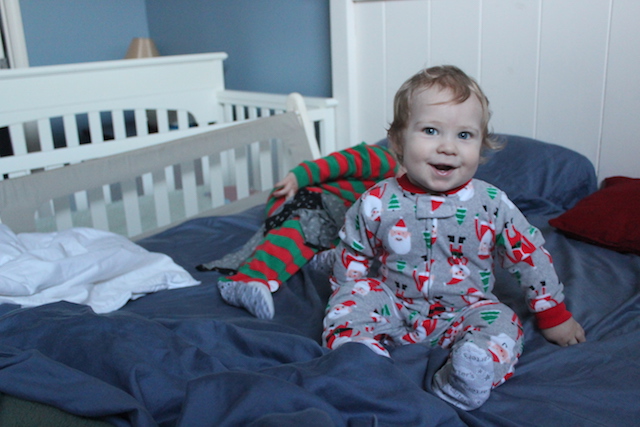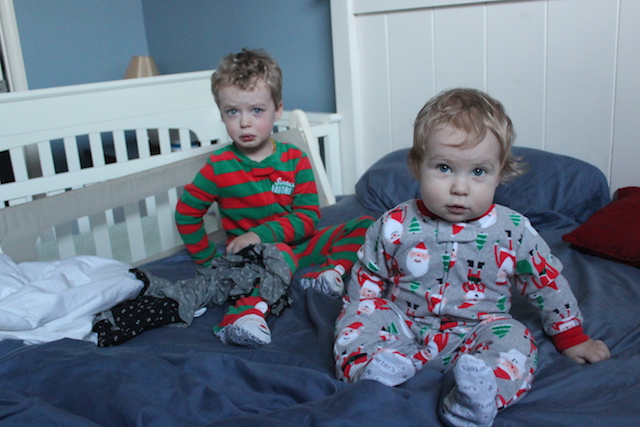 He thought it was HILARIOUS that Santa left crumbs!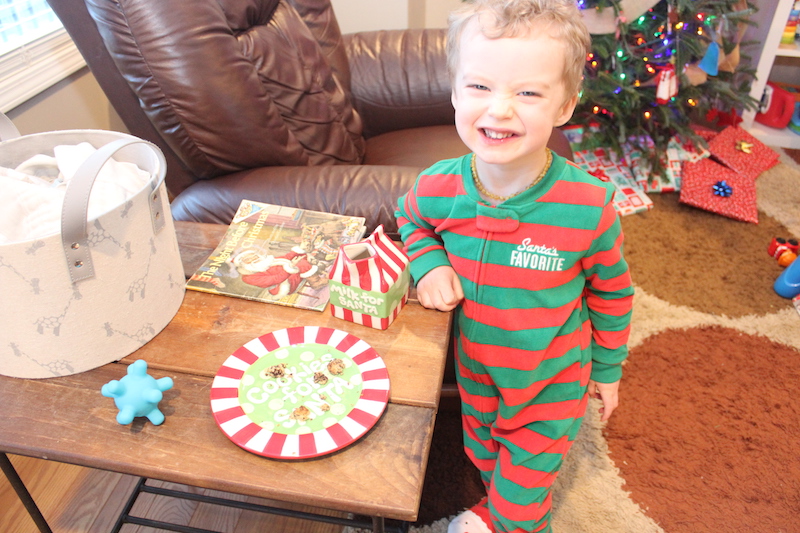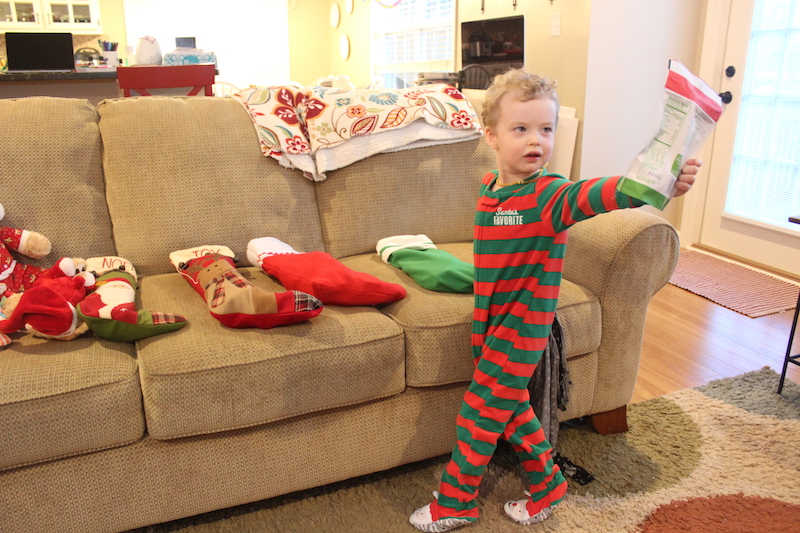 Gotta dive into your Christmas morning stocking loot right away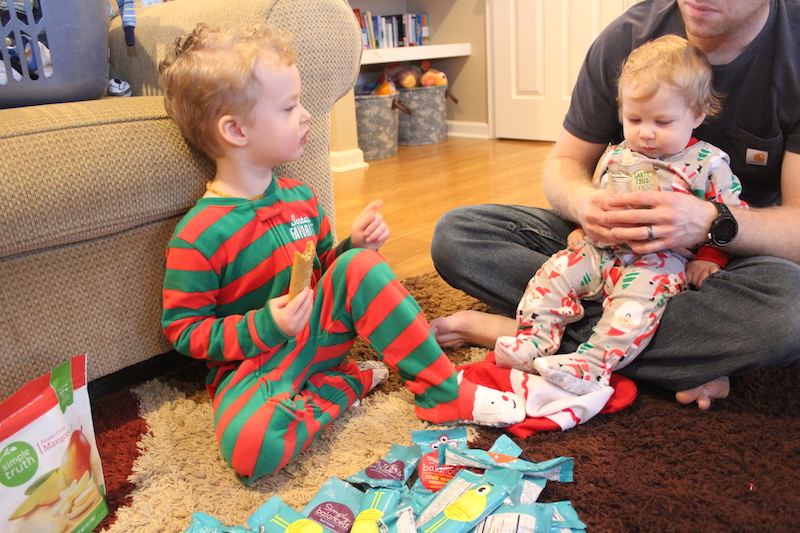 P.S. I got those coordinating jammies because I thought it was adorable for Christmas morning pictures.  Unfortunately Hudson hated wearing footie pjs so that went over like a lead balloon!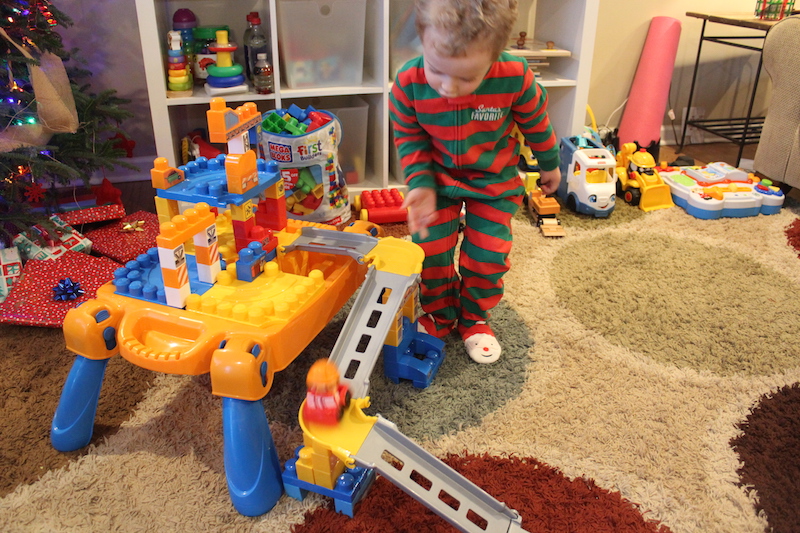 Hudson helping me clean the kitchen.  He LOVES to help wipe down counters and tables, dust, and even scrub toilets…you can be sure I'm taking advantage of that while it lasts!  Ha!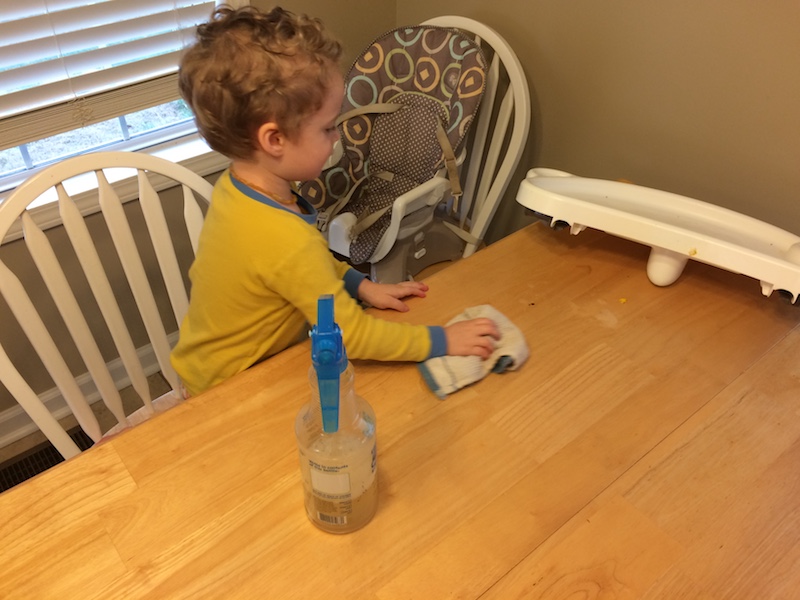 Michael is building Hudson a bed and letting Hudson help.  The hope is that taking ownership of his bed will make him more likely to sleep in it!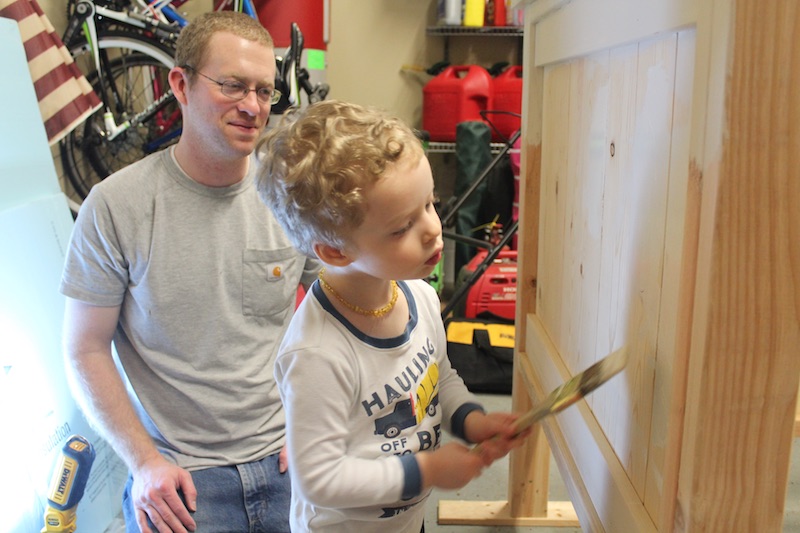 My big helper helping with my Instagram photoshoots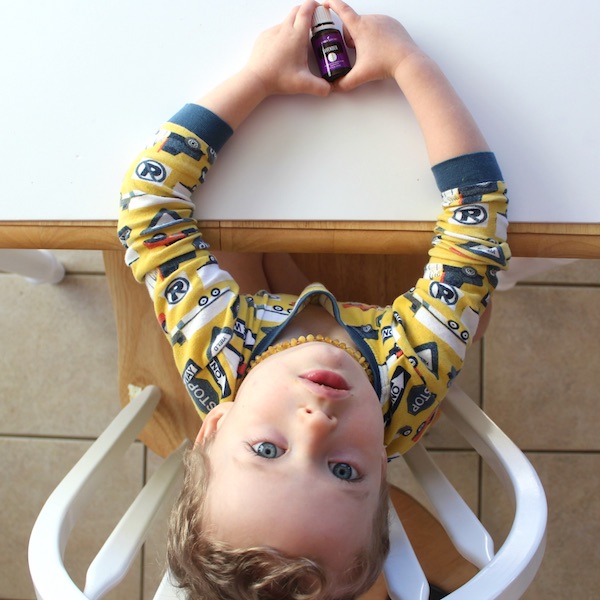 We get a Highlights magazine for little ones each month and this month had a snowman matching/memory game.  I cut them out and we played for hours.  It is so fun to see him starting to understand games and other learning activities.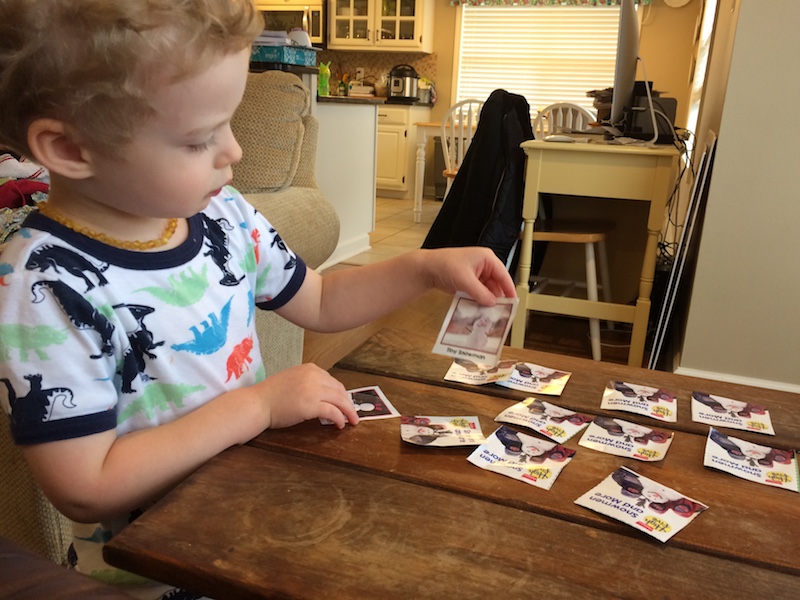 We had some weird cold thing that hit us on Christmas.  Both of the boys woke up with one puffy eye (on separate days), it was so strange!  It went away quickly though.

Oh Snapchat…our newest discovery!  And so much fun!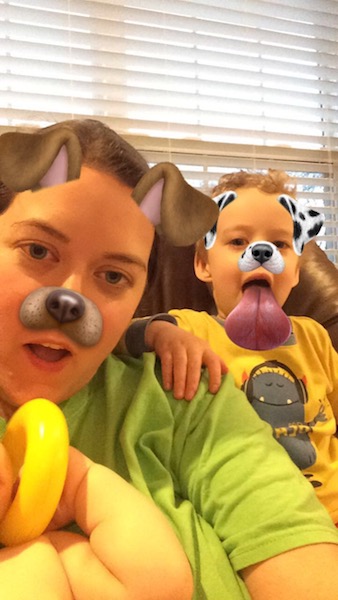 My big three year old giving his cheesiest grin!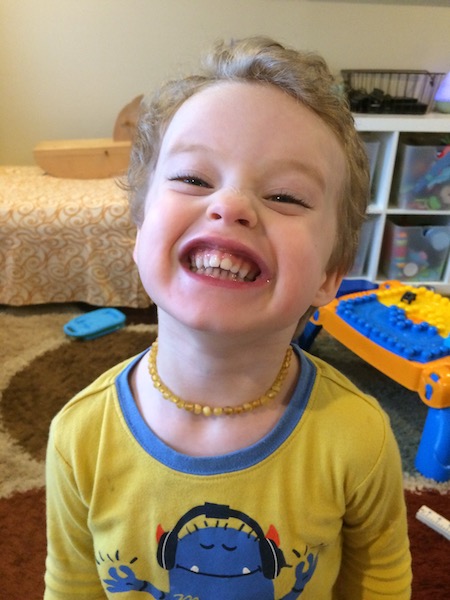 Here's to another amazing year!