Like I mentioned when I did Hudson's three year update, because of all my phone/computer/technology issues in the past few months I got miserably behind on the kids' updates – the last time I updated on Parker he was 7 months old!  And now I don't even remember what things Parker was in to or doing or anything during each month so instead of doing month by month updates I'm going to roll his into one like I did Hudson's (and trying to let go of the mom guilt for not having monthly updates for the first year of his life like I did Hudson's…sorry Parker, #secondkidproblems).  Anyway, here is Parker's one year update catching up from 8 months old to now.
growth
At his one year appointment Parker weighed 24 pounds and was 30 inches tall (80-something percentile for weight and 50-something for height).  He's currently wearing 12 month and 18 month clothes (his 12 months are getting dangerously small though).  He got his first pairs of shoes for Christmas (that makes us sound so terrible that he's just now wearing shoes but seriously…no point in shoes if they can't walk!).  He mostly wears Robeez soft shoes but when we go outside to play he wears a pair of more structured shoes that are a size 5.
eating
Dude loves to eat but he is definitely pickier than Hudson was (or at least that I remember).  His absolute favorite food are strawberries, and I can't even put them out on the table until he has eaten a good portion of the rest of his meal because once he sees them that's all he wants.  Other favorites include cheese, bananas with peanut butter, eggs, bacon, hamburger patties, chicken, and cucumbers.  When he wants to he can put away a huge amount of food – we've got another big eater on our hands like Hudson is/was!
He really only nurses at nap time and bed time now (nurses to sleep at nap time, usually once in the middle of nap, to sleep at night, and then several times during the night).
sleeping
Parker likes an early bed time!  He goes down around 7:30 and sleeps until 7ish, but wakes several times during that time to eat.  He takes one nap right after lunch from about 1-3pm.
new accomplishments
In Parker's 7 month update he had just started crawling.  Since then he started standing on his own (9 months old) and walking (10 months old).  Hudson was over a year old before he started walking so it was a bit of a surprise to have one walking at 10 months!  I guess he needed to keep up with his big brother ;).
Parker has four teeth now.  He got his first tooth on September 10 (the day after I posted his last update!  ha!), so at 8 months old.  The first one to come in was one of the bottom front ones, and he got the other bottom front a week later.  Since then his two top front teeth have also come in but I don't remember when exactly and can't find it written down.
communication
He still mostly just babbles.  On his first birthday he signed his first word: "more".  He totally understands what you're saying most of the time, he just doesn't talk back yet.
pictures from the last 5 months
Here are some pictures of Mr. Parker over the last 5 months.
8 months old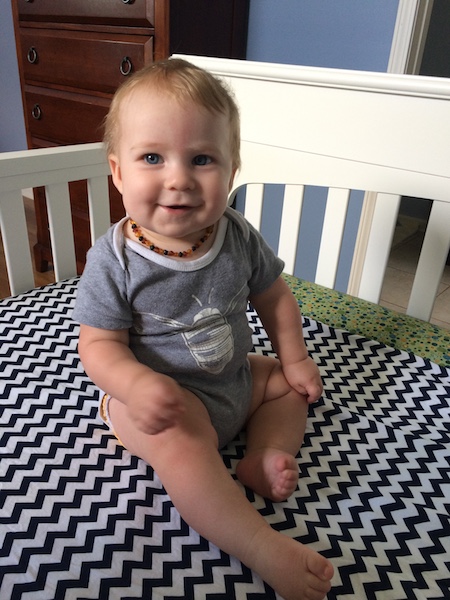 pulling up on everything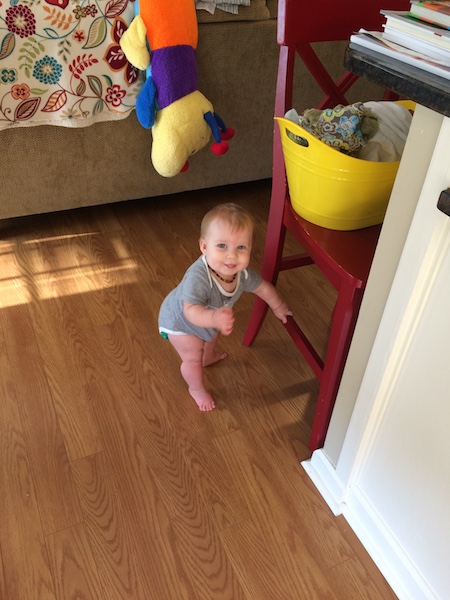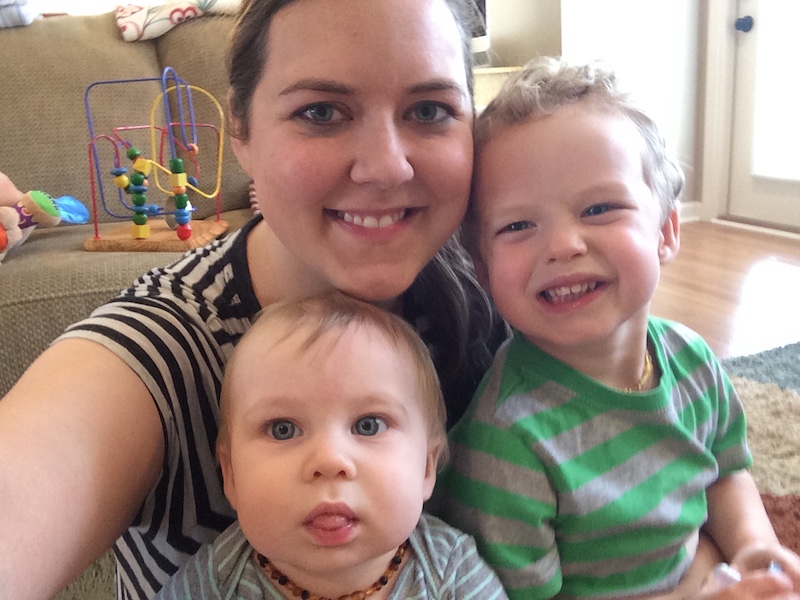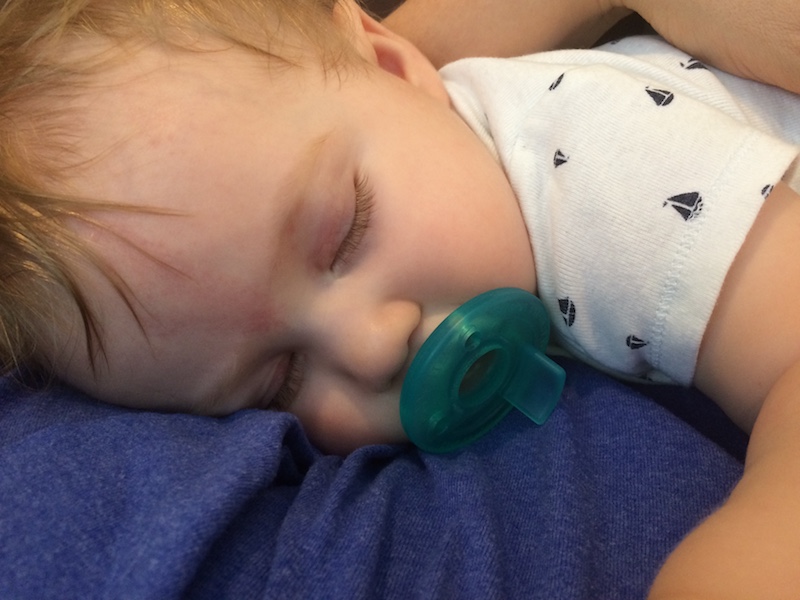 His favorite thing is to try to steal Hudson's fuffle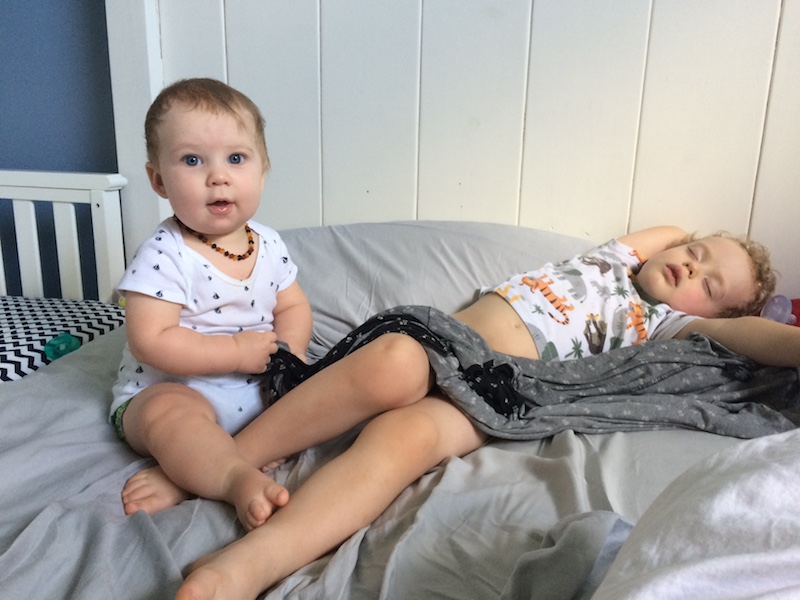 Sometimes you're trying to get work done and somebody wants to be held.  Enter babywearing for the win.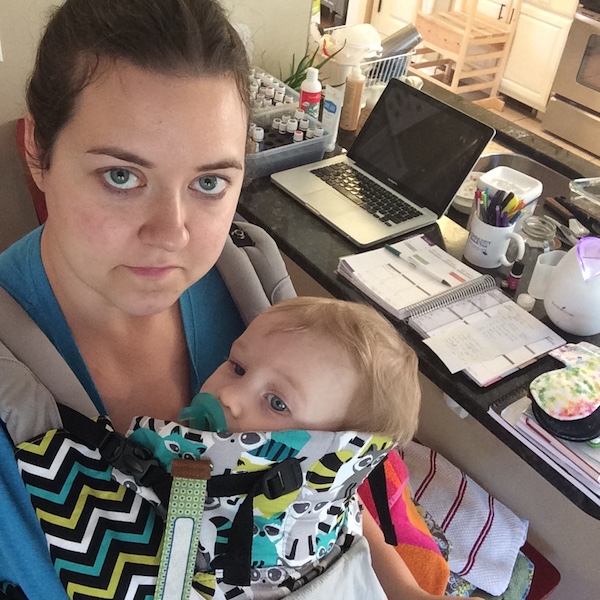 As soon as Parker started pulling up we had to drop his crib because he kept trying to climb on the edge!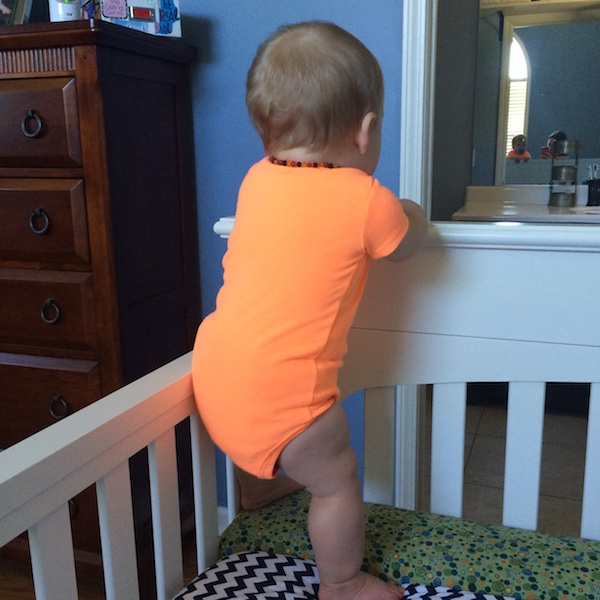 lounging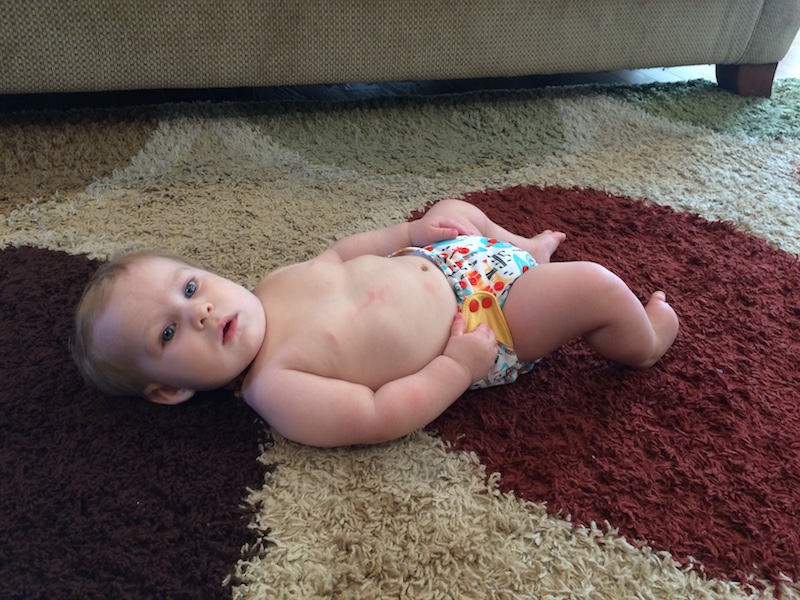 Brothers holding hands.  I love it.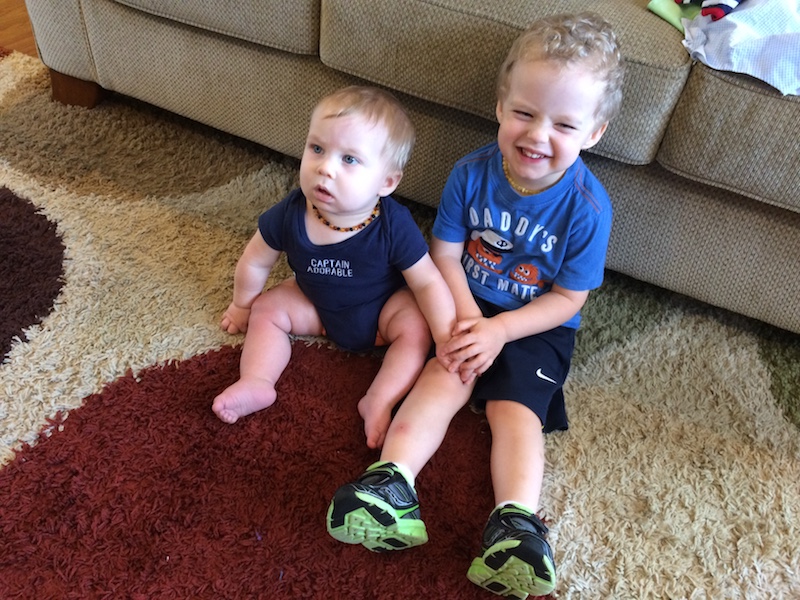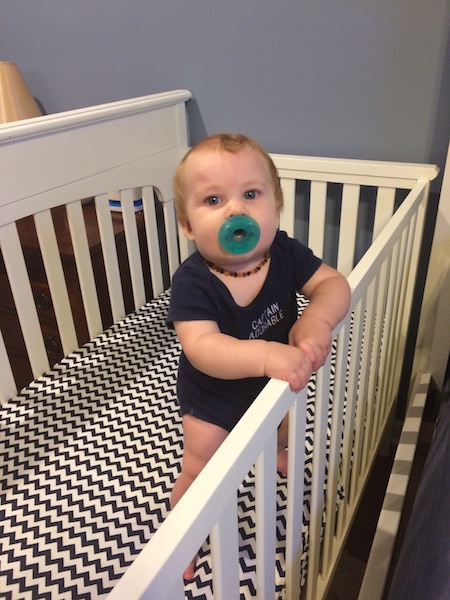 Ready for church!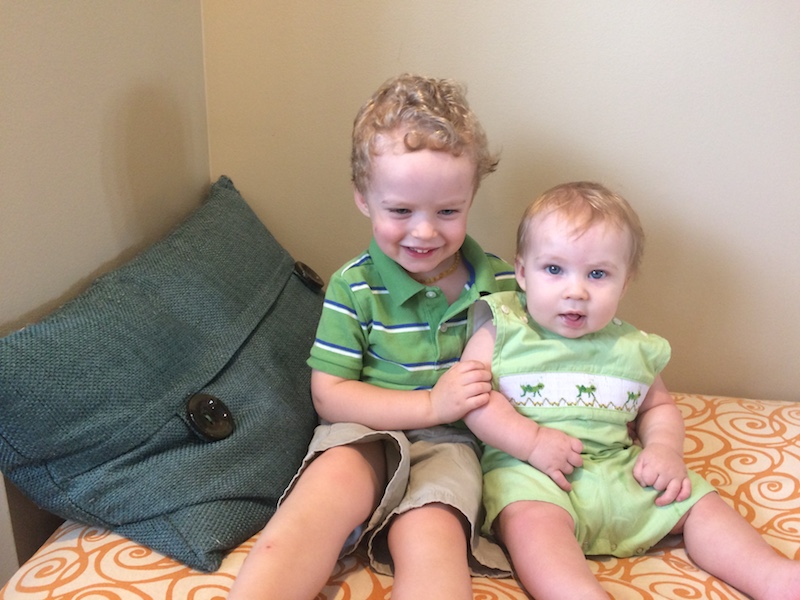 One of the difficulties with having a toddler and a baby is that I have to be on the go and more active with Parker than I was with Hudson!  Figuring out how to breastfeed in the carrier (which I'm doing in this picture here at the apple orchard) has been so helpful!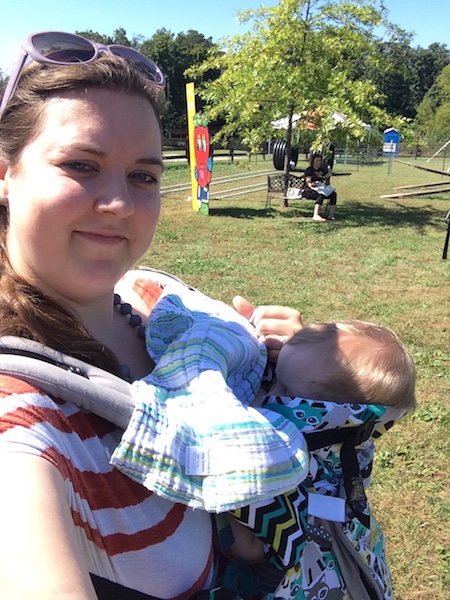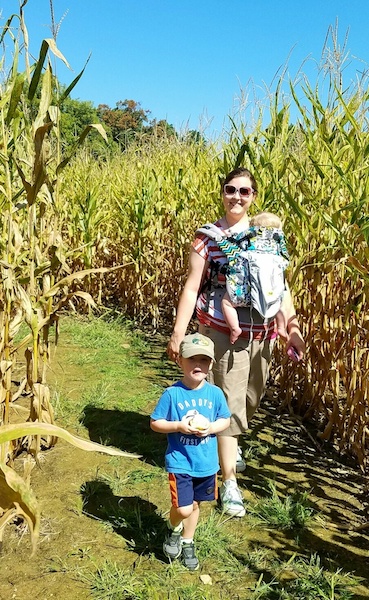 wearing both of my babies!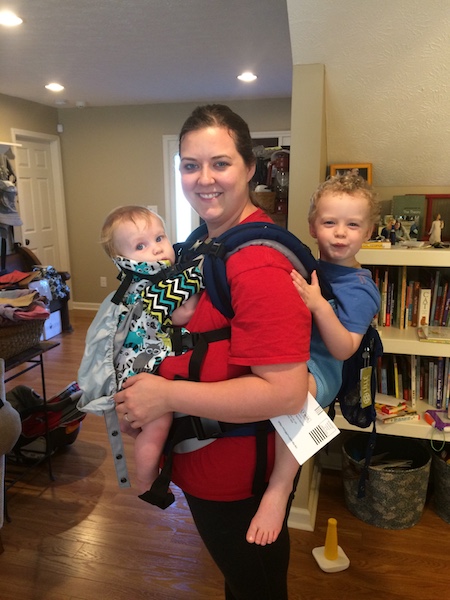 this boy has some major bedhead!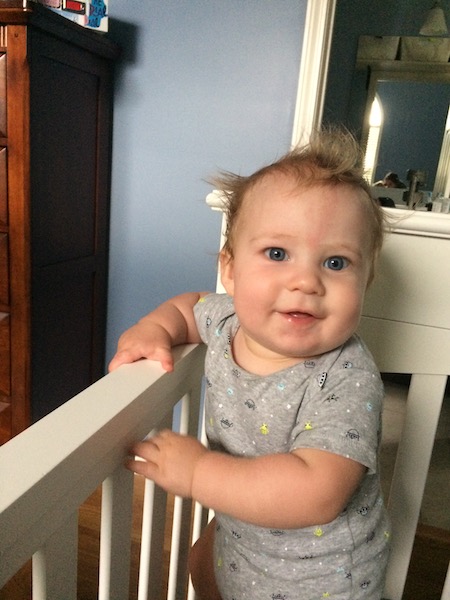 Be still my heart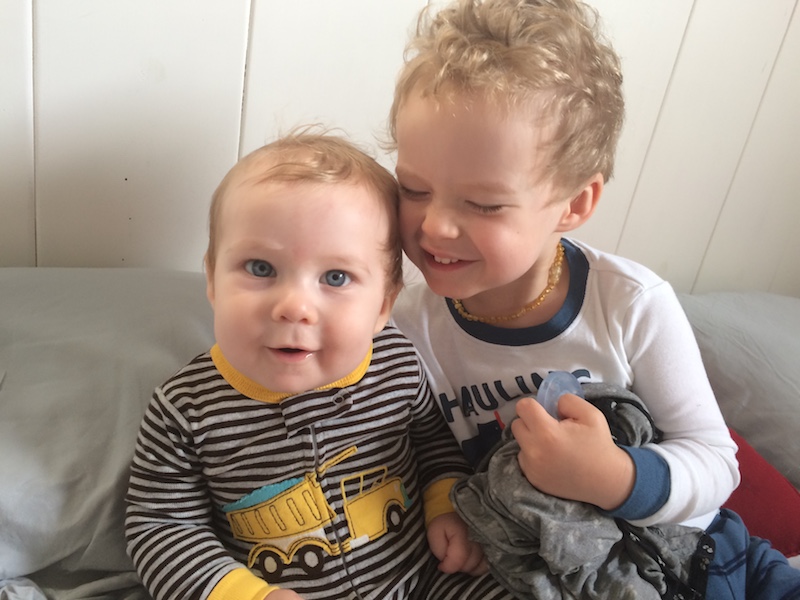 I celebrated hitting 35 pounds lost with a new haircut…Parker wasn't so sure about it though
9 months old
Enjoying the zoo on vacation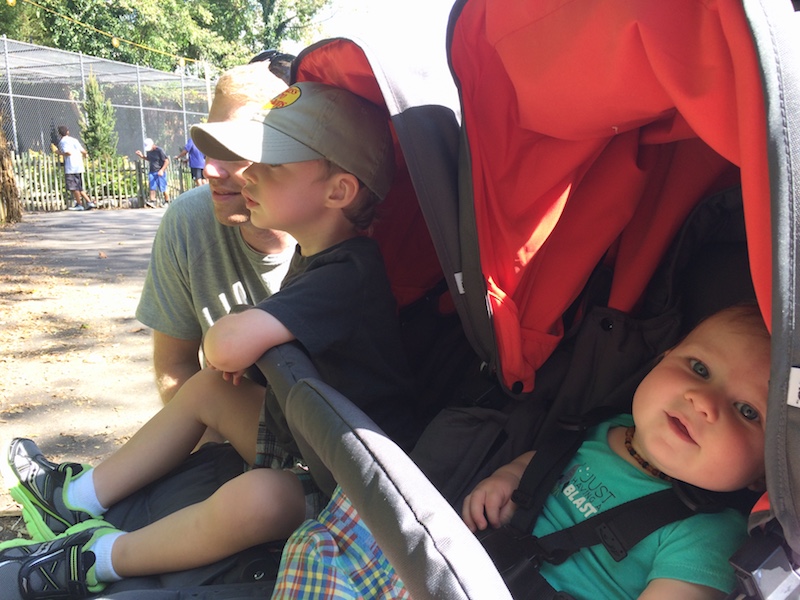 The rings from those plastic ring stackers are Parker's favorite thing!  He almost uses them like a security blanket.  He has one in each hand almost all the time and when he crawls with them it sounds like a horse clip clopping!  We call them his donuts.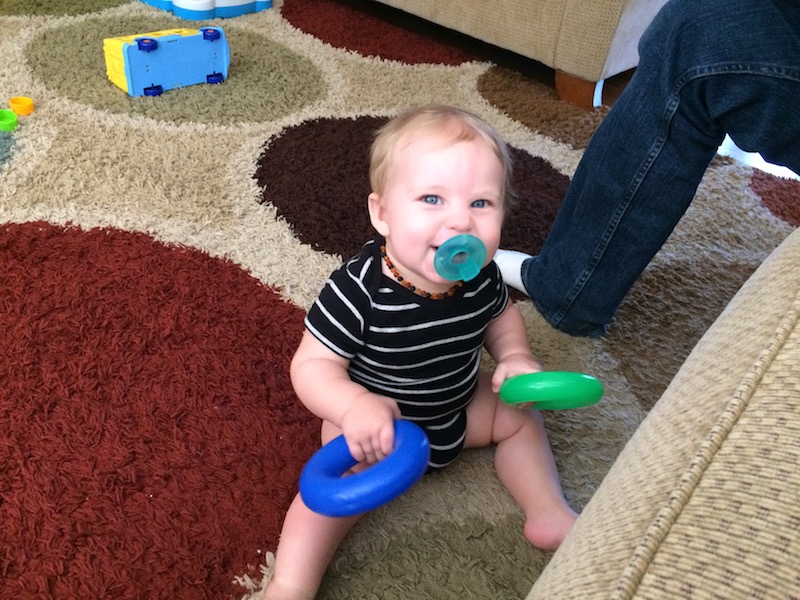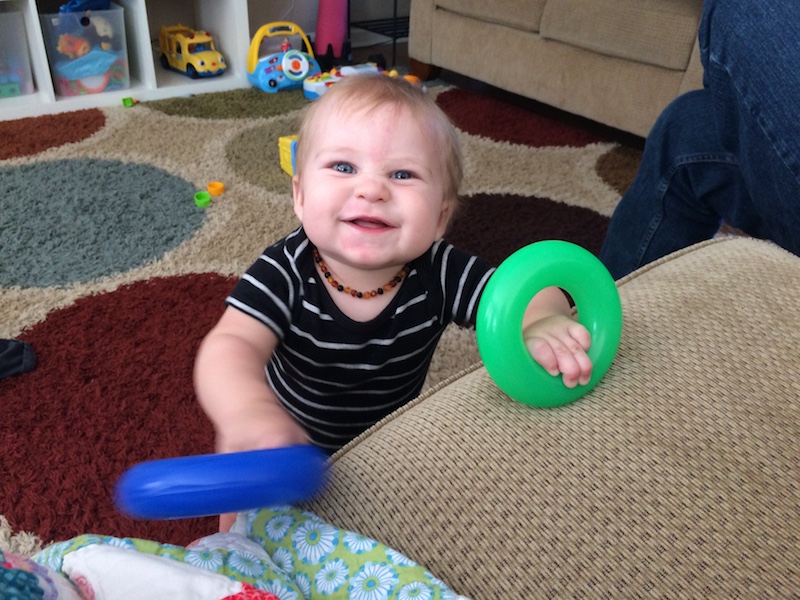 I love matching so much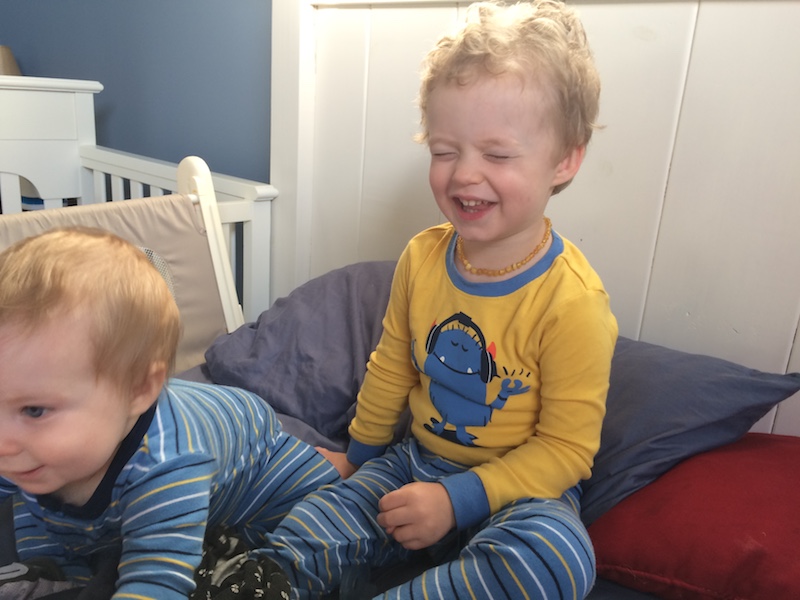 It drives me bananas that Hudson is constantly grabbing my phone off the counter and taking pictures but I have to admit he does sometimes come up with some pretty funny ones, like this one.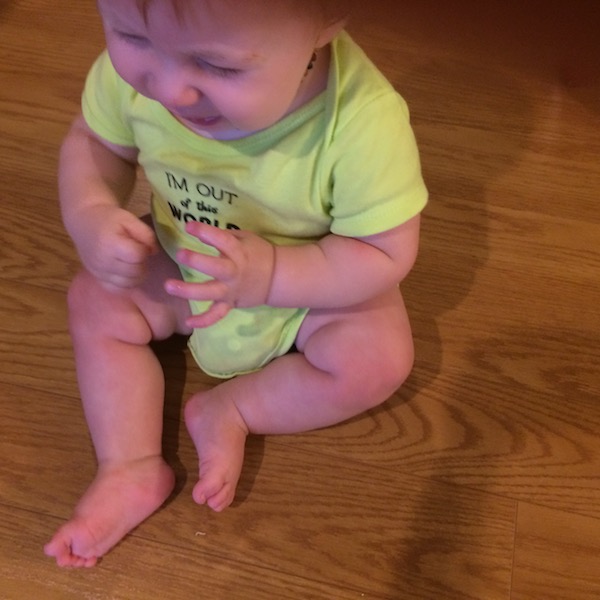 Getting to be such a big boy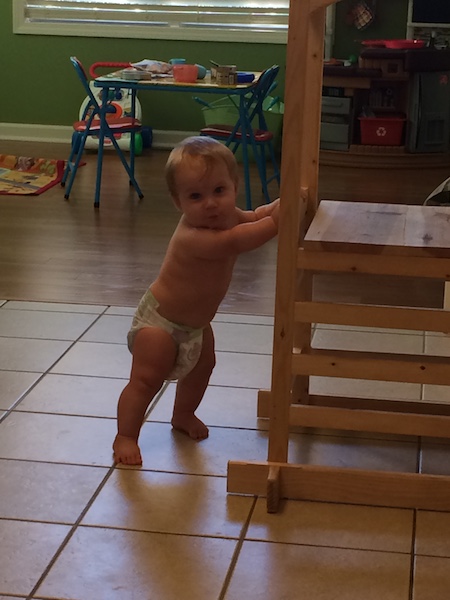 I adore this little seersucker outfit!  Hudson wore it too and it's so precious, especially that hat.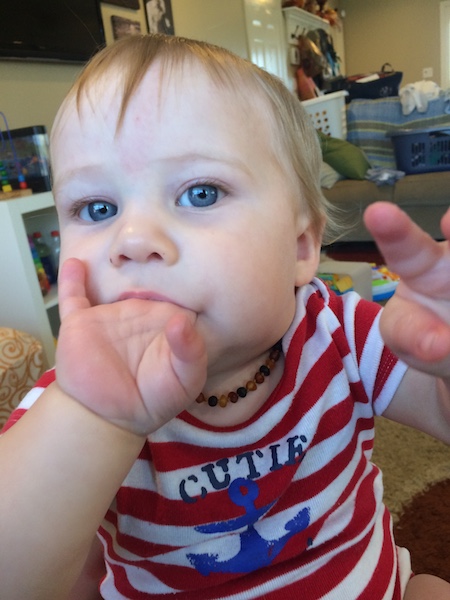 more crazy hair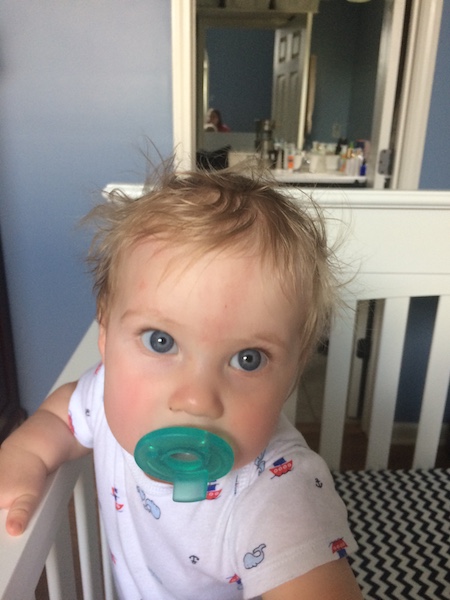 Trying on his Halloween costume – isn't he the cutest marshmallow you ever did see??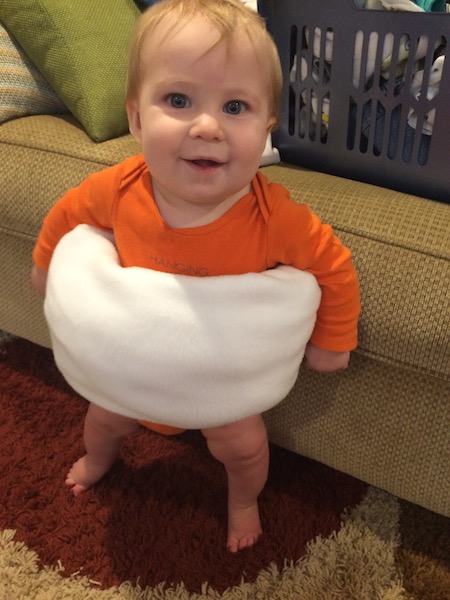 Cracks me up how he's sleeping with that leg slung out (and for the record he did have socks on but he hates them and pulls them off right away.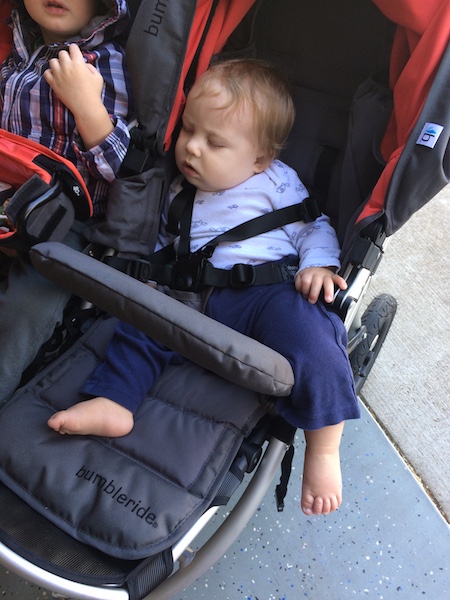 10 months old
He makes the cutest faces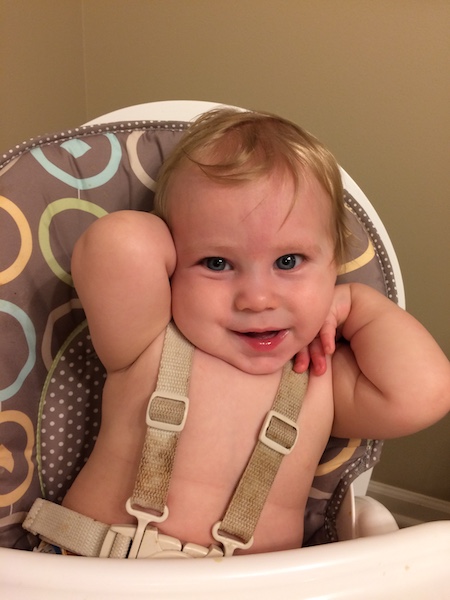 The first time or one of the first times we did a back carry.  It makes life so much easier being able to wear him on my back!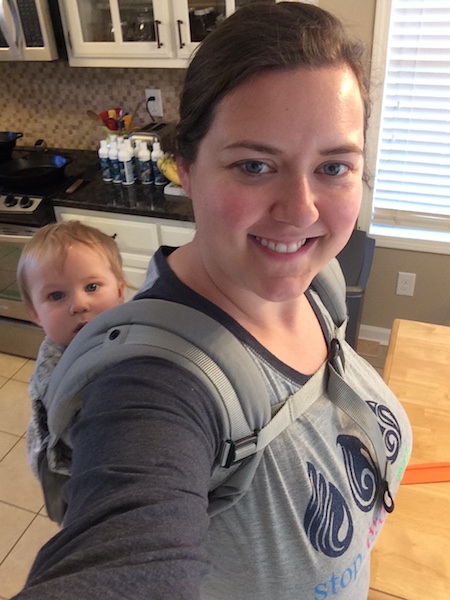 Hanging out at the zoo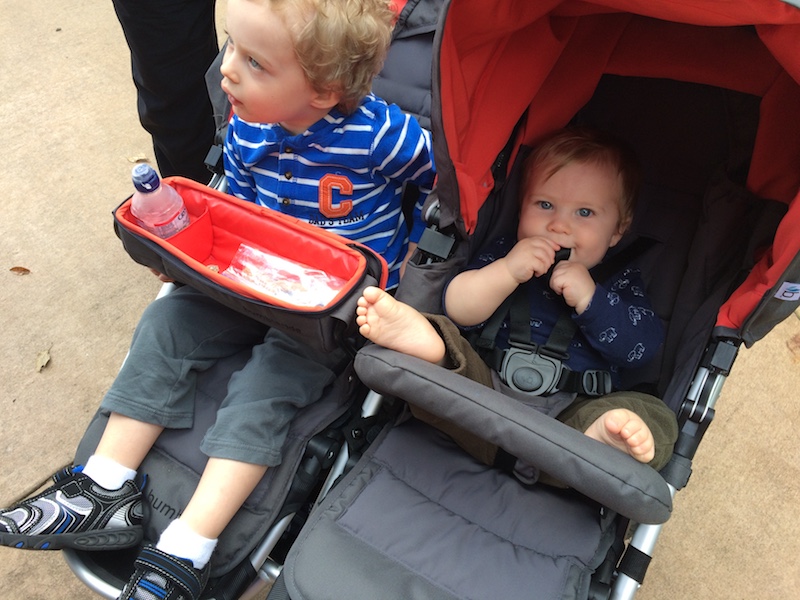 I love this monkey hat that was Hudson's
All bundled up to go for a run with Mommy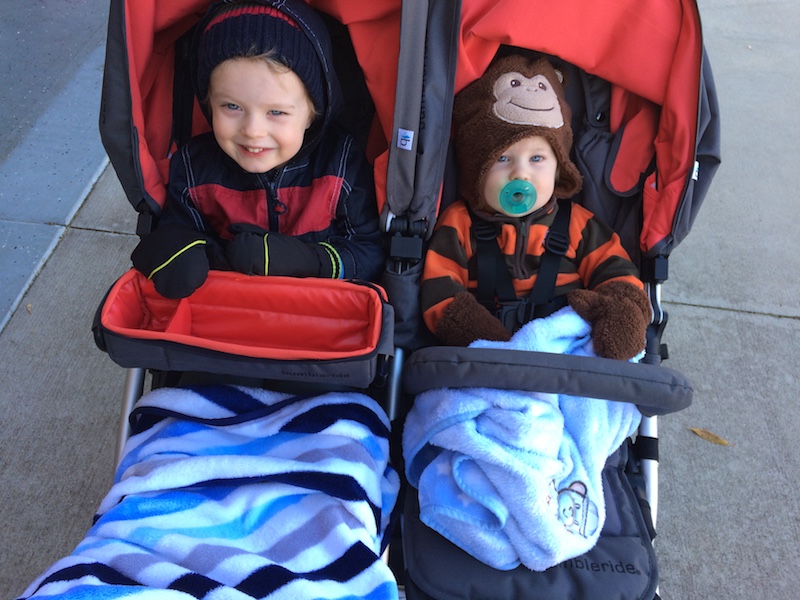 baby feet are one of my favorite things ever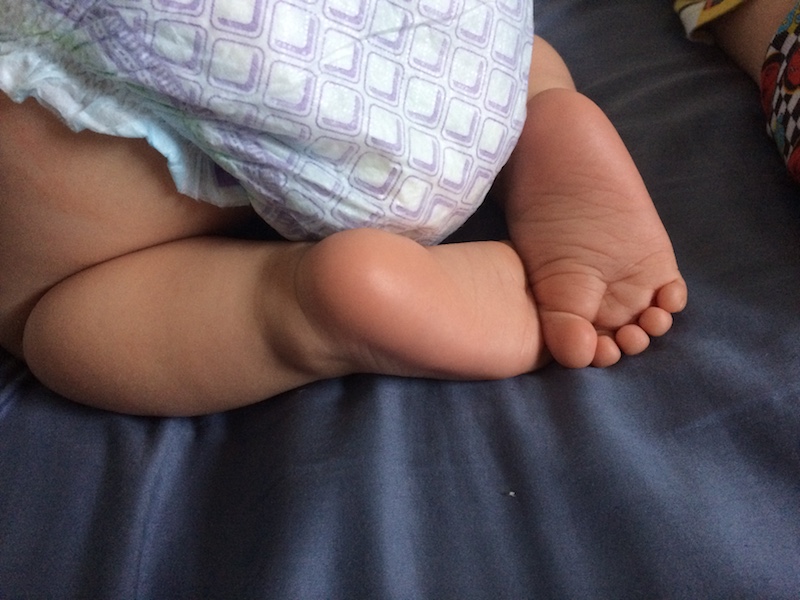 Picking out our Christmas tree
Another one of Hudson's outfits that was a favorite of mine.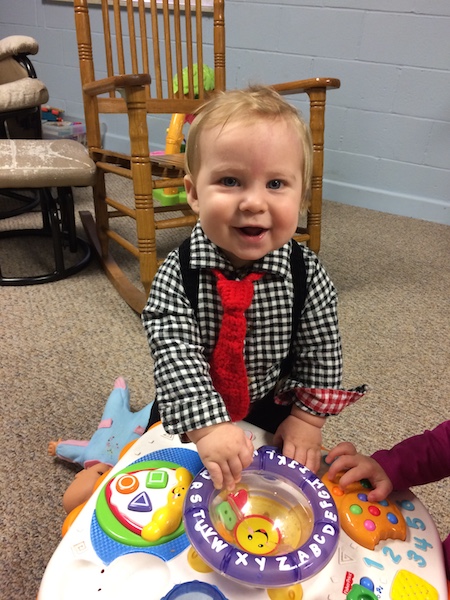 11 months old
I take a lot of staged product pictures for my Instagram account and yeah…this is what's going on behind the scenes.  I have two little "helpers" for most of my photos.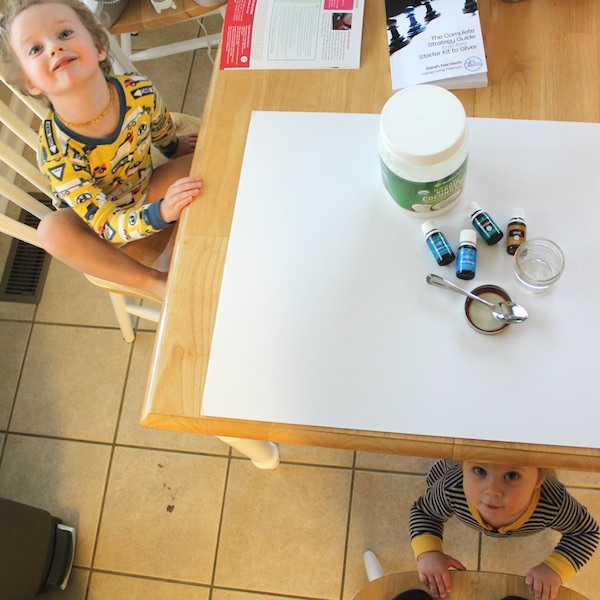 The hair gets crazier and crazier!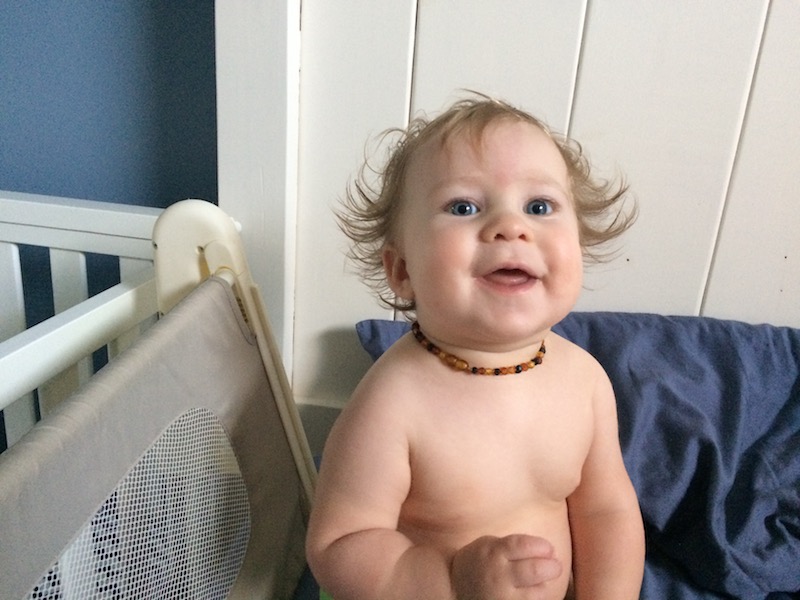 I completed the whole Couch to 5K program with my two little sidekicks in tow.  Do I get bonus points for pushing a double stroller?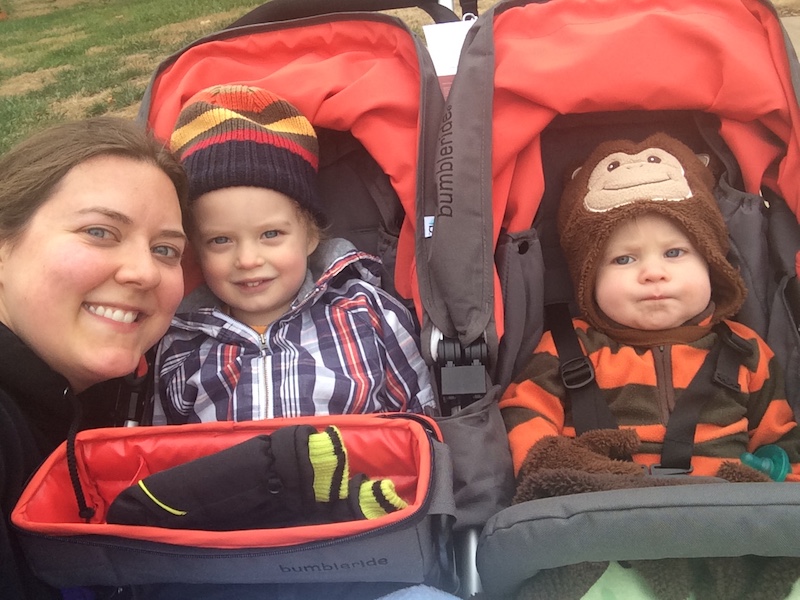 Tired boy laying down with Hudson's fuffle on the floor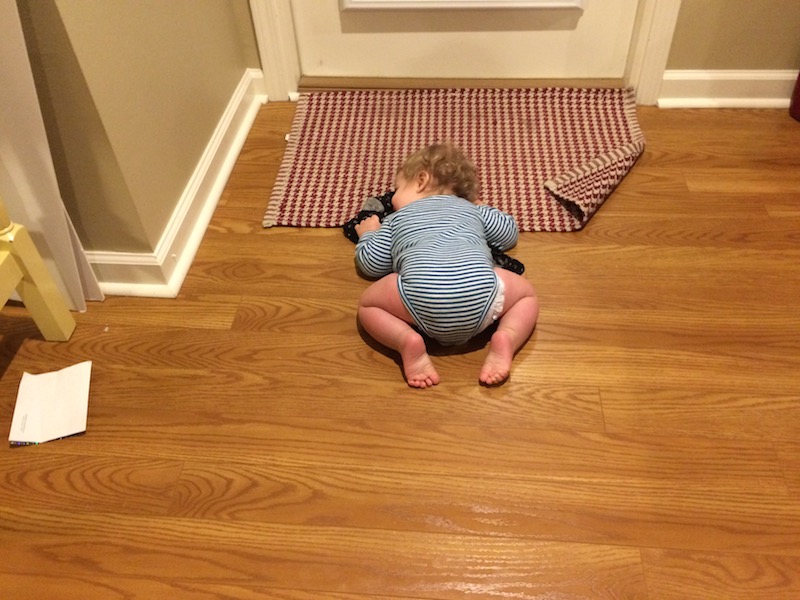 He loves Bible class!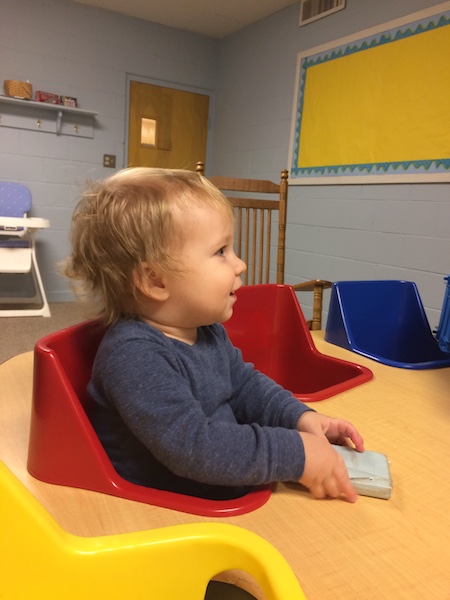 one of my favorite views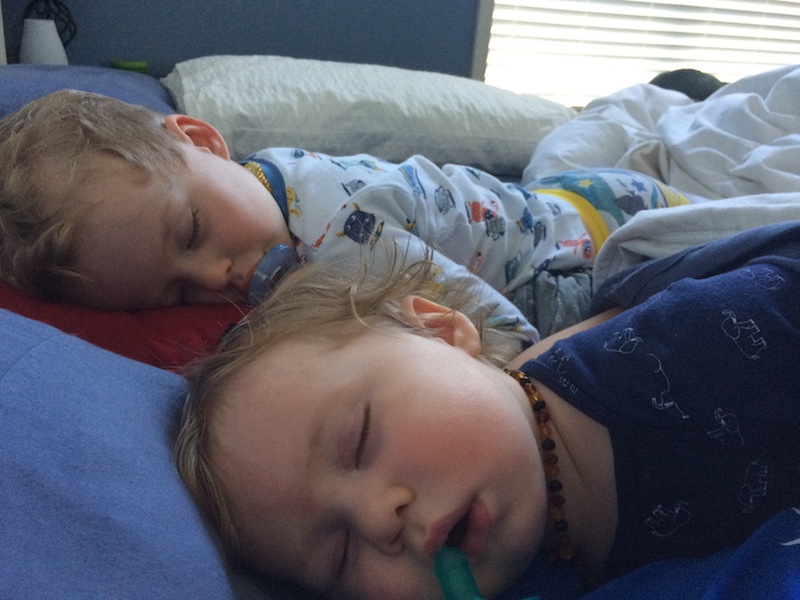 Hudson never ever ever EVER fell asleep randomly so this is totally new to us, but Parker will sometimes just fall asleep where he is (usually in his high chair during lunch time).  I think this particular day he fell asleep before I even got done fixing his lunch.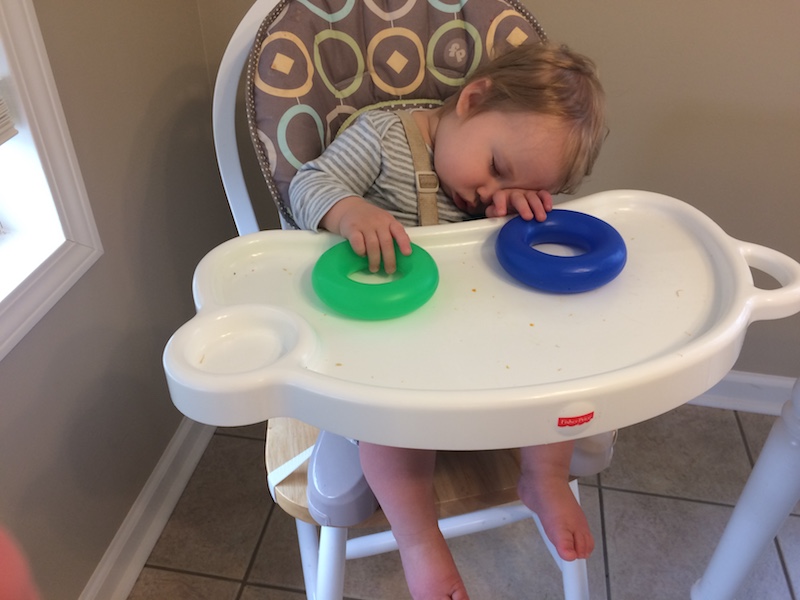 On THIS particular night Parker would.not.sleep.   I was up with him until the wee hours of the morning.  After crawling around and playing all over the living room he finally gave it up and fell asleep…but when I picked him up to take him to bed I could smell that he'd pooped so of course I had to change his diaper and that woke him back up.  It was a long night.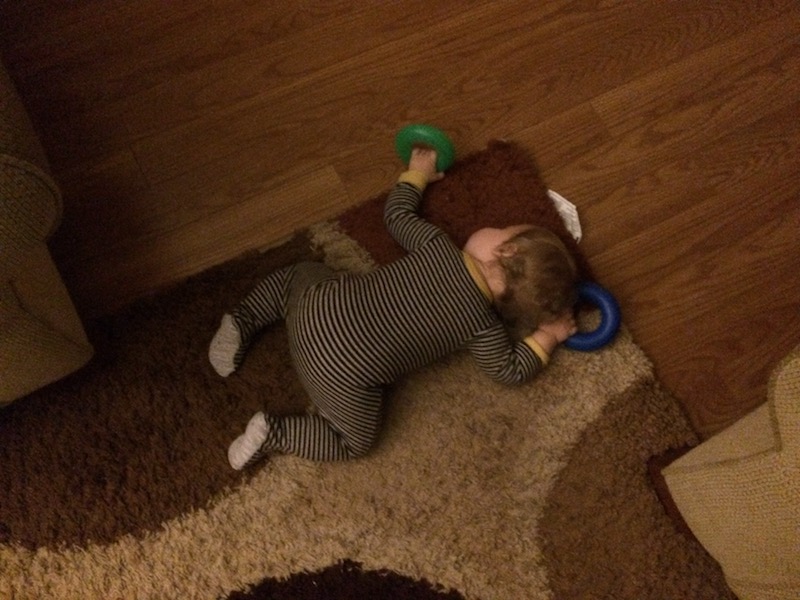 Right around Christmas Parker got the weird "one eye swollen shut for one day and then back to normal" thing that Hudson had gotten too.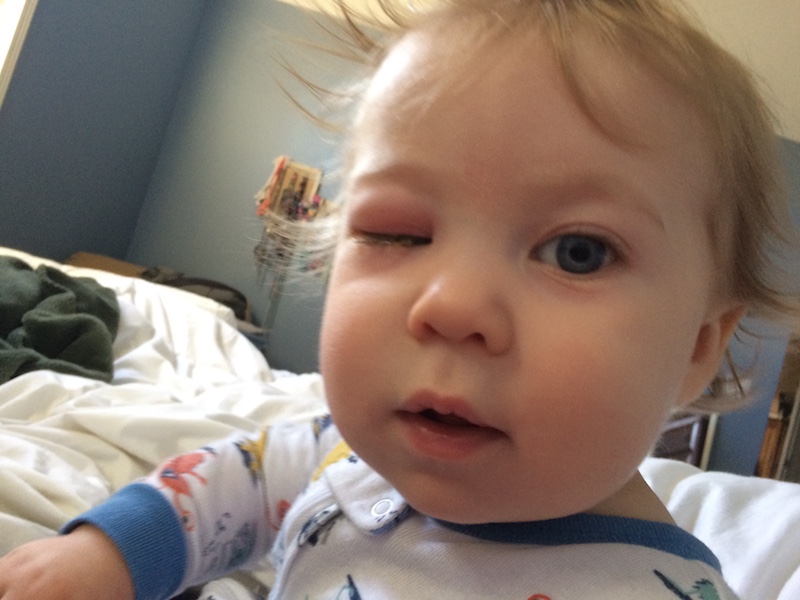 Of course Parker didn't really know what all this Christmas business was about but anything that Hudson is excited about, he's excited about too.  He did really well leaving the tree alone for the most part.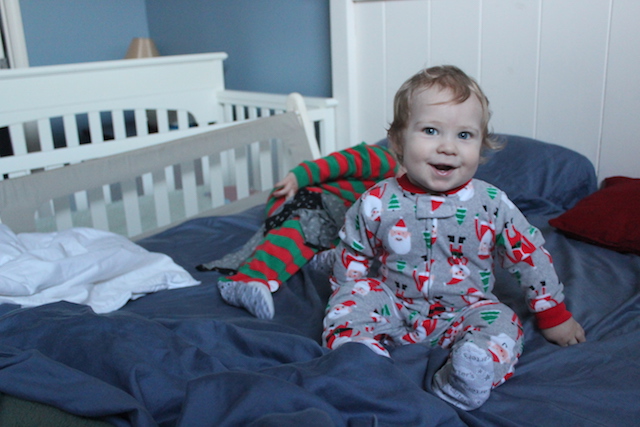 opening stockings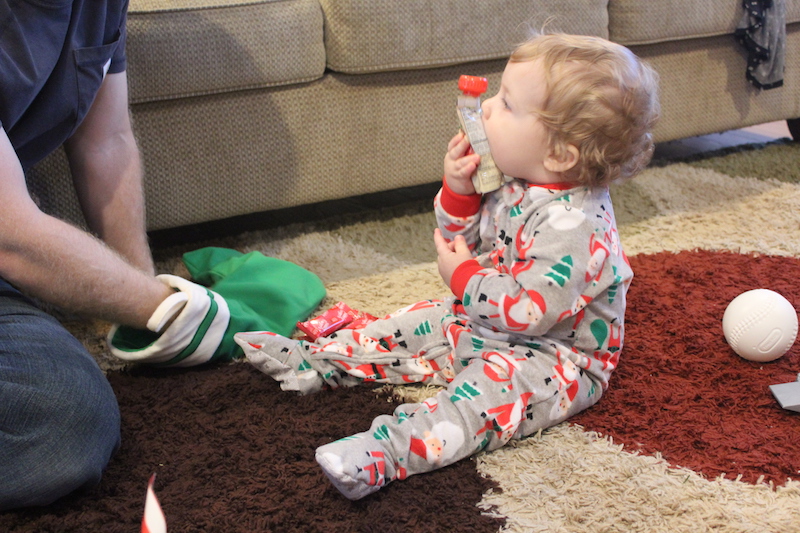 playing with Hudson's new ball
opening presents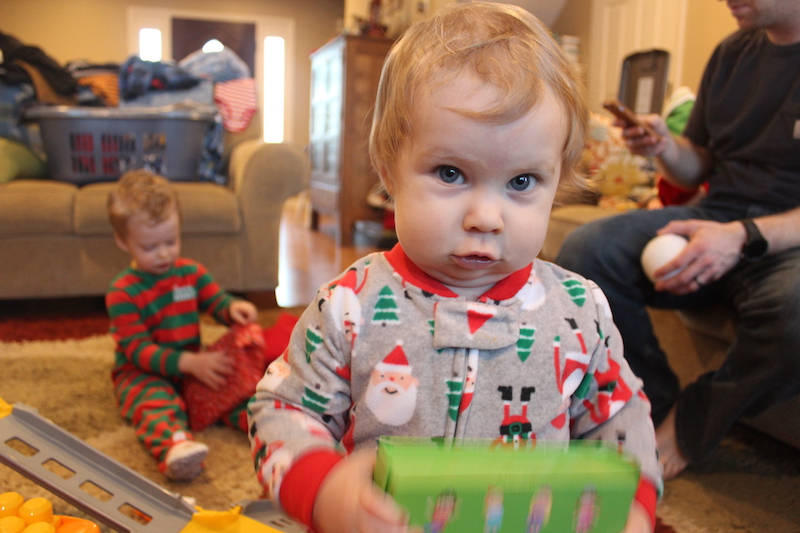 snack time with our stocking treats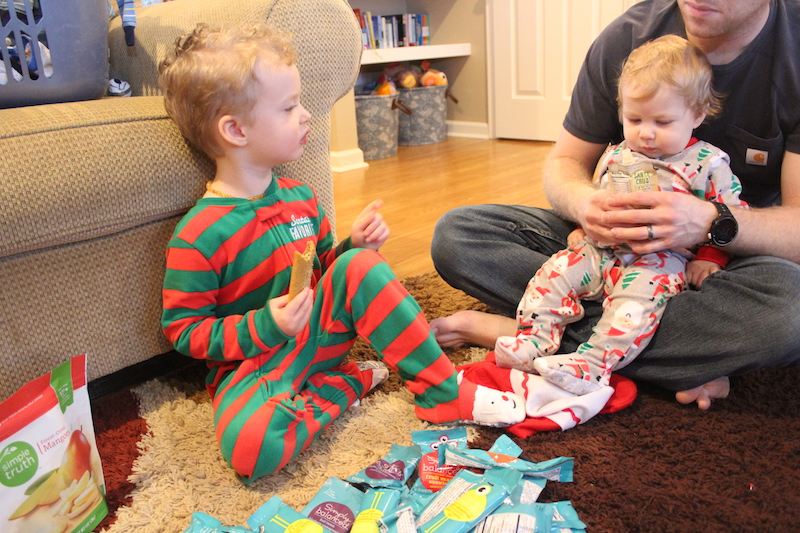 one year old
This full body suit/onesie thing with the ears is one of my favorite outfits of Parker's!  He looks like an adorable little hipster baby.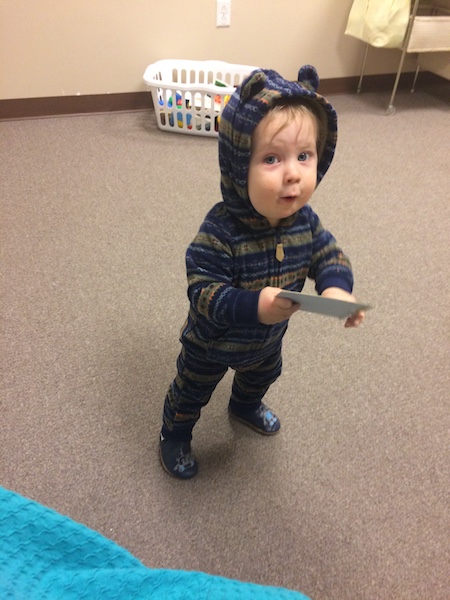 Such a happy boy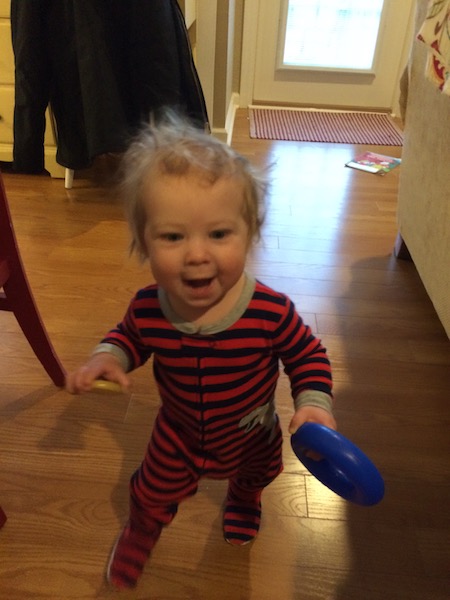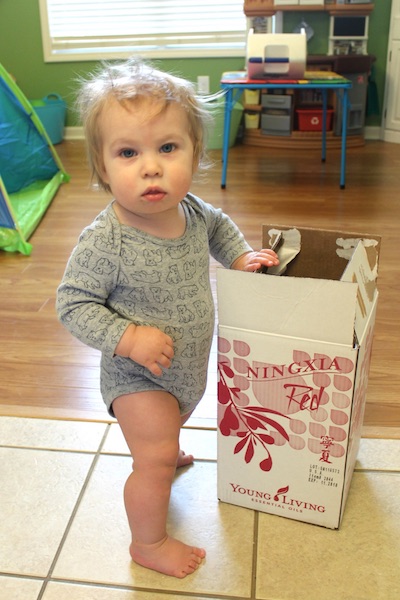 One advantage of cramming 5 months of pictures into one post is that it's easy to see the progression of his hair over the past few months!  It's definitely getting time for a haircut!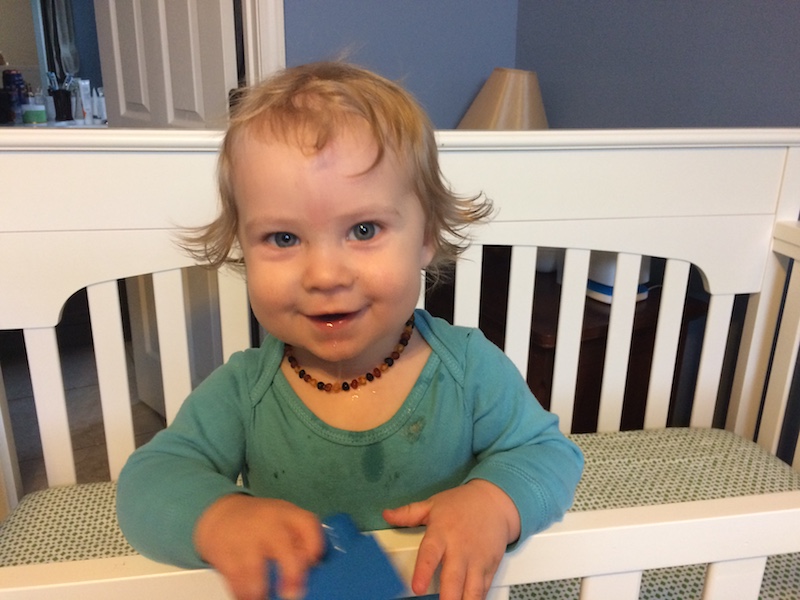 Hudson was never a climber, especially not at this age, but Parker has climbed up on a couple of things already.  Oh boy…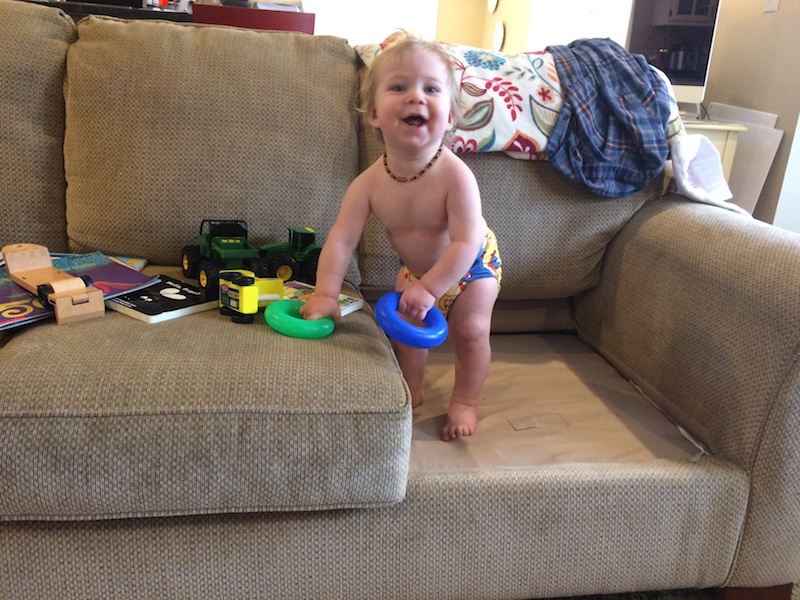 Post bath hair craziness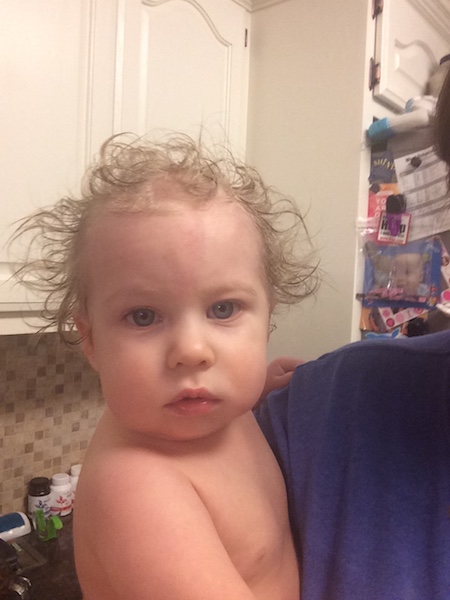 Look how long it is in the front when you slick it down!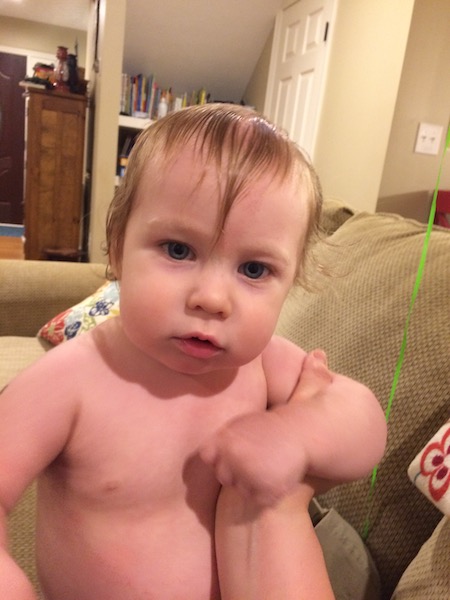 He loves to wear Hudson's fuffle on his head!  He walks around and cackles about it.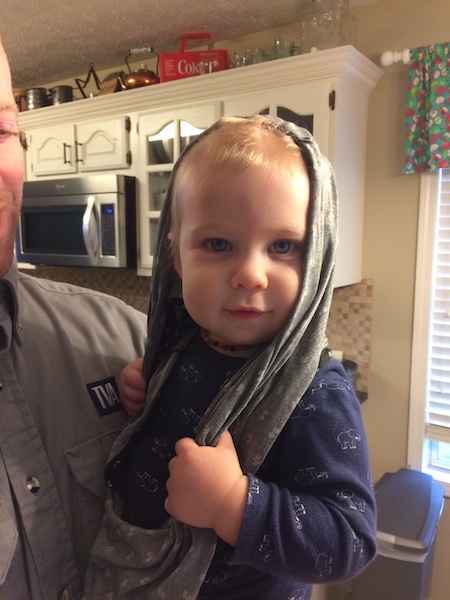 Every day when I roll out my yoga mat to do my workout he runs over there and sits or lays down right on top of it…right in my way.  Silly boy.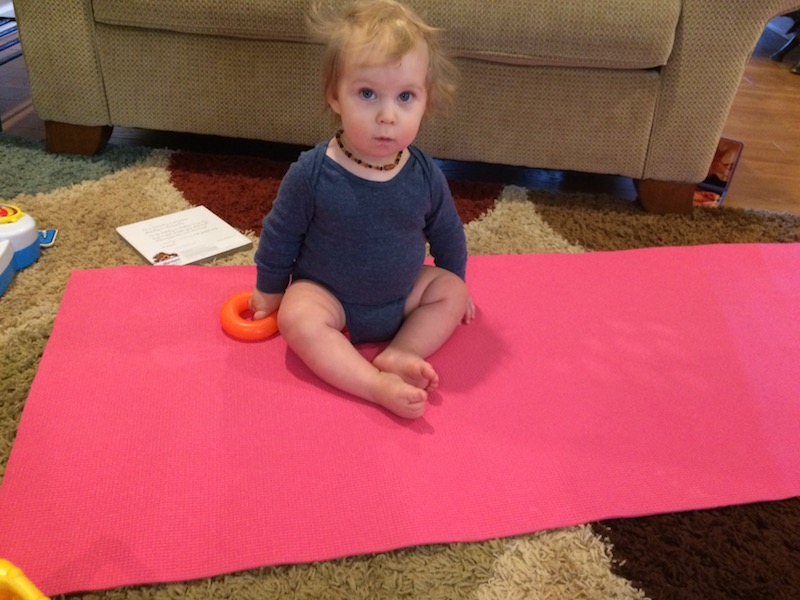 These boys…so young but already they'll love all over each other one minute and then shout at each other the next.  Parker was giving Hudson all sorts of hugs when I took this picture…but then right after I got done Parker gave a rather enthusiastic hug and fell right off the couch!  Whoops!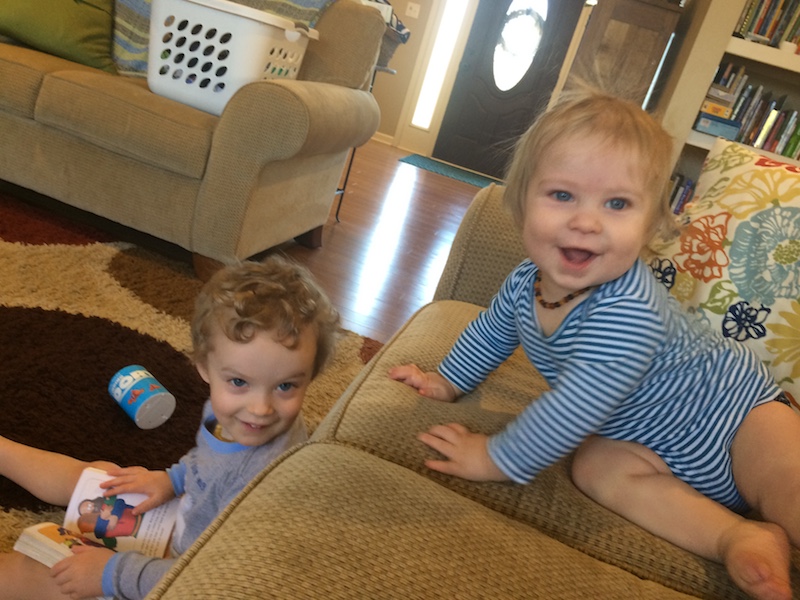 I cannot believe my baby is ONE!  This year has gone so far!