I first heard about the Trim Healthy Mama eating plan a couple of years ago from a friend of mine who had been very successful with it.  The first time I heard about it sounded WAY too complicated for me so I wrote it off as something that I'd ever try.  After Parker was born last year though I was determined to lose the weight this time around since I hadn't lost anything after Hudson was born.  I did my own thing for a while and lost some but I knew I really need to get my nutrition on point in order to lose the large amount that I was going for.  Eating low carb and counting calories had worked for me pre-kids but after Hudson was born they caused my milk supply to plummet so I wanted to avoid doing anything restrictive.  I kept hearing that Trim Healthy Mama (THM) was a really great option for nursing moms that would help them lose weight without losing their milk.  So even though I thought it was going to be super confusing I decided to at least look in to it because I was desperate.
Boy am I glad I did!
The first month I was following THM I lost 11 pounds.  ELEVEN!!  I was shocked and thrilled.  The weight loss slowed down after that first month but I continued losing steadily and after 5 months on plan had lost 30 pounds.  I've now been on plan 7 months and am hovering just a little past the 30 pounds mark – these past two months I've been in a frustrating stall but the scale is finally starting to move again…which is good because I have quite a bit more to lose!
Plus now that I know the basics I feel like this is definitely the easiest and least restrictive diet I've ever done.  (Lots of THM followers like to say "this is not a diet, it's a lifestyle".  Well.  Ahem.  Everything you eat is a diet.  It may not be a healthy diet, but it is a diet.  I understand what they are getting at, that this is a long term way of eating not a short term thing to do just long enough to get the weight off.  But I'm still going to call it a diet because that's what it is.) It took me about two weeks to feel like I had a really good grasp on the concepts and after that point it became like second nature.
---
This post may contain affiliate links.  If you purchase a product through an affiliate link I make a small commission at no cost to you.  This helps keep my blog running so thanks for your support!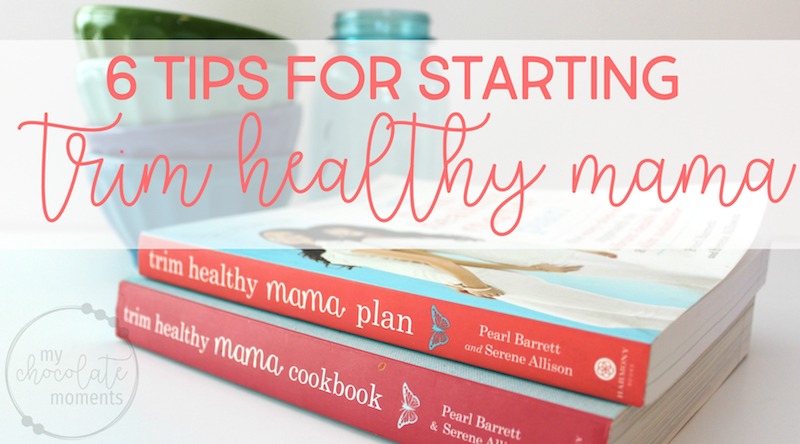 So what is Trim Healthy Mama?
I'm not going to go into great detail here (that's what the book is for, after all!) but the basic overview is this: every time you eat you want to have a source of protein and (preferably) some non-starchy vegetables, but then you eat EITHER good fats or good carbs with that, not both.  In THM-language meals with good fats are called S meals (S stands for satisfying) and meals with good carbs are called E meals (E stands for energizing).  If you eat a meal with both carbs and fats that is called a Crossover and while they're ok occasionally it's not recommended that you do that often.  Apparently your body can't burn both the fat and the carbs while still burning through your excess fat, but if you eat only one fuel type (carbs or fat) then once it burns through what you ate it switches to burning through the excess that you have stored in your body, therefore helping you lose weight.
So eat meals that have either carbs or fats, not both, and then make sure you wait 3 hours between meals.  Honestly, that's the gist of it.  There are LOTS of other details and it takes a little time to get used to it all, but if you start with understanding that foundation then you'll have a good grasp of the basics.
Here are 6 tips I came up with to help someone new to THM get started:
1. Get the book.  Read the book.
I'm sorry if you don't like to read, you're going to have to.  Take the time to dig in to the plan and figure it out, otherwise you'll be very, very confused.  You can get the book here on Amazon and the price fluctuates but it's usually around $15.  Totally worth it!  I'm a fast reader so it may take you longer but I powered through it in about two days because I was SO READY to get started.
2. Grab some cheat sheets
After you've read the book I recommend printing off the THM Quick Start Guide from Gwen's Nest so that you have a handy reference as you're getting started.   There are other printables and meal plan templates on Pinterest that might be helpful too.
3.  Join a Facebook group or two
If you are on Facebook I highly recommend you join a couple of the Facebook groups.  It is so helpful for me to see what other people are eating (it gives me all kinds of new ideas), see people's progress (so inspiring!), and have a place to ask questions that about the THM plan.  There are a lot of THM groups but I personally use the official Trim Healthy Mama group, the THM for beginners group, the THM pregnant or nursing group, and the THM Instant Pot group.
4.  Find some recipes
Spend some time on Pinterest searching for Trim Healthy Mama recipes (there are TONS out there) and even though I'm not much of a cookbook person usually I found that it was very important for me to have a cookbook to use as I started making THM recipes.
Cookbooks you might want:
Blogs with lots of THM recipes:
Check out my Pinterest board for more recipes.
5.  Grab your ingredients
You'll notice that there are a lot of specialty ingredients often used in THM recipes.  You do NOT have to go out and buy a bajillion new things in order to be successful on this plan.  I recommend getting a few that you think you'll want right off the bat but don't go crazy, just ease in to it.
I started out just getting a stevia-based sweetener (I use Pyure, which I get from Amazon but you can also find it at Walmart) and some alternative flours (almond, coconut, flax, etc. – all can be found at Kroger or Walmart).  That's really all I used by way of "special" stuff for the first several months and even now I still don't use a lot of the things like protein powder, gluccie, or MCT oil.  There is a whole line of specific THM products like sweetener, baking blend, and protein powder and while I've heard great things about them I haven't actually tried any of them myself yet.
6.  Don't expect perfection, give yourself time to learn
It is better to get started and be partially on plan than to wait and start when you're 100% sure you know exactly what to do.  Just dive in and start implementing what you've learned, and if you make some mistakes that's no big deal.  As you learn more you'll get better at it.
You've got this!  I promise the little bit of work it takes up front will be sooooooo worth the effort once those results start rolling in (which is usually pretty quick for most people).
I have shared some of my own THM recipes like my apple cinnamon oatmeal and almond milk and I also post some about my THM journey on Facebook and Instagram.
---
FYI I am not affiliated with Trim Healthy Mama in any way.  I purchased the books myself and these are my own experiences and results.
I am coming up on a year since I started my post-babies weight loss journey (not a whole year on THM yet, just working on weight loss in general) so in a week or two I'll be posting more about my weight loss journey thus far.