Every month Young Living comes out with some amazing promotions for their members – free oils, free products, all kinds of goodies.  Let's take a look at the March promos – what are they, what are they good for, and how do you get them for free?
---
This post contains affiliate links.  I am a Young Living independent distributor so if you purchase a product through my link I make a commission at no cost to you.  You become part of my Oily Moments community and we will be here to help you with your new oils.  Thanks for joining with me!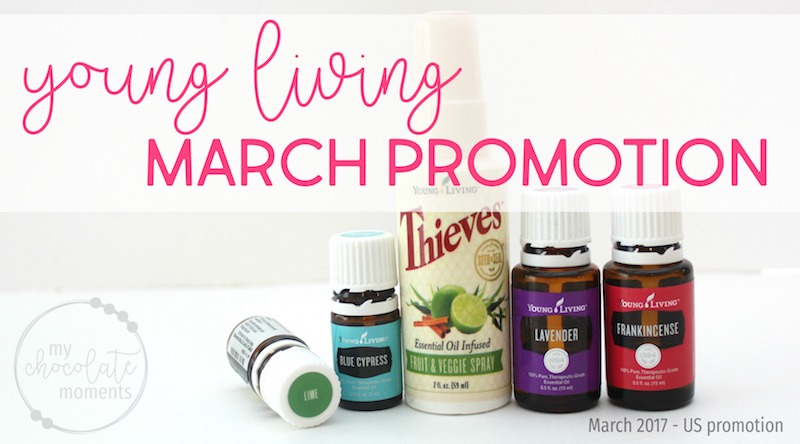 Lime Vitality (5 ml)
Uses for lime:
– supporting and strengthening the respiratory system
– supporting and strengthening the immune system
– weight loss
– decongesting the lymphatic system
Lime vitality oil is delicious in water, limeade, lime cupcakes, guacamole, and more!
Blue Cypress (5 ml)
Blue Cypress is from Australia and it was the official fragrance of the 2000 Olympics in Sydney.  In the past it was used as an adhesive because it is very thick and sticky, similar to vetiver or myrrh.  I recommend warming it up in your hands, pocket, etc. for a bit before using it to get it to come out of the bottle. Also it's a light blue color, so that's cool.
Uses for blue cypress:
– supporting muscles after physical activity and workouts
– moisturizing, nourishing, and hydrating skin
– use during or after shaving to prevent razor burn
– add to Thieves Household cleaner for extra cleaning power or use it to make your own cleaner
My friend recommends mixing blue cypress with lavender and a carrier oil of your choice, rubbing wherever your skin needs some extra support to help it regenerate – heels, elbows, knuckles, etc.
Thieves Fruit & Veggie Spray
Thieves Fruit & Veggie Spray uses Thieves oil and lime oil, along with other natural ingredients like citric acid, to clean your produce.
To use, thoroughly spray your fruit or vegetables, rub for 30 seconds, and then rinse. The little spray bottle is super convenient for using on the go or while traveling to clean off produce!
Lavender (15 ml)
Ahhh lavender. How we love thee!  I heard lavender referred to recently as a grandmother because it knows how to do everything.  Hilarious!  And so true.  When in doubt, use lavender!
Uses for lavender:
– diffuse at night time to help you relax and sleep
– has been documented to improve concentration and mental acuity
– helps to maintain a healthy blood pressure
– helps you to enjoy the outdoors in spring time when pollen is abundant
– fantastic for skin and used for minor cuts, scrapes, and bruises
– keep a bottle in your kitchen alongside your aloe plant in case you touch a hot pan!
– add a drop to your mascara for long, healthy lashes
Frankincense (15 ml)
Frankincense is good for regeneration and it is known scientifically that it helps your body create new cells that match our DNA!  Cool!  No wonder it's a key ingredient in many of Young Living's skin care products.  Frankincense is very grounding and calming and can improve your attitude and lift your spirits.
Uses for frankincense:
– rub on your face for gorgeous glowing skin
– may diminish the appearance of scars
– rub on topically for happy joints, muscles, hands, feet, backs, etc.
– helps boost the immune system
– diffuse during Bible study
– use for focus and calming in children (or adults)
– rub topically over your adrenals and thyroid to support them
How do I get them?
These promotions are available to Young Living essential oil members who place qualifying orders in the month of March.
A 100 PV Essential Rewards order gets the free Lime Vitality (PV = Product Volume and is usually the same as the dollar amount, but not always so double check! Essential Rewards is Young Living's rewards program)
A 190 PV ER order gets the Lime Vitality, Blue Cypress, and Thieves Fruit & Veggie Spray (190 PV orders that are NOT ER orders get the Fruit & Veggie Spray only, not the lime or blue cypress)
A 250 PV ER order gets Lime Vitality, Blue Cypress, Thieves Fruit & Veggie Spray, and lavender (a 250 PV order that is not on ER will only get the Fruit & Veggie Spray and lavender)
A 300 PV ER order will get Lime Vitality, Blue Cypress, Thieves Fruit & Veggie Spray, lavender, and frankincense (a 300 PV order that is not an Essential Rewards order will get the spray, lavender, and frankincense only).
I am a total numbers nerd so I love doing the math with these promos.  If you, as a Young Living wholesale member, were to place an order for these 5 items (lime vitality, blue cypress, Thieves Fruit & Veggie Spray, lavender, and frankincense) that would cost you $140 plus tax and shipping.  However, you can place a 300 PV order (so roughly $300 plus tax and shipping) full of other things you need (shampoo, conditioner, toothpaste, lotion, supplements, other essential oils, cleaning supplies, laundry soap, dish soap, and the list goes on) and get these items for FREE!
PLUS.  Yes, plus.  It gets better.  Since you are placing this order on Essential Rewards (Right?  Because why wouldn't you?) you'll also be getting points back!  If you are in your first 3 months of ER you get 10% back so on a 300 PV order you'd earn 30 points (aka $30) back to redeem for free product.  If you are in months 4-24 of ER you get 20% back, which on a 300 PV order is 60 points ($60)…and after 2 years your percentage goes up to 25%, so you'd get 75 points ($75) back.
So let's recap: place a 300 PV order, get $170 (if you are in your first three months and only earning 10% back) to $215 (if you are past two years and earning 25% back) in free product and/or points to redeem for free product.  That's a pretty incredible amount of free product!!
Not a member yet but want the promos?
If you aren't a Young Living member yet you can totally take advantage of the promo too!  Here's how:
Join Essential Rewards (it will give you the option to do that as you're ordering your kit) with any other combo of products that are 200 PV or more.  You can do whatever you want depending on if you're wanting to focus on getting rid of toxic chemicals (get lots of Thieves products), skincare (check out the skincare line), boost your nutrition (Ningxia Red), your kids (look at our Kidscents products), animals (we have a whole AnimalScents line), or something else.
And voila…you'd get all this other stuff we just talked about for FREE!
If you're looking for an idea of 200 PV to add on, I personally recommend the Ningxia Red Essential Rewards kit and a bottle of the Thieves Household Cleaner.  These are two things that I use daily and absolutely LOVE!
If you go that route you'd be getting:
– lemon
– lavender (a 5 ml bottle that comes with the Premium Starter Kit AND a 15 ml bottle that you'll get free from the March promo)
– peppermint
– frankincense (a 5 ml bottle that comes with the Premium Starter Kit AND a 15 ml bottle that you'll get free from the March promo)
– copaiba
– Thieves
– PanAway
– Stress Away
– Purification
– RC
– DiGize
– a diffuser
– lime vitality
– blue cypress
– Thieves Fruit & Veggie Spray
– 4 bottles and 32 pouches of Ningxia Red (that's 164 ounces, so 82 days worth of Ningxia Red if you drink the recommend 2 oz serving a day)
– Thieves Household cleaner (the only cleaner you'll ever need again to clean your house!  It's super concentrated too so one bottle will last you months and months)
Alllllllll of this for about $360 plus tax and shipping.  An incredible value for these products that are an investment in your health!
Not to mention wholesale pricing (24% off) all future purchases, an incredible oily community to help you learn all about your new products, and the opportunity to make money telling others about oils (totally optional).
---
I'll get an email when you sign up, so I'll be contacting you soon to get you added to our private group and help you get started using your oils.   If you have questions before then, feel free to contact me here or here or through my Facebook page or email at caitlin@mychocolatemoments.com.