It's been a year since I started working hard to lose the baby weight (x2) and the results are in…45 pounds down in a year since the first day I weighed and measured, 49.3 pounds down as of this morning (one year and six days since I started – this last week I finally busted through the stall I'd been in and the scale is moving!).  In my (very optimistic) mind I had hoped to lose all the weight I wanted to lose (92 pounds) in less than a year but unfortunately things are not going that fast.  However, 50 pounds is AMAZING since I struggled to lose any after Hudson was born.
I've had some people asking what all I did so here we go:
Background
I was overweight in middle and high school, but in college finally did something about it and lost about 50 pounds using the South Beach Diet (I have blogged about that before if you want more details).  I kept that off through college and the early years of marriage; occasionally some weight would creep back on (like during my first year of teaching when I pretty much lived at the school building and threw all healthy eating habits and exercise out the window.  Ugh.) but I was easily able to get it off.
However, right before I got pregnant the first time I had gotten really lazy and 30 pounds had piled on.  Then I gained 50 while pregnant.  After delivery when everyone else (it seems) loses a ton of weight breastfeeding, I did not.  In fact, I lost basically none…maybe 10 pounds.  I tried a couple of times but I would jump into something very restrictive, my milk supply would tank, and then I'd freak out and go back to eating tons of junk.  I had no balance or moderation.
So when I got pregnant the second time I weighed almost as much as what I weighed at the end of my first pregnancy.  I didn't gain as much the second time around but it was still a substantial amount.
The last weight I remember seeing at the end of my second pregnancy was 110 pounds over my goal weight (my goal weight being the weight I was in college/early married years).  During that first month after delivery I lost about 20 pounds of that so the day I weighed and measured and "officially" started trying to lose weight I was 92 pounds away from my goal.
Step 1: the mental game
For me, so much of weight loss and/or being healthy is a mental game.  I am very intrinsically motivated – once I decide I am GOING to do something, I do it.  Not much can deter me.  Which is good in some ways, but it also means that if I haven't found that fire inside me then I'm not going to be motivated to do it, no matter how often I say I need to, or other external motivators that I might try.
After Hudson was born I KNEW I needed to lose weight but I just wasn't motivated enough to try super hard.  I'd give it a bit of a try but then when it didn't go the way I wanted it to (i.e. I was losing weight but also losing my milk) I'd give up.  But while I was pregnant with Parker something inside me changed and I decided that there was NO WAY I was going to keep gaining or eventually add the weight of a third pregnancy on top of the weight of the first two.  And so I decided I was going to do it.  If the loss was super slow, I was going to do it.  If my milk suffered, I would try something else that didn't drop my milk but I'd find something and I wouldn't give up totally.
My mantra for 2016 regarding my weight and health was #noexcuses.  I refused to let myself use excuses to not lose the weight.
Step 2: the prep
That decision during my pregnancy meant that I had plenty of time to really stew on it and think about my plan.  I bought 4 wellness logs (they were 3 months long so I figured getting enough for a full year was a good start).  I brainstormed a list of healthy snack options to keep around the house during those early newborn days so that I could snack while nursing but not pig out on junk (like a bazillion lactation cookies, which is what I'd done the firs time) and taped it to our fridge to remind myself (or help Michael and my mom out if either of them were going to fix me a snack).  I was ready.
The first month after Parker was born I didn't focus on my diet at all, and definitely not on exercising, but I did eat those healthier snacks I'd planned out, we made healthier choices for our meals (it helped a lot that my recovery after this birth was WAY easier than after my first, breastfeeding went so much better, and Parker was an easier baby in general), and I drank lots of water (I never had that breastfeeding thirst the first time but the second time…oh my!  I was thirsty all the time so I drank tons of water.). I think I lost about 20 pounds just from delivery and water weight and all that during the first month.
Right after Parker turned one month old I decided I was ready to get serious and really start trying to lose.  I started with my diet first, and then two weeks later (once I was past the 6 week recovery period that is typically recommended) I added in exercise.
Step 3: diet
For me personally, weight loss is about 95% diet and 5% exercise.  I think exercise is important for your overall health and building muscle and all that good stuff, but as far as weight loss goes exercise alone doesn't do much for me.  My eating has to be on point for me to lose.
Month 1: I worked on eating even healthier than I had in that first month after delivery and began tracking my food in a wellness journal.  I lost almost 7 pounds and was thrilled.  THRILLED.  I was losing weight without it impacting my milk supply!
Month 2: Same as month 1, no major diet modifications other than being mindful.  I lost almost 5 pounds.
Month 3: I continued eating the same foods but began tracking my calories too.  Watching my calories had worked well for me in the past but this time around not so much.  I only lost 3 pounds this month.
Month 4: I kind of tracked calories but not really and I was eating fairly healthy but something wasn't working for me and I actually gained back a pound.
Month 5: After the last few months with minimal weight loss I decided to try Trim Healthy Mama.  You can read more about that here, but I'd had friends who had good success with it and I had heard that it was a great one for breastfeeding moms because it wasn't restrictive.  So even though it overwhelmed me at first I decided to at least give it a shot.
I lost 11 pounds that first month of THM.  ELEVEN.
Months 6-12 (aka now): Trim Healthy Mama all the way, baby.  I kept losing pretty steadily (about 6 pounds a month) for the next couple of months.  Then the holidays hit and I got a little derailed and I lost about 3 pounds each month for the next couple of months.  Since Christmas I had been STUCK gaining and losing the same 3 pounds over and over again but recently recommitted (I had gotten too lax with eating large quantities of food that, while still on plan, wasn't really conducive to weight loss) and the weight is now steadily coming off again.
At exactly a year to the day I was 45 pounds down, and then in the last week I broke through my stall and lost over 4 more pounds, bringing me to 49.3 pounds lost in one year and six days.  Maybe tomorrow morning the scale will have moved a tiny bit more and I'll finally see the big 5-0 gone!
Step 4: exercise
Again, this is not something that makes a huge difference for my weight but it is definitely still important.  My motto of #noexcuses was really important here.  We don't have a gym membership and I'm a SAHM.  It's hard to work out with two littles ones underfoot but I decided that even if I couldn't make it through a complete workout because the kids needed me that I'd do what I could.  Some was better than none and I was going to make it work for me.  Period.
Months 1 and 2: I did some Jillian Michaels and Bob Harper workouts on YouTube for a couple of weeks but rarely could make it through without Parker crying.  So then I switched to all babywearing workouts.  I found a few babywearing workouts on YouTube but mostly I just found workouts that were "regular" but that could be easily adapted while babywearing (ones that use resistance bands and zumba-type workouts are pretty easy to modify).  Every day I'd strap Parker on and he'd nap while I did my workout.
Months 3 through 6: Briana from the Bikini Body Mommy workouts had had a baby just a week after I'd had Parker.  She launched her first 90 day challenge post-partum (BBM 5.0) so I switched to doing her workouts.  I loved that she was in the same condition as me – post-partum with a lot of weight to lose, it's just so much more relatable.   Parker was 4 months old by that point and could sit in the Bumbo seat while I worked out so it was quite a bit easier than during those early days when he would cry.  I completed all 90 days of the challenge and was SO proud!
By the way, the Bikini Body Mommy workouts are FREE.  You can find tons of her videos on YouTube.  And they're all less than 25 minutes so they're perfect if you don't have a lot of time to devote.  Both of these things are a huge plus for me.
Month 7 and part of 8: After BBM 5.0 was over I switched to following a previous workout Briana had done, a six week mini-series.
Months 8 through 10: I decided I was ready to start running again.  I started up the Couch to 5K program, which gradually works you up to running a 5K over the course of 10 weeks.  On some of my off days (days I wasn't running) I did Briana's maintenance series workouts, other times I just took those days off to rest.
I enjoy running and it's a good workout, but it's also much more work – I had to bundle everyone up (it was fall/winter when I did it), worry about if Hudson needed to potty or Parker started to cry, and I would run/walk for much longer than the 25 minutes that the Bikini Body Mommy videos took.  Plus I had to blast my legs after I ran to keep them from hurting and that took extra time too.  So while I enjoyed running, it's not nearly as easy as throwing on my tennis shoes real quick and working out in the living room while the boys play.
Months 11 and 12: Briana started up her next free 90 day challenge (BBM 6.o) and I am currently working my way through that.
Step 5: other stuff
There really isn't much other stuff.  I don't drink any special shakes or take special weight loss supplements (I do take supplements for my overall health, but nothing weight loss specific).  Of course I use my essential oils for lots of things, including balancing hormones (which can be useful for weight loss) but not specifically for weight loss.
The FasciaBlaster, which I talked about last week, is the other main thing that I've done but using it hasn't caused any extra weight loss.  I do think it has helped me lose inches off of my body though so I'm counting it a an additional part of my weight loss routine.
Results
I've already mentioned that I lost almost 50 pounds doing all this that I listed above.  As far as inches go, I lost 8 inches off the largest part of my stomach, 5 inches off the smallest part of my waist, 6.5 inches off my chest, 5.5 inches off my hips, 4.5 inches off my right thigh (I only measure the right), and 2 inches of my right arm (I only measure the right).
(Briana from Bikini Body Mommy has a famous picture of her weight loss transformation – in her "before" she is holding her baby and in her "after" holding him a year later.  My transformation hasn't been nearly as drastic but I love the idea so I did it too!  And while it's neat to see the weight I've lost it's also extra cool to see how my kids have changed in a year!)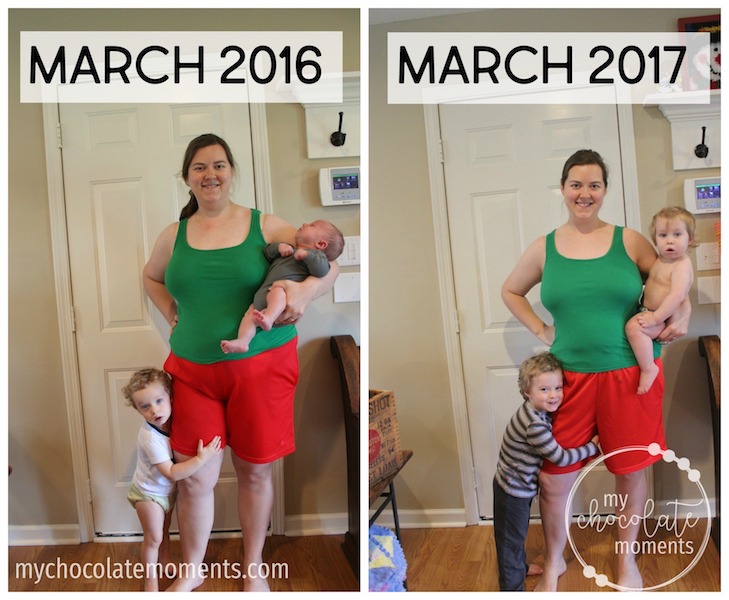 I couldn't really tell you how many sizes I've gone down in pants because I've basically avoided wearing anything besides maternity pants, skirts, or stretchy pants for a long time.  When I was this weight in college my pants size was a couple of sizes smaller than what I'm wearing right now but I guess that's part of how your body changes so much after having a baby.  Also it's strange how I can wear the same clothes now as I could 50 pounds ago, they just fit much differently!
This picture was taken not quite a year apart and in the same clothes but that shirt is now way too big.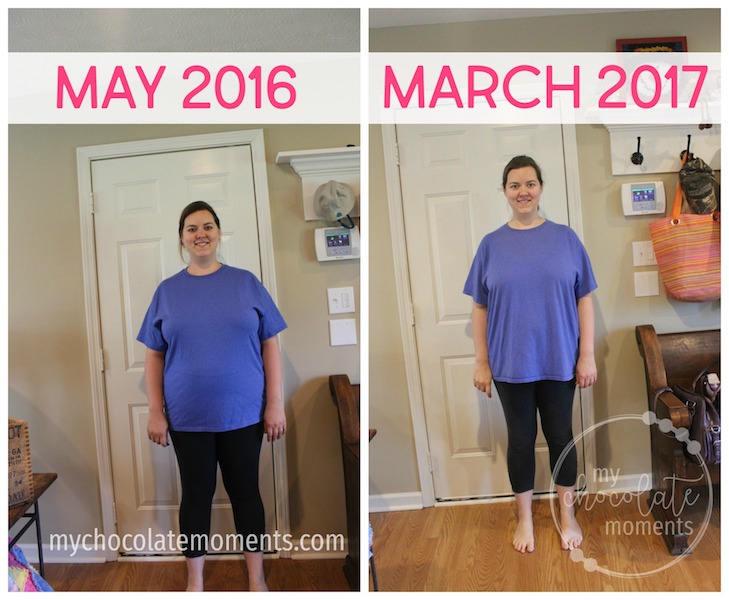 Something else that is kind of a bummer is that my wedding rings STILL don't fit well.  I had to take them off in December 2013 when I was 8 months pregnant with Hudson and I haven't been able to wear them since.  I thought surely after losing 50 pounds (I weigh quite a bit less now than I did when I took the rings off for good) they would fit, and technically they do (they're more snug than I like, but at least I can get them on and for a long time I couldn't even do that) but I guess I thought by now they'd fit on easily.
Going forward
I'm just going to keep doing what I'm doing!  Sticking to Trim Healthy Mama and doing light exercise.  Obviously it's working well for me so I'll keep on trucking until I've reached my goals.  I've got 45 more pounds that I'd like to lose but I'm hoping it won't take me another full year.  However, even if it does that is ok with me.  At least I am finally getting the weight off and feeling like the "real" me again!
Here's to the next 45 pounds!