Last month I shared my plan to start doing one family update post each month that covers what all we're up to rather than trying to do multiples each month with lots of overlap and blah blah blah.  So anyway, here is what we were up to in March.
Hudson
I really don't have a ton of pictures of Hudson for a couple of reasons: 1) I take a lot of videos of him now because of all the funny things he says and 2) he's usually wearing nothing but underwear (easier for potty training purposes) so the pictures I do have aren't quite appropriate for online.
He got ahold of some of my oil class materials and started using them to "teach" his own oil class.  So cute.
So funny – wearing Daddy's boots while helping me dust.  He's a hoot.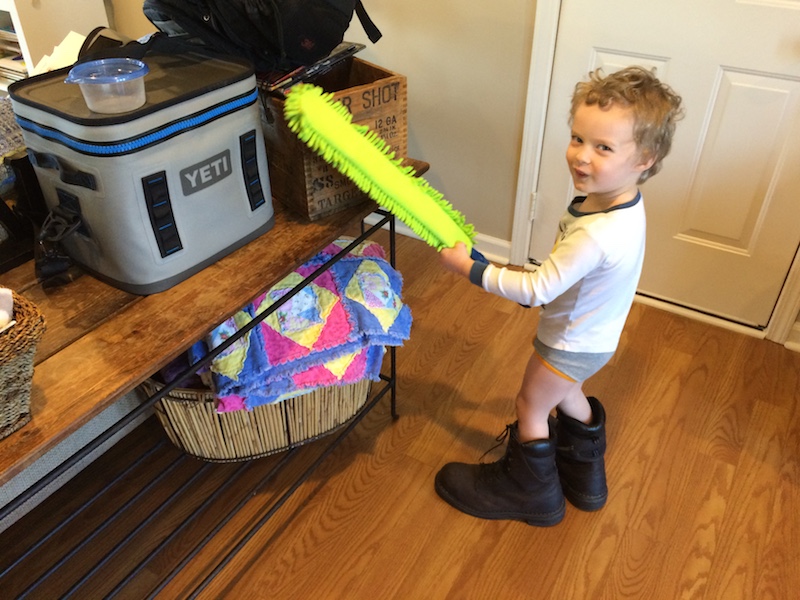 I wish I could record every hilarious thing Hudson says because he keeps us rolling.  One day he was decorating his car with stickers and he brought it to me, very excited, "Look Mommy, it's an ice cream car!  See my ice cream sticker?"
Ha!  In case you don't know, that swirly brown sticker is an emoji that people commonly use to mean poop, not ice cream.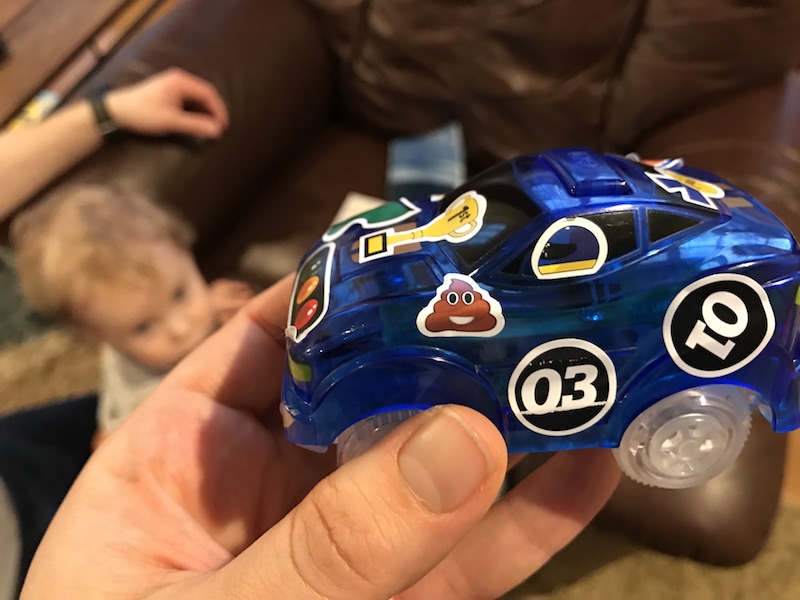 Something else he's been doing recently is calling me "babe".  Michael and I call each other babe a lot; one day Hudson asked Michael about it and Michael said "that's a nickname I use for Mommy".  So then Hudson started using it too and will say things to me like "Hey babe, come look at this!"  It's hilarious.  He's not being disrespectful, he's totally sincere when he says it.
He's really into the idea of having an ipad right now.  We own an ipad but Michael and I rarely use it because it's old and Hudson almost never gets to use it so I'm not sure why he talks about it so much, but he tells me "When I get bigger I have an ipad.  I push Facebook to watch Bubble Guppies and I push Instagram to watch Daniel Tiger!"
Potty training is going better, I suppose.  Hudson now takes himself to the bathroom, which is nice.  He also can put on his own underwear, although he frequently gets it on inside out, backward, or both.  He still has a lot of little accidents before making it to the bathroom so we go through many pairs a day.
Hudson is really into directions and streets right now.  When we're driving anywhere he constantly asks "What kind of road are we on?  Are we at a stop sign or a red light?".  He knows all the streets between our house and church.  So Michael brought home a city map one day and Hudson has had a ball with it.  He and Michael traced the routes to several places we go frequently and Hudson loves looking at it.  Of course, Parker likes to sit on it anytime we try to play.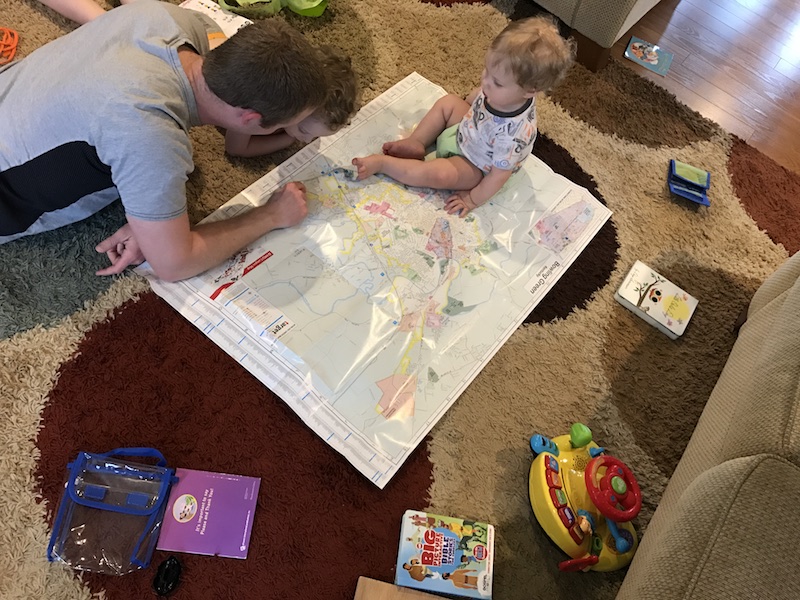 Hudson is usually not the destructive type and I often let him color 'unsupervised' (unsupervised meaning he sits at the table and colors while I do other things so I'm in the general vicinity but I'm not sitting right there next to him watching like a hawk.  Anyway, one evening he and Parker were playing in the playroom and it was quiet but that's not uncommon (they're pretty good about playing in there for a while by themselves).  Turns out Hudson had gotten the crayons off the counter where I'd left them and had drawn on our wall, his plastic tool bench, his play kitchen, the basketball goal, the window sill, my china cabinet, a hope chest thing that was my moms.  Oh man.  I can't believe he did that but he's three so I guess I'm not that surprised.  We were able to easily clean it all off except what was on the wall.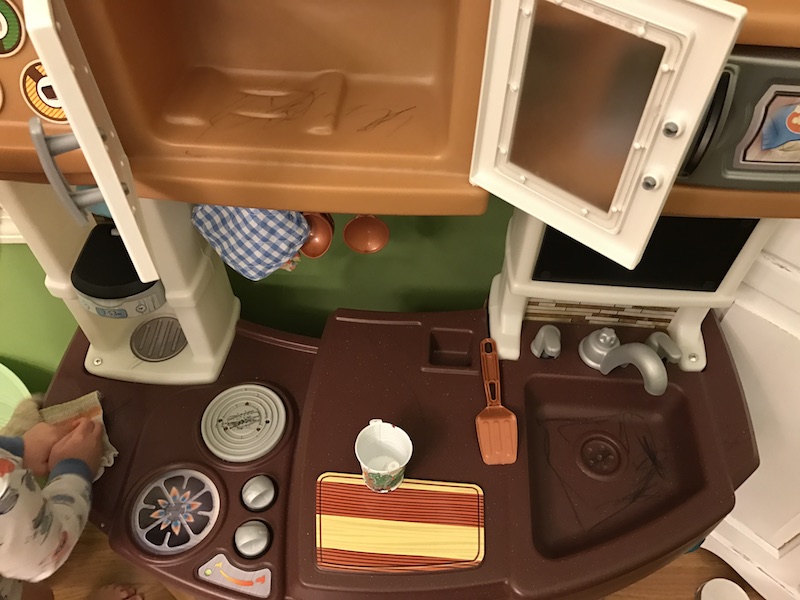 Parker
This month Parker got his first haircut!  I was not ready to let his "baby" look go but his hair was getting ridiculous so it was time.  He looks like such a big boy now!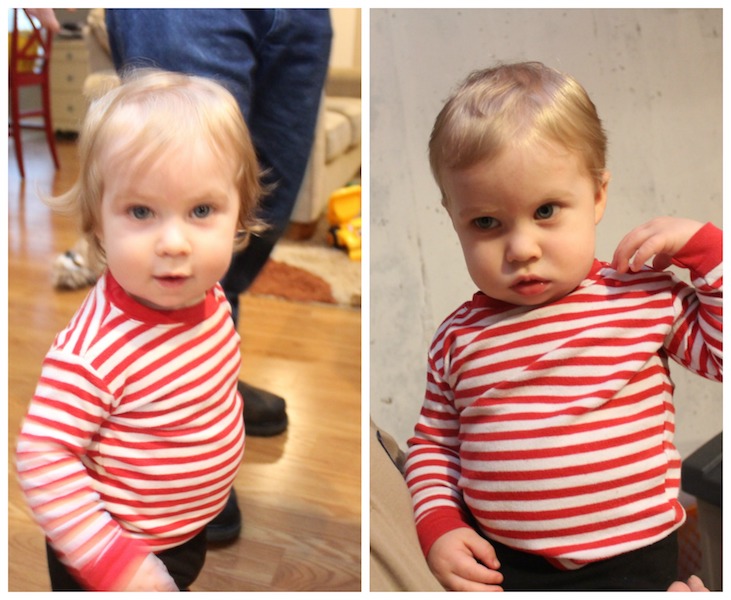 Hudson very rarely climbed on anything when he was little but Parker is a little monkey right now.  If he can figure out how to climb on it, he will.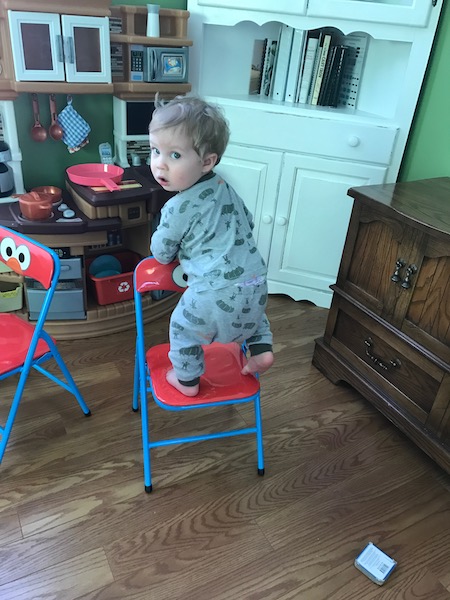 He has started eating with a fork and is doing really well with it!  We have to put the food on the fork for him but then he puts it in his mouth himself (and hands it back for us to reload).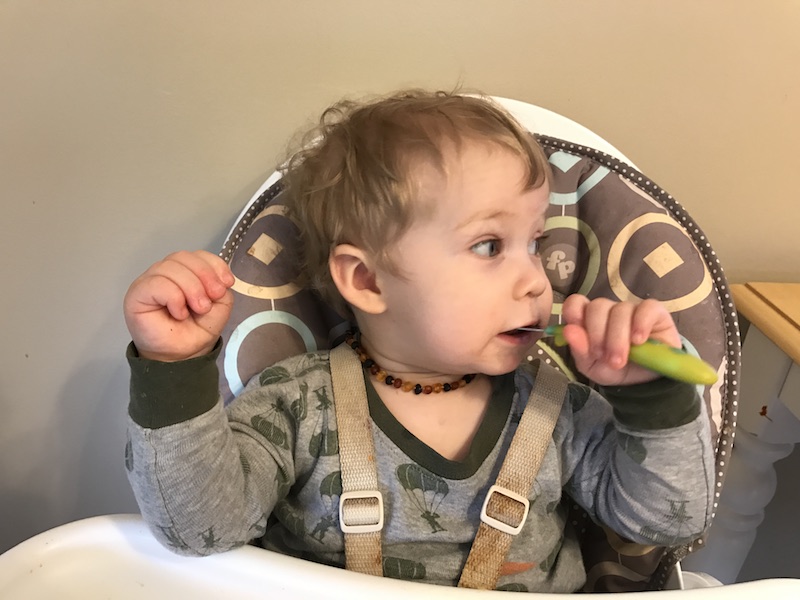 Blackberry beard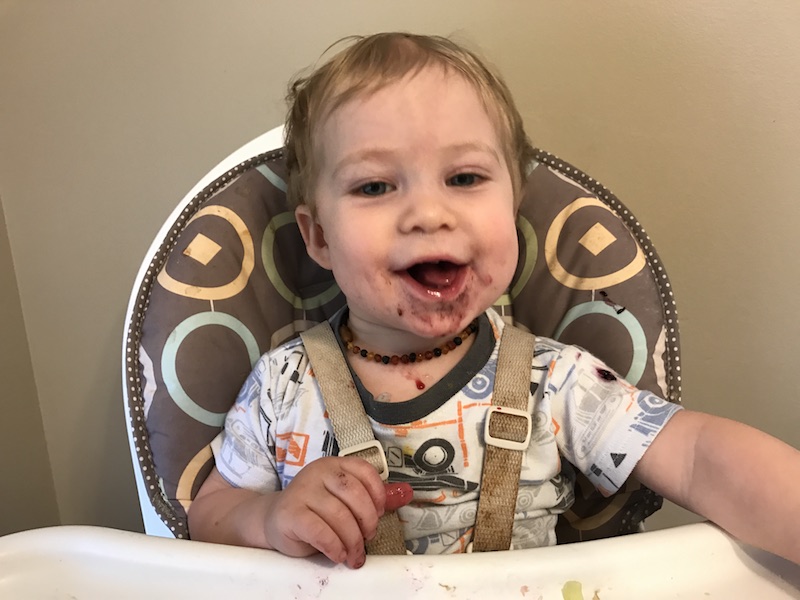 Both of the boys were sick this month.  It was just a mild cold (runny noses and coughing) but it was Parker's first cold of any kind and it was rough for him.  He was actually not terribly congested, but there was a ton of drainage running down his throat and every time he laid down (especially to nurse) he would cough and gag.  So he went on a bit of a nursing strike for 4 or 5 days.  He usually nurses at nap time, bed time, and during the night, but during these days he would only breastfeed once a day, max.  He didn't eat much solid food either.  I was a little afraid that this experience was going to cause him to wean completely but he's now back to eating and nursing normally.
There was lots of crying and constant holding but not very much sleeping – you can see in this picture how pitiful he was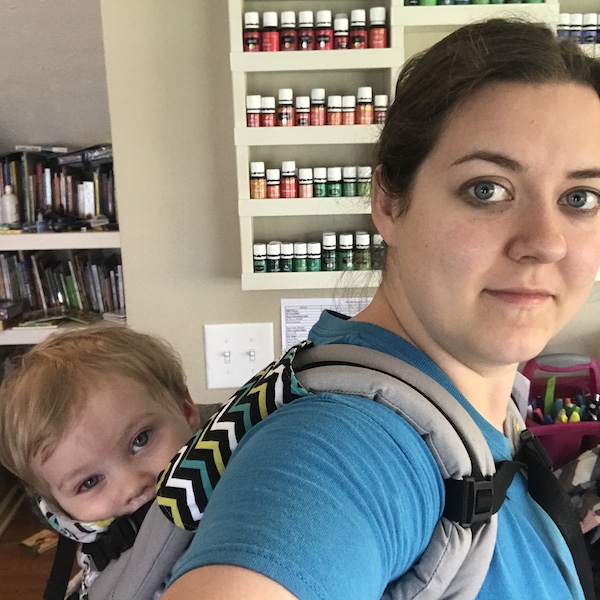 I put Parker in the toddler tower with Hudson because he was crying at my feet while Hudson and I were making eggs.  He was so happy!  I don't trust him enough to leave him in it unattended yet, but as long as I'm standing right there with him in case he tries to jump out (or in his case, climb on it) he does fine.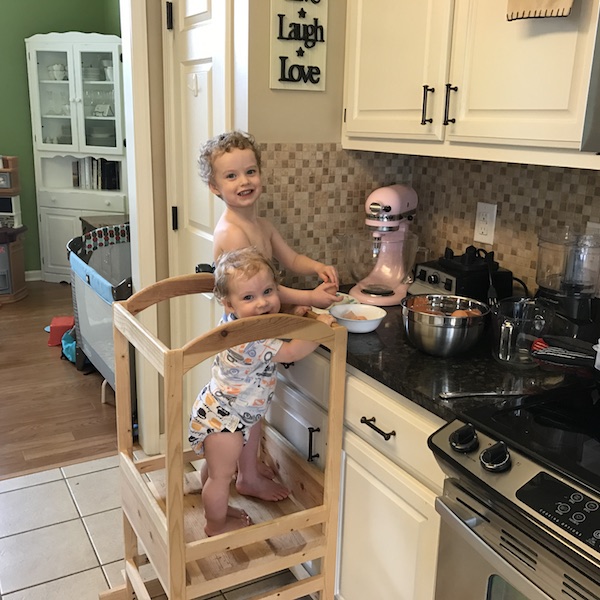 Parker loves phones, he's not as obsessed as Hudson was (and still is) but he does like to get the play phone from the kitchen and pretend that he's talking on it or get the calculator and pretend he's taking pictures.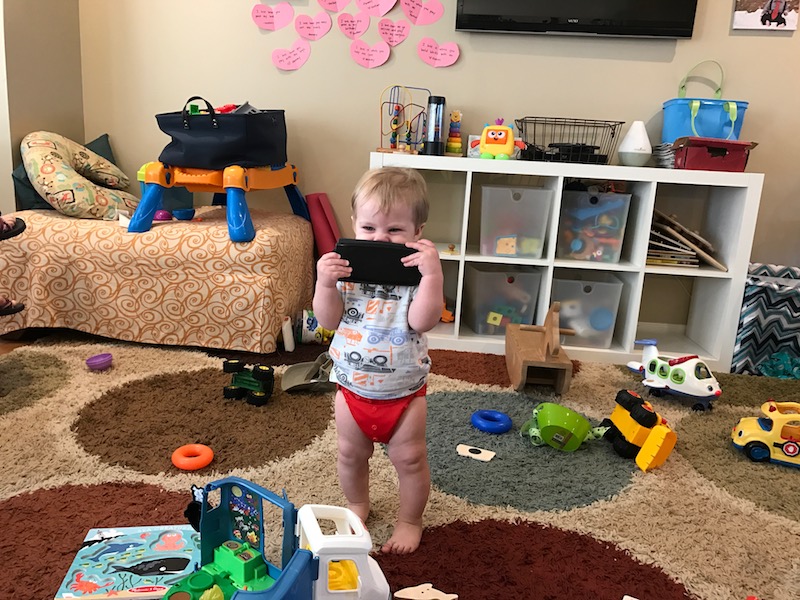 This kiddo LOVES to eat and will mooch off your plate any chance he can get!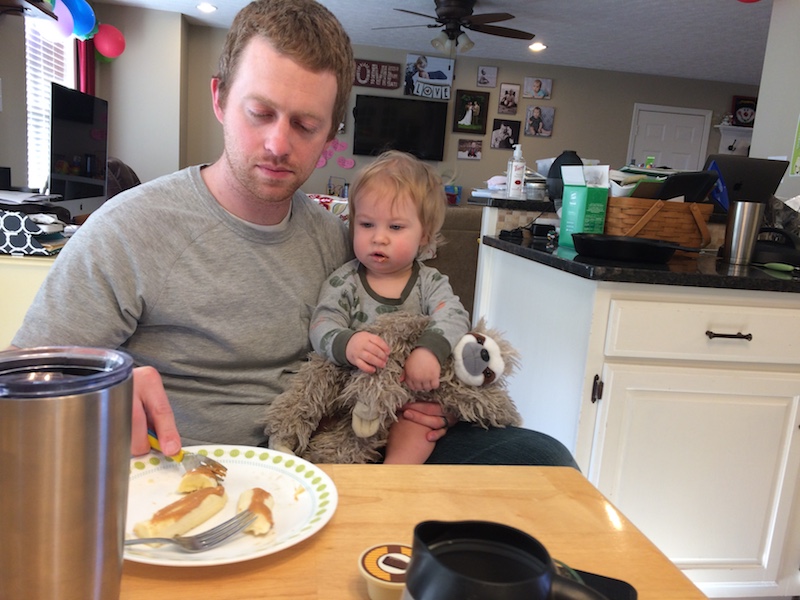 Parker got this sloth for his birthday and at first was afraid of it but now loves all over it and gives it kisses.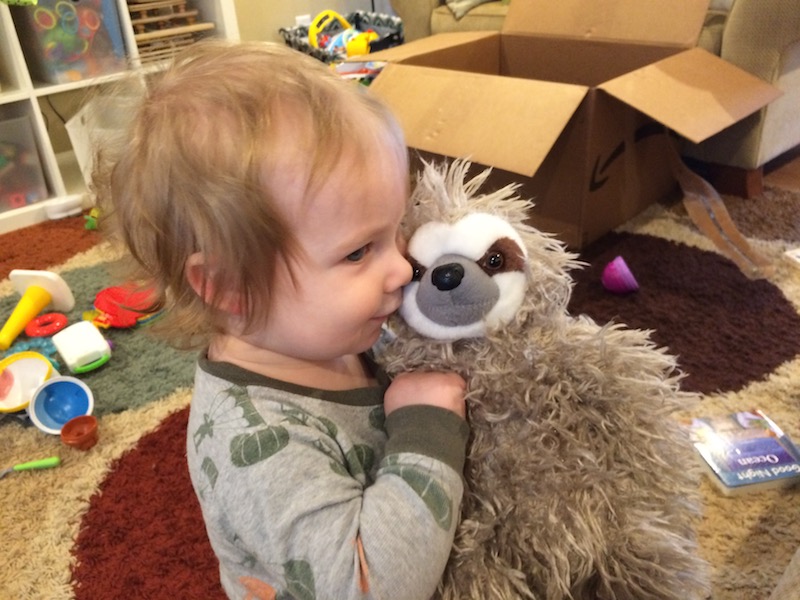 This is what my exercising time looks like most days.  If I lay down to do a move or to stretch I get sat on or climbed on.  It's an interesting experience, for sure!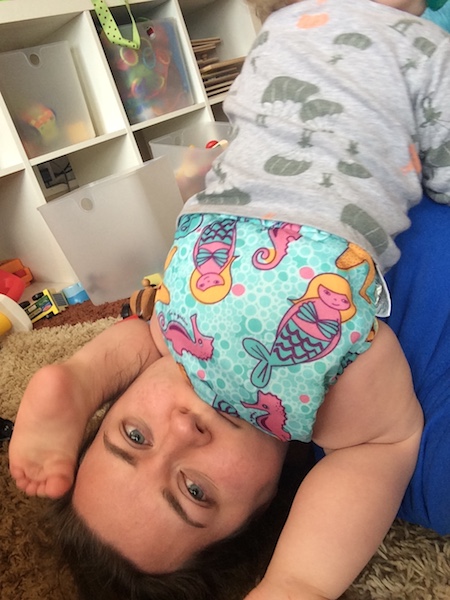 Other things about Parker this month.
He now has four teeth on the top and two on the bottom.
The only word he says consistently is "please".
He signs "please" and "more" all the time, occasionally he'll sign "eat".  He also signs "milk" but he doesn't always use it just to mean he wants to breastfeed, however, we're not exactly sure why he signs it or what it means to him.  If prompted sometimes he'll sign "help" or "mommy".
He will not sign "all done" but instead will push on his tray as his signal to be all done.
He knows where his belly button is and will point to it when you ask
Other family stuff
For my 30th birthday present I asked for Michael to build me a shelf for my oils.  I found him a picture online of what I was thinking and he took it and ran with it.  It turned out AMAZING!  I am so in love with it!  My oils were taking up so much counter space and I had all my unopened bottles in a different cabinet so I never knew what I had extra of and what I needed to order.  Now they are up off of the counter, easier to see at a glance, and he made the shelf deep enough to hold 3 oils in a row so I can put unopened extras behind the open bottles and quickly see what I have.  In my old oil cases I had the oils alphabetized and while that does make it easier to find the oils rather than having to remember what color label they have, I love the way they look grouped by color.  I may move it back to alphabetical eventually but for a while at least I'm leaving them this way because it's so pretty.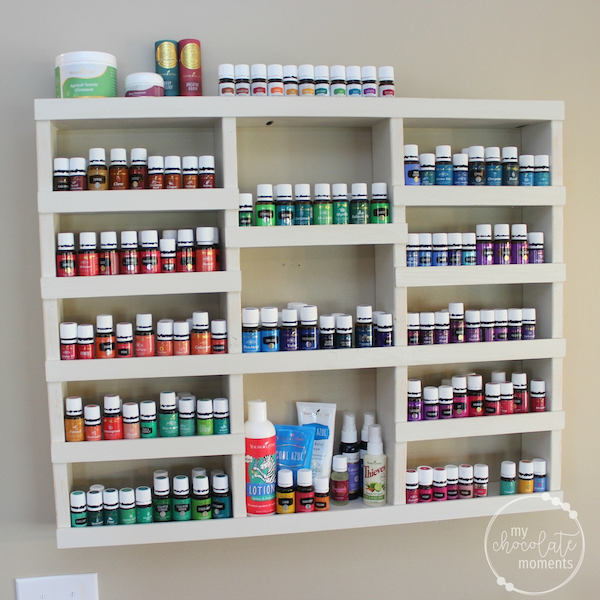 Michael and I went out for a date to celebrate my birthday.  We tried a new (new to us, not sure how long it's actually been around) restaurant called Steamers. We almost never order dessert when we go out but we finished our meal and both still felt hungry so we got the cinnamon roll bread pudding.  It was really good!  Then we decided to be crazy (or crazy for us…) and go to Longhorn and get a second dessert so we drove to Longhorn and Michael got key kime pie and I got the big chocolate brownie thing that they have.  We were stuffed by the time we were done but it was a fun splurge to ring in year 30!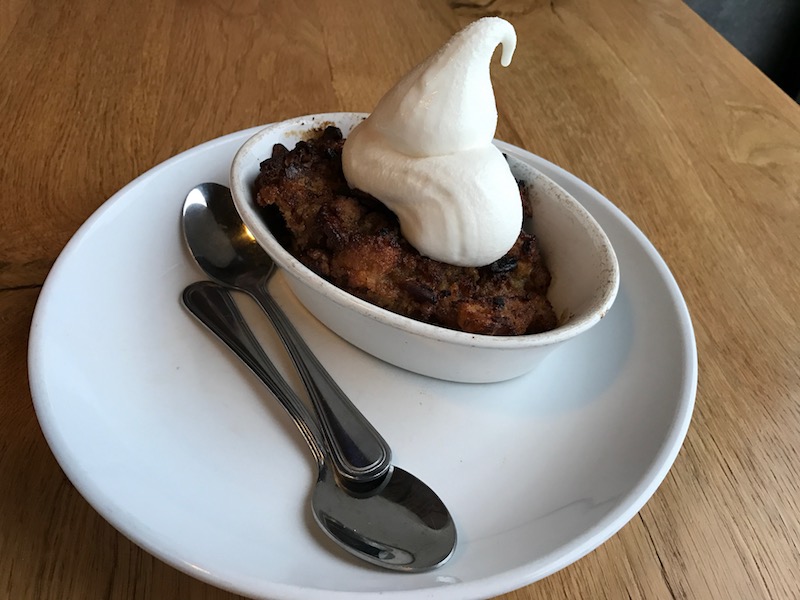 Speaking of splurges, apparently those occasional splurges haven't had too much of a negative impact!  During this last month I hit my one year "anniversary" since I started intentionally losing weight after Parker was born.  In one year I lost 45 pounds.  Then just a day later the scale moved again and I hit 46 pounds gone, which was exactly half of the weight I wanted to lose.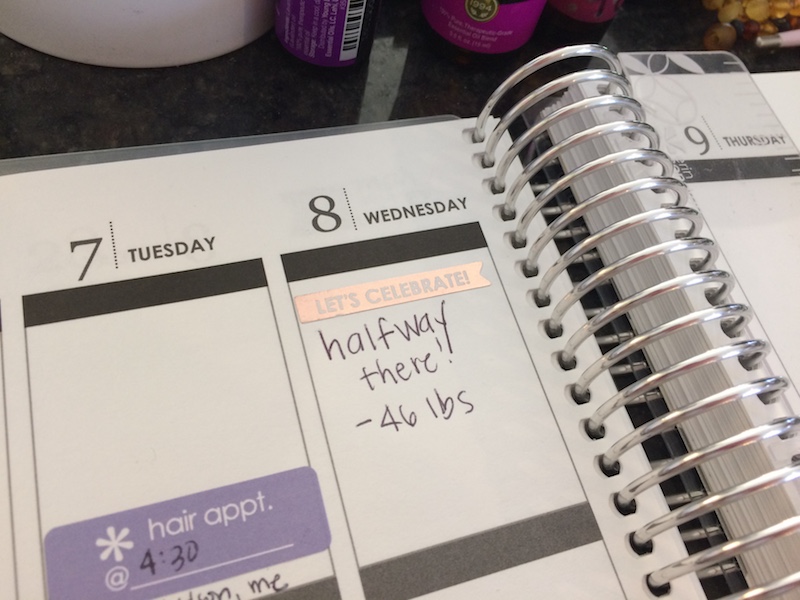 Then, after being in a stall for quite some time the scale the scale finally started moving again and I quickly lost several more pounds, brining me to 50 pounds lost.  And now, at the time I'm writing this post, I'm 51.6 pounds down with 40.6 pounds to go.  I've lost 7 or 8 pounds this month, which has been so nice after that long stall and I'm hoping it keeps up like this!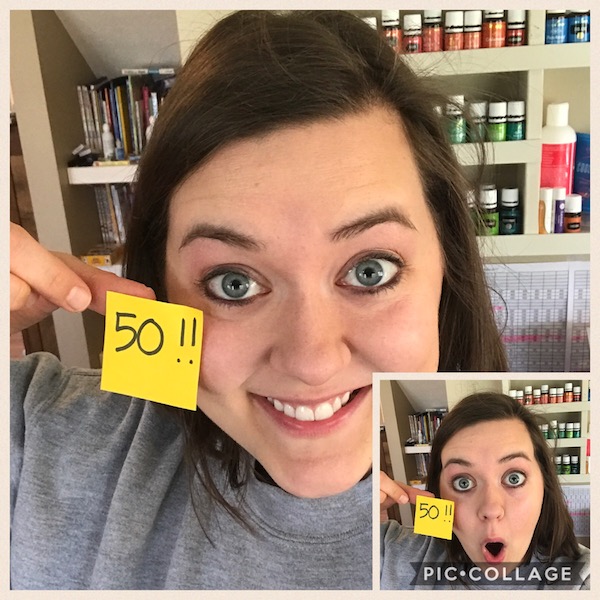 Michael and I got new iphones this month.  We upgraded from iphone 5s to iphone 7s and it took about two days for me to get used to the larger phone size but now I love it.  And the camera quality is so much better than my old one!  Plus more storage space = lurvvvv.  We did have to get new numbers though and that was a bummer, I've had the same cell number since my first one in college.  Totally worth it though.
We also booked our plane tickets to Young Living's annual convention in Salt Lake City, Utah in June.  I am SO excited!  This is the first time I've ever gotten to go and I have been looking forward to it for so long!  I'm a little nervous about flying with kids (this will be their first flight) but hopefully it'll go fine (and it's a way better option than the 6 day road trip we had considered doing to drive out there instead of fly).
And I think that wraps up March, folks!