HOLD. THE. PHONE. (Does anyone even say that anymore?) May's promos are AMAAAAAAAZING!!!
Ummmm…..VALORRRRRRRR???!!!!!! Shut your face. Love it.
Plus a promotion for new members too?!  Wahooooo!
Young Living always does an amazing job with their monthly promos but this month they knocked it out of the park!
---
This post contains affiliate links.  I am a Young Living independent distributor so if you purchase a product through my link I make a commission at no cost to you.  You become part of my Oily Moments community and we will be here to help you with your new oils.  Thanks for joining with me!
For new members only
New members who join with a Premium Starter Kit in May will get a 15ml bottle of Tangerine in addition to the other 11 oils, diffuser, and other goodies that come with the starter kit.
Uses for tangerine:
– rich in limonene which really boosts your immunity
– calming to your body and senses – perfect if you struggle with sleep, crankiness, sadness, or nervousness
– supports respiratory health and wellness
– supports your digestive system
– helps your metabolism
– has a happy, uplifting aroma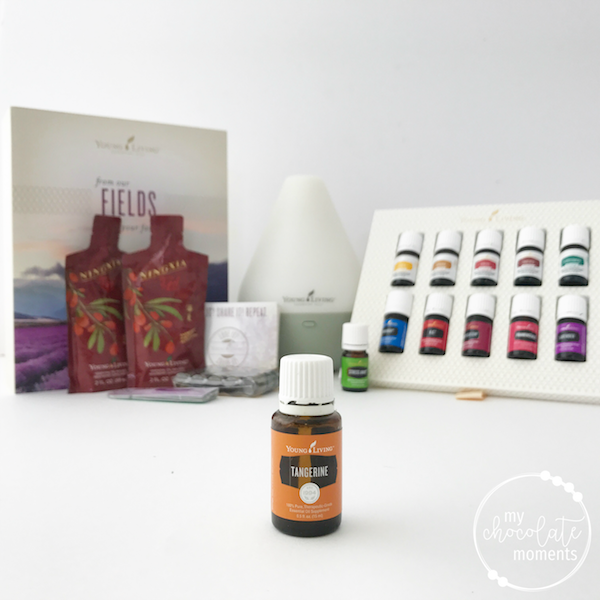 For current members (and new members too)
This month Young Living added an additional tier into our monthly promo options, giving us even more amazing freebies to earn!
Valor (340pv)
Valor uses:
– very VERY emotionally supportive and balancing
– used to help with nervousness, courage, and confidence (I love using this one before I teach a class, I also used this in labor – I had an empty bottle that still smelled like Valor so I clutched that and breathed in deeply the whole ride to the hospital)
– use at night to promote peaceful, quiet sleep
– great to use after a trip to the chiropractor to help your body hold the adjustment longer
– great for neck, shoulder, and back support
Because of its high demand, Valor is limited to 1 bottle per account per month. However, this month, you can also get it FREE with a 340pv order!!! Yay! In fact, you can get it three times – once by paying for it (your one bottle per month), once by placing a 340pv Essential Rewards order, and once by placing an additional 340pv quick order.
AgilEase (300pv)
AgilEase uses:
– For anyone who is active: sports, exercise, manual labor, yard work, etc.
– supports the body's response to acute inflammation
– promotes joint flexibility and mobility
– supports cartilage health
– can reduce acute joint discomfort
Manuka (300pv)
Manuka uses:
– similar to tea tree oil
– use to support skin, foot, and hair
– the aroma is very beneficial for people who suffer from stress
– great for sleep
A lot of people add this to their homemade face serums or to their Young Living moisturizers because of how good it is for the skin; it's also an ingredient in Young Living's beauty serum
Ravintsara (250pv)
Ravintsara uses:
– it supports the respiratory and nervous systems
– it is clarify, stimulating, and purifying
– it helps to clear brain fog and strengthen motivation
– high in eucalyptol
I love diffusing ravintsara with eucalyptus as night!
Jade Lemon (190pv)
Jade Lemon uses:
– immune support
– improves memory
– relaxation
– uplift and stimulate the mind
– household cleaning
– rich in limonene
– a unique variety of lemon that is green in color (both the fruit and the essential oil) and has a lemon-lime scent/taste.
– it contains the same constituents as lemon but in slightly different percentages (so any benefits that lemon has would also be applied to jade lemon)
Citronella (190pv)
Citronella uses:
– most well known for its use in outdoor sprays, lotions, and candles.
– powerful antioxidant
– respiratory support
– skin support
Apply before or during outdoor activities in the summer
Orange Vitality (100pv) 
Orange Vitality uses:
– uplifting
– boosts immunity
– induces relaxation
– use for sleep support
– add a drop to your Dentarome Ultra or Aromabright toothpaste to help whiten teeth
– rich in limonene
I love adding a drop of this to my Ningxia Red every morning
How do I get them?
These promotions are available to Young Living essential oil members who place qualifying orders in the month of May.
A 100 PV Essential Rewards order gets the free orange vitality (PV = Product Volume and is usually the same as the dollar amount, but not always so double check! Essential Rewards is Young Living's rewards program)
A 190 PV ER order gets the orange vitality, jade lemon, and citronella (190 PV orders that are NOT ER orders get the citronella only, not the orange or jade lemon)
A 250 PV ER order gets everything listed above plus ravintsara
A 300 PV ER order will get everything listed above plus manuka and AgilEase
A 340 PV ER order will get everything listed above plus Valor
I love me some numbers so I love doing the math with these promos.  If you, as a Young Living wholesale member, were to place an order for these items (orange vitality, jade lemon, citronella, ravintsara, maunka, AgileEase, and Valor) that would cost you $185 plus tax and shipping.  However, you can place a 340 PV order (so roughly $340 plus tax and shipping) full of other things you need (shampoo, conditioner, toothpaste, lotion, supplements, other essential oils, cleaning supplies, laundry soap, dish soap, and the list goes on) and get these items for FREE!
PLUS.  Yes, plus.  It gets better.  Since you are placing this order on Essential Rewards (Right?  Because why wouldn't you?) you'll also be getting points back!  If you are in your first 3 months of ER you get 10% back so on a 300 PV order you'd earn 34 points (aka $34) back to redeem for free product.  If you are in months 4-24 of ER you get 20% back, which on a 300 PV order is 68 points ($68)…and after 2 years your percentage goes up to 25%, so you'd get 85 points ($85) back.
So let's recap: place a 340 PV order, get $219 (if you are in your first three months and only earning 10% back) to $270 (if you are past two years and earning 25% back) in free product and/or points to redeem for free product.  That's a pretty incredible amount of free product!!
Not a member yet but want the promos?
If you aren't a Young Living member yet you can totally take advantage of the promo too!  Here's how:
Join Essential Rewards (it will give you the option to do that as you're ordering your kit) with any other combo of products that are 240 PV or more.  You can do whatever you want depending on if you're wanting to focus on getting rid of toxic chemicals (get lots of Thieves products), skincare (check out the skincare line), boost your nutrition (Ningxia Red), your kids (look at our Kidscents products), animals (we have a whole AnimalScents line), or something else.
And voila…you'd get all this other stuff we just talked about for FREE!
If you're looking for an idea of 240 PV to add on, I personally recommend the Ningxia Red Essential Rewards kit, a bottle of the Thieves Household Cleaner, a bottle of Thieves laundry soap, and a bottle of Thieves dish soap.  These are things that I use daily and absolutely LOVE!
If you go that route you'd be getting:
– lemon
– lavender
– peppermint
– frankincense
– copaiba
– Thieves
– PanAway
– Stress Away
– Purification
– RC
– DiGize
– a diffuser
– tangerine (new member sign up bonus)
– orange vitality
– jade lemon
– citronella
– ravintsara
– manuka
– AgilEase
– Valor
– 4 bottles and 32 pouches of Ningxia Red (that's 164 ounces, so 82 days worth of Ningxia Red if you drink the recommend 2 oz serving a day)
– Thieves Household cleaner (the only cleaner you'll ever need again to clean your house!  It's super concentrated too so one bottle will last you months and months)
– Thieves laundry soap
– Thieves dish soap
Alllllllll of this for about $400 plus tax and shipping.  An incredible value for these products that are an investment in your health!
Not to mention wholesale pricing (24% off) all future purchases, an incredible oily community to help you learn all about your new products, and the opportunity to make money telling others about oils (totally optional).
---
I'll get an email when you sign up, so I'll be contacting you soon to get you added to our private group and help you get started using your oils.   If you have questions before then, feel free to contact me here or here or through my Facebook page or email at caitlin@mychocolatemoments.com.