Time for our monthly family update!  I love writing these posts and looking back over the previous month!
General family stuff
We played outside a lot and enjoyed the pretty weather (on the days it wasn't raining, which were quite a few of them!).  Michael has been working hard on our landscaping and I've been pulling weeds when I get a few minutes where no child needs me.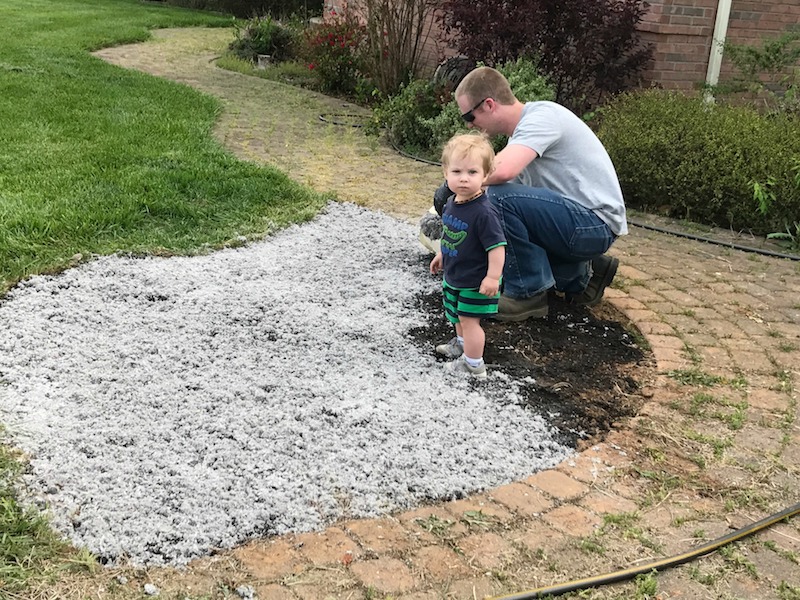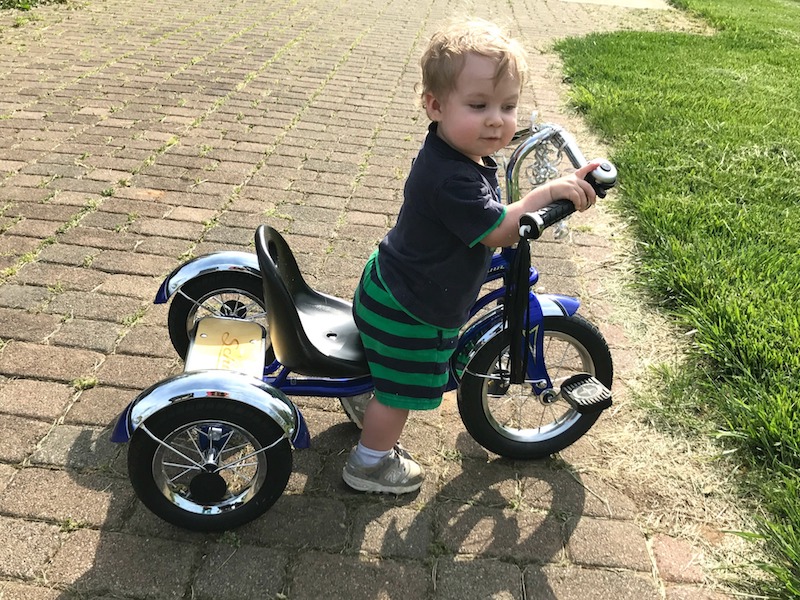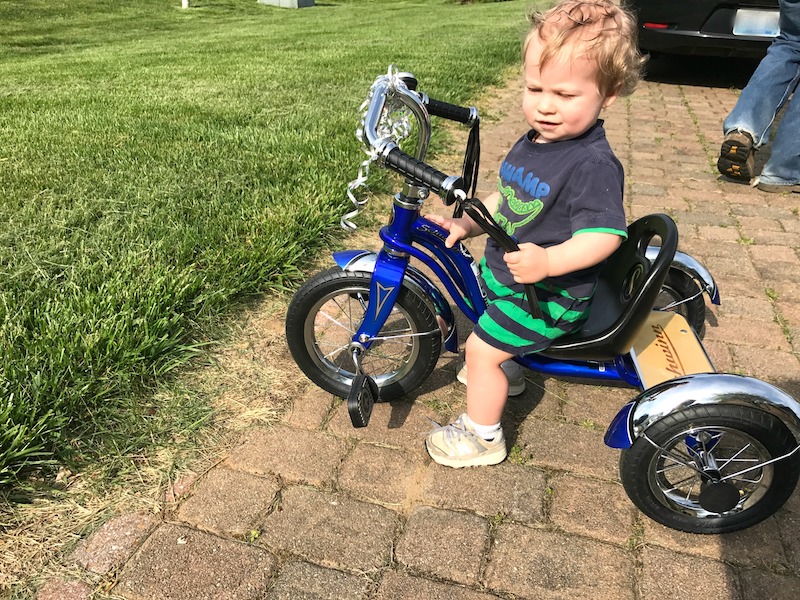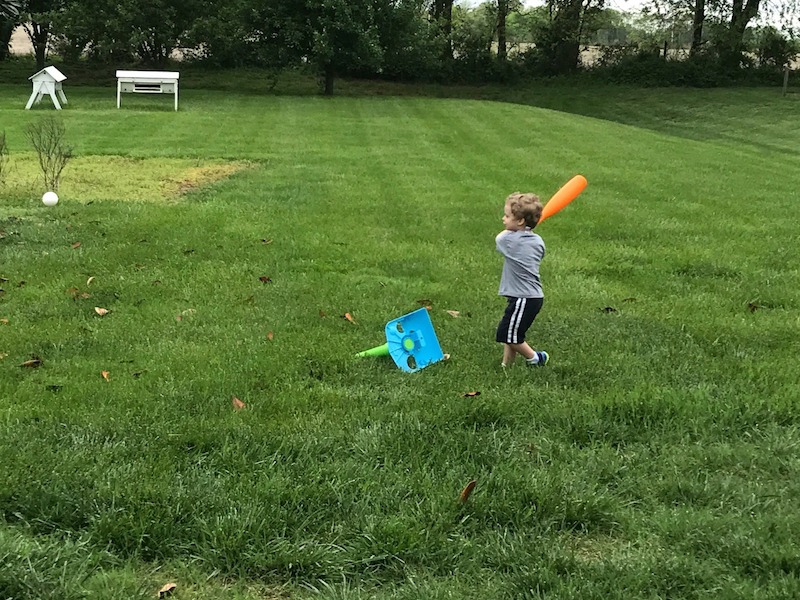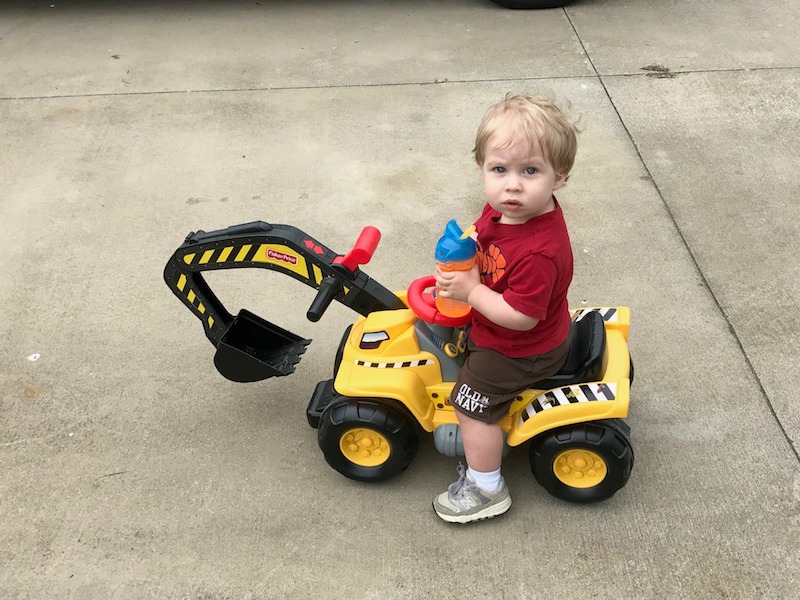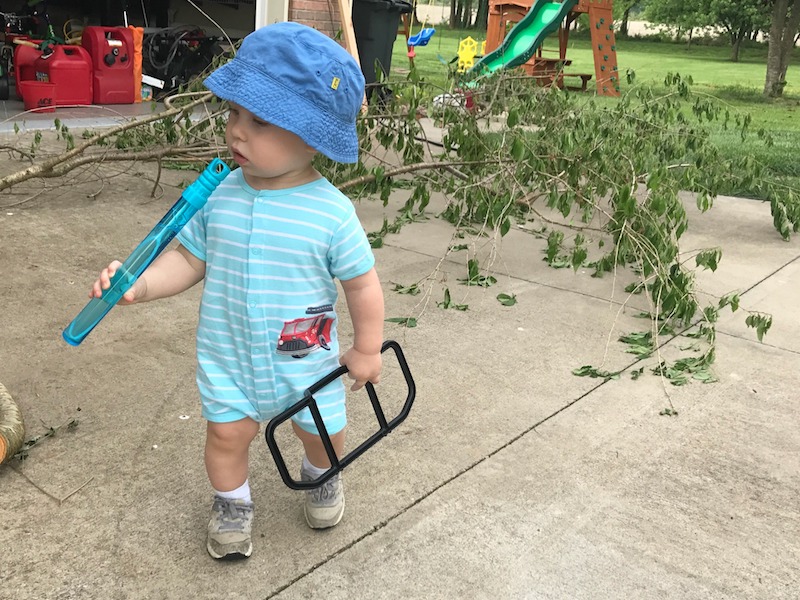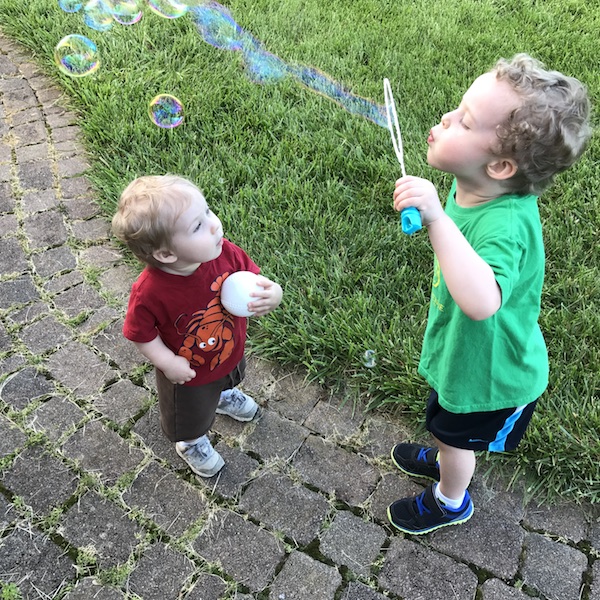 We had lots of Easter fun.  My mom's church had a community Easter egg hunt that I took the boys to.  Parker was not at all interested in picking up eggs and didn't even want to be set down but Hudson had a blast!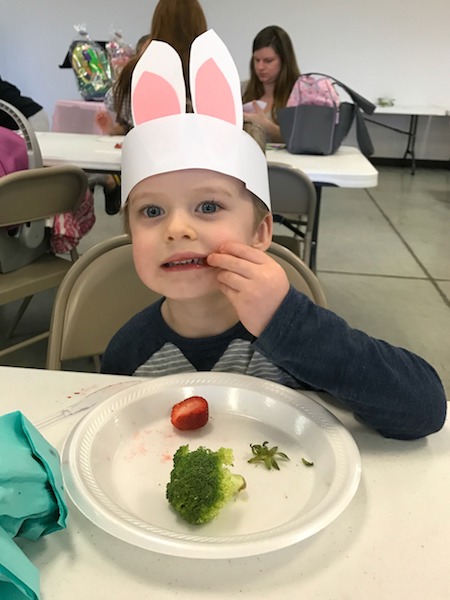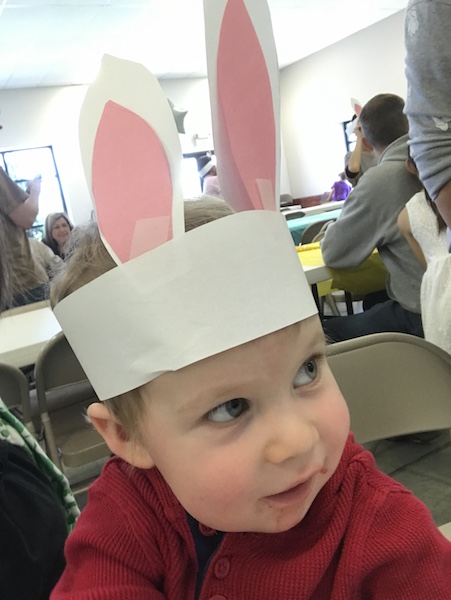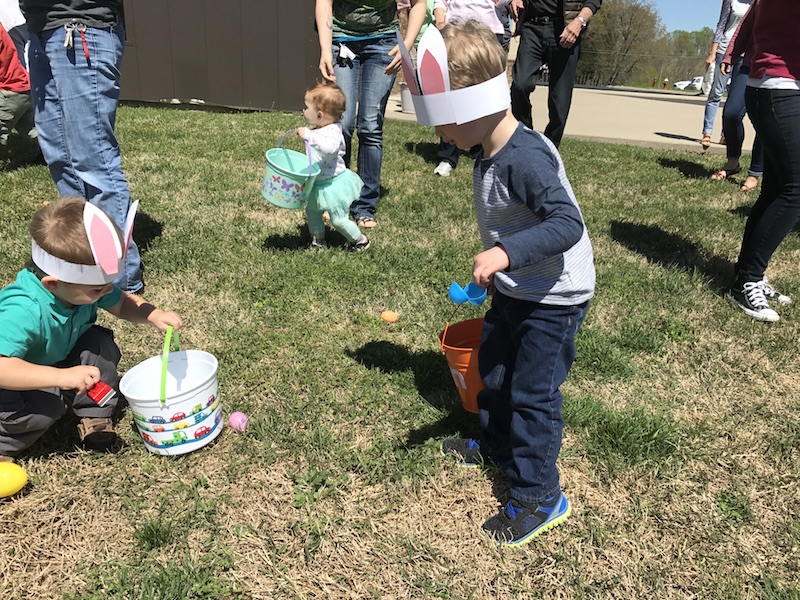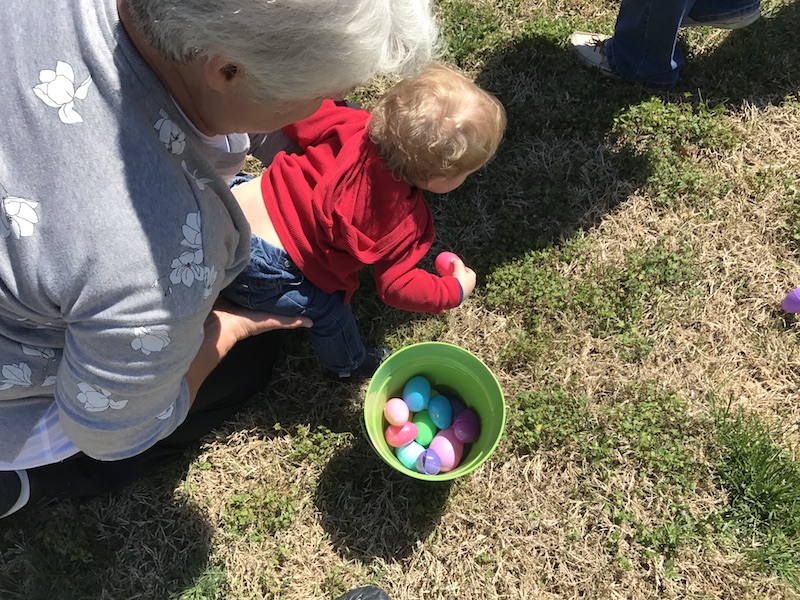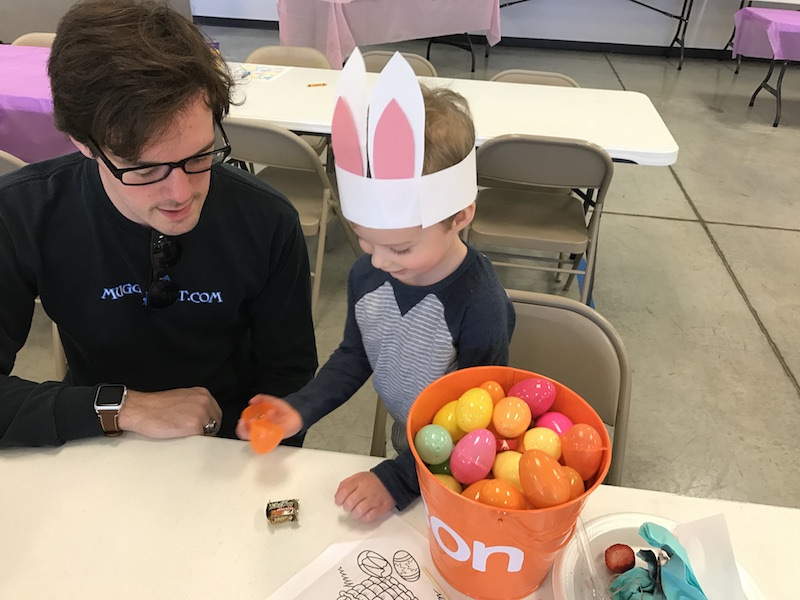 On Easter we always go home and go to church with our families.  We grabbed a quick family picture after church Sunday morning.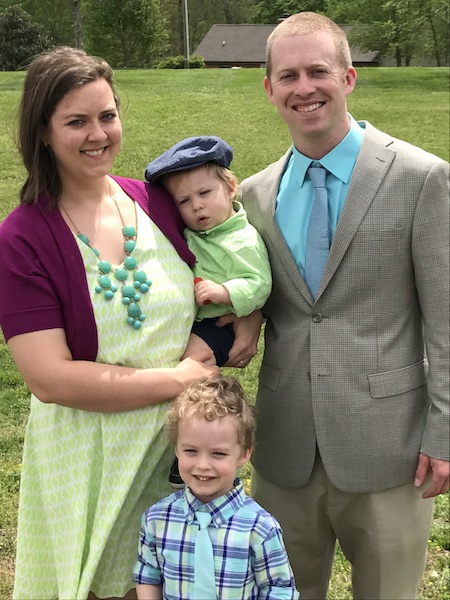 Egg hunt at Michael's parents' house.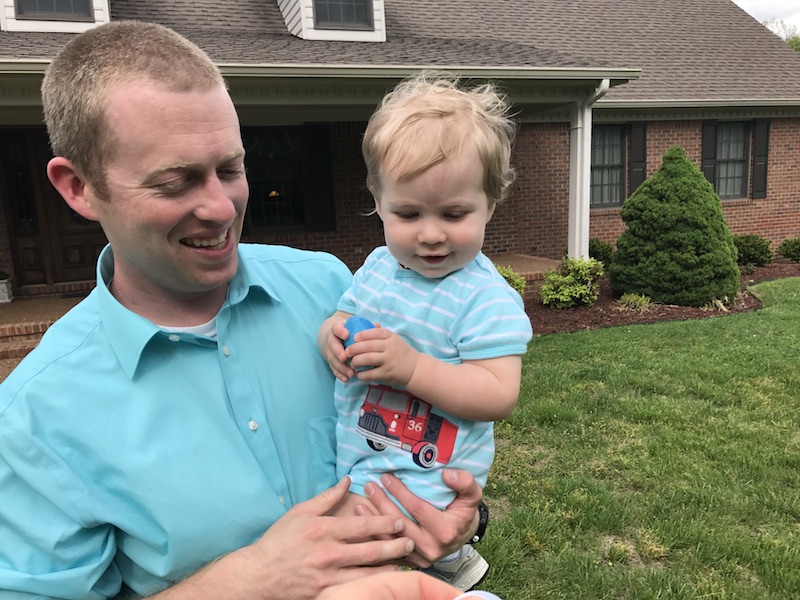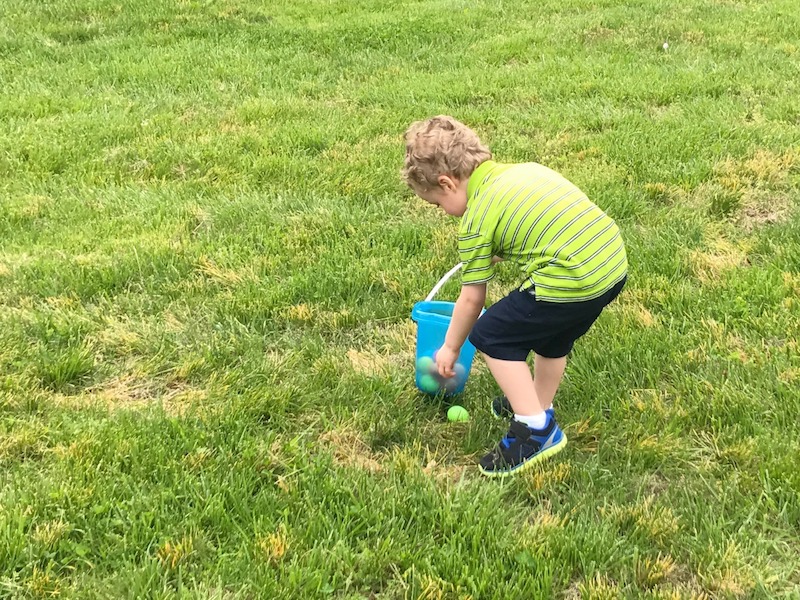 Our congregation participates in a program called Lads to Leaders and while our kids aren't old enough yet to participate we still went for one day to support the kids (and watch the puppets, which are Hudson's favorite!)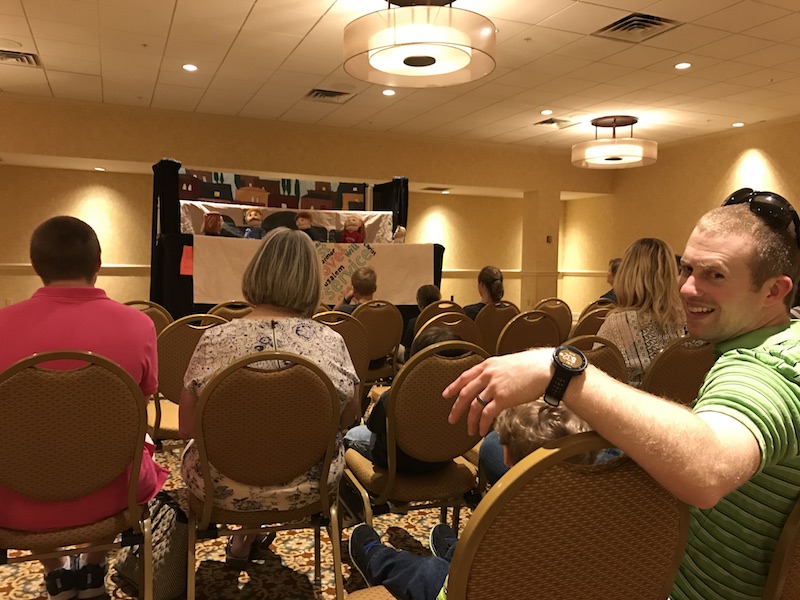 I met up with some of my friends for lunch at Chick Fil A and I do believe that was the first time I've gone out to a restaurant with both kids by myself (i.e. without another adult like Michael or my mom there to help).  I was nervous that it was going to be a disaster trying to wrangle both kids plus our food but it wasn't too bad, other than Parker screaming if I tried to put him in the high chair so I had to hold him most of the time instead.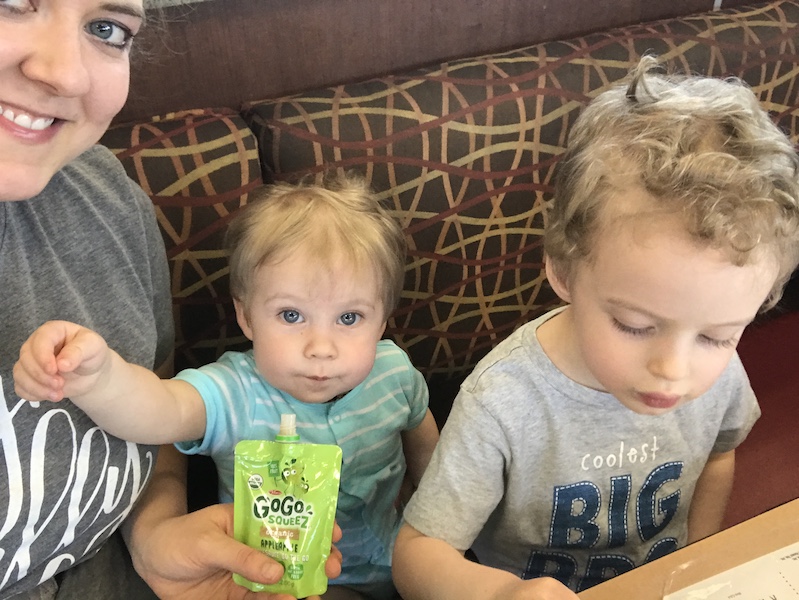 We attended our monthly Learn & Play playdate.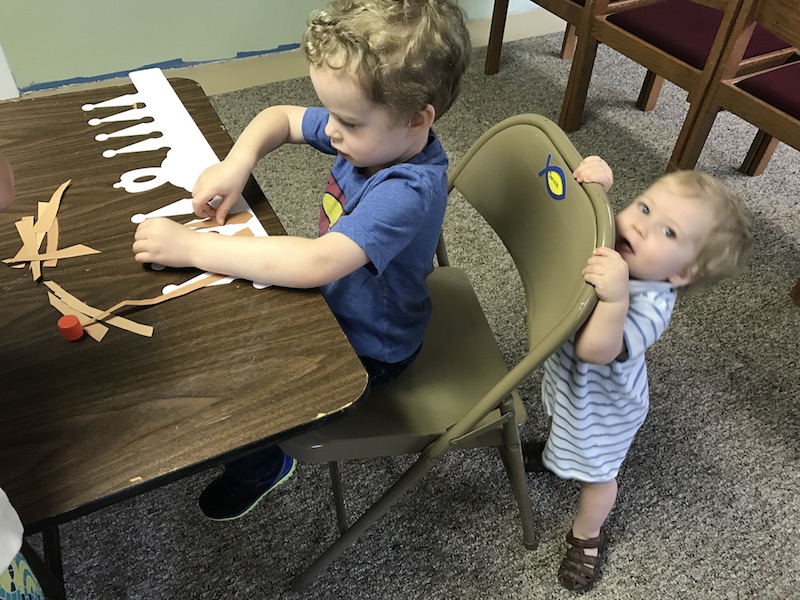 Hudson
Everyone told me that three was much worse that two, but so far (knock on wood) that hasn't been our experience.  I mean, don't get me wrong, he is still quite defiant and asks me a bazillion questions a day and throws little tantrums and refuses to go potty until it's too late most times BUT he's also matured a lot.  I can leave the room to switch laundry without him getting in to everything, we can walk through a parking lot without him bolting the other direction, and he plays independently with things like playdoh or puzzles.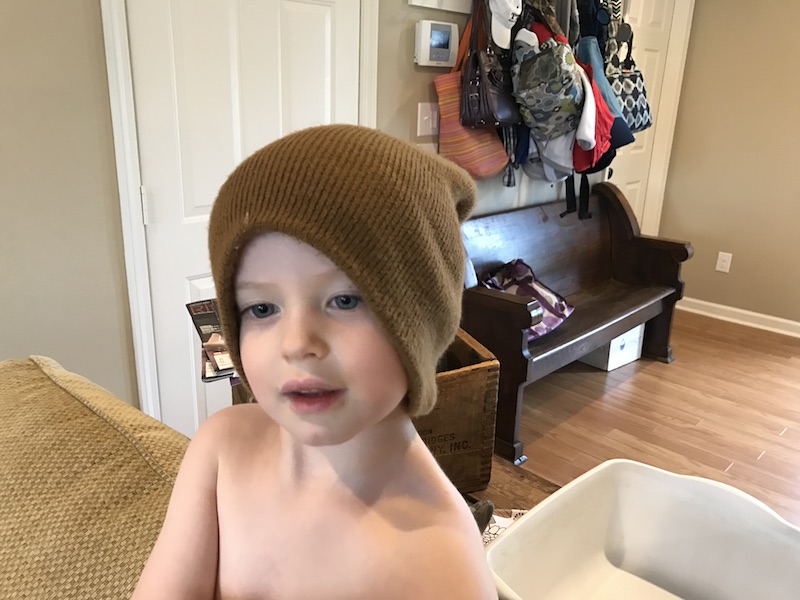 Potty training is still….in training.  His underwear is a little wet just about every time, but he can now take himself to the bathroom, get on the toilet, put on clean underwear himself (although many times inside out, backward, or both), and wash his hands.  So yes, we go through about a million pairs of underwear a day and he frequently pees on the floor (especially when he gets up to go during nap time) but at least he can do most of it himself.
It's hard to see in this picture but he had put his shorts on by himself and was so proud.  He had put both of his legs in just one of the leg holes so one leg was hanging in the back like a tail.  It was pretty cute!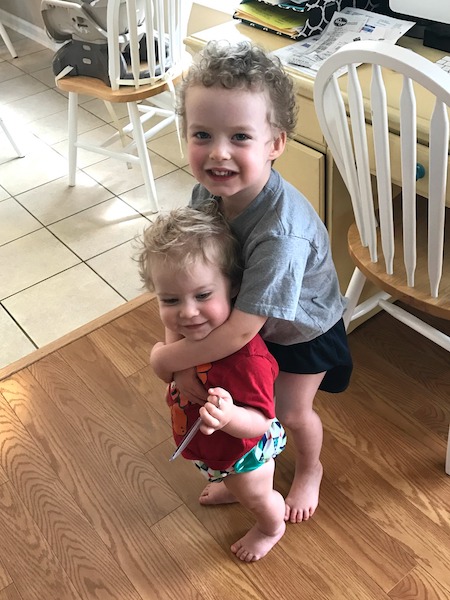 Hudson has such a sweet heart.  He picked me this flower and then later found some pinecones he wanted to give me.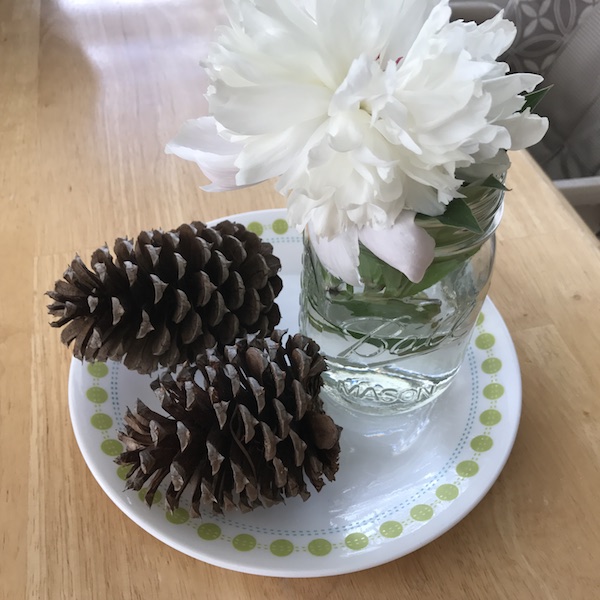 Things Hudson is currently interested in (aka we talk about them or do them all the time): robots, farming (he says he's going to be a farmer when he grows up), music, reading, and playdoh.
I wish I could tell you all the hilarious things he does and says but that would take forever and I can't ever remember them after it happens.  He is constantly cracking me up with his silly antics and sometimes leaving me speechless with the hard questions he asks.  He tells long, elaborate stories either recounting things we've done/read about or things he's just made up.  His memory is crazy good, which is both amazing and scary.  Leading up to Easter he knew we were going to do some egg hunts and multiple times he reminded me of what all he got in his eggs last year.  He had just turned two at Easter last year and it's not like that (what he got in his eggs) is something we talked about after Easter was over and yet this year he remembered and could list them off.
He is really big on routines and "plans".  He wants to know what all is happening today, what we're eating for supper, if Daddy will be there in the morning when he wakes up, etc.
Parker
Parker is quite the climber.  Hudson never climbed on stuff so this is all new to me.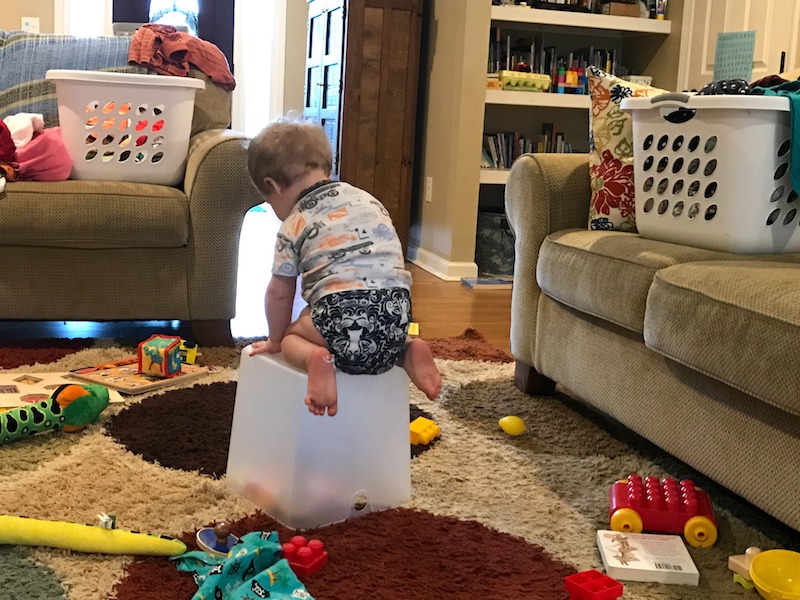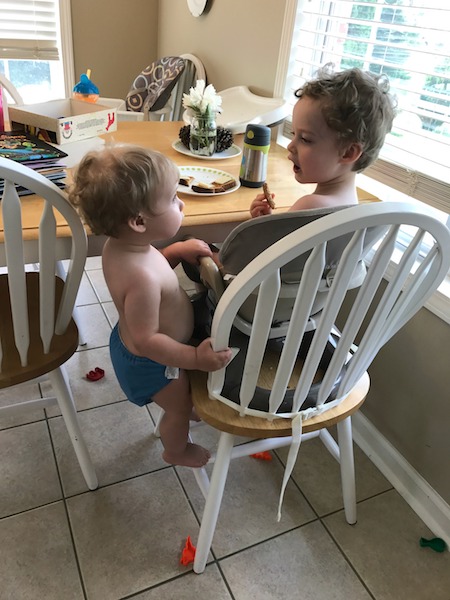 I was doing wall sits during my workout and he wanted me to hold him in my lap.  Ummm, no.  Wall sits are hard enough as it is, thankyouverymuch!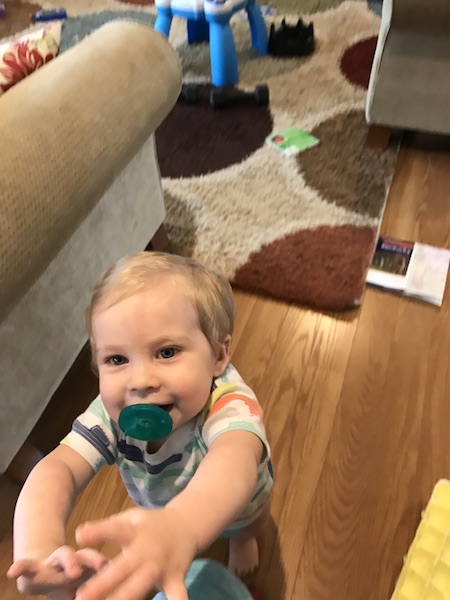 Those cheeks, though…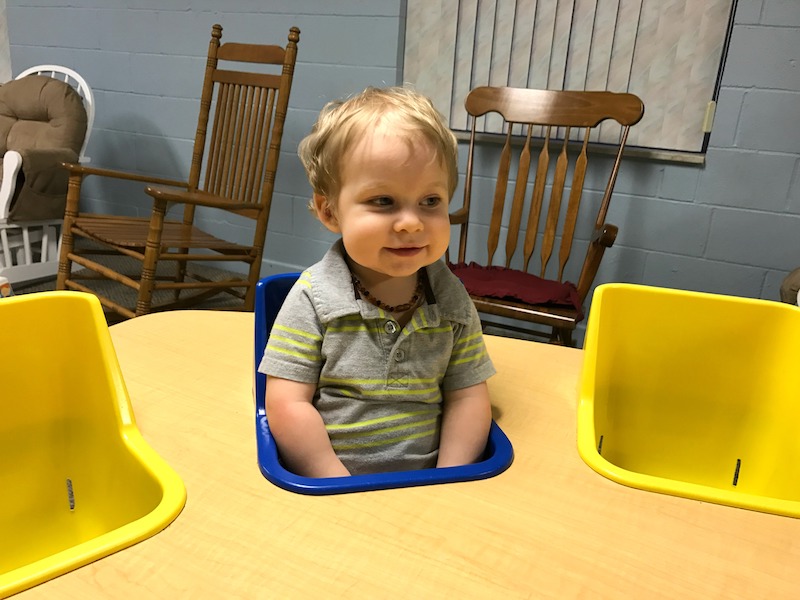 I love watching my kids sleep.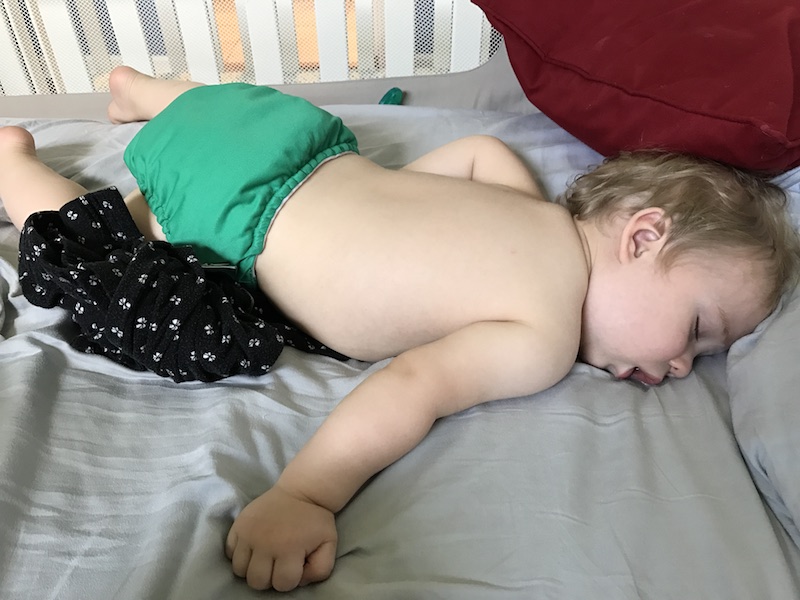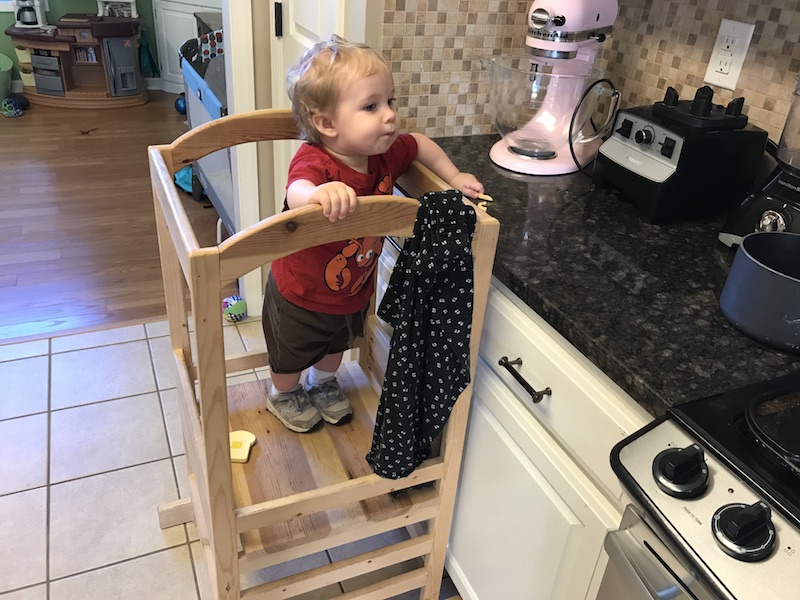 Parker still isn't talking much (or at all, really).  He says "please" (or his version of please) while signing please, and he babbles all the time but he doesn't really use words.
He knows the signs: please, help, more, eat, drink, milk, and all done; however, he doesn't always use them.  In fact, he'll use the same sign for a lot of stuff – for a while he signed "please" anytime he wanted to eat or drink.  Now he's signing "milk" when he wants to nurse but also when he has pooped and needs a diaper (so that's pretty confusing…)
Speaking of that, he still nurses before bed, before nap, and then during the night or in the early morning hours.  Honestly since we cosleep I don't even fully wake up to remember how often during the night but I *think* he's been going all night and only nursing in the early morning, then going back to sleep.  I could be wrong though.
Sleep patterns are: bed at 7:30ish and sleeps until 6:30 or 7.  He also takes a 2ish hour long nap after lunch.
He has started identifying body parts this month and knows where his belly button, mouth, and nose are.  If you use a tissue he will run to the trash can to show you where to throw it away.  If he's hungry he'll run to the fridge or pantry to try to get you to get him food.  If you ask if he wants a bath he goes to the bottom of the stairs and waits at the gate to go up.  He LOVES the dishwasher and as soon as he hears me open it to start unloading the clean dishes (or put in dirty dishes) he starts laughing and comes running.  Hudson was the same way and it definitely makes unloading the dishes difficult!
He is so big compared to Hudson.  Since they were born within two weeks of each other (2 years apart of course, but same time of year) I expected that all of Hudson's clothes would fit Parker.  That is not turning out to be the case!  I pulled out all the 18 month clothes (what Hudson was wearing at this age in the summer and then the following fall and winter) and very little of it fits Parker!  Most of it is too tight!  So I'm going to have to skip ahead and get out the 24 month clothes that Hudson was wearing the following summer.  I'm a little sad because Hudson was in 18 month clothes for a full year and we had some cute stuff!  Same goes with shoes – Parker has big, thick feet so Hudson's old shoes don't fit him.
Weight loss
For those following my weight loss journey, here's an update.  I am now down 55 pounds, am 7 pounds from my pre-pregnancy weight, and 37 pounds from my goal weight.  I'm hoping to be at my pre-pregnancy weight by next month's update!
I put our Easter pictures from last year and this year side by side to see the difference – my kids have grown and I have shrunk!  There's about a 50 pounds weight difference between these two pictures, although to be honest I only see a slight difference in my face.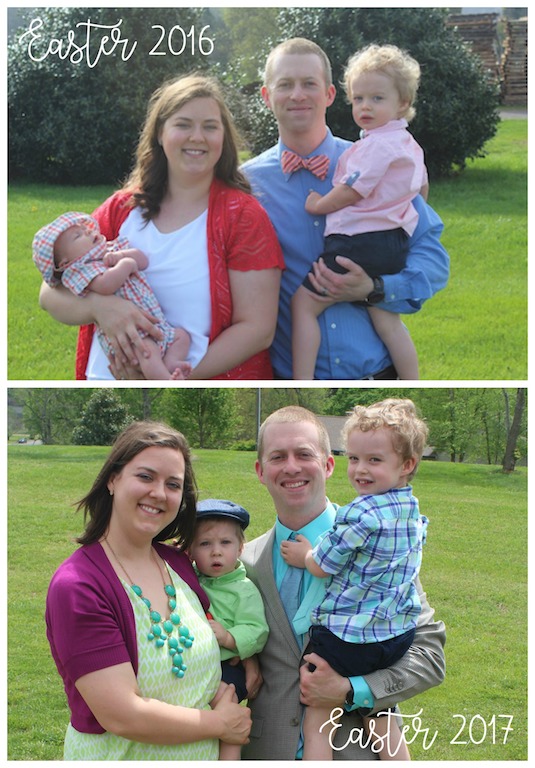 I finished another round of a 90 day Bikini Body Mommy challenge then decided to switch it up since I've been doing BBM pretty much constantly for over a year.  After this most recent challenge ended I started doing another program called T-Tapp that is…definitely different – but if it works then I don't care!  I'll share my results as I go through that.
Working out with these two is an adventure and not always easy but we get it done anyway.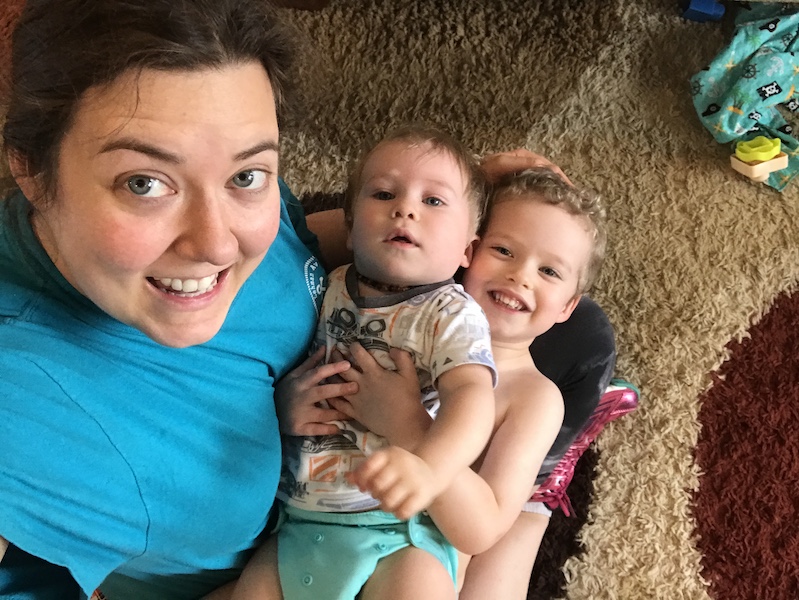 It blows my mind just about every day that I get to eat like this and am able to lose weight.  Trim Healthy Mama is seriously the best!  I'm going to do a separate post sharing some of my favorite foods but if you want to see what I typically eat each day you can check out this post on my Facebook page.  Pictured below is french toast with homemade whipped cream and strawberries, fried eggs, and bacon (an S-helper, for those familiar with the THM lingo).  I am suffering *so* much…(heavy sarcasm ;) ).
That's it for April!  I KNOW there are things I'm forgetting and I have got to get better at jotting down notes throughout the month but hey, having some record is better than none. right?!