Do you have a mom in your life who is a little crunchy?  Likes natural things, alternative methods, farmer's markets, eating local, avoiding synthetics, you know…all that kinda hippie stuff?  Well since I happen to be one of those people myself I thought I'd write a gift guide for those of you who are shopping for that all-natural lady in your life (aka a list of things that I own/use and love or that I would like to have ;) ).
---
This post contains affiliate links.  If you purchase a product through an affiliate link I make a small commission at no cost to you.  This helps keep my blog running so thanks for your support!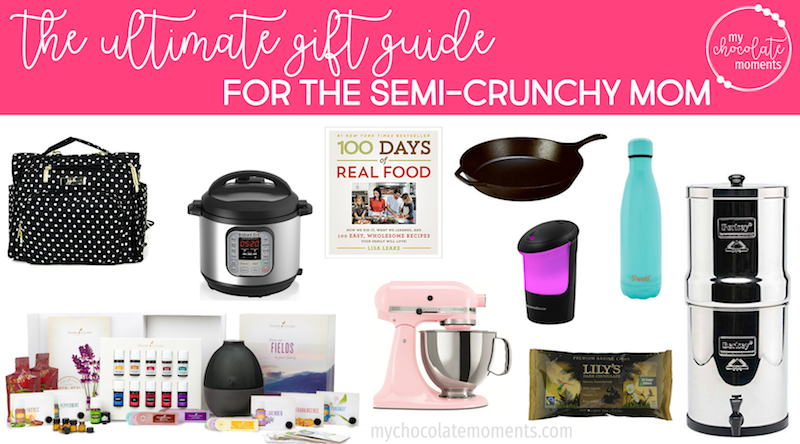 In no particular order…
100 Days of Real Food cookbook: So many great recipes that will help you switch out processed foods for healthy, whole foods
KitchenAid mixer: If you cook a lot this is a must have in the kitchen!  We use it for mixing up pizza dough, bread dough, cookie dough, cake batter, whipped cream, meatballs, shredded chicken – it's so versatile!
Instant Pot: A recent addition to my kitchen that is like a slow cooker on steroids and great for fixing quick but healthy meals
Vitamix: I do not own one of these but it's on my wish list.  Apparently it's the Cadillac of mixers and everyone who has one loves it.  Someday!  For now though, I have the Aldi Ambiano blender, which is supposed to be similar to the Vitamix, and so far it has worked great.
Berkey water filter: I don't have one of these either but it's definitely on my wish list!  A Berkey water filter seems to be a staple in every crunchy person's kitchen.  It's supposed to be amazing for filtering out the nasty stuff that's in our water.
cast iron skillet: I mean, everyone needs a cast iron skillet because that non-stick coating stuff is bad news bears.
JuJuBe BFF diaper bag: My diaper bag of choice if you have one in cloth diapers, or a JuJuBe Super Be if you have two in cloth diapers (or one in cloth plus a toddler who is potty training).  If you REALLY want to spoil her, get a Lily Jade diaper bag.  It's beautiful and classy and leather and has backpack straps (looooooveeee) but it's pretty pricey, hence why I don't have one.
Insulated cooler bag: If she's in to the farmer's market, or even if she isn't but takes large quantities of food places, an insulated tote bag is super handy.
S'well bottle: No plastic for this mama!  She can keep her water cool (or coffee hot) on the go with a sleek stainless bottle instead.
Car diffuser: If she's into essential oils and on the go a lot, she's definitely appreciate a diffuser for her car!
Sacred Arrow diffuser jewelry: Also if she's oily but you want to get her some jewelry, I recommend killing two birds with one stone and getting her some diffuser jewelry.  I like this one and this one and this one…oh and this one too!
Young Living Essential Oil starter kit: Now if she isn't using essential oils yet (what?!), an essential oil starter kit from Young Living would be perfect to help her dive into the world of oils.
Pink Lemonade cloth menstrual pads: Maybe an odd gift but I know I'd be happy to get some more beautiful, soft cloth pads! (read more about cloth pads here)
100% Pure natural makeup and nail polish: If she loves makeup and nail polish but wants something natural, I highly recommend 100% Pure!  This lipstick is beautiful and I'm totally crushing on this nail polish (you can check out more about what I use here)
Lily's chocolate: Lily's stevia-sweetened chocolate is wonderful for the mom wanting to avoid sugar but it's pricey and she probably doesn't splurge to get it herself very often.
Massage: A massage is always a winning gift for any occasion in my book!
Clean house: Whether you clean it yourself or hire the job out, having a clean house (that someone else cleaned) is a huge hit!
Happy mother's day, everyone!