I don't know about you but when the weather gets warmer we start going out more and traveling more and therefore are eating on the go more frequently.  And while there are lots of healthy snacks you can easily make yourself, sometimes it's just nice to have some pre-packed things that aren't total junk that you can grab and go, or keep in your diaper bag, or even run into a store and purchase if you're out and need a snack.  We also really like snacks like these for putting in the kids' Christmas stockings, Easter baskets, etc. so they still get a treat since we don't buy these regularly but we can avoid a bunch of processed junk.
I've compiled a list of 26 pre-packaged healthy snacks that are really great options, especially if you have little kiddos you'll be feeding!
---
This post contains affiliate links.  If you purchase a product through an affiliate link I make a small commission at no cost to you.  This helps keep my blog running so thanks for your support!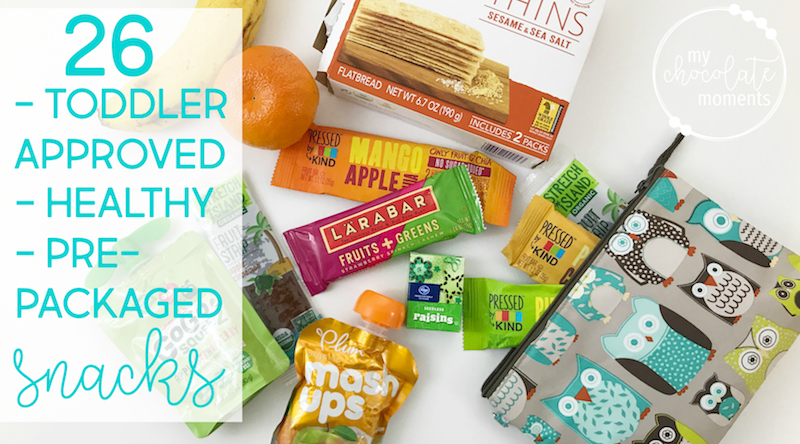 A couple of caveats:
What is healthy to some may not be considered healthy to others; my basic parameters for considering something healthy: no added sugar and made with actual food items (not tons of weird chemicals)
While I do like to get organic when possible, sometimes it's just not in the budget, or easy to find, or actually even the best option (because don't be fooled by the "organic" label…organic treats full of sugar are still just treats full of sugar…).  So this list is a mix of organic and non-organic items that all meet my "standards" for what I consider healthy
This is not meant to be a judgemental post or say that you're a bad mom (dad) if you feed your kids other snacks, just a list of snack ideas if you're looking for healthy options
I've linked to Amazon for every product for your convenience so you can see what it is, but just know that a lot of these are much cheaper in stores; I get many of these at Kroger or Target
Pouches
These are a huge hit and are so convenient to toss in my bag!  And while, yes, it is very easy to make your own (not to mention cheaper), remember the name of the game here is convenient and prepackaged, so here are some good options.  These do occasionally have issues with mold in the pouches so check them before you give them to your kids (I have never personally had any problems but see recalls every so often)
Go Go Squeeze – We usually get the plain applesauce pouches at Sam's in a large container but they also have fruit & veggie mixes that I've gotten from Kroger.
Slammers – Another pouch but this one is a mix of greek yogurt, fruit, and veggies.  It's really hard to find any yogurt, especially 'kid' yogurt in pouch form that has no added sugar, so I was happy to find these!
Plum Kids Mash Ups – Pouches that are mixes of fruits and veggies.  They have a really big variety too!
Bars
I'd guesstimate that 95% of the "bars" out there (granola bars, protein bars, etc.) are nothing more than glorified candy bars full of sugar and all sorts of weird ingredients.  However, there are a few brands that I've come across that are made up of only a few ingredients.  They all have dried fruit (usually dates) as a base, which is still pretty sugary, but for an on the go option to keep from eating a Reese's I think it's a good choice!
Larabars – I love Larabars!  They have so many great flavor options and I always have at least one in my purse just in case.
Kind Pressed – Regular Kind bars, while delicious (and still a better option than a lot of the granola bars out there) don't make my short list for healthy snacks since they have added sugar.  However Kind has recently come out with (or they recently showed up in my stores, I don't know how long they've been making these) a "pressed" bar that is basically just made up of dried fruit.  These might belong more in my "fruit snacks" category than bars as they are kind of of a cross between the two.  I bought a couple to try and I defintiely prefer Larabars more but the Kind pressed bars are ok in a pinch too.
RxBars – I have not personally tried these yet but I have heard a lot about them recently, they've gotten really good reviews, and the ingredients are good! The are similar to LaraBars in that they use dates and nuts as the main base for the bar but they also have egg whites for added protein.  I will be getting some of these to have on hand for myself, for sure.
Fruit snacks
I've done a lot of searching and have yet to find a "traditional" gummy fruit snack that does not have added sugar, including the ones that are organic claim to be made out of all natural ingredients (if you know of any please comment!).  However, there are quite a few fruit snacks made with dried fruit that are pretty good substitutes for gummies
Plum Kids fruit and veggie shredz – These are the first gummy-type snacks we gave our kids because they are very easy to chew and perfect for ones with few teeth.  They absolutely loved them (and still do).
Stretch Island fruit leather – These individually wrapped fruit leathers are a great treat and they're so slim that I actually keep one in my wallet with my cash in case I need a quick bribe…ahem, treat…for the kids when we're out.
Simply Balanced fruit strips – Very similar to the Stretch Island fruit leathers.  I think Simply Balanced might be Target's store-brand and they have quite a few good options.
Simply Balanced fruit bites – These are the closest thing size-wise to gummies.
Simply Balanced twisted fruit ropes – Same consitency as the fruit bites and fruit strings but in a Twizzler-esque shape.
Pure Organic fruit sandwiches – We haven't tried these yet but they have good ingredients and look similar to the other fruit snacks I've shared here.
Other fruity foods
Raisins – Raisins are one of my top on-the-go snacks and can be found just about everywhere if you need a healthy option while out (it was literally the ONLY healthy option I could find at Dollar Tree recently when we needed a snack in a pinch!).  I try to keep the little bitty boxes with me all the time.
Snack Factory fruit sticks – My boys love these!
Bare Natural apple chips – We haven't tried these particular ones, but they have good ingredients and good reviews
Brother's all natural fruit crisps – Another freeze dried fruit option
Simply Balanced freeze dried strawberries – Be careful because the labeling is tricky – the *freeze* dried strawberries do not have any added sugar but the Simply Balanced dried strawberries do have added sugar.
Halos – I just love Halo oranges because they are so stinking easy to peel.  I'd consider these "prepackaged" because you can grab them and toss them in your bag, then peel on the go.
Bananas – Another "prepackaged" fruit that doesn't require any washing, chopping, cutting, or other prep work.  Just grab it and go!  Plus most gas stations have bananas too if you're looking for a healthy snack there.
Miscellaneous
Blue Diamond nut thins – Not a good choice for those that need to avoid nuts but a great choice for those who want to avoid wheat!  These crackers are yummy and crisp!
Wasa thin crackers – The regular Wasa crackers basically taste like cardboard but the Thins are pretty good, made with whole wheat, and my kids really like them.
RW Garcia sweet potato crackers – These are really yummy!  A cross between a corn chip and a sweet potato.
Unique sprouted pretzels – I knew nothing about sprouted grains until I started following the Trim Healthy Mama diet.  On THM you can't have wheat (not even whole wheat) but you CAN have sprouted wheat since sprouting the wheat makes it more digestible.  These sprouted pretzels are really popular among THMers and while I haven't tried them yet I really want to get some soon for us to keep around for snacks!
SkinnyPop popcorn – A pre-popped popcorn that's just popcorn, sunflower oil, and salt?  Yes, please!  (FYI I included this on my list of "toddler approved" snacks but a lot of people choose to not give their toddlers popcorn because of the risk of choking)
prepackaged cheese – String cheese is really easy to find and there are usually some cheddar or pepper jack cheese options that are wrapped wrapped in individual portions.  These are great to take on the go if you have a lunchbox/cooler or to buy if you're out and need a snack.
Planter's raw mixed nuts – I love nuts for a quick, filling, yummy snack!  (this is another food that many people choose not to give to toddlers because of the choking hazard but that would  be a good snack choice for older kids so I'm including it anyway)
---
Did I leave any of your favorites out?  I'm always on the look out for new healthy snacks so if you know of something else good please share!