I am relatively new to using Instagram (I've been on there less than a year) and am by no means a pro photographer but I've learned some tips for taking flat lay pictures (which are super popular right now and I love them!) that I wanted to pass on in case it could help other newbies.  Just in the few months I've been doing this my pictures have improved a lot and while I know I have room to grow still, I definitely have a feed that I'm proud of now.
---
This post contains affiliate links.  If you purchase a product through an affiliate link I make a small commission at no cost to you.  This helps keep my blog running so thanks for your support!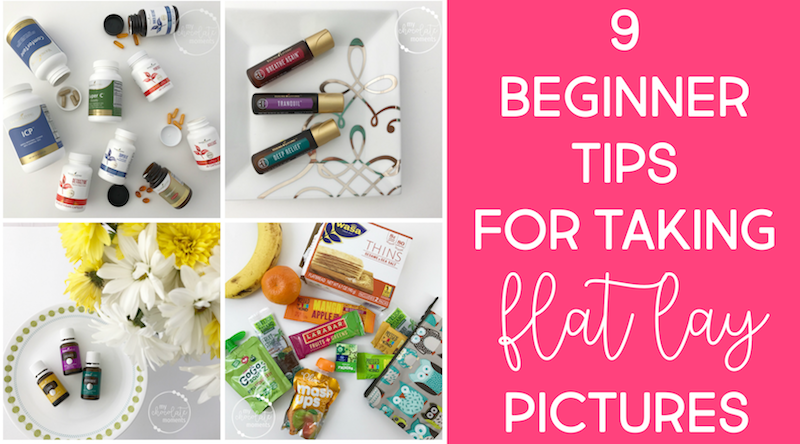 1. Decide on your vibe
When I first decided I was going to use Instagram as part of my social media strategy to grow my business I spent some time searching hashtags and people in my niche to get ideas.  If I found a feed I liked I would take a screenshot and then keep looking.  After I gathered several screenshots I went back and flipped through them – doing that made it very clear what type of pictures (background color/texture, angles, filters, mood, etc.) I was drawn to.
(Pro tip: this is actually really helpful for lots of things like picking clothes or home decor – I like to spend some time browsing around Pinterest and pinning what I like without really thinking about it, just kind of a gut-reaction basis, then when you go back and look at those images as a group it's usually pretty easy to see what colors and styles you're into as a trend usually emerges.)
2. Pick a common background
Using the same background or colors in your Instagram pictures helps your feed look cohesive and begins to establish your "look".
Almost all of the pictures from my screenshot collection of accounts I liked had a white background so that's what I went with for myself since obviously I was drawn to that look.  I just use a white piece of poster board for mine – super cheap and easy to replace if it gets dirty.  I've also seen lots of beautiful pictures with dark wood, tile, or even patterned scrapbook paper backgrounds – play around with it and see what you like!
Here's a screenshot from my Instagram feed.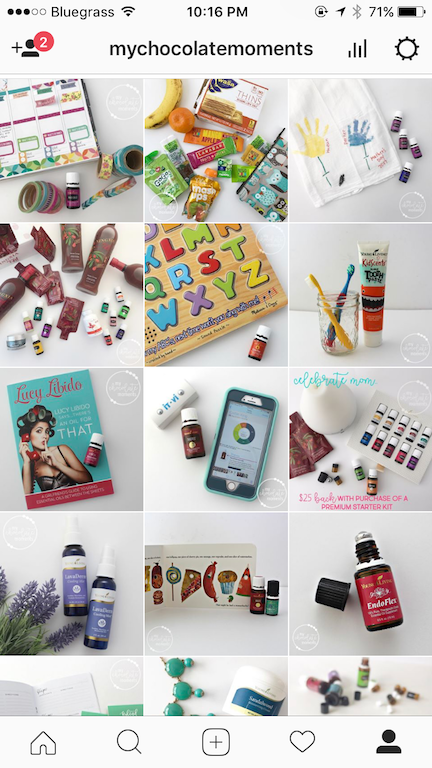 3. Use natural lighting
This is key for getting good pictures!  Use natural light as much as possible.  I know many people take their products outside to photograph but I just set up on my kitchen table with the overhead lights turned off and only the sunlight illuminating the room.  We have two large windows and I usually take my pictures in the morning so that the direct sunlight is on the opposite side of the house (and therefore not coming in strongly through those windows in my kitchen).
(This picture wasn't a flat lay, I was taking this one straight on so I had another piece of white foam board propped up as a backdrop, but you still get the gist with the windows and lighting)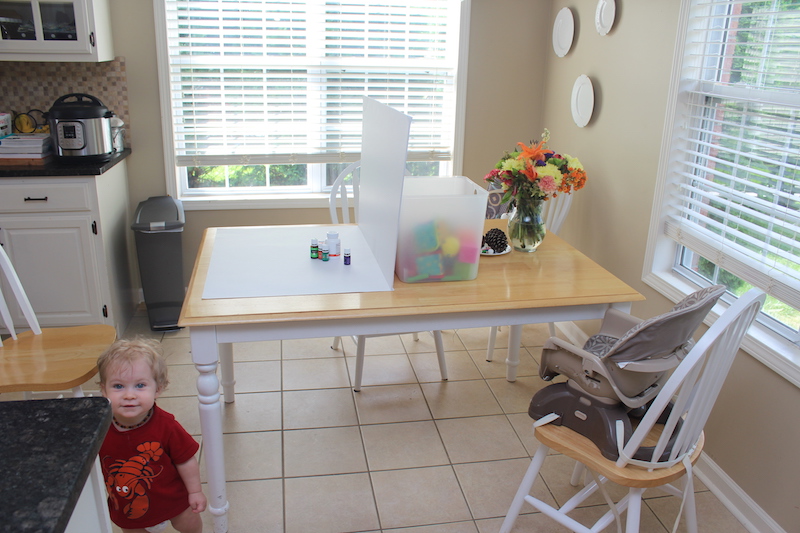 4. Reduce shadows
In addition to using natural light, you also want to try to eliminate the shadows that happen if you only have a light source on one or two sides but not all around.
When I first started taking pictures I'd put my white poster board on the table, then use white foam board propped up around the poster board to serve as a reflector of sorts.  It was kind of precarious and my foamboard was forever falling over, but it served its purpose.
Now I have a pop-up softbox that I use instead.  Again, I'm no pro so I'm sure I'm not using it to the full potential, but I open it up, set it on my table, set my product instead, and take the pictures, and I think it helps with shadows and lighting.  It's super quick and easy to set up.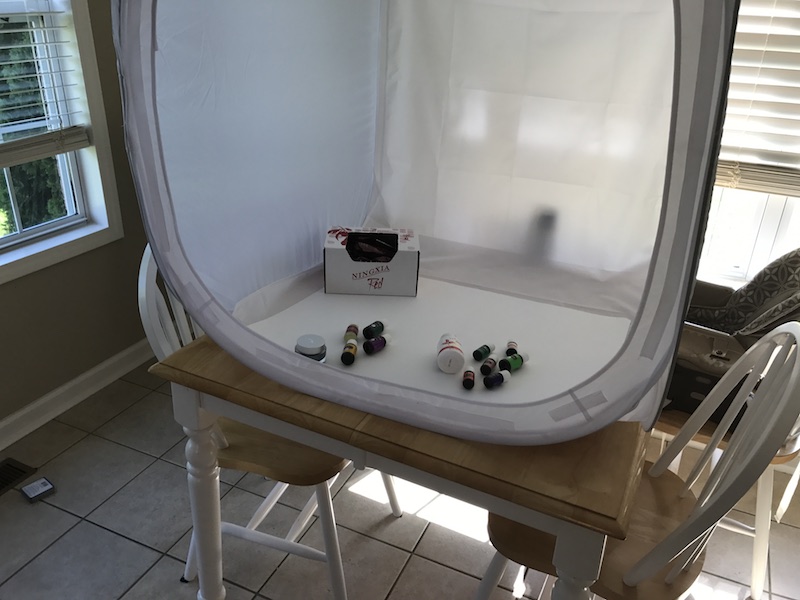 By the way, that picture above became this shot for my Instagram feed with a little styling and editing: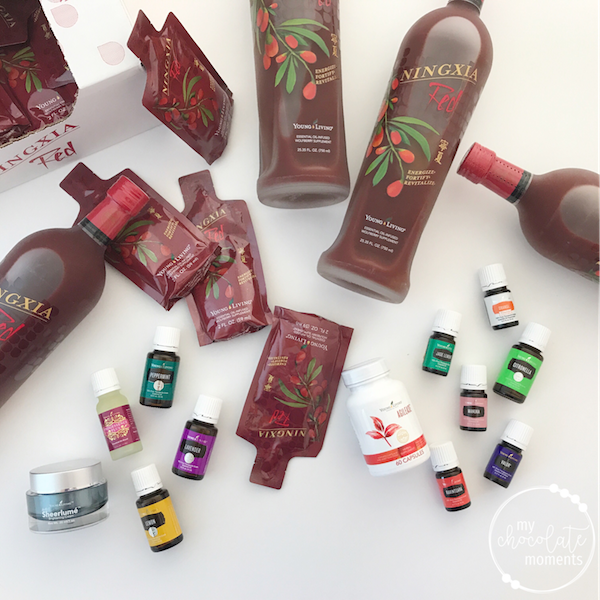 5. Style your pictures
This part it more aesthetic than technical and will require you to practice and decide what looks good to you, but you want to style your pictures a little.  Again, going through feeds of people you like and then looking to see if they have a common "look" will help you figure out what you like.
The easiest thing to do to add interest to your pictures is just grab accessories from around the house and add those in!  In fact, I have only bought three things ever to use in my pictures – three little fake flower arrangements from Hobby Lobby.  Everything else you see in my pictures is things from around the house that I already own.
I don't stick to a strict theme myself but I've seen some cool ones that others have used.  One of my friends uses the same patterned scrapbook paper in various colors with matching colored confetti in a lot of her pictures.  I've seen others pick a color and make sure at least one item in every flat lay is that color.
6. Use sticky tack to position your items
If you happen to be photographing round or cylindrical items, it can be hard to keep them positioned correctly!  Since the majority of my pictures are of essential oil bottles that want to roll all over the place, I've found that using sticky tack (like from an office supply store) to stick my bottles in place helps so much!
7. Use a decent camera
That does not mean use a DSLR necessarily.  In fact, for the first 6 months or so that I was taking Instagram pictures I always used my DSLR (an old Canon T3i) with an external flash but recently did some comparing and realized that my iphone pictures (I have an iphone 7) were actually BETTER than my big camera, so I've switched to taking them all with my phone (which makes things way quicker and easier too – bonus!).
I'm sure if you are a really good photographer that can shoot on manual with nice lenses and such then your DSLR will probably give you much better pictures, but since I'm pretty much a point-and-shoot photographer, even with my DSLR, then it's just more convenient to use my phone.
8. Get above and close to your subject
Obviously since this is a flat lay you want to get up above the item.  Depending on the size of the item sometimes I can set it on my table and hold my phone over it and get the shot, but if it's a bigger item then I'll often climb up on a chair and lean over to get that bird's eye view.
You also want to get close enough to your subject that you can tell what it is.  I try never to actually use the zoom on my camera or phone, instead I move my body closer or further away and then when I edit I'll crop it even more if needed.
9. Edit your pictures
Editing your pictures (and I don't mean going crazy with them) makes a world of difference.  When I was using my DSLR I'd put the pictures on my computer and use PicMonkey to bump up the brightness and whiteness.  Now that I'm almost 100% shooting the pictures with my phone I use editing apps: Pic-Tap-Go is my go-to for brightening up my pictures, then I open the edited picture in Watermark Lite to quickly add my watermark.
(every flat lay picture I've used as an example in this post was shot and edited with my iphone)
---
The biggest tip I can give you is to just start taking pictures and learn as you go!  Mine have improved a lot since I photographed my first flat lay 7 months ago and I'm sure will continue to evolve the longer I do this.
Also, if you are new to Instagram too and are wondering how it works, what these hashtags are for and how to use them, how to grow your business on IG, etc. I highly recommend this training.
Do you take flat lay pictures?  What does your background look like?  What camera do you use?  What editing program is your favorite?
Like these pictures?  Follow me on Instagram for more!