Your oils are here (or maybe just on their way) and You.Are.Pumped.  You're also wondering…what other things do I need to help me use my oils?  Well you don't HAVE to have anything else really, your starter kit comes with everything you need to get started using them right away.  However, there are a few things that are really nice to have and you'll probably want to get them at some point in your oily journey so to help you out I compiled a list of must-have essential oil accessories and supplies that you might want.
---
This post contains affiliate links.  If you purchase a product through an affiliate link I make a small commission at no cost to you.  This helps keep my blog running so thanks for your support!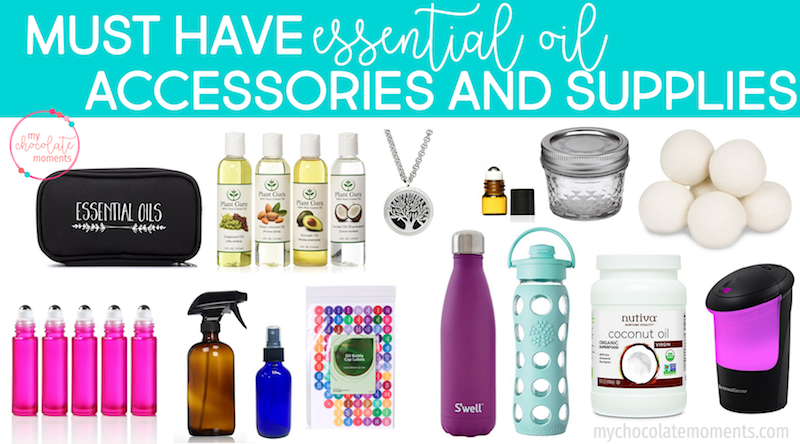 First up, if you're reading this post and you DON'T have essential oils yet…you kinda need those first!  Go here to get started and order your oils.
DIY Materials
Even if you aren't a super DIY person, you'll still probably want a few basics like roll-on bottles and carrier oil so that you can dilute your oils and make roll-ons for easy application.
(Check out this post I did for 9 easy DIY essential oil recipes)
Personal Usage
These are some things that you'll probably want as you start incorporating oils into your daily life.
Diffusers
You will quickly find that the diffuser that comes with your kit will not be enough because you'll want one in multiple rooms of your home!  See my diffuser comparison post for a full look at several Young Living diffusers and several non-YL diffusers.  Here are a couple of my favorites.
This diffuser is small yet runs all night and also very inexpensive, so it's perfect for taking to a hotel room or just using around your home
A car diffuser plugs into your cigarette lighter and sits in a cup holder so you can diffuse on the go!
DIFFUSER JEWELRY – You can also wear your oils in diffuser jewelry.  One of the most popular companies is Sacred Arrow but there are tons and tons of other great options on Etsy and Instagram too.  If you're crafty you can also make your own.
Sharing
Once you fall in love with your oils you'll want to start telling your friends and family about them too!  Some things that would be helpful:
Oh and check out my blog post about starting your Young Living business.
Books & Resources
There are SO many great resource books for using your essential oils out there that it would be hard for me to list them all!  Three years in and I'm still finding new books to read and learn from.  Life Science Publishing has the most comprehensive collection of oil books so check them out for sure and look at their best sellers.
What would you add to this list?
Ready to get your own essential oils? Click here to get started