Check out Young Living's June promos!  This month is full of items that are super handy for your summer travels!
---
This post contains affiliate links.  I am a Young Living independent distributor so if you purchase a product through my link I make a commission at no cost to you.  You become part of my Oily Moments community and we will be here to help you with your new oils.  Thanks for joining with me!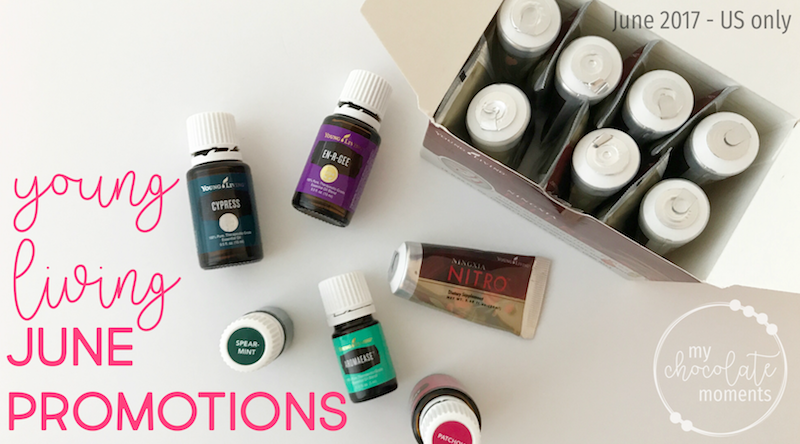 Ningxia Nitro (300pv)
Ningxia Nitro uses:
– increase cognitive alertness (great for students taking tests, needing to focus at work, etc.)
– enhance mental fitness
– promote energy
– athletes love it before practices or competitions
I love this one for those afternoon slumps when I really want to take a nap with the kids but need to get some work done instead.  Michael uses it a lot to help him stay alert while driving.
En-R-Gee (300pv)
En-R-Gee is a blend that is for…well…energy ;) as the name indicates.
En-R-Gee uses:
– before working out
– on a long drive
– while studying for a test
– during an afternoon slump
I like to rub this one on my lower back (above my adrenals).
AromaEase (250pv)
AromaEase is perfect for road trips, plane rides, cruises, and the like as it can be used to soothe minor digestive discomfort.
In my opinion, AromaEase smells similar to TummyGize and is a great alternative to DiGize, especially when you're going to be around other people who may find the smell of DiGize to be a bit…strong ;).  I keep this one in my bag with me all the time!
Cypress (190pv)
Cypress uses:
– grounding yet also uplifting
– great for rubbing on your legs and feet when you're traveling
Patchouli (190pv)
Patchouli uses:
– apply to skin for a youthful glow
– add to shampoo or conditioner for healthy hair
– diffuse for a calming and peaceful aroma
Spearmint Vitality (100pv) 
Spearmint Vitality uses:
– increases metabolism
– digestive aid
– make your own mints
How do I get them?
These promotions are available to Young Living essential oil members who place qualifying orders in the month of June.
A 100 PV Essential Rewards order gets the free spearmint vitality (PV = Product Volume and is usually the same as the dollar amount, but not always so double check! Essential Rewards is Young Living's rewards program)
A 190 PV ER order gets the spearmint vitality, cypress, and patchouli (190 PV orders that are NOT ER orders get the cypress only, not the spearmint or patchouli)
A 250 PV ER order gets everything listed above plus AromaEase
A 300 PV ER order will get everything listed above plus En-R-Gee and Ningxia Nitro

Not a member yet but want the promos?
If you aren't a Young Living member yet you can totally take advantage of the promo too!  Here's how:
Join Essential Rewards (it will give you the option to do that as you're ordering your kit) with any other combo of products that are 240 PV or more.  You can do whatever you want depending on if you're wanting to focus on getting rid of toxic chemicals (get lots of Thieves products), skincare (check out the skincare line), boost your nutrition (Ningxia Red), your kids (look at our Kidscents products), animals (we have a whole AnimalScents line), or something else.
And voila…you'd get all this other stuff we just talked about for FREE!
If you're looking for an idea of 200 PV to add on, I personally recommend the Ningxia Red Essential Rewards kit plus a bottle of the Thieves Household Cleaner.
If you go that route you'd be getting:
– lemon
– lavender
– peppermint
– frankincense
– copaiba
– Thieves
– PanAway
– Stress Away
– Purification
– RC
– DiGize
– a diffuser
– spearmint vitality
– cypress
– patchouli
– AromaEase
– En-R-Gee
– Ningxia Nitro
– 4 bottles and 32 pouches of Ningxia Red (that's 164 ounces, so 82 days worth of Ningxia Red if you drink the recommend 2 oz serving a day)
– Thieves Household cleaner (the only cleaner you'll ever need again to clean your house!  It's super concentrated too so one bottle will last you months and months)
Alllllllll of this for about $350 plus tax and shipping.  An incredible value for these products that are an investment in your health!
Not to mention wholesale pricing (24% off) all future purchases, an incredible oily community to help you learn all about your new products, and the opportunity to make money telling others about oils (totally optional).
---
I'll get an email when you sign up, so I'll be contacting you soon to get you added to our private group and help you get started using your oils.   If you have questions before then, feel free to contact me here or here or through my Facebook page or email at caitlin@mychocolatemoments.com.