Here's our May family update.  We didn't have a whole lot going on this month so it's a shorter one.
General family stuff
We had our monthly Learn & Play playdate at the park.  The kids learned about farming and farmer's markets.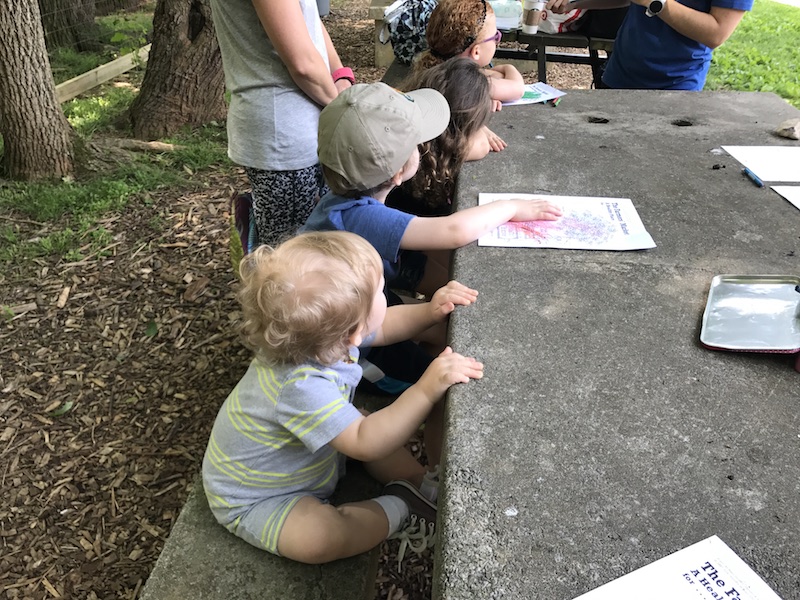 We also made a Mother's Day craft at playdate where we turned the kids hands into flowers and put them on hand towels. I am so thrilled with how mine came out!  Hudson drew the stem, "leaves", and that random black blob himself.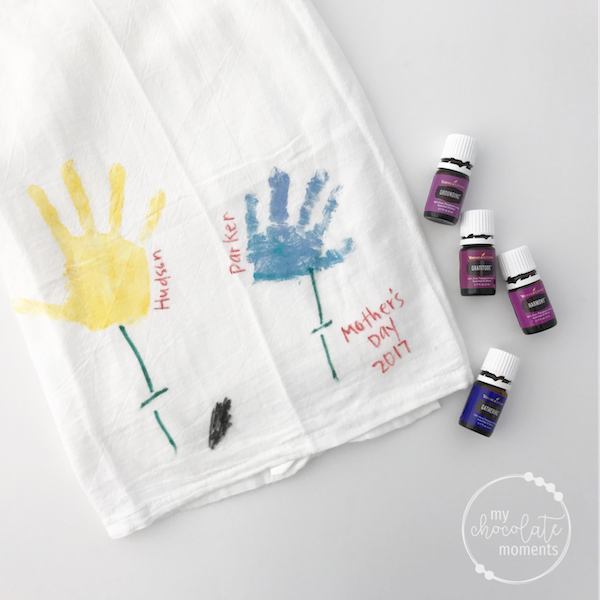 I took the boys to the Nashville Zoo where we met up with my childhood best friend and her son (who is about a month younger than Parker). The boys had a blast as always!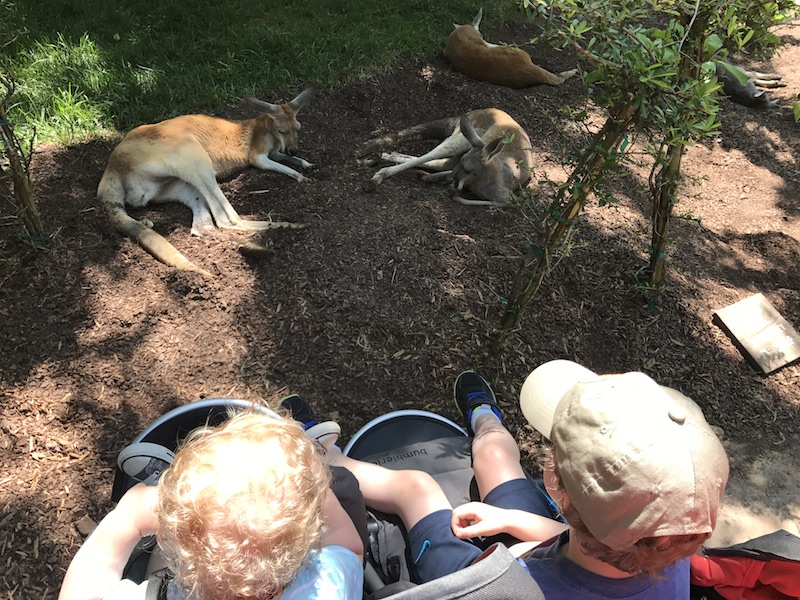 Hudson said "Mommy!  Take a picture of us!"  So I did.  So sweet!  Hudson loves to help feed Parker snacks.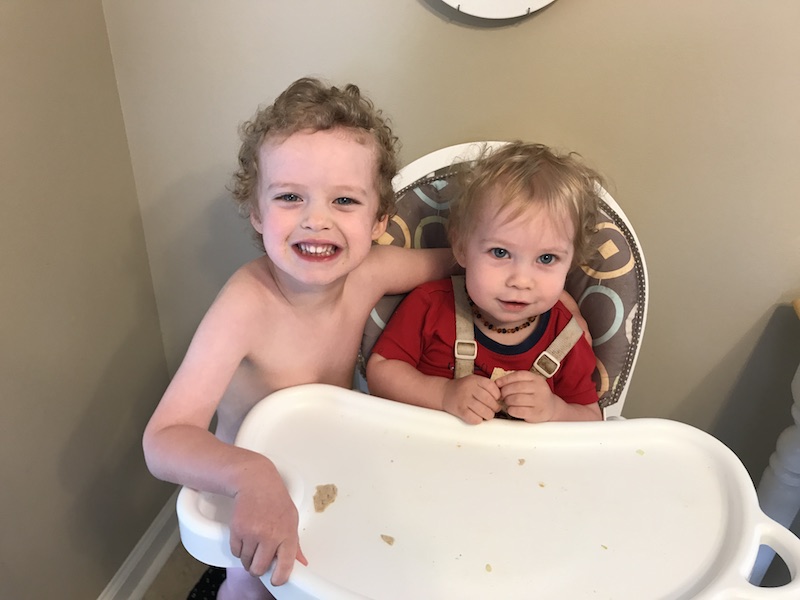 My little helpers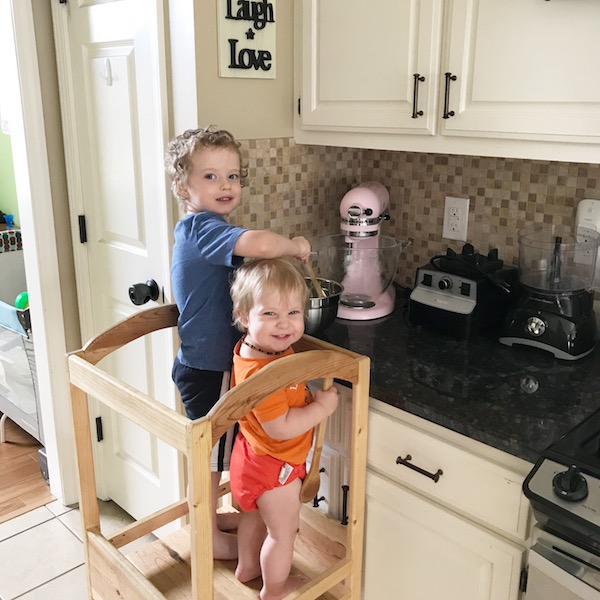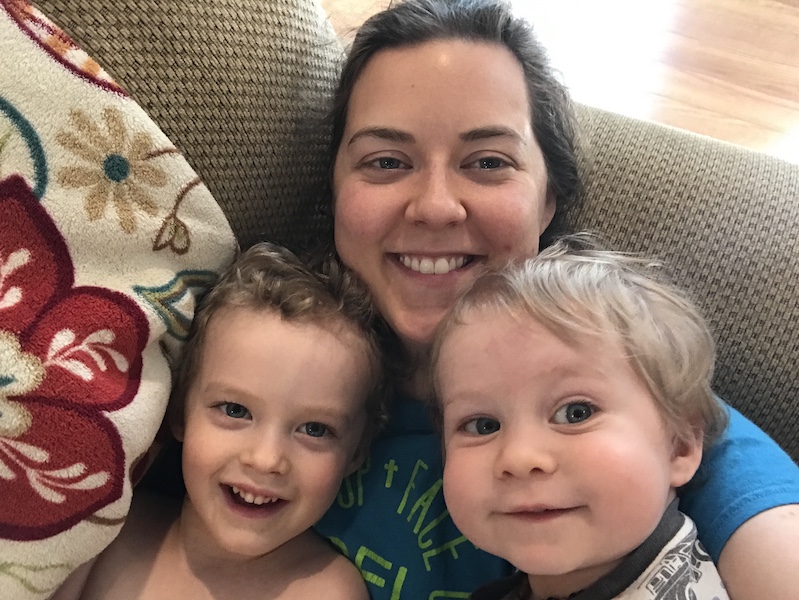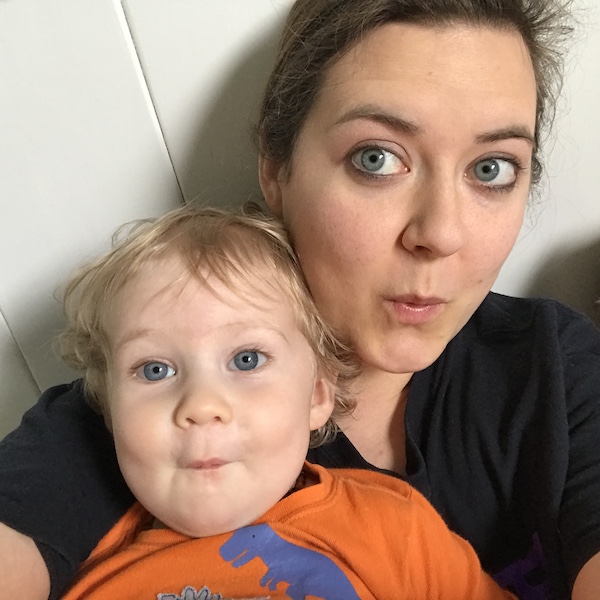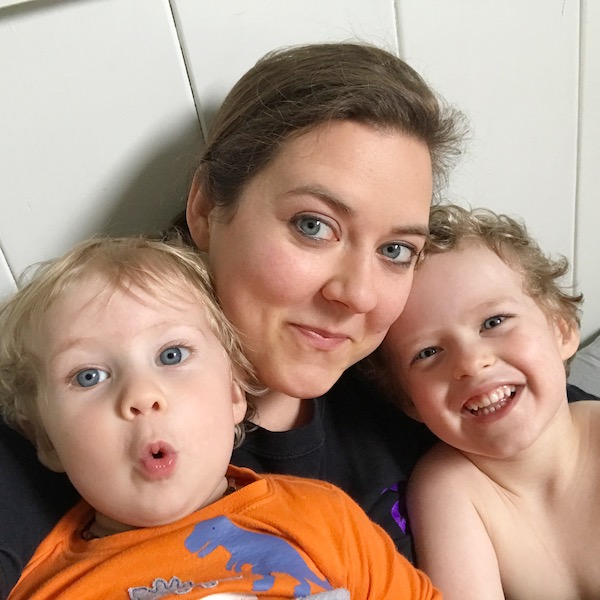 Both boys are in a "dumping" phase where they just want to dump everything we have, especially if it's small stuff like the megablocks or the plastic food, all over the floor but then not play with it.  It's pretty annoying.  This is actually not too bad, many days the floor looks much worse than this!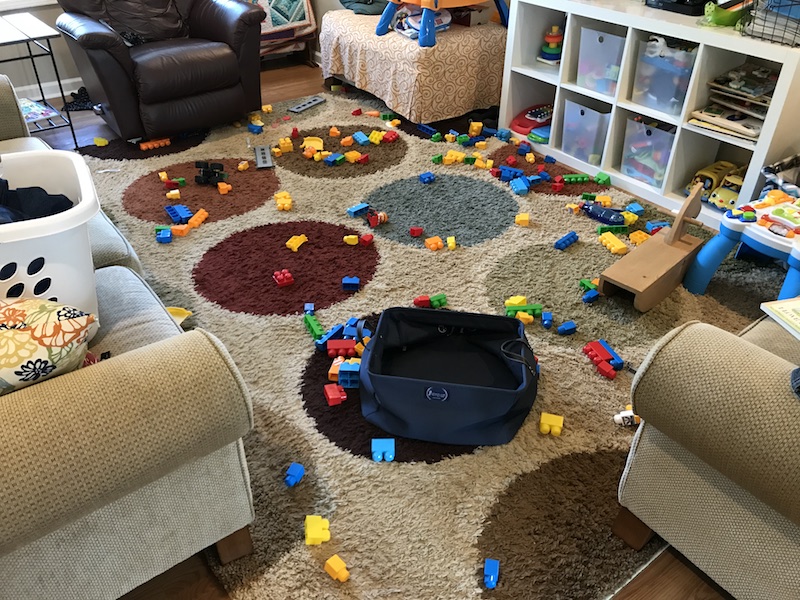 I can't stand the cuteness sometimes!  They play so well together (not all the time, don't get me wrong, there are LOTS of times that they fight and don't play nicely, but there are many times that they do).  They were pretty quiet in the playroom for a few minutes (which any parent knows is very suspicious) so I checked on them and they were just sitting in the tent together playing.  Adorable.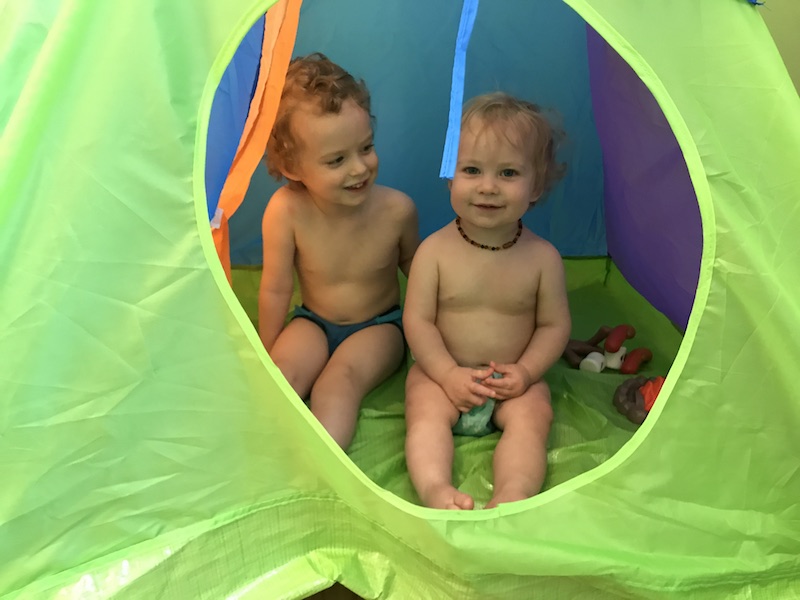 We had our spring gospel meeting at church this month and that's a hard week (having the boys out that late for multiple days in a row and in a situation where they have to stay quiet because we're at church is not easy).  Hudson did pretty well but Parker was so tired by that point each night so we spent more time outside of the auditorium than in it.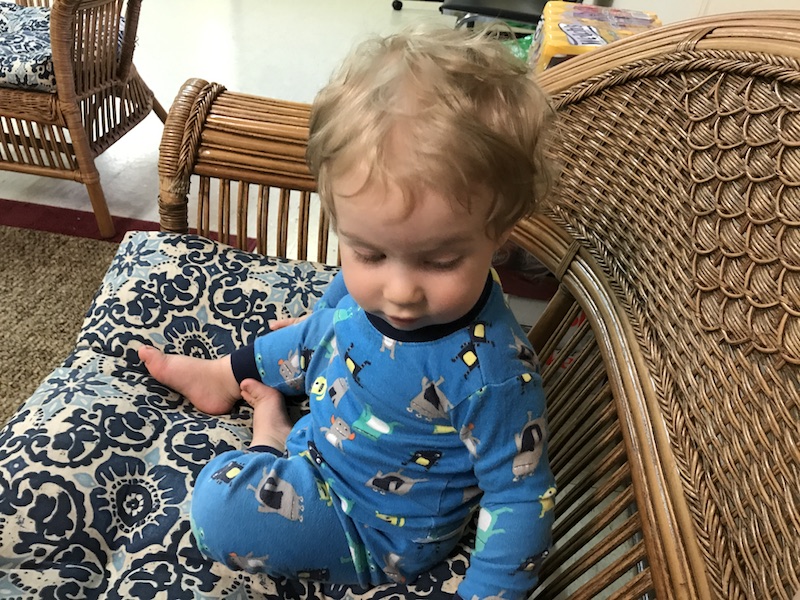 Also, this month Michael and I celebrated our 8th wedding anniversary!  It's hard to believe it's been 8 years since we got married.  I wouldn't want to do life with anyone else!
Hudson (3 years, 3 months old)
Hudson's biggest thing this month is that we turned his carseat forward facing.  He's being totally cheesy in this picture, but he was definitely interested in the fact that he could see out the front instead of the back!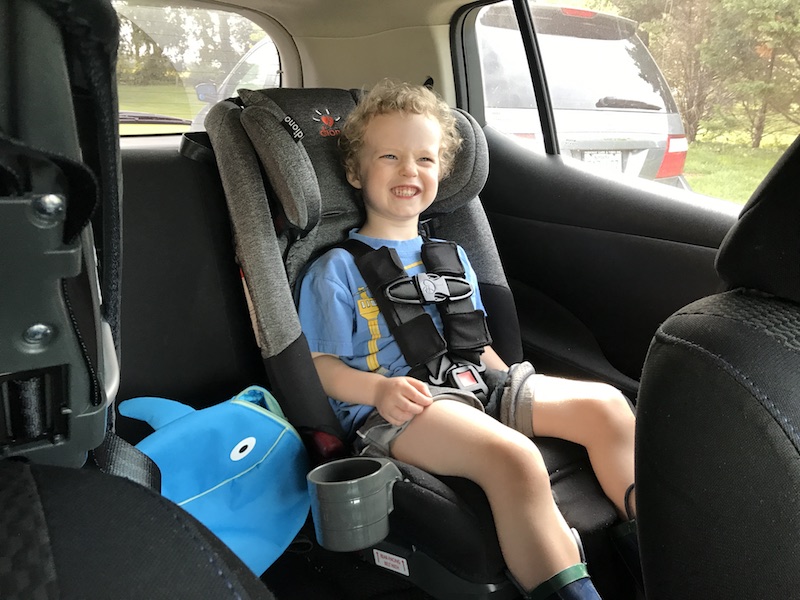 Hudson is really into the hidden picture activities in his Highlights magazines.  He loves to circle each object as we find them.
Oh and he discovered erasers this month!  During church this month Michael had to be in the sound booth so Hudson sat with some friends of ours most of the services.  They gave him a notebook and pencil to draw with; he fell in love with the eraser and "cleaning up" pencil marks.
I don't know where he should be developmentally with writing but he does a pretty decent job at circling objects, he can write an "H" and an "X" and he draws pictures of things like pears that are fairly recognizable.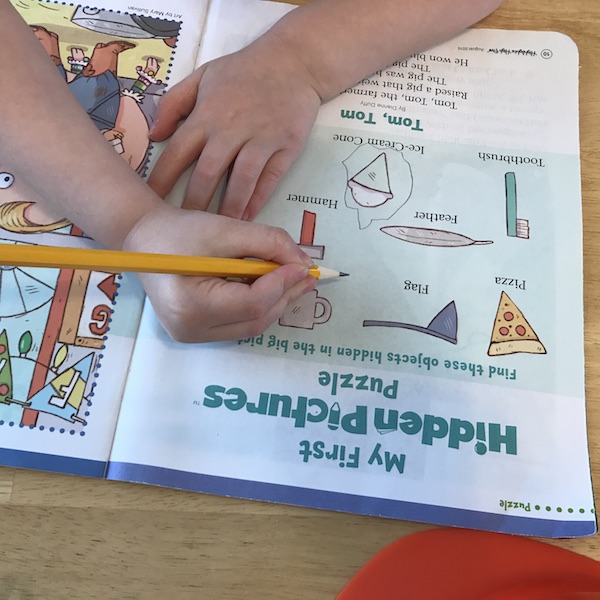 We went through a period of at least a week this month where Hudson wanted to read recipe books (or really, look at every picture and have me read the titles).  I can't tell you how many times we read through the Taste of Home Holiday Recipes magazine!  Ha!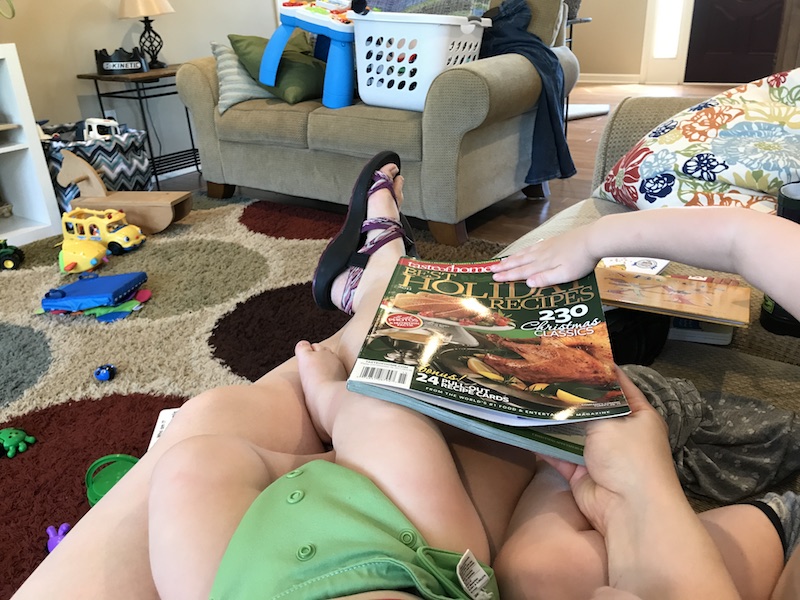 Hudson LOVES to get me flowers – anytime we're outside he picks me flowers (even to the point that we were at my mom's, I pointed out how pretty her landscaping was, and before I could stop him he reached down and pulled one of her little flower plants out of the ground!  Whoops!).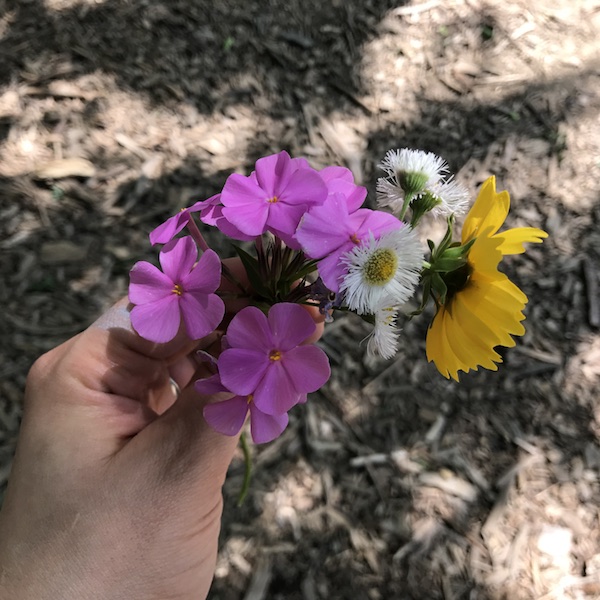 Making his grocery list like Mommy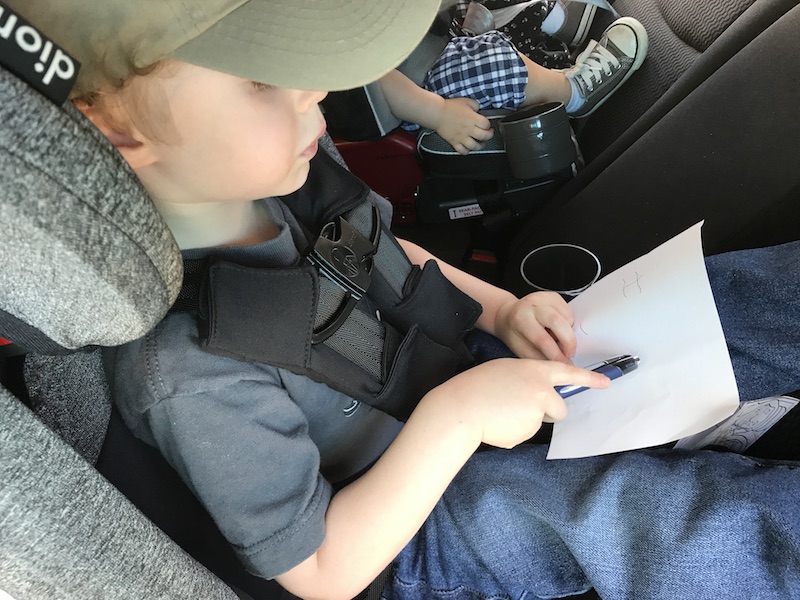 Matching hats and grocery lists.  So cute.
Hudson loves his rain boots and I just thought this picture of them next to Michael's boots was adorable.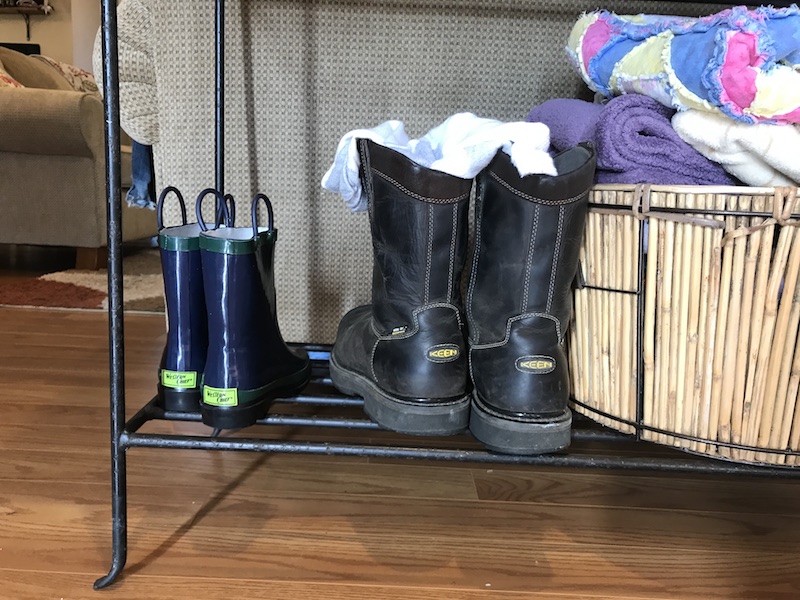 Hudson is a total sponge and soaks up (and can repeat back) just about everything you say.  This month we started working on memorizing scripture and learning the signs that go along with the verses at the same time.  I have to admit that I'm not good at having a consistent learning schedule with him or anything so we just work on it when we think about it, but he learned to say and sign Genesis 1:1.  He memorized the verse in about a day, learning the signs has taken quite a bit longer and he still needs prompting most of the time, but we're getting there!
Potty training is…still potty training.  He CAN pee in the potty, he just chooses not to a lot of the time.  He waits to go until it's too late, pees on the floor as he's trying to get to the potty, or sometimes downright just pees where he's sitting.  It is incredibly frustrating and I'm not sure what to do other than to give it time.  Especially because I think it's a stubbornness thing more than anything.  I kind of dread our flight to SLC in a few months and dealing with potty stops (or refusing to go until it's a RIGHT NOW situation) on our trip.
Parker (15 months old)
growth
At Parker's 15 month check up he weighed 25 pounds (81st percentile) and was 31 1/4 inches tall (54th percentile).  He's in 18 month clothes and size 5.5 shoes.
Funny story about Parker's appointment: apparently we didn't write it down of any of our calendars!  Michael is off on Fridays and that morning I was changing Parker's diaper and it just kind of hit me "Don't kids have a 15 month check up?  And he just turned 15 months old this week.  And I would have scheduled the appointment on Friday of that week so Michael would be off…and that's TODAY!"
I ran upstairs to find the file where I keep their medical records and found the paper where we scheduled the appointment and sure enough it was that day at 10:00.  It was 8:00 at the time so I was able to get him fed and us dressed and us to the doctor on time (early actually!).  I was just so thankful that A) I remembered somehow and B) we had a 10:00 appointment instead of our normal 8 or 8:30, which we would have missed.
We had gotten new phone numbers between his 12 month and 15 month appointment so we never got a reminder call and for whatever reason, neither of had written it down anywhere.  So unlike us!
teeth
Last week Parker woke up in the night burning up with a fever.  That next day he was super fussy and still feverish but I didn't make the connection until I noticed him gnawing on his paci – I felt around in his mouth and felt two molars that popped through and another that was coming through!  Poor guy, no wonder he felt so miserable!
That brings his total right now to 9 – 4 top front teeth, 3 bottom front teeth, and 2 top molars.  One on the bottom is almost through but not quite.
communication
Parker still isn't really talking.  He says "mama" and "dada" quite a bit.  He doesn't say "yes" but he has a sound that he always uses to mean yes.  It's more of a very excited OOOOOH!  Most of his communication is still via sign language.
Signs he uses: more, please, water, milk, strawberry, hat, down, help, sleep, cheese, cracker
food
He is quite a bit pickier than Hudson ever was which is a different and frustrating experience.  Some of his favorites are: cheese, strawberries, blueberries, bananas, peanut butter (on bananas or sandwiches), cucumbers, eggs, and buttered toast.  He's pretty hit or miss on if he's going to want to eat something.  And there are several things that Hudson LOVED like applesauce and yogurt that Parker won't eat.
He still nurses at least once a day before bed, if we're at home for naptime he'll nurse before nap but if we're out somewhere he can easily skip that one, and then sometimes he wakes up once during the night to eat, but that's happening less and less.
sleep
Parker goes to bed around 7:30 or 8.  Some nights he sleeps through the night without needing to nurse, other times he wakes up once around midnight to eat.  Then he gets up around 6 or 7 for the day.  He takes one nap in the afternoon after lunch, about 1-3pm.
Such a good little crunchy baby – amber necklace, cloth diaper, and a huge jar of coconut oil ;)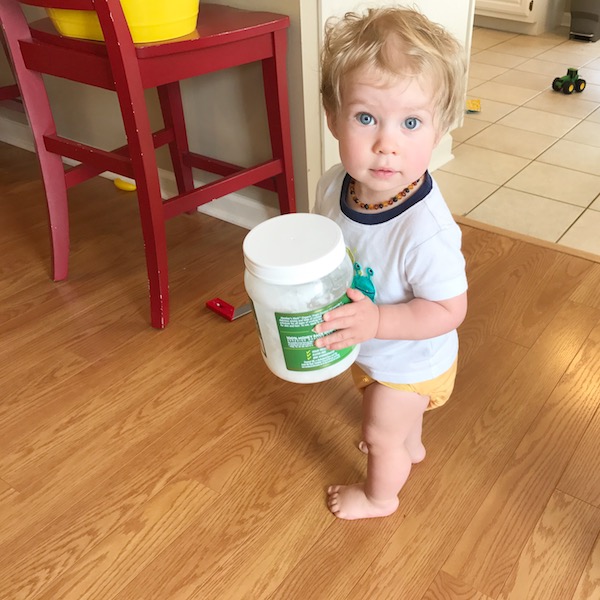 He loves trying to put on our shoes…but he doesn't really care too much for wearing his own shoes!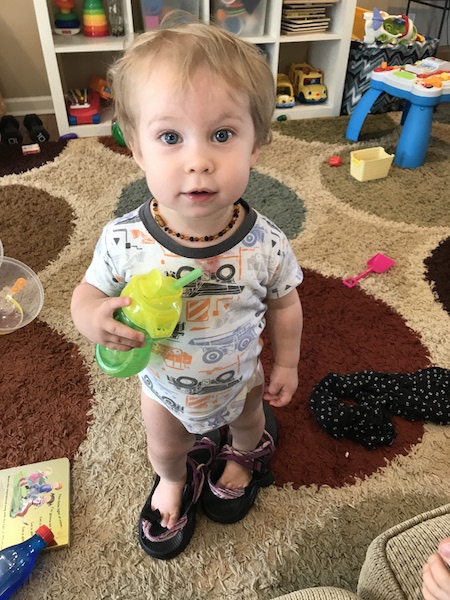 Serious bedhead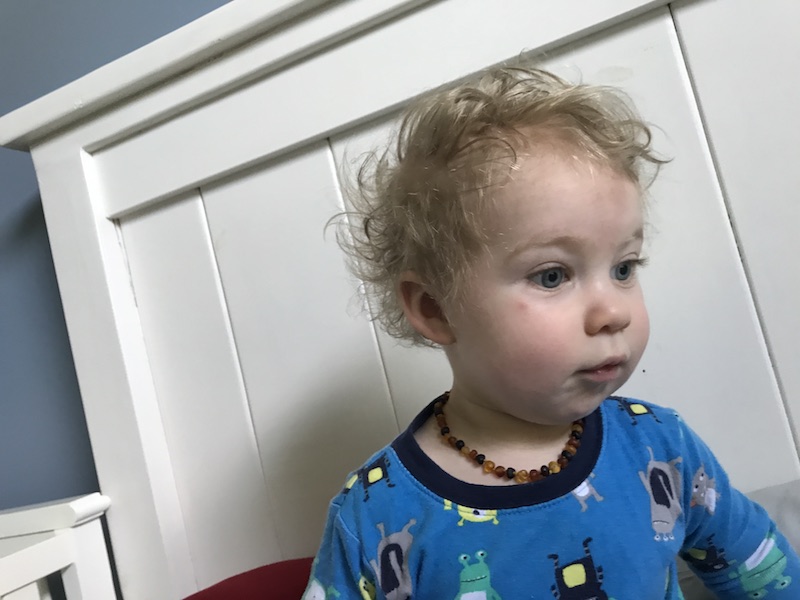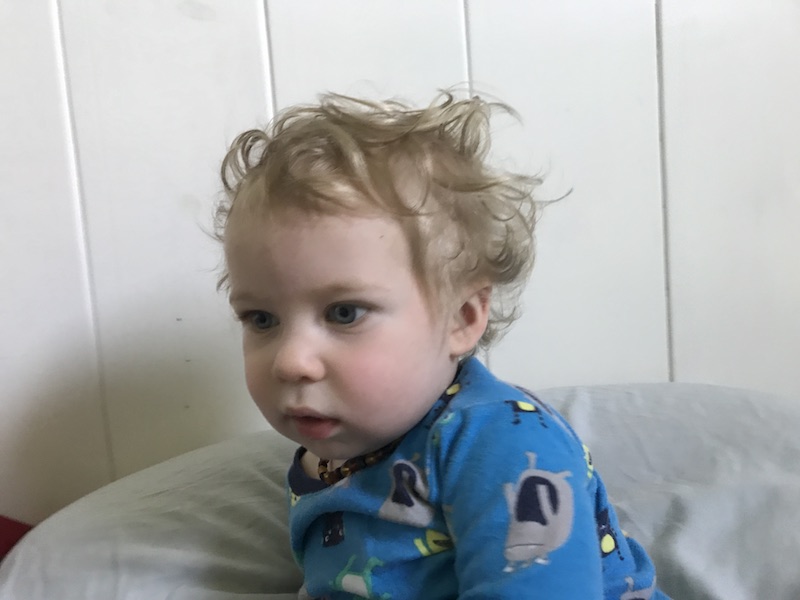 I love how relaxed kids are when they sleep!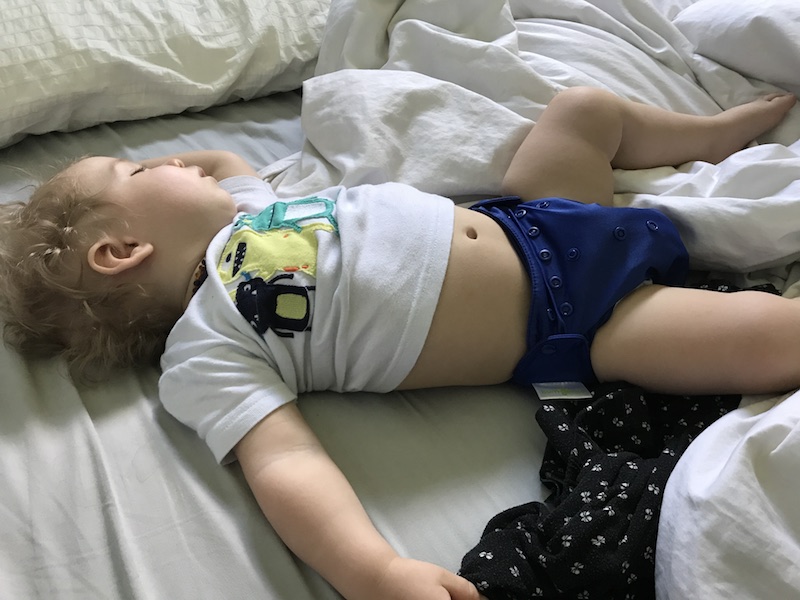 With his ever-present Fuffle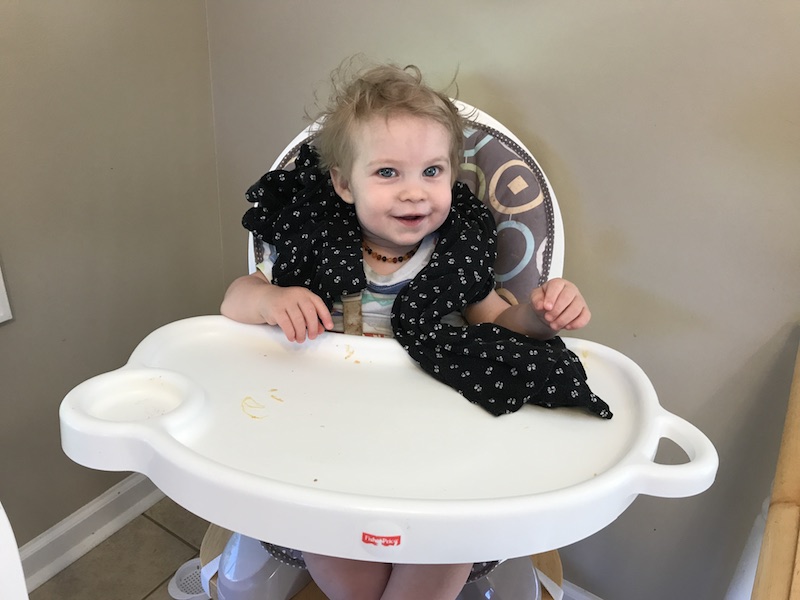 This boy is such a climber!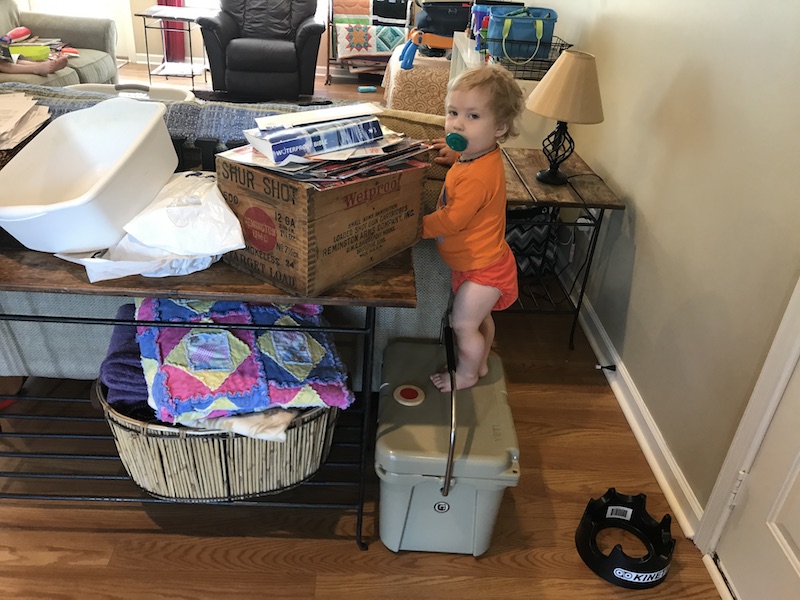 Parker is SO different from Hudson when it comes to sleeping!  Where Hudson almost never fell asleep in the car, Parker does it all the time.  Parker fell asleep on the way to Kroger (literally less than a 5 minute drive from the first store we'd been to) and I set him in the cart hoping he'd wake up but no, he just kept sleeping like this and slept through our whole shopping trip!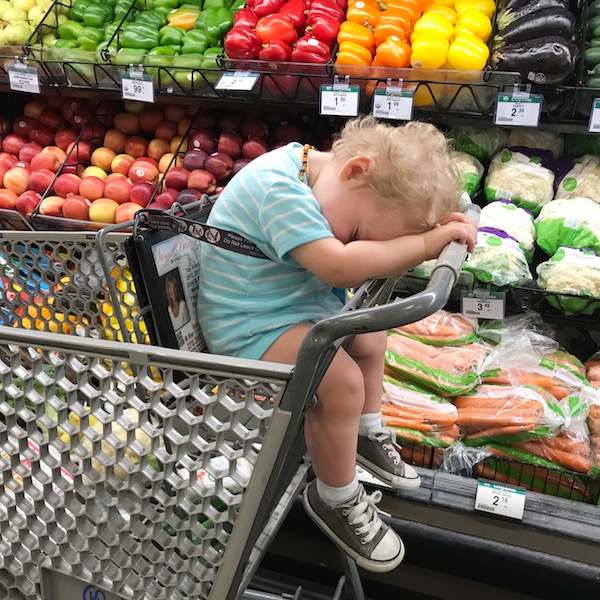 That's all for May!  Next week we are taking our first big family trip out to Salt Lake City, Utah, so our June update will be a lot more exciting I bet!