I know this post is a little outside of what I typically talk about (although it does contain oils and budgeting so not TOO far out) and if you aren't a Young Living member who is interested in attending convention next year this won't really apply to you so feel free to skip this post and come back next time :).  
Michael, the kids, and I just returned from a week in Salt Lake City, Utah, where we attended Young Living's annual convention for the first time.  We created a budget and started saving for convention a year ago and now that we've actually seen what we spent compared to what we'd budgeted I wanted to share, especially because I've had quite a few team members asking me so they could plan for next year and I've seen other YL members asking for cost estimates in our various Facebook groups.
Our costs will be quite a bit more since we went as a family versus someone who is just going by themselves, but as far as our average cost per person I'd say we were fairly middle-of-the-road: we stayed at a hotel that wasn't super expensive but still fairly close and nice, we bought a lot of the newly released products but not all of them, we didn't attend the gala (an additional cost) but we did get a rental car (something that the majority of convention-goers don't do)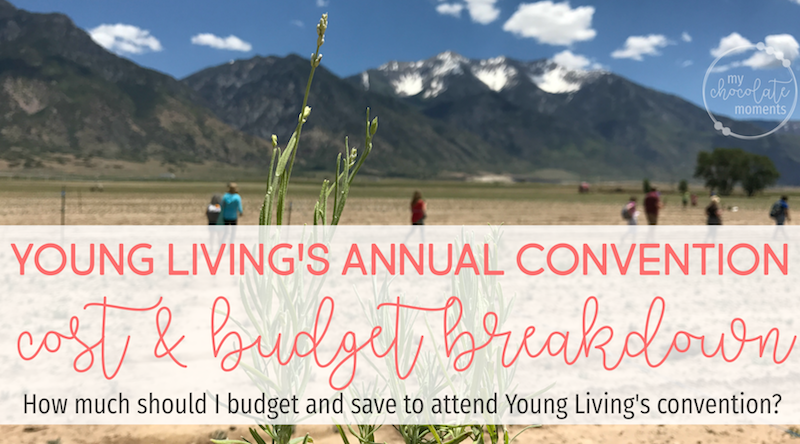 Young Living Convention cost breakdown
Here is a breakdown of our costs for our convention experience:
Ticket costs
Convention tickets: $298 ($149 each, Michael and I each had a ticket)
Farm day tickets: $60 ($30 each, Michael and I each had one; the kids attended with us but didn't need tickets since they were under 5 years old and I packed their lunches)
Transportation
Plane tickets: $1,410 ($470 each for Michael, Hudson, and me; Parker didn't need a plane ticket since he's under 2 and was considered a "lap child")
Car rental: $364 (we chose to rent a car for the week, many people who attend convention do not because there are shuttles as well as lots of public transportation available but since we have two little ones in carseats we opted to have a car of our own) 
Hotel
Hotel: $960 – We stayed 6 nights at the Little America; Little America is not as close to the convention center as a lot of places but it was quite a bit more affordable, plus it's not a bad walk (about 6 blocks) and there is a Trax station (public transportation) right outside the hotel so it's easy to get around that way too
Food
Restaurants, groceries, and snacks: $525 – I don't have this broken down into categories but we spent $525 total, which included groceries (there is a Trader Joe's nearby where we bought supplies for breakfast and lunch, which we prepared and ate in the hotel room or carried with us), restaurants (we ate out for supper each night), and snacks purchased at convention like Ningxia slushies, peppermint ice cream, etc.
Products
Miscellaneous vendors: $74 – There was a vendor event full of vendors with oily books, accessories, shirts, business building items, etc. in a nearby hotel before convention started (called the AromaShare) as well as a few in the convention center itself.  I didn't get to spend much time in the AromaShare event, if I had I would have probably spent a bit more, but I did get one book there as well as some other books ordered from Life Science Publishing, a company I use often, that was having a convention sale.
New product: $607 – Last year they had offered a convention bundle that included one of every new item released at convention; it was $450 so I had estimated that I'd need around $500 this year to buy all of the new products.  That wasn't the case since Young Living released SO many amazing new things, including lots of makeup – this year's convention bundle was $1200.  I wasn't able to get the whole bundle but I did buy a lot of it, next year I'll be budgeting for more.
Total
Total convention cost: $4,298.
Divided by 4 people that's just a tad over $1,000 per person, or divided by 3 (since Parker didn't need his own plane ticket) that's a little under $1,500 a person.
Next year we will need another plane ticket (Parker will be over 2 and will need his own) and I am going to budget more for new products in case we have another big launch, but we also may forgo the rental car.
I would recommend planning on saving a minimum of $100 per person per month from now until the next convention (aka 12 months) and you'll have $1200 per person which will allow you to attend comfortably but without many frills.
You can definitely do it for less if you live closer and can drive or want to drive and camp out, are going to stay in a hotel room with multiple people to split the cost a lot, don't plan to buy many new products, are okay with eating pb&j for all your meals, etc.  And of course you can do it for more if you want a hotel room right across from the convention center, eat out all your meals, buy lots of products and shirts and accessories, etc.  Adjust this to your budget and preferences!  I think this is a good, average snapshot though.
Also, my kids did not attend Kid's Camp – Michael kept them in the hotel or we brought them to the covention center and just took turns walking them around the Expo while the other person was in a session.  If you plan on your children attending Kid's Camp that would be an additional $315 per child to factor in.
If the above breakdown was confusing because it was for a family of 4, here's a sample for just one person:
Sample Young Living Convention Budget and Savings Breakdown
Ticket: $150
Farm Day ticket: $30
Plane ticket: $500 (give or take, this is a rough estimate!  I'd recommend looking online at what the average ticket costs from your area to Salt Lake City and use that to help you estimate your cost)
Hotel cost: $400 (This could be quite a bit less if you split a room with others, I just estimated that you'd be sharing a room with one other person for 5 nights in a hotel similar to ours)
Food: $150
New products: This is totally up to you – like I said, last year $500 would have covered all of the new products, this year it was $1200.
Total cost: $1,230 plus whatever you want to budget for new products
I hope this was helpful as you begin to budget and plan for next year!  After my first convention I will say it is totally worth it and if you can make it happen to get to go it is absolutely an amazing experience!  I hope to see you there in 2018!
---
If you read this far and you're not even a Young Living member…pat yourself on the back for hanging with me!  Then click over here and let's turn you into a member, whatdya say?