Two weeks ago I had no idea what a "busy bag" even was, but as I was hunting for things to do to keep my kids occupied on their first plane ride I came across several bloggers and YouTubers who were sharing their busy bag ideas.  I thought the concept was brilliant and quickly made up some of my own using things we had around the house plus supplies I picked up at Target, Walmart, and Dollar Tree.
---
This post contains affiliate links.  If you purchase a product through an affiliate link I make a small commission at no cost to you.  This helps keep my blog running so thanks for your support!
What is a busy bag?
A busy bag is basically just a little bag that has one activity in it that is intended to…well…keep your child busy.
Having a bunch of busy bags made up makes is super easy to grab an activity, or a couple of activities, to take with you on a trip, to church, to the doctor's office, or even just to do at home.  If you're wanting to do some school-like activities with your children without having a full blown homeschool curriculum these are wonderful because you can jgrab one of these and immediately have a fun learning activity.
My bags came from the school supply section at Walmart, but here are similar ones on Amazon.   I like the clear window in the front so I can easily see what is in them.
The sky is the limit when it comes to what to put in your busy bag.  I got a lot of ideas from The Purple Alphabet but then just poked around our Target Dollar Spot and Dollar Tree to see what looked like it would work.
Busy bag ideas:
Hudson had gotten a couple of puzzles for his birthday so I just removed them from the box, cut the picture of the completed puzzle out of the box, and put it all together in one bag.  The chunky foam puzzle there in the black bag came from Dollar Tree.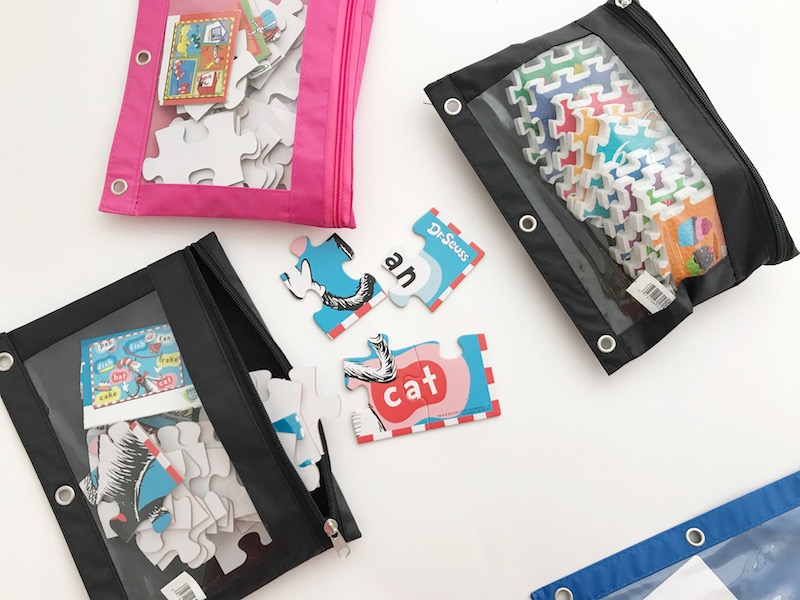 I found both of these puzzles in the Dollar Spot at Target – one has you matching shapes and colors, the other is working on matching the first letter of words.  Hudson is only three and can't do these on his own yet but he definitely can if an adult is helping him.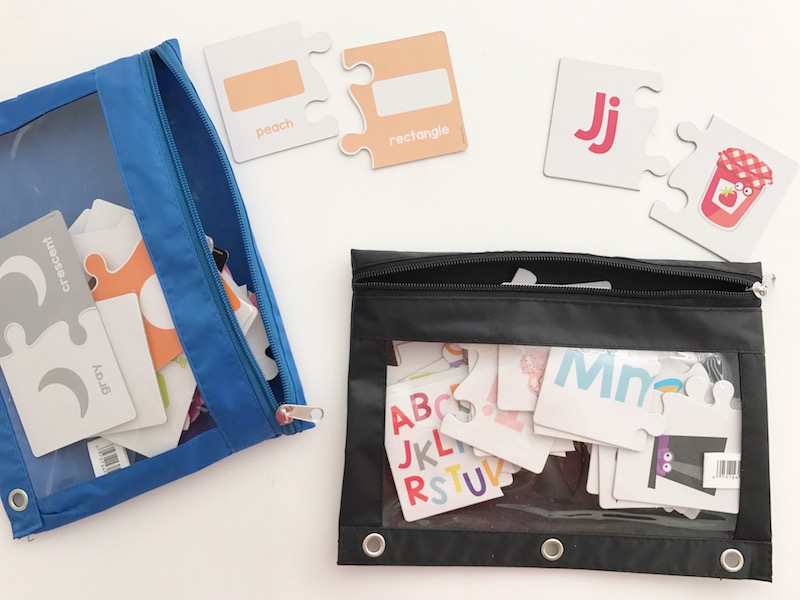 The ice cream matching game came from Target quite a while ago – you match the number of sprinkles to the number on the cone.  We bought the Magformers from Amazon after they got rave reviews from my friends when I asked about them on Facebook.  They are magnetic squares and triangles that you can fashion into all sorts of geometric shapes.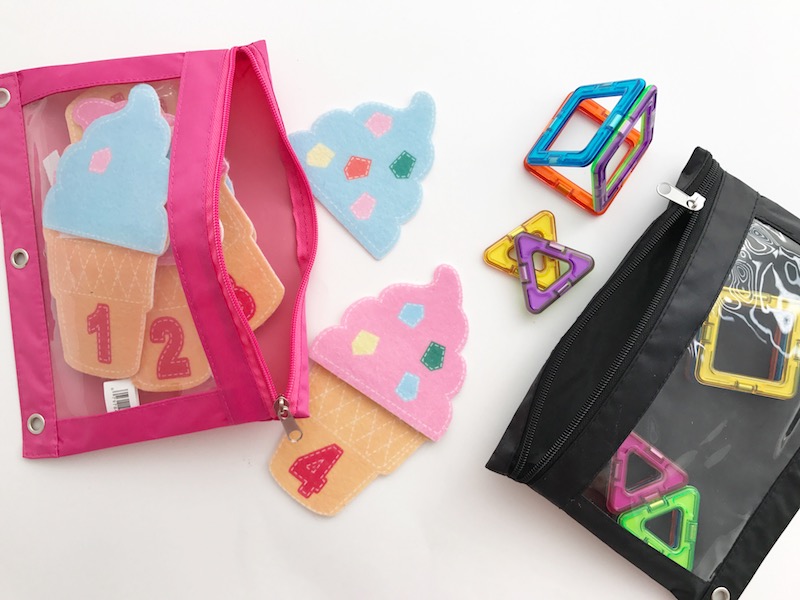 For this one I already had the clothespins and I got a set of flashcards (either from Target or Dollar Tree, I can't remember).  Hudson can clip clothespins to the cards as he counts the number of animals – that works on counting and his motor skills.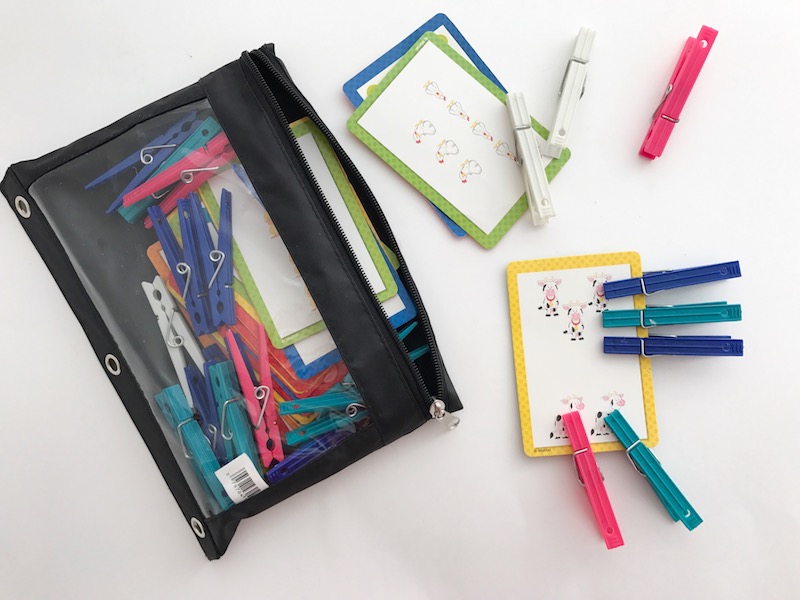 These two were the only ones that I really had to do any "crafting" to make and they were both super easy.  For the one on the left I cut milkshake straws into pieces and put them in with pipe cleaners.  Hudson can thread the straw pieces on pipe cleaners just in any order, or do all one color, or even start working on patterns.  Even Parker, who is one, can start working on threading the straws on.
For the one on the right I bought some swirly straws then cut felt into squares with a slit in the middle.  It just so happened that I had the same colors of felt that matched up with the colors of the straws, so if we wanted to we could work on putting all green felt on the green straw, purple felt on the purple straw, etc.  This one works on colors and fine motor skills.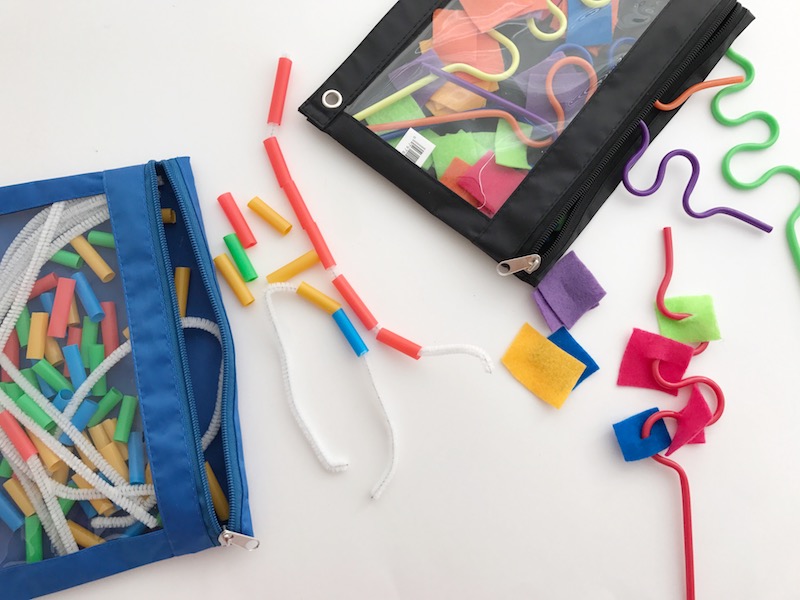 I made one pouch that was full of artsy things like a notebook, crayons, and lots of stickers.  Target had these ginormous sticker pads in the Dollar Spot so I grabbed some scissors and cut the sheets into a lot of smaller sticker sheets so that they'd be more portable.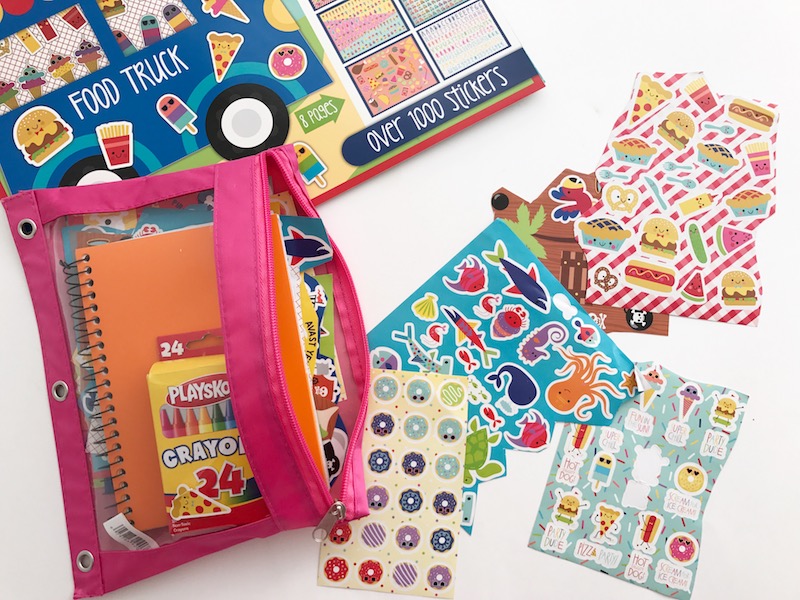 I made another "art supply" pouch with pencils (Hudson is really in to using pencils and erasers right now), colored pencils, and this pad of paper shaped like the USA that a friend had given me.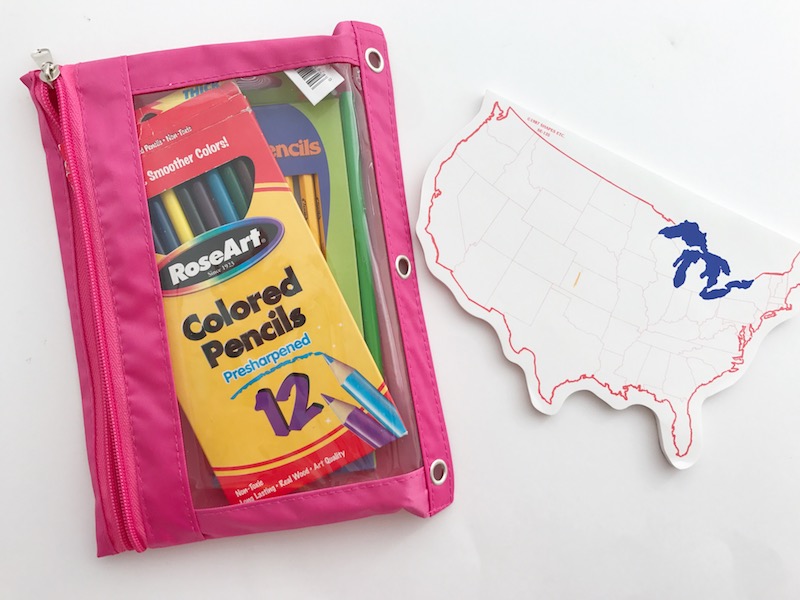 This busy bag was a game that Hudson got for his birthday and I just took it out of the large box it came in (why are boxes so much bigger than the game itself?!) and moved it into a bag.  This was slightly too large for the pencil pouches so I used a Thirty One Pocket-A-Tote instead.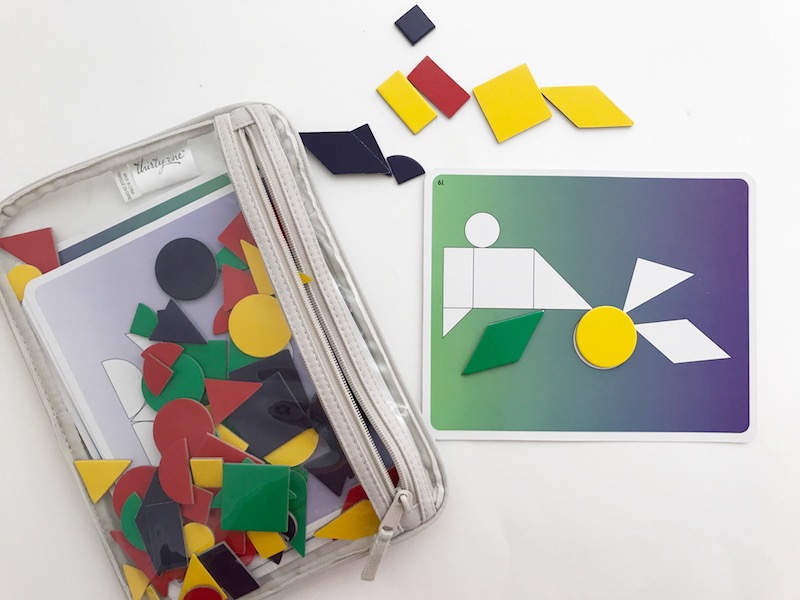 There were some cute dominoes at Dollar Tree that I put in a bag with some pieces of foam that I cut up.  I didn't really have a clear plan for this one but I figured we could do a lot of matching colors, matching numbers, counting out the foam pieces, etc.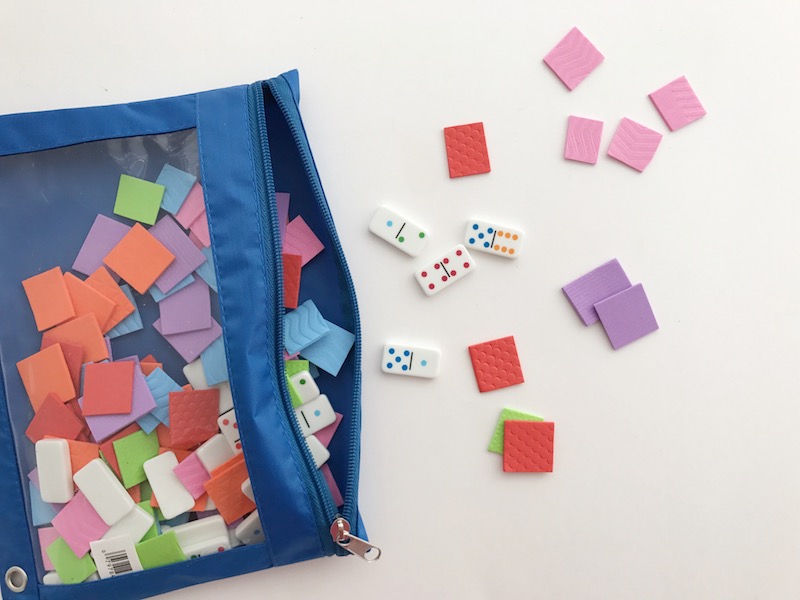 And then finally I picked up a few other things I wanted to show you that are good busy bag activities.  The workbooks in the upper left corner were from Dollar Tree.  They are full of stickers (not super high quality but we don't really care about that for something we'll use once) and Hudson really loves these activity books right now.
In the upper right we have a play pack, which is basically a pre-made busy bag and super handy to have in your bag just in case.
In the lower right is a Color Wonder coloring book.  This was Hudson's first time to have any Color Wonder stuff and I have to say…I LOVED that it didn't get marker all over us when he swiped something other than the paper.
The flashcards on the bottom came from Target, I think, and work on animals and ABCs.  Then the little letter cards in the lower left corner came from Target as well and have a tiny dry erase marker to use to practice writing the alphabet.  I also cut a small square of felt to put along with it to use as an eraser.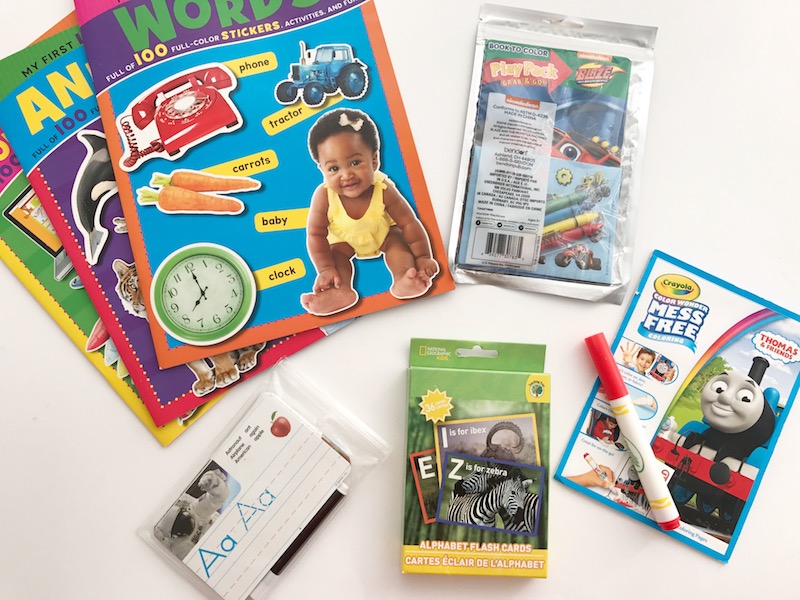 Those are some of the ones I came up with!  The kids didn't use them much on the plane like I'd expected, but they did come in very handy in the hotel room!  Michael did a lot of the activities with them in the hotel while I was in my workshops.  And like I said before these will be great for church and just to have for activities during the day at home too.
What are some of your busy bag suggestions?