A few weeks ago our family flew to Salt Lake City, Utah.  This was our first time flying with kids so I was a little nervous.  I did a lot of researching and reading other blogs to prepare, know what to expect, get ideas of what to do with the kids on the plane, etc.  There are a lot of great, helpful tips out there on Pinterest already but I wanted to share some of my own tips for flying with toddlers (or a toddler plus whatever a three-year-old is considered…) that we learned, either something we would have done different or things we did that were super helpful.
---
This post contains affiliate links.  If you purchase a product through an affiliate link I make a small commission at no cost to you.  This helps keep my blog running so thanks for your support!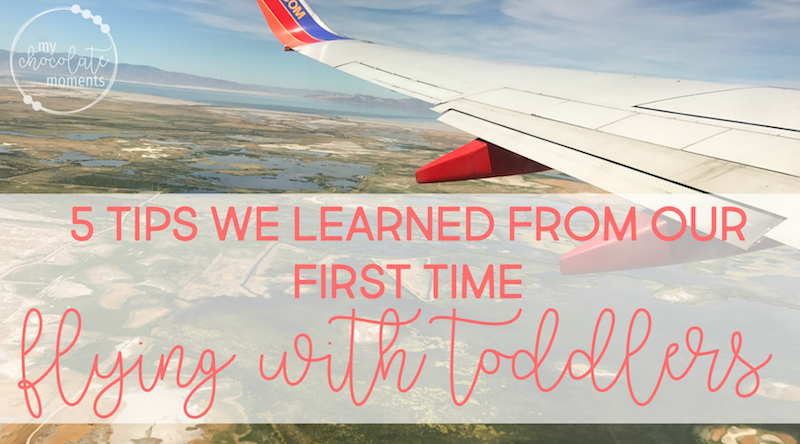 1. Bring LOTS of snacks
My kids love to eat so a super easy way to keep them occupied during our flights was to feed them.  Hudson did pretty well playing or watching tv, but Parker (16 months old) isn't the type to sit still and look at a book, play with a toy, watch a tv show, or even play with a phone for very long.  We pretty much fed him a constant stream of snacks to keep him occupied and quiet on the flights.  They were great distractions for both boys on the flight and in the airport any time we had to wait (which was a lot).
I packed a variety of prepackaged snacks that they don't eat normally so that they'd be easy to transport/access and something novel.  I try not to do the bribery thing often but when trapped on a flight with a bunch of other people I'll do what I need to to keep everyone calm and quiet ;).
2. Don't pack a million activities, an iphone or ipad is enough
I made up a ton of busy bags full of fun activities for the flight and imagined that the boys would just love playing with them.
Not so much.
Parker could have cared less; the stuff I packed didn't hold his attention at all.  I think Hudson might have enjoyed them more had he not seen that we packed a phone full of apps and videos for him.  Once he found that out (in the airport before we'd even boarded unfortunately) he wasn't very interested in the activities and just asked over and over again for the phone.  We gave them a try but they weren't nearly as popular as I'd hoped.
Honestly though it was easier once we gave him the phone.  He sat quietly and watched Bubble Guppies the whole time and we didn't have to deal with rolling markers, dropped toys, etc.  At least one child was occupied and Michael and I were able to spend the rest of our energy trying to entertain Parker (not an easy feat).
Michael used the busy bags with the boys in the hotel room quite a bit while I was gone during the day for my conference, so they weren't made for naught, but I wouldn't bring a bunch of them on a flight again.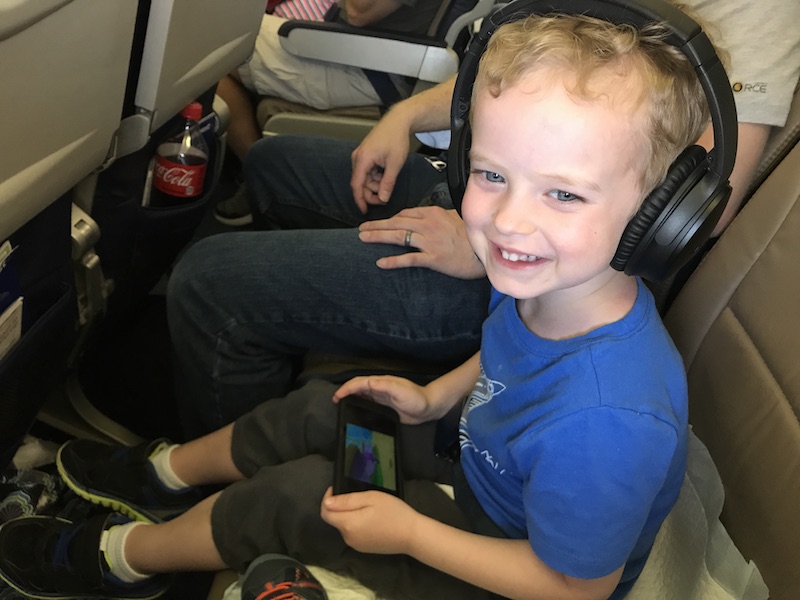 3. Bring doggie pee pads
Hudson is mostly potty trained but still has lots of accidents so I was worried about how that was going to go on the flights.  I didn't want to put him in a pull up or anything so what I did instead was bring puppy pee pads (and plenty of extra clothes, of course) and had him sit on those.  I forgot to put one down during the first flight and he had an accident at the end, the other three flights I remembered and he didn't have any accidents at all (of course we'd only need it the one time I forgot…).
In addition to using them for pee accidents they caught the crumbs from all the snacks he ate and I used them as disposable change pads for Parker in public restrooms.  Very handy!  If you're a long time reader of my blog you know how much I love these things as I also used them when my water broke and to protect my furniture during diaper changes when both boys were babies.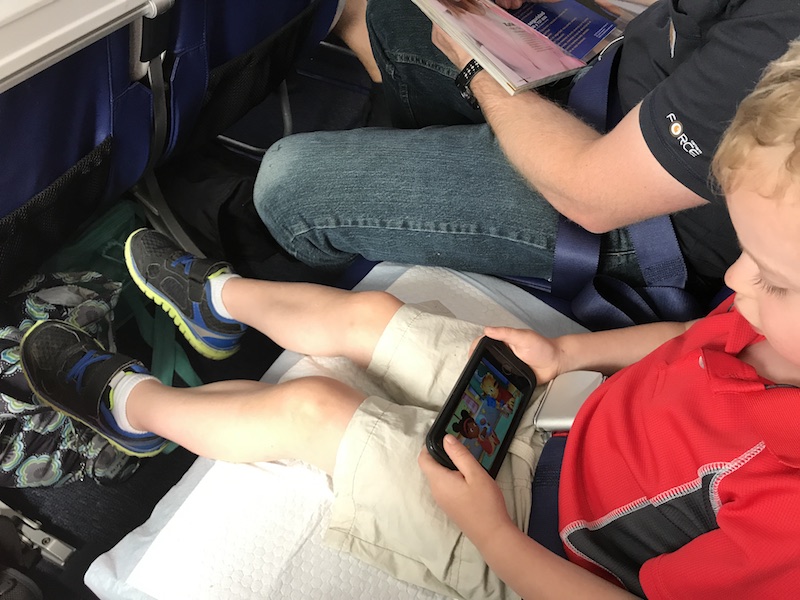 4. Bring a double stroller AND a baby carrier
We talked about not taking a stroller at all and just wearing the kids through the airport…I am SO glad we didn't do that!
We left our massive double jogging stroller at home and borrowed a smaller double umbrella from a friend.  Most of the time I actually wore Parker in a carrier and used the second seat of the stroller to hold our carry-on items.  I can't imagine schlepping all of the stuff plus our kids through the airport without having had a stroller!  Plus it was handy to have a designated (aka contained) spot for the kids to sit.
Do note that if you want your stroller during layovers you need to tell them that when they tag it at the gate.  We didn't know that on our way there and when we got to our layover in Denver the stroller wasn't there for us to use.  That made our layover a little more difficult and we made sure on the way back to specify that we wanted it.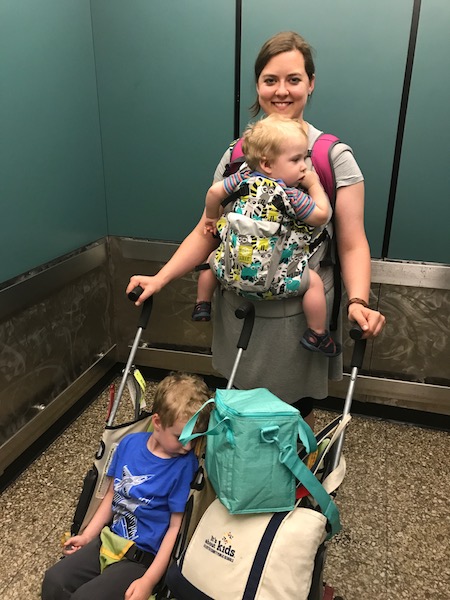 5. Bring cheap carseats and check them in their boxes
We didn't use carseats on the airplane but since we had a rental car in SLC we took some with us.  I found a killer deal on Cosco Scenera carseats at Walmart – they weren't fancy but they had good ratings and were only $35 each!  I'd heard so many horror stories about people flying with their carseats and them getting destroyed that I was afraid to bring our usual seats and renting two carseats with our rental car would have been $120.  We figured even if we bought the two seats new and then for some reason decided to leave them behind in SLC we'd still come out ahead.
We just left the seats in their boxes and checked them with our luggage.  It was a little bulky trying to transport the boxes through the airport but we got a luggage cart and brought some bungee cords so it worked out fine.  We put packing tape and a pocket knife in our checked luggage so that we could open up the boxes when we got to our rental car, flatten out the boxes, and then tape them back up when we got back to the airport for our return flight.
The boxes were a little beat up after the two flights but the carseats were in great shape.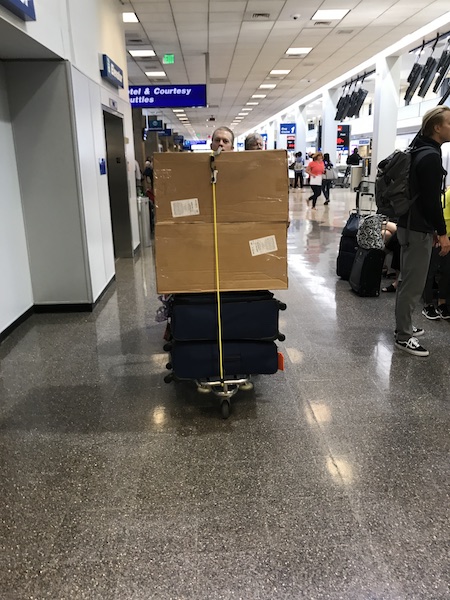 Overall the flights and the whole experience were pretty smooth thankfully!  These are just a few things we'd change or that are "musts" for next time.  Do you have any tips for flying with toddlers (or small kiddos)?  Share in the comments!