I'm nearly a month late but here's our family update for June.  Our big, exciting event this month was that we took our first big trip as a family to Salt Lake City, Utah and the boys flew for the first time!  The majority of this update will be pictures from that trip, apologies in advance!
Pictures from June
I love watching Hudson's imagination at work.  He used the top of our trash can to "grill" his hamburgers (even going so far as to caution Parker it was "hot" and not to touch)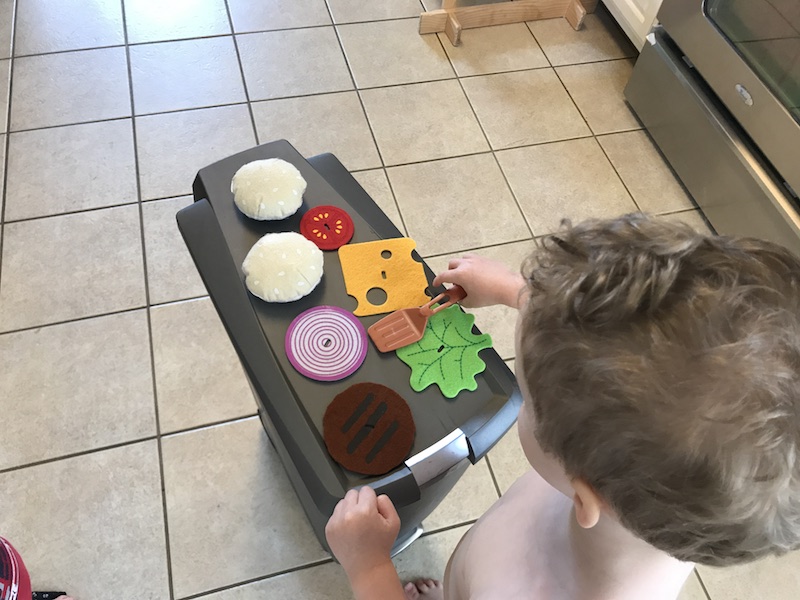 He was a "donut man" (his description) – (P.S. check out Parker's face…he loves his big brother so much)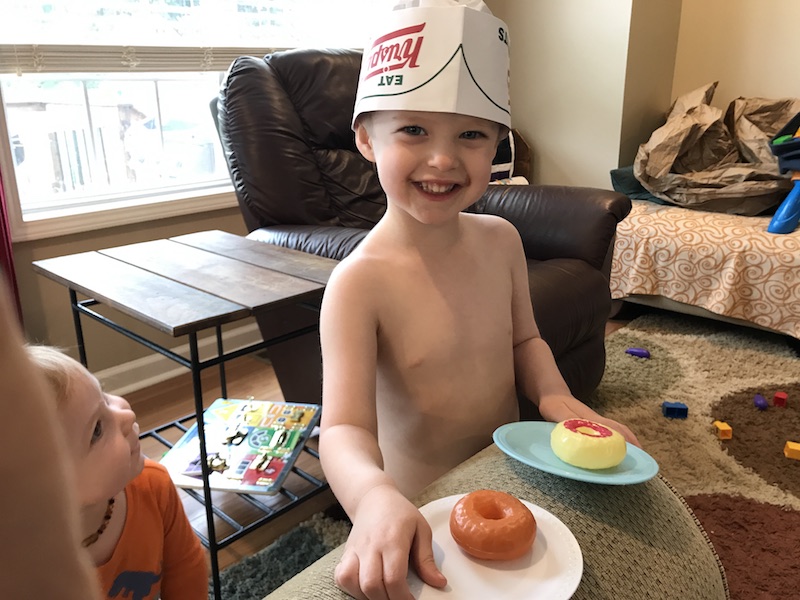 Hudson loves to draw and so far he doesn't seem to purposefully draw things, but sometimes he'll draw and then after the fact realize that it looks like something.  He showed me this one in church and said it was a flamingo…and I can totally see it too!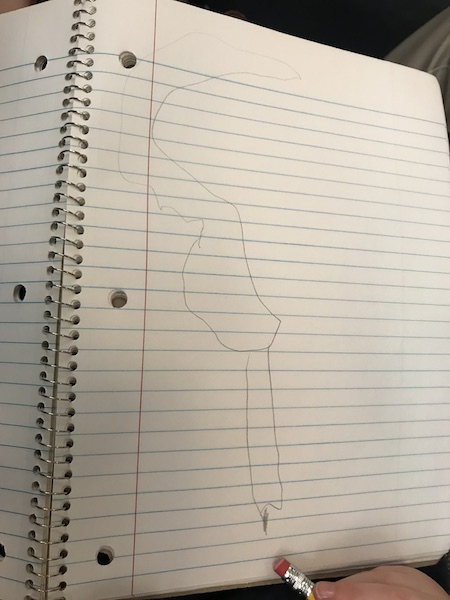 While purchasing supplies for our busy bags I also grabbed some ice cube trays and these puff ball things for the boys to play with while I was getting us packed and ready to go.  They loved them!  For a while Hudson used some plastic tweezers that we'd gotten with a bug catcher thing and used those to move them around, then after those broke be switched to using his skillet to "cook ground beef".  We also sorted and counted and had a good time placing them in the trays.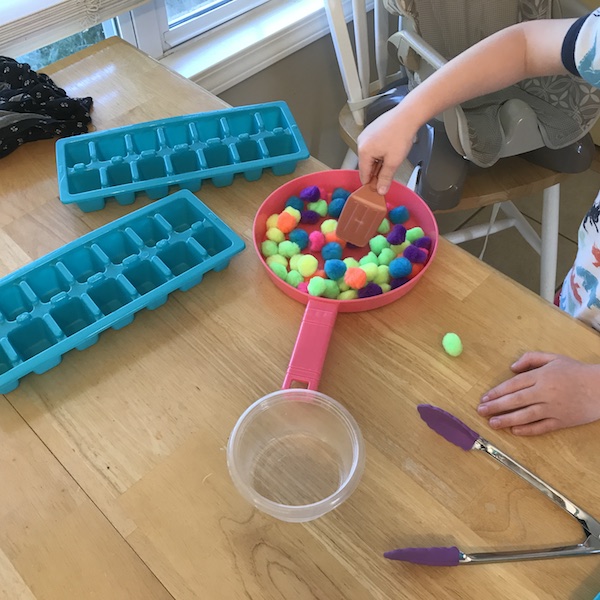 A little tandem babywearing practice just in case I needed to wear both of them at once while we were traveling.  I'm glad I didn't because one is fine but two is pretty heavy!  But something that's cool for me to think about is that the weight of both boys together is right about the same amount of weight that I've lost so when I wear or hold both of them and think they're so heavy I'm grateful that I'm not carrying all that extra weight around on myself anymore!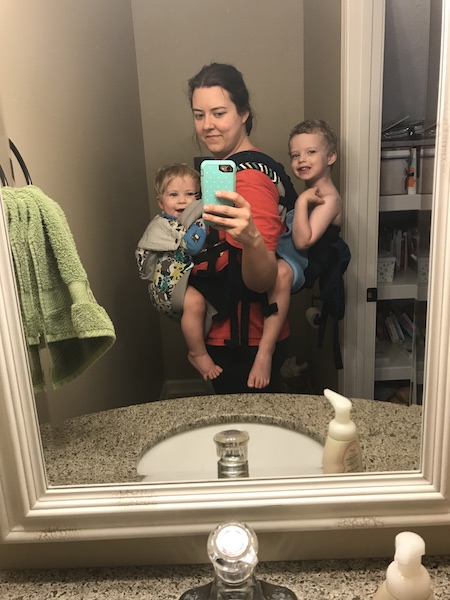 Our church's church camp was the same week we were in SLC but we didn't fly out until Tuesday so we were able to go for a few hours on Monday to visit.  The boys got to attend the precamper Bible class while we were there and they had a blast (check out Hudson's Samson hair).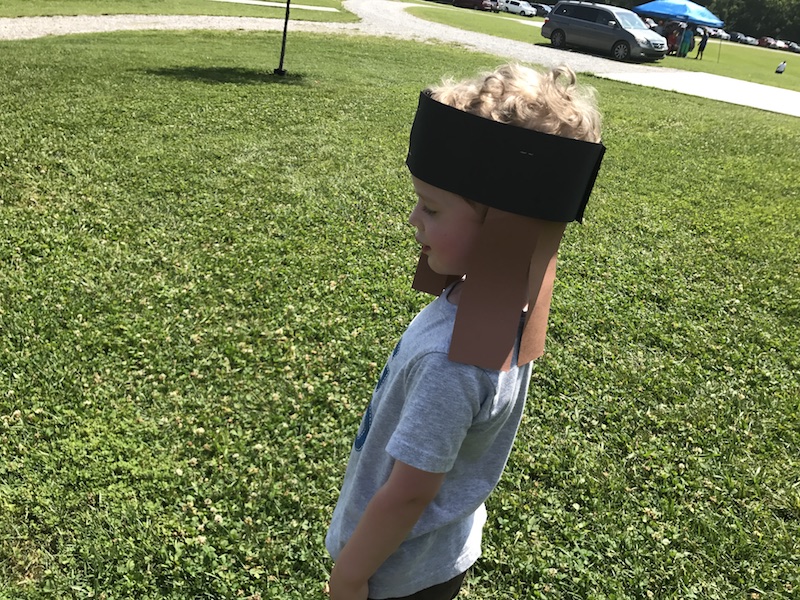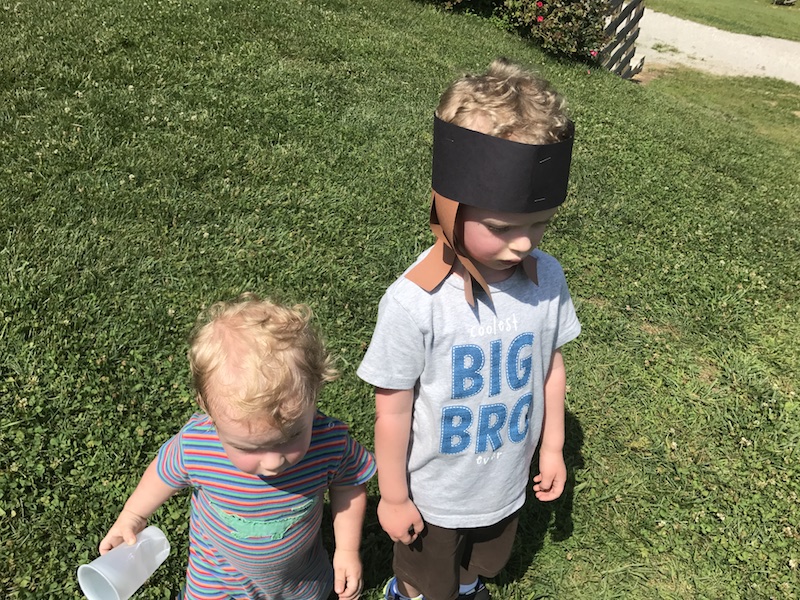 Young Living Convention in Salt Lake City, Utah
Like I said earlier, we had a big month with our trip to Salt Lake City!  I've been a Young Living distributor for three and a half years not but this was the first time I'd gotten to go to our convention.  I was SO excited to finally get to attend and to be able to bring my family with me!
Enjoy pictures of our trip!
On the airplane leaving Nashville and headed to Salt Lake City (well actually headed to Denver for our layover).  We were SO tired.  Michael and I had gotten less than 3 hours of sleep the night before since we were up late packing and then up early to get to the airport.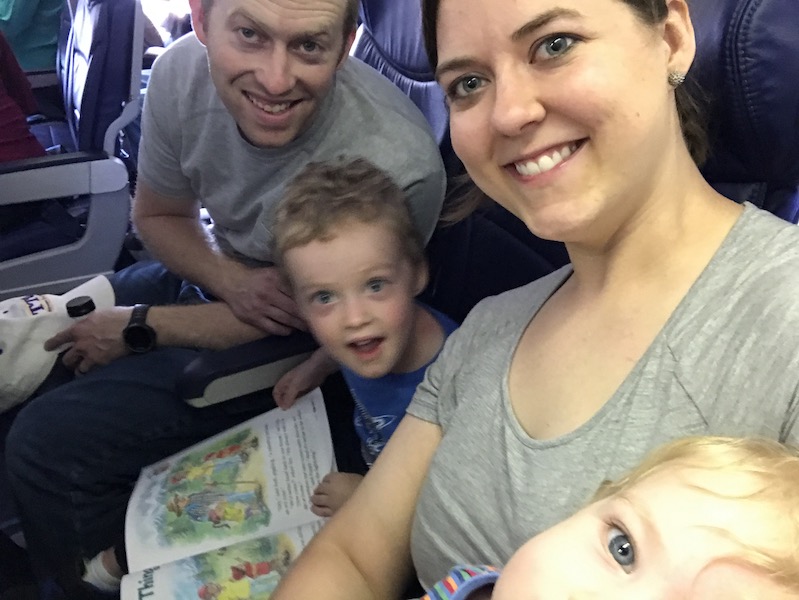 You can see some of our tips for flying with little ones here.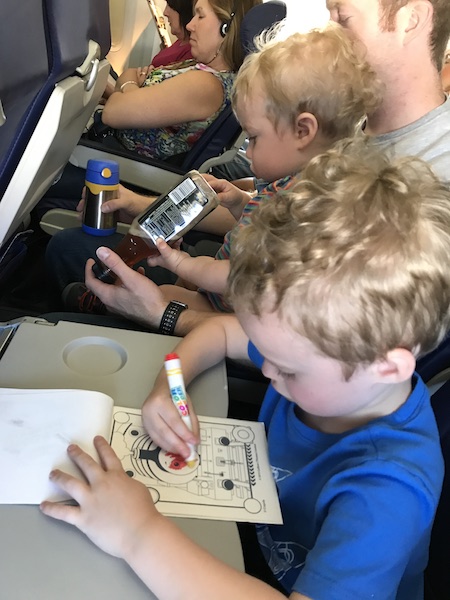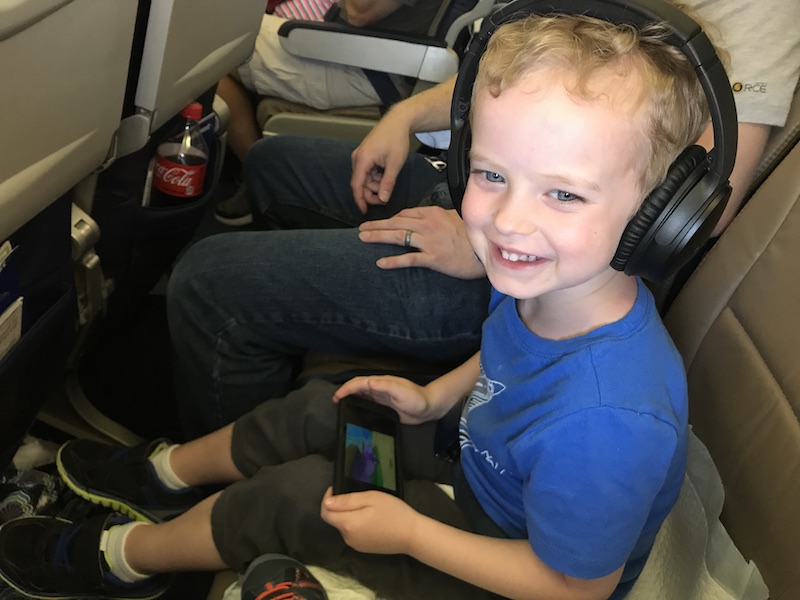 Snacks. Lots of snacks.  That's the main way we survived the flights.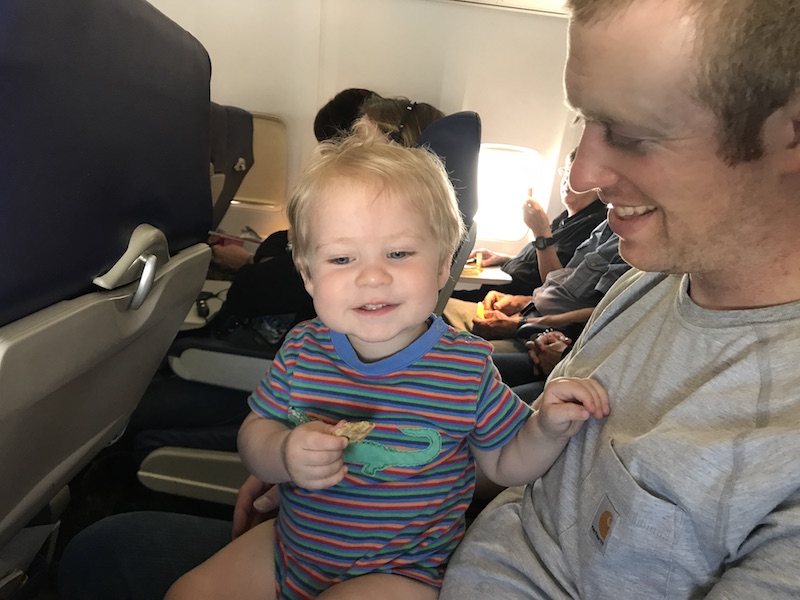 Watching them unload baggage during our layover in Denver.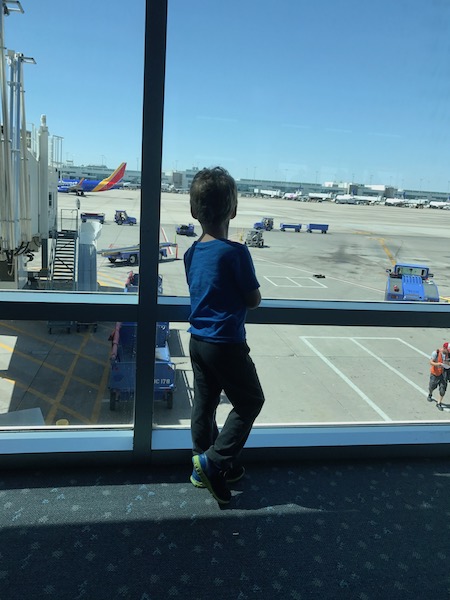 The kids did pretty well despite a long day of traveling!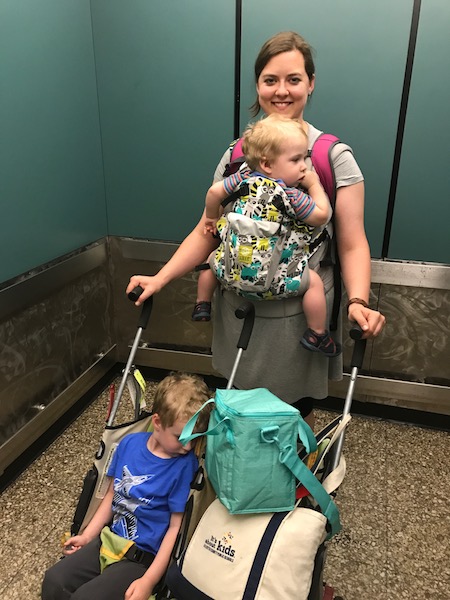 After we arrived in SLC and checked in to our hotel we headed over to the convention center to get checked in to convention and pick up our lanyards, swag bags, etc.  As you can tell from the super cheesy grin on my face I was stoked to finally be there!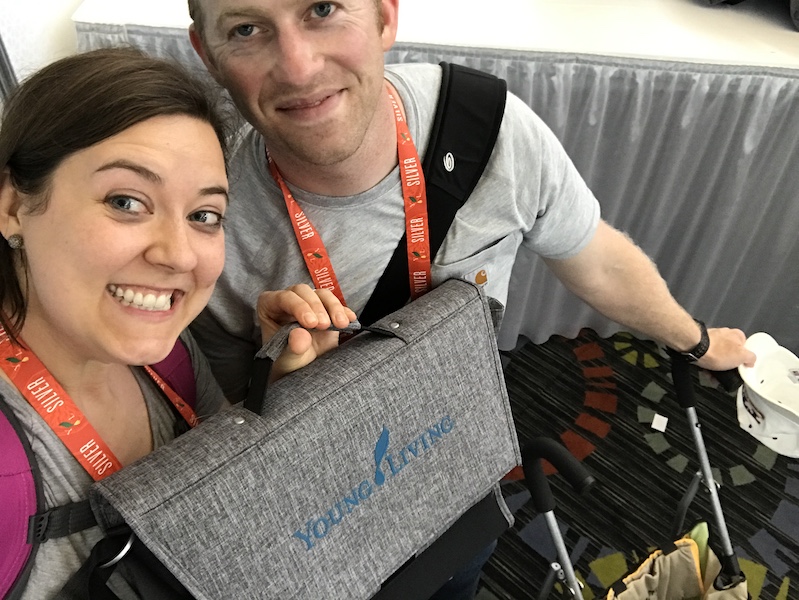 Wednesday we spent most of the day at the lavender farm in Mona, Utah.  I was so excited to get to see the the essential oil growing and distilling in action!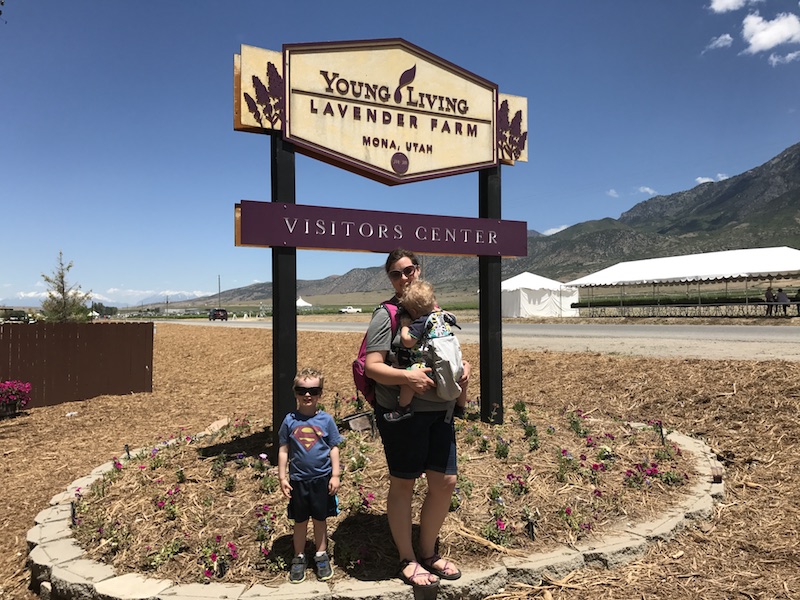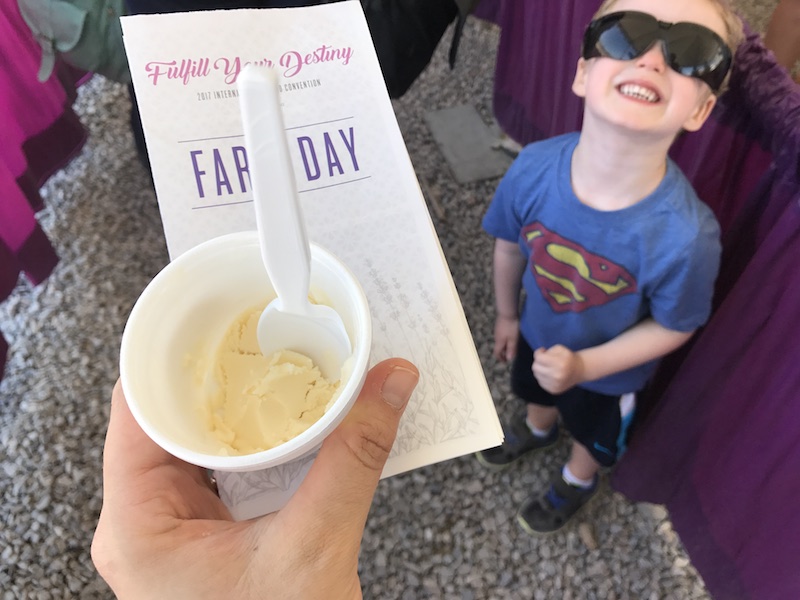 Not all of our crops are grown at the Utah farm (we have farms in Idaho, France, Hawaii, Ecuador, Australia, Canada, and several other places too) but they have one section there with just a couple of rows each of several different plants so that you can see a variety all there together.  We got to see lavender, oregano, fennel, Ningxia wolfberry trees, tansy, thyme, hyssop, clary sage, and more.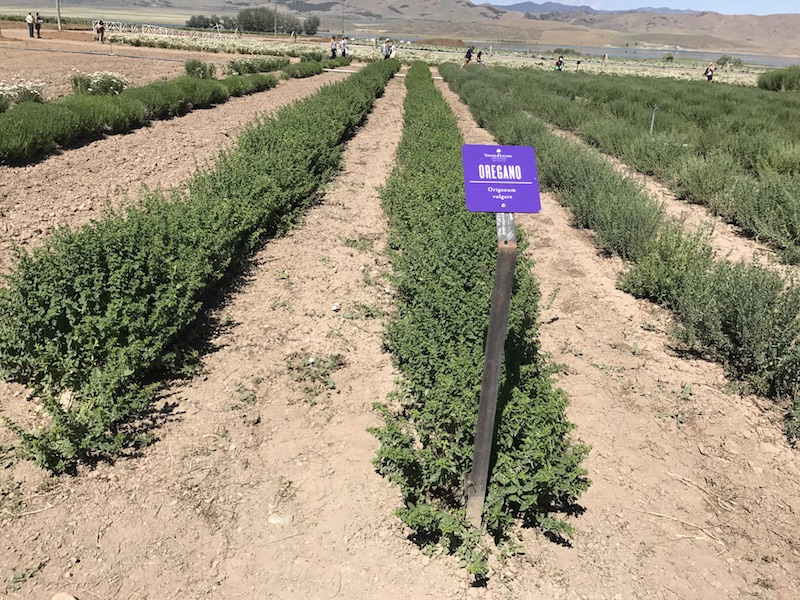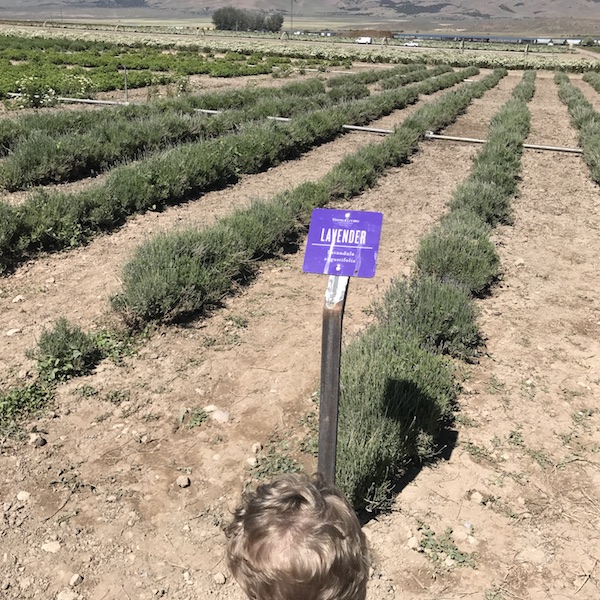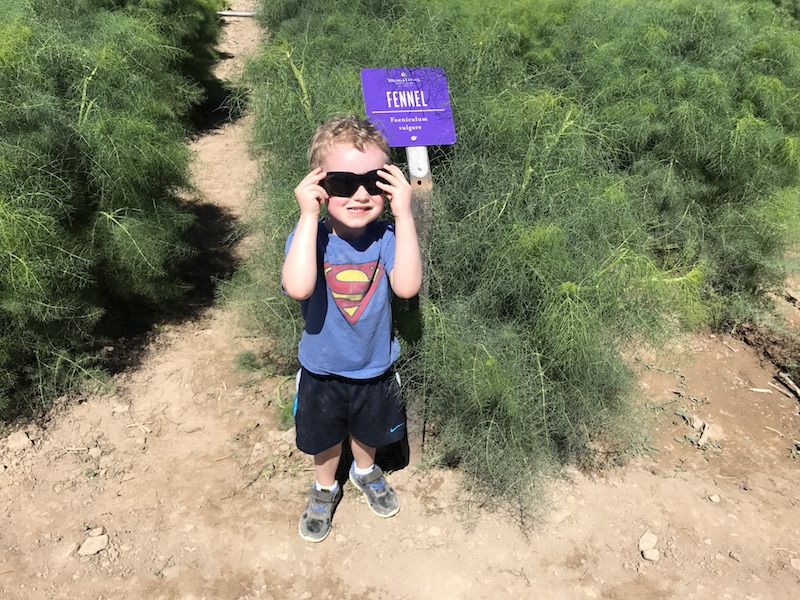 This view.  There are no words.  On one side were these beautiful mountains and on the other side were plants and farmland as far as you could see.   It was SO gorgeous and to be able to experience it with my family was amazing!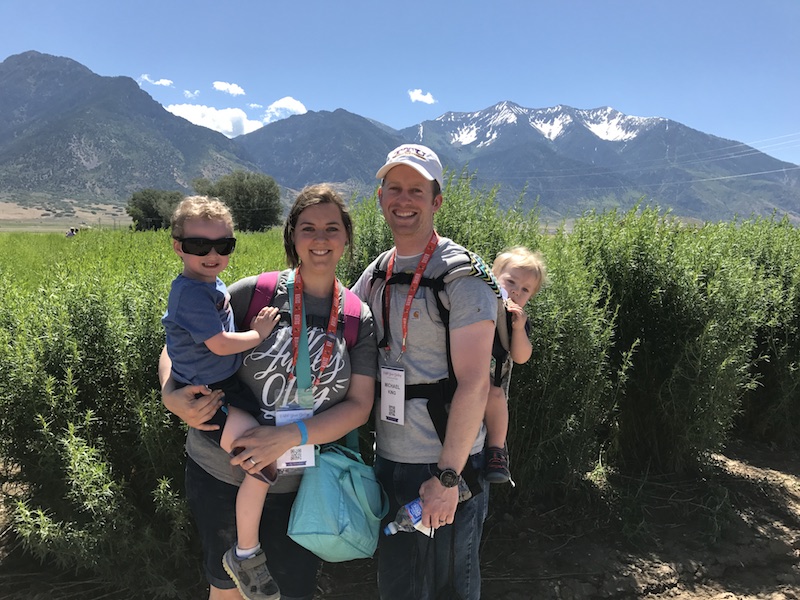 While we were there they were distilling juniper.  This was a huge pile (like a way taller than me haystack) of juniper.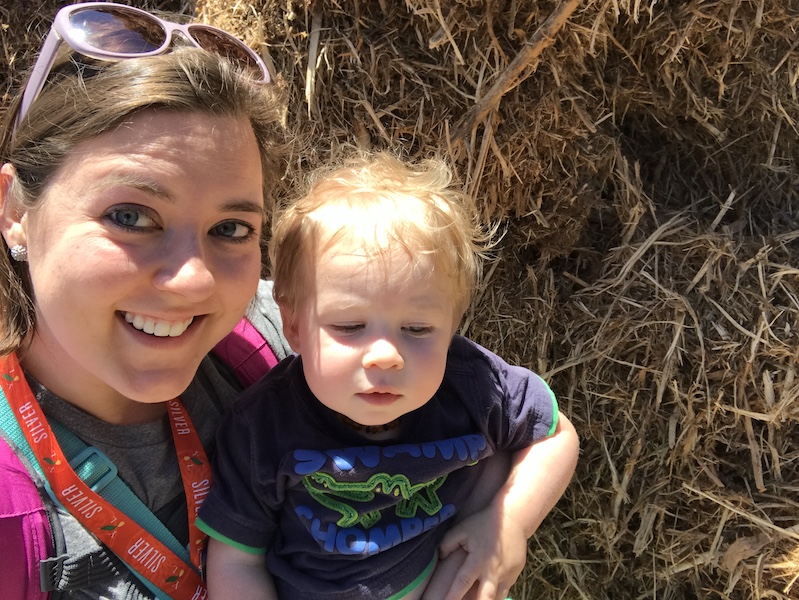 We got to walk through the distillery and see it in action. It was a super long wait to get in but it was really cool to see how they distill the oils!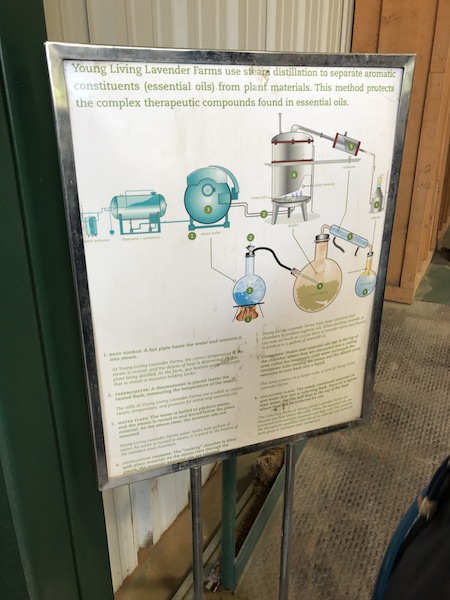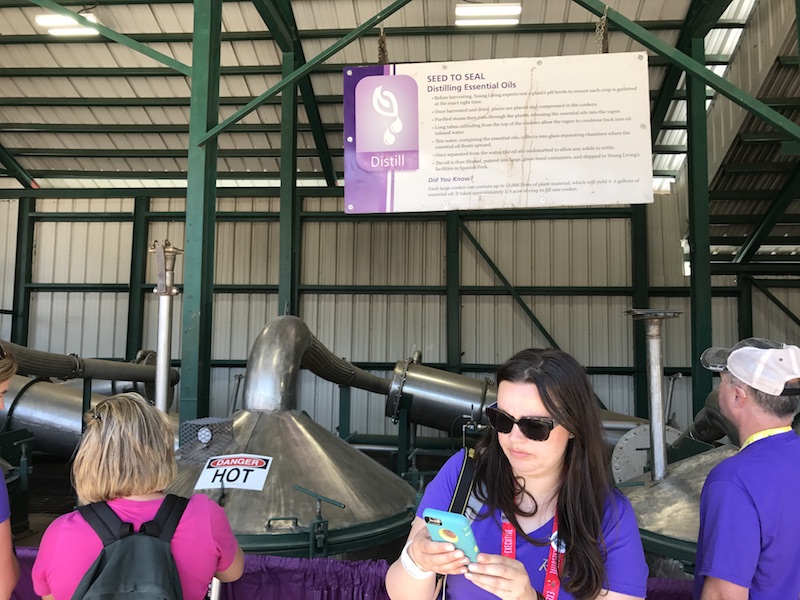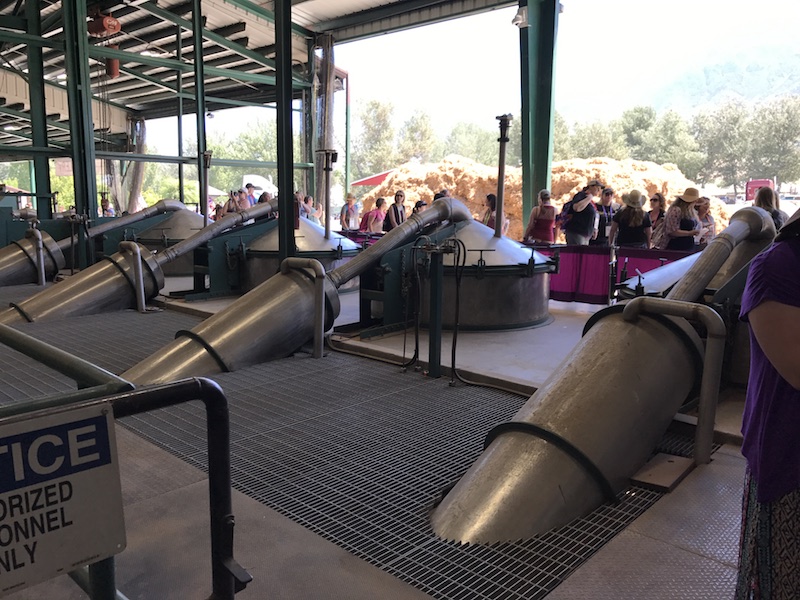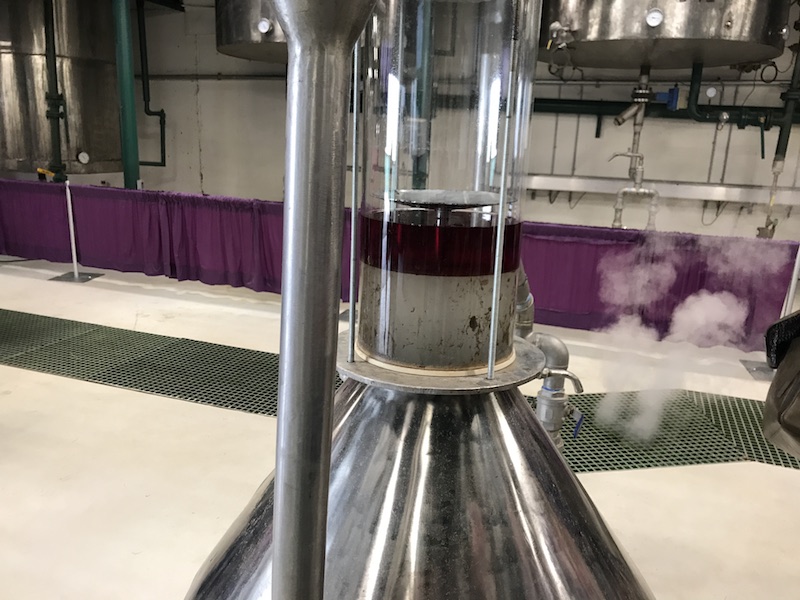 Another highlight was getting to eat peppermint ice cream and Ningxia Red snocones.  Super yum!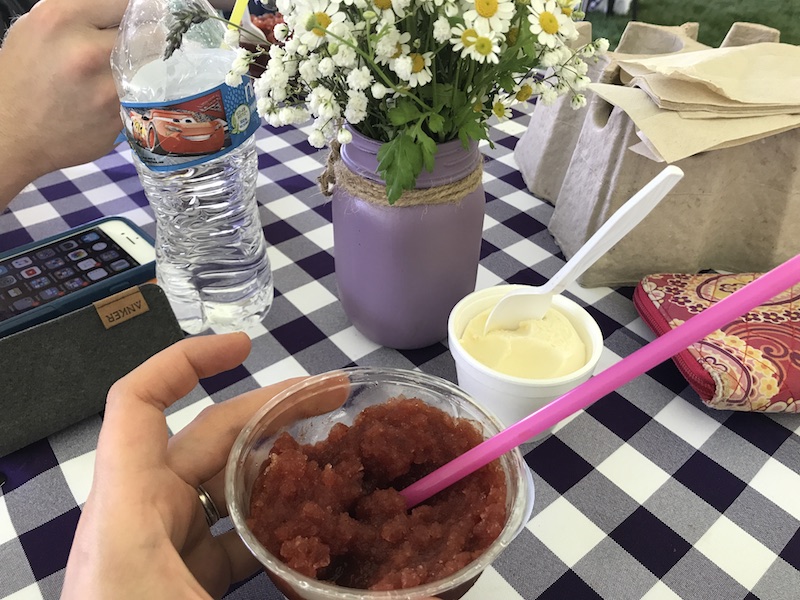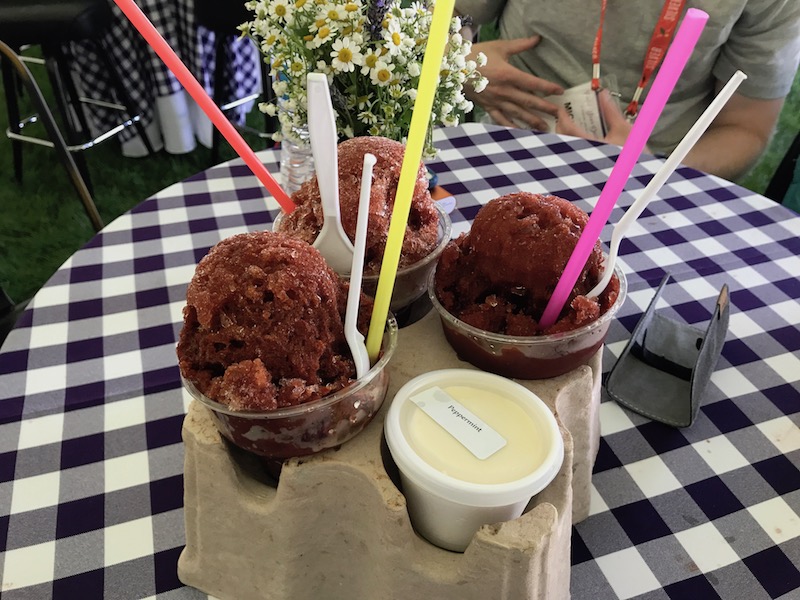 Waiting in line to get our Ningxia and ice cream.  Poor Parker was so worn out!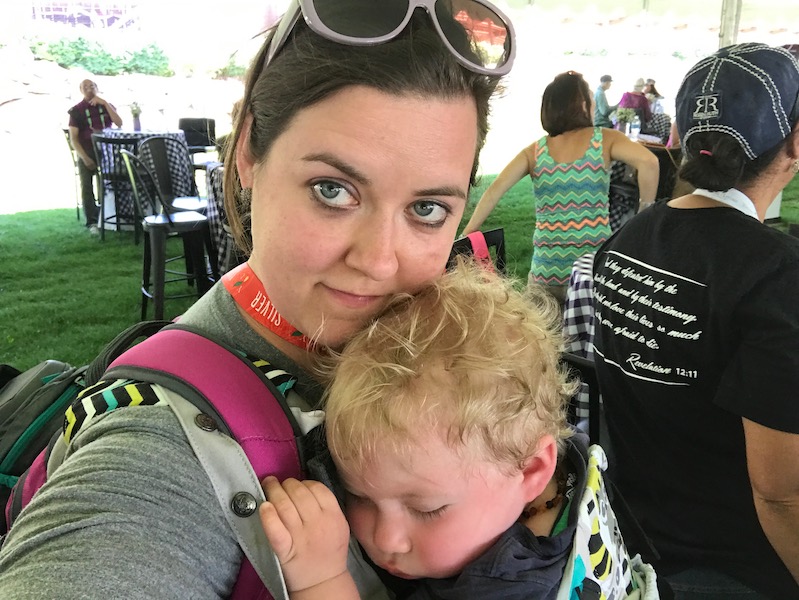 This part was probably my favorite thing we did (although I loved it all so it's hard to choose!) – we got to actually plant lavender!  We each got a tiny plant and we walked waaaayyyy out into the lavender fields where the workers were digging up holes for us to put our plants in.  I'll be honest, I got a little choked up and emotional at this part.  Knowing that we were planning the very lavender that will later be harvested, distilled, bottled, and sent to homes all over the world was so incredible.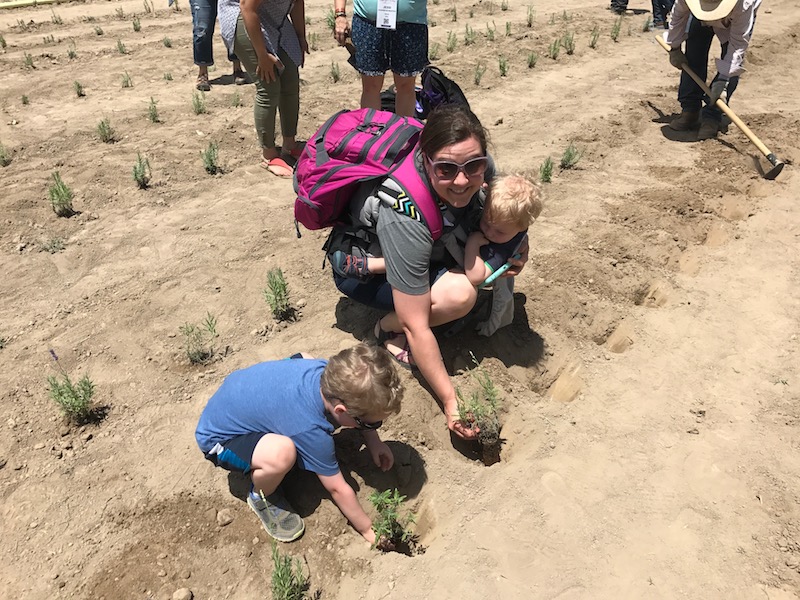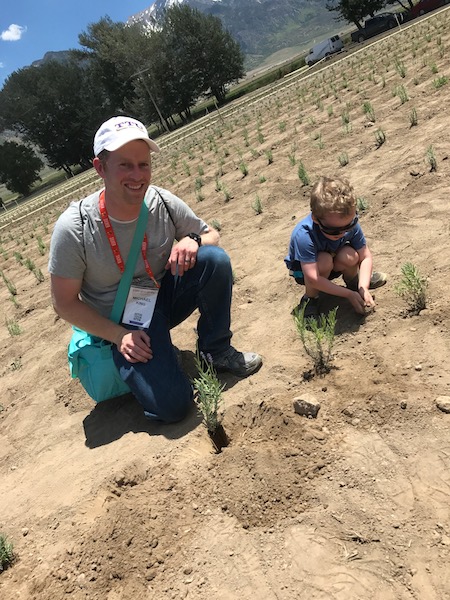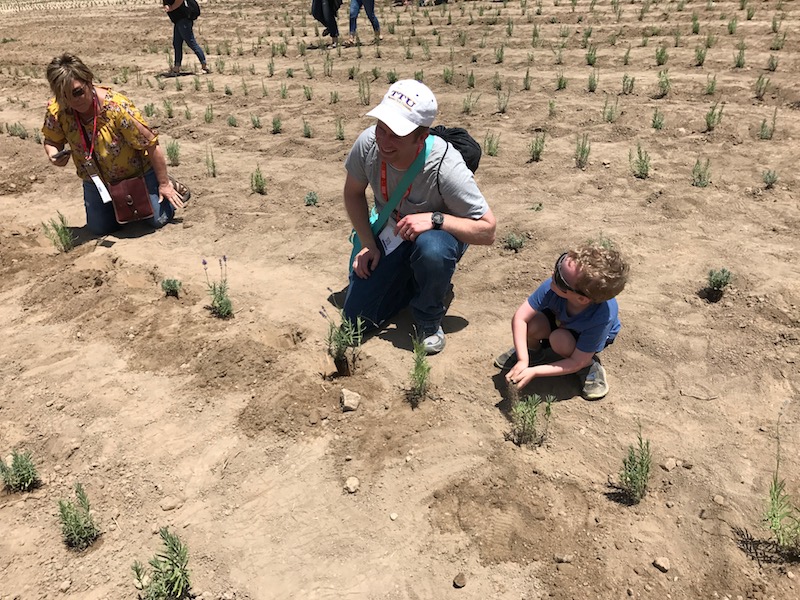 Wednesday night we had our opening night general session, where they revealed all of our new products.  So fun!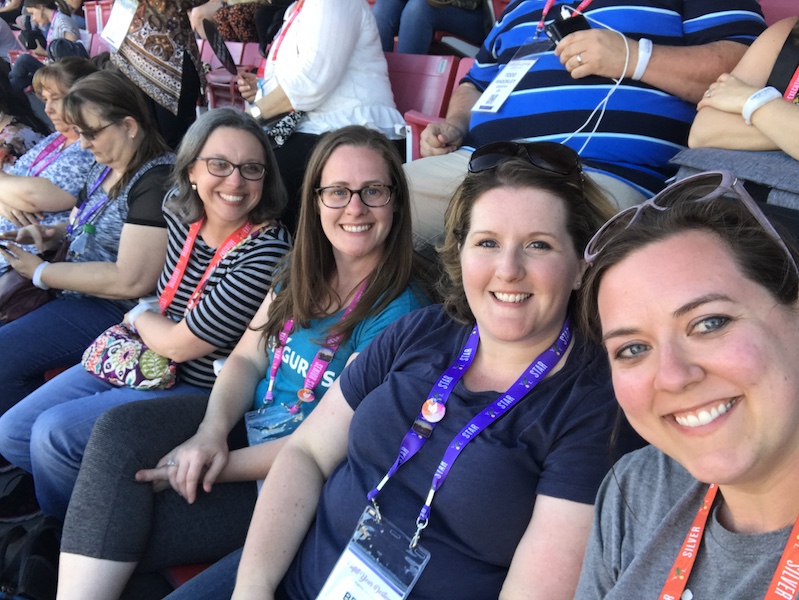 So excited to hear about new products!!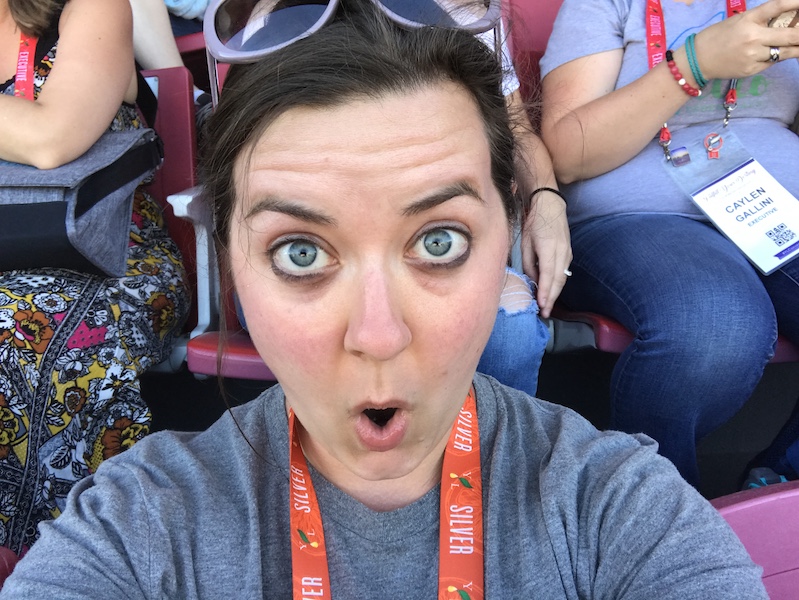 There were 30,000 Young Living members who attended convention so we had to have our general sessions (where everyone was together at once) in a football stadium.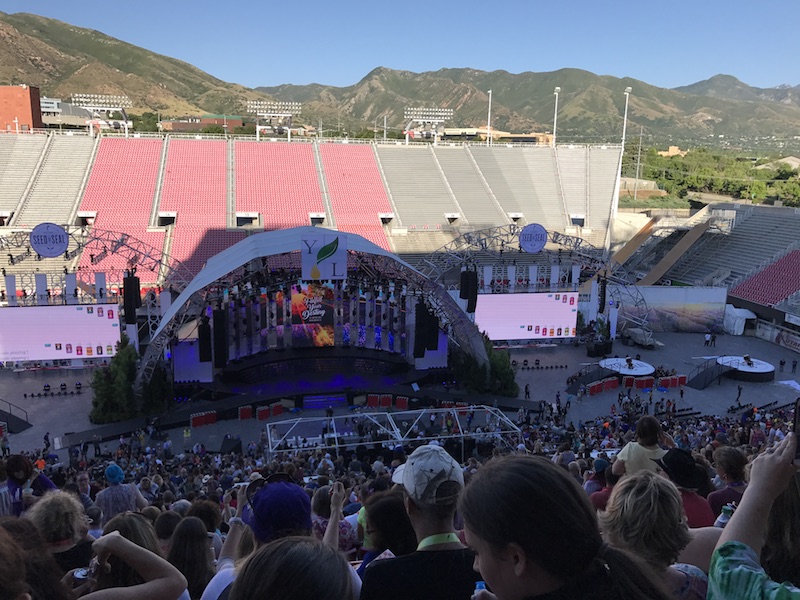 Thursday through Saturday we had classes and workshops every day.  Michael usually kept the boys at the hotel during the morning, then met me at the convention center for lunch and to walk around the expo or attend afternoon classes.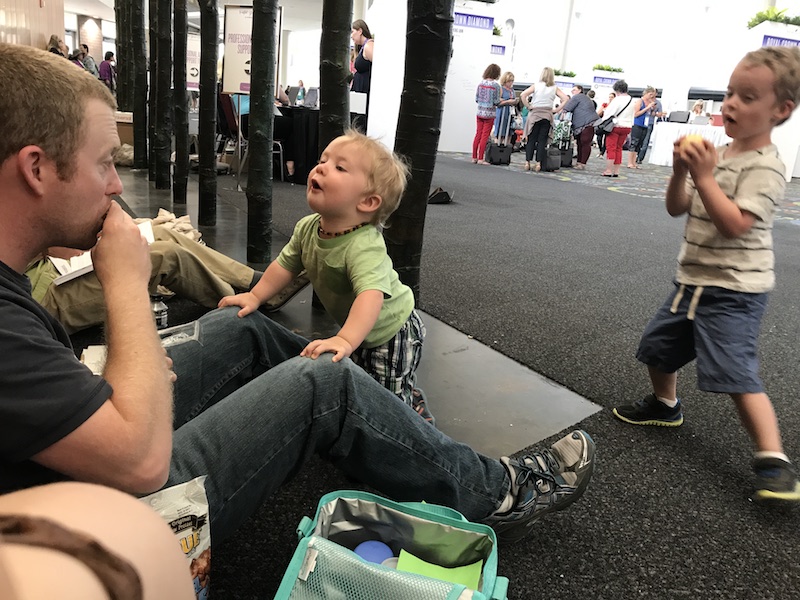 We mostly switched off – one of us would attend a class and the other keep the kids so that they weren't disturbing the people in the class, but there was one that we both wanted to attend so I kept the boys in the back and fed them snacks.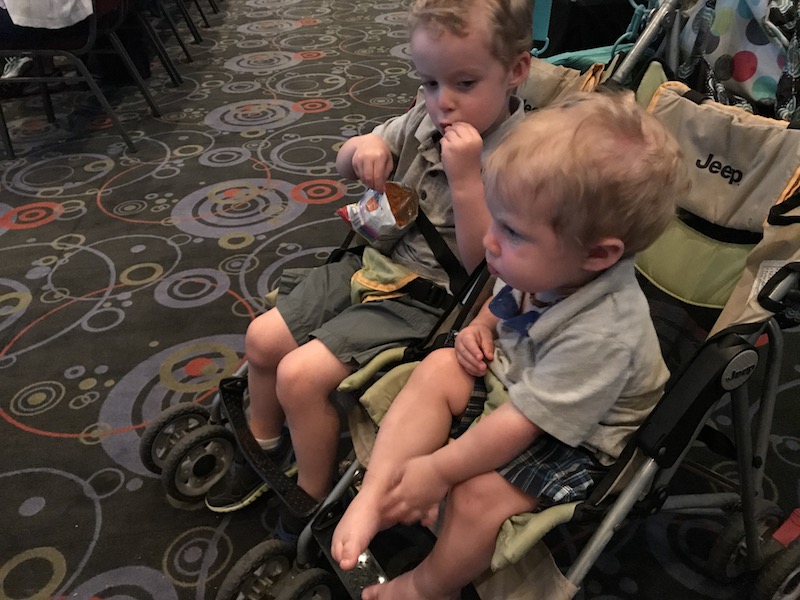 In addition to our classes there was a huge product expo that had all the new products to test out, color matching for the new makeup, a place to get Ningxia slushies, and all sorts of other cool stuff. One room had every single oil Young Living offers (including the really expensive ones!) out for you to dip little tester strips into.  That was really cool!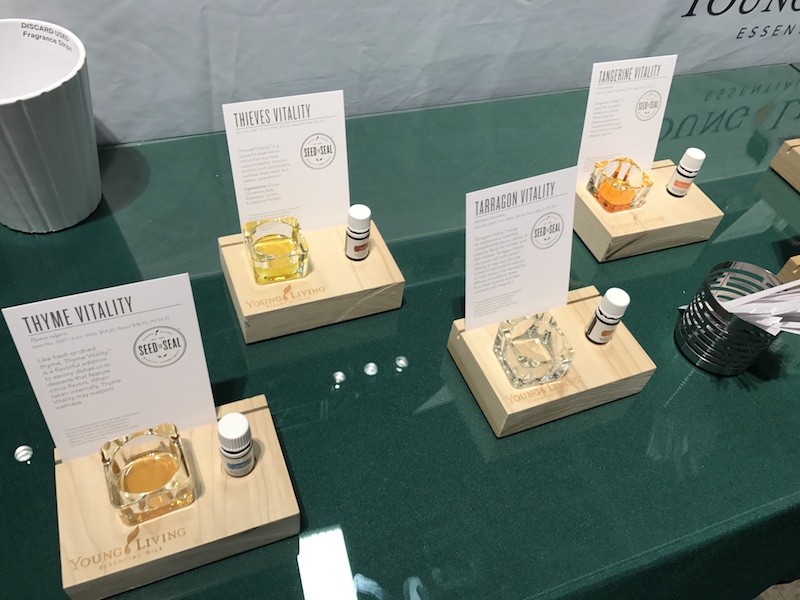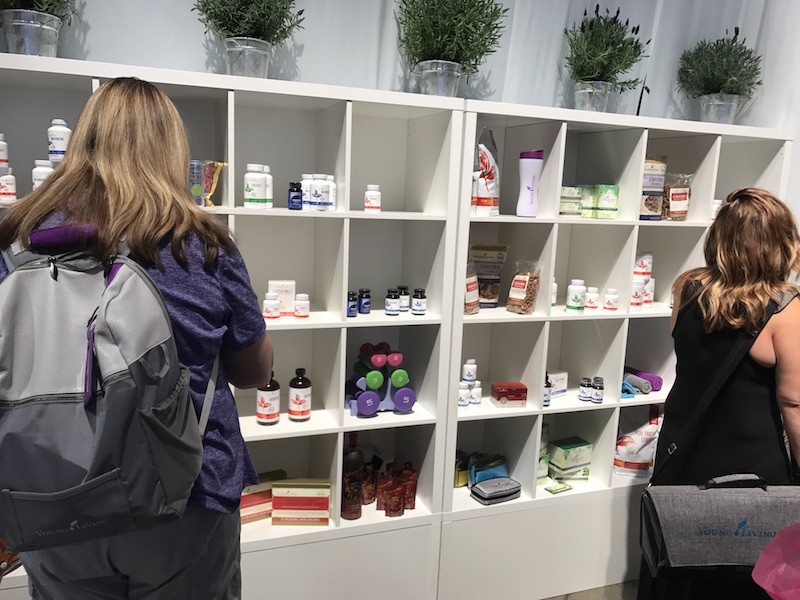 When we ordered our products we could choose to have them shipped home or pick them up at convention.  I was going to have mine mailed so that I wouldn't have to worry about wagging them home, but I was afraid they wouldn't get there in time for a class I was teaching later that week so I opted to pick them up.  This was just 1/3 of the people waiting in the product pick up room!  It was quite a long wait but as with all the other waiting in lines we did, it was really fun to get to know the people in line around me, hear their oily stories or hear about their businesses.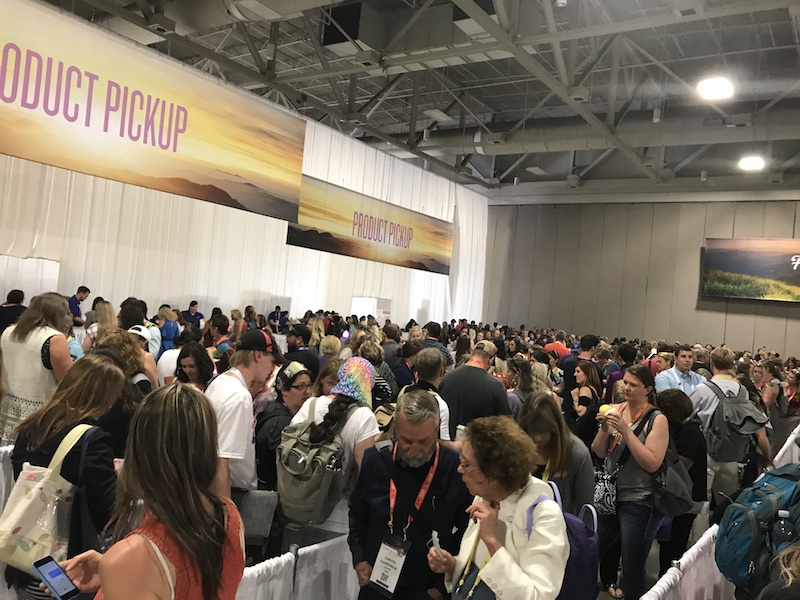 New products!  SO exciting!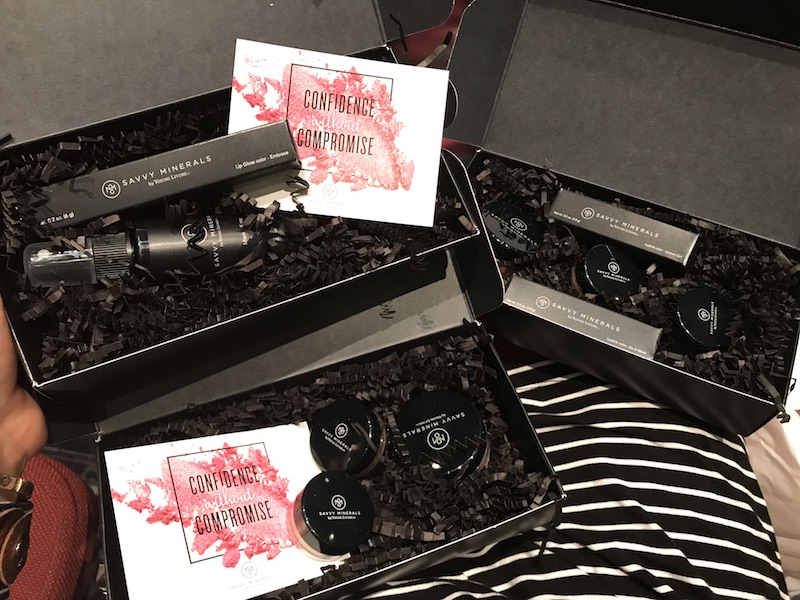 Testing out my new makeup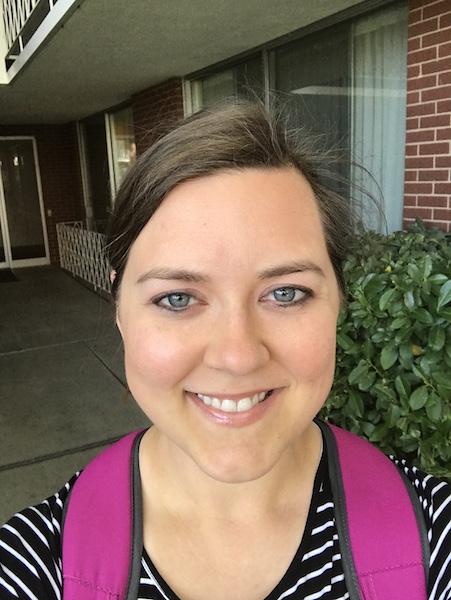 When we were planning for convention we found that it was actually more expensive to fly home on Sunday than it was to pay an extra night for our hotel room and fly home on Monday, so we opted to stay an additional day.  Sunday we got to rest some and spend time as a family without any sessions or classes or crowds.  We went to visit the great salt lake and then swam in the hotel pool (which the kids loved!  This was the first time Hudson had ever liked being in a pool so it was big progress!)
The salt lake was a bit of a let down, the kids had more fun just playing in the gravel!  Ha!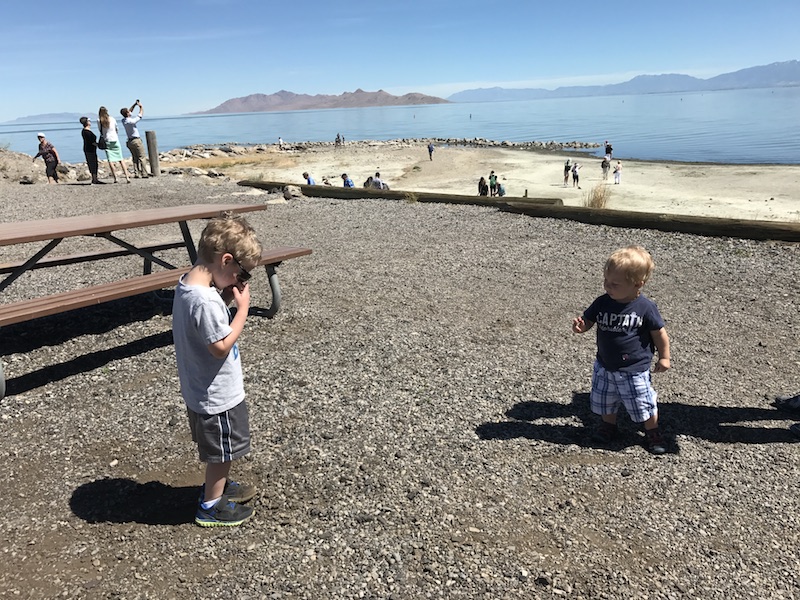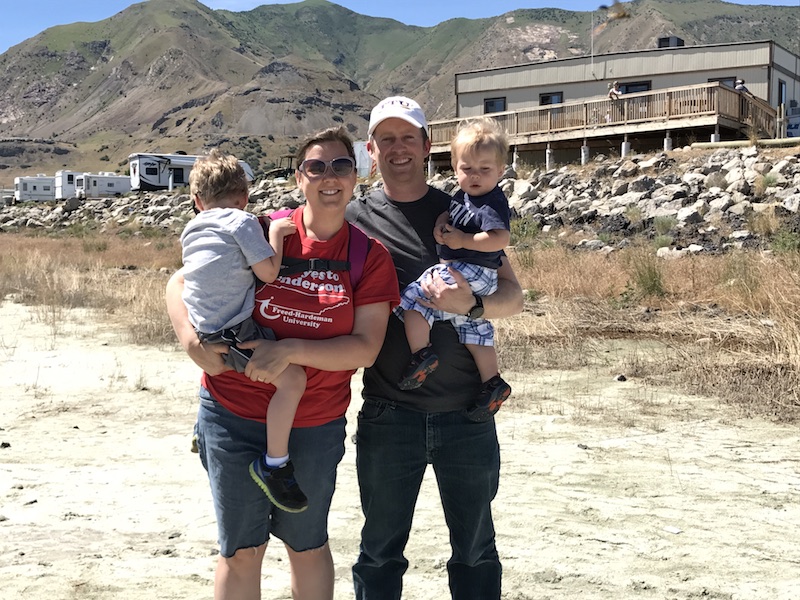 Heading back home to Kentucky!  Bye SLC, thanks for the great trip!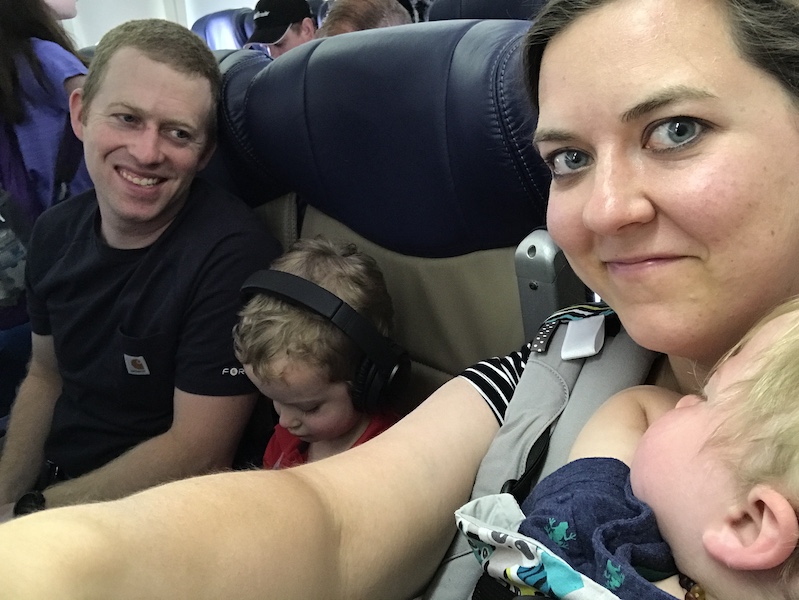 The mountains were so gorgeous!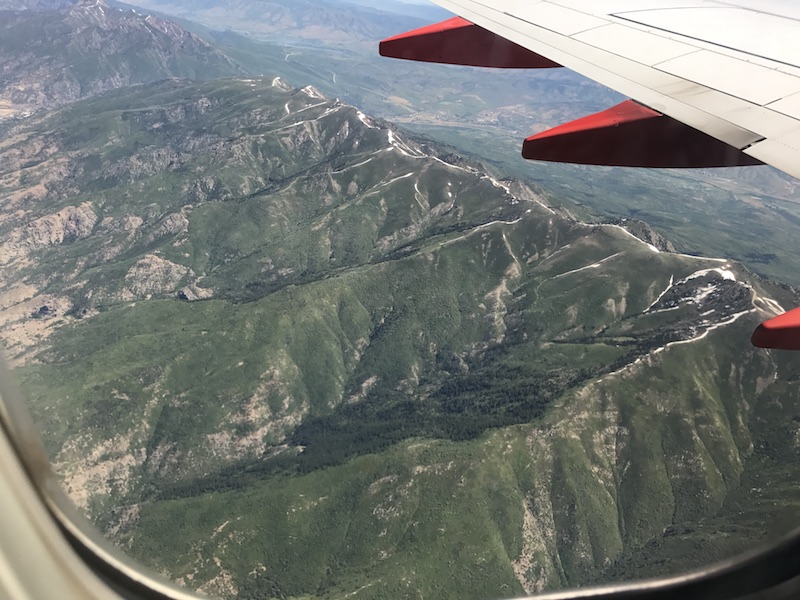 I think Hudson was trying to hold Parker's hand.  Or they could have been fighting.  I think they were pretty over the double stroller closeness after a week of traveling ;).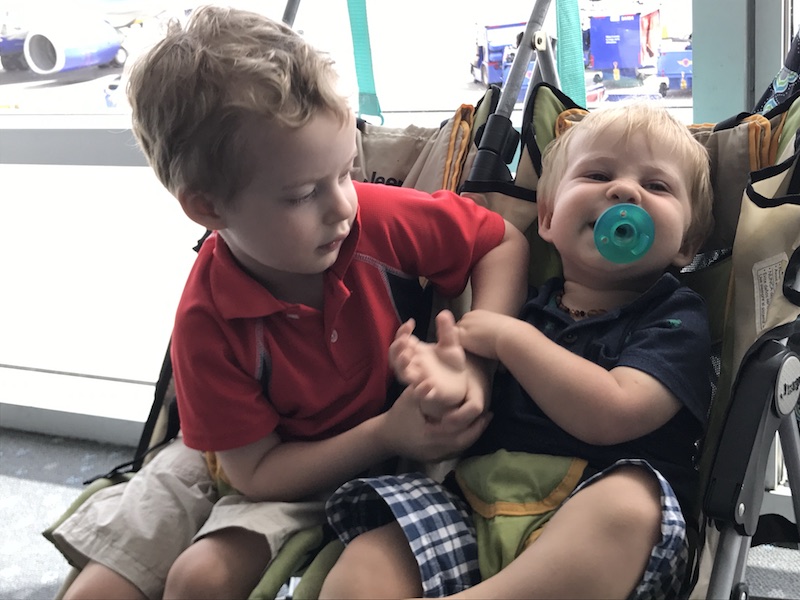 I am so glad we got to go and that we were able to go as a family!  It was such a fun experience and I can't wait to go back.
(If you're a YL member who stumbled upon this post and are curious about the cost breakdown of attending convention, I blogged about that here)
More pictures from the month
We had our church's Vacation Bible School.  All the pictures I have of Hudson have other kids in there too (which I don't share without permission), but just know he had a blast!  It was very interesting to see the difference from last year to this year.  Last year he was terrified of the puppets, wouldn't sing or participate, and pretty much just sat quietly.  This year he loved the puppets, sang all the songs, and even raised his hand to answer questions!  I was so proud to see him come out of his shell.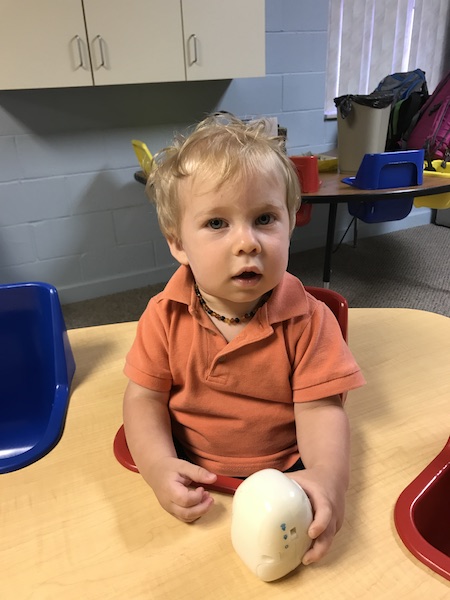 Not much sweeter than a sleeping kiddo.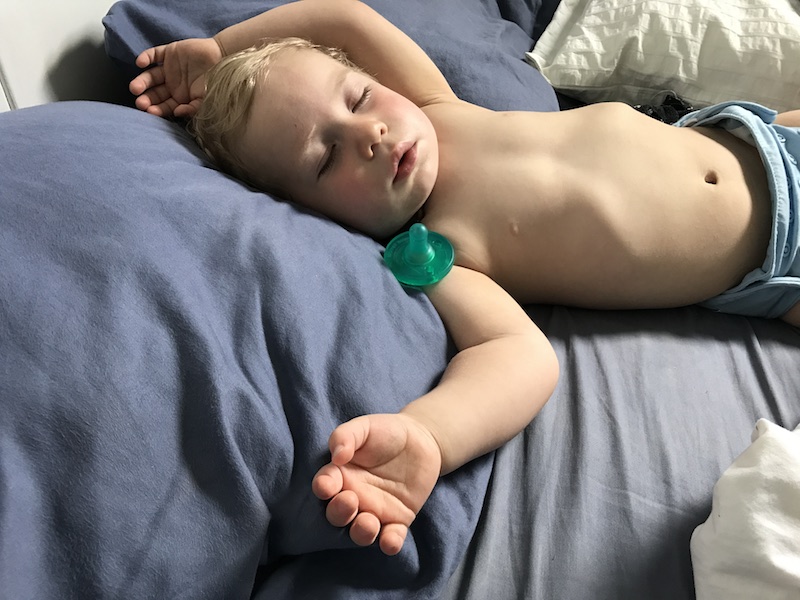 Cracks me up when he does this since Hudson never fell asleep in his high chair!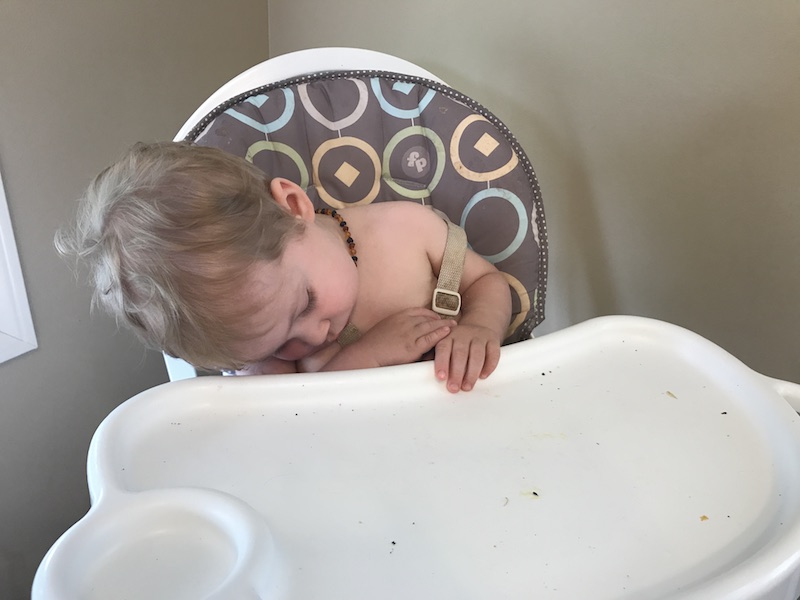 Outside fun on the swingset.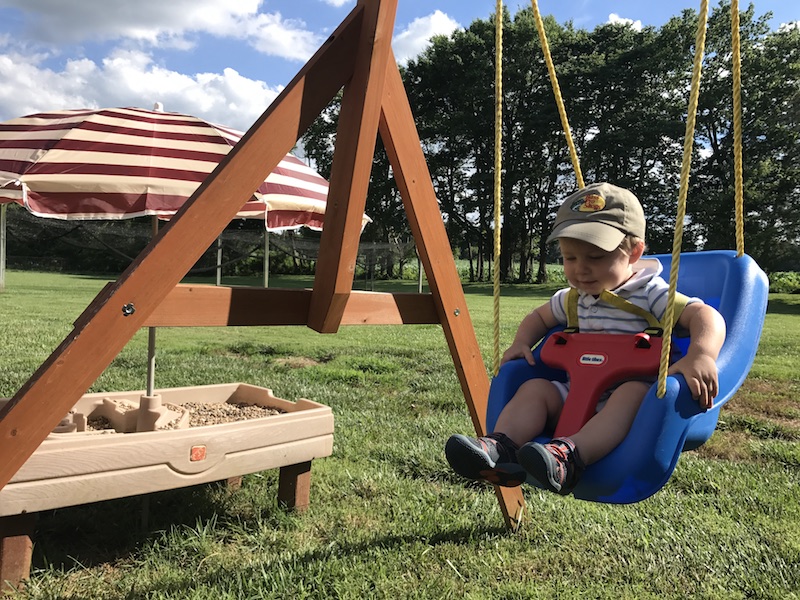 Parker learned to say "cheese!" and smile when he thinks you're taking a picture – this is his cheese face.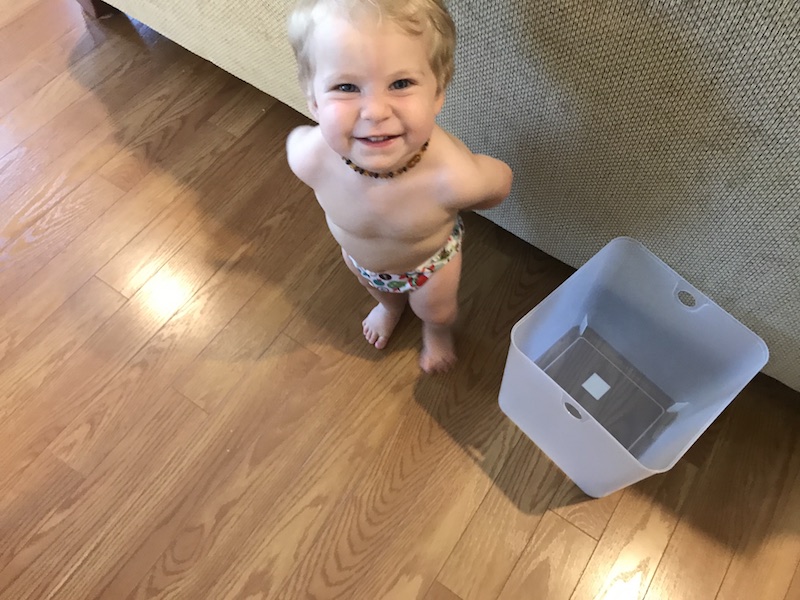 Hudson wanted to wear his babies and creatively made a makeshift carrier out of a gift bag.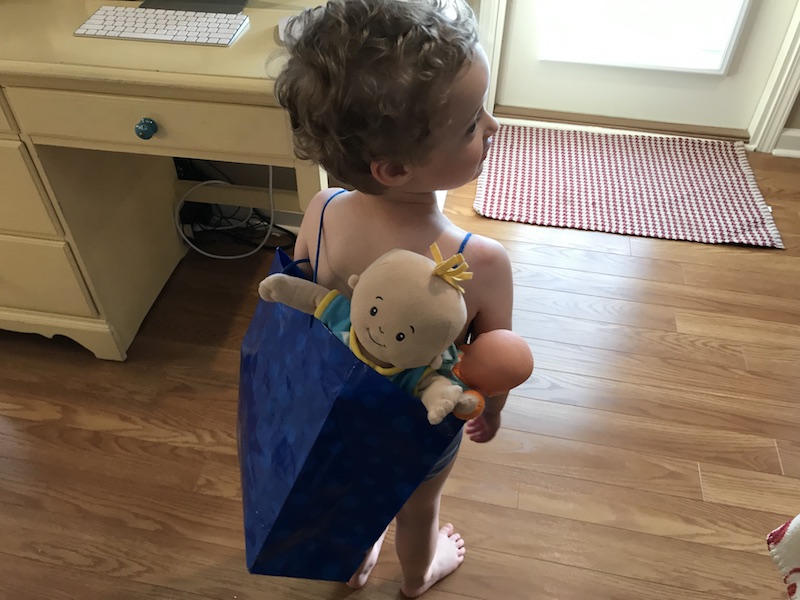 Daddy and his boys.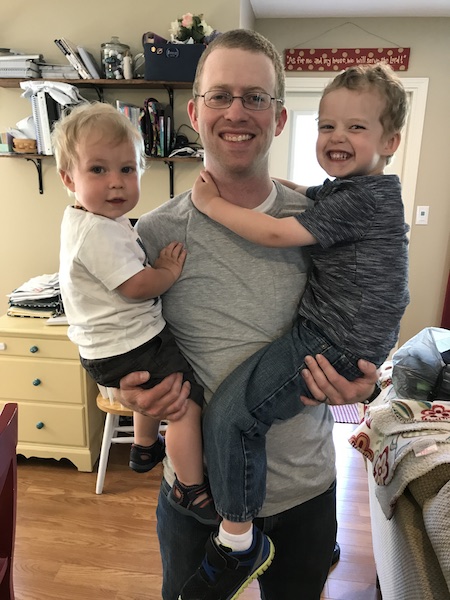 After seeing a friend post about cotton candy grapes on Facebook I had to snatch them up when I found them at our Sams!  They really did taste like cotton candy – weird but delicious at the same time!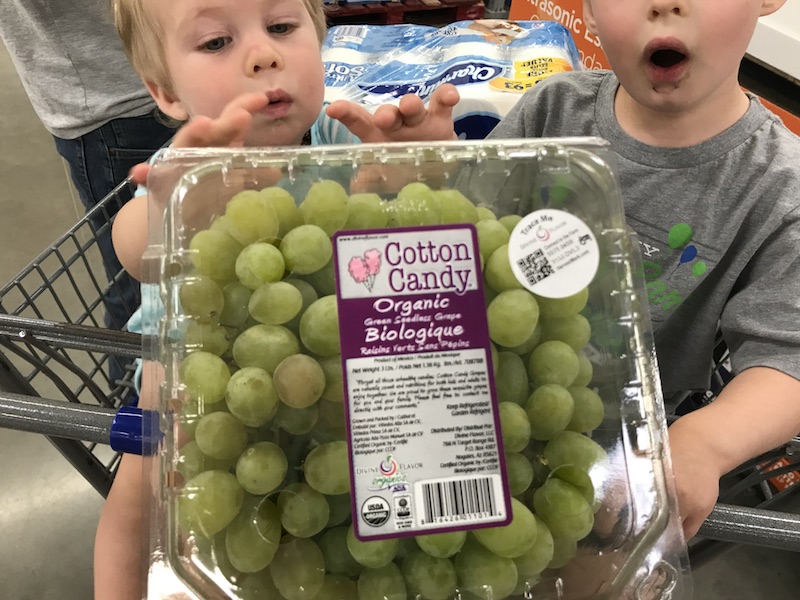 These boys…such mischief they get in to!  They were throwing all the clean diapers over the edge of the couch and laughing hysterically.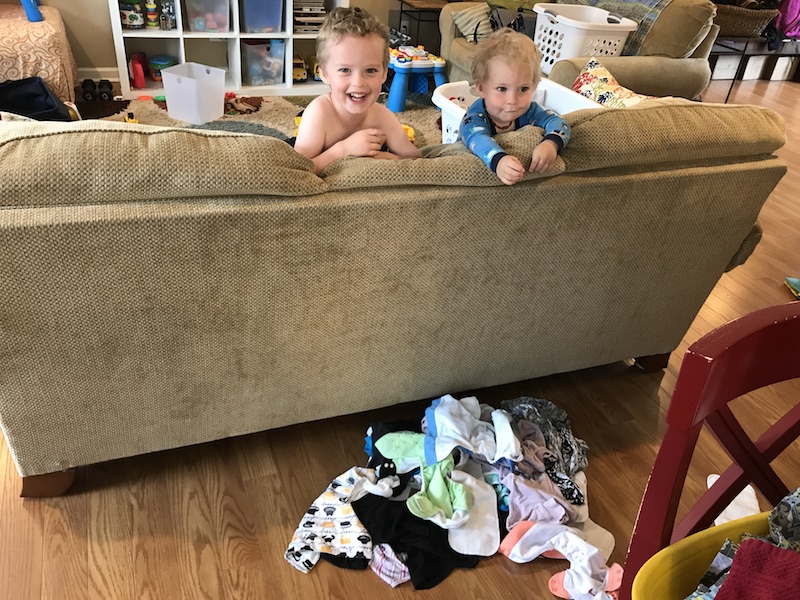 And that's a wrap for June.  I'll be back in a few days to update on July!  Maybe I'll actually get it done in a timely manner this time ;).