Check out the Young Living August 2017 promotions!  I am freaking out excited about these!!  This is one of the best promos we've had in quite a long time!  Ummm…ALL the KidScents oils for FREE!?!  Yes, please!
---
This post contains affiliate links.  I am a Young Living independent distributor so if you purchase a product through my link I make a commission at no cost to you.  You become part of my Oily Moments community and we will be here to help you with your new oils.  Thanks for joining with me!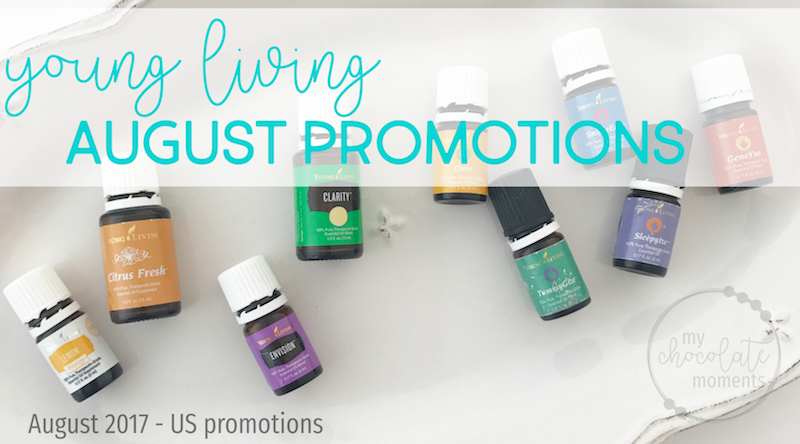 KidScents oil collection of 5 KidScents oils (300pv)
As a mom of a 3-year-old and a 1-year-old, the KidScents oil are some of our most used and most loved essential oils!  The KidScents oil are a line of essential oils specifically formulated with kids in mind.  They have been prediluted to take out the guesswork of how much you should dilute oils to use on kids.  They have cute names, come in cute bottles, and are all around a hit in our home!  (And they aren't just for kids…I use them on myself too sometimes!)
Owie: Hudson FAVORITE oil that he loves for all of his little bumps and bruises.
SleepyIze: An incredibly popular choice to help with restful sleep – diffuse or rub on the bottoms of the feet before bed!
TummyGize: Another favorite in our house.  We rub this one on the kids' stomachs when they're having tummy trouble.
SniffleEase:  A great blend to diffuse or rub on the chest when your little one has sniffles.
GeneYus: A blend created for focus and concentration.  I rub this on the base of both kids' skill every morning.  Even though neither of them are in school yet I know that their brains are constantly working and growing so any healthy-brain oils will benefit them greatly!
What a generous and amazing promotion…and this is just the beginning!  Keep reading for more!
Clarity (250pv)
How perfect is Clarity for back to school time?  This blend helps with clarity (obviously…) and alertness.  Sounds like one many kiddos need!  I like to diffuse this one or rub it on my temples and brain stem.
Envision (190pv – Essential Rewards only)
Envision essential oil blend is one of my favorite smelling oils!  Very grounding with its blend of Northern Lights black spruce (one of my faves!), geranium, orange, lavender, sage, and rose.
Citrus Fresh (190pv)
Citrus Fresh essential oil is a blend made up of orange, tangerine, grapefruit, lemon, mandarin, and spearmint.  It has a wonderful, uplifting smell that is nice and fresh.  This is a great one to diffuse!
Lemon Vitality (100pv – Essential Rewards only)
I drink Lemon Vitality in my water all day every day so I'm always thrilled to get more fo' free!  This is also great to add to fish, veggies, lemon cookies, and more.
How do I get them?
These promotions are available to Young Living essential oil members who place qualifying orders in the month of July.
A 100 PV Essential Rewards order gets the free lemon vitality (PV = Product Volume and is usually the same as the dollar amount, but not always so double check! Essential Rewards is Young Living's rewards program)
A 190 PV ER order gets the lemon vitality, Citrus Fresh, and Envision (190 PV orders that are NOT ER orders get the Citrus Fresh only, not the lemon or Envision)
A 250 PV ER order gets everything listed above plus Clarity
A 300 PV ER order will get everything listed above plus the 5 KidScents oils (Owie, SleepyIze, TummyGize, GeneYus, and SniffleEase)
Not a member yet but want the promos?
If you aren't a Young Living member yet you can totally take advantage of the promo too!  Here's how:
Join Essential Rewards (it will give you the option to do that as you're ordering your kit) with any other combo of products that are 240 PV or more.  You can do whatever you want depending on if you're wanting to focus on getting rid of toxic chemicals (get lots of Thieves products), skincare (check out the skincare line), makeup (check out our new makeup line) boost your nutrition (Ningxia Red), your kids (look at the rest of the Kidscents products – in addition to the oils you're getting this month for free, we also have personal care products and supplements for kids), your babies (our new Seedlings line is perfect!), animals (we have a whole AnimalScents line), or something else.
And voila…you'd get all this other stuff we just talked about for FREE!
If you're looking for an idea of 200 PV to add on, I personally recommend the Ningxia Red Essential Rewards kit plus a bottle of the Thieves Household Cleaner.
If you go that route you'd be getting:
– lemon (2 5ml bottles – one in the kit and one from the promo)
– lavender
– peppermint
– frankincense
– copaiba
– Thieves
– PanAway
– Stress Away
– Purification
– RC
– DiGize
– a diffuser
– orange
– Citrus Fresh
– Clarity
– Envision
– Owie
– SniffleEase
– TummyGize
– GeneYus
– SleepyIze
– 4 bottles and 32 pouches of Ningxia Red (that's 164 ounces, so 82 days worth of Ningxia Red if you drink the recommend 2 oz serving a day)
– Thieves Household cleaner (the only cleaner you'll ever need again to clean your house!  It's super concentrated too so one bottle will last you months and months)
Alllllllll of this for about $360 plus tax and shipping.  An INCREDIBLE value for these products that are an investment in your health!
Not to mention wholesale pricing (24% off) all future purchases, an incredible oily community to help you learn all about your new products, and the opportunity to make money telling others about oils (totally optional).
---
I'll get an email when you sign up, so I'll be contacting you soon to get you added to our private group and help you get started using your oils.   If you have questions before then, feel free to contact me here or here or through my Facebook page or email at caitlin@mychocolatemoments.com.