Since I got so behind with our June update I kind of skimmed over that one, so July will be a little more thorough!  Here's what the King family was up to in July.
Hudson
Hudson is now three and a half years old.  We weighed him and he was 37 pounds.  I didn't measure him to see how tall he is but we just bought him a new pair of shoes in size 11 and he currently wears size 5T clothes (but some of his 5Ts are getting too small).
He is so funny.  Michael and I say all the time how we wish we could just video him 24/7 because he is constantly talking and telling all sorts of funny stories.  He talks a lot about "at my work" (which some days he works on power lines and other days he works at restaurants…specifically 'chik-sil-a' aka chick-fil-a, and Roosters) and "one time at college".  He has all sorts of imaginary co-workers with made up names but his most frequently talked about one is Jerry ("Jerry at my work did…")
He also talks about "When I was a baby…" a lot (and that usually refers to something that happened like two weeks ago!  Ha!)
I could go on and on with little quotes that he says – there are so many cute things!  One of my favorites though was after a girl at church got baptized; the next day Hudson said "That's neat how Kylah got baptized.  Maybe someday somebody at my church can baptize me for Jesus!"  Heart melting.
People often ask me how he and Parker get along.  For the most part, great.  Hudson is usually super sweet to Parker and they play together well.  The only time they fight is if Parker gets a toy Hudson wants and/or was playing with.  Learning to share is proving to be difficult!
He's kind of sort of almost potty trained these days.  He very rarely has big accidents anymore (like all over the floor) but he frequently has small ones (just wet underwear).  He's gotten to where he takes himself to the bathroom, puts on clean underwear if he needs some, washes his hands, etc. so he can do most of it on his own without a lot of assistance from us.
We may be on the verge of dropping his nap.  More days than not recently he does not nap during naptime.  He stays in bed (other than getting up many times to go to the bathroom) and rests but doesn't sleep.  I'm ok with no napping as long as he'll continue to have quiet time!
Things he loves: playing outside, riding his tricycle, playing with blocks, reading, singing, eating, and helping Mommy and Daddy.
He is stubborn and strong willed but also sweet and smart and funny and makes me so proud every day.  He is a sponge that just soaks everything up.
Some Hudson pictures
I'm so thankful that he is such a good eater and likes a lot of healthy foods!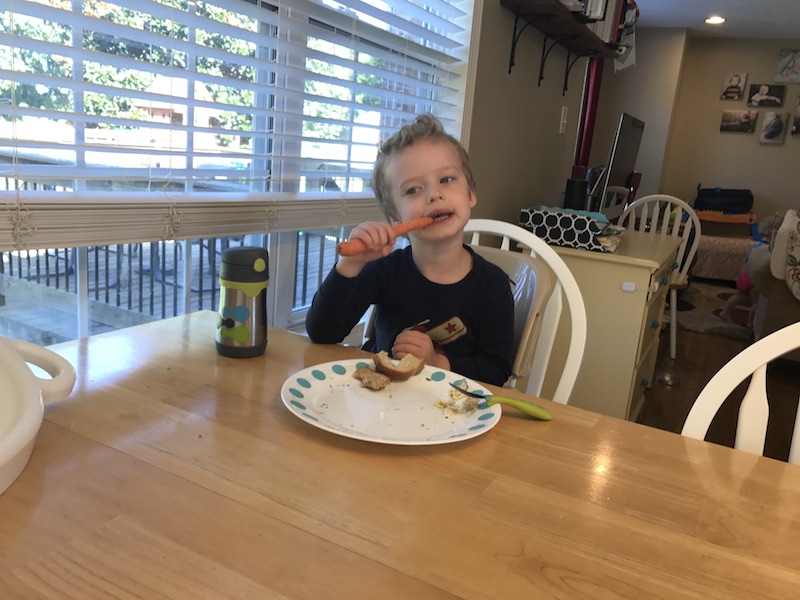 This month was Hudson's first trip to the dentist and he did FANTASTIC!  I was so worried that he would be scared or cry or refuse to let them look in his mouth, but he did wonderfully.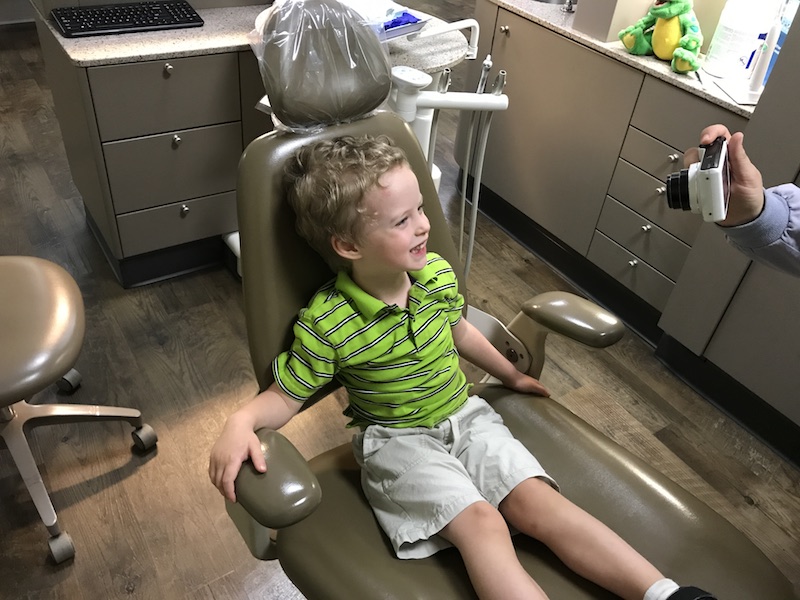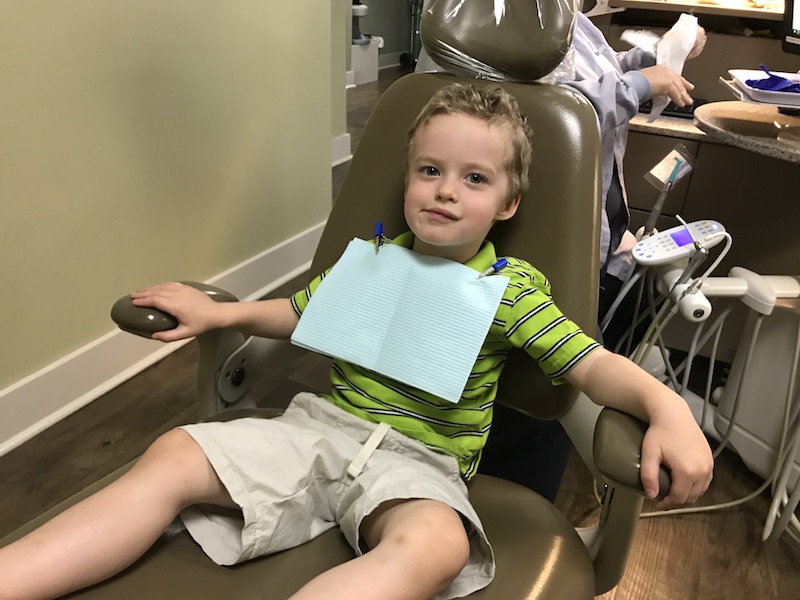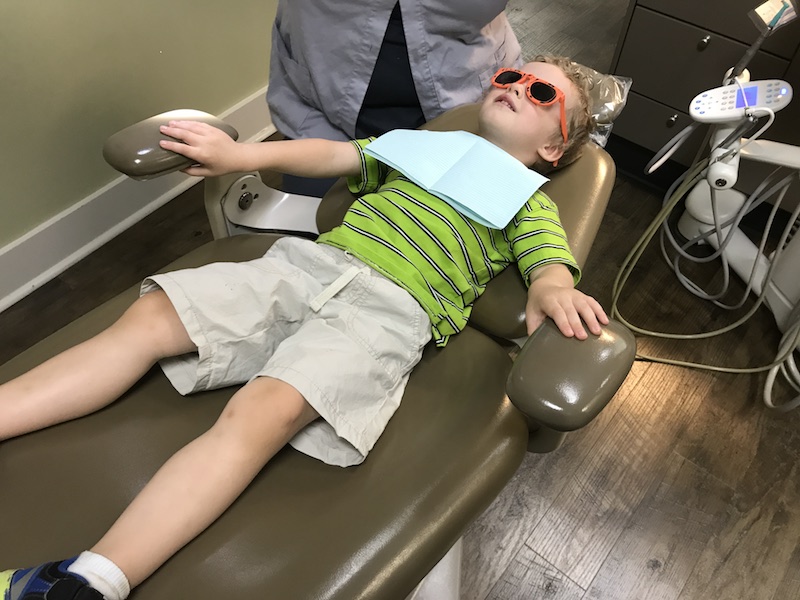 He got to pick a treat after they cleaned his teeth and he chose a little water gun.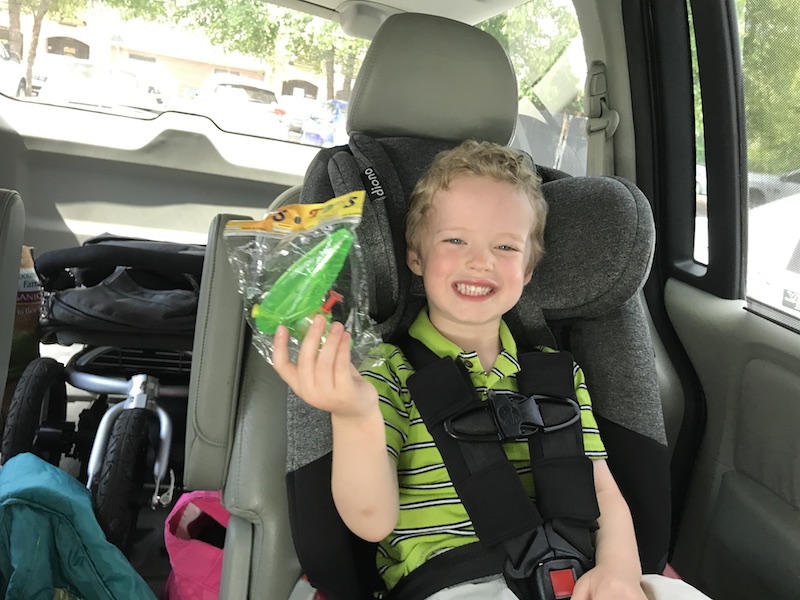 Hudson likes to take pictures with our phones and one morning he took this one of me (you can't see well in the picture but I was putting Parker's shoes on).  When I first saw the picture I hated it – so unflattering, double chin…I was ready to delete it.  But a minute later Hudson said "Did you see your picture, Mommy?  I took it because you're so pretty!"
And that's when I remembered that my kids don't see things like double chins and overweight mommies.  They just see someone they love.  And so I'm posting it here for all to see, unflattering angle and all.  Becuase my three year old thought I was pretty and that's what matters.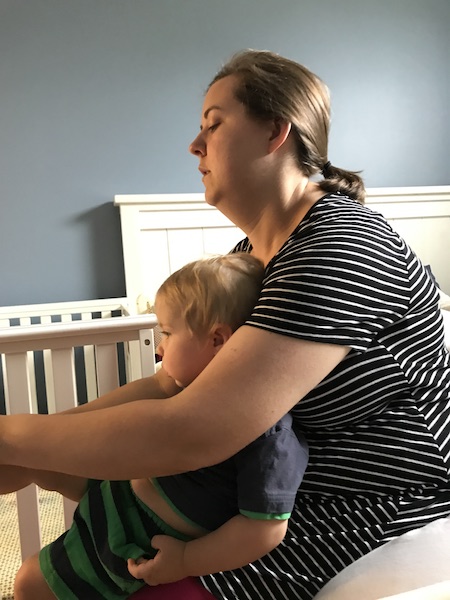 He was also pretty proud of this picture he took of Daddy.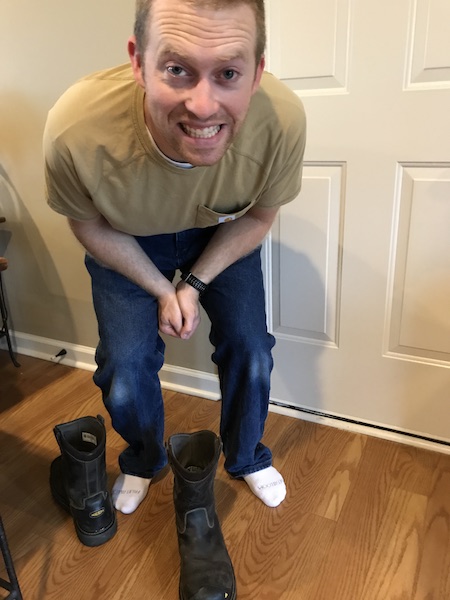 I know I say this every time but I wish time would slow down a little!  I completely love watching Hudson grow and learn and change, but it seems to be happening so fast!  A lot of the kids Hudson's age are starting preschool this year and I just can't imagine him being old enough to start going to school!
Parker
Parker is now 18 months old.  At his 18 month check up he weighed 26 pounds, 11 ounces and was 32 inches tall.  According to their charts, that puts him in the 81st percentile for weight and 34th percentile for height.  Short and stocky!
Look at that chubby belly!  I just love it so much!
Words he says: mama, daddy, yeah, poo poo, cucumber, blueberry, cracker, help, down, baby, ball, Bible.  He also moos like a cow, barks like a dog, quacks like a duck, and say "beep beep" like a car,
Words he signs: please, more, eat, paci, strawberry, banana, cheese, milk, water, peach, apple, help, down, sleep, bath
Body parts he can identify: eyes, nose, mouth/teeth, ears, hair, hands, feet
Number of teeth: 12 (4 front on the top, 4 front on the bottom, and 4 molars)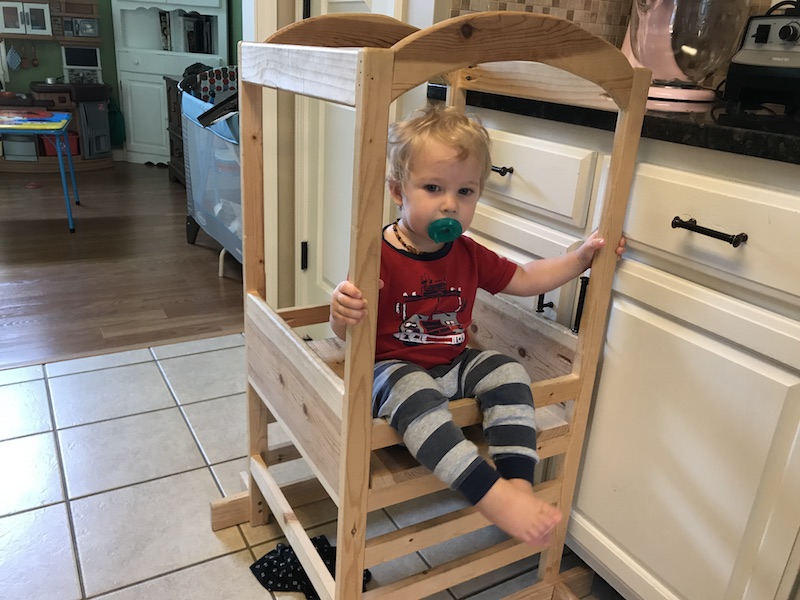 Sleep: 8pm-7am (ish), he was sleeping through the night but recently started waking up again to nurse several times during the night.  I am NOT a fan of the sleep regression!
Breastfeeding: He is still breastfeeding.  Usually before nap, before bed, sometimes in the early morning and recently several times during the night.  He can easily go without and if we're out somewhere during naptime or if I'm not home when he goes to bed at night he is fine without nursing, but when we're home and I'm there he still wants to.
Favorite foods: cheese, crackers, pretzels, raisins, blueberries, strawberries, bananas, apples, (really any fruit), eggs, cucumbers
This month he began climbing on everything!  It caught me so off guard because Hudson has never been a climber.  One day I turned around from folding laundry to see that he'd climbed up on the bar stool and was helping himself to the oil stash.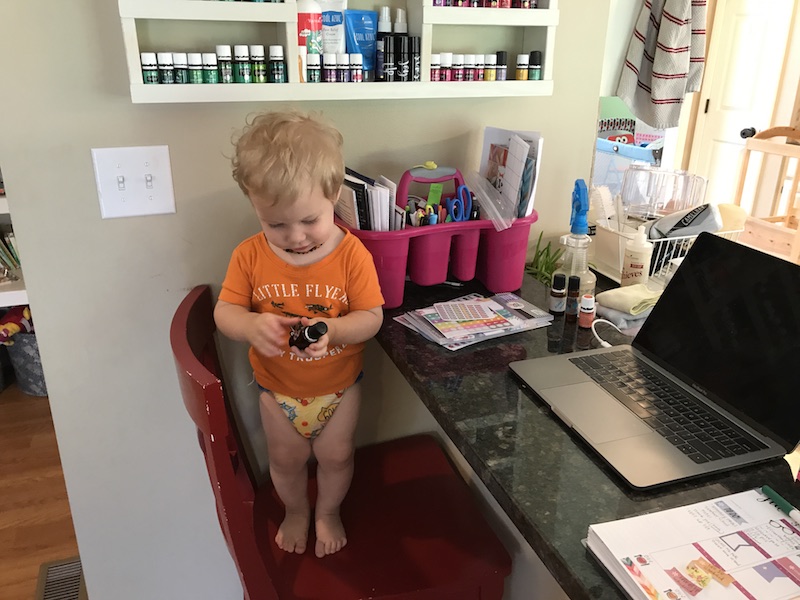 He loves climbing up in Hudson's high chair and just chilling there for a bit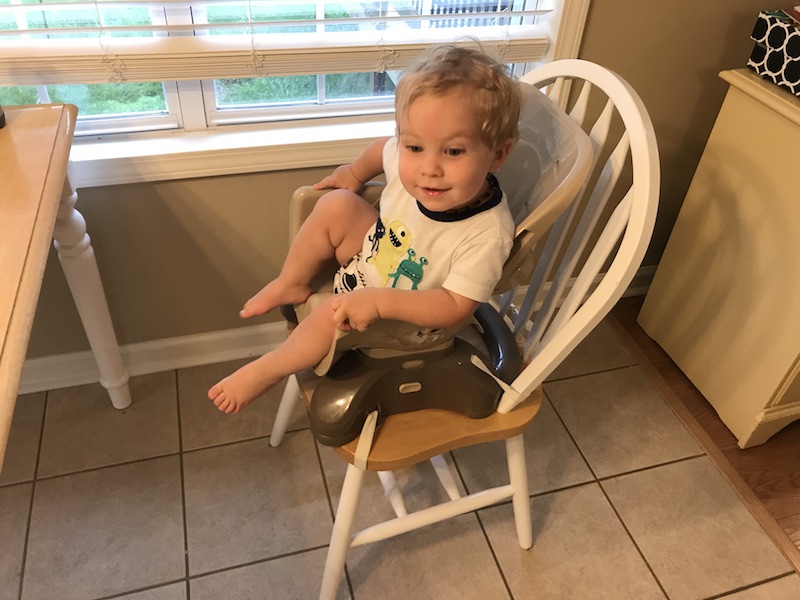 He uses all sorts of items – pillows, buckets and containers that hold their toys, even a wooden rocking horse they have – as a step stool to reach things easier.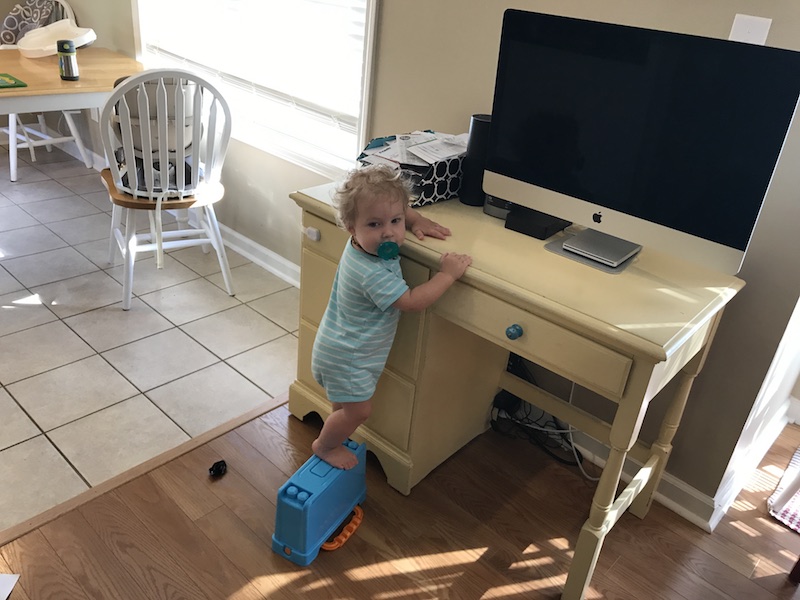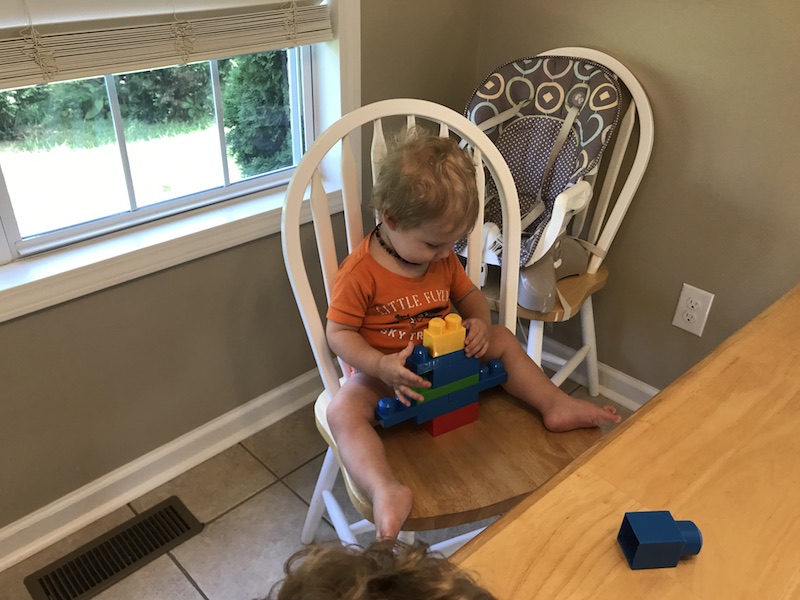 More from this month
We played outside lots and lots.  We've had some big extremes in July – upper 90s days some and then some almost fall-like days.  I actually dislike being outdoors but the boys love to play and would spend all day long outside if they could, so out we go.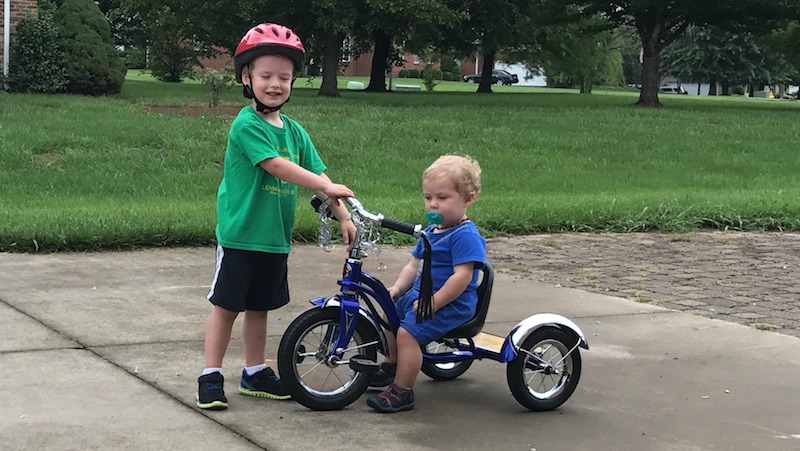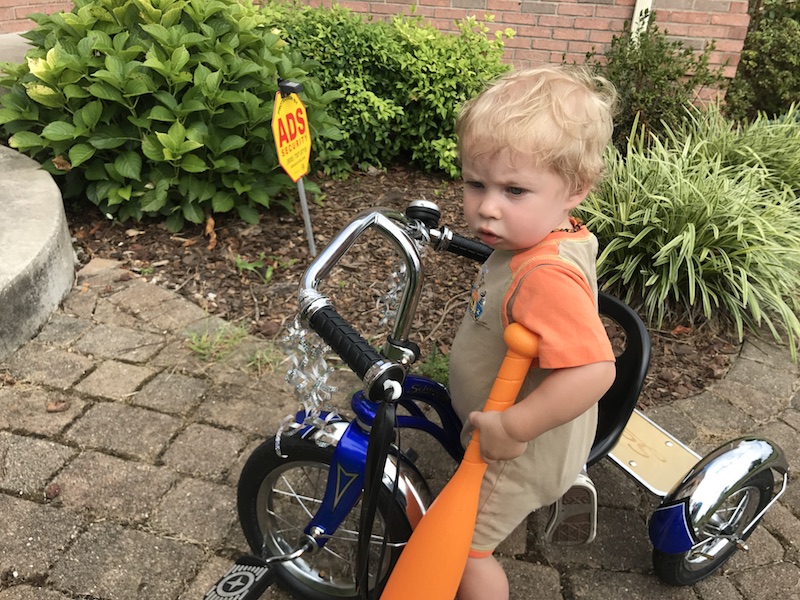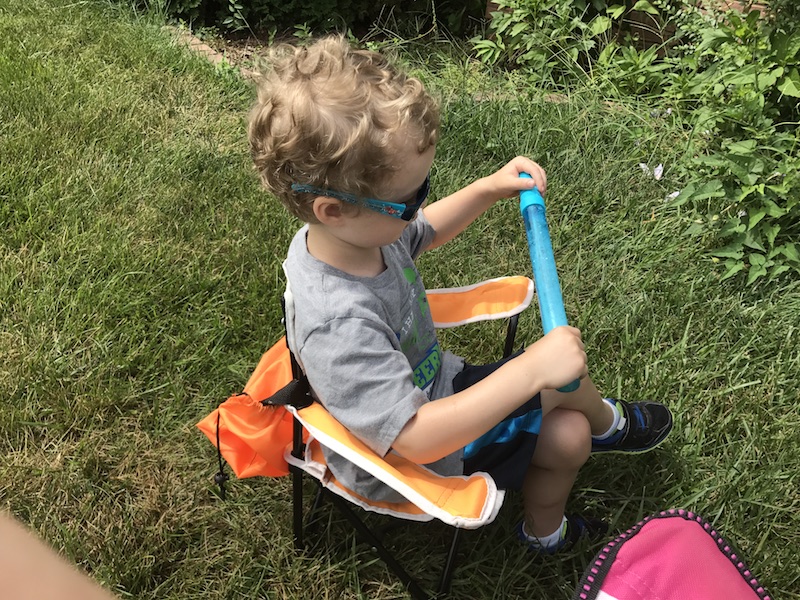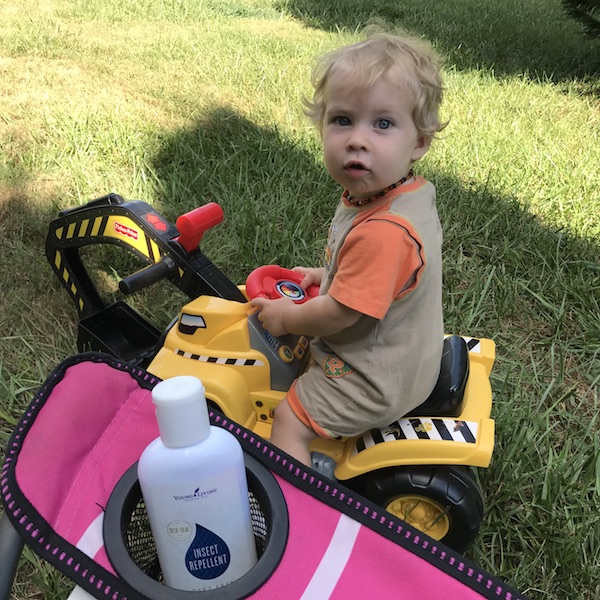 Michael has been working hard on cleaning up our landscaping and Hudson has been "helping" him.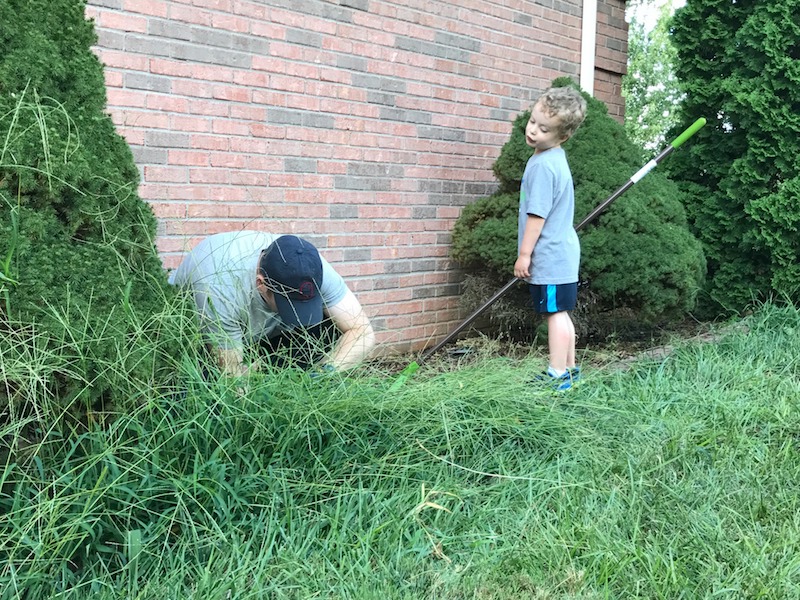 We did the same thing for 4th of July that we did last year – we loaded the kids up in the car and drove to where we could see a local firework show.  We watched from the car so that it wasn't too loud and we could make a quick getaway when it was done.
It wasn't loud at all but Hudson insisted on wearing ear muffs, even in the car.  It cracked me up the way they squished his cheeks!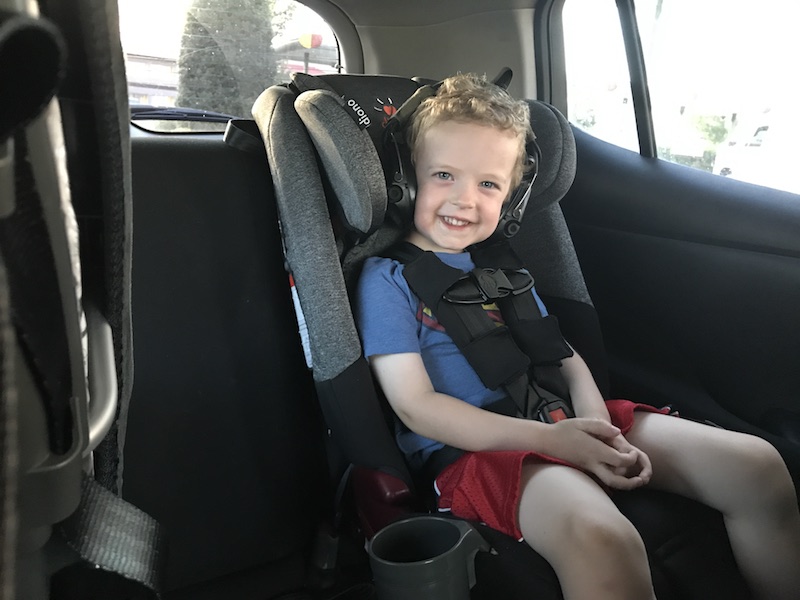 Parker fell asleep while we waited for the fireworks to start.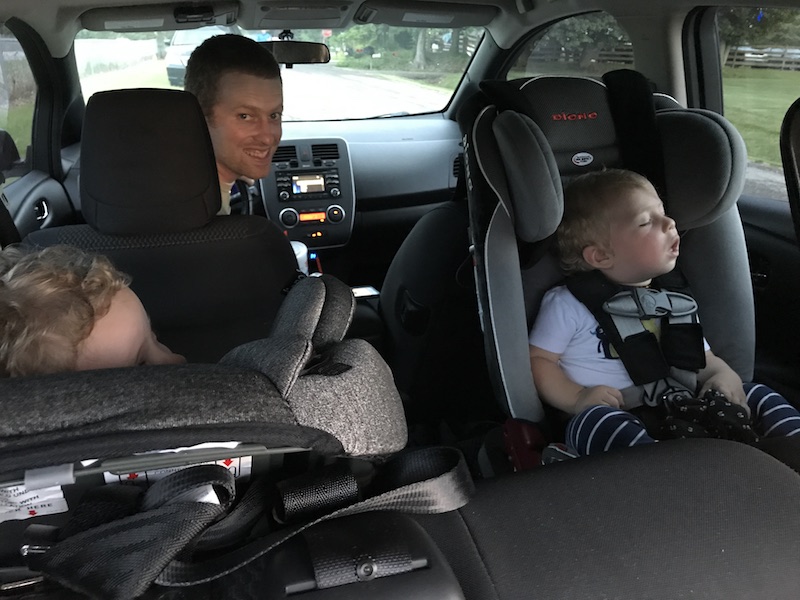 On our way to church one Sunday night we passed some little girls having a lemonade stand.  We stopped and Michael and Hudson bought some lemonade from them.  Hudson thought it was the grandest thing!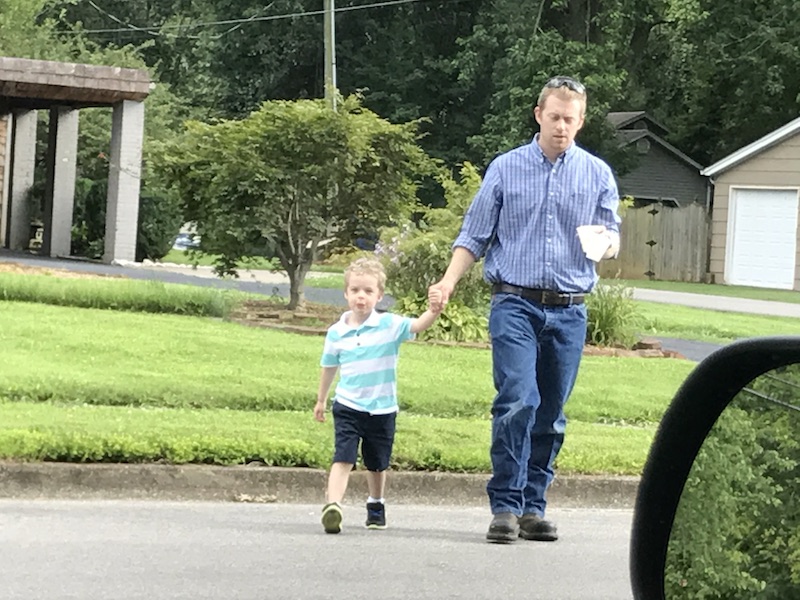 I took the boys to my mom's church camp for a couple of days.  Hudson learned how to shoot a Nerf gun (and apparently decided he needed to also hold his fishing pole and net too!  Funny boy)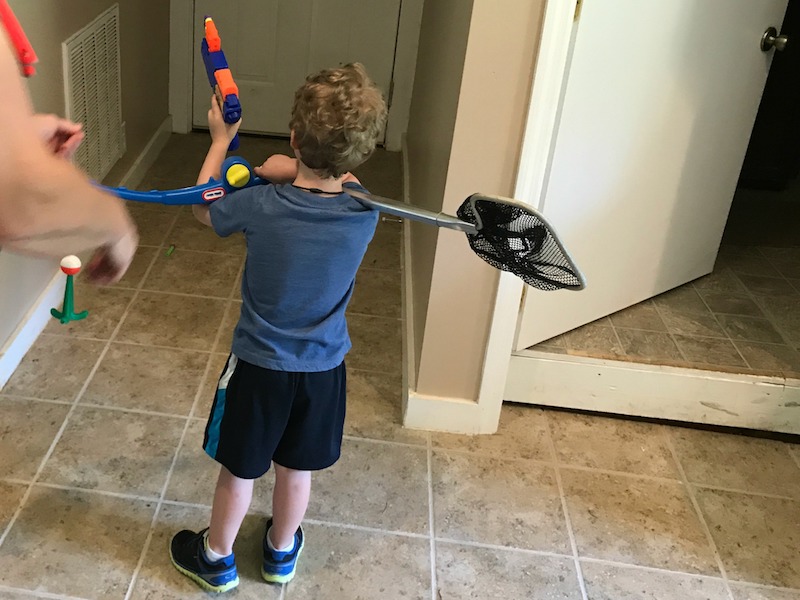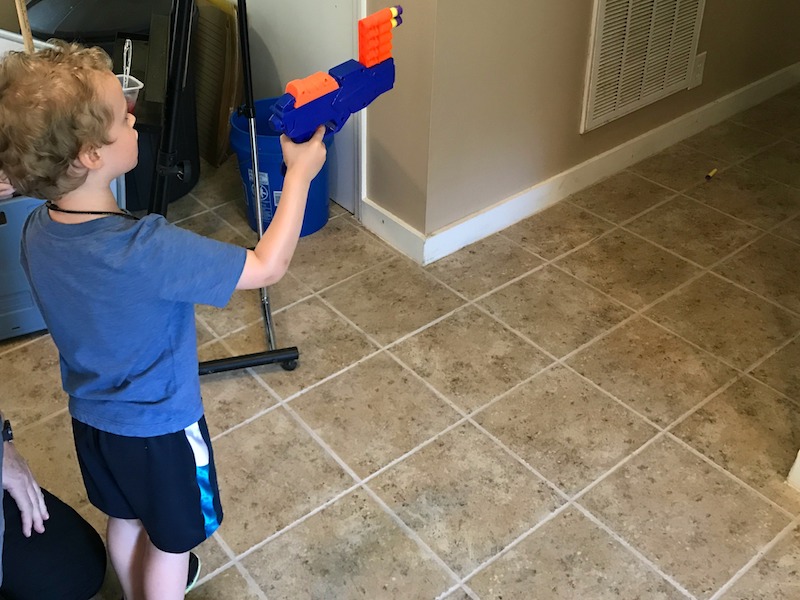 Playing with water guns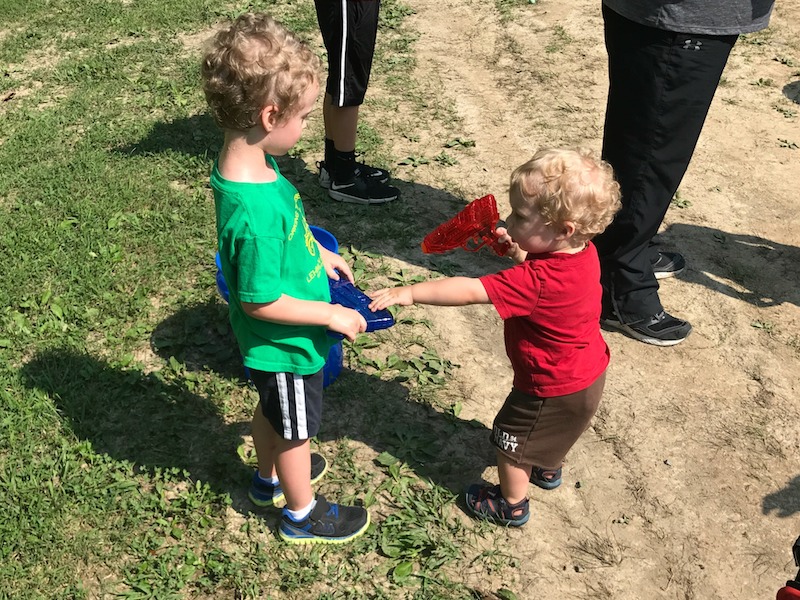 Church camp is exhausting!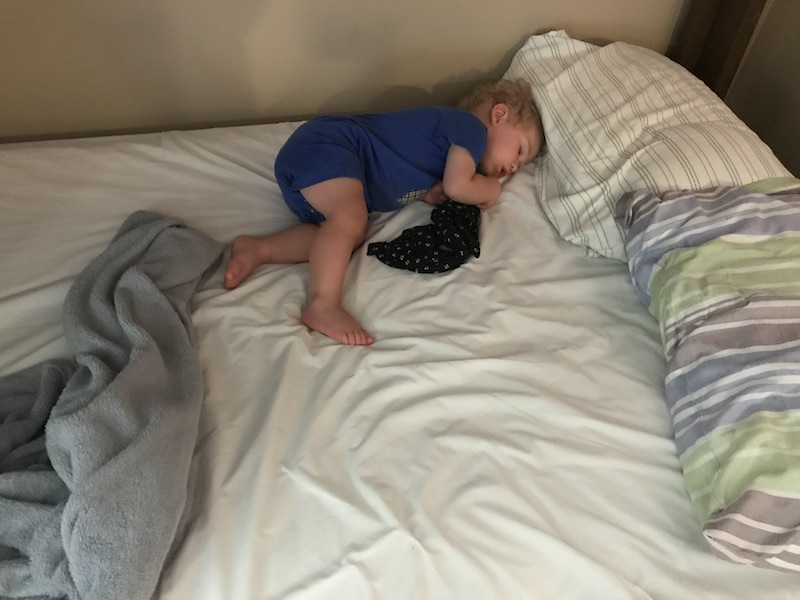 Watching Hudson and Mamie canoing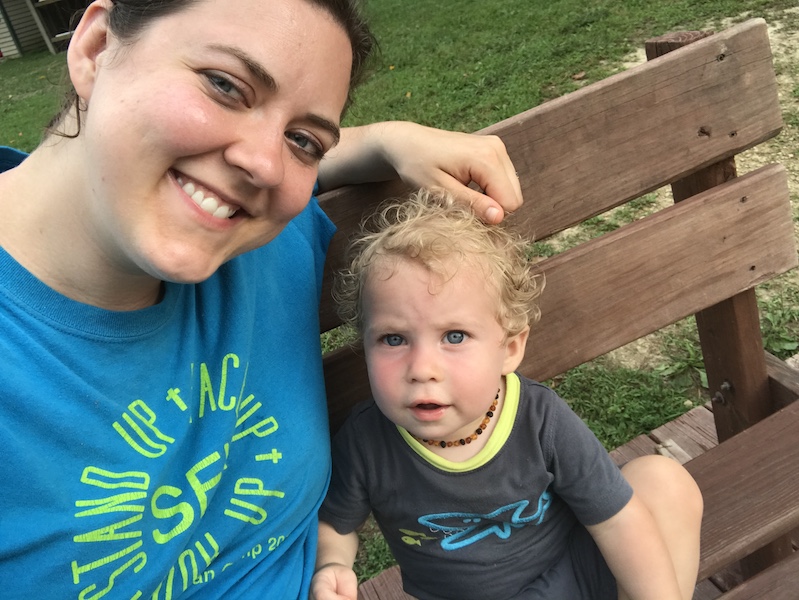 It was super hot and humid, the boys' curls were out in full force!  Parker's hair doesn't usually get this curly at all, but all the sweat and humidity made it extra curly.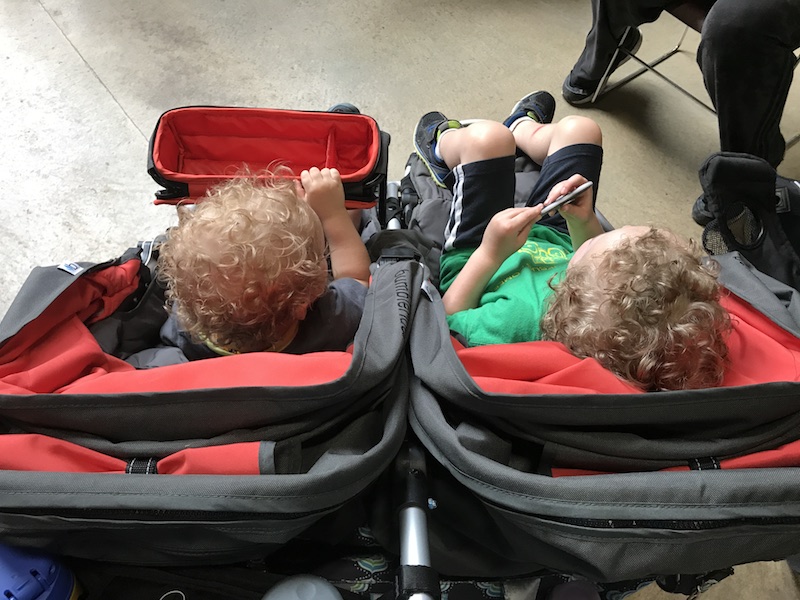 Sweet curly headed brothers.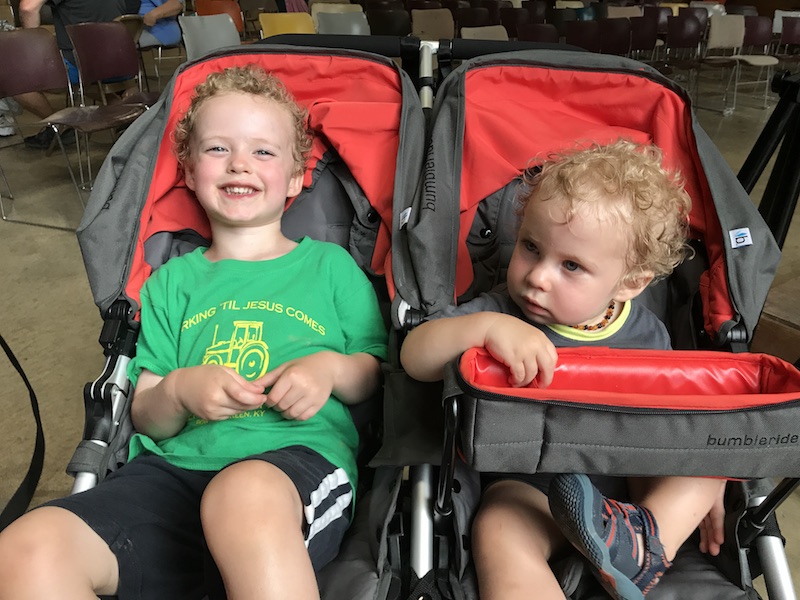 We also discovered a creek that is very close to our house and has a good area for little ones to play.  The boys loved it!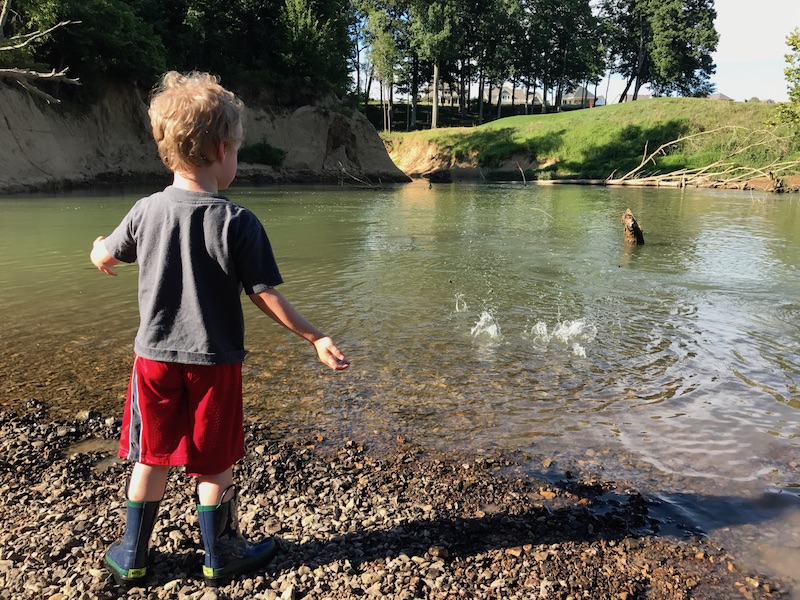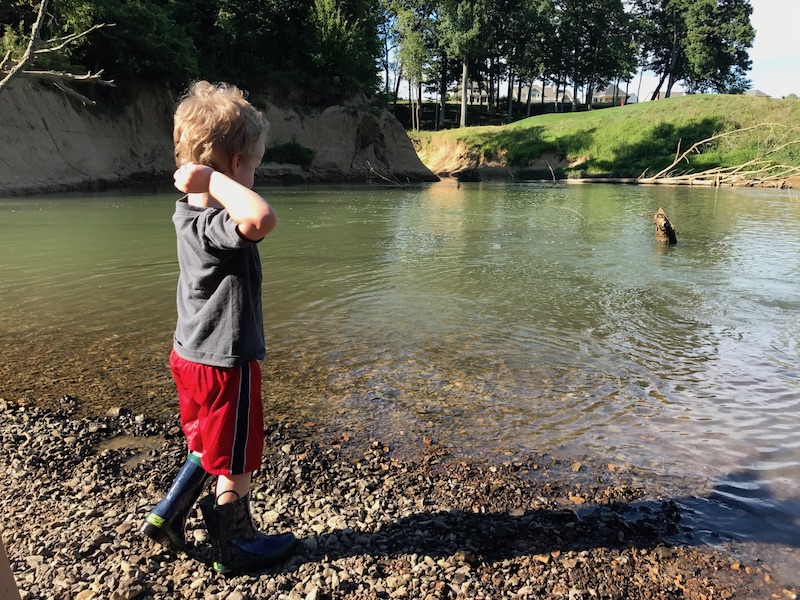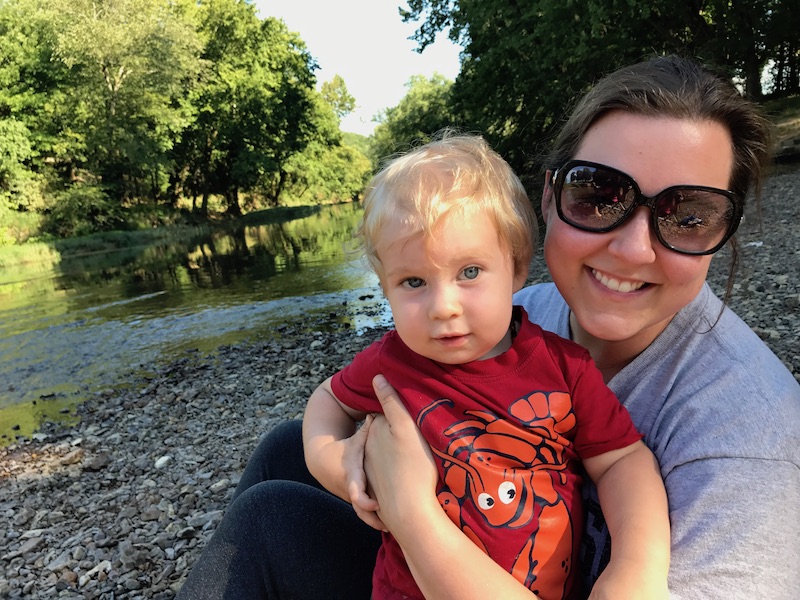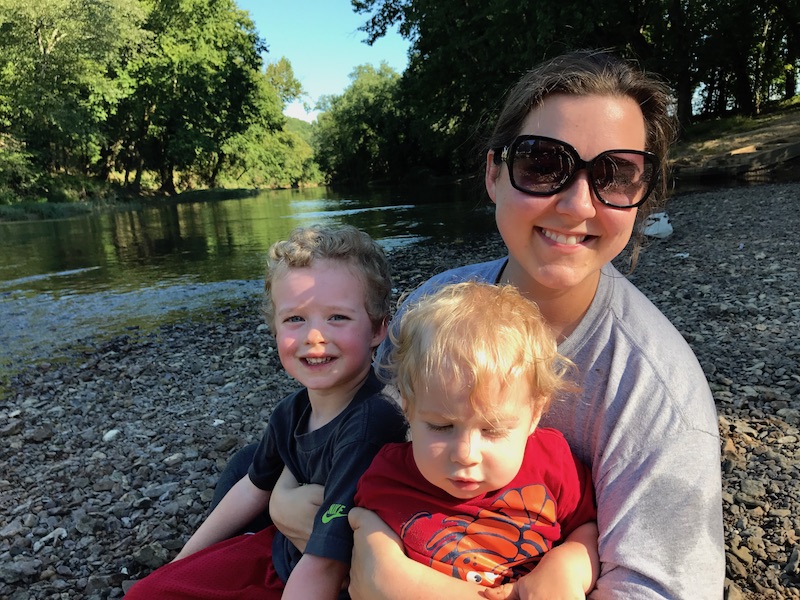 This month we had a bit of an adventure in the boys and I stayed alone overnight for the first time.  Usually when Michael travels we either go with him or we go stay with someone else and I think in the 3.5 years since we had kids I'd only stayed at home overnight alone for one night (and I only had Hudson at that point).  But Michael had a work trip to go on this month and thought of packing up all of our stuff to go stay somewhere just seemed like a ton of work this time, so I decided to stay home and see how that went.
I know that sounds pretty ridiculous because there are so many moms I know who have husbands who work 24 hour shifts or are deployed or are single parents, and so I feel a bit silly not wanting to stay by myself, but I really dislike it.
Anyway, it went totally fine.  Much better than I expected, actually.  I thought the evenings (trying to get everyone fed and in bed) would be hard since Michael is usually home during that time to help out, but I just kept my expectations low and we made do.
(Note: Hudson is still sleeping in his bed all the time and loves it up there, these pictures just happened to be in the mornings when he'd come down and get in bed with Parker and me for a few minutes)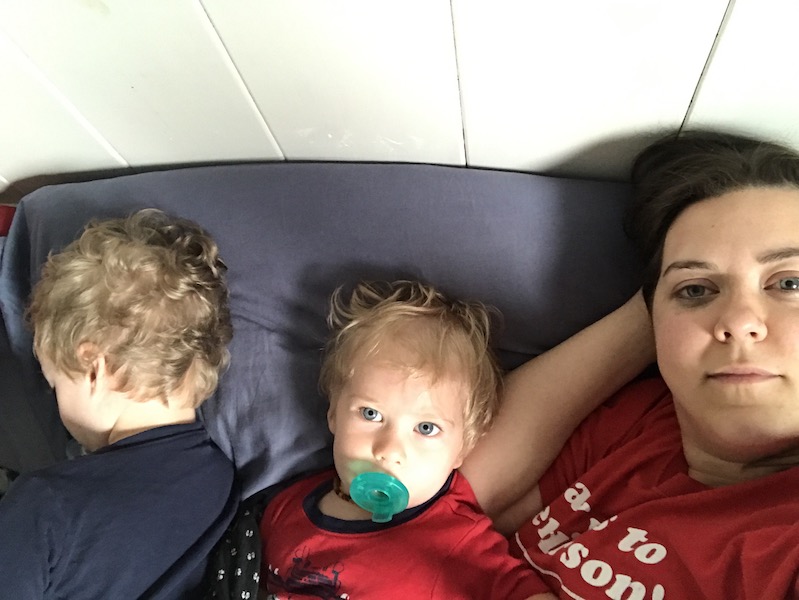 Other pictures
A super early morning with Parker.  He gets up so early sometimes and Will.Not. stay still in the bed, so when that happens we get up and he plays in the living room while I try to wake up on the couch.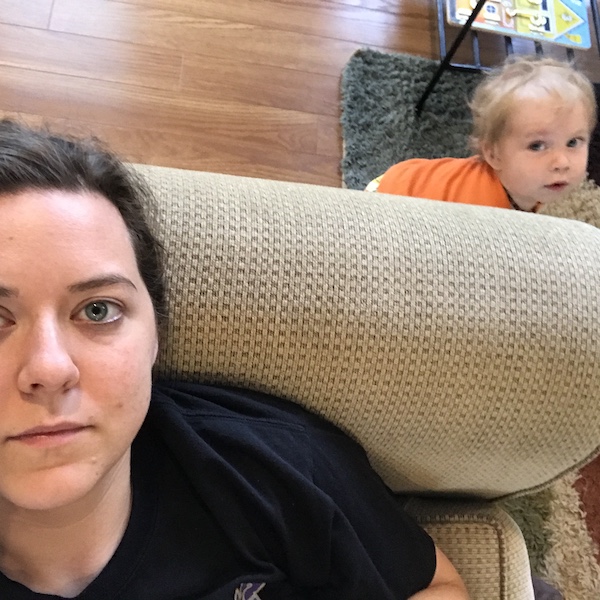 I'm not sure what Hudson was doing here but something that involved lots of plastic food (one of his favorite toys to play with)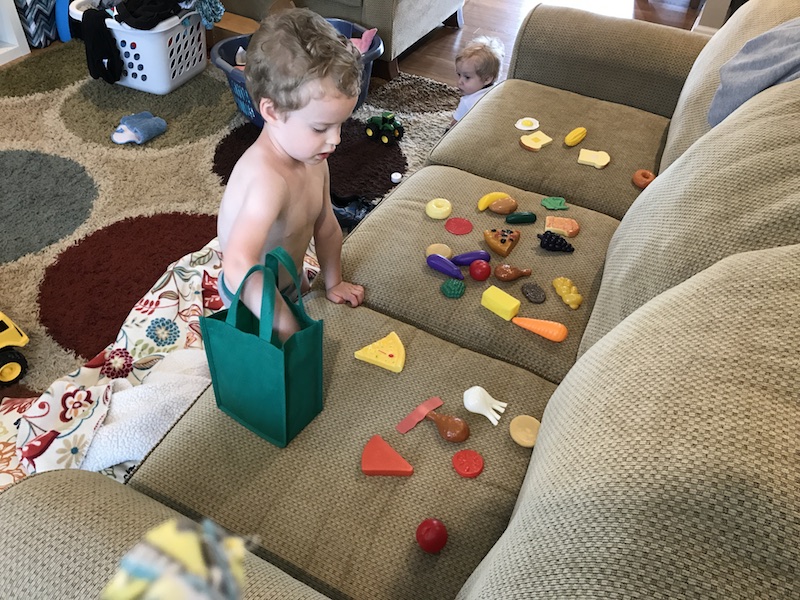 After a rough naptime where Parker refused to go to sleep and there were many tears, he finally passed out on my chest.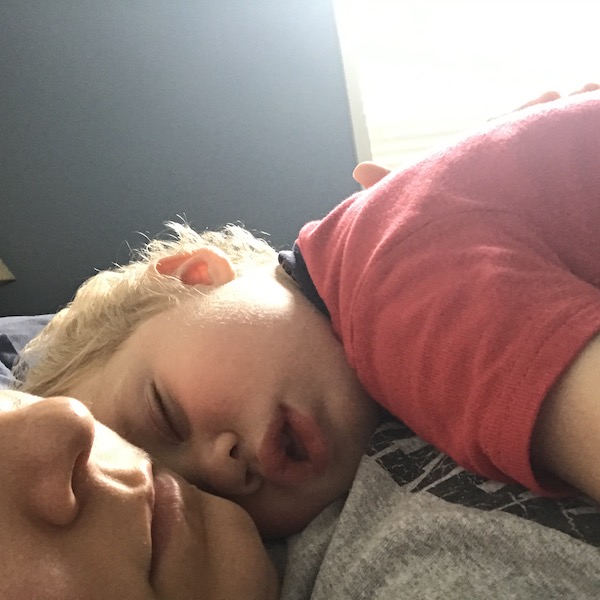 Hiding in my bedroom to drink my smoothie because Parker decided that he LOVES Mommy's Trim Healthy Mama smoothies.  He will follow me all over whining for a drink, so when Michael is home I escape for a few minutes so that I can eat it in peace.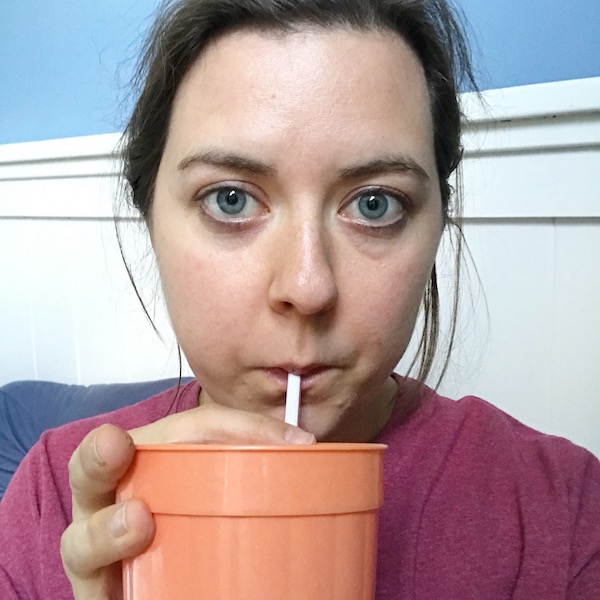 Helping me clean the kitchen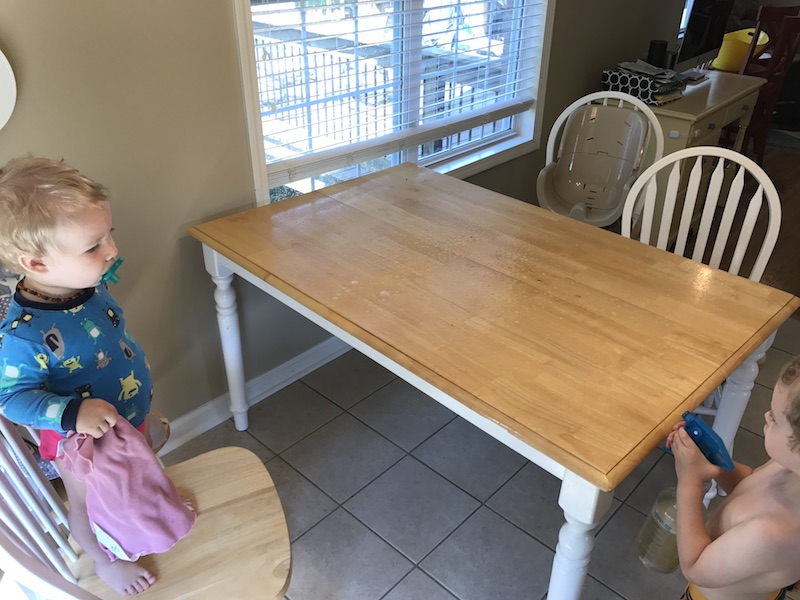 Parker helping Daddy retrive pacis from under the bed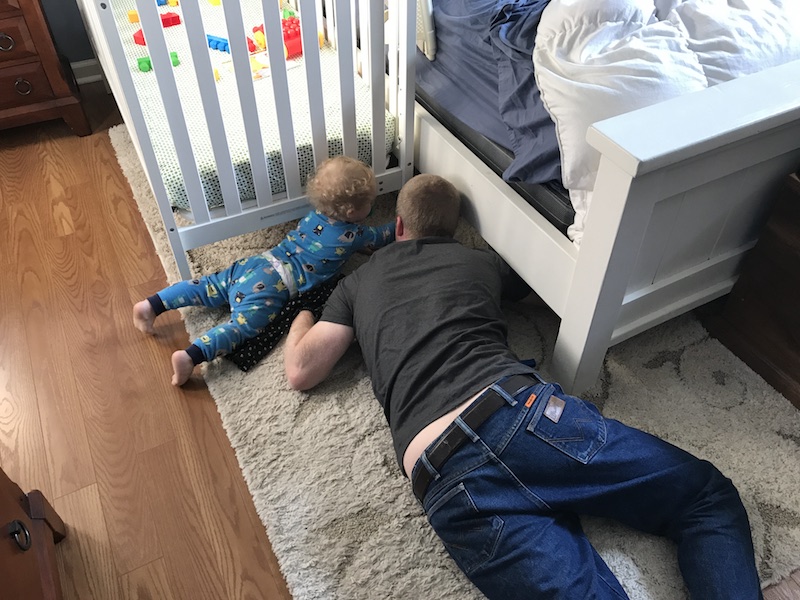 The boys love helping me wash our produce each week!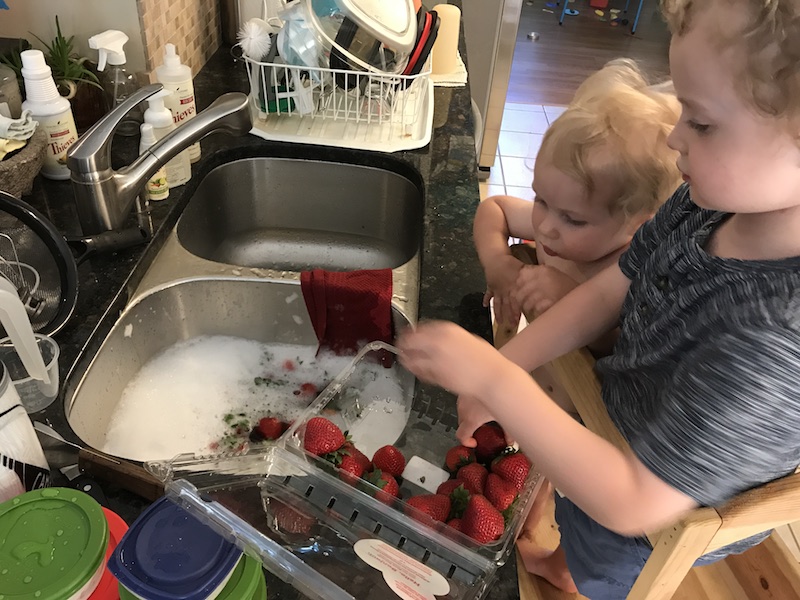 Sweet, precious brothers in Hudson's bed.