This week marks my six year blogiversary!
Six years blogging!  What?!  That is so crazy!
To celebrate, I'm doing a little giveaway so keep reading ;)
***THIS GIVEAWAY IS NOW CLOSED***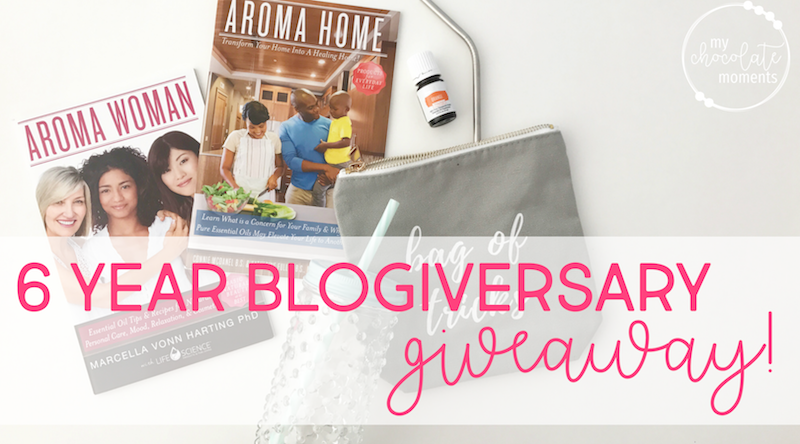 A look back
When I wrote my first blog post on August 22, 2011, I had NO idea what I was doing.  I fancied myself a "mommy blogger" (though I had no kids) because I'd been following several mommy bloggers for years.  I also fancied myself a food blogger…unfortunately I was (and still am) pretty horrible at photographing food.  Basically, I wrote about anything and everything that came to my head.
But I had things to say and so I shared.  It's funny (and embarrassing) to look back on what I wrote.  This blog has basically been my journal for the last six years (and we all know how cringe-worthy old journal entries can be…).  I'm glad I have those old posts though (even though the pictures were horrendous) for my memories.
Some of you have been with me since the very beginning.  Back when I wrote posts and the only places they got shared were on my personal Facebook profile.  Others of you have found me in more recent years as I've changed topics, discovered Pinterest, and joined other social media channels.  I'm grateful for all my readers – old and new!
A blog evolution
It's inevitable that as I've changed, my blog has changed.  When I first started writing I shared about things like learning to sew, my first quilt, recipes I enjoyed (with horrible, very unappetizing pictures), classroom organization, DIY craft projects, my outfits…back when I actually wore cute clothes (So.Many.Outfit.Posts.  Anyone remember those?).  I posted just about every day.  I look back and wonder where on earth the time to do all that writing came from?! (Oh yeah…I didn't have kids)
Then I got pregnant and had a baby and pretty much fell off the face of the earth.  I was a once a month blogger, if that, for a long time.  The shock of having a new baby compounded with the work of beginning my own essential oil business totally took over life.  Thankfully 2017 has been my year to recommit to my blog and I'm baaacccckkk!
Now I've totally changed course (because my life has totally changed course) and I'm legit a mommy blogger…and a crunchy mommy blogger at that.  Cloth diapering, babywearing, natural childbirth, weight loss, healthy meals, and lots of essential oils are the name of the game these days.
I look forward to seeing how things change even more in the years to come!
By the numbers
I'm a huge number lover so here a few notable ones:
6 years.  811 blog posts (that's insane).  1.2 million blog views.  3 blog redesigns.
2 cities.  2 moves.  3 houses/apartments.  2 babies.  4 jobs for me.  3 jobs for Michael.
Who knows how many pictures taken or hours spent writing.
So many precious memories.
Giveaway
In honor of my six year blogiversary I wanted to do a giveaway.
I also decided that after six years it was about time I created a newsletter for my blog, so today I am launching my shiny, brand new, My Chocolate Moments newsletter!  Newsletter subscribers will get behind the scenes peeks, updates, extra special info, and more.
Entering the giveaway is super simple…just sign up for my newsletter!  Then fill out the rafflecopter below the newsletter sign up so that I know that you did it.  There are some other entry options there as well.  The winner will be announced on Monday, August 28.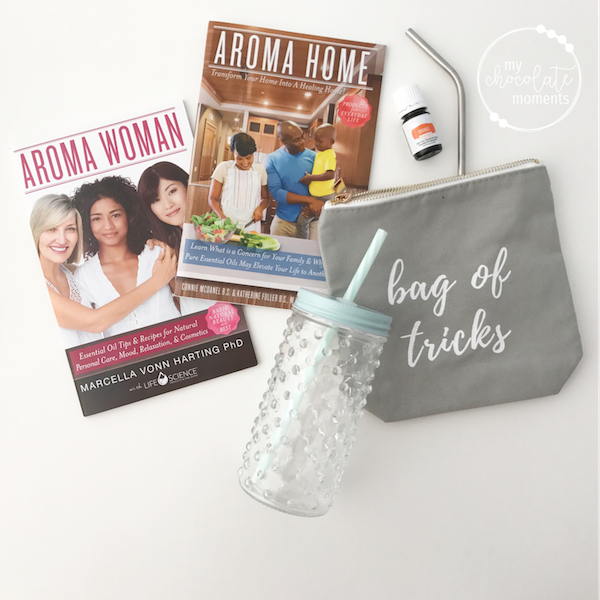 Giveaway includes:
2 essential oil books (Aroma Home and Aroma Woman)
cosmetic/oil bag
drinking glass
stainless steel straw
orange vitality essential oil
In addition to being entered into the drawing, I'm also giving away a little something to each of you who subscribe.  After you sign up you'll receive an email with a downloadable Daily Essential Oil Guide for Busy Mom.
May the odds be ever in your favor!  And thank you for being a part of my blogging journey!