One of the best routines we've implemented into our home and meal planning is to always do a crock pot meal on Sunday nights.  We were running into the problem that by the time we got home from church Sunday night then fixed our supper (even if it was a "quick" meal) it was wayyyyy late.  Things got SO much easier when we started doing crock pot meals – we put the ingredients in the crock pot Sunday afternoon, then when we walk in the door after church Sunday night we're able to dish it straight out onto plates/bowls and be eating within 5 minutes.  I can't believe we didn't figure this out sooner!
This Ten Minute Taco Soup recipe is one of our Sunday night crockpot faves!  We had this for the first time after Parker was born when our friend Amber brought us a meal.  We instantly fell in love, got her recipe, and have made it a gazillion times since.  We actually call this "Amber soup" but I renamed it Ten Minute Taco Soup so that it would make more sense to you ;).
It's ridiculously easy to make and everyone in my family LOVES it.  It's also got simple ingredients that are convenient to keep on hand in case you need a quick meal.  This recipe makes a lot so the boys and I are usually able to eat the leftovers for lunch a couple of days during the week.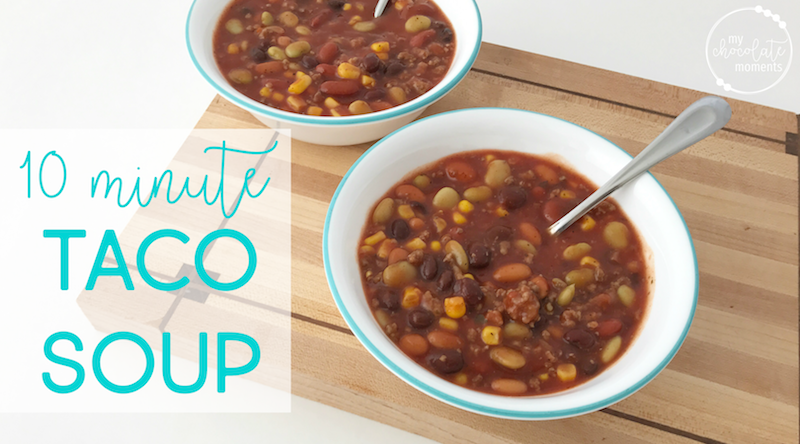 Ingredients:
1 pound ground beef
1 large can (46 ounces) tomato juice
1 can kidney beans, rinsed
1 can black beans, rinsed
1 can pinto beans, rinsed
1 can lima beans, drained
1 can corn, drained
2 Tablespoons taco seasoning (we make our own using this recipe)
2 Tablespoons ranch seasoning (there are a lot of homemade ranch mix recipes out there so you could use that or use a mix from the store like Hidden Valley)
Instructions:
Brown the ground beef.  While that is cooking drain and/or rinse the beans and corn.  Add the beans, corn, tomato juice, cooked ground beef, and seasonings to your pot.  Bring to a simmer and cook until heated through.  If you want to fix this in a crock pot for later, then put all the ingredients in a crock pot and set on low until it's hot (we usually use our Instant Pot and it's slower than a crock pot, so we set it for 4 hours on low)
Seriously, SO easy!
If you are a fellow Trim Healthy Mama, this is a THM-E meal if you rinse the ground beef really well or use another lean ground meat instead.
And before anyone points it out…yes, I know that I could totally make this both cheaper and healthier by using dried beans, which I'm sure any good crunchy blogger worth her (pink Himalayan, of course) salt would do, but I never remember to get my beans soaking in time and some areas I compromise in – this is one of them.  Maybe someday I'll get around to making this recipe with dried beans, but for now it's easier just to go with the cans.  Balance, you know?
If you happen to make this recipe using dried beans, please come back and comment on how it went, what amounts you used, what steps you did, etc.
What's your favorite crockpot meal?  I'm always looking for more to add into our Sunday night rotation!