While in most areas it still feels like summer, the reality is that fall and winter will be here before you know it!  In my opinion, this is the time of year that it is most important to take steps that will help you stay healthy!  Winter just seems to breed ickiness…no thank you!  Here are some of my favorite Young Living products and essential oils for winter wellness (well really for year 'round wellness, but especially in the winter.
---
This post contains affiliate links.  I am a Young Living independent distributor so if you purchase a product through my link I make a commission at no cost to you.  You become part of my Oily Moments community and we will be here to help you with your new oils.  Thanks for joining with me!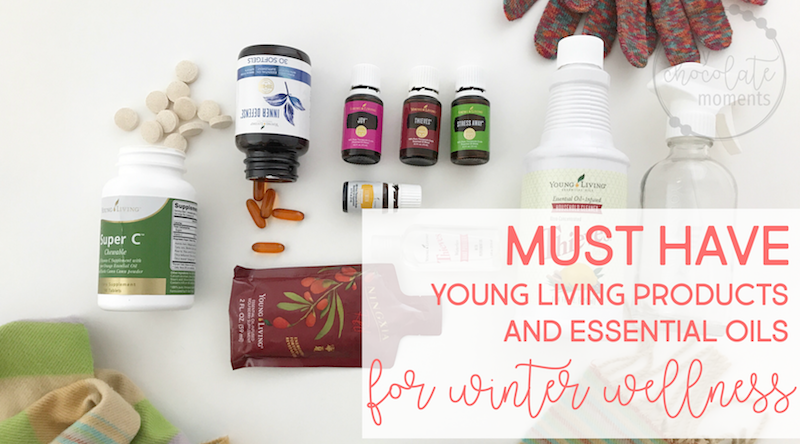 In no particular order:
Products around the Home
1. Thieves foaming hand soap
One of the first lines of defense against germs is washing your hands!  Thieves foaming hand soap is a plant based soap that smells great, doesn't dry your hands out, and gets you clean without using harsh chemicals.
2. Thieves hand purifier
Clean hands on the go is a must, especially when you have little ones who want to touch EVERYTHING, or you're changing diapers or using public restrooms or touching grocery carts and so on and so on.   While I'm not a big germaphobe and not super intense about cleaning our hands constantly, I do like to have something on hand (pun totally intended) for those extra icky situations.  I love Thieves hand purifier because it smells amazing, contains aloe so it isn't drying to the skin, and contains the cleaning power of Thieves essential oil.
3. Thieves household cleaner
Again, keeping things clean is your first line of defense!  I ADORE my Thieves Household Cleaner because it is a 100% plant and mineral based cleaner, formulated with natural ingredients, harnesses the power of Thieves essential oil, is biodegradable, complies with EPA standards, and is a safe cleaner that doesn't contain harsh ingredients like many household cleaners.
Also, Thieves Household Cleaner is a concentrate so it lasts foreverrrrr because you mix a small amount of THHC with water to make your all purpose cleaner.  It also cleans just as good or better than "traditional" cleaners.  Oh and it smells like Christmas so there's that too.
Seriously in love with Thieves cleaner and love that it helps me keep my house clean and my family healthy.
Essential oils
4. Thieves vitality essential oil
Super supportive to both the immune system and respiratory system, Thieves vitality oil is a must have for winter wellness!  Thieves vitality is one of the free promo oils this month too!
5. Lemon vitality essential oil
Lemon essential oil is full of d-limonene, which is a powerful wellness-promoting constituent.  I like to add a drop of lemon vitality to my water throughout the day – it not only makes my water taste great but also helps boost my immune system!
6. Stress Away
Physical wellness is important, but emotional wellness is too.  And a stressed body is not a healthy body.  Stress Away essential oil is one of my favorite oils to help relax and de-stress.
7. Joy
On the topic of emotional wellness, winter seems to be the most "blah" time of year.  For me that's usually in January after all the excitement of Christmas is over and it's cold and dark outside.  Joy to the rescue!  The essential oil is great for helping to lift your spirits!
Supplements
8. Ningxia Red
This antioxidant powerhouse is a key player in our health and wellness.  Ningxia Red supports energy (which is why I originally started drinking it as a tired new mom), normal cellular function, normal eye health, normal blood sugar, normal cholesterol levels, and whole body wellness.  Everyone in my family drinks this daily!
9. Super C 
Super C is a powerful immune supporting supplement that supplies you with the optimal amount of Vitamin C.
10. ImmuPro
ImmuPro is specially formulated to provide exceptional immune system support.  This power-packed formula delivers powerful antioxidant activity to help reduce the damaging effects of oxidative stress from free radicals.  It provides zinc and selenium for proper immune function and melatonin which encourages restful sleep (sleeping well is so important to staying healthy!)
11. Inner Defense
Inner Defense reinforces systemic defenses, creates unfriendly terrain for yeast and fungus, promotes healthy respiratory function, and contains potent essential oils like oregano, thyme, and Thieves which are fantastic for immune support.
(Inner Defense also happens to be one of the free promo items this month!)
Of course in addition to these things, make sure you're eating healthy, sleeping enough, exercising, etc. to help keep your body and wellness in top notch condition!
Interested in any of these products?  I can get you the hook up!  Check out how to order here:
Want to grab all of the items here?  Here's what I'd suggest in order to get the best bang for your buck:
1. Create a wholesale account with a Thieves starter kit, which is $160 and comes with:
2 bottles of foaming hand soap
2 bottles of hand purifier
2 bottles of household cleaner
5 ml bottle of Stress Away oil blend
15ml bottle of Thieves oil blend
Thieves Aromabright toothpaste
2 bottles of Thieves spray
2. Join essential rewards and add on:
lemon vitality
Joy
Ningxia (multiple options depending on if you want bottles or packets, and how much you want to get)
Super C
ImmuPro
These items cost around $400, depending on what Ningxia package you get
3. Your total will be around $340, which means you'll also get Inner Defense and Thieves vitality for free as part of the September promo! (Plus free oregano vitality, Peace & Calming, and Cool Azul)