We never fed our kids baby food.
Don't worry, we DO feed our kids!  Just not baby food.
Back before I had kids I imagined that I'd make my own baby food.  I figured a few hours of work in the kitchen and I'd be able to save money plus make sure my little ones were getting healthy options.  But then I found about Baby Led Weaning, which completely skips baby food and goes straight to table food.  I loved the idea of it so I gave it a try – we've now used it with two kids and it's been great!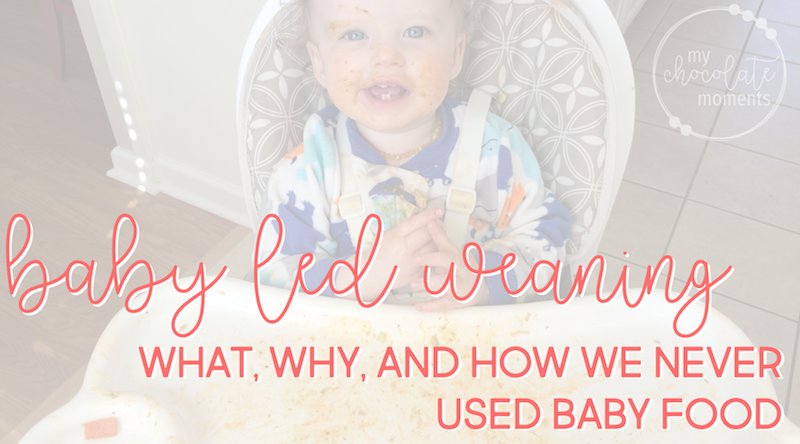 What is Baby Led Weaning?
The basic concept behind Baby Led Weaning, or BLW, is that you let your child feed themselves from the get-go and use table food rather than purees or baby food.
(The terminology can be a little bit confusing because we typically use the word "wean" to mean "stop breastfeeding" but in this case it actually means "introducing solid foods".)
Why choose Baby Led Weaning?
It's easier.
Seriously.
There are several good reasons to go with BLW, but my favorite reason is that it's easy!  No mushing up and freezing food, no need to make sure to have a jar of baby food with you on the go, you fix everyone the same meal.
Call me lazy but I sure like the convenience.
Some other benefits though include:
It's less expensive than buying baby food
Your baby is able to have some control over what they do or don't eat
Your baby gets introduced to a wide variety of flavors and textures
It's good for baby's fine motor skills and hand/eye coordination
Another one (that I can't say is 100% because of BLW) is that both of my kids are fantastic eaters so far.  They eat a lot, they eat very healthily, and they eat a large variety of food.  That might have happened without doing BLW or we might have done BLW and still ended up with a very picky child, who knows.  But so far for us Baby Led Weaning seems to result in good eaters.
How do you start Baby Led Weaning?
There really isn't anything to DO to start BLW – just set your baby in the high chair and go.  There are a few guidelines though.
You want to make sure your child is ready before you start BLW.  Some indicators are:
At least 6 months old (this goes for any food actually, babies shouldn't have anything other than breastmilk or formula before 6 months old)
Able to sit up on their own
Showing interest in your food
Able to pick up smallish objects
And a note on the first point there, like I mentioned babies shouldn't be eating anything before 6 months of age but even right at 6 months, they may not be ready.  Both of my kids had issues when I first introduced food (lots of painful gas – which told me that their digestive systems were not quite ready yet), so I backed off on the solids and tried again a month or so later and they were ready then.
Once your baby is ready, you can start feeding them whatever you're eating.
Favorite first foods
With both kids, we started off with steamed veggies, like squash, carrots, and broccoli, that were large enough chunks they could hold in their hands and gum on.
Some other favorites:
fruit of all kinds
avocado
sweet potatoes (a plain sweet potato is a great option for when you're eating out, many restaurants offer that on their menu)
fried eggs
cucumbers
Greek yogurt
cheese
beans
oatmeal (real oatmeal, not the baby stuff)
pieces of chicken or hamburger
You can see more about what we first gave our kids when they started solids: Hudson's here and Parker's here
Baby Led Weaning cons
Of course, all things have their cons.  One of the biggest ones for BLW is, as I'm sure you can imagine, that it's pretty messy.  Letting a 6-month-old (or 9-month-old, or 12-month-old) dig into their food themselves is not the neatest activity around.
It can also be a little bit scary.  The gag reflex in young babies is a lot closer to the front of their mouths than that of an older child.  That's a good thing because they usually gag and spit their food out well before it's far enough back in their mouth to be a choking hazard.  However, it's still a little alarming to see them gag, even if logically you know they aren't choking.
Making it work for us
As with ALL things parenting-related, I say you have to modify things and figure out what works for your family.  Feeding your child is no different, so research Baby Led Weaning for yourself and then figure out what works for you.  Some things we do differently:
I'm not a fan of messes so while I do let the kids feed themselves a lot of things, there are other dishes (soup, spaghetti, applesauce) that I'll often feed them myself to try to control the mess
Same goes for if we're in a rush or we're eating out in public – I do more of the feeding myself to minimize mess
Some BLW parents do not use any form of baby/toddler food or snacks, but we chose to keep things like Puffs and a few other baby-friendly snacks around to use when we're in a hurry or on the go.
We've never used baby food pouches but we do keep applesauce pouches or other similar fruit/veggie pouches on hand for snacks on the go
For more reading, I really liked this post about Baby Led Weaning, this was a good list of Dos and Don'ts, and here's the offical BLW website.
Did you use Baby Led Weaning with your child?  What were some of their favorite foods to eat?