What.A.Month.  We had some big adventures this month, the biggest ones being Hudson giving up his pacifier and me leaving the boys for the first time overnight.  Here's our September 2017 family update:
Hudson
On the first Saturday of the month, Home Depot has a day where you can bring your kids and build a project with them.  We'd never been before but this month Michael and Hudson went to that while Parker and I ran some errands.  As you can see from his happy face, Hudson had an absolute blast!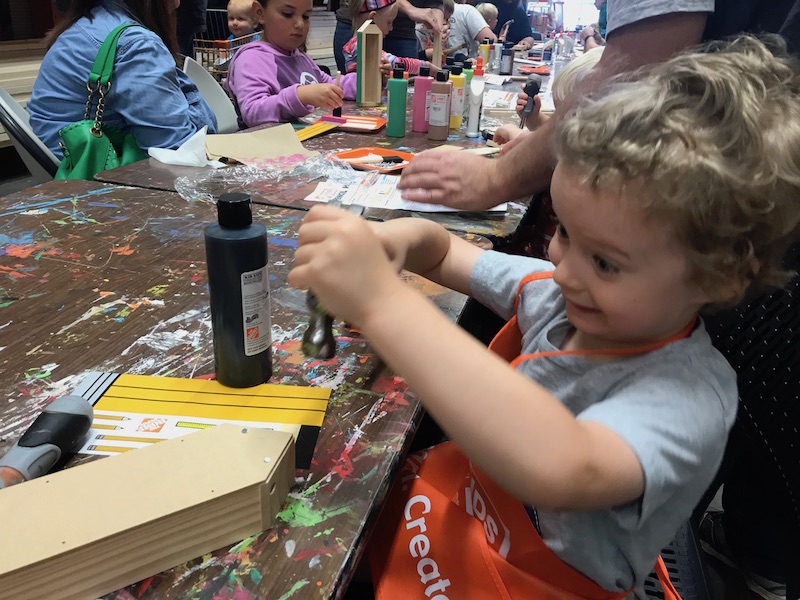 Parker and I had fun too, but maybe not *quite* as much fun as Hudson ;)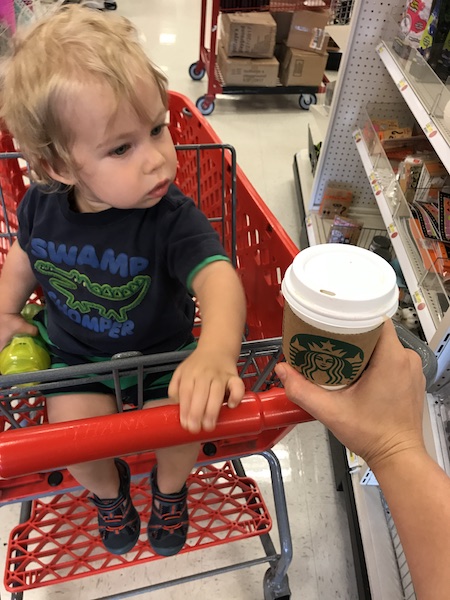 While Parker and I were at Target, Michael called and said that Hudson was ready to give up his paci in exchange for a hammer.  Michael saw how much Hudson was loving getting to build stuff and thought this might be something he was willing to give up his pacifier for so he asked him and Hudon said yes.
Parker and I went and picked them up (how cute is Hudson in his little apron!) and we headed home to get his paci.

He didn't seem sad at all!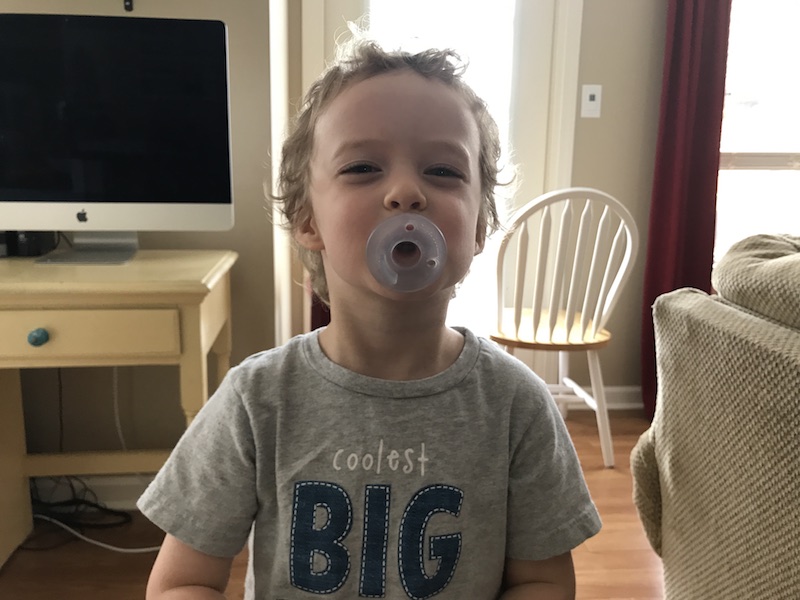 We went back to Home Depot, paci in hand, and picked him out a hammer.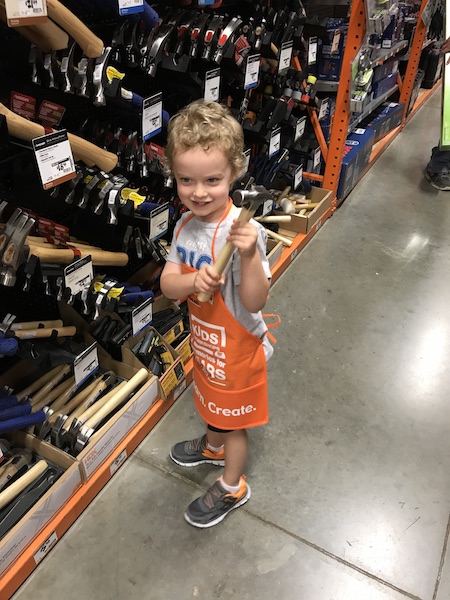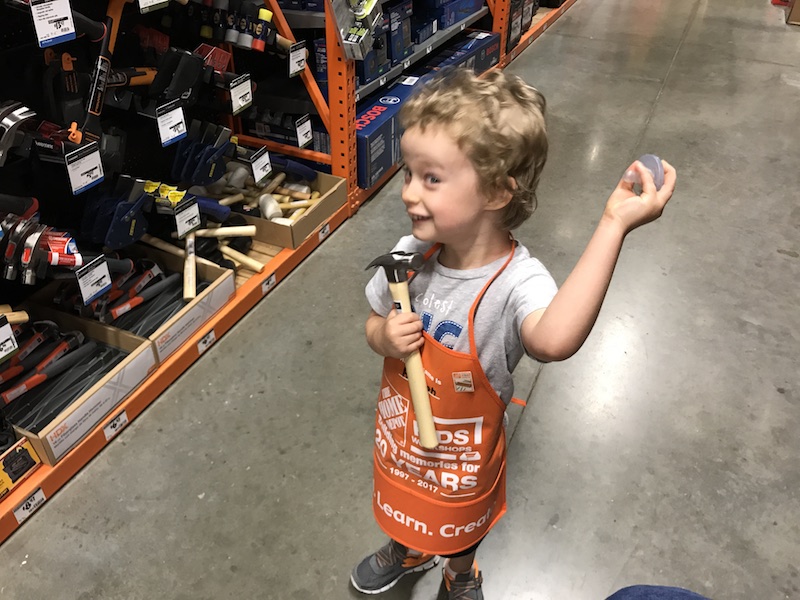 Hudson marched right up to the register and set his paci on the counter to use to "pay" for his hammer.  The poor girl checking us out didn't really understand what we were doing I don't think – they probably don't get pacis for payment often!  After Michael paid for the hammer I let them walk out of the store ahead of me, then I grabbed the paci off the counter and threw it away in a nearby trashcan.  I knew if I took it with me then I would be tempted to give it back to him when he cried for it later.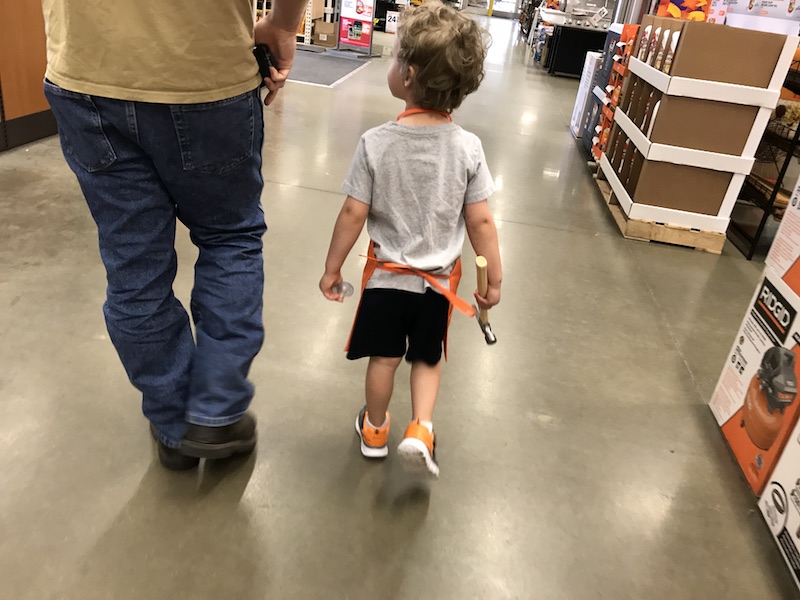 We celebrated with Hudson's favorite restaurant – Chick Fil A.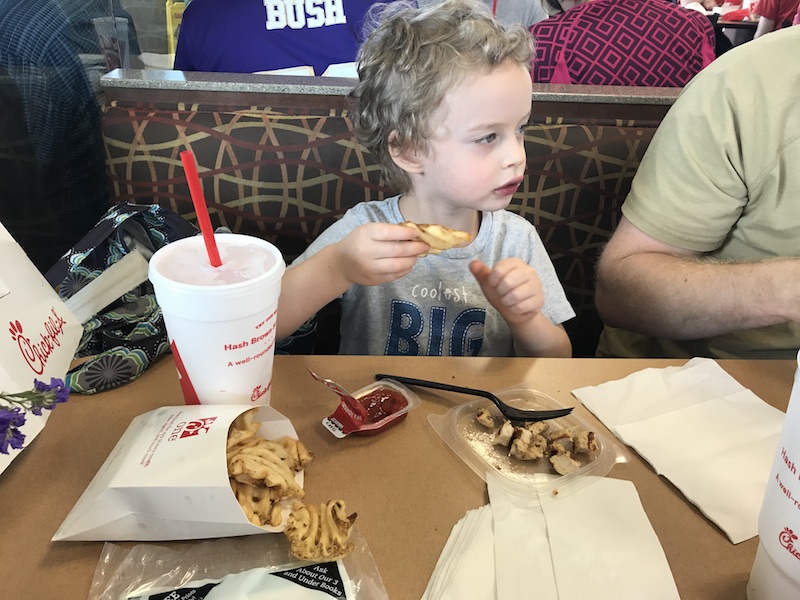 No lies here, I was SUPER nervous.  I was glad Micahel took the opportunity when he saw it because it was well past time for us to take the paci away, but I was afraid it was going to be a rough transition.
That afternoon his naptime was fine.  He just played in his bed and looked at books.  That night was a different story – he cried really hard and said "I don't want to be a big boy anymore!".  Thankfully he only cried for about 15 minutes then settled down and went to sleep.  The next night he mentioned it casually, in an "oh we forgot to grab my paci before we came upstairs!" way but as soon as I reminded him that he didn't use it anymore he was fine and went right to sleep.
Since then he's been mostly fine.  There have been some nights that he has asked for it and been a little sad but the majority of the time he doesn't bring it up at all.
During those first few days he and Michael built several things with his new hammer, including this toolbox to store the hammer in.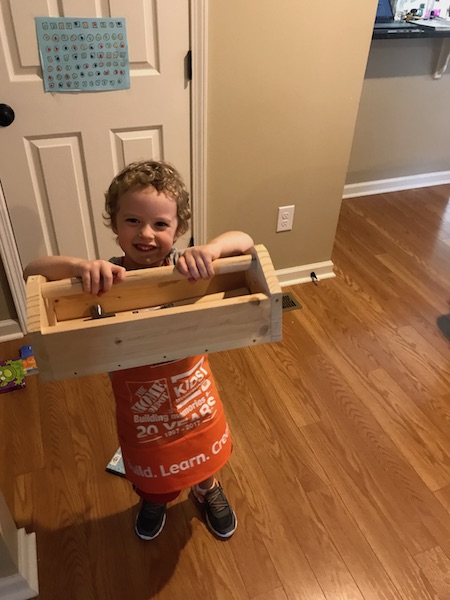 Parker watching them work out in the garage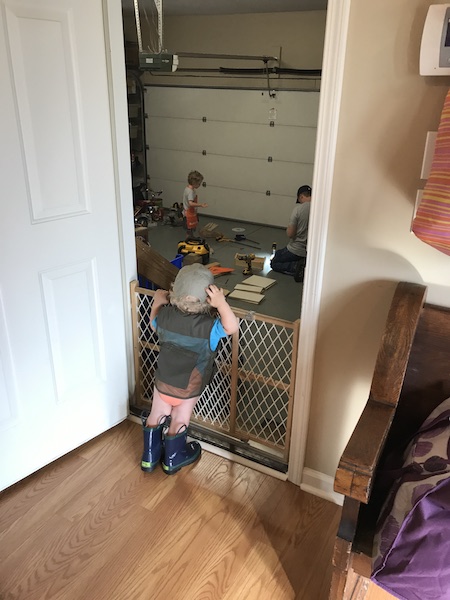 They also made a stool for Hudson to use to climb into his bed easier.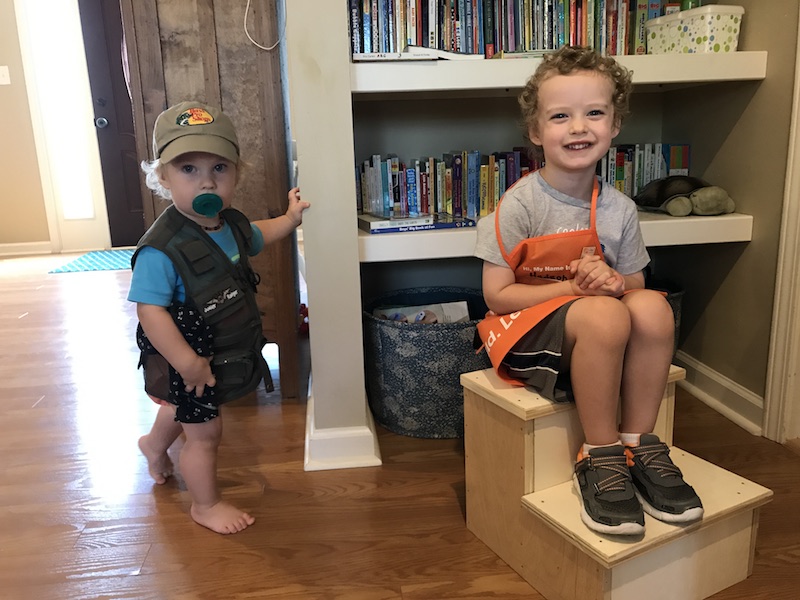 The biggest downside to this whole thing is that now that he doesn't use a paci he rarely naps anymore.  On one hand that's good because he goes to sleep faster at night, but on the other hand I hate it because their nap time is my main work time and I really need some quiet to get things done!  He has "rest time" in his bed (which sometimes ends with a nap but not always) but he spends most of that time going to the bathroom, asking me questions, or getting into things in his room, so it's not restful at all for either of us.
A couple of other Hudson updates from this month:
Even though he won't turn four until the end of January we went ahead and moved him out of the 2 and 3-year-old class at church and into the 4 and 5-year-old class.  He teacher felt like he was ready and the 2/3 class was getting too crowded so they wanted to move some of the older kids up.  He's done great with it!  I compared pictures from his first day in the 2/3 class and his last day in the 2/3 class and wow…what a difference!  He has changed so much!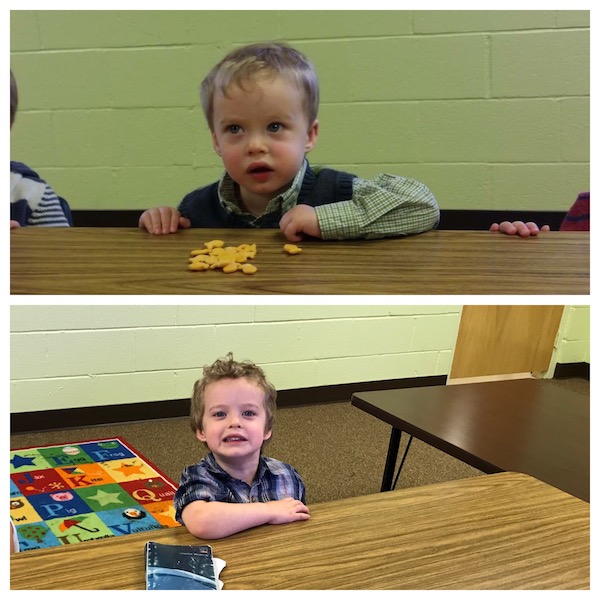 Hudson learned how to cut and has enjoyed cutting all our paper into itty bitty pieces!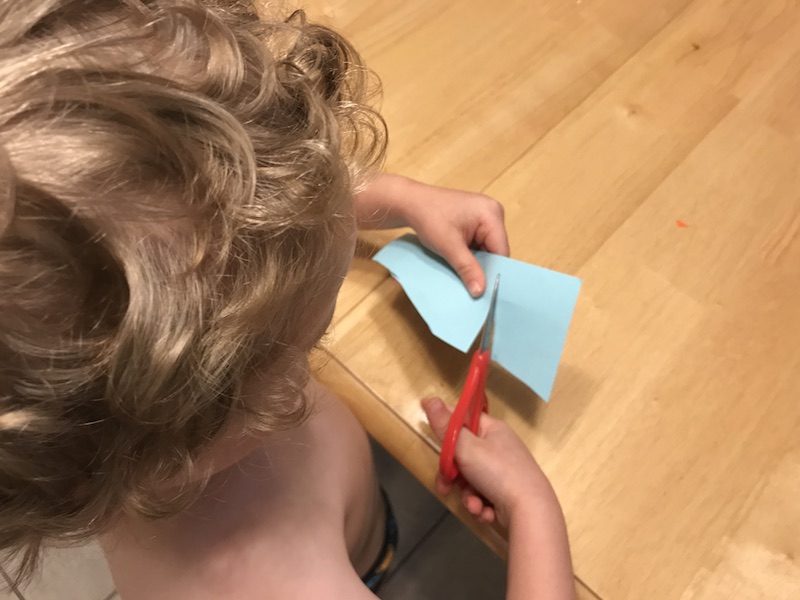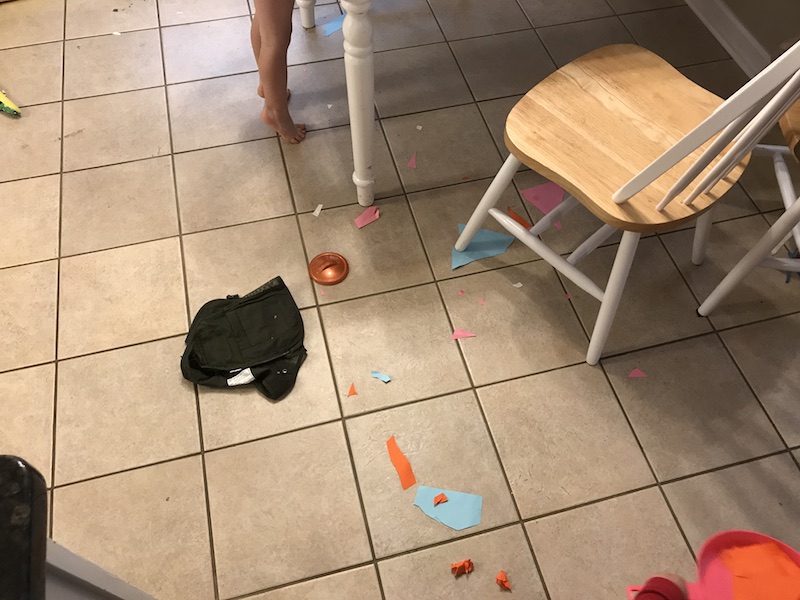 Parker
I mentioned last month that Parker was sleeping in his crib some at night (for part of the night) and at nap.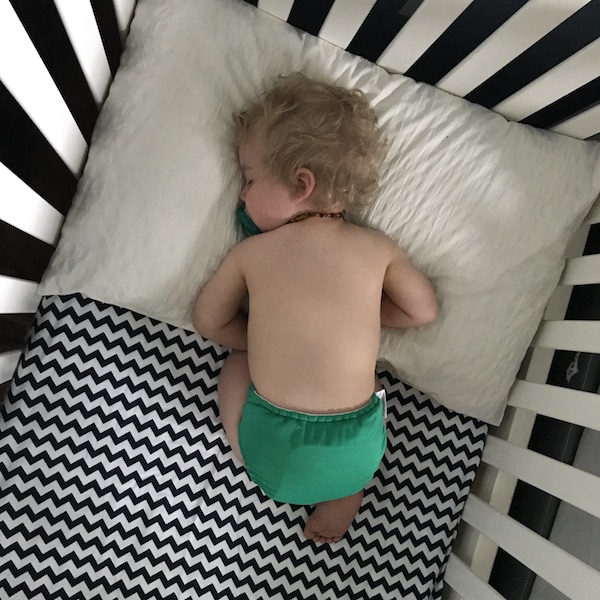 Sadly that didn't last.  While I was on my trip Michael couldn't get him to sleep in his crib but he could set him in our bed and he'd fall asleep on his own.  Since then we've gone back even more and now we can't put him in either spot for him to fall asleep on his own.  He cries and cries for me so I have to lay down with him to get him to sleep.  It is definitely frustrating to have gone backward, especially after getting a taste of freedom!  Ha!  I'm hopeful we'll get him back falling asleep on his own soon.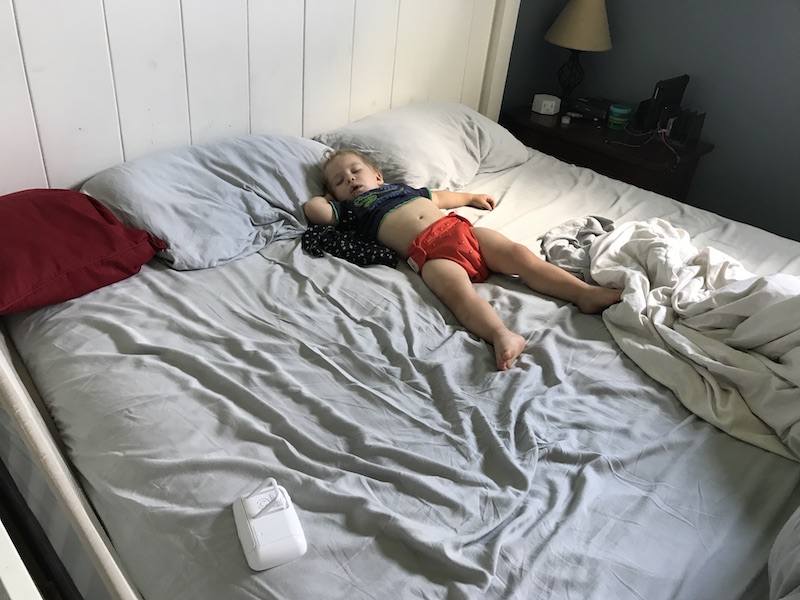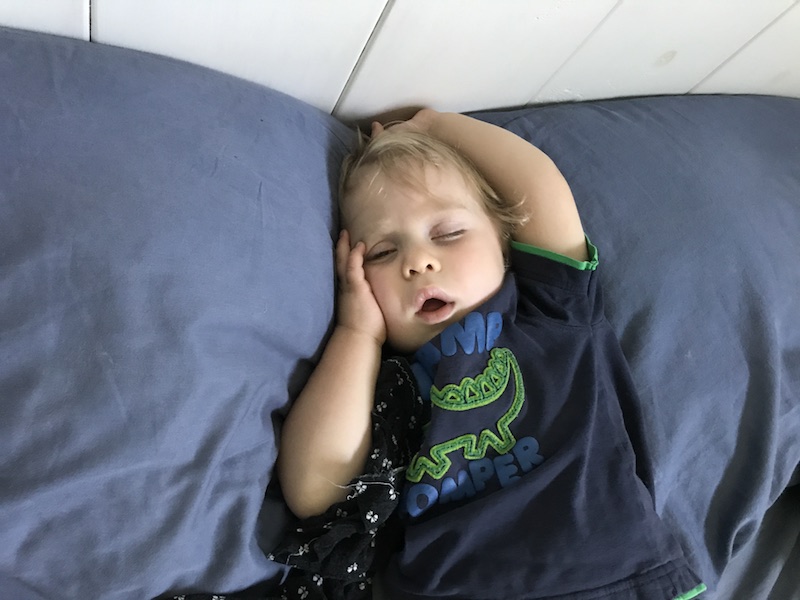 This month Parker got 4 more teeth (this could have also contributed to the separation anxiety/clinginess/refusing to sleep on his own), bringing his total to 16 teeth.
He still is not talking much at all.  He mostly just grunts or makes noises and points.  He totally understands what we're saying and follows directions, and he uses some signs and words, just not very many.  I looked back at the last time I listed out what he could say (that was in August) and there hasn't been much change.  He has a few new words: Mamie (my mom), Roombie (that's what we call our vacuum and he pronounces it "bee bee") and that's about it.  I can't think of any other new words or signs right now.  I guess he'll start talking eventually!
And while he may not care to talk, he LOVES to sing!  At church he sits there with either his Bible or a songbook open and sings his heart out (gibbersih, no words) while we sing.  It is so adorable!  He wants to listen to music all day long and sing at home as well.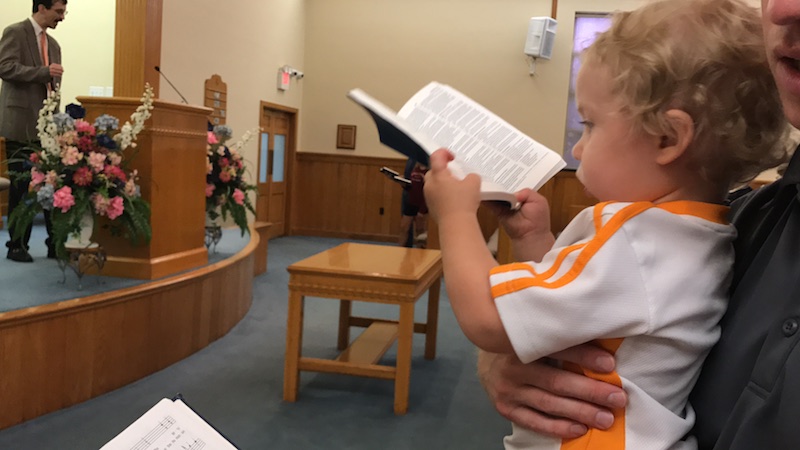 He loves to get dressed and tries to put his shorts/pants on himself.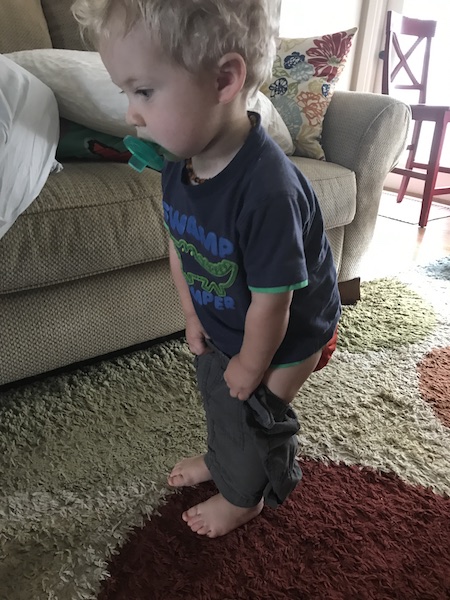 At the beginning of the month Parker was still breastfeeding at least 3 times a day – before nap, before bed, and at least once during the night (some nights it was multiple times and I felt like I had a newborn again…it was awful!).  When I left on my trip I was kind of hoping that he'd naturally wean while I was gone.  He did fine while I was gone as far as not crying or asking for milk but still wanted to breastfeed when I got home.  We've now cut out the nap time and pre-bed feedings, I just lay there and cuddle with him and he does fine with that, but he still nurses once, sometimes twice, during the night.  So not totally done but getting closer.
Other family stuff
This month we had our church's annual family retreat.  It's a one night retreat at a nearby church camp.  The boys had a blast.  Sleeping was not great – we stayed together as a family in one of the cabins but Hudson fell out of his bed and we had to move him to the floor (which he didn't like) and Parker and I tried to share a tiny camp bunk and that was mega uncomfortable.  But we survived and the rest of the retreat was great!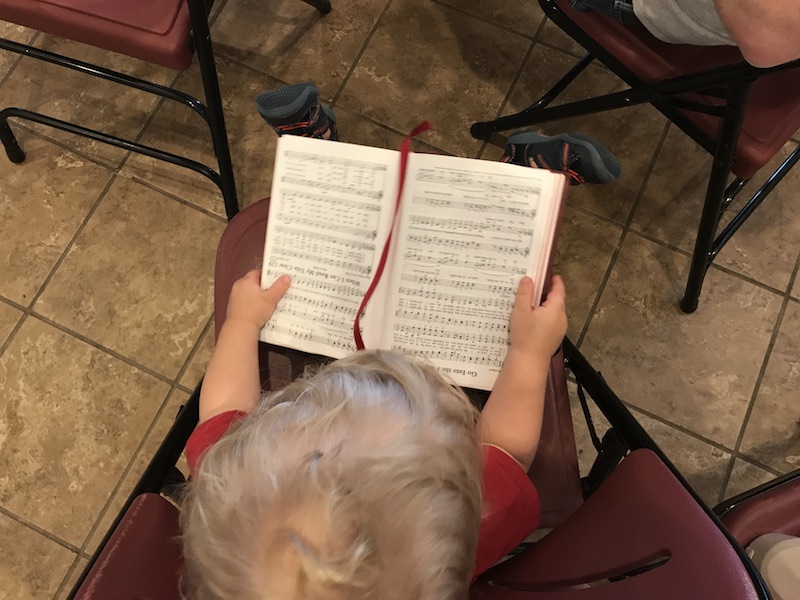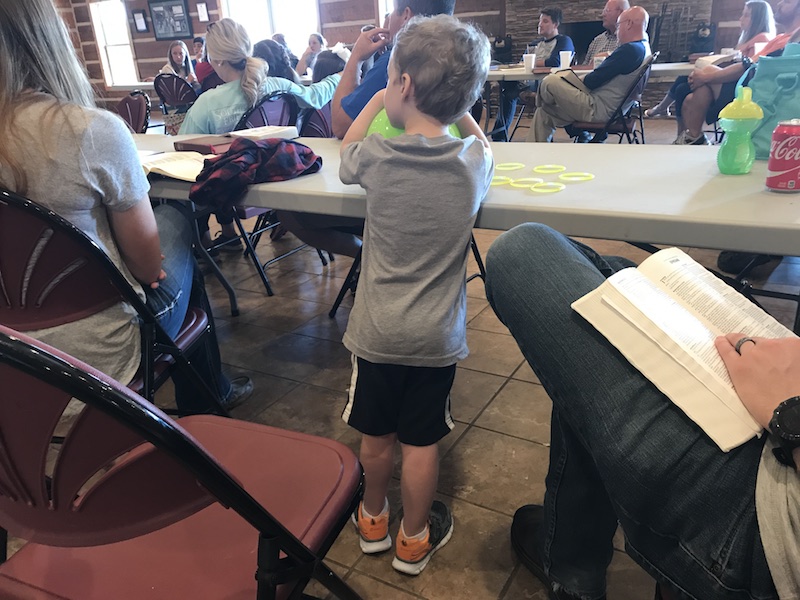 My sweet boys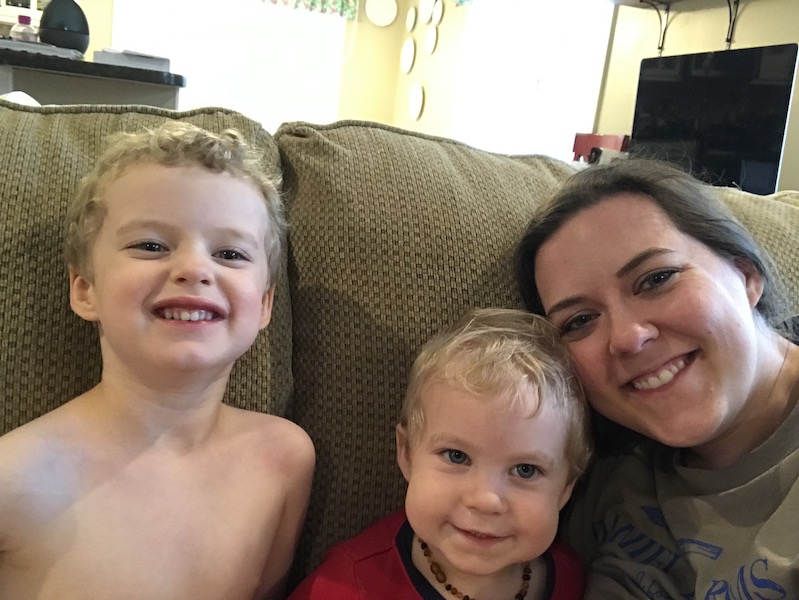 Wearing Parker is about the only way we can get things done in the evenings some days and occasionally Hudson still wants to be worn too.  It's a heavy load but I can do it for a while. I was able to wear them both and get some work done in peace.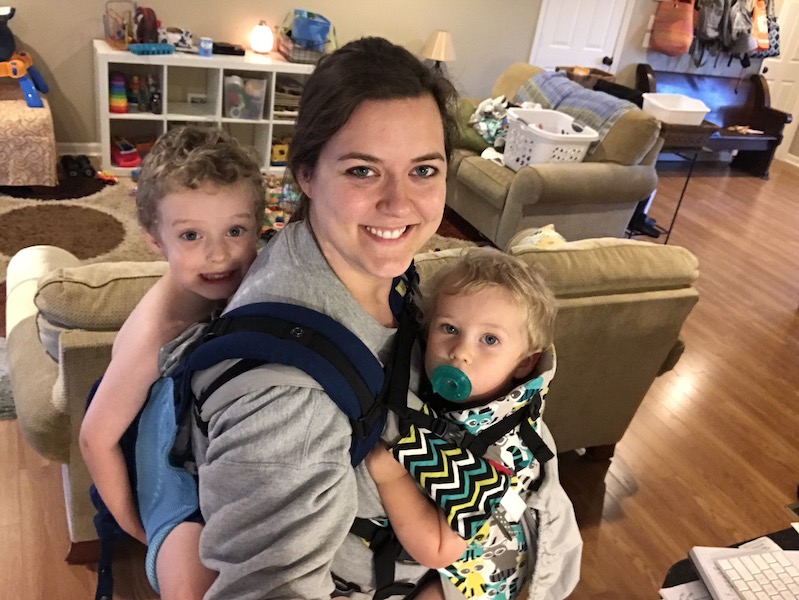 Silver retreat
This month I got to attend Young Living's Silver retreat in Salt Lake City, Utah.  It was an all-expenses-paid trip that I'd earned last year and I was super excited about going but also SUPER nervous about leaving my kids.  Other than the 2 nights I was in the hospital after having Parker I'd never been away from Hudson (and even then he was 10 minutes away at home with my mom and I got to see him every day) and I'd never, ever been away from Parker.  I was a total ball of nerves and wanted to back out several times, but I'm so glad I didn't!
The kids did just fine at home, I'm not sure they missed me at all!  They had fun having lots of Daddy time and grandparent time.  And I did fine too!  Once I got out the door and on the way I wasn't nervous anymore and we stayed so busy I hardly had time to be sad.  It was a fantastic experience!  I won't bombard you with too many pictures but here are a few.
One of my team members who lives here locally got to go with me so I had a travel buddy.  Our flight was MEGA delayed on the way there and we were going to be late to our first dinner, so we changed into our dinner clothes in the Dallas airport bathroom so that we could go straight there as soon as we landed in SLC.
(P.S. I packed for the 4 day trip in just a carry on!  That was a pretty big feat for me!  I'll have a blog post coming soon showing how I made it work.)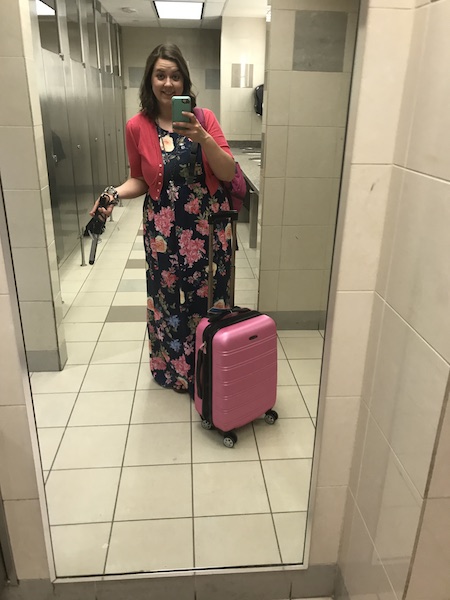 But we weren't too terribly late and made it in time to eat.
There's my name on the list!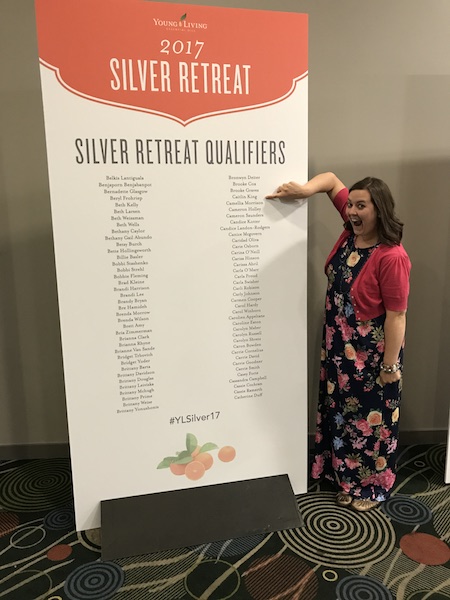 I have never, ever stayed in a hotel room by myself!  I was nervous about that but we were so tired each night that I didn't even think much about being by myself.  It was a really nice hotel!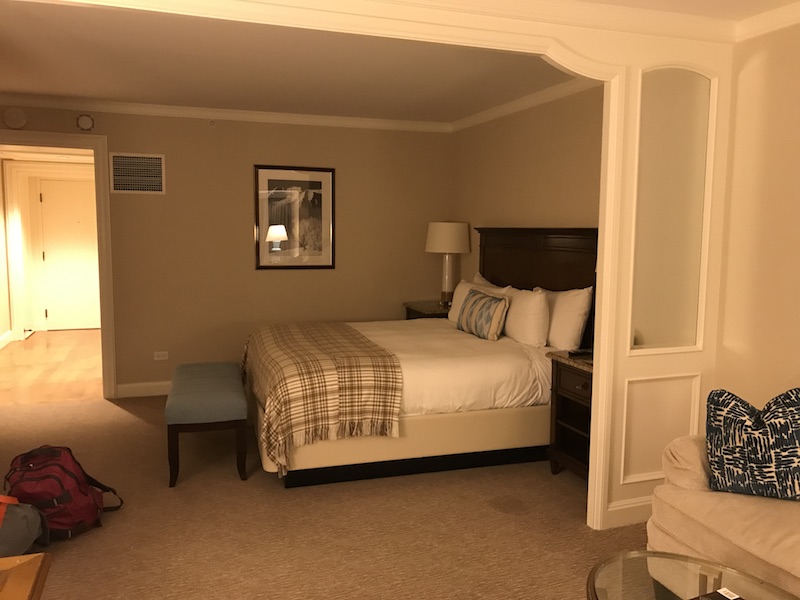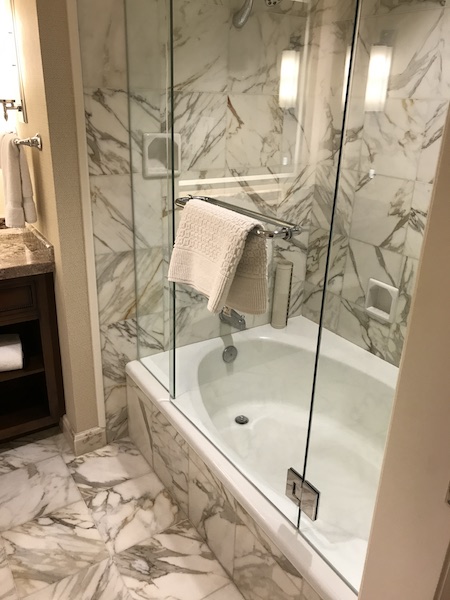 One of the retreat days was spent at the farm in Mona, Utah.  It was really cold and rainy (unusual weather for Utah!) but we still enjoyed it.  There was a much smaller crowd there for Silver retreat than there was for Convention so we were able to do more things and see more of the farm without having to wait in crazy long lines this time.
Peppermint ice cream – my fave!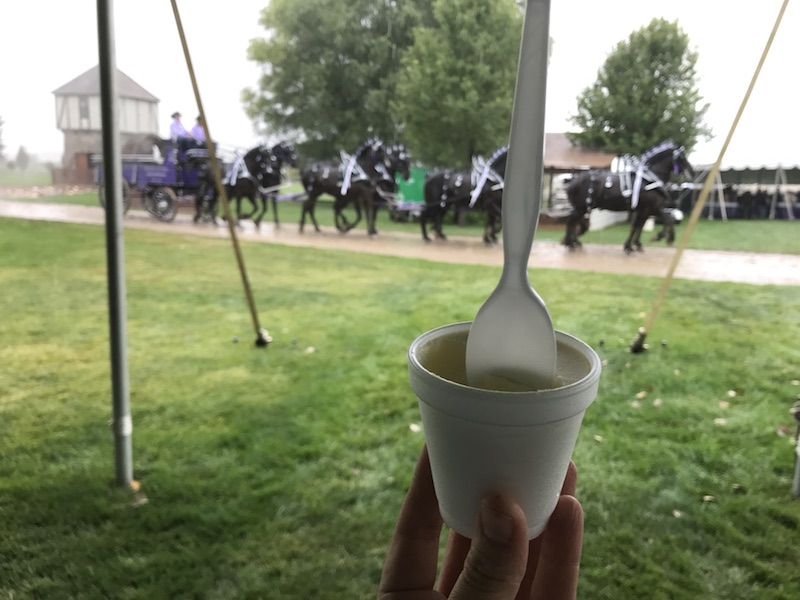 Despite cold weather and rain and travel snafus, I am SO glad I got to spend time with these ladies that I love so much!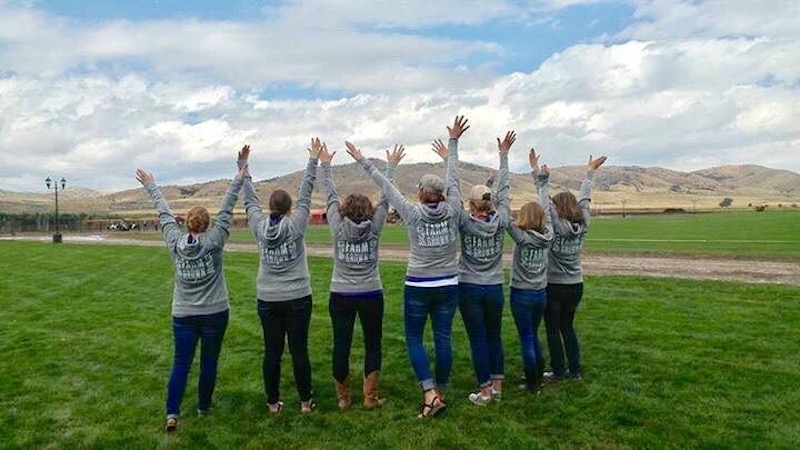 Distilling in action

Thousands and thousands of baby lavender seedlings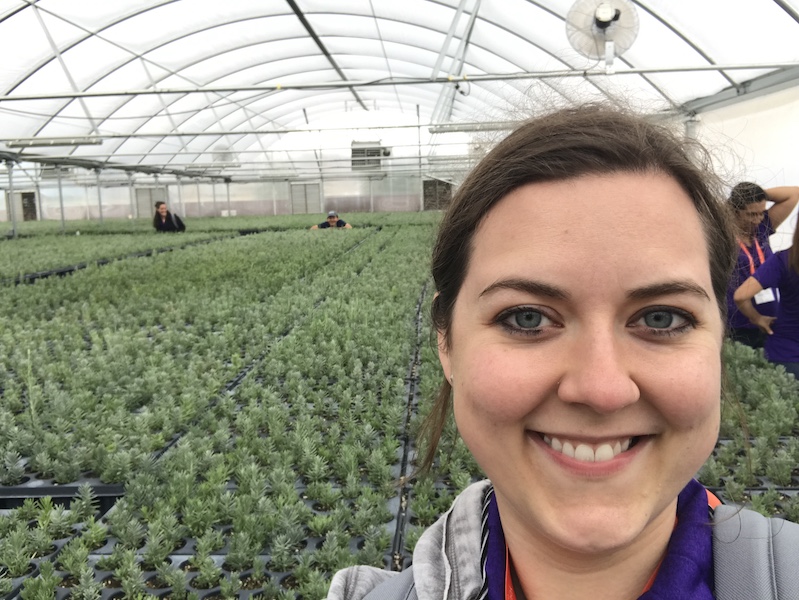 One of the most gorgeous places on earth!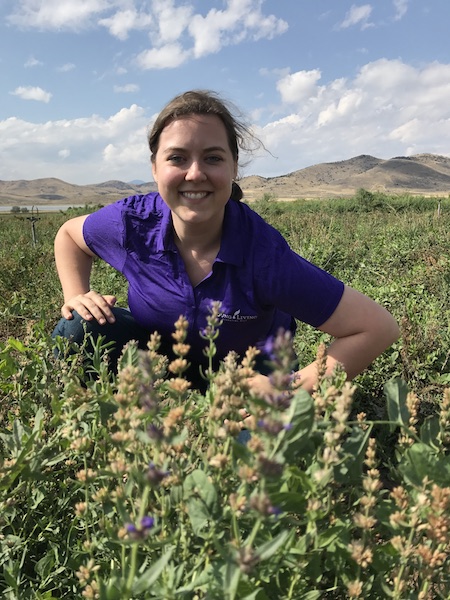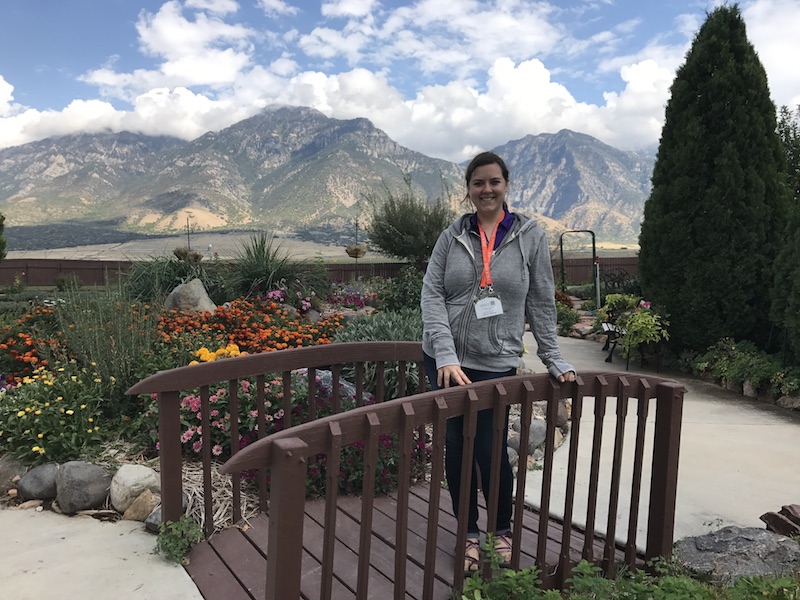 Some of the amazing goodies and swag they showered us with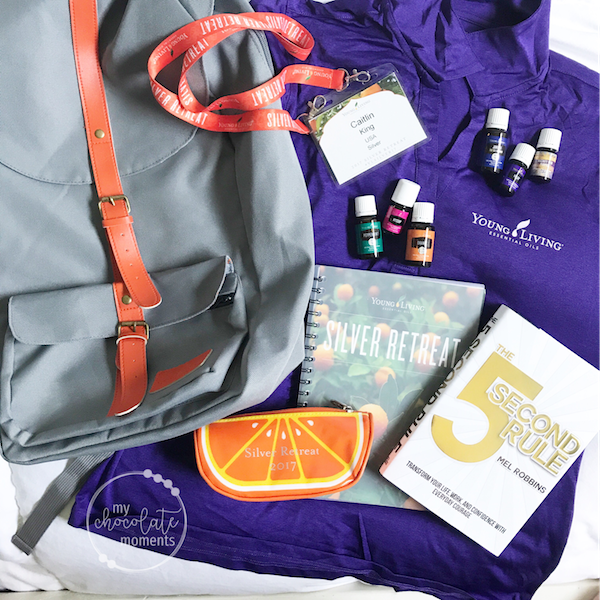 It was fantastic – several days filled with good friends, good food, inspiration, great speakers, learning about our company, visiting the farms.  A great experience!  But I was also so glad to get back home to my babies!
And that's a wrap for September!