Helloooooo November!!  I am trying hard to reign in my desire to explode Christmas all over my house until after Thanksgiving!  Young Living's November 2017 promotions are making that hard though…they're so Christmasy and oh my check out that ornament!  *squeal*
---
This post contains affiliate links.  I am a Young Living independent distributor so if you purchase a product through my link I make a commission at no cost to you.  You become part of my Oily Moments community and we will be here to help you with your new oils.  Thanks for joining with me!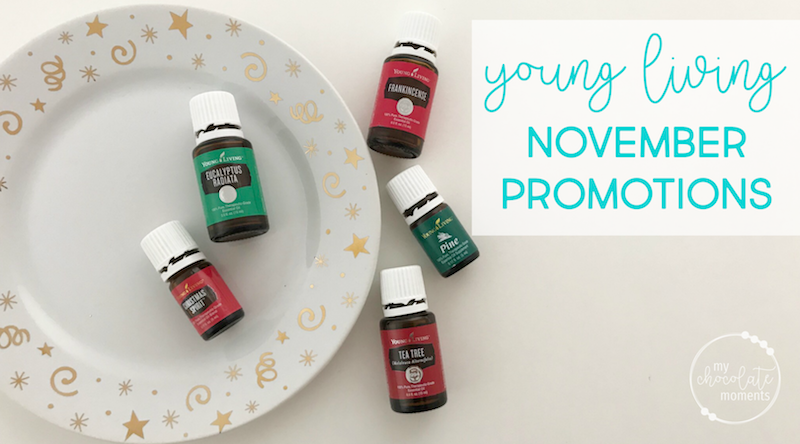 Frankincense (free with a 300pv order)
Frankincense is good for regeneration and it is known scientifically that it helps your body create new cells that match our DNA!  Cool!  No wonder it's a key ingredient in many of Young Living's skin care products.  Frankincense is very grounding and calming and can improve your attitude and lift your spirits.
Uses for frankincense:
– rub on your face for gorgeous glowing skin
– may diminish the appearance of scars
– rub on topically for happy joints, muscles, hands, feet, backs, etc.
– helps boost the immune system
– diffuse during Bible study
– use for focus and calming in children (or adults)
– rub topically over your adrenals and thyroid
Pine + diffuser Christmas ornament (free with a 250pv order)
What could be more perfect for Christmas than pine?  If you love the smell of Christmas trees then you'll love this one!  Diffuse or use the nifty diffuser ornament (What?!  So incredibly cool) to make your home smell like a Christmas tree farm.  I also find all the "tree oils" (pine, spruce, fir, etc.) to be very grounding and calming so they're great for emotional support.
Tea Tree (free with a 190pv Essential Rewards order)
Tea tree is one of the most widely known and extensively researched essential oils.
Uses for tea tree:
– skin care
– hair care
– all things immunity
– very cleansing to your body, skin, hair, toes, feet, surfaces in your house
– supporting your sinuses and lungs
Eucalyptus Radiata (free with a 190pv order)
Eucalyptus Radiata is great to diffuse for your lungs, to rub into your muscles after exercise, to put a couple of drops on a washcloth in the floor of your shower to create an at-home spa experience, or to rub on your chest for a soothing sensation.
Christmas Spirit (free with a 100pv Essential Rewards order)
Christmas Spirit is a HUGE favorite for this time of year!  This blend of cinnamon bark, orange, and spruce smells SO good and is perfect for fall/Christmas.  I diffuse Christmas Spirit alllll the time around Christmas!  Love it!
How do I get them?
These promotions are available to Young Living essential oil members who place qualifying orders in the month of November.
A 100 PV Essential Rewards order gets the free Christmas Spirit (PV = Product Volume and is usually the same as the dollar amount, but not always so double check! Essential Rewards is Young Living's rewards program)
A 190 PV order gets a 15ml bottle of Eucalyptus Radiata (plus a 15ml bottle of tea tree and the Christmas Spirit if that order is an Essential Rewards order)
A 250 PV order gets everything listed above plus a 15ml bottle of pine and a diffuser Christmas tree ornament
A 300 PV order will get everything listed above plus a 15ml bottle of frankincense
Not a member yet but want the promos?
If you aren't a Young Living member yet you can totally take advantage of the promo too!  Here's how:
Join Essential Rewards (it will give you the option to do that as you're ordering your kit) with any other combo of products that are 200 PV or more.  You can do whatever you want depending on if you're wanting to focus on getting rid of toxic chemicals (get lots of Thieves products), skincare (check out the skincare line), makeup (check out our new makeup line) boost your nutrition (Ningxia Red), your kids (look at the Kidscents products – we have personal care products and supplements for kids), your babies (our new Seedlings line is perfect!), animals (we have a whole AnimalScents line), or something else.
And voila…you'd get all this other stuff we just talked about for FREE!
If you're looking for an idea of 200 PV to add on, I personally recommend the Ningxia Red Essential Rewards kit plus a bottle of the Thieves Household Cleaner.
If you go that route you'd be getting:
– lemon
– lavender
– peppermint
– frankincense (1-5ml bottle that comes with the starter kit plus 1-15ml bottle that comes free this month)
– copaiba
– Thieves
– PanAway
– Stress Away
– Purification
– RC
– DiGize
– a diffuser
– Christmas Spirit
– Eucalyptus Radiata
– Pine
– diffuser Christmas tree ornament
– 4 bottles and 32 pouches of Ningxia Red (that's 164 ounces, so 82 days worth of Ningxia Red if you drink the recommend 2 oz serving a day)
– Thieves Household cleaner (the only cleaner you'll ever need again to clean your house!  It's super concentrated too so one bottle will last you months and months)
Alllllllll of this for about $360 plus tax and shipping.  An INCREDIBLE value for these products that are an investment in your health!
Not to mention wholesale pricing (24% off) all future purchases, an incredible oily community to help you learn all about your new products, and the opportunity to make money telling others about oils (totally optional).
---
I'll get an email when you sign up, so I'll be contacting you soon to get you added to our private group, get you hooked up with your oily mentor, and help you get started using your oils.   If you have questions before then, feel free to contact me here or here or through my Facebook page or email at caitlin@mychocolatemoments.com.