I am SUCH an over-packer.  Always have been, probably always will be.  When I travel it's with everything and the kitchen sink.  I don't end up using a fraction of what I bring and yet…I still pack it all because you just never know.
Packing light has never been something I've excelled at (obviously) but a few months ago I made it happen.  I went on a trip to Utah where my flight was paid for but I would have had to pay to check my luggage so I decided to pack only in a carry on to save money (and because I'm totally paranoid about my luggage getting lost).
I definitely wouldn't say I'm a pro by any means and I know that I'll probably still be an over-packer when I'm traveling with kids but I was proud that I was able to do it successfully at least once!
---
This post contains affiliate links.  If you purchase a product through an affiliate link I make a small commission at no cost to you.  This helps keep my blog running so thanks for your support!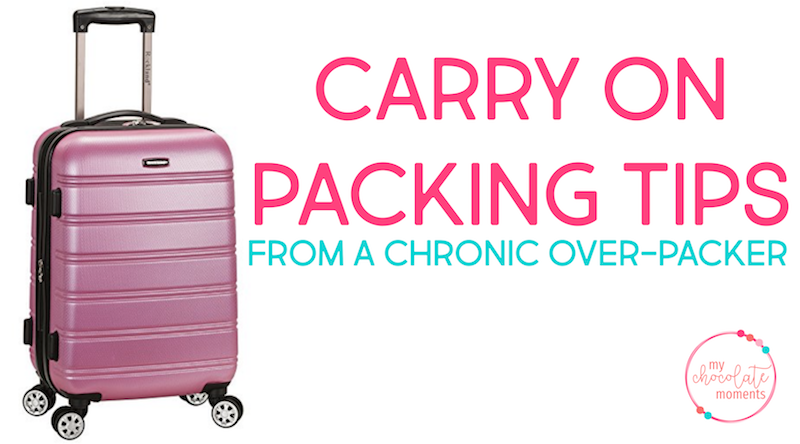 Some tips that helped me:
Watching a TON of YouTube packing videos to see how other people pack
Using packing cubes (we actually bought these for our big family trip to Salt Lake City in June and loved them for both trips – they really help keep everything organized and compact)
Not packing things that I knew I could use from the hotel (like a hairdryer)
Trying as hard as I could to pack only the bare necessities
Downsizing things like my toiletries into smaller containers to take up less space (see the video below where I shared how contact cases are one of the keys to my success)
Here's the video I made showing everything that I packed and how I packed it.
And this video shows how I fit all of my liquids (including my essential oils) in my one quart bag.
Products I referenced:
When you fly are you able to pack in a carry on only?