Eeeeeee!!  I am SO excited!!!  Young Living's Cyber Monday promo is AMAZING!!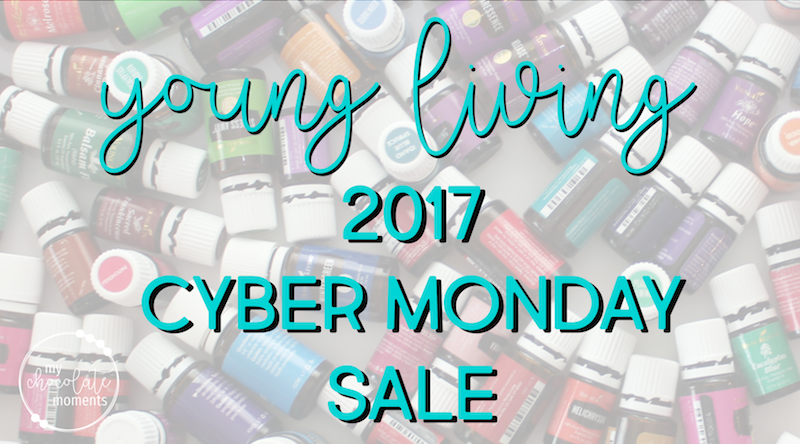 Young Living Cyber Monday 2017 Details
You ready for it?
…..15% off of:
Ningxia Red (2 bottle packs, 4 bottle packs, and 2oz singles)
Ningxia Nitro
Ningxia Zyng
Peppermint Vitality
Cinnamon Bark Vitality
Lime Vitality
Anddddddd each Ningxia product you purchase comes with an exclusive bottle of Red Shot oil blend FREE!!!!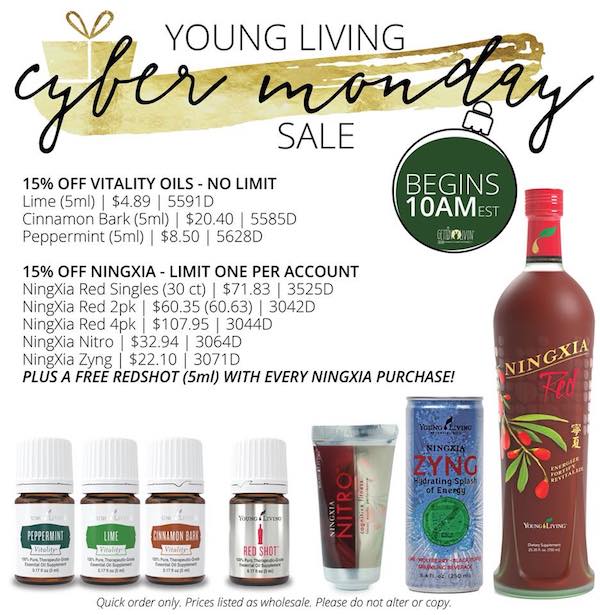 Fine print:
• Limit one of each Ningxia product per account (so you can get one 2 pack, one 4 pack, one set of singles, one case of Zyng, and one box of Nitro…and then that'll also get you the five bottles of Red Shot too.  No limit on the vitality oils.
• Sale starts at 8am MT/9am CST/10am EST
Now is the perfect time to stock up!  Ningxia is fantastic for your immune system, overall wellness, energy levels and more!
Make sure you've familiarized yourself with Young Living's November promotions too because you'll be able to earn the free Eucalyptus Radiata, pine, diffuser ornament, and frankincense on Cyber Monday when you place your orders of 190pv, 250pv, or 300pv.
---
If you aren't a Young Living wholesale member yet you definitely want to go ahead and do that so that you can take advantage of these Cyber Monday deals!  If you join Young Living with me on Cyber Monday with a Premium Starter Kit I'll reimburse your shipping.  If you join with a 300pv order (Premium Starter Kit + additional products) I'll send you $25 back.  Now is the time, my friend!
The Premium Starter Kit is an AMAZING deal…it's on sale ALL the time at nearly half off ($160 for over $300 worth of product!!).  You get 11 essential oils, a diffuser, and several samples to give you an amazing start on your oily journey.  Plus you get a great wholesale discount (24% off retail costs) and when you add on the Cyber Monday savings on top of that you get even more savings!  So you'll definitely want to add on some of this Ningxia so that you can really jump start your wellness!!
Shoot me a message if you need help getting going.