Our November 2017 family update is mostly full of pictures from our staycation plus the family pictures we had taken this month.  Check it out!
Family pictures
Each year I like to have family pictures made in the fall so that we have a good picture for our Christmas card (and I just love having lots of good pictures of my kids!).  Here are this year's:
(picture credits: Sweet Dreams Photography)
It was raining that day which made the boys' hair extra curly (which I loved) and my own hair frizzy (not quite as cute ;) ).  It was also super muddy on this trail that we used for our pictures and so by the end we were covered in mud but it was totally worth it because it made a beautiful background!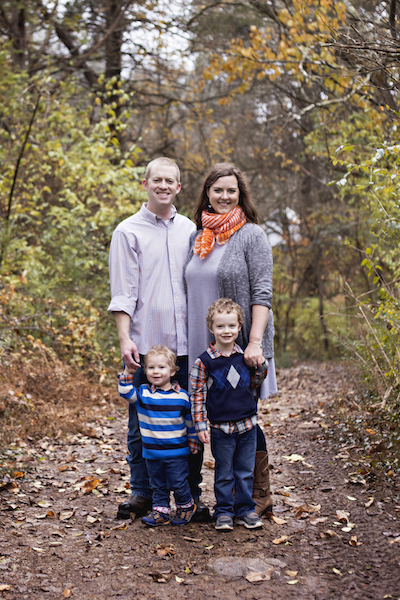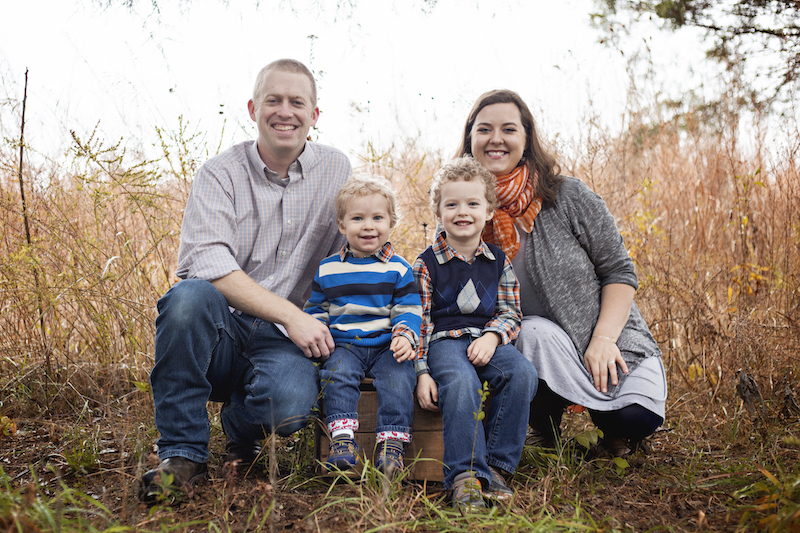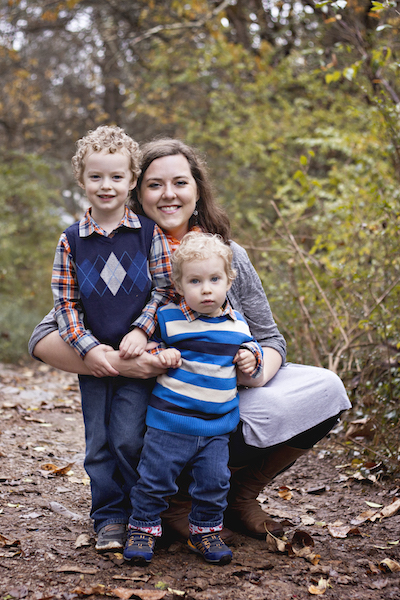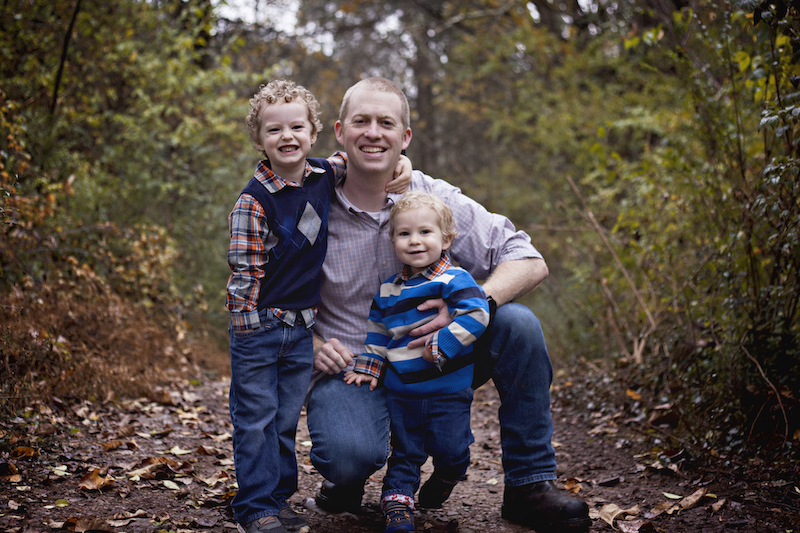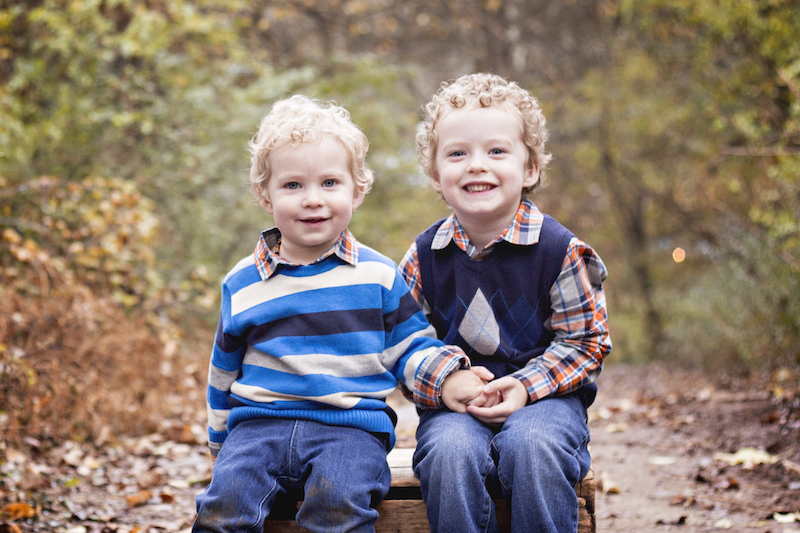 Parker fell down several times in the mud and both boys got it allllll over their shoes.  And check out Hudson's funny excited face!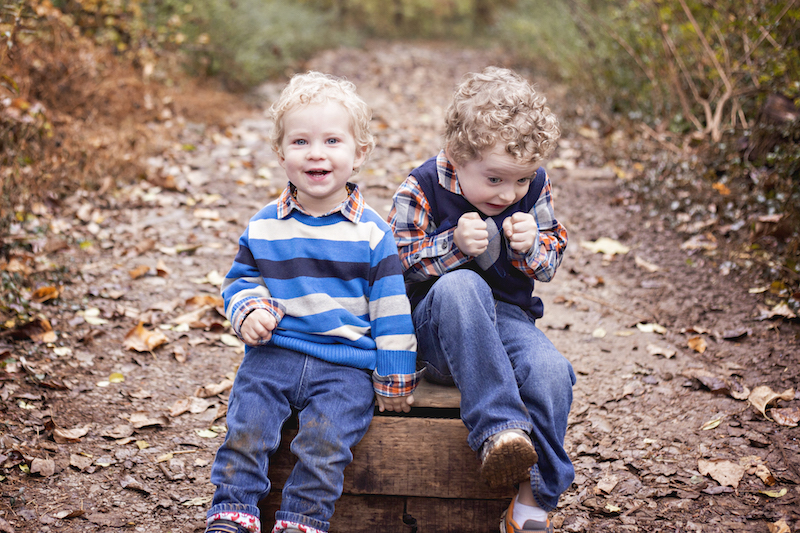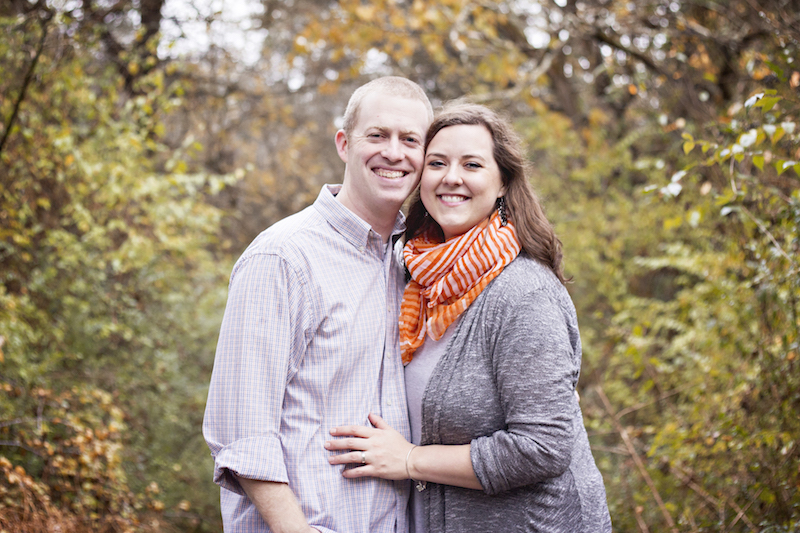 Staycation
Since we had already taken one large trip as a family to Salt Lake City earlier this year and really enjoyed the staycation we did last year, we decided to do another staycation this year.  We did pretty much the same stuff as last year – a couple of zoo trips, some other places around the Bowling Green area, the park, and time just hanging out at home.  It was nice and relaxing with lots of family time.
Our first day we headed to the Louisville Zoo.  We were not at all prepared for how very cold it was going to be that day but we bundled up the best we could and still had a good time.  The zoo was practically empty and it was nice not having to deal with crowds.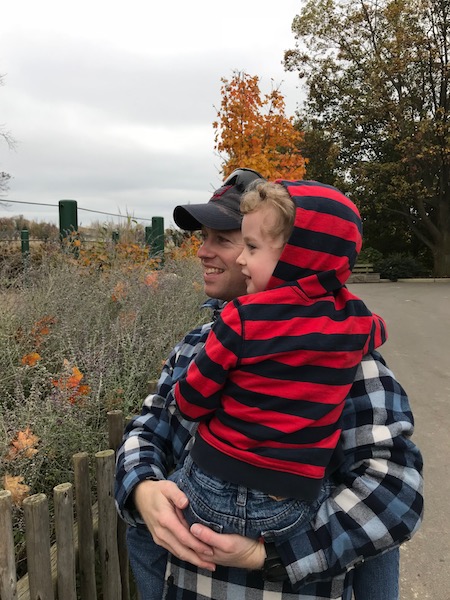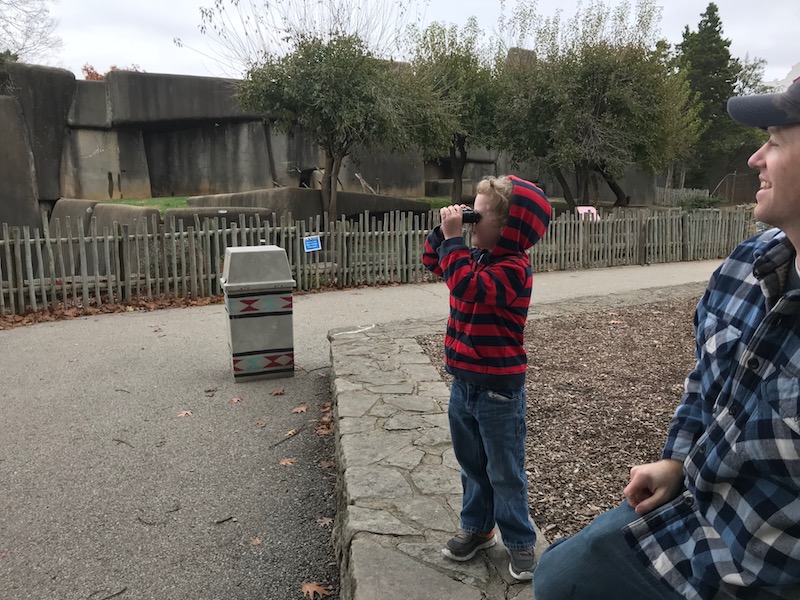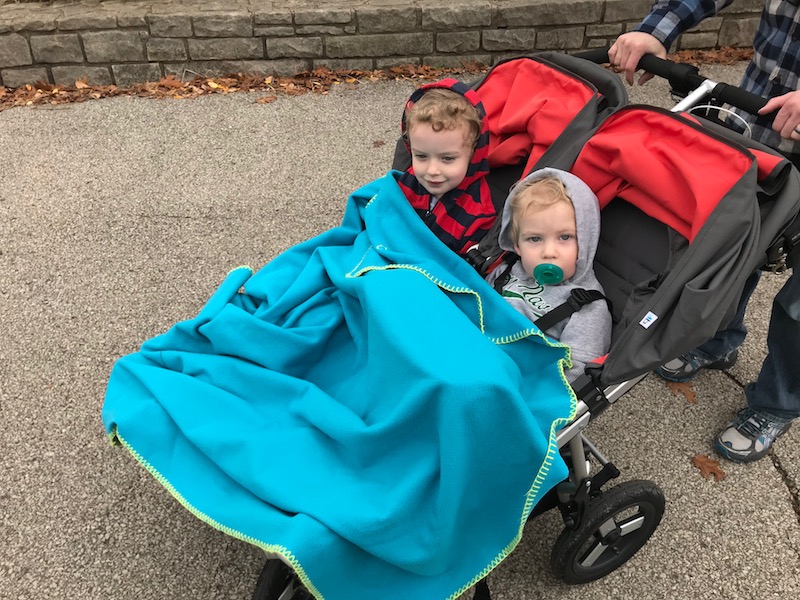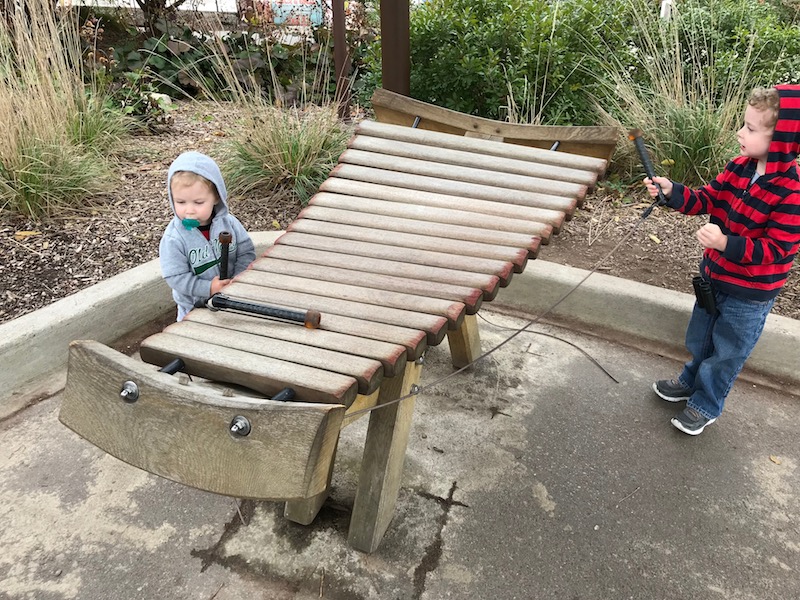 Hanging out at home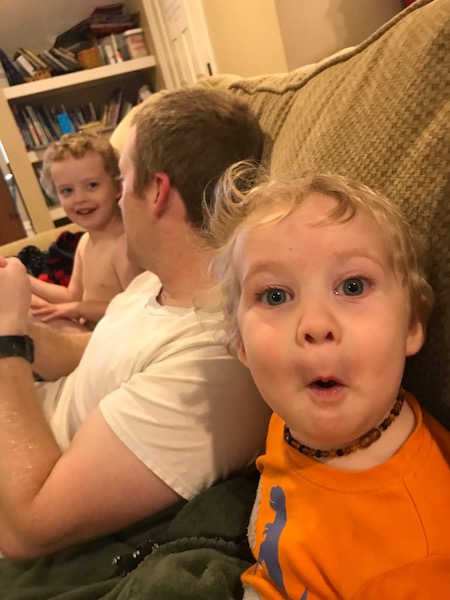 One day we went to Opry Mills mall in Nashville for the day – we walked around Bass Pro, rode the carousel a couple of times (that was a big deal for Hudson, he's always been scared to ride it), and ate at the Aquarium restaurant.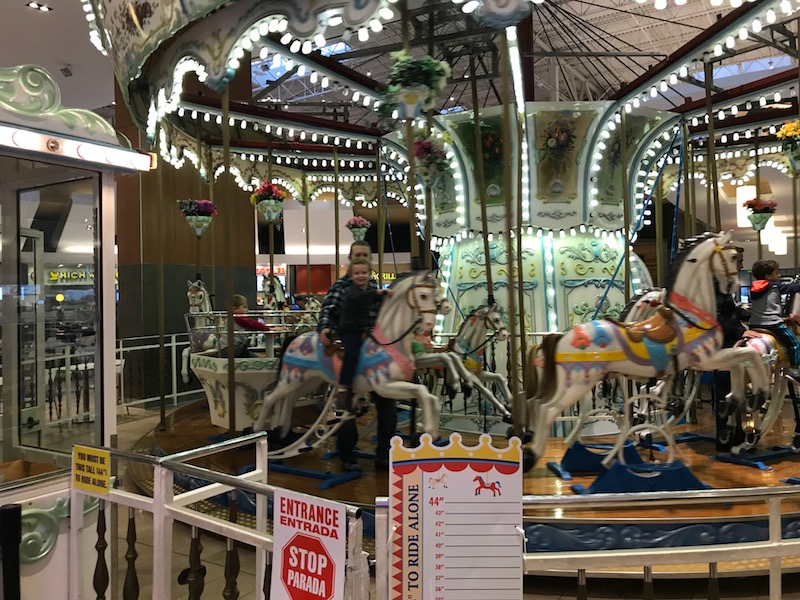 Sweet brothers holding hands.  They're just precious.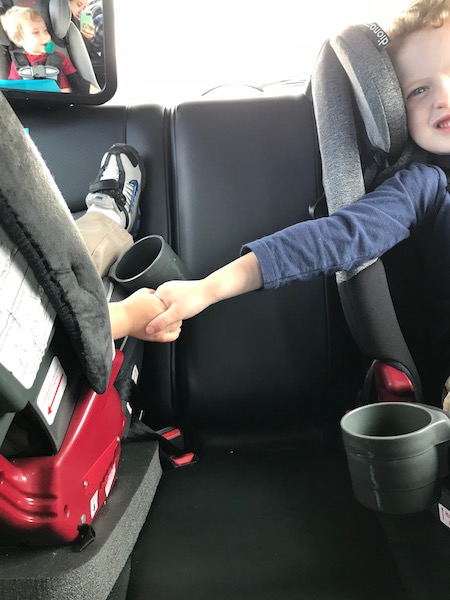 One day we went to a local park for a couple of hours.  There was not another single soul around so we had the run of the place and it was great!  Hudson climbed all over the equipment and really has gotten much more brave than he used to be!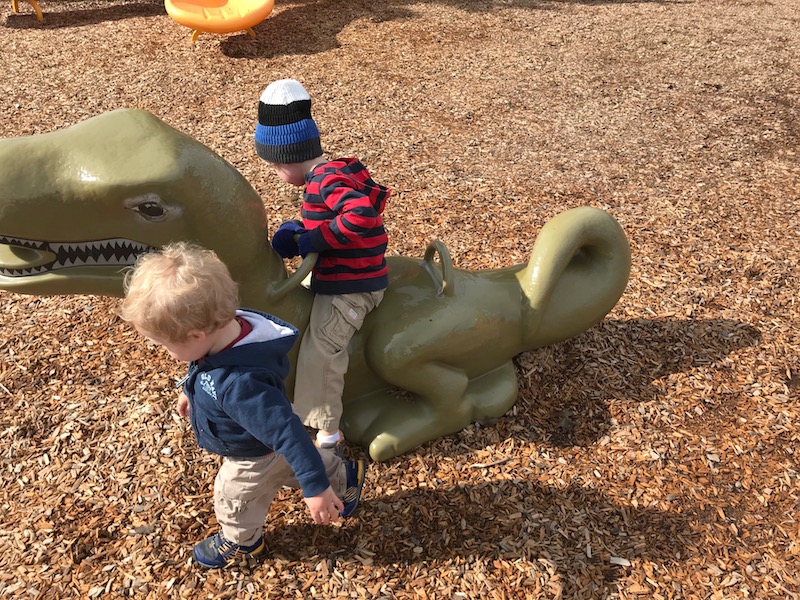 One of the things we do on staycation is eat out a lot.  It gives us a break from cooking…although with the ages the boys are at right now I'm not sure that eating out was the less stressful of the options.  One night we ate at Cracker Barrel and Hudson dropped at least 8 forks.  They kept bringing us more rolls of silverware and the spoon and knife pile just got bigger and bigger as we kept needing more forks.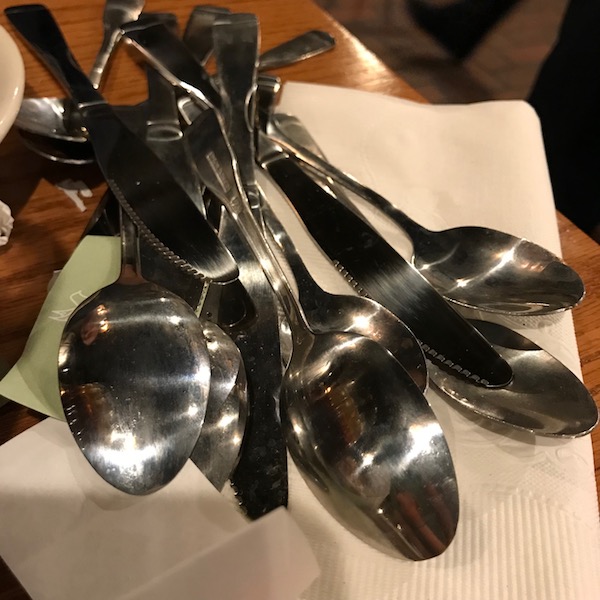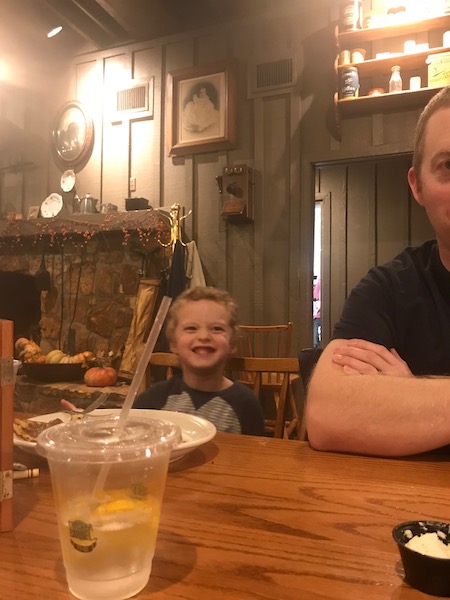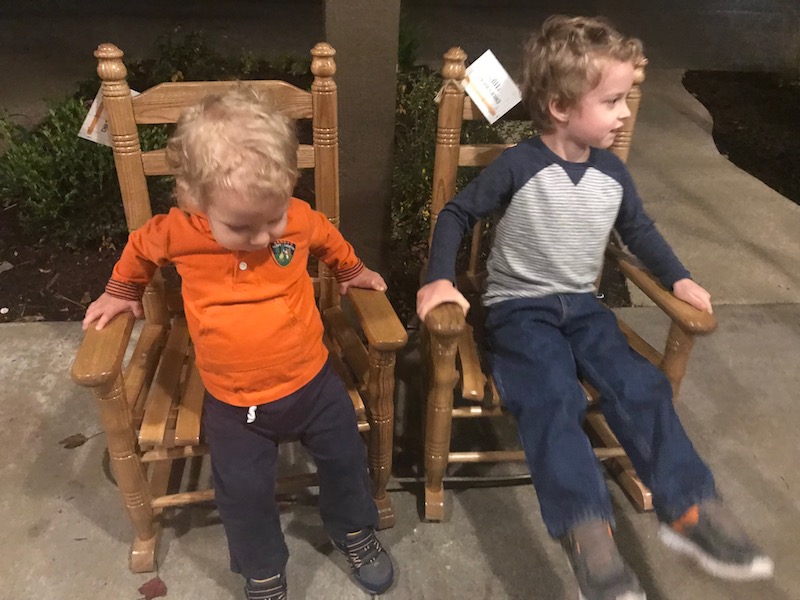 One day we spent at the Nashville Zoo.  I was excited to see that there was a brand new Trim Healthy Mama store that had just opened and was only 10 minutes away from the zoo.  We swung by there so I could buy a few THM items to try out.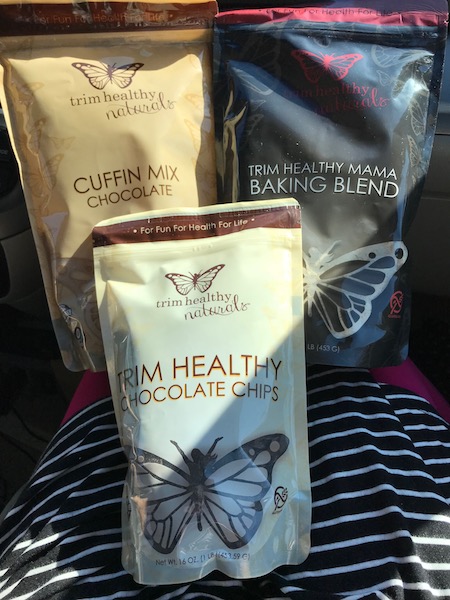 Hudson is still too scared to pet the turtles or walk around in the turtle area but Parker jumped right in there and wanted to pet all the turtles!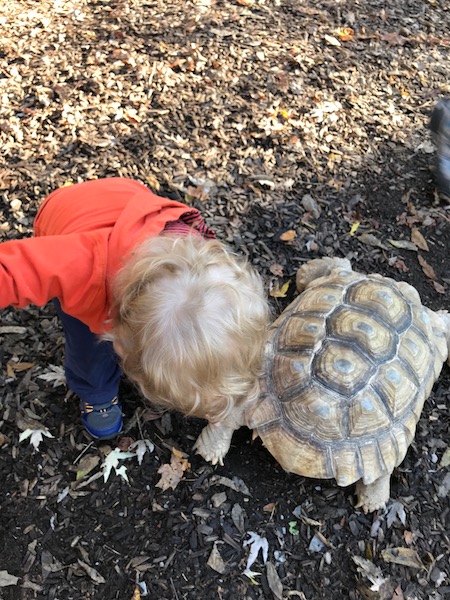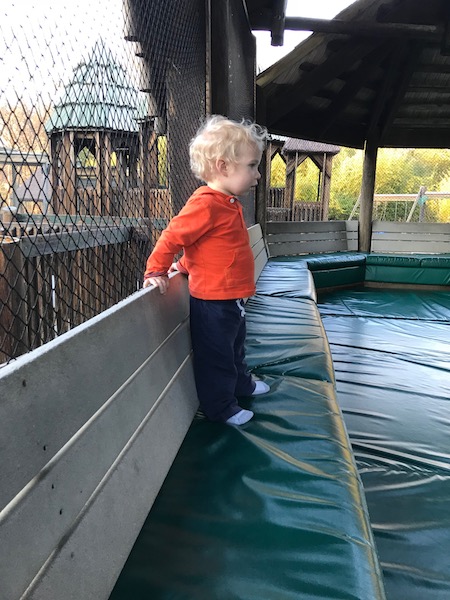 Eating at Chuy's one night (sorry for the partially chewed chip)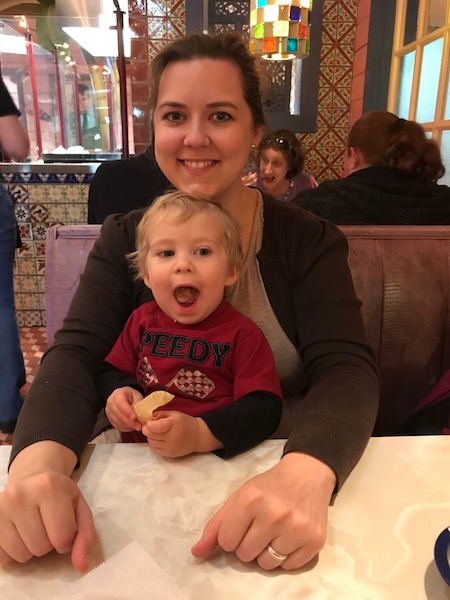 Staycation was great!  It's so nice to have Michael home for a whole week and spend lots of time together as a family!
Hudson
Some funny Hudson-isms from this month:
He calls cantelope "antelope" and I can't bring myself to correct him
Instead of saying "get a haircut" he says "take a haircut"
Instead of "Ring around the Rosie" he says "Ring around the Rose-bee"
He has started trying to spell a little bit.  One day he told me "You know how you can spell 'zoo'? You take one Z and two Os!"  He also like to finger-spell words (use sign language to spell words) and he'll mimic me as I do them, but he also likes to do them himself and just sign a bunch of random letters together.
The other day he said "Two fives is 10.  Two of twos makes four.  Two fours makes eight!"  We haven't really worked specifically on adding but he just realized that himself using his fingers.  This math teacher mama is proud ;).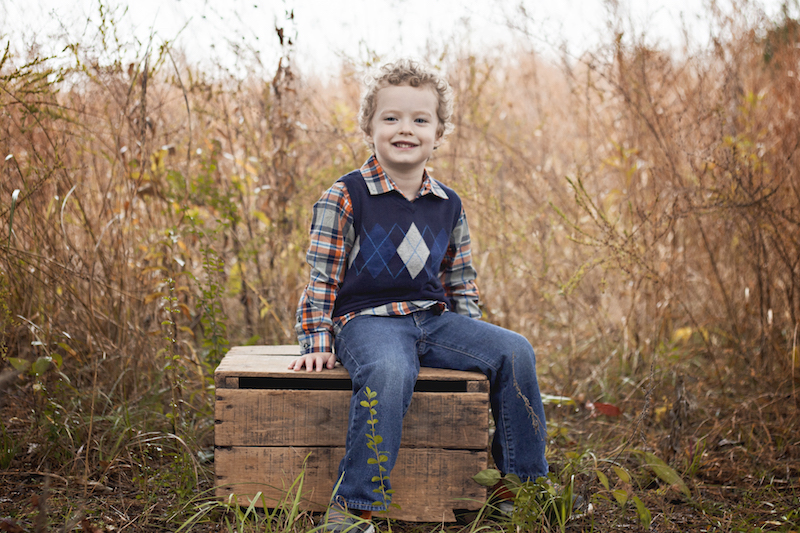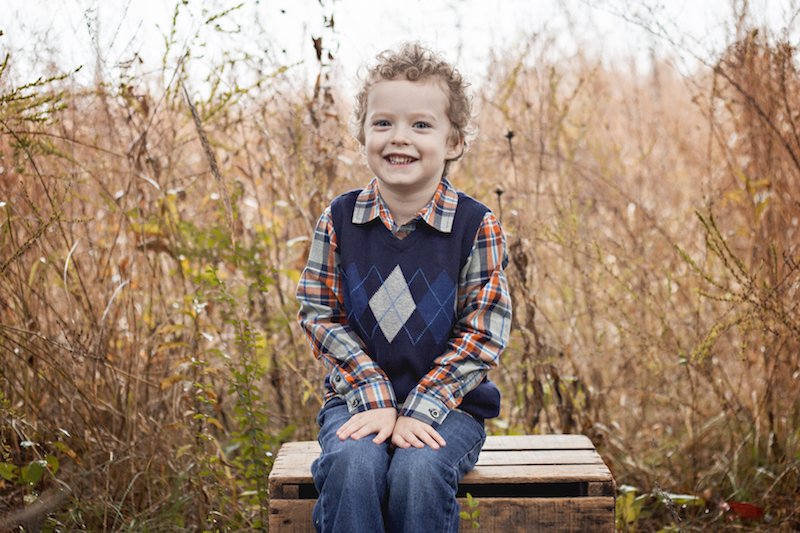 He has now officially dropped his daily nap.  Now he hangs out in his bed while I get Parker to sleep, then we go to the living room and he watches tv and rests on the couch while I work.  I was dreading him dropping nap because that was/is my main work time, but it was needed (on days he napped he would not go to sleep at night until 10 or 11pm) and thankfully it hasn't been too hard of a transition.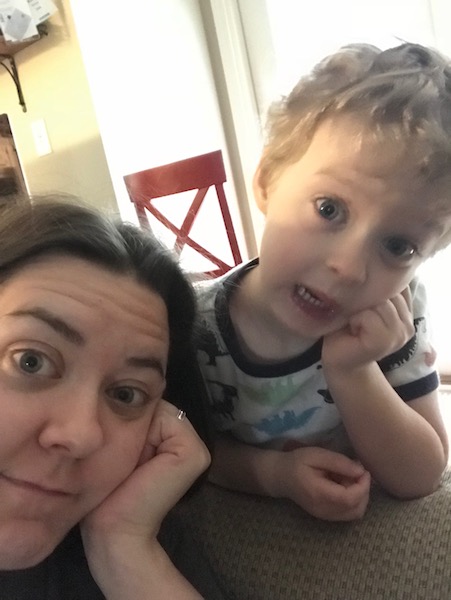 I was staging pictures for Instagram and stepped away for a few minutes, he put a blanket in my photo tent thing and grabbed my phone to snap a picture of it.  Monkey see, monkey do ;)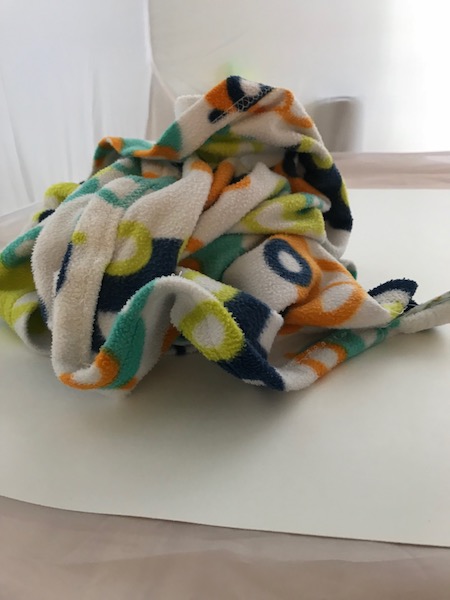 Hudson loves helping me cook and while it takes triple the time and makes a huge mess I try to let him help me as often as possible.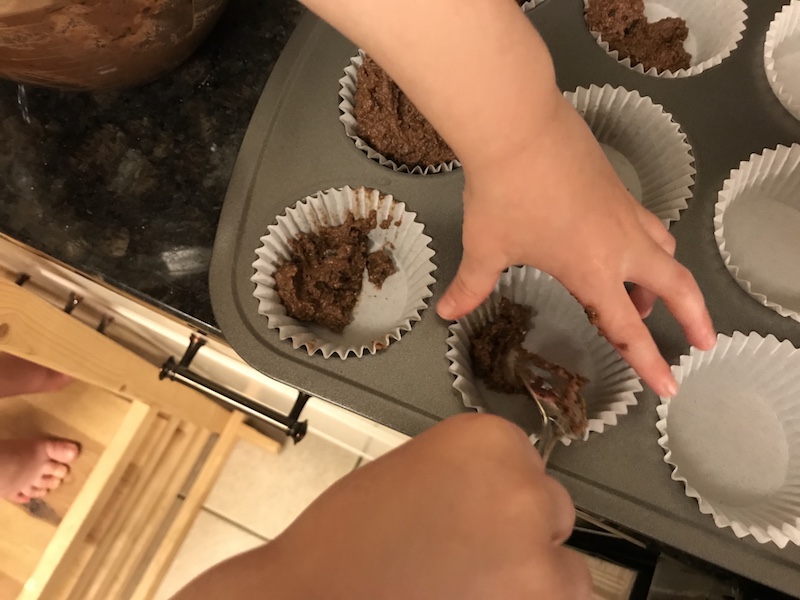 Michael's 32nd birthday was this month.  I wrapped his package with brown butcher paper and let the boys go to down decorating it.  Hudson's results were hilarious!
See that light blue squiggle there?  That was him "signing Daddy's name like he does when she swipes a card" (his signature on the credit card reader).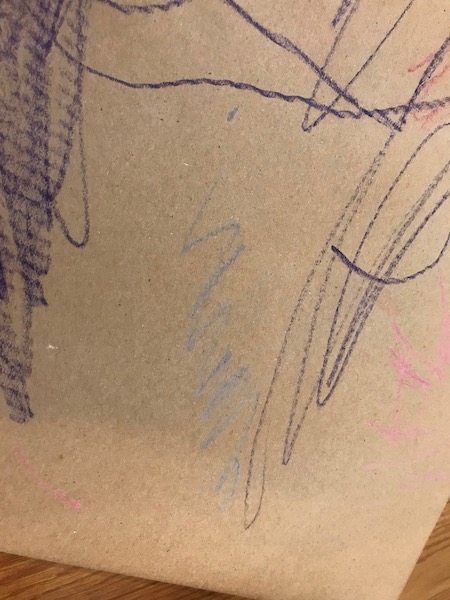 I drew a present and then Hudson wanted to copy it.  I was pretty impressed with how his copy turned out!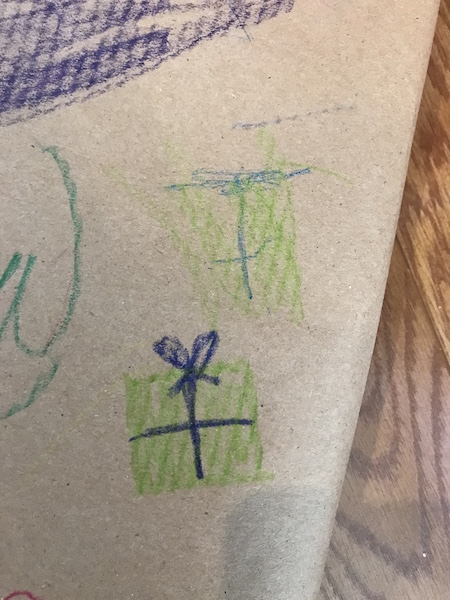 Again, I drew a cake and Hudson wanted to copy it.  Mine: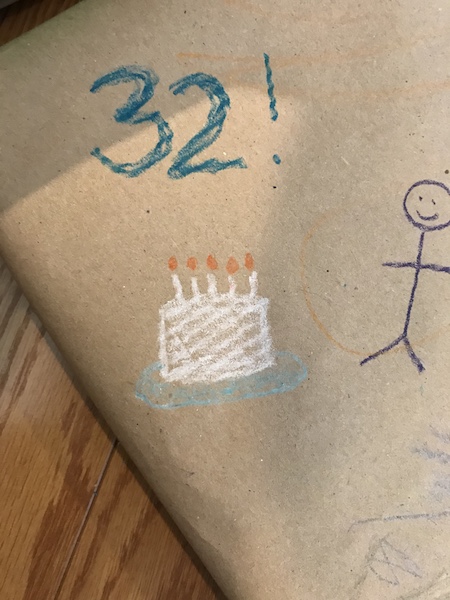 His: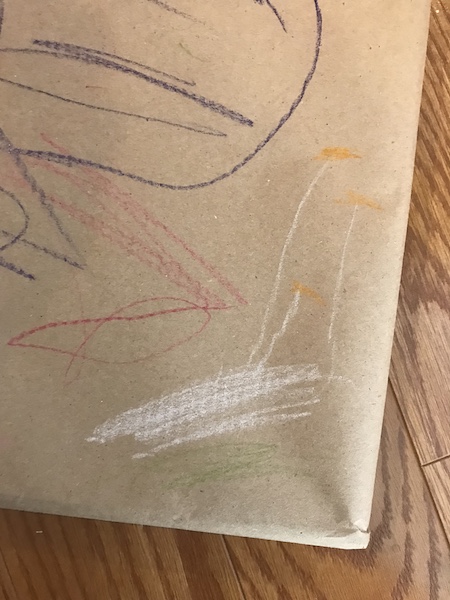 We learned that Hudson is the worst at surprises!  I didn't tell him about Michael's gift until right before we gave it to him and yet he still couldn't keep it in…before we could even hand Michael the wrapped and decorated package he blurted out "we got you a griddle!!!".  Silly boy.
A bacon ornament topped off this birthday present perfectly!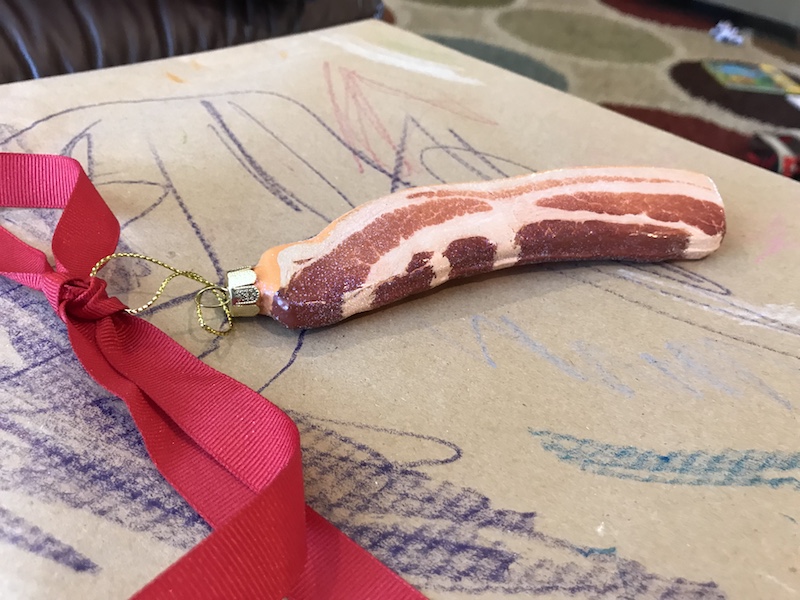 Parker
Parker is now 21 months old.   I haven't weighed or measured him in ages, but he's now in 24 month/2T clothes (although they're a little long).
He still isn't talking much at all.  He has said a few more words this month so there are a lot that he knows, he just doesn't use them often and mostly points and grunts or signs.  Some of his new words this month: boots, mommy (instead of mama), goggles, turtle.
He does this super sweet thing where he blinks at you really slowly (kind of squishes his eyes closed), he thinks he's winking.  We call it "giving blinks" but it's basically a way to say I love you.  It's so stinking adorable.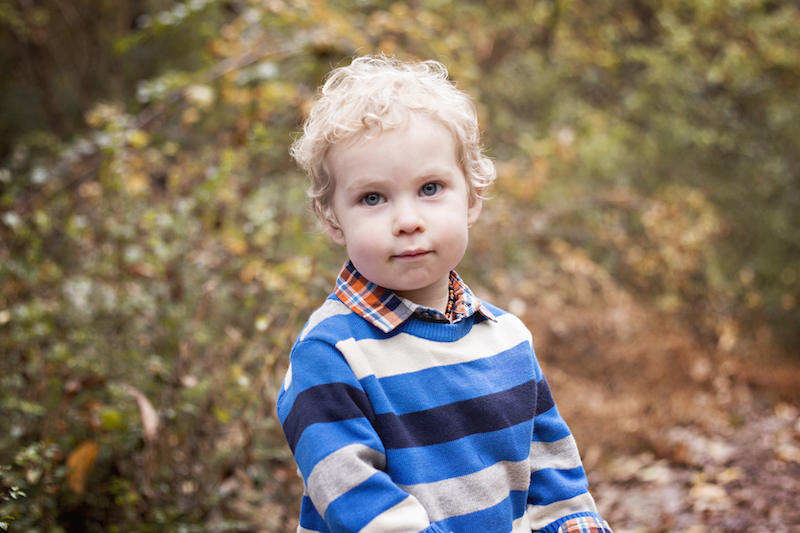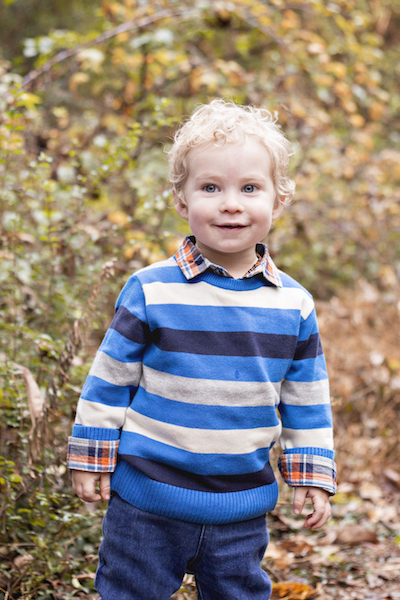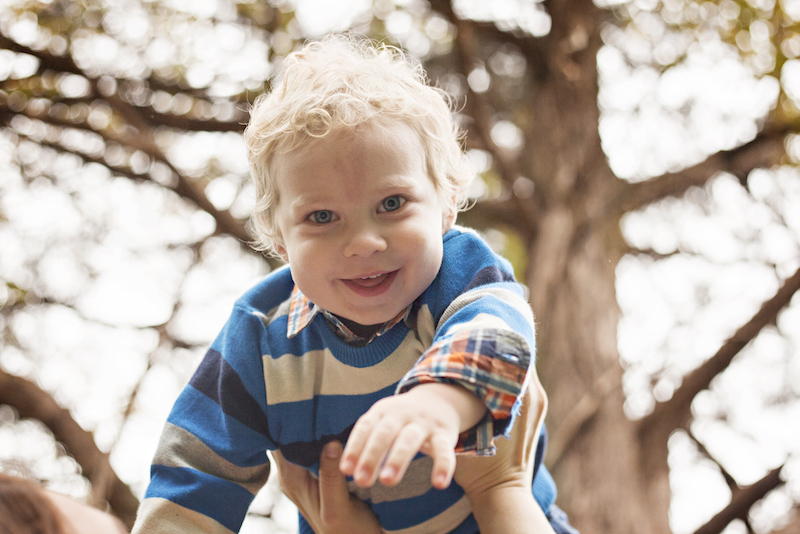 Our big, big, BIG news this month is that Parker is now sleeping (most of the time) in his own crib in Hudson's room!  What?!  We didn't get Hudson out of our bed until he was 3 and then he never slept in his crib, so this is amazing!
Ever since Hudson moved to his bed, we've done naptime where Hudson would go to his room and nap in his bed (or more recently, just play/read instead of sleep), then I would put Parker down for a nap in our bed in our room.  Well, that has worked fine for nearly a year but within the last month Hudson started getting really sneaky and sneaking out of his room while I was putting Parker down – messing with the computer, pulling the internet cables out, just getting in to things.  After that happened several times in a row I got fed up and realized I couldn't leave him alone at nap anymore, so I started taking Parker to Hudson's room during nap and putting him in his crib while I sat there with both of them (no escaping that way!).  It took him awhile but Parker fell asleep in his crib and so we've continued doing that at naptime and also now at bedtime.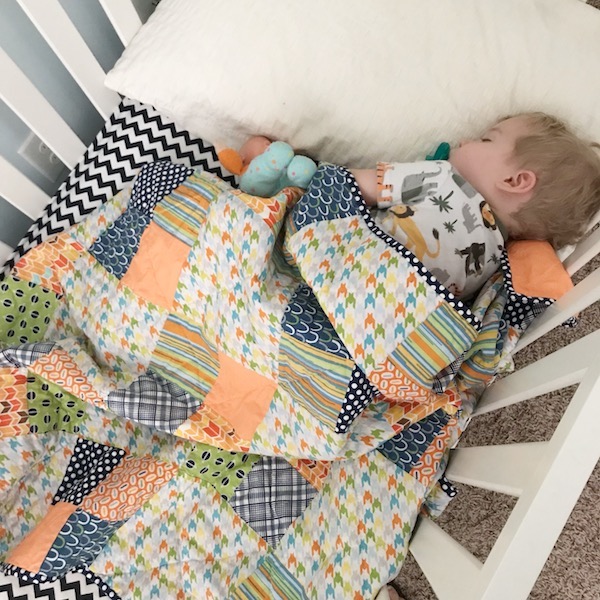 It takes him a while to fall asleep but (usually) it's not bad.  Sometimes I have to hold his hand but lots of time I just sit next to him and he falls asleep on his own.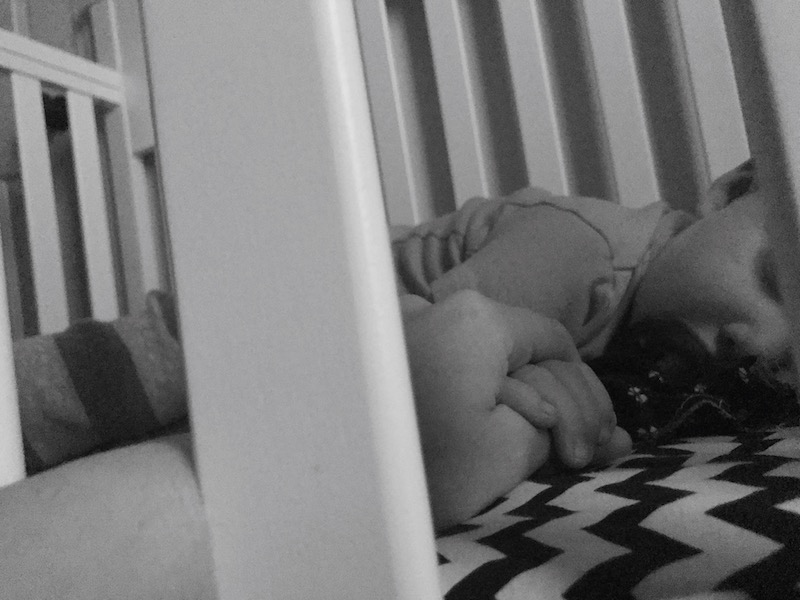 He spend all of naptime in the crib and while he doesn't nap quite as long as he used to now that he's in the crib, he still get a decent nap.  He starts out the night in his crib but has yet to stay the whole night.  Usually he wakes up sometime during the night (or wee hours of the morning) and cries until I come get him, put him in our bed, and nurse him.  He is still nursing once or occasionally twice at night.  So he's not totally out of our bed but it's a really good start!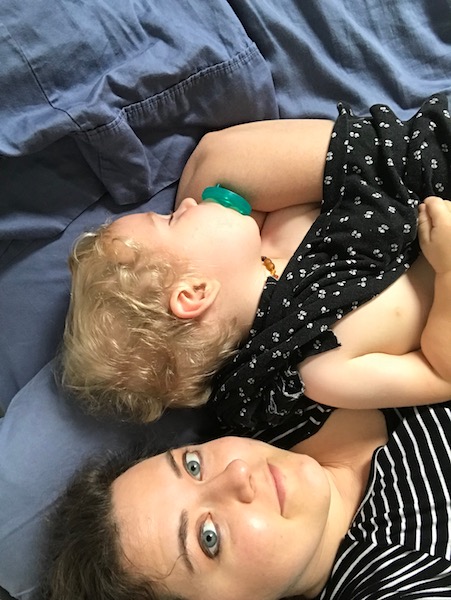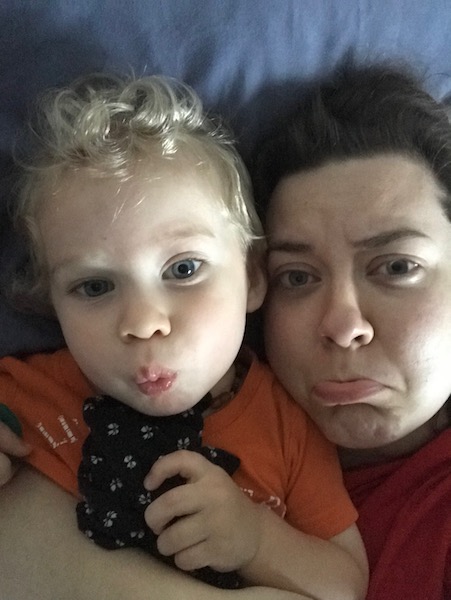 He's in love with this big rain boots of Hudson's.  The first thing he does when he gets up in the morning is run to put them on!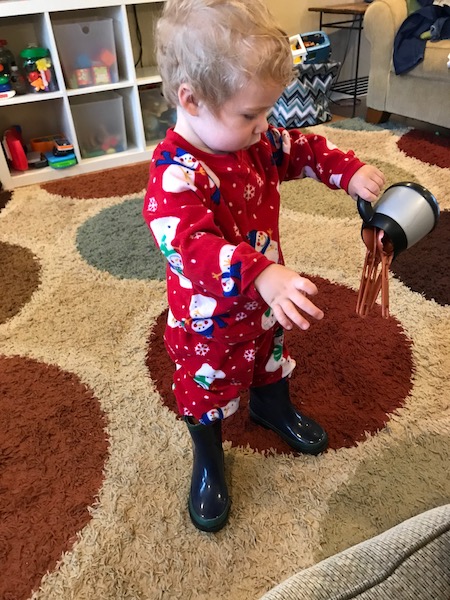 He climbs in and out of his high chair by himself now (sometimes he escapes in the middle of a meal!).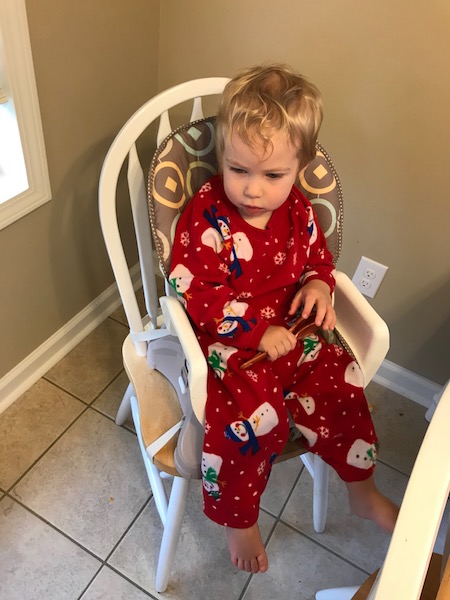 He wanted to wear his baby inside his backpack – future babywearer perhaps?  So cute.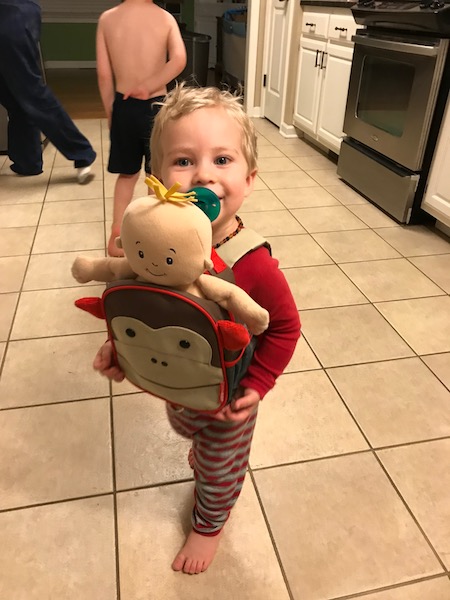 Holding his ears while I use the loud blender.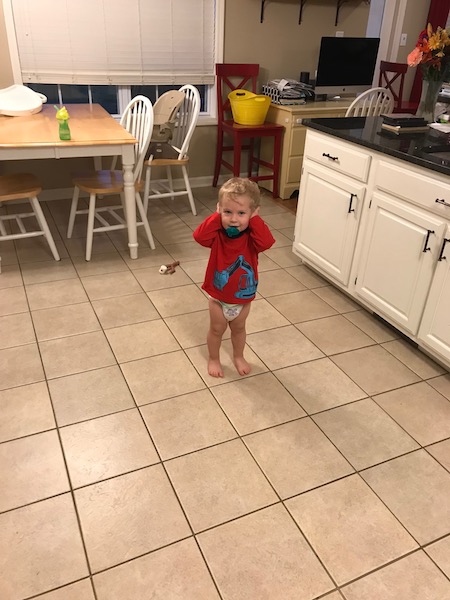 We've had some very warm weather this month (I would say unusually warm but honestly this is Kentucky and nothing is unsual anymore when it comes to our warm weather) so we've had some good days to play outside.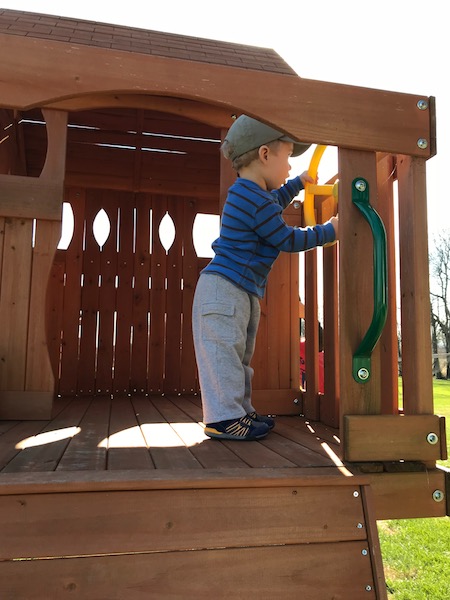 Parker has gotten super good at climbing up the ladder on our playset.  He's such a climber and so independant!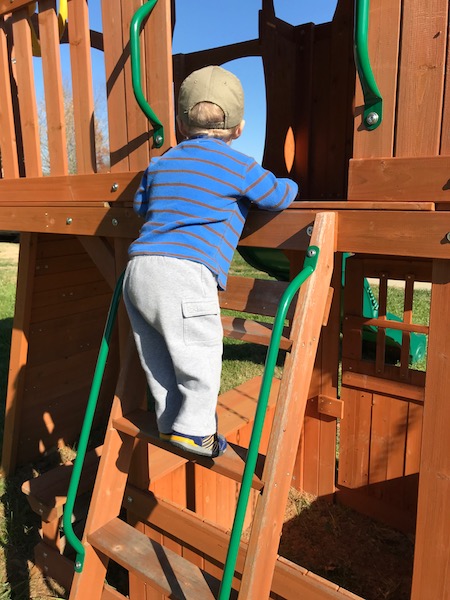 Other pictures
They both stole apples off the counter and were so cute eating them.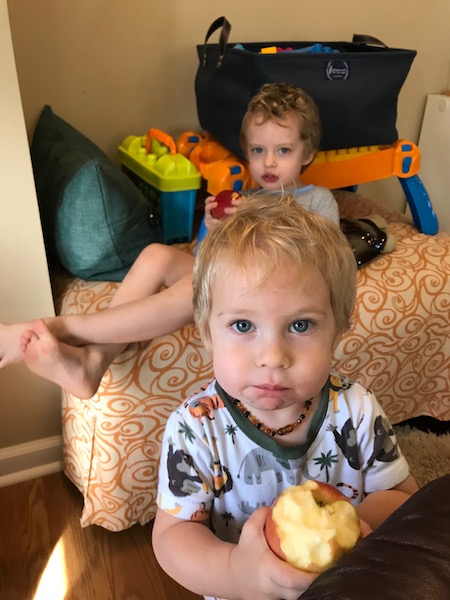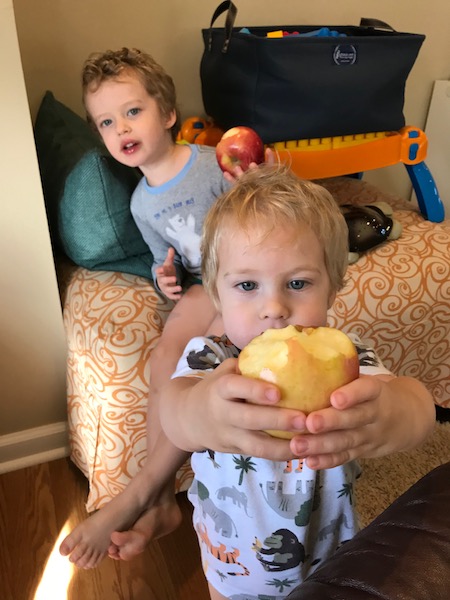 Parker is usually too busy to ever sit down and look at books like Hudson does, but I did catch them both reading on the couch one day.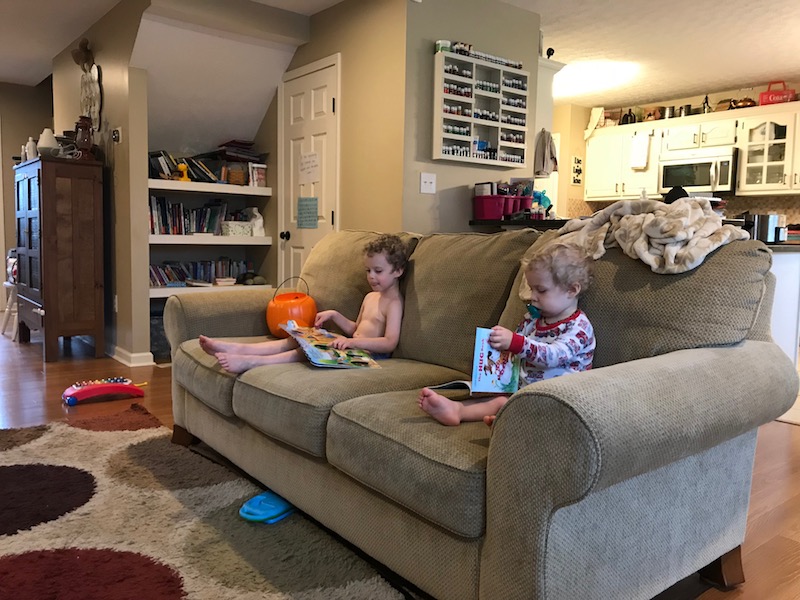 Black Friday was a crazy (but fun) day for me and my oil business.  I spent a lot of the day hanging out on the couch with my best sidekicks while working.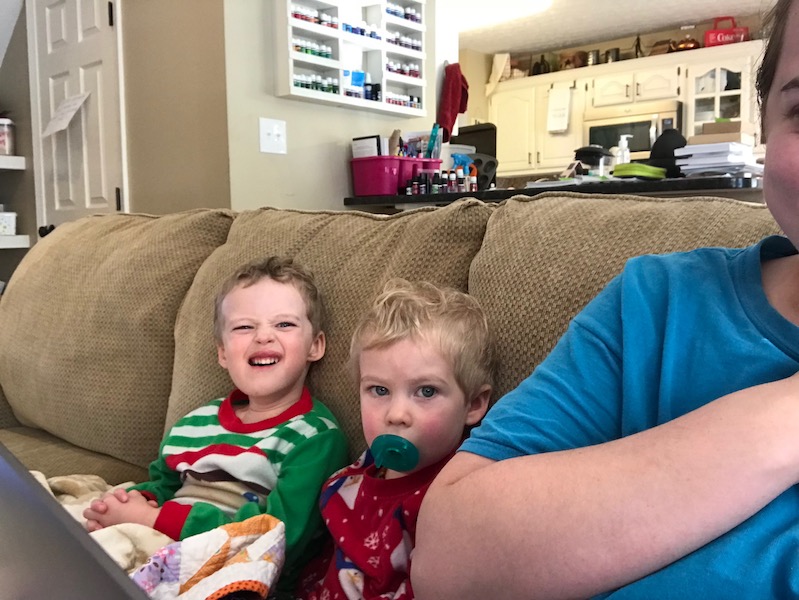 That's all for this month!  Catch you again in another month.  Hard to believe that 2017 is almost over!