I'm not much on Black Friday shopping – the only Black Friday shopping I do is online and even then there have only been a few times that I tried hard to jump on an online deal quickly so that I could get it.  When I heard the newest addition to the FasciaBlaster family, the MasterBlaster, was going to be released on Black Friday I knew that would be one of those rare times when I'd set up reminders and wait with baited breath at my computer to try to snag one.
However, I didn't end up having to do that at all because a couple of weeks before Black Friday I was contacted to see if I'd be interested in being sent the MasterBlaster early in exchange for writing a review on my blog.  Ummmm, DEFINITELY!  I was already planning to purchase one myself anyway so that was perfect.  Then they sent me not just the MasterBlaster but a box full of Ashley Black's goodies – such a generous company!
So all that to say…I received this product for free in exchange for my honest review.  All thoughts expressed here are my own (and if you've been reading here long you know I only review or promote products I love and believe in!)
(No idea what this FasciaBlasting thing is I'm talking about?  Check out my previous post here.)
---
This post contains affiliate links.  If you purchase a product through an affiliate link I make a small commission at no cost to you.  Thank you for supporting my blog!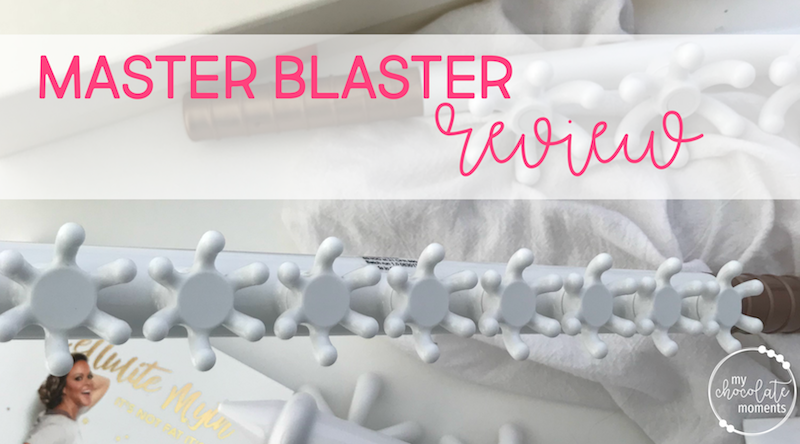 What's different about the MasterBlaster?
The MasterBlaster has the same size handle as the original FasciaBlaster, however, it has nine small claws instead of four big ones.  (The claws on the MasterBlaster are the same size as the claws on the FaceBlaster so it's like having 3 FaceBlasters in a row plus the handle for extra leverage.)
Why that's mega cool
The little claws of the FaceBlaster (and now the MasterBlaster) are, in my opinion, better at getting into the fascia and working to smooth it out.  I have been blasting for a year and a half now so I was shocked when I used the Master Blaster for the first time (on areas that I've blasted many times with the regular blaster) and it felt totally different!  I didn't realize how much the size of the claws would make a difference.
What I think now
I've been using the MasterBlaster for a month now and I LOVEEEEE it.  It's hard to say it's a definite favorite because I use all my blasters for different things but it's certainly the one that I'm using the most!  I use my FaceBlaster on my scalp, face, and arms and then the MasterBlaster everywhere else.  I'm especially loving it for areas that are extra tight like my shoulders and calves, but it's great all over!  If you check out the main fasciablasting Facebook group you'll hear similar sentiments from all the other ladies who snagged one on Black Friday.  It has been a fantastic addition to my FasciaBlasting arsenal.
At the time of writing this post, the MasterBlaster is in stock AND has free shipping!!  Grab a Christmas present for yourself here!
Make sure you have a copy of Ashley's book, join the Facebook group, and check out the many helpful YouTube videos so that you know how to properly use this tool!