Late again (no surprise there!) but finally getting around to our December 2017 family update and sharing some of the things we did last month.
Hudson
Our biggest event for December (aside from Christmas, of course) was that Hudson broke his collarbone.  It was after dinner one evening – we had eaten early so we were letting the boys play for a few minutes before we put them to bed.  I was in the living room, Michael was in the kitchen, and Hudson was in the playroom (our old dining room right off the kitchen).  Even with us all being right there, we didn't see exactly what happened but we think Hudson had taken a large plastic bucket (that we store larger toys in) and put it on top of the ottoman and either tried to climb on top of it or in it and it flipped off the ottoman.
Poor guy!  He started crying and almost immediately I could tell it was different from his usual cry when he gets hurt.  Michael sat him on the counter so we could look him over and we could see the break right away.  We slipped him into some pjs that had buttons (so we wouldn't have to put it over his head), packed everyone up, and took him to urgent care.
He cried and cried right after it happened and while we were getting everyone loaded up to go to urgent care, but then he actually fell asleep in the car on the way there!  Then once we got there and woke him up he didn't cry anymore.  He was obviously not feeling great and not very active, but he didn't fuss much at all about it hurting.
(Here we are waiting at urgent care)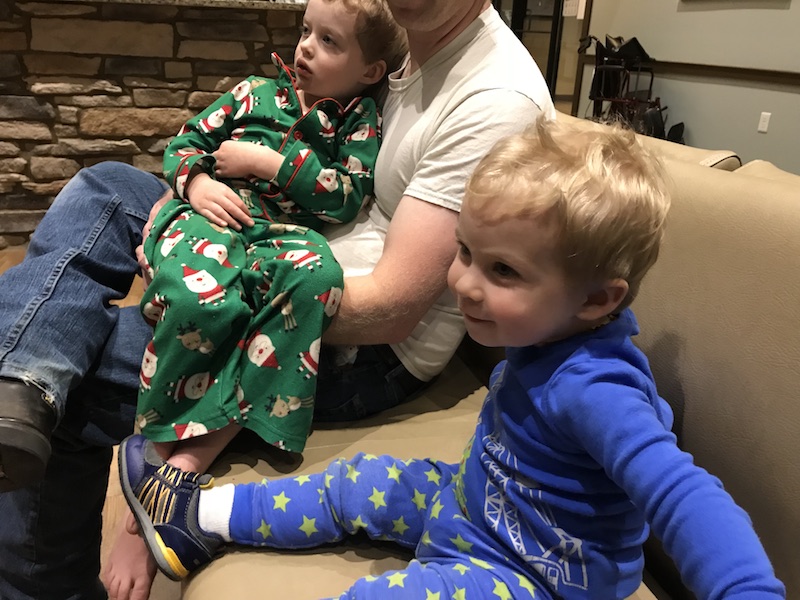 Making silly faces through SnapChat to distract Hudson while we waited for his examination.  He did great during the x-ray and the exam!  
They sent us home with his arm all bandaged up and an appointment to see an orthopedic doctor the next day.
When we got home everyone needed a snack (of course…this kids eat so much!) and then Hudson went to bed.  He cried a tiny bit when he tried to lay on his hurt side but as soon as I helped him get settled on the other side he fell right asleep and slept all night!  I truly expected we'd be up all night with him in pain and crying but that wasn't the case at all!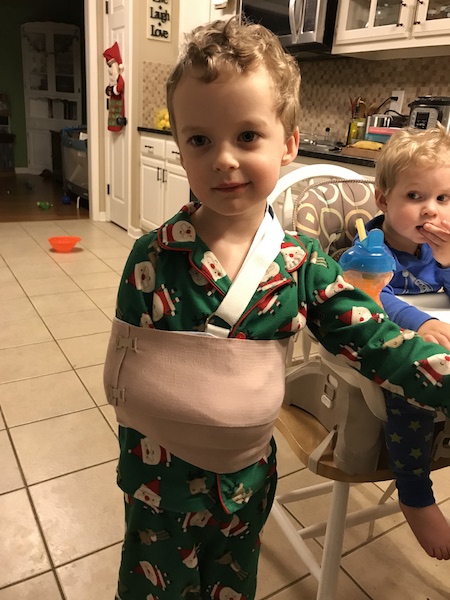 The next morning we took him to the ortho and she said it was a good clean break, it would heal in 3-4 weeks, and to keep him still and his arm stabilized but that he'd also start moving it more as it healed and that was fine too.
The next few days were spent resting on the couch watching lots of tv.  It's not easy to keep and active 3 year old still and while it was nice that he didn't have to be in a cast, it also made me nervous that he'd hurt himself worse!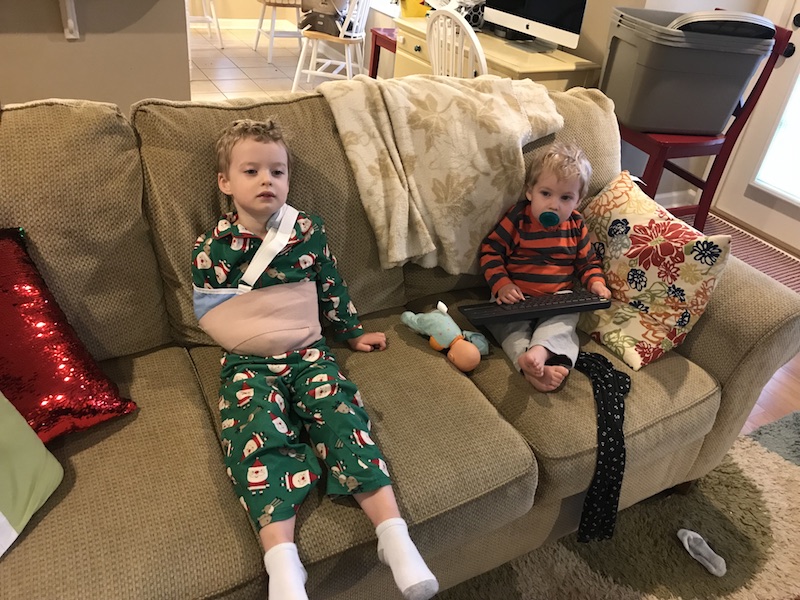 After a couple of days of wrapping his arm a gazillion times in that ace bandage, I ordered a brace that one of the nurses at urgent care had recommended and it made things SO much easier!  It gave him use of his hand (instead of it being inside the bandage) and was much easier to put on and off.  It velcroed around his back chest and those two spots on his arm so it kept his arm still and stabilized but was more comfortable and easy to use.  If you ever have a child with a broken clavicle (I hope you don't!) I highly recommend getting one.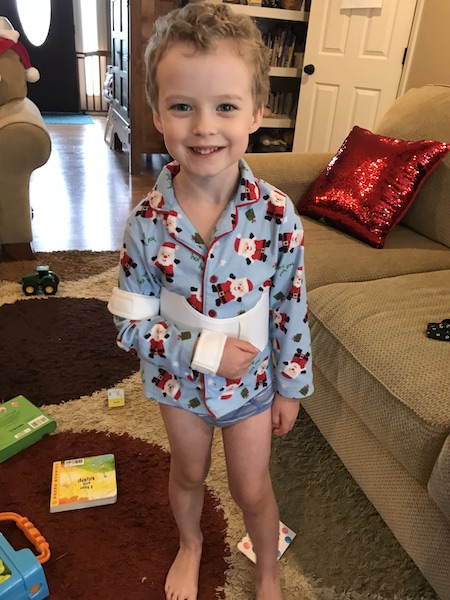 It's amazing how resilient they are at this age.  After a couple of days of just laying around and taking it easy he was back up playing and learning how to adjust to his new normal (like eating with his left hand).  It didn't slow him down much at all!  We tried to do some fun things that he could do easily like decorating Christmas cookies and really the 4 weeks passed without much issue at all.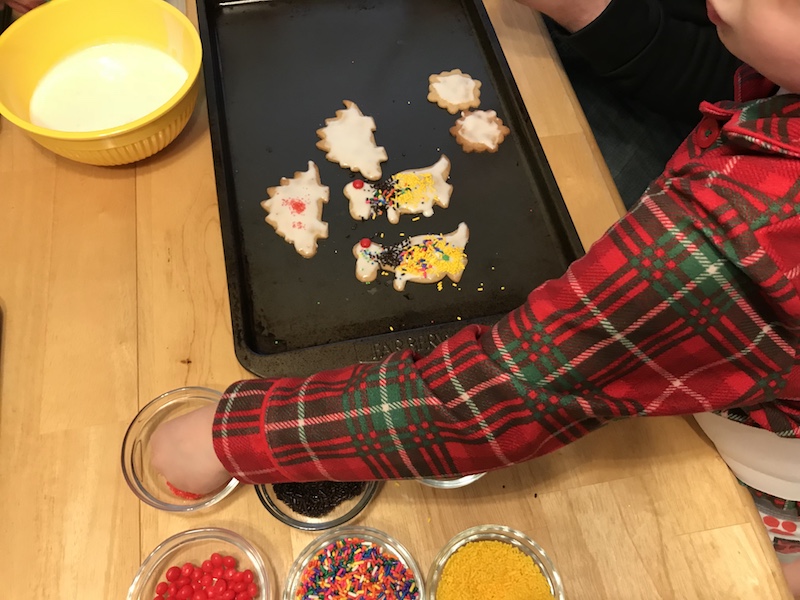 Not related to his broken collarbone, but Hudson is starting to learn his right from his left.  So far it's mainly tied to the car – he can identify which direction we're turning and will point out who is sitting on which side ("Mine and Daddy's side is the left and Mommy and Parker's side is the right!")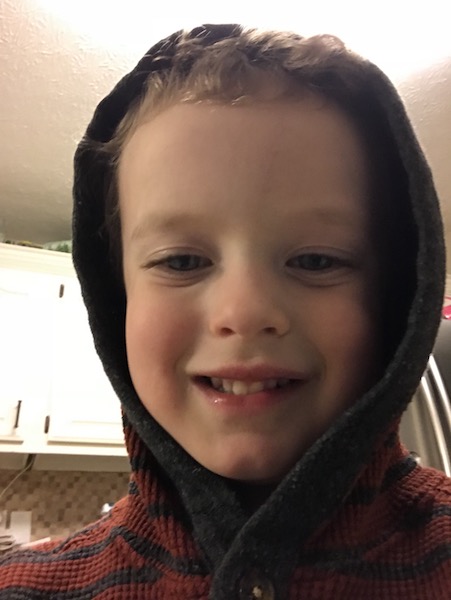 He has such an imagination and I love seeing how creatively he plays!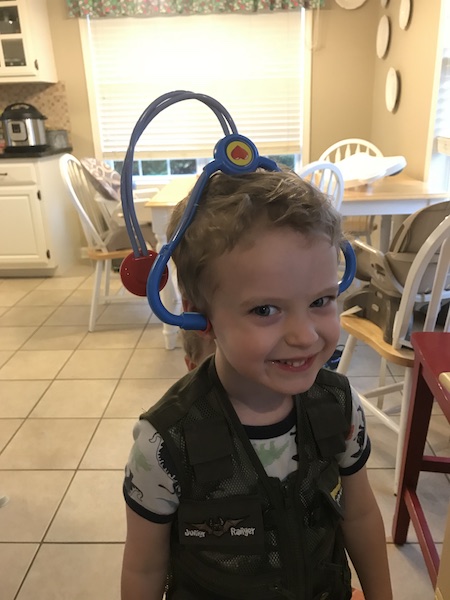 Parker
After talking very little up to this point, Parker's vocabulary has really taken off!  Some of the new words or phrases he started saying this month were: "oh yeah!", thank you, me, tree, pee pee, coat, bubba (we only got him to say that one a couple of times and then he wouldn't do it anymore), chip, soup, pants, cookie (cootee), play (which sounds like "pay"), pray (also "pay" so that's a little confusing), Huds (he said this once and then never again), ice, uncle (which he pronounces "nyah-nyah" and uses it to refer to all three of his uncles so it's not easy to distinuguish who he's actually talking about), he did say Riley once (that's one of his uncles) but only that one time, gloves (which he calls goggles…even though he also calls googles/safety glasses goggles so it's a little confusing which one he's talking about), potty, miss (like "you missed"), suprise (he says "prize!").
Another word he learned and loves is hallelujah.  His favorite Christmas song is Pentatonix's Hallelujah – Parker asks to listen to it multiple times a day and sings along enthusiastically. He pronounces it "ooooo-yah!" and it's the cutest thing ever. Sometimes he even walks up to our Amazon Echo and hollers "oooo-yah!" at it to try to tell it to play.
We haven't worked on his sign language much at all recently so he hasn't learned any new signs, however, he made up his own sign that he uses when he's talking about the Gator they got for Christmas.
For some reason this month he started wanting to use his fuffle (his blanket-thing) to swaddle his baby.  It was cute at first but to be honest it's kind of annoying because I have to re-swaddle baby a million times a day.  And poor baby is so dirty from being packed all over the place.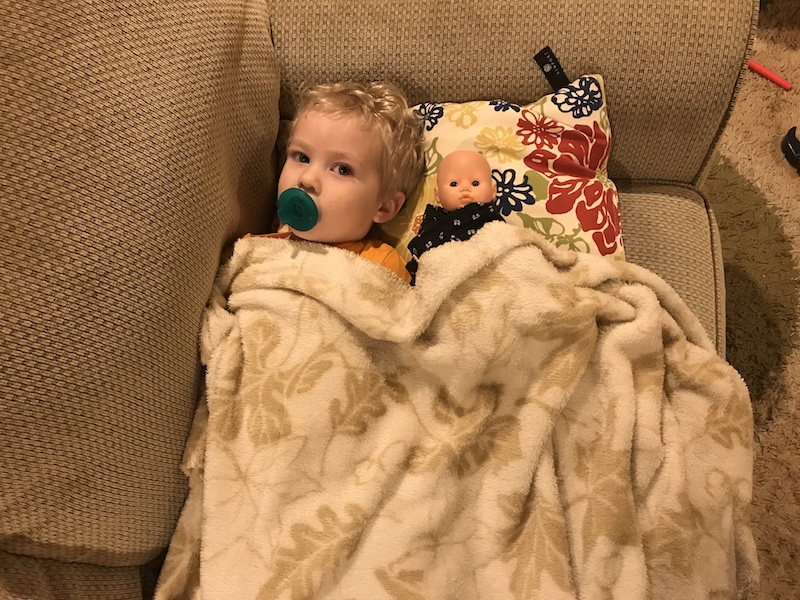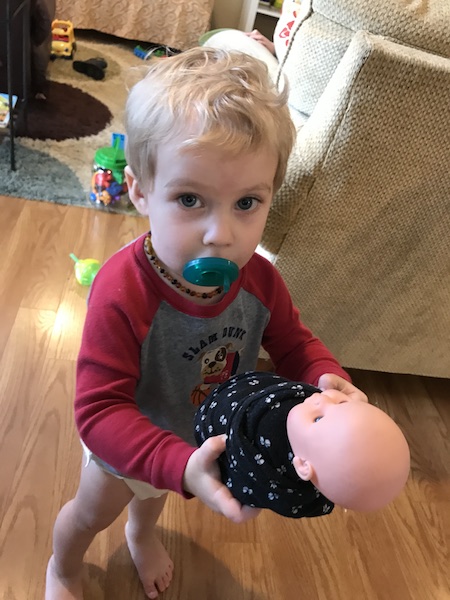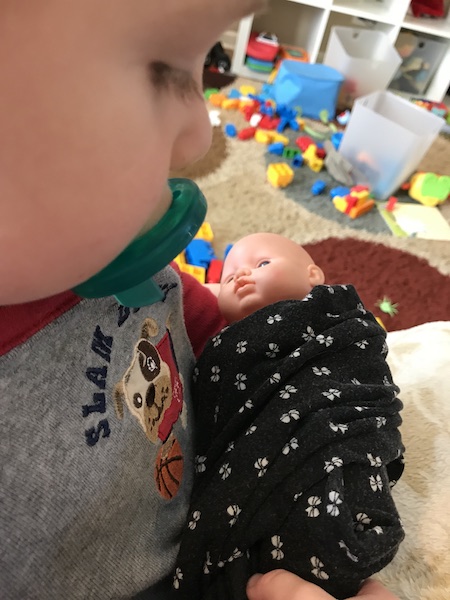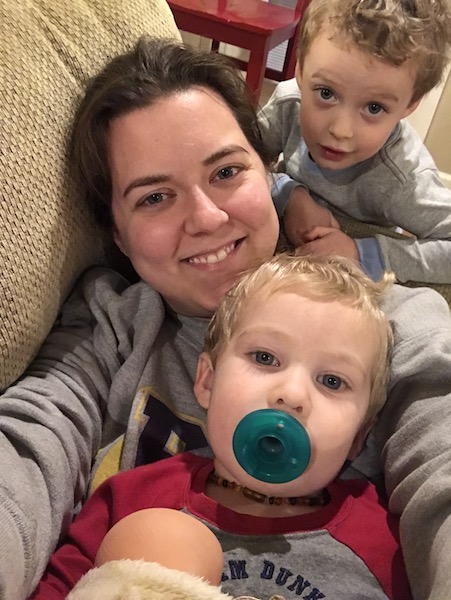 d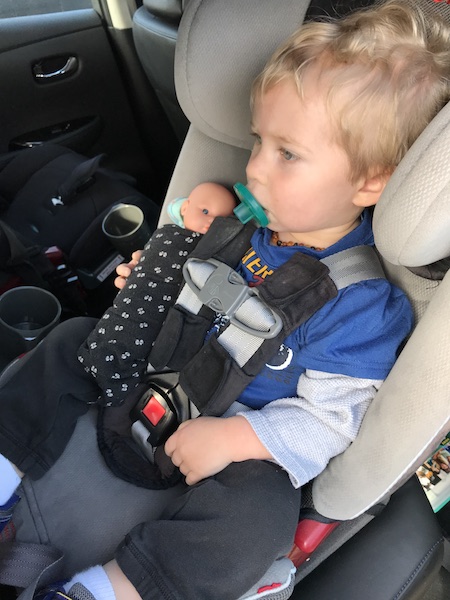 Helping me build a tower (which is pretty much the only thing I know how to build…)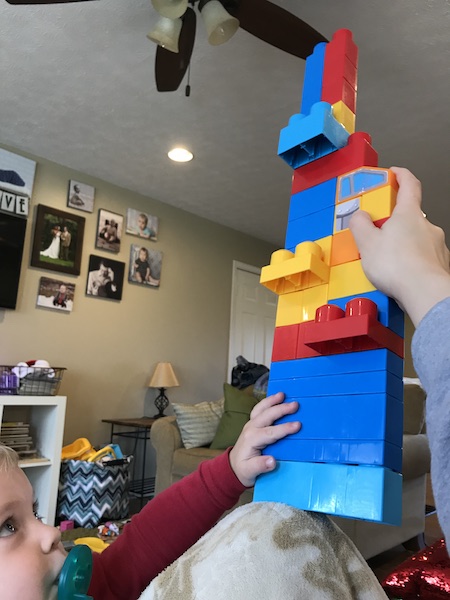 Hudson put some stickers in Parker's hair, poor guy!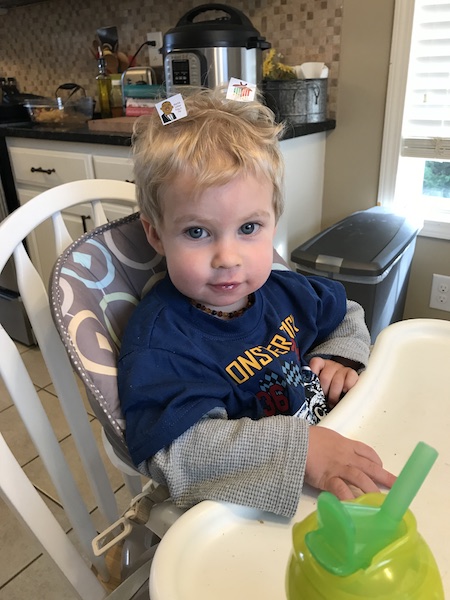 He went through a phase where he didn't want to stay in his Bible class and either cried, clung to me, or just refused to look at his teacher.  This particular day he was giving his teacher a death stare.  Thankfully that phase seems to have passed!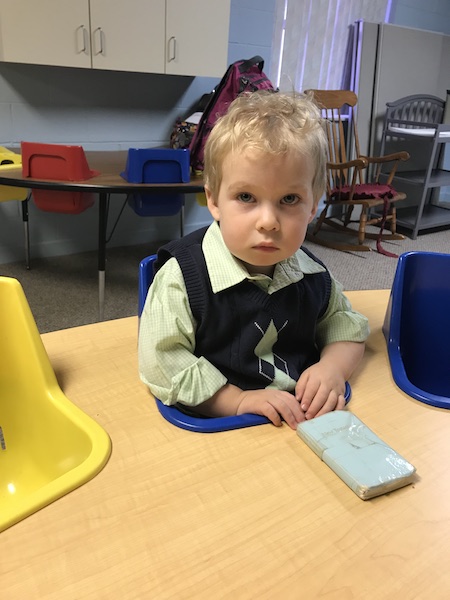 Oh look, snuggled up with swaddled baby again.  Why are kids SO adorable when they're sleeping though?!  I mean, how precious is that?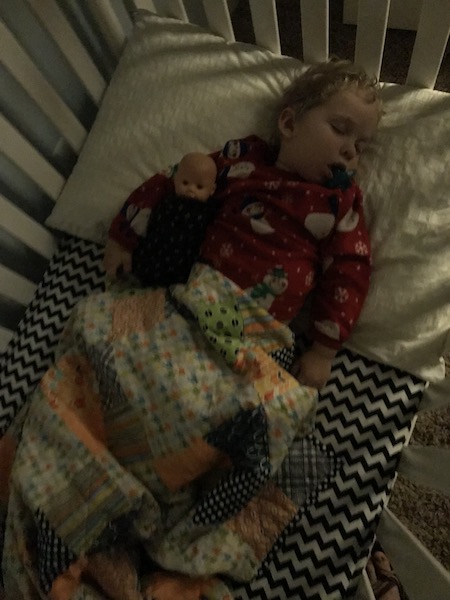 Finally enjoying Bible class after his weird phase of hating it.

Yet again chilling with baby on the floor.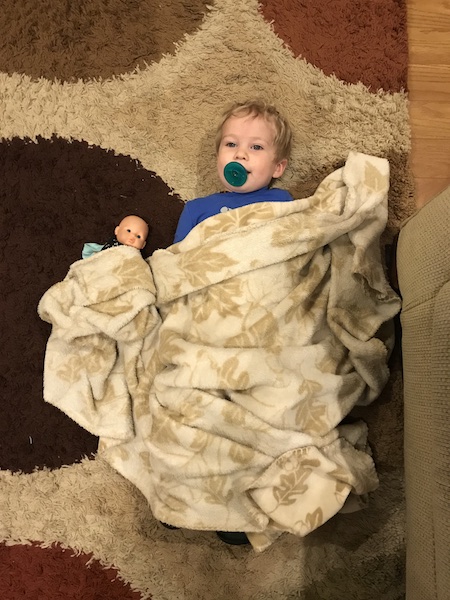 He loves boots of all kinds – his own, Michael's, mine.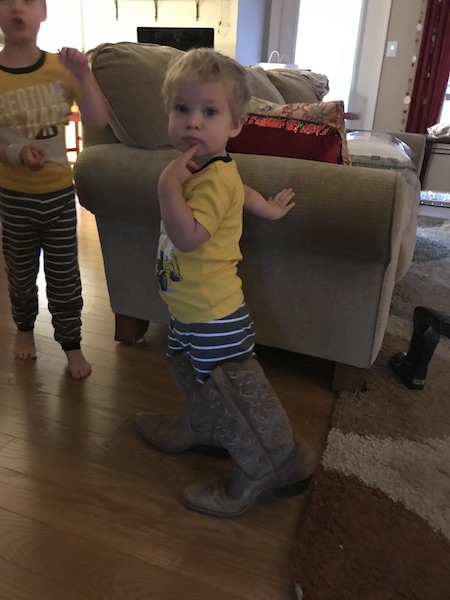 I climbed up on a chair to get something off a shelf and in the process knocked over a container of dried lavender.  It went all over the computer desk, the floor, and Parker who was looking at me like "what in the WORLD are you doing, Mommy?"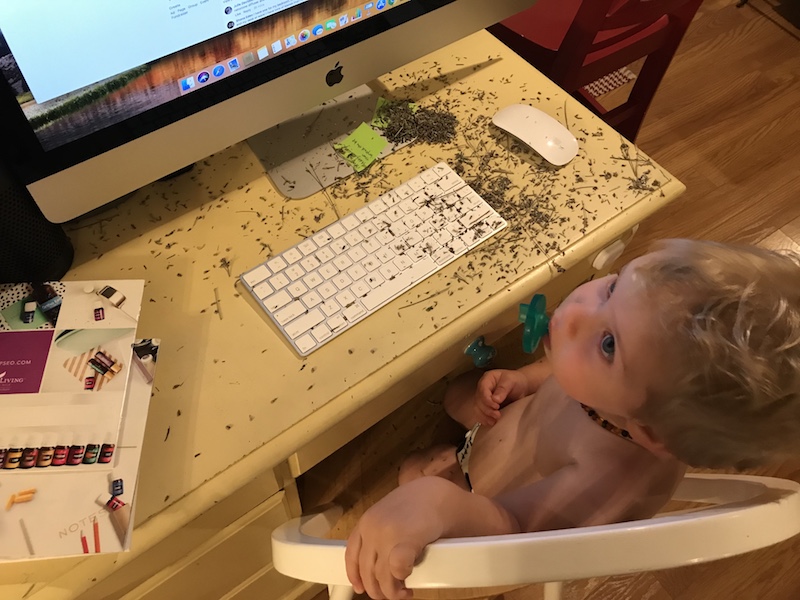 Other family stuff
Some other things from this month (mostly revolving around Christmas because, well, December).
We took the boys to see Santa at Bass Pro.  They had a really neat set up!  You put your name in so you didn't have to wait in line and then they had all sorts of activities like a Lincoln Log table, a remote control car table, a place to write letters to Santa, and more.  Lots of things to keep little ones busy while they waited!
I did not get a picture with my own camera of them sitting on Santa's lap (Bass Pro gave us one, I need to try to scan it or something) but let's just say it wasn't great.  Hudson ran right up there and hopped in Santa's lap (which totally surprised me) and Parker screamed and tried to get out.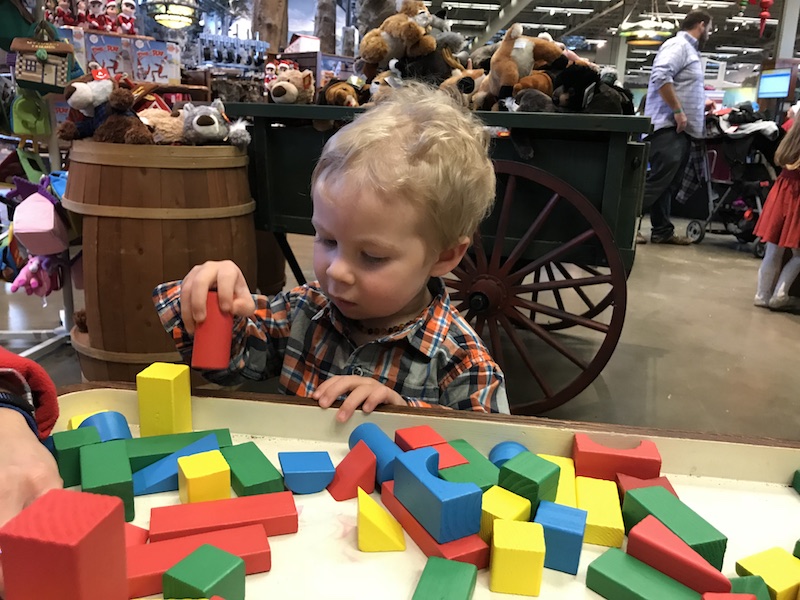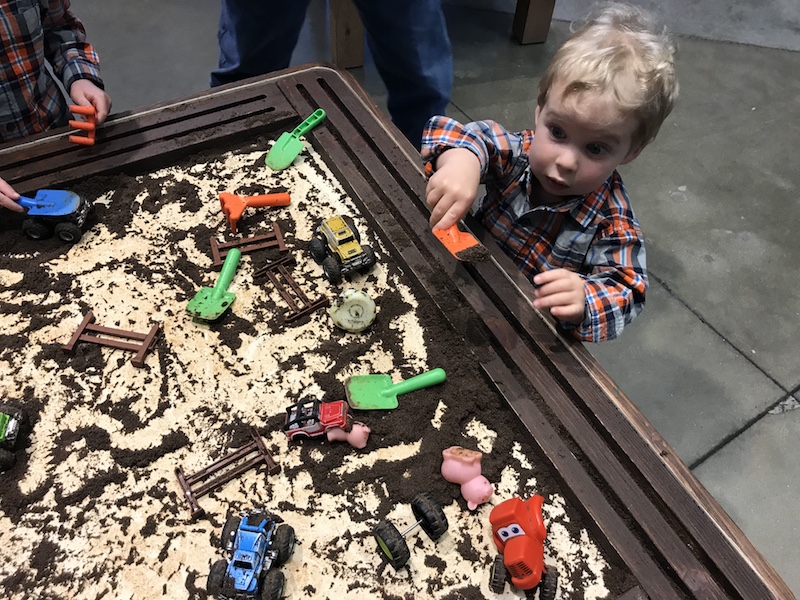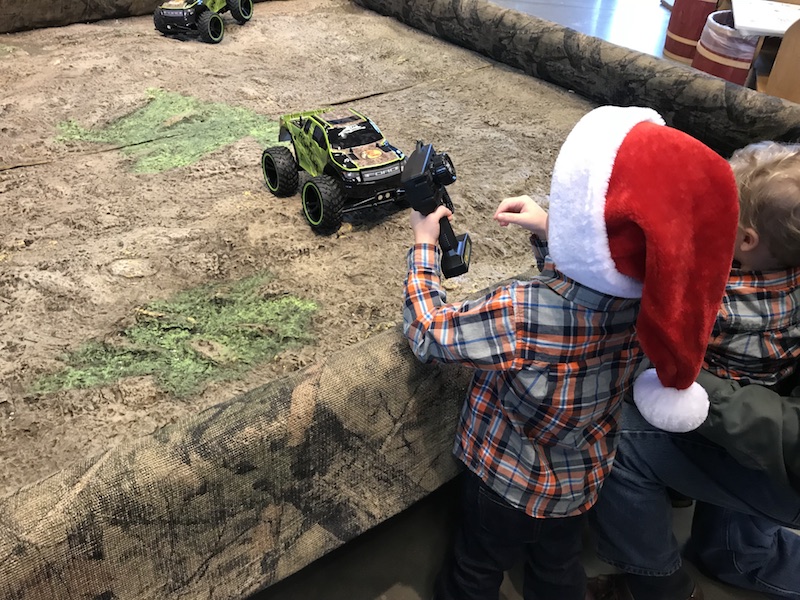 This is the first year Hudson was super excited about Christmas.  He loved helping me decorate!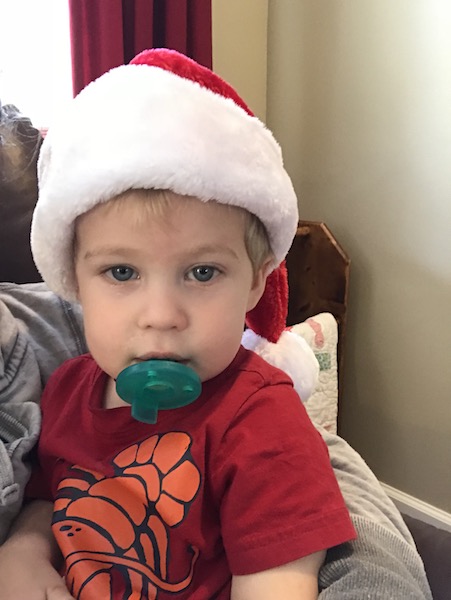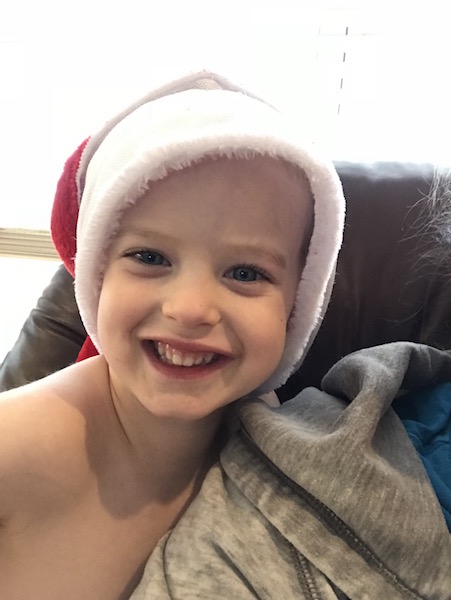 We went to our local Christmas parade.  I didn't know what to expect but it was really great!  Very entertaining for all of us!  Hudson wasn't a huge fan of the loud sirens but otherwise really liked it.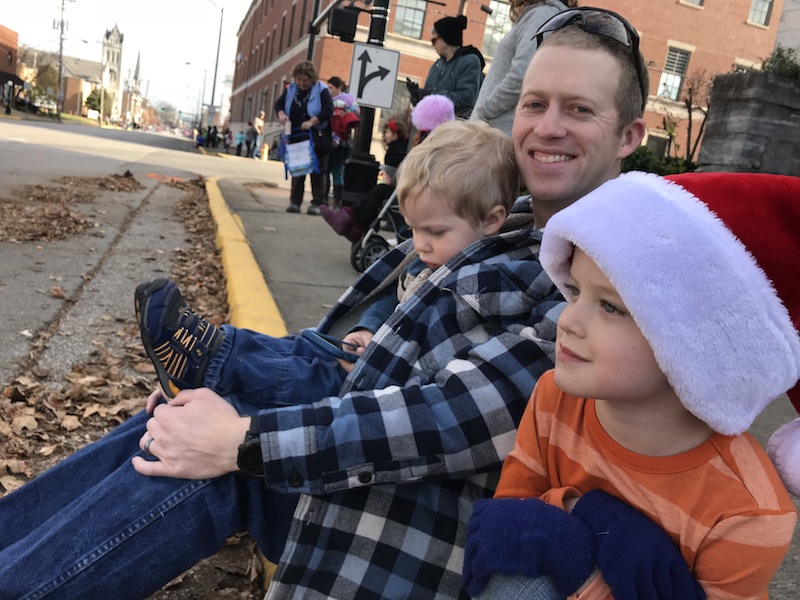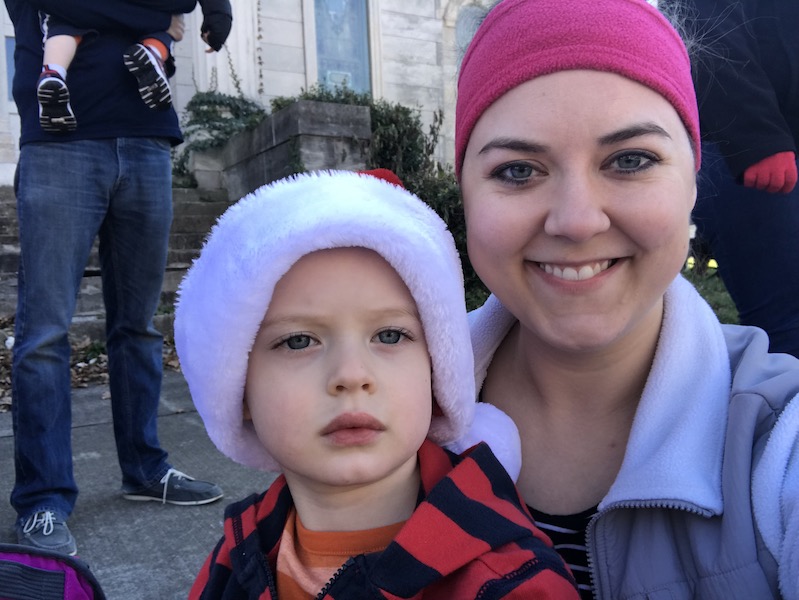 Usually Michael takes Hudson to the monthly Home Depot building day and Parker stays home with me or we go run other errands but this month we all went together.  While I enjoyed getting to see Hudson working on his project, it was quite a chore to keep Parker entertained since his attention span is basically none.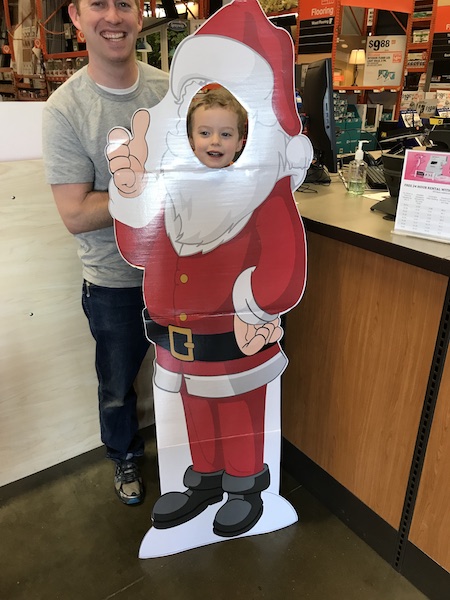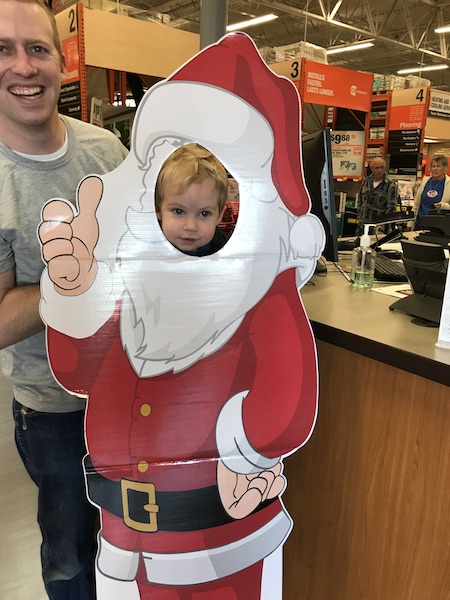 Building a wooden gingerbread house.
Parker and I spent most of the time pushing a cart around in an empty area of the store.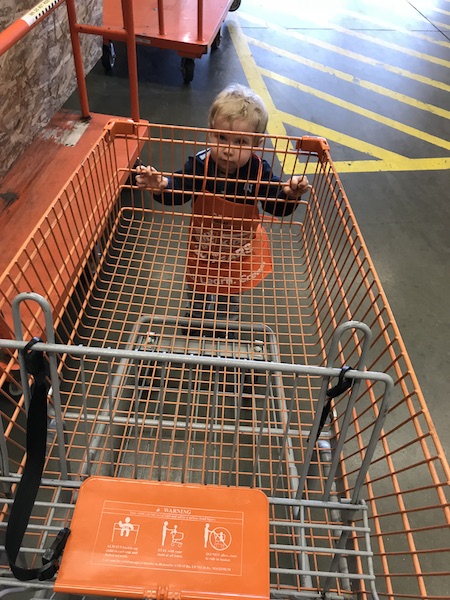 I don't know if Home Depot encourages bringing dogs in or if it was just a coincidence, but there were a lot of people with dogs there that day and Parker really enjoyed watching them.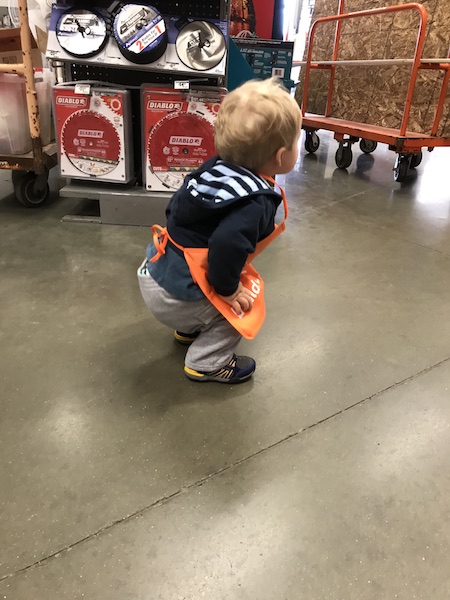 I bought one of those fun sequin pillows that changes colors if you run your hand over it and turn the sequins over.  We all had a good time playing with it – it was pretty relaxing!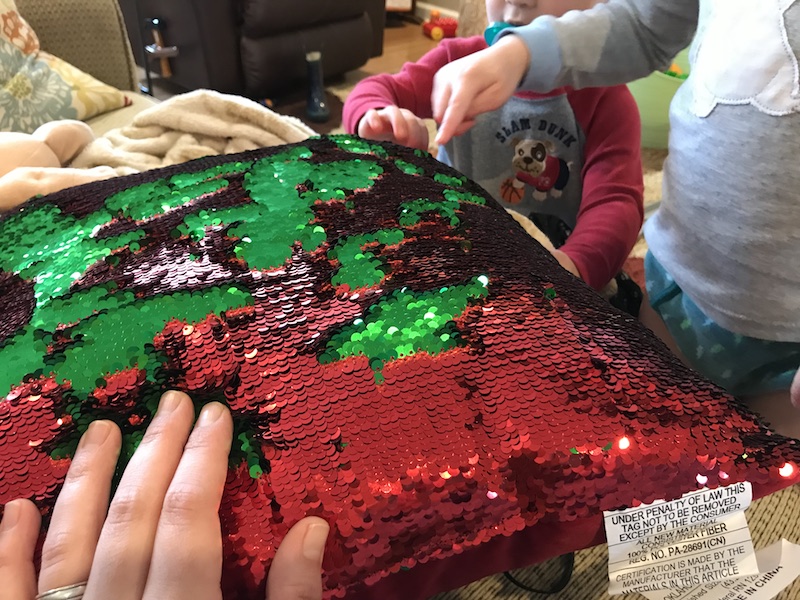 The boys "helped" me decorate the tree and by help I mean Hudson put ornaments on (all in one little area, of course) and Parker tried to eat my cinnamon ornaments.  Within 24 hours at least half of our candy canes had been broken and the majority of the ornaments had been moved to the top half of the tree.  They had some non-breakable ones on the bottom half though that they got to take off and put back on over and over.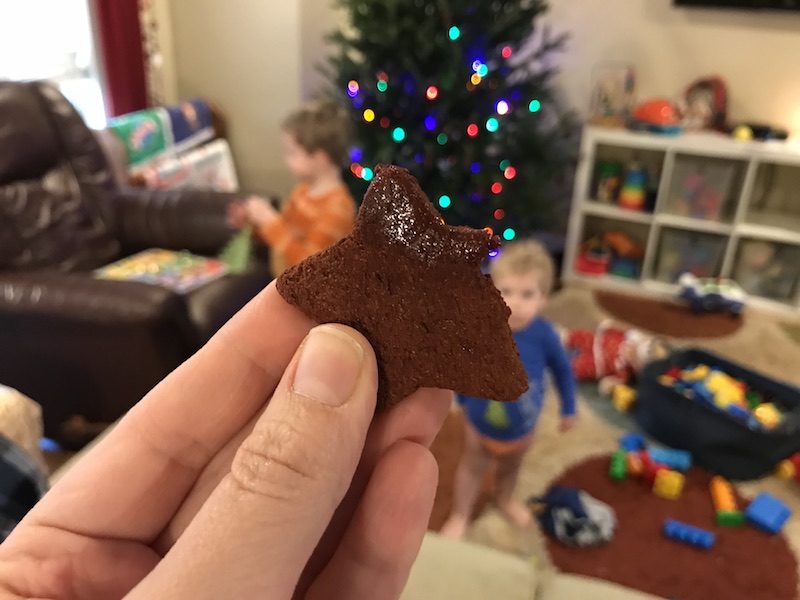 They were SO excited about the tree!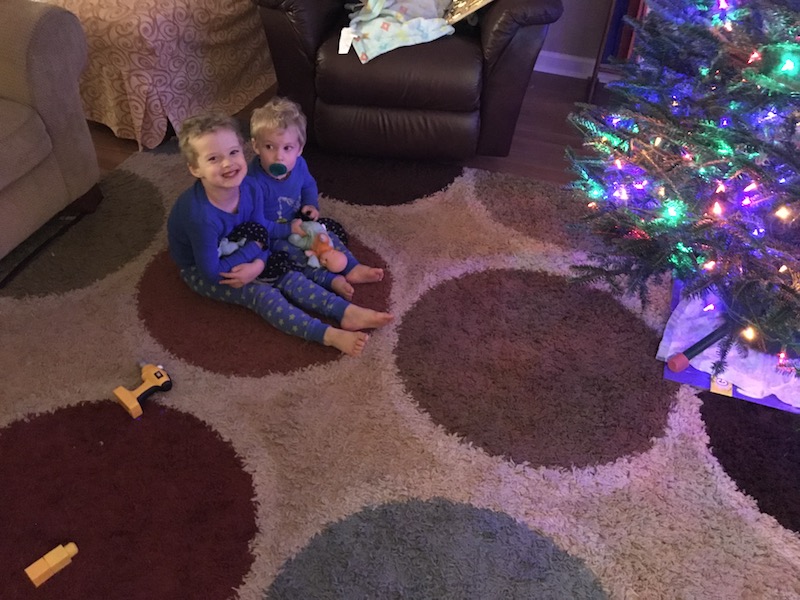 P.S. Matching jammies, and matching clothes in general, are my favorite.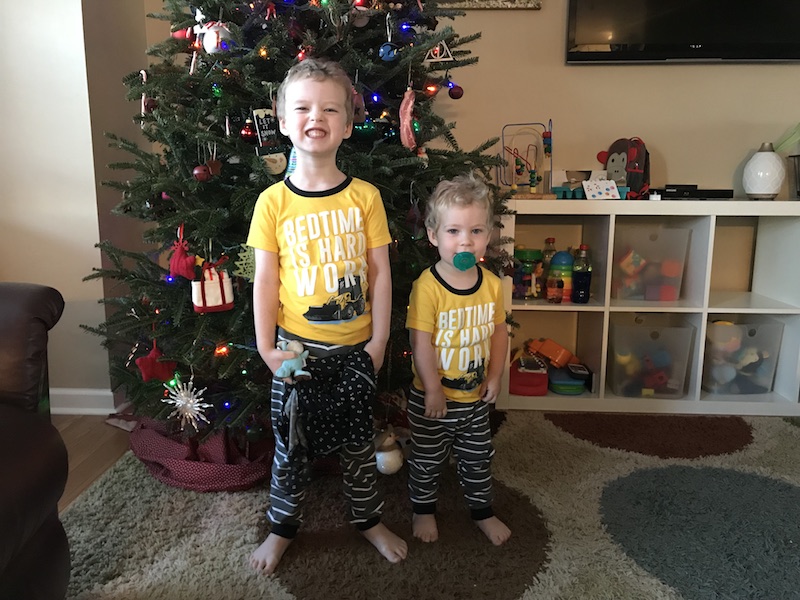 We had several Christmas celebrations and the boys got lots of great things.
This pop up fire engine tent thing was a huge hit.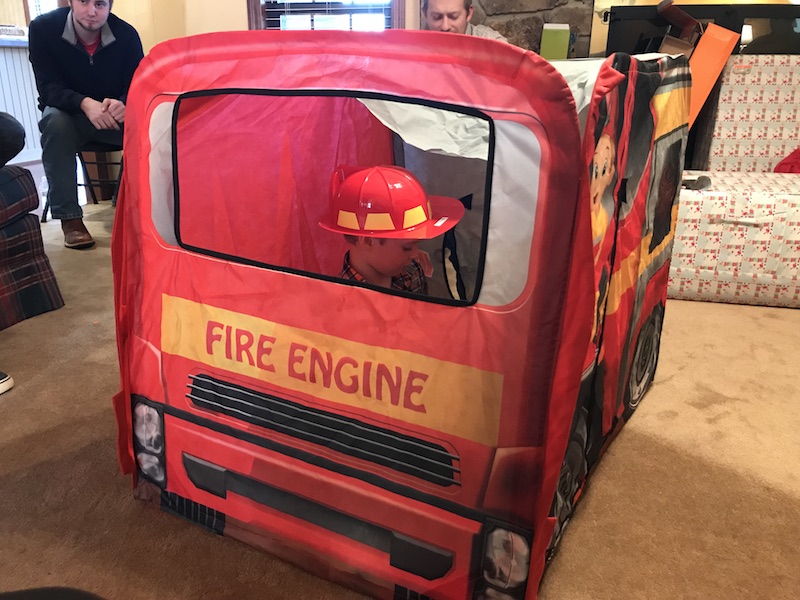 Parker loved wearing his goggles.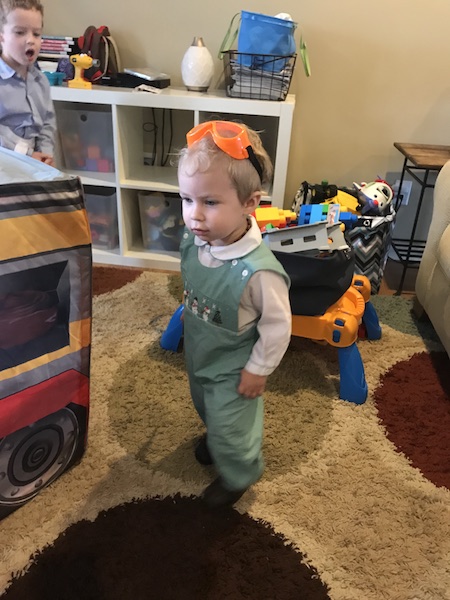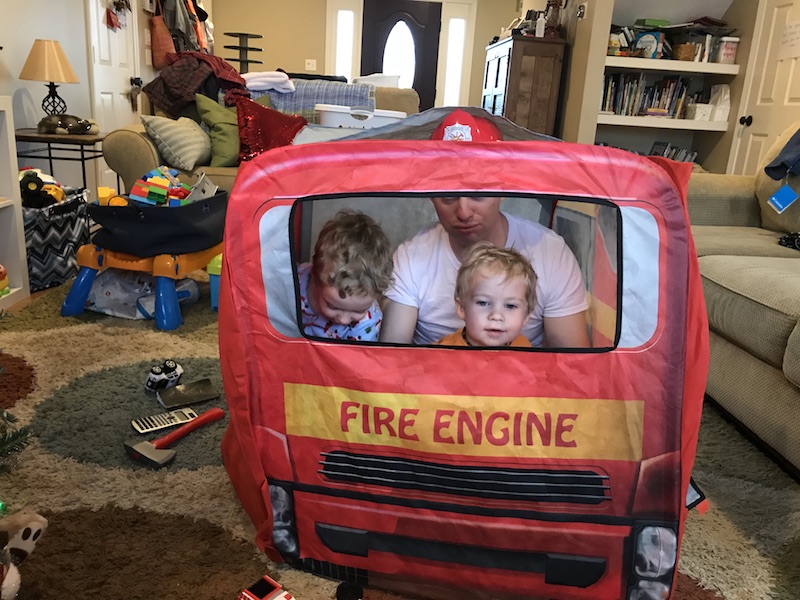 They love putting their coats, hats, and gloves on, even when we're just playing inside.  They're so funny!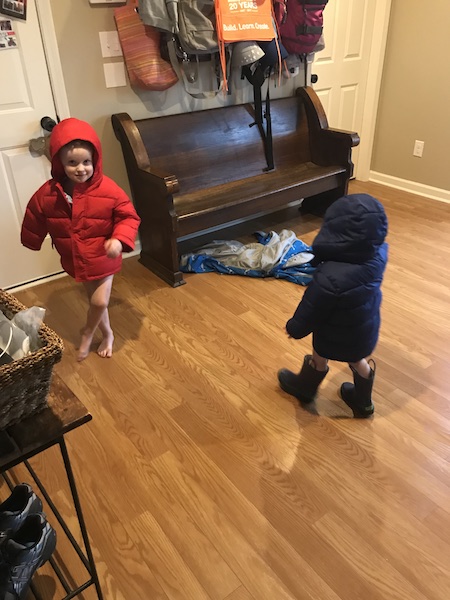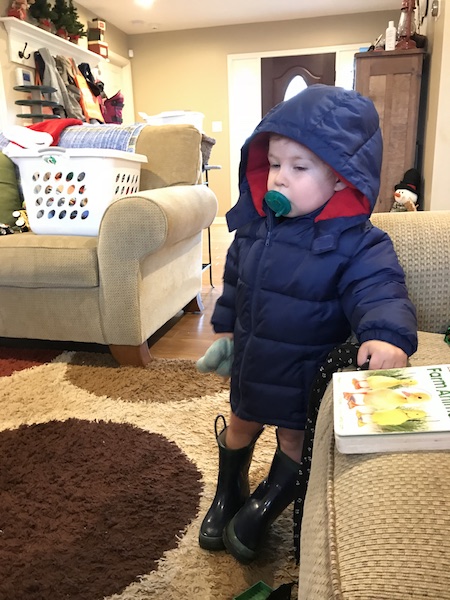 Hudson turned the fire engine tent into his little nest and spent hours and hours in there playing with his toys.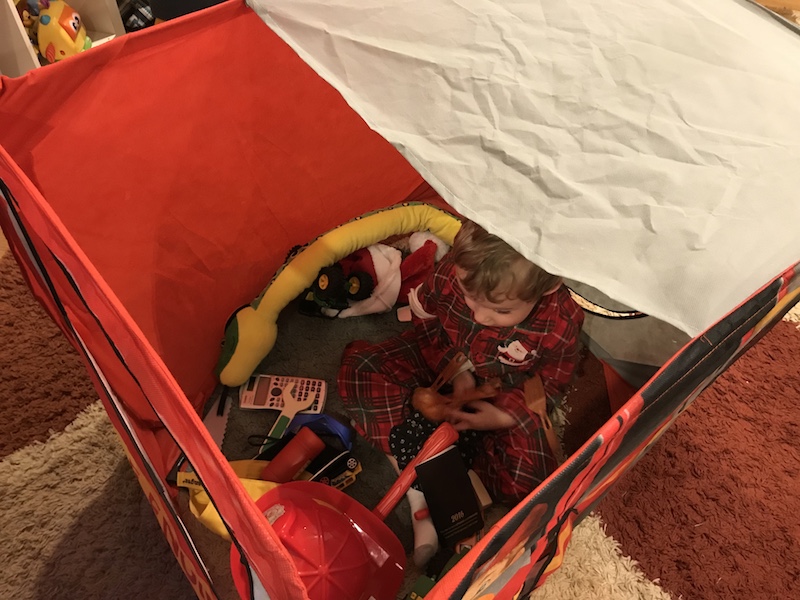 Michael and I got the boys a Gator for Christmas and they were so excited!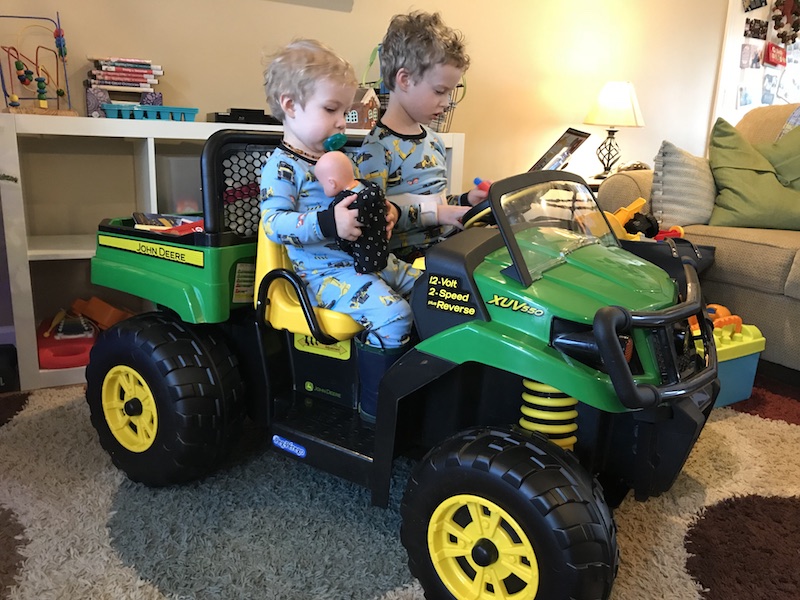 Hudson filled the back up with the other presents they got Christmas morning.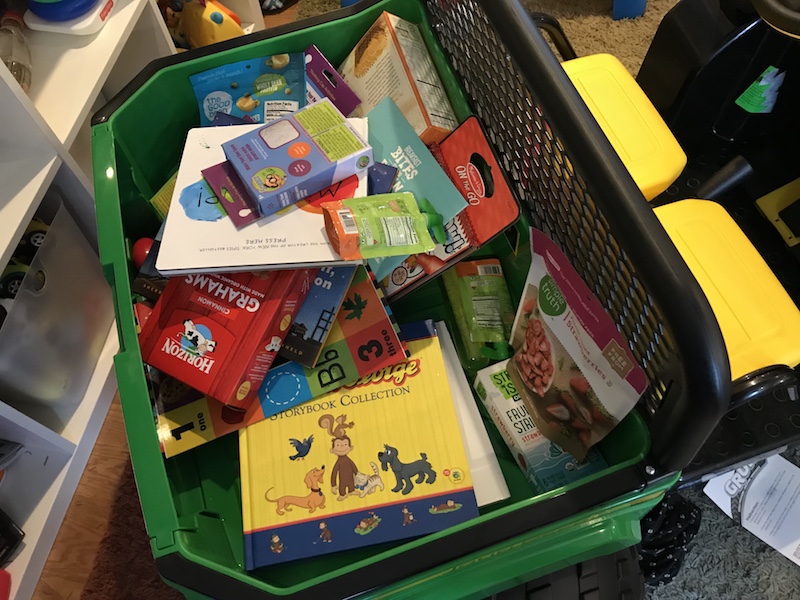 For the first few hours we kept the Gator inside and they sat in it and played, then watched a Christmas movie (The Grinch).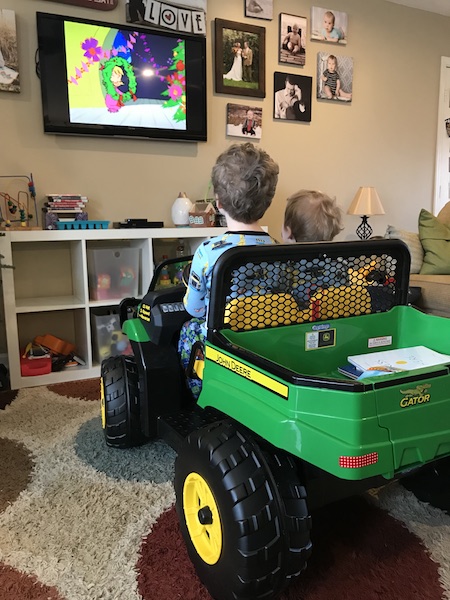 Even though it was cold they just had to go outside and try it out though so that afternoon we headed out to let them ride for a bit.  Hudson only had one usable hand/arm because of his brace but he still did pretty well driving.  Michael would walk alongside and help him turn the steering wheel if needed.  They had an absolute blast!  I think the Gator was definitely a hit!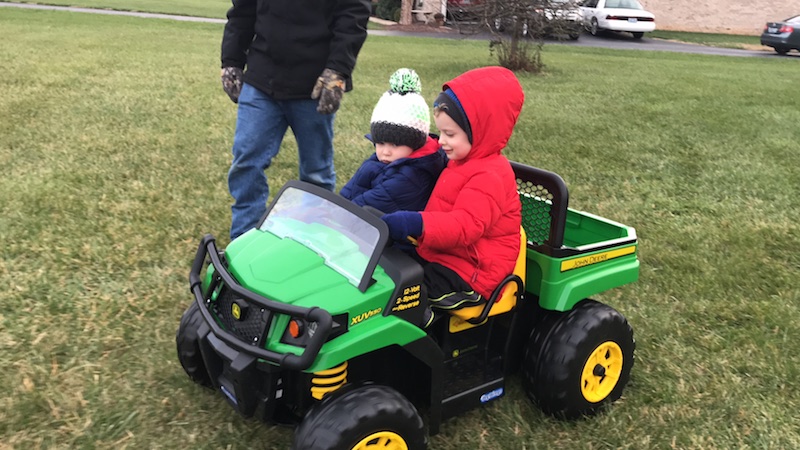 For a while I was walking behind them thinking "oh that is SO sweet – Hudson has his arm around Parker!"
Then I realized it was just the empty arm of Hudson's coat sticking straight out (since his right arm was strapped to his chest with his brace.  
We put some water bead things in their stockings and they loved playing with them!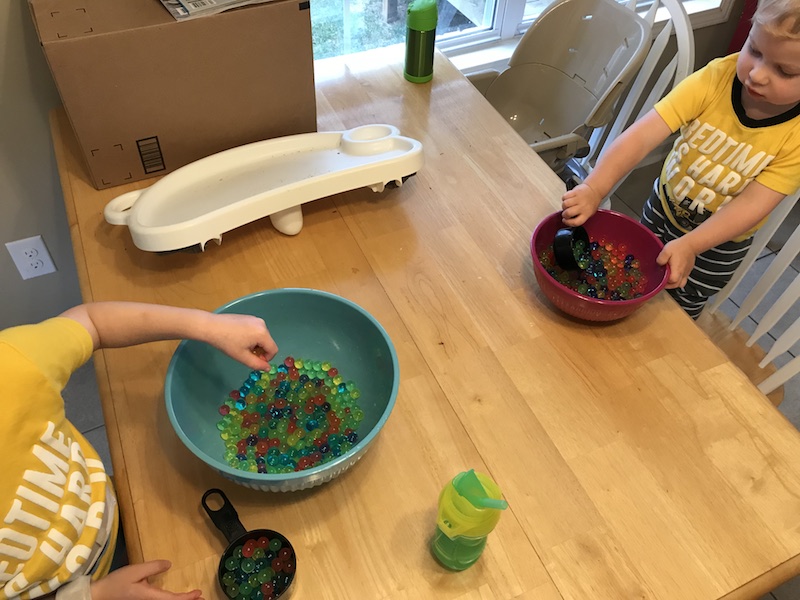 Those boots.  Oh man, they were a hit!  Parker has loved wearing Hudson's rainboots for a while now so for Christmas they got matching camo rain boots that light up on the bottom and they have worn nothing but those boots since.  In fact, as soon as Parker gets up in the morning and hops out of bed he runs to the living room and puts his boots on.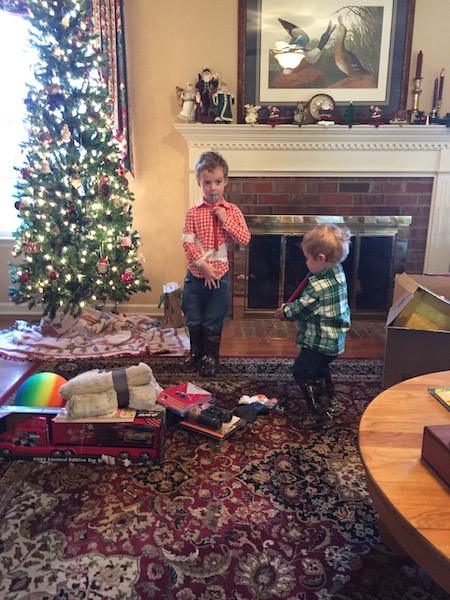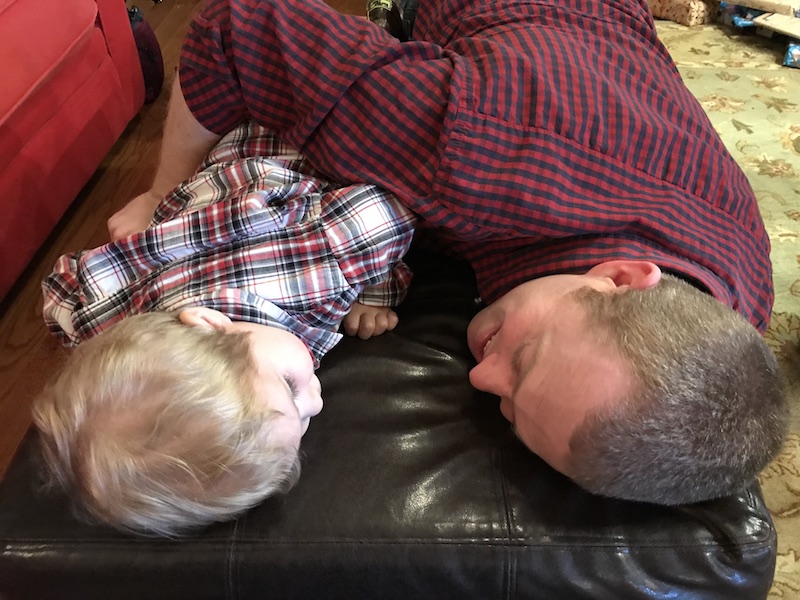 Hudson was fascinated with his vacuum at my Mema's house.  I don't know that he's ever seen anything like that!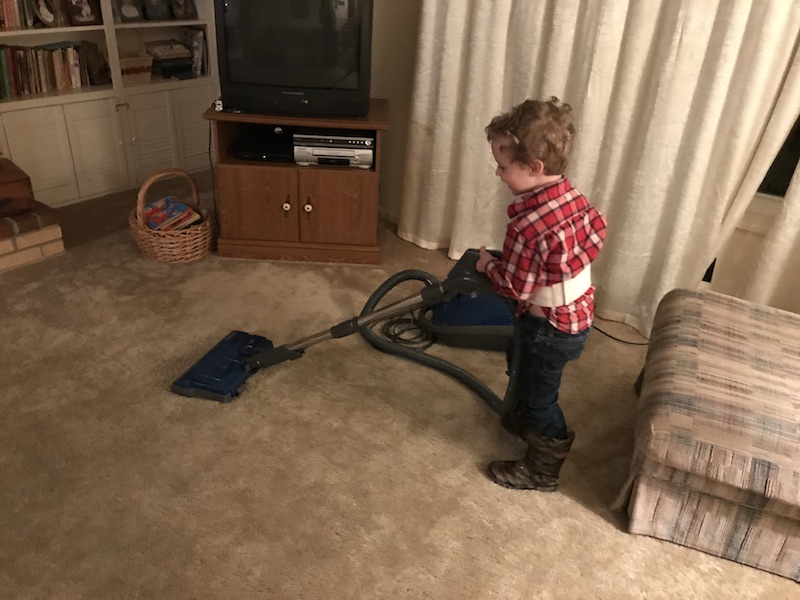 And that wraps us up!  Other than the broken bone it was a great month and we had a fantastic Christmas!