I saw a construction cake on Pinterest many years ago (maybe even before Hudson was ever born, I can't remember exactly) and I've wanted to do a construction birthday party ever since!  This year the boys are really into diggers, dump trucks, hard hats, etc. so I thought it would be perfect!
Hudson turned four at the end of January and Parker turns two at the beginning of February, so we did a joint birthday party for them.
---
This post contains affiliate links.  If you purchase a product through an affiliate link I make a small commission at no cost to you.  Thank you!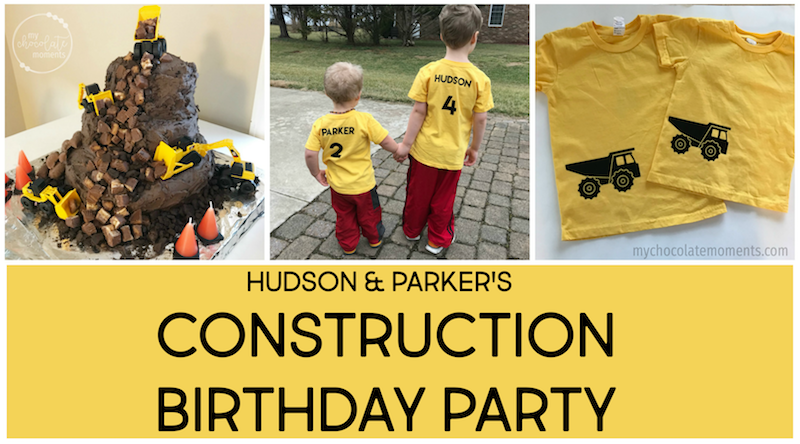 Invitations
I was going to make my own invitations but while I was looking for inspiration online I found this great blog post with an editable one so I used hers (she has a bunch of other cute free construction party printables too!).  I love how they turned out!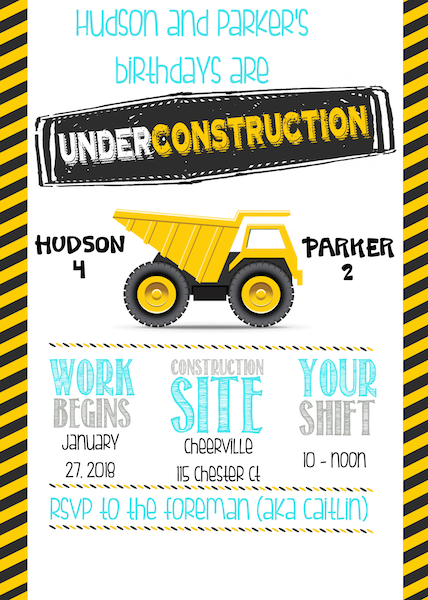 Decorations
We had their actual birthday party at a local gym but after we had family over after to eat lunch so we went ahead and did a few decorations at the house (plus I knew the kids would love having the house decorated).  If your kids are already into construction stuff you'll probably have plenty of toys you can use as built-in decorations!
I used what we had around the house and just grabbed a few extra things like streamers and caution tape.
Some of the boys' toys made the perfect mantle decorations!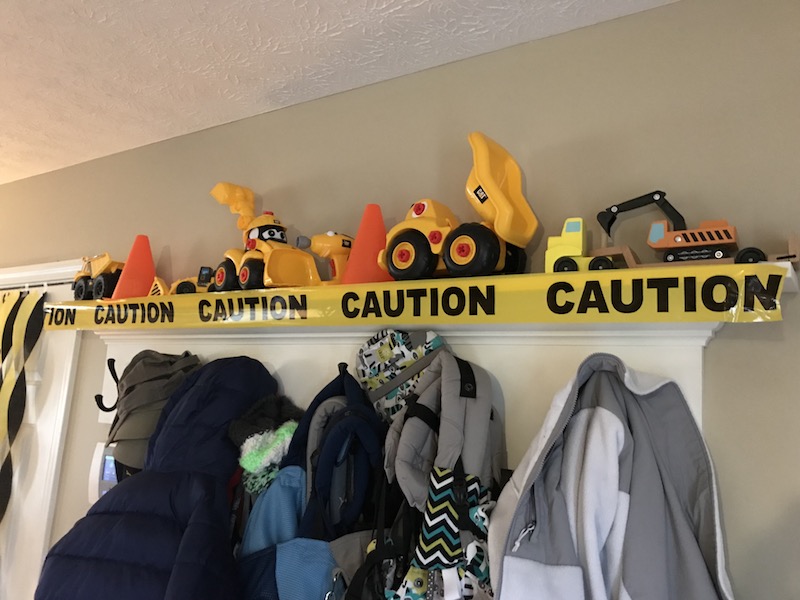 Caution tape and streamers on the door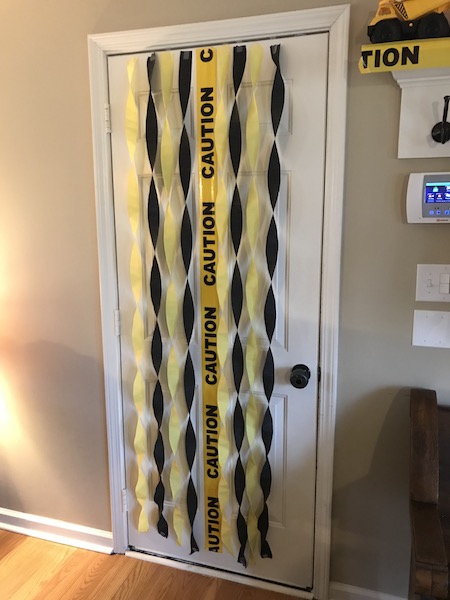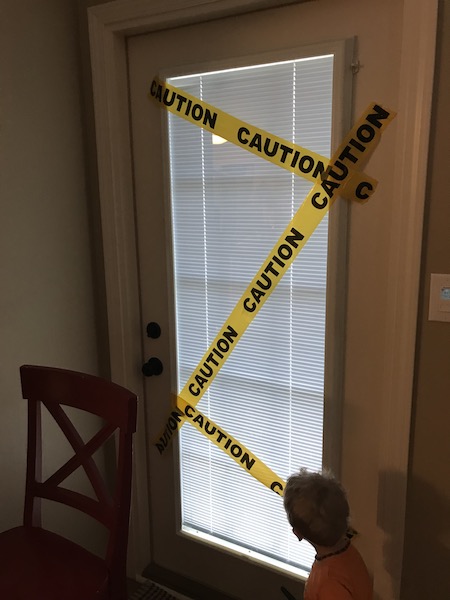 I printed off a porta potty sign from here for our bathroom door.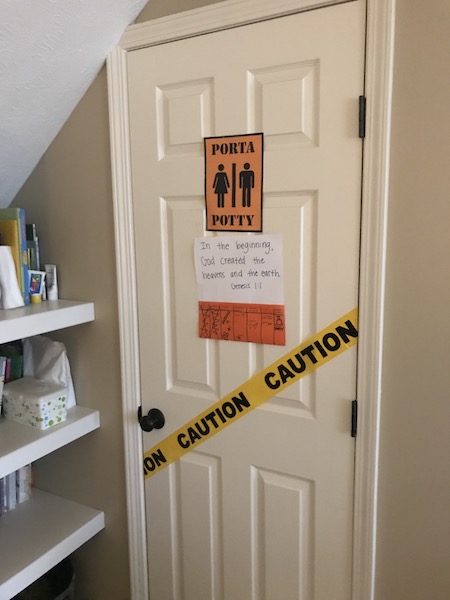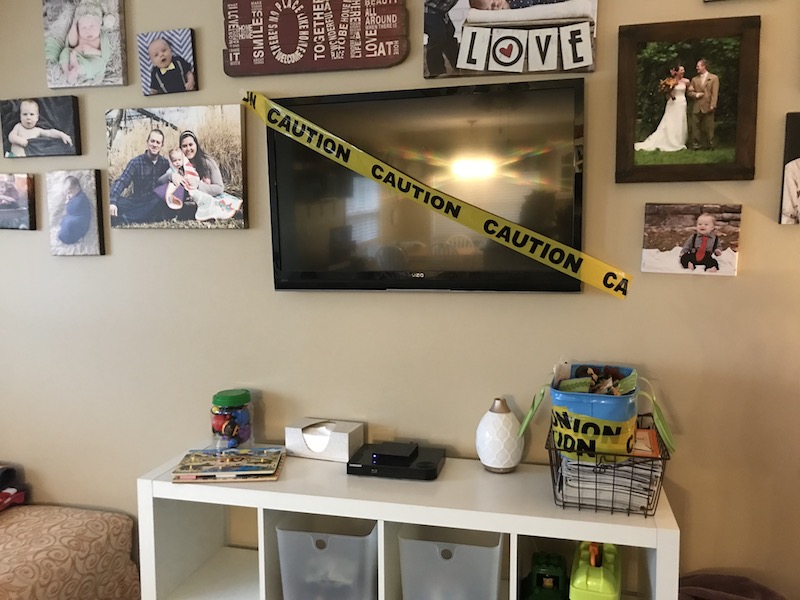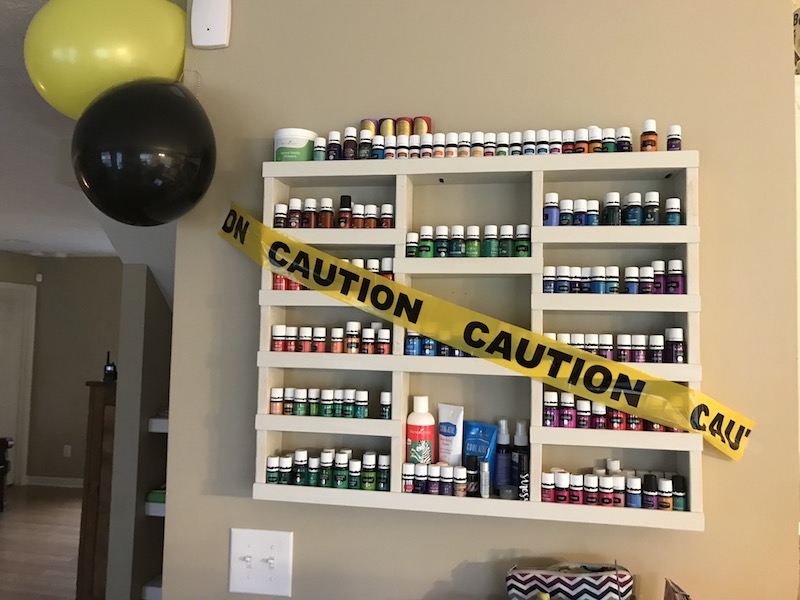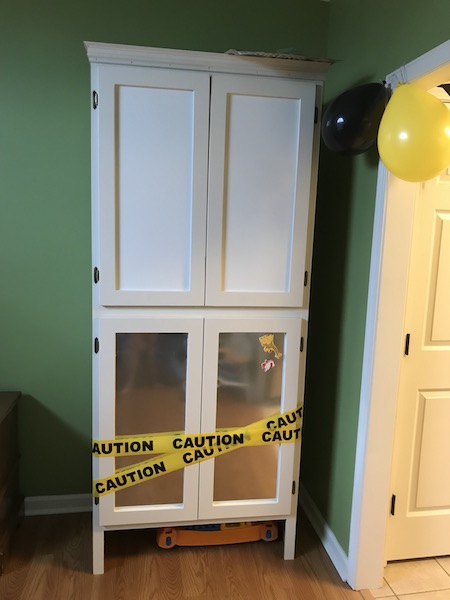 I found some cute printable banners online but Hobby Lobby had a section of construction themed birthday party items and I decided to save myself some time and stress and just buy one!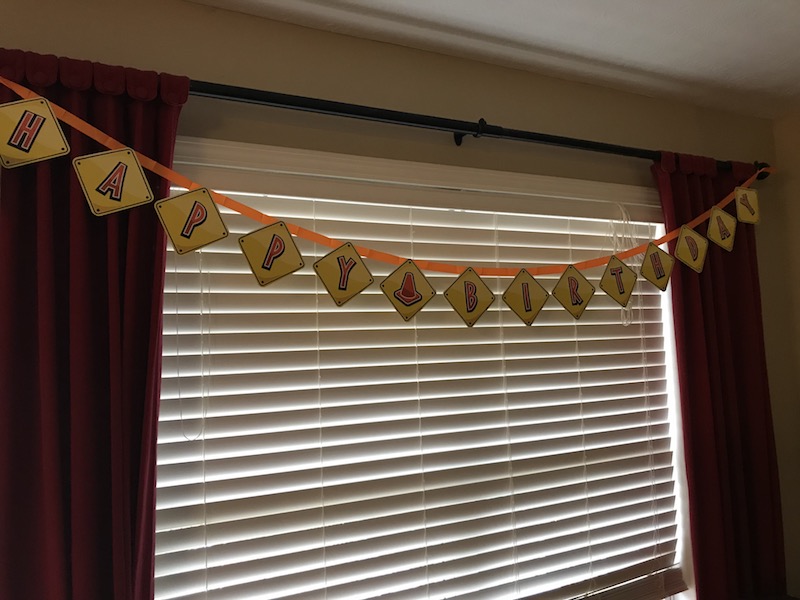 At our party venue we didn't decorate a ton, but we did put out a black tablecloth and cut out yellow rectangles to lay down the middle to make it look like a road.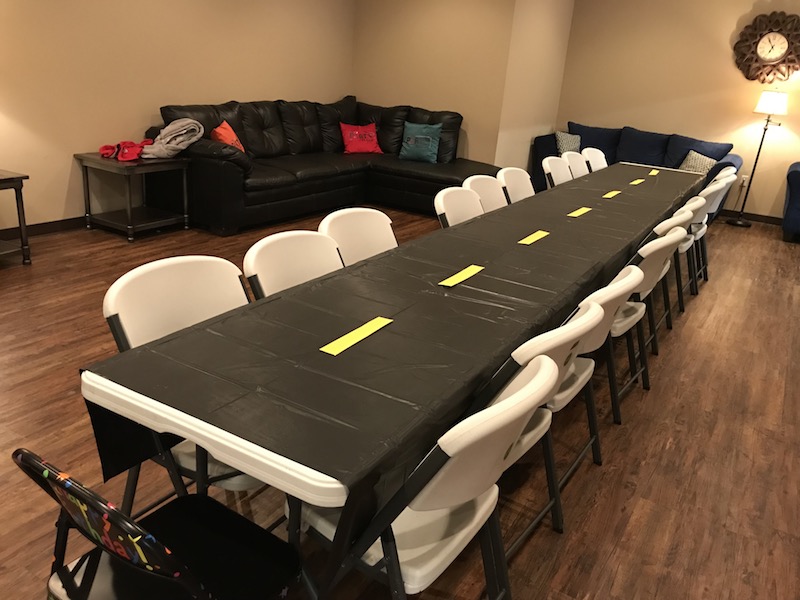 Decorations:
Cake
I am so mega proud of how this cake turned out!  Like I said before, I've wanted to make a construction cake for years and it did not disappoint.  This is definitely one of my favorite cakes I've ever made and an added bonus was that it was one of the easiest too!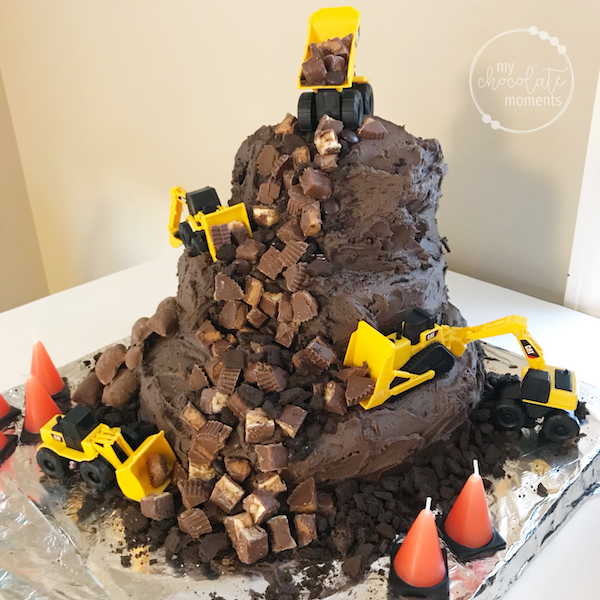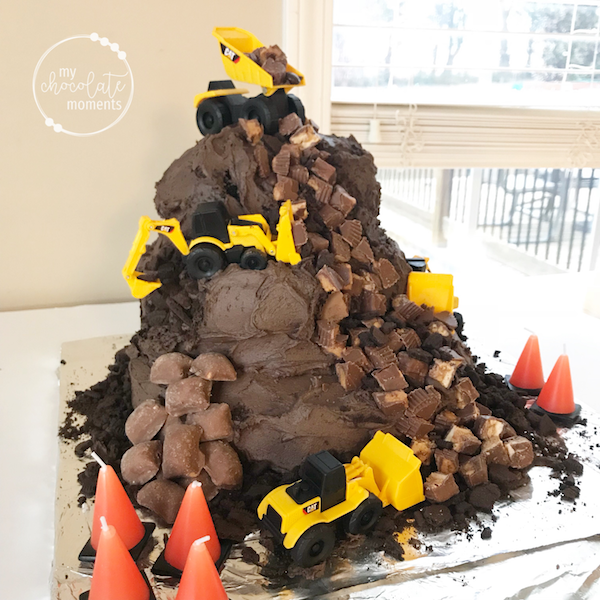 I made a three layer chocolate cake, iced it with chocolate icing (which doesn't require precision or neatness at all since it's supposed to be dirt!), and carved out a couple of chunks where the "rocks" would fall down.
Decorating was so easy!  I crushed Oreos for dirt, chopped up Reese's and Snickers for rocks, and piled up some Butterfinger Bites for rocks/boulders.  These construction vehicles were just the right fit and the traffic cone candles were perfect – four on one side for Hudson and two on the other for Parker.  The quickest, most stress-free cake ever!
Food
In addition to cake we had a few other things for people to snack on.  Again, I was able to use a lot of what we already had to make the food table cute and construction-themed.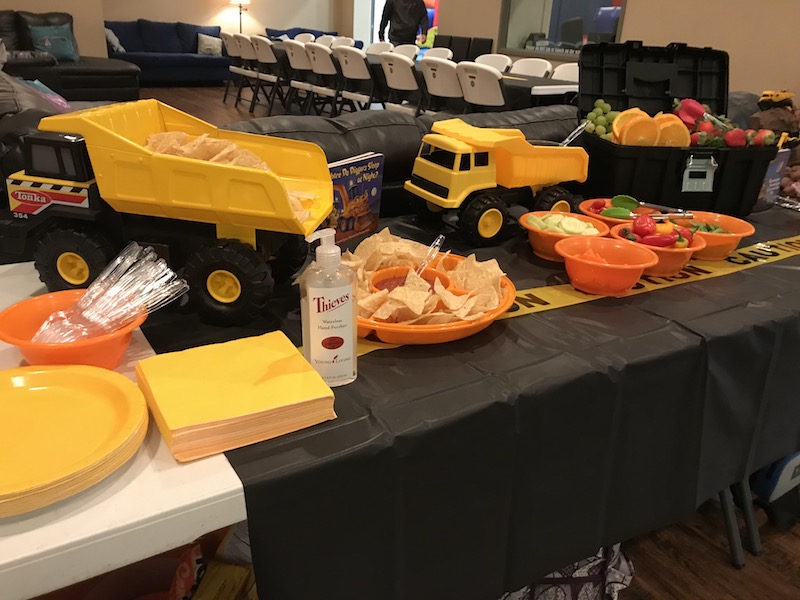 Chips and salsa "dumping" out of a dump truck.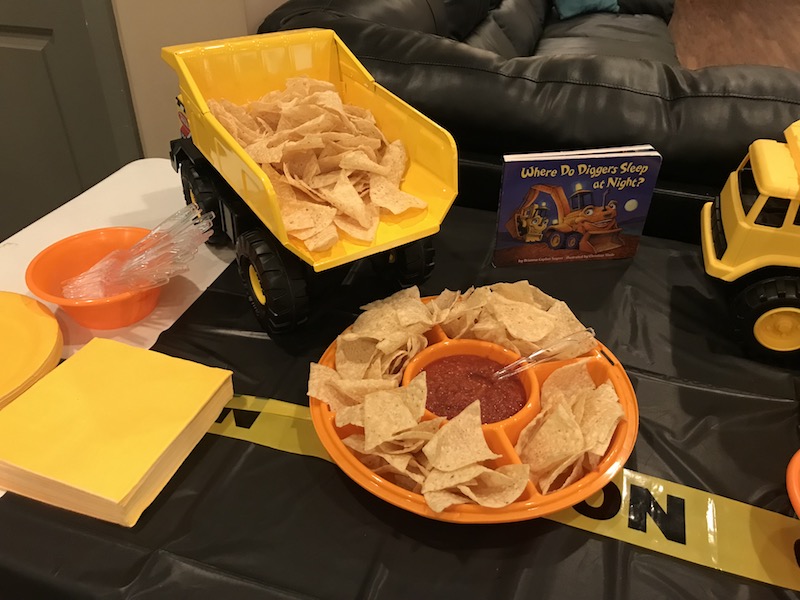 Ranch dip in the dump truck for the veggies.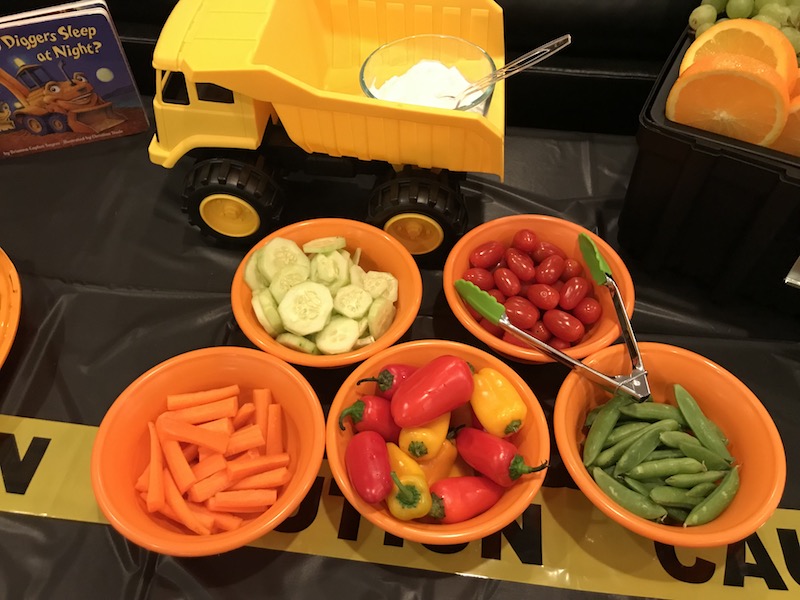 Fruit in a toolbox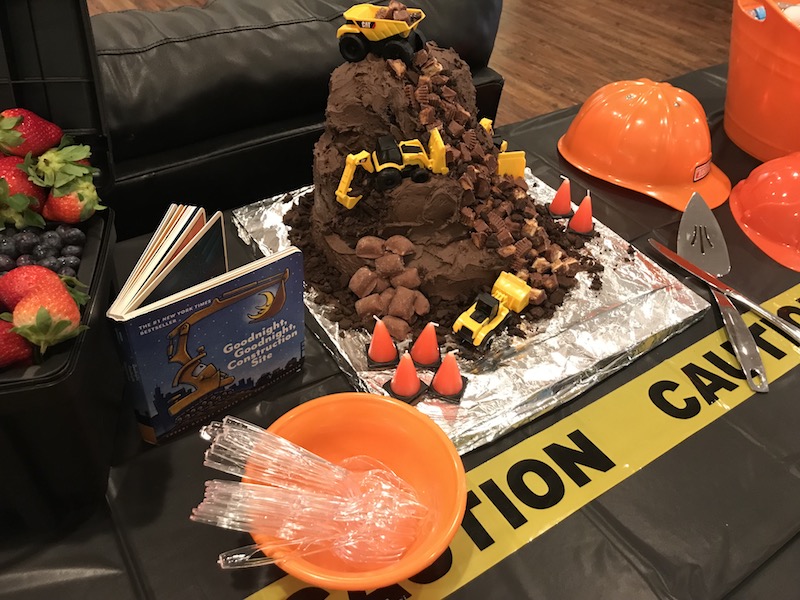 Bottled water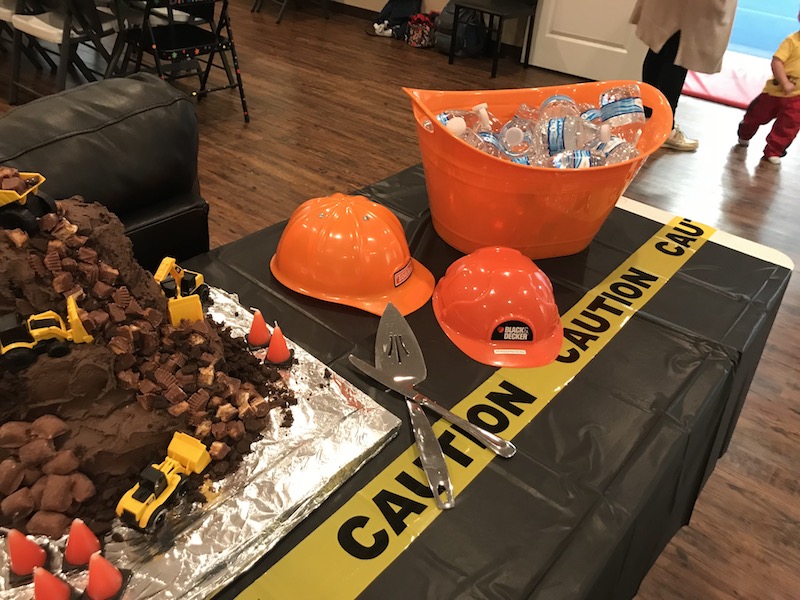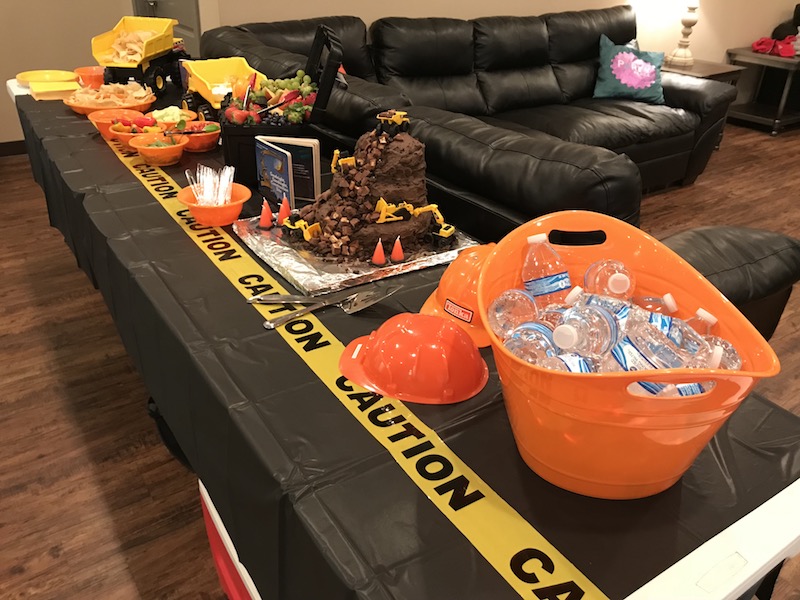 Food table items:
Shirts
After seeing cute construction t-shirts here I wanted to make some similar ones for the boys to wear.  I have been meaning to figure out how to use my Silhouette to make custom shirts for *years* but kept putting it off.  This finally gave me the push I needed to sit down and figure it out and guess what…turns out it was way easier than I expected!  I used this tutorial and am in love with how they turned out!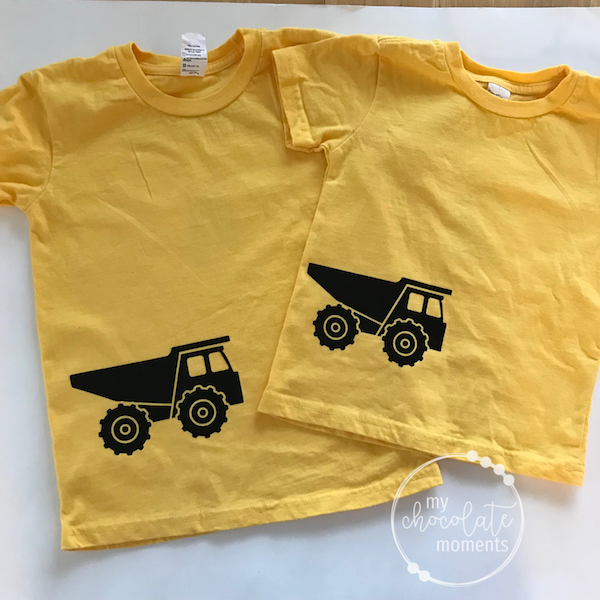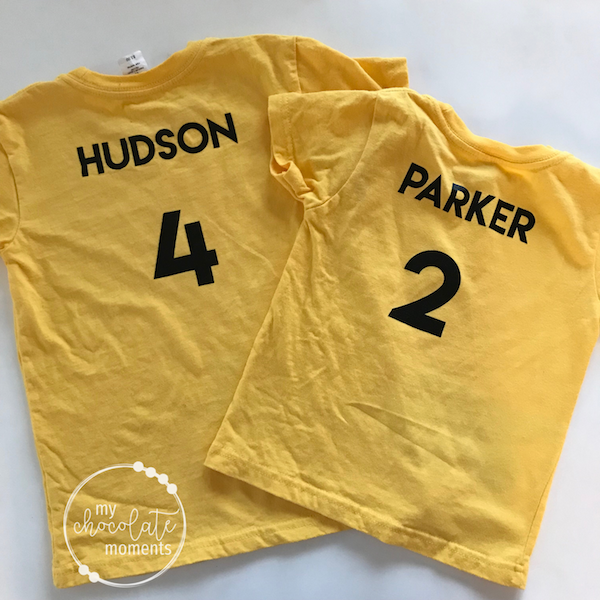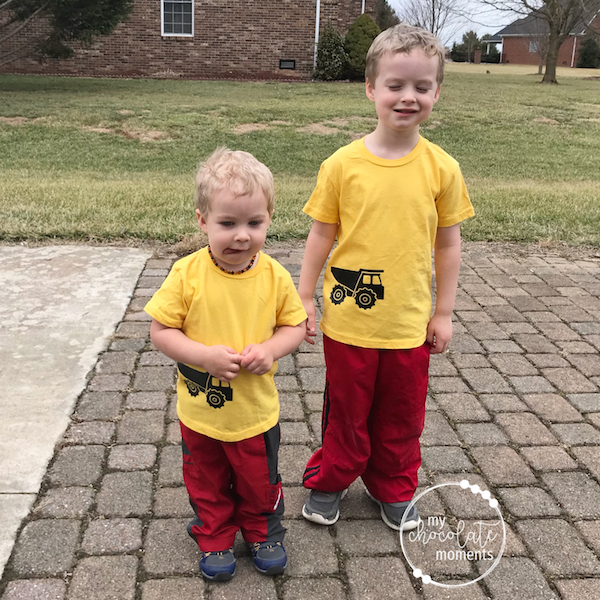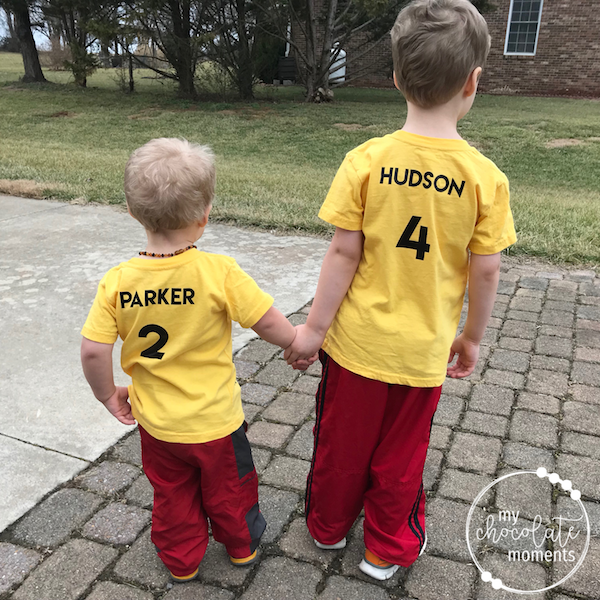 Shirt details:
It was a great party!  The boys had a blast, the food was yummy, and the prep work wasn't too terribly stressful for me.  That's a win in my book!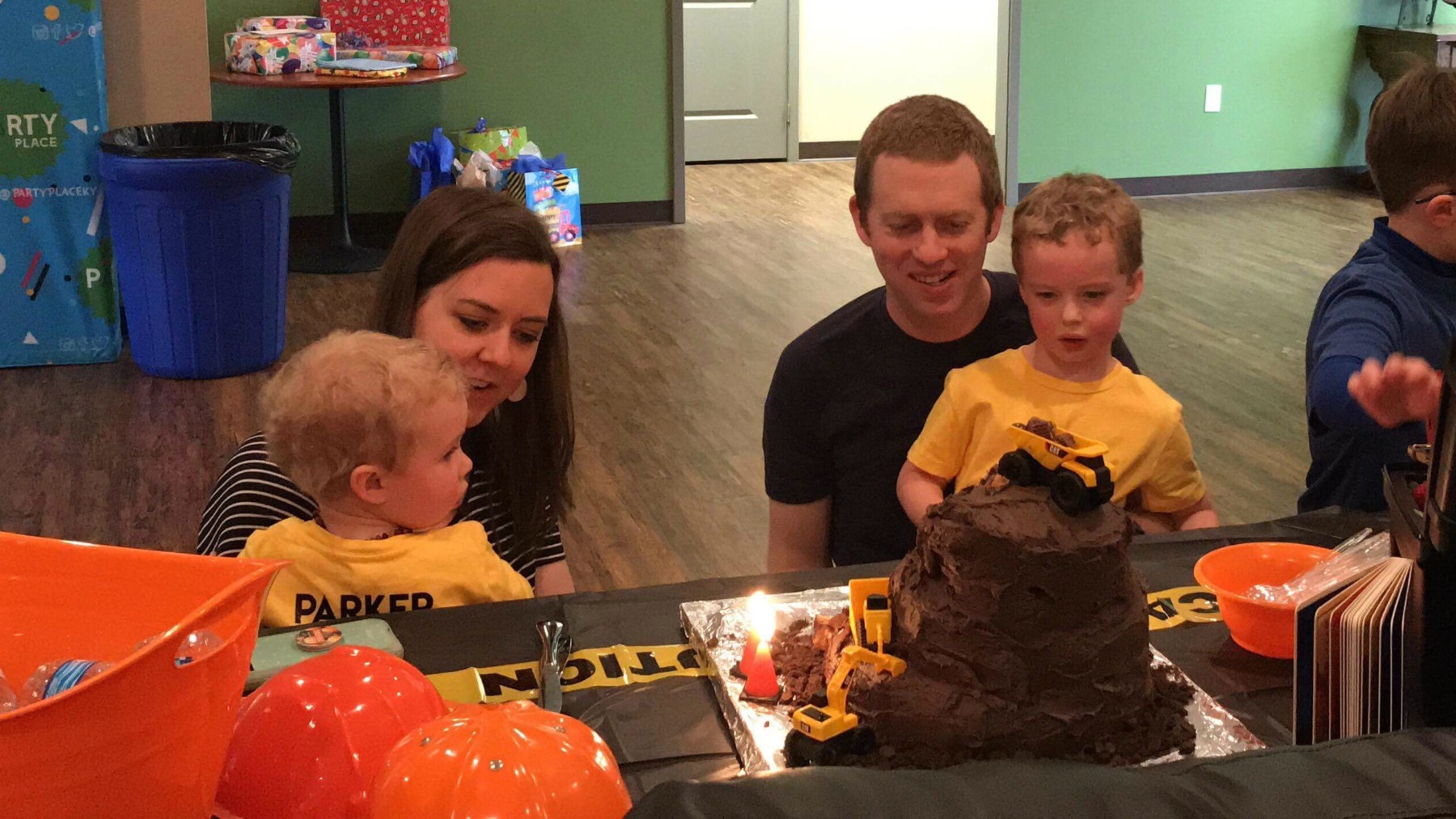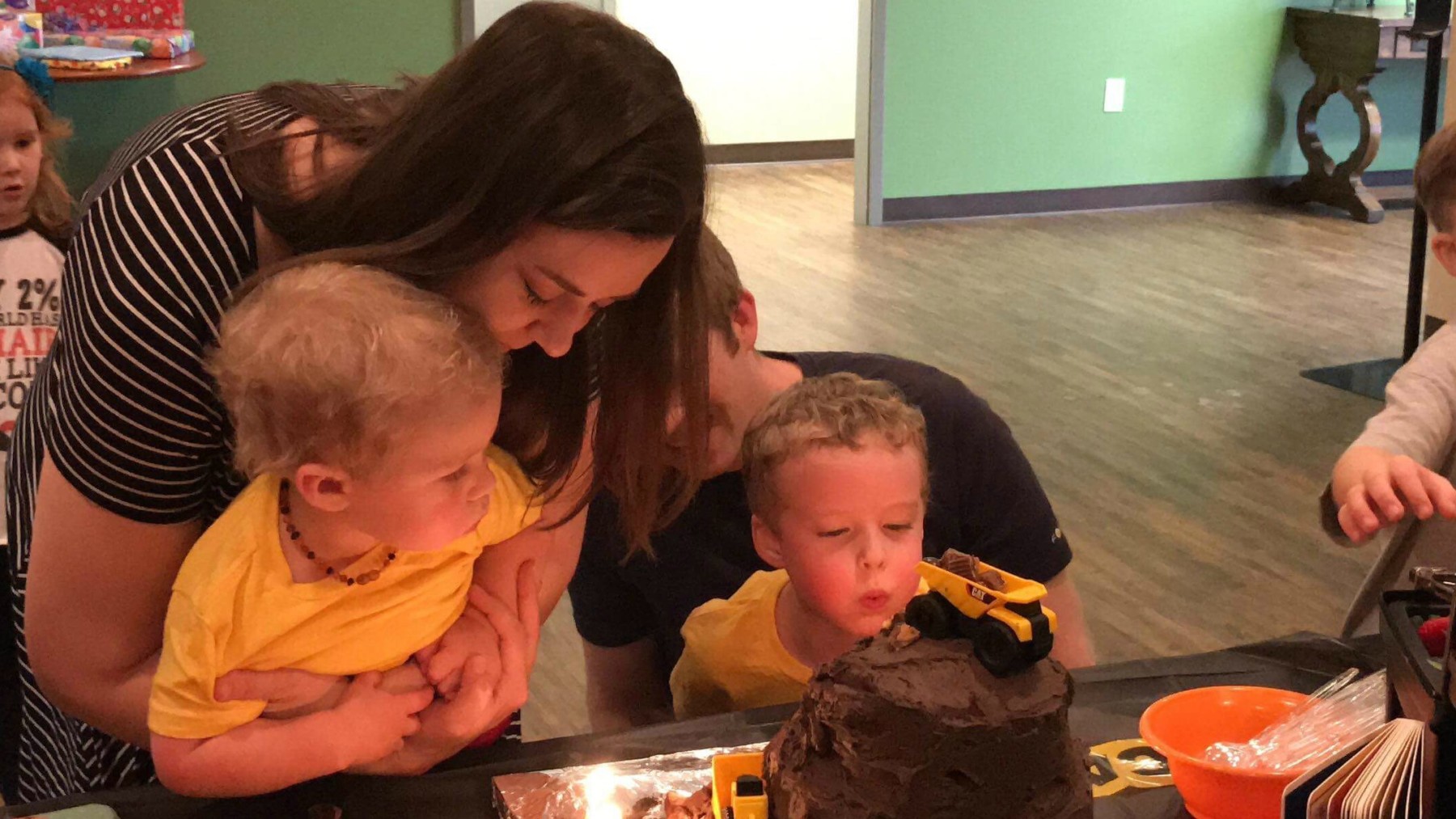 Happy 4th and 2nd birthday!
See past parties here: