Another month, another update! Here's what the King's were up to in January!
Parker
We have to start this update out with our biggest news of the month and that is that Parker is now 100% weaned and sleeping IN HIS OWN BED, IN HIS OWN ROOM, ALLLLL NIGHT LONG!!  Oh yes.  Big stuff, you guys.
So first, the weaning.  At the end of December Parker was still nursing once during the night, but had started to skip nights sometimes.  He still woke up in the middle of the night and we'd put him in our bed, but some nights he'd go back to sleep in our bed without wanting milk.  Once I realized he was doing that I started keeping his cup of water in our room and on nights he asked for milk we'd offer him water.  It didn't take long at all before he wasn't asking for milk anymore and we had gone multiple nights in a row.
So it wasn't quite as smooth a transition as when Hudson weaned (he just didn't nurse one night while we were out of town and never asked again) but it was still pretty easy and we didn't have tearful nights or anything.
A couple of weeks after he weaned he started sleeping through the night in his crib in his room (instead of starting the night out in his crib but then waking up and moving to our bed during the night).  He did it two nights in a row, then had a couple of nights back in our room, but then since that point has been in his room.  Some mornings he gets up around 6 so I bring him to our bed and he sits and plays or looks at books for a bit, but most mornings he sleeps until 7 or later.  A lot of mornings he wakes up but doesn't call for me right away and stays in his crib pretty quiet until Hudson wakes up.  I hear them talking to each other over the monitor and it's the cutest thing!  He still wakes up during the night sometimes but goes back to sleep on his own.
So yeah…pretty huge!  Both kids sleeping all night in their room!  That's the first time in four years!
Also sleep-related, I've been able to leave the room before Parker is asleep at night.  When we first moved Parker upstairs to his crib I had to stay in the room until he fell asleep but recently I've been doing their bedtime routine and only sitting up there with them for a little bit.  Hudson falls asleep very quickly since he no longer takes a nap.  Parker takes longer but once he's still I can get up and leave the room and he doesn't cry or call for me, just lays there quietly until he falls asleep.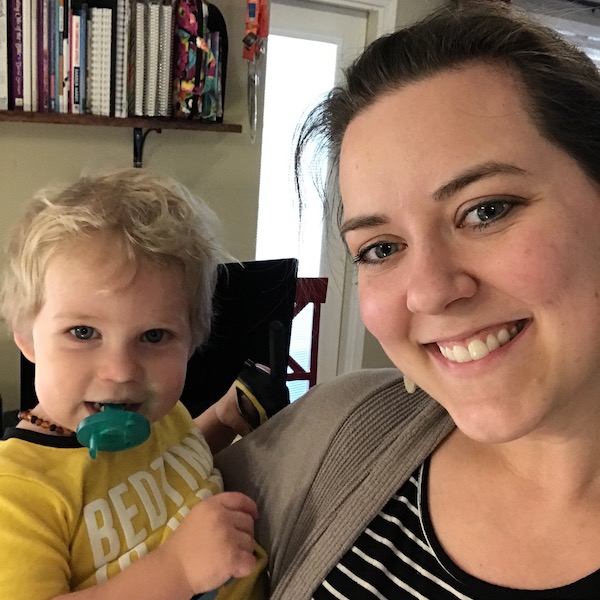 Parker has started telling stories.  The main one he talks about is when we took the Christmas tree down.  Parker says "tree" – (signs 'all done') – "bye bye" – "Daddy" – (points outside) – "coat" – "boops" (boots) – (signs 'hat') – "cut cut" – "beebee" (his word for our robot vacuum) and points to the rug.
To translate that: "We were all done with the Christmas tree so I told it "bye bye" and Daddy took it outside.  He put on his coat, boots, and hat, then cut the tree up.  The vacuum cleaned up the needles on the rug."
I remember so vividly when Hudson started doing this (his was a story about a cat that he told over and over and over) and Parker has done the same (told this story over and over).  It's so neat to see them connecting their words together and recalling things that have happened to them!
Other words Parker has started saying: arrr matey, spice, cd, some of the Bubble Guppies names (Molly, Goby, Nonnie, Oona, Gill – although he only said those one day and I haven't gotten him to do it again), boo (for peek-a-boo), beads (for our water beads), taco, amen, plate, bowl, eat (which he pronounces "eap"), seat, go, pea (like the food, not pee), "oh sure!"
(eating some New Years Day pancakes here)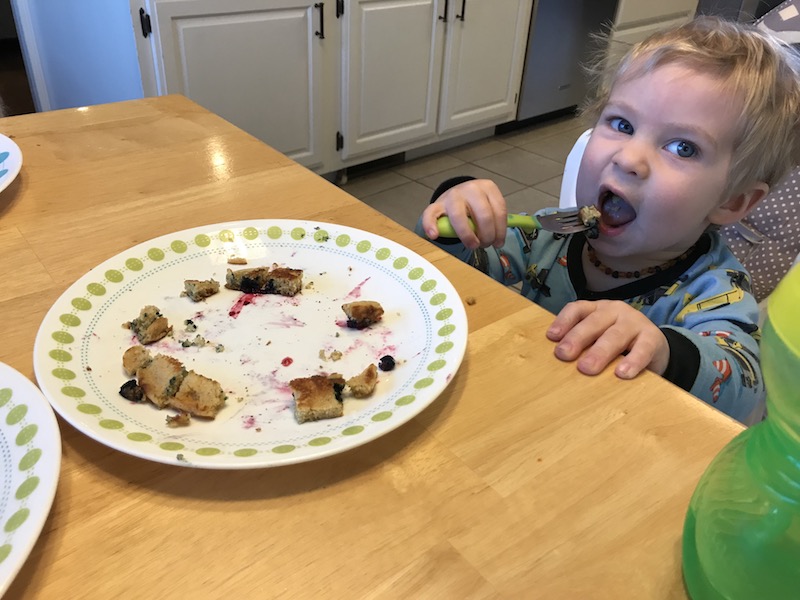 Parker is really into praying right now.  He usually asks to pray multiple times during each meal.  If Michael or I get up to get something and then come back to the table he wants us to pray again.  It's hilarious!  He also likes to pray too, I'll say a prayer and he "helps" me by saying "yeah" after each phrase and then saying amen at the end.  So cute.
The boys got haircuts this month and for the first time Parker sat in the chair by himself instead of needing me to hold him in my lap.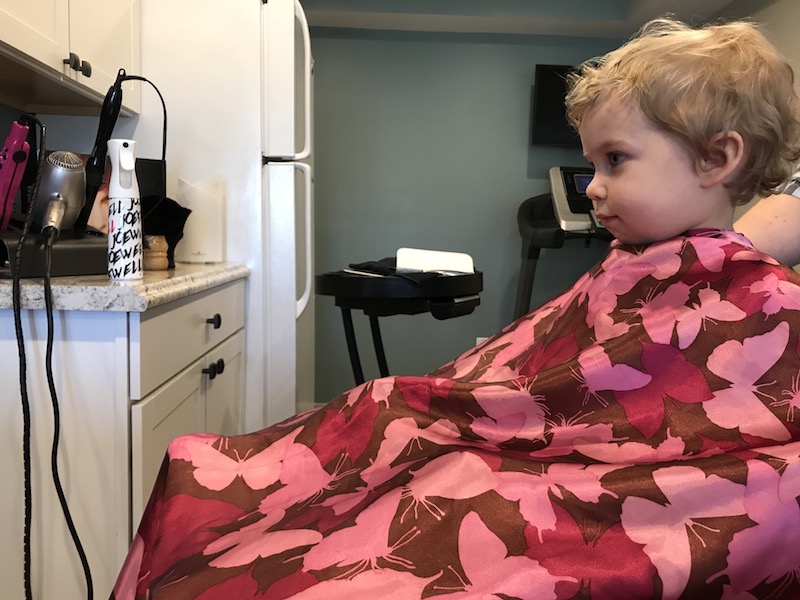 Wearing Hudson's (dirty and nasty) arm brace on his head.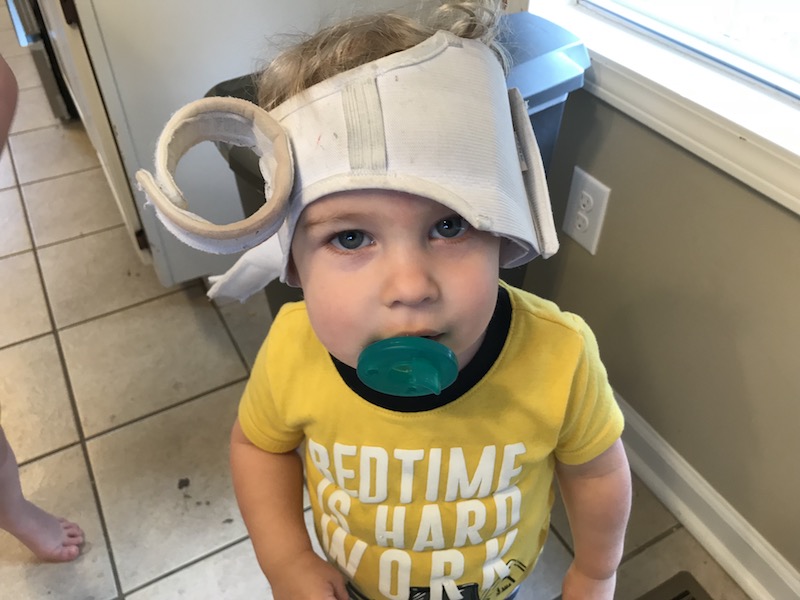 Hudson
It was a big month for Hudson too!  He turned four years old – where has the time gone?!  He is growing up so fast.
His collarbone had healed wonderfully and he got the all-clear to stop wearing his brace.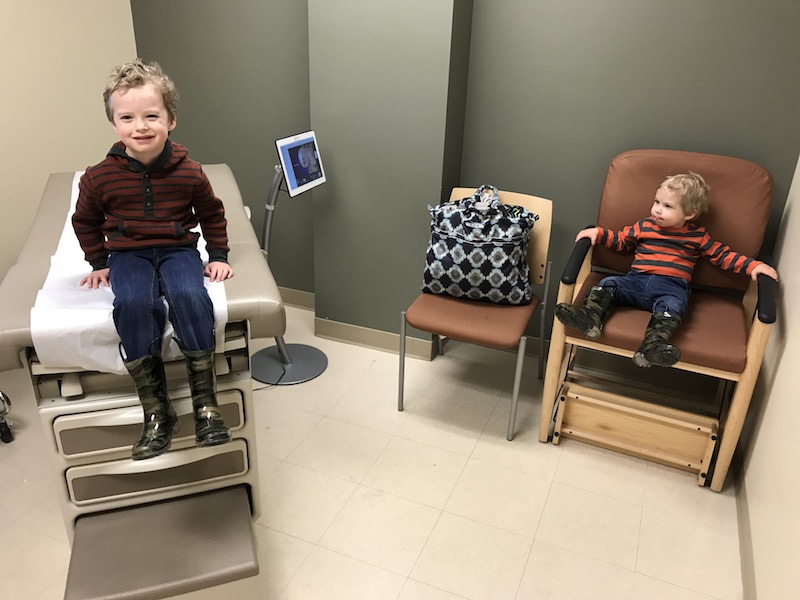 Look how big he's getting!  The boys always look older to me right after they get haircuts, but this time the combo of the haircut and the sweatshirt made him look tons older.  Slow down!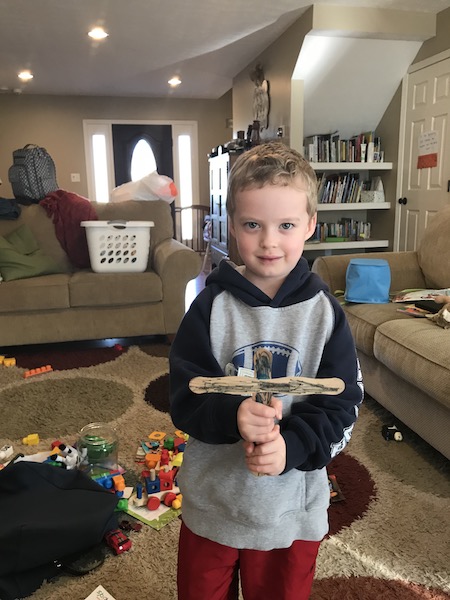 Hudson loves to do whatever we do.  One of the things he likes to do right now is to wear his backpack with one strap across his body like a messenger bag.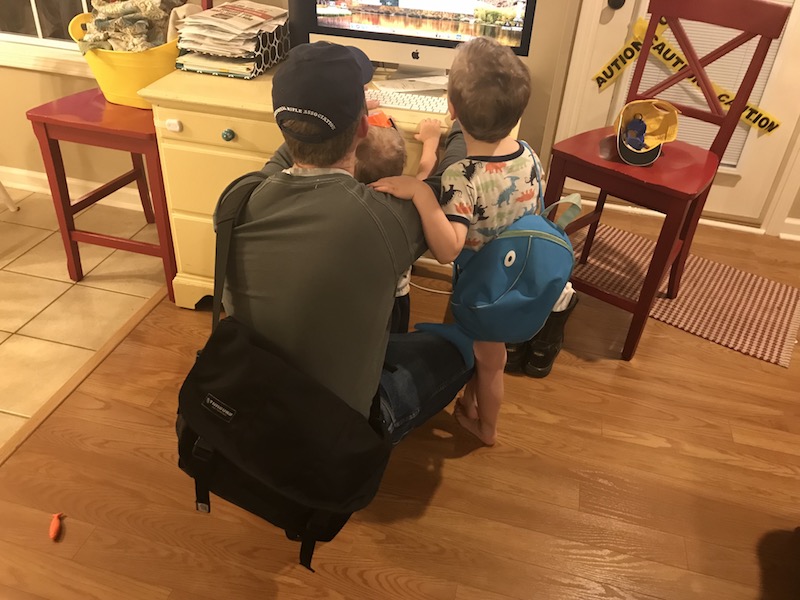 Other stuff
Playing with their binoculars (which Hudson calls beeeeee-noculars).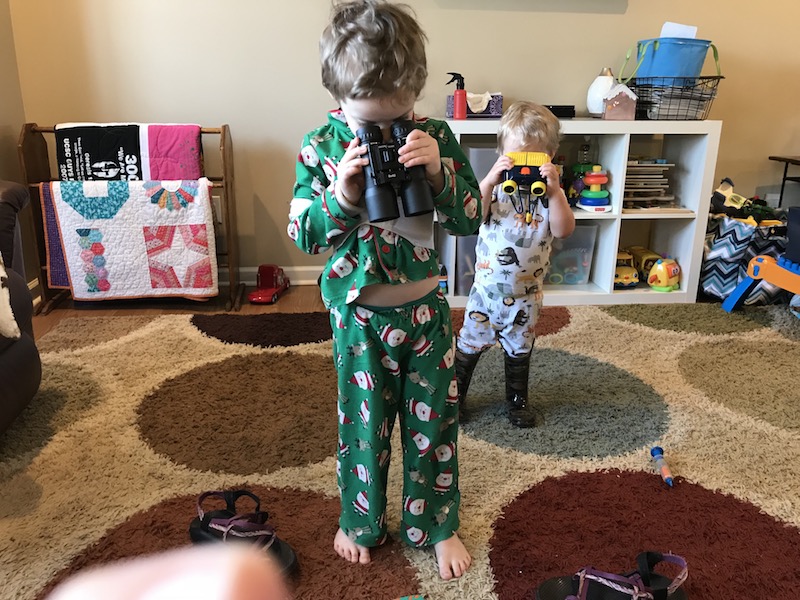 We've had lots of cold, icky days recently but on the days that it's not super cold we try to get outside and play.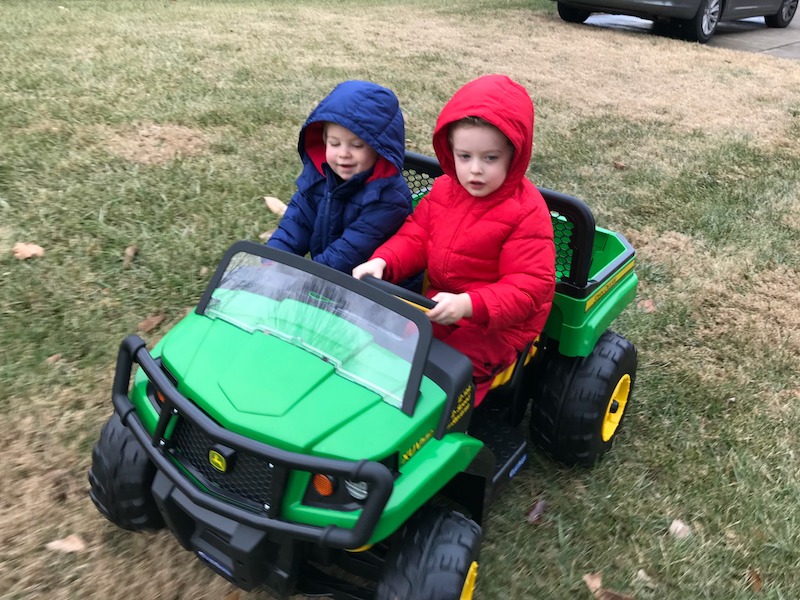 We had one pretty big snow this month that lasted several days.  It was incredibly cold and the boys had runny noses/coughs so we didn't go out much but we went out for a short time one day so that they'd get to play at least a little.  This was Parker's first snow that he could play in (we didn't get any snow last winter) and he had a good time clomping around.  This was the first time Hudson wasn't scared of the snow (our last snow was right after he turned two and he was still scared of it).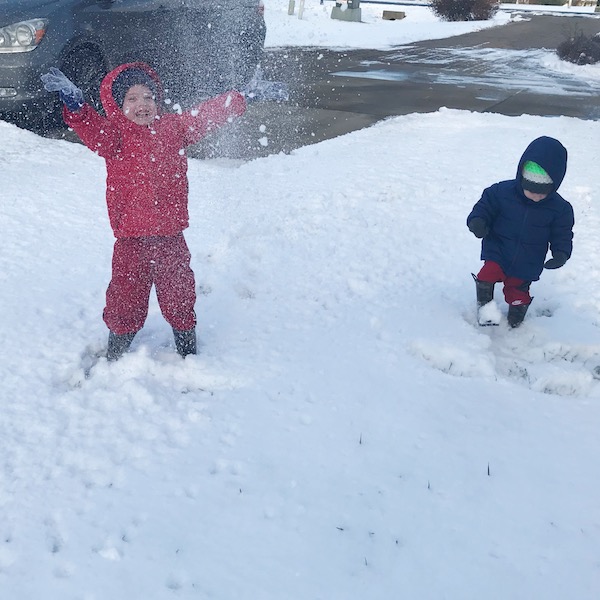 They fight like cats and dogs but then turn around and sit sweetly like this too.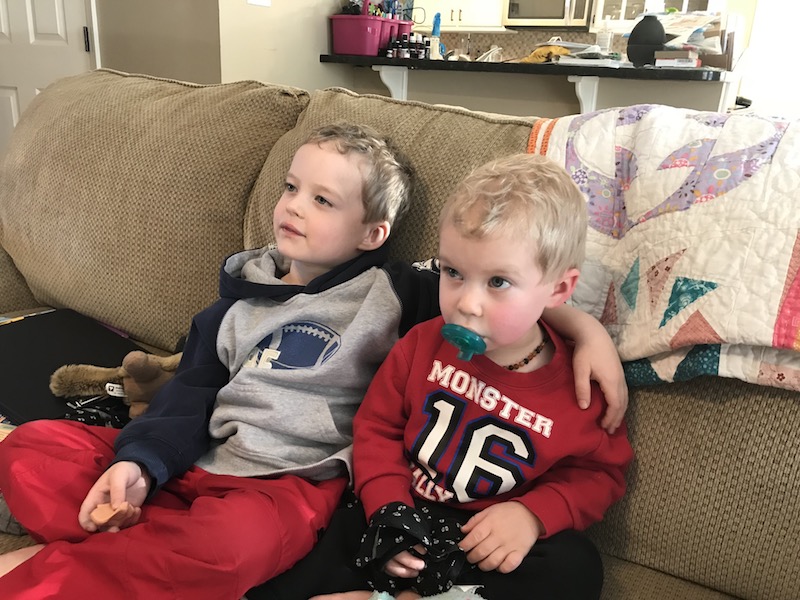 Showing off their muscles.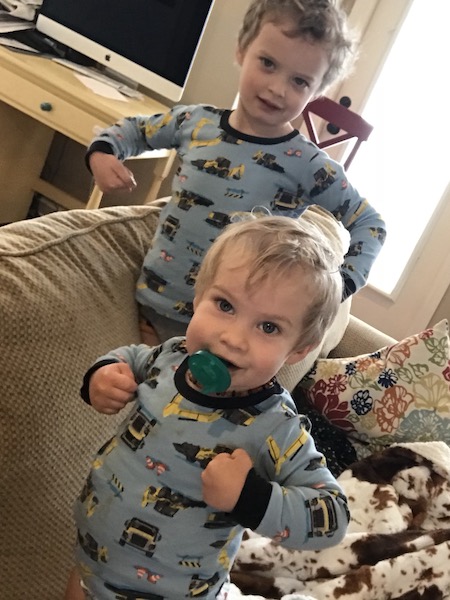 They're still really into wearing their winter clothes in the house, especially their gloves (or googles as Parker calls them)
Sweet brothers at Kid Sing at church.  Hudson tries to help Parker do the motions to the songs.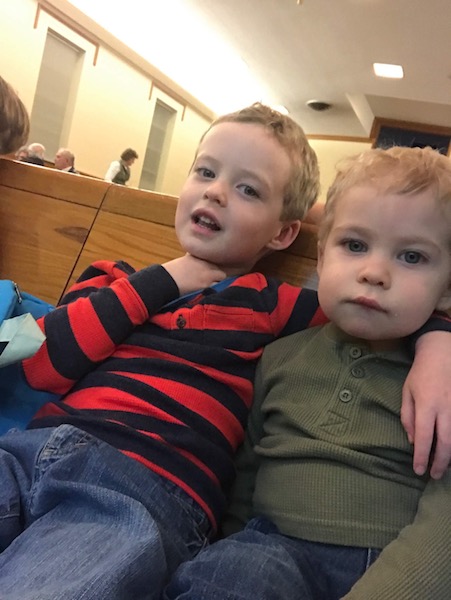 Snuggled up on the couch getting warm after a bath.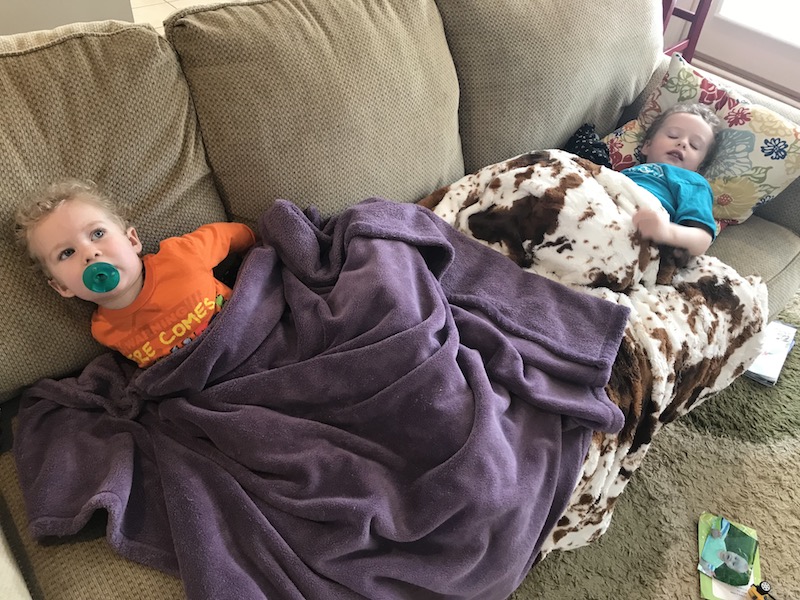 (blurry) family picture on Hudson's birthday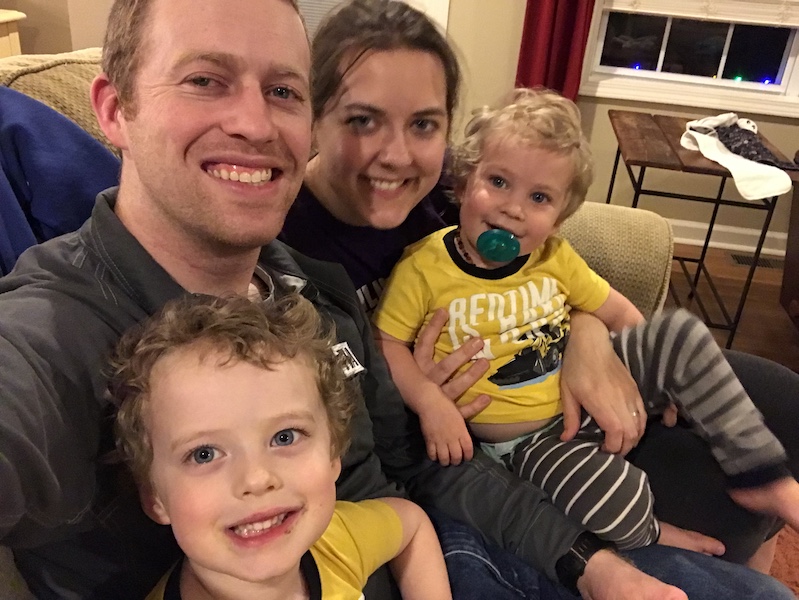 We celebrated both boys' birthdays (since Hudson's is at the end of January and Parker's is at the beginning of February) with a construction birthday party.  I think they both had a blast!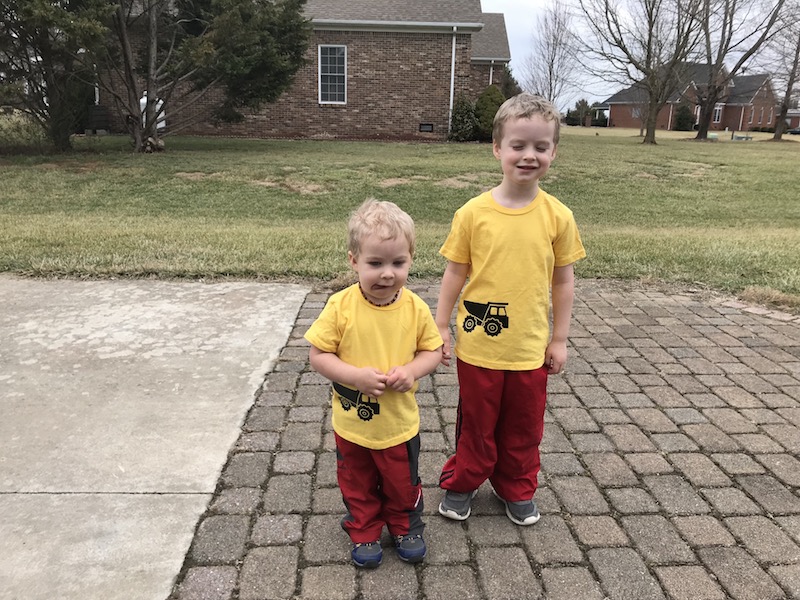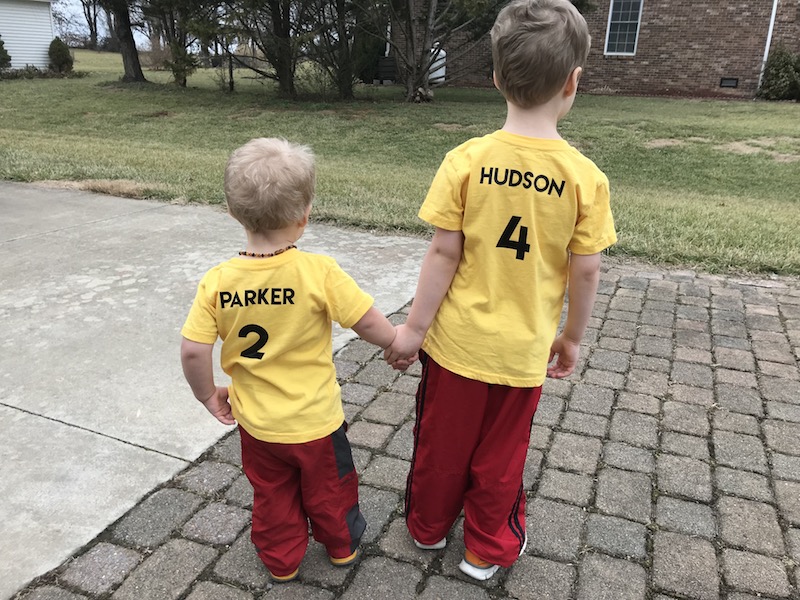 This month I ended a pretty intense 30 day cleanse/juice fast that I had been doing.  I'll share more about that in another separate post soon!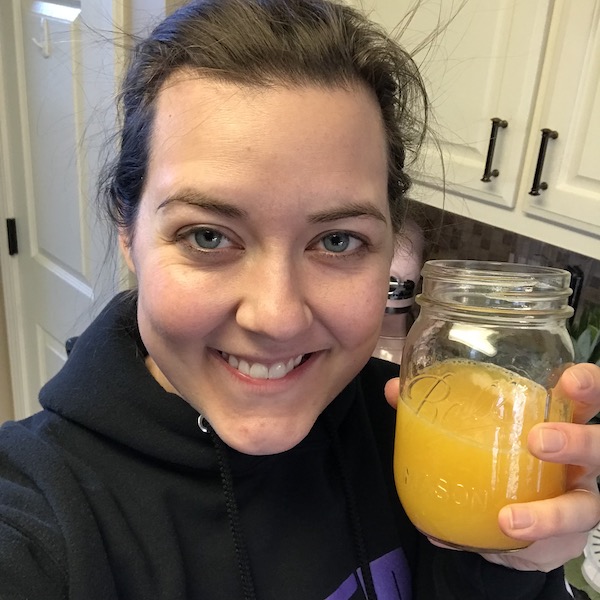 That's a wrap!  On to February!