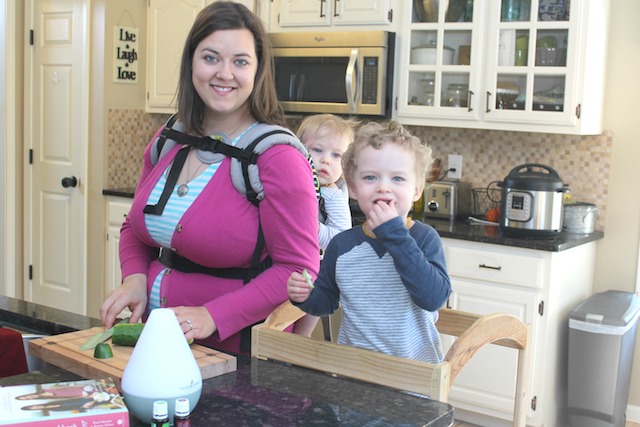 Hi there!  I'm Caitlin – wife to Michael and mom to Hudson and Parker.  We live in Kentucky where I'm a stay at home mom, blogger, and Young Living essential oils distributor.
When I started my blog back in 2011 I felt like I was a mommy blogger…except I wasn't a mommy yet so it was pretty much just a lifestyle blog where I shared recipes, DIY crafts, travel, and whatever else suited my fancy.  Now that I've graduated to true mommy blogger status you'll still find recipes and DIY crafts but also parenting joys (and struggles), organization, cleaning, babywearing, weight loss, and of course my kids.
I am passionate about sharing details of our natural lifestyle.  Becoming a mother brought with it a desire for my to do things as naturally as possible for my kiddos and my family.  The past three years have been a journey as we've changed the way we do a lot of things.  Because of that you'll find a lot of "crunchy mom" topics here on the blog: cloth diapering, natural childbirth, essential oils, cosleeping, and other similar topics.
One of the biggest changes I made toward a natural lifestyle was getting into essential oils.  I started using oils right before my oldest was born three years ago and haven't looked back since!  I never, ever planned to "sell" anything but when I couldn't stop telling my friends how great oils were I realized that it was the perfect business for me!  I love helping other moms like me learn how to use oils to take care of their kiddos.  I am now a Silver leader with Young Living essential oils and our Oily Moments community is 500+ families strong.
Connect with me on:
Facebook
Pinterest
Instagram