Y'all know I love mixing up my own creams and concoctions using my essential oils so I thought I'd share this super-de-duper easy one to make your own diaper cream!
Mix 1/4 cup coconut oil (I recommend organic, unrefined – you can find it just about anywhere: Amazon, Sam's, Trader Joes, Kroger, etc.) with 10 drops of lavender and 10 drops of Gentle Baby (Gentle Baby is a blend specific to Young Living essential oils.  I love Young Living and you can read all about that here).  Store in a 4 oz jelly jar.
That's it!
For such a small recipe you can just put the coconut oil and essential oils in the jar and mix them well with a fork.  Some people melt their coconut oil, then add EOs, then let it re-harden, and then whip it up.  That's too complicated for me!  I just mix my EOs with the solid coconut oil – it's very easy to stir!
If I'm making a big batch (this particular day I also made a batch of my stretch mark cream and my teething cream so I used a lot of coconut oil) then I put all the coconut oil in my KitchenAid mixer, whip it until it's nice and creamy, transfer it to the jars, and then add the essential oils and mix well.  More clean up but easier on your arm.  Whatever floats your boat!  This is a "recipe" that can't really be messed up.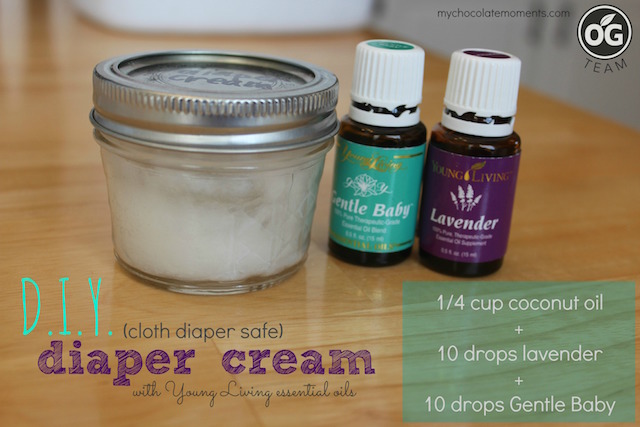 But what if I don't have Gentle Baby?  No worries!  Like I said, this is a super flexible recipe!  You could just use lavender and coconut oil (I'd do 20 drops of lavender).  Or if you have the Young Living starter kit then you could do another combination of oils that comes in the starter kit.  Some ideas:
– frankincense (frankincense is great for skin)
– melaleuca alternifolia aka tea tree oil (tea tree oil is another great one for skin and is popular for use in making homemade baby wipes or wipe solution)
– Joy (Joy has very similar ingredients as Gentle Baby and would be a good substitute for it)
Play around with it and see what you like best!
Coconut oil and essential oils are safe for cloth diapers and will not cause repelling like many diaper creams do.
No baby?  No problem!  This recipe is not just for baby bottoms.  All of the essential oils I've mentioned here are fantastic for anyone's skin so you could mix this up and use it for yourself.  It's a fantastic moisturizer!
No oils?  Also no problem!  Go here to see how you can get some.
What are you DIY'ing today?