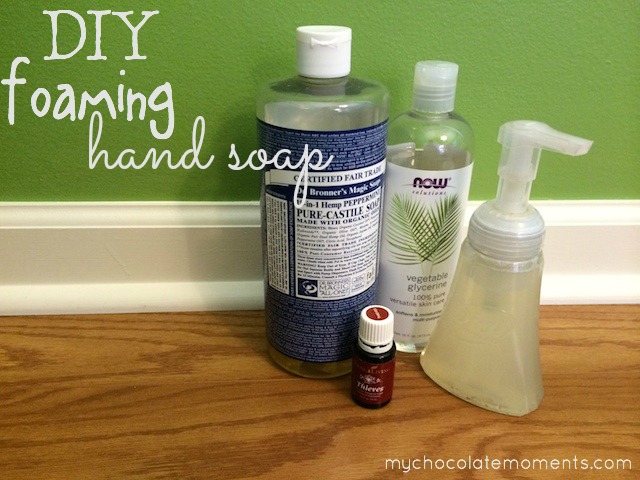 Last night I helped teach a class on DIY (Do It Yourself) products using essential oils.  One of the recipes I shared was my foaming hand soap recipe and since I love it so much I thought I'd share it with you too.
So let's talk soap.
Even before I went totally crunchy/hippie/natural I was shying away from antibacterial soap.  I just felt like we were stripping our bodies of the bad and good bacteria and that's one reason people are so sick all the time – they haven't built up enough immunity!  So I made it a point to buy hand soap that was not antibacterial (that wasn't super easy to find, but there were a few brands that sold "regular" soap).  Turns out I was ahead of the game…triclosan, the chemical in most antibacterial soap, has come under some scrutinization for the fact that it can mess with hormones and that it doesn't actually clean any better than regular 'ole soap and water.  Thankfully many companies are now phasing triclosan out of their products.
Got a little off track there, apologies.
So anyway, once we did start to move toward a more natural lifestyle and I started making my own cleaning supplies, laundry soap, etc., and it made sense to make my own hand soap too.  I found a recipe online and made a big batch but it was a disaster.  It was difficult – you had to grate a bar of soap and cook it in water basically until is melted.  The consistency was disgusting – it looked and felt like snot.  So gross.  The only thing it had going for it was is smelled good.  We used it for awhile (although if guests were coming over I switched out with a bottle of store bought soap because the homemade stuff was just embarrassing) but eventually just switched back to buying soap.
Then I got into essential oils and I found a recipe for DIY foaming hand soap.  I've never liked foaming soap but I figured foaming was better than snotty so I gave it a whirl.  I've gotten used to the foam by now and I love making my own!
Supplies needed
Castile Soap (I use Dr. Bronner's – I've seen it at Target, Kroger, Whole Foods, and Amazon)
Gylcerin (I use the Now brand, purchased from Amazon)
Essential Oils (of course I recommend Young Living)
A soap dispenser (I bought some cheap Dial soap from Walmart, dumped the soap it came with, and then washed the dispenser to use for my soap; some people use old Bath and Body Works dispensers; and of course you can just buy foaming hand soap dispensers by themselves.  I actually saw some at Kroger the other day for $6, which is way cheaper than what I found online)
This  is the recipe I use: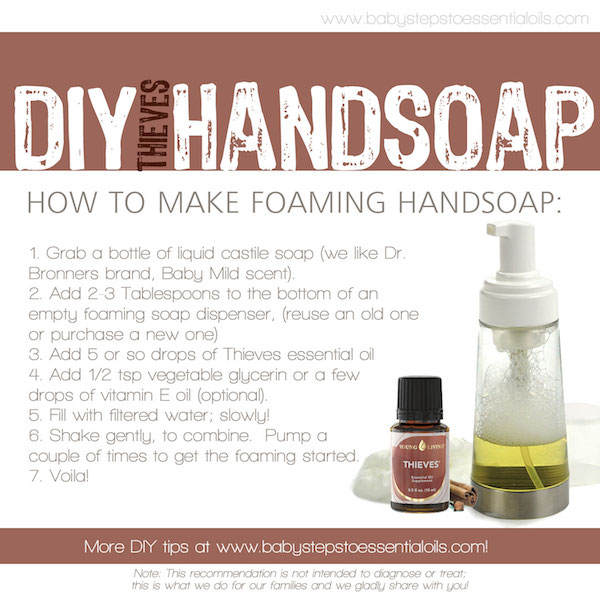 [source]
I do not add the vitamin E oil.  I actually have vitamin E that I use in my homemade body wash as well as my stretch mark cream, but for whatever reason I've been leaving it out of the soap.  I need to give that a try next time!
I don't measure (that makes Michael crazy!  I cook that way too).  I would assume that I follow the measurements listed in the graphic pretty closely, but basically I just do a big squirt of soap, a smaller squirt of glycerin, then add a few drops of oil and the water.  It's so fast, takes me just a minute to refill all the soap dispensers in the house.  I like to do them all at once, assembly-line style.
You can change this and make all kinds of combinations!  Dr. Bronner's has several scents (lavender, peppermint, orange, almond, and baby mild are the ones I've seen in stores; they also have rose, eucalyptus, and tea tree, which I've only seen online and haven't tried yet) and then of course there are tons of essential oil options you could use.  So far I've always done peppermint Dr. Bronner's and Thieves essential oil.  I think it smells great and Christmasy and I feel that Thieves is the best one to add for extra immune support.
Other combos that would be lovely:
lavender Dr. B's plus tea tree EO (proper name: melaleuca alternafolia)
lavender Dr. B's plus lemon EO
orange Dr. B's plus any of the citrus EOs (orange, lime, lemon, Citrus Fresh, bergamot, etc.)
baby mild Dr. B's (unscented) plus any EO of your choice since the only scent would be the EOs
Be creative!  I like to open the bottle of soap and the bottle of oil and hold them both up to my nose so I can smell them at the same time and see if I think I'll like the combo.
This is a really easy step you can take into switching your household products to something more natural.  I think it would be really fun to get together with a bunch of friends for everyone to make some soap to take home!
Have you made soap before?  Did you like it?
What combinations do you think would smell good?
Oh and if DIY is just not your thing, you can buy foaming hand soap from Young Living; they have Thieves and lavender.   Ask your favorite friendly Young Living distributor (me of course) how to order.