Well hello there!  If you ended up on this page I'm guessing you're either A) a current Young Living member who is loving your oils and wanting to tell others about them so that you can earn some money or B) not a Young Living member yet but interested in learning more about how to start a Young Living business selling essential oils.  Either way, you've come to the right spot!  Let's go through a brief overview!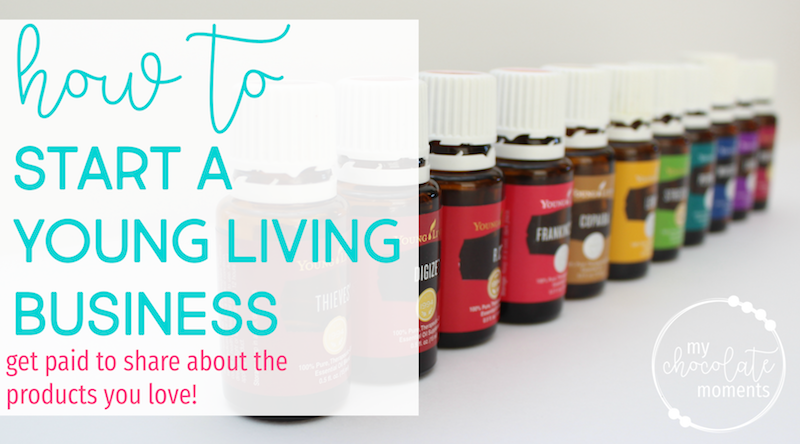 How do I start a Young Living business?
The first step is to become a Young Living member – you don't have to sell anything to be a member (and many don't) but you DO have to be a member in order to sell.  If you're already signed up with a wholesale account, great!  If not, go here and become a distributor (wholesale member) with the Premium Starter Kit.
How do I earn money with Young Living?
Young Living is a direct sales/MLM/network marketing-type company so you earn money with Young Living by telling other people about essential oils and helping them get started using our oils and other products.  You earn a percentage of their orders as well as other bonuses from new sign ups, your team growing, etc.
Young Living is different in that we do not have many retail customers.  Most people choose to join Young Living as a wholesale member so that they can get the member benefits.  When that happens and someone signs up with a Premium Starter Kit through you, you get $50 (or more if they add on other products) right off the bat, then a percentage of any future orders.
You can see the full compensation plan here if you want to dig into the numbers.
How do I tell people about essential oils?
There are different ways to do this depending on what works for you, but some popular ways to get the word out:
teaching essential oils classes (in person or online)
talking to people one on one and sharing about oils
posting on social media
blogging about oils
Basically just think of it as telling people about a great restaurant you just discovered or your favorite new band – how would you share that info with others?
How do I sign someone up?
When you created your account you got a member number.  People who want to sign up with you will use your member number to create their own accounts – that will give you credit for their order and they will become part of your downline.
They will sign up just like you did – go to the website, create an account, use your member number, and order their starter kit.  You can see my sign up instructions here.
To make it super easy, you can create a custom link that automatically puts your member info in there – you can give that link to people who are ready to order, they click through the link, and it fills in your info for them.  To find that link, log into your Virtual Office, look under "Member Resources" on the left for the "Link Builder".  I recommend pasting that long link they give you into a link shortener like tinyurl or bitly to make it smaller (with tinyurl you can even customize it to use your name).
How do I get paid?
Young Living distributors get paid once a month – we typically get our previous month's commissions around the 18th or so of the following month.  So the commissions we earn from April will get paid out around mid-May.  If you earn less than $25 you get your commissions by way of a credit on your account.  If you earn more than $25 you will get a check (or direct deposit if you choose to set that up, which I recommend).
How much can I make?
Check out the full Young Living income disclosure statement here to see the high and low amounts for each rank, but I pulled out the average amounts for each rank and used that to make this graphic.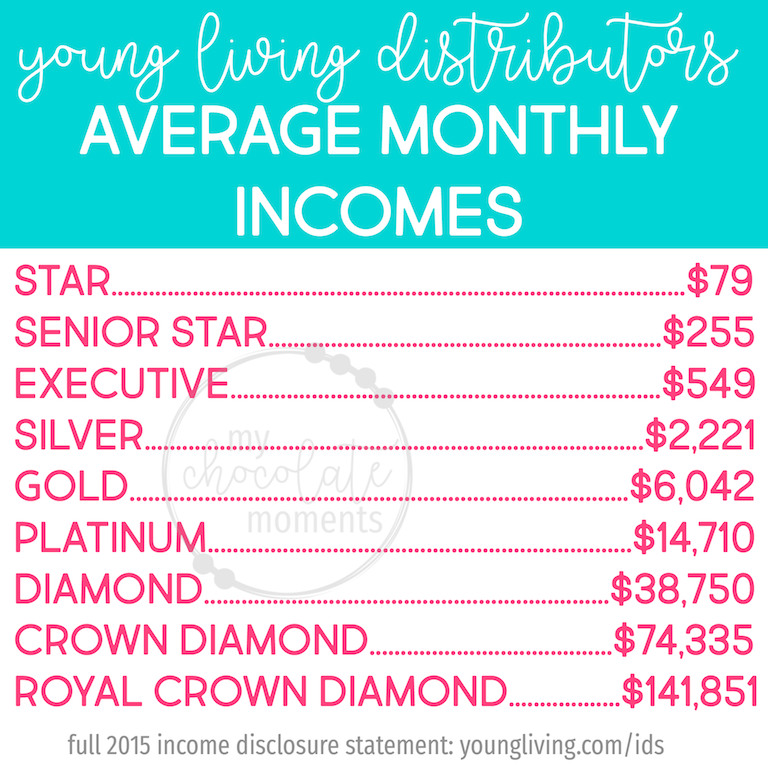 Do I have to meet a monthly/quarterly/yearly quota?
No, not really.  To stay active as a Young Living member you have to place a 50pv (PV = product volume and usually is the same as the dollar amount, so $50) order every year.  If you are loving and using your products that is not a problem at all.
To earn your commissions you have to place a 100pv (so roughly $100) order each month.  Most distributors are also oil users of course and so they easily order this for themselves each month to stock up on oils, supplements, shampoo, conditioner, laundry soap, toothpaste, etc.
(Pro tip: make sure you sign up for Essential Rewards so that when you order each month to earn your commissions you're also earning points back and free products!)
How do I teach a class?
So maybe you're thinking that this sounds great but you have NO idea how to go about teaching a class.  Don't worry!  The biggest thing to remember is that you don't have to be an expert – just share your own experiences and what you're learning.  There are tons of class scripts, outlines, and even recorded classes that you can use and there are tons of resources you can point people to.  You don't have to give them every fact about oils ever, instead, you can help point them to places where they can learn more on their own.
Will I have help?
Absolutely!  You don't have to do this alone!  For those of you who are already signed up, talk to the person you signed up through.  If they are building a business as well they will be happy to help you.  If they aren't really into the business side of things then ask them to help you get in touch with their upline, I'm sure someone in their upline who is actively pursuing a business would be thrilled to help you.  Most of the large essential oils groups have all sorts of training, classes, and business resources too.
If you aren't signed up yet, I would love for you to become part of my Oily Moments team!  You will be mentored by me and at least one other person as you get your business going and have access to all the business materials (class scripts, graphics, business Facebook group) I provide plus the various business groups and resources (free website, free business training) that our upline offers.  We'll be here for you every step of the way!
Resources
Here are some other resources that are great for anyone who wants to start a Young Living business.
Gameplan: Hands down the BEST resource you can get your hands on.  EVERYONE building a YL business needs it.  It teaches you how to get people to attend classes, how to advertise classes, what to say in the class, how to follow up with people, how to grow your business quickly, how to focus on what's important to do and not get distracted by things that don't help your business.  It's just great.
Gameplan workbook: a companion to the Gameplan book and a great tool to have to take what you learn in Gameplan and personalize it for yourself.
Compensation plan videos: A video series by one of the top Young Living distributors explaining the compensation plan in detail and exactly how you earn money with YL
Ready to get started?
Let's get you going!  Complete step one by getting signed up and you'll be on your way!