Interested in essential oils?  We've been using Young Living essential oils for almost three years now now and I just loveeeeeee them!  I wanted to make a spot on my blog where you can find all my oily info together.  Here are some posts I've done on oils:
– DIY Thieves cleaning wipes
– DIY mints
– DIY preggy belly cream
– DIY diffuser necklaces
– DIY deodorant
– DIY essential oil storage cases
– using oils to freshen soured laundry
– DIY relaxation cream
– DIY foaming hand soap
– using oils in the classroom
– my oily business
– how to attach and remove a roller ball from an oil bottle
– DIY natural stainless steel cleaner
– peppermint hot chocolate recipe
– essential oils I used in labor and after childbirth

How do you get your hands on these wonderful oils, you ask?  Here's how:
– You can either sign up for a retail account or a wholesale account.  With the retail account you purchase the oils at retail price (duh).  If you choose the wholesale account (which I highly recommend…it's like Sam's or Costco for essential oils!) then you get the oils at the wholesale price (24% less than the retail price), plus you have the option of earning free products through promos and rewards programs.

You do not have to make a monthly minimum purchase (unless you want to).  You don't have to sell anything (unless you want to).  If you never want to order again after making that initial purchase you don't have to.  Your membership will stay active as long as  you spend at least $50 a year. You do not have to continue to renew your membership…the kit is one time thing and you will remain a member as long as you spend that $50 a year (and trust me…you'll want to order more once you see how well the oils work!).

Another perk is that if you sign up through me you'll get to join a wonderful community of oilers who share their stores and answer questions and are just generally super helpful on your oily journey.  You can check out our public Facebook page here and our website here, plus we have a private Facebook group that you'll be added to when you join.

The best value and the best way to get oils to try is to sign up wholesale with the Premium Starter Kit.  The PSK is $160 (but has over $300 worth of product!) and includes:
11 essential oils (lemon, lavender, peppermint, frankincense, copaiba, Thieves, Stress Away, PanAway, RC, DiGize, and Purification)
A home diffuser
One roller fitment (snaps onto any of the bottles of oil and turns it into a roll-on)
10 small sample-sized bottles that you can use to mix your oils together or to share oils with friends
10 sample packets to share with friends (lemon, lavender, peppermint, Thieves, and Peace & Calming)

2 samples of Ningxia Red (a supplement)

Product guide and information booklets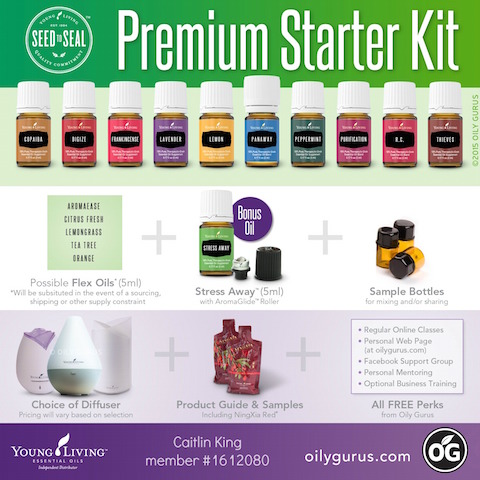 The items in the PSK are worth over $300…so for $160 you get $300 of amazing stuff, plus your wholesale membership!  This is what I got to start out and I don't regret it at all!  It has been a wonderful investment into our family's health.
Ready to sign up?

1.   Click here to begin.  Choose your language, and in the top right-hand corner click on "Become a Member".
2.  On the next page check the box to become a "Member". This is the wholesale membership with discounted pricing (24% off retail pricing). If you select "Retail," you will be paying full price for your products and you will not have the option to purchase a starter kit.
3.  Under "Membership Details" my information should already be filled in for you.  But if not, under the question, "Who introduced you to Young Living?" select the option: "I was referred by a Young Living member, and I have his/her member number." When prompted, enter my member number (1612080) in BOTH boxes: sponsor and enroller ID. Select your desired country and language, then click "next."
4. Enter your personal information. Write down the user name, password, and pin somewhere so you'll have it for reference later on. You'll also enter your tax information during this step. (This is a legal requirement for those joining with a wholesale membership)
Go ahead and accept the terms of agreement and then set aside a time to read it later. (Unless, of course, you want to do that while you're signing up. That's perfectly fine!) It took me about 30 minutes to read through it all and I found it helpful, especially when people started signing up using my sponsor number. It's important information for sure!
5. After creating your account, the next step is to pick your starter kit. The Premium Starter Kit with Diffuser is the one with the "Everyday Oils" collection (lavender, lemon, peppermint, frankincense, copaiba, PanAway, Purification, Thieves, Stress Away, RC, and DiGize), home diffuser, plus bonus goodies and samples of some of the products. It works out to about $300 worth of products for $160. Woohoo! This really is the best value of all the starter kits and WELL worth the investment.  It should be the first option on the page and already selected for you.
For those who are more interested in Ningxia Red and Thieves, there are also premium starter kits built around these fantastic products.  
6.  The next step is for those wanting to sign up right away for our points rewards program and monthly shipment, what Young Living calls "Essential Rewards".  If you are all in and ready to make big changes in your health I recommend joining Essential Rewards right away and getting either the Thieves kit (if a non-toxic home is your goal) or the Ningxia kit (if immune support and energy support are your goals).  Choose the kit you want or just scroll on past it and click "no thanks" when it asks if you want to get a kit.  There's no requirement for ever activating that option, and you can always go back in and do it later if you decide you want to.
7. If you wanted to add any other oils or Young Living products to your order then click on "Add more products to enrollment order".  If you add enough to reach 190PV you will earn the free monthly oil promotion.  Otherwise, select "Enrollment Checkout".
8.  Check out.

That's it!  Now wait anxiously for your box of oily goodness to show up on your doorstep!
If you are a visual person and prefer to see the sign up process check out this video here and it walks you through it.
If you are ready to really dive in and take charge of your health I highly recommend joining Essential Rewards right away so you can start switching out your personal care items, supplements, trying more oils, etc.  Young Living also offers a member promo every month with free items you can earn depending on how much you spend (and if you are or aren't on Essential Rewards).  Here are the ones for February that you can receive for free if you decide to get a starter kit plus some other items.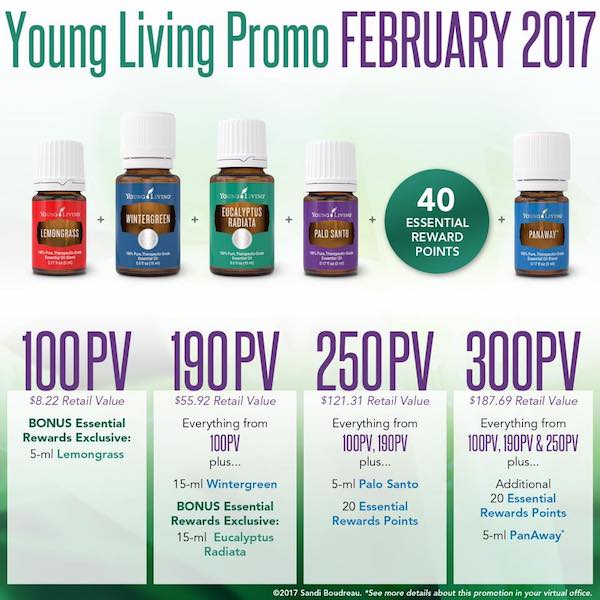 If you have ANY questions or need help, contact me and I'll help you out.
I'll get an email when you sign up, so I'll be contacting you soon to get you added to our private group and help you get started using your oils.   If you have questions before then, feel free to contact me here or here or through my Facebook page or email at caitlin@mychocolatemoments.com.
I can't wait for you to get started on your oily journey!