The title of the post where I got this recipe is actually "the most delicious, scrumptious, and amazing pumpkin bread" and I'll say that I have to agree with that!  This bread is seriously fantastic.  And it's really easy to make.
you'll need flour, sugar, eggs, oil, baking soda, salt, cinnamon, nutmeg, and pumpkin
flour
baking soda
salt
cinnamon and nutmeg
sugar
then mix all those dry ingredients up
beat your eggs, add them and the oil to the mixture
don't forget to add the pumpkin! (does anyone else think pumpkin smells like baby food?)
mix it all up (this recipe makes 2 loaves so it's a lot of batter?dough? anyway, I was very thankful for my KitchenAid at this point)
pour into 2 floured pans (I don't know where we got this flour baking spray stuff but I liked using it!)
look at those beautifully baked loaves!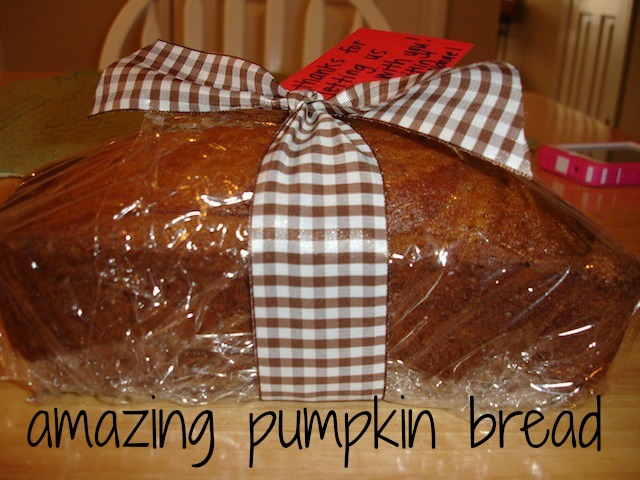 wrap it up pretty and give it to a friend (or keep it all to yourself – I won't tell!)
recipe (found and copied from here)
ingredients
3 1/2 cups all-purpose flour (I only had 2 1/2 cups of all-purpose flour and rather than running to the store I just used white whole wheat flour for the last cup – I couldn't tell a difference)
2 tsp. baking soda
1 1/2 tsp. salt
2 tsp. cinnamon
2 tsp. nutmeg
3 cups sugar
4 eggs, beaten
2 cups of fresh pumpkin – 16 ounces if using canned pumpkin (I only find 15 oz cans so that's fine too)
2/3 cups water if pumpkin is canned
1/2 cup water if pumpkin is fresh or frozen
1 cup vegetable oil
1 cup chopped pecans (optional – I didn't use any)
instructions
Preheat oven to 350 F.  Combine flour, soda, salt, cinnamon, nutmeg and sugar in a large mixing bowl.  Add eggs, water, oil and pumpkin.  Stir until blended.  Add nuts.  Mix well.  Pour into two floured 9×5 loaf pans.  Bake for 1 hour.  Cool slightly and take out of pan to let cool on a rack.  Keeps well in the refrigerator and tastes great for days!
Calories: yeah right, not even going there
I found this recipe (say it with me now…) on Pinterest.  I'm not a huge pumpkin fan but there are others in my life (hi Riley!) that are so I thought I'd make some as gifts.  I did give both loaves away but I poured a little of the batter in to a muffin tin so I could taste it (the baked bread, not the batter).  One of my biggest fears about making things like bread, pie, or cake – things where it would be obvious if I tried a bite – is that it will be really bad and I won't know.  Especially when it's a new recipe that I've never made.  I solved that by making myself a tiny bit in the muffin tin so I could make sure it tasted ok.  It was super!  I'm now going to have to make some for us because I liked it so much – I am definitely a pumpkin bread convert.