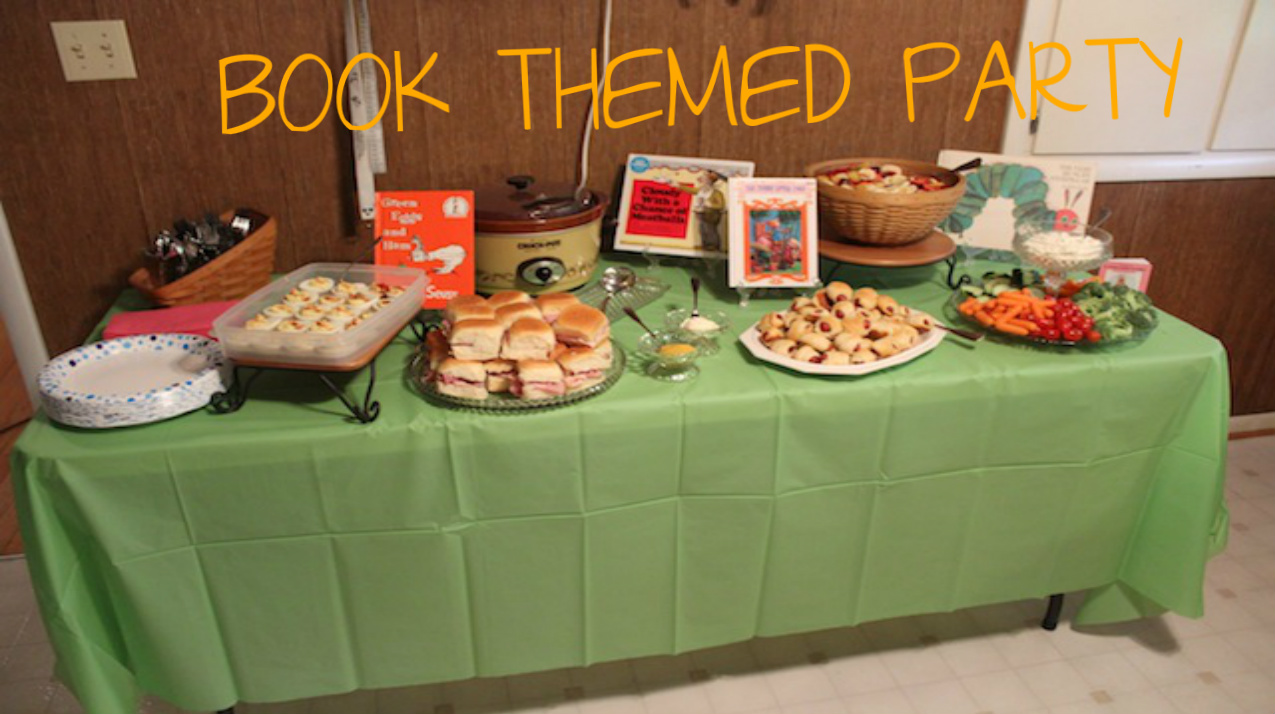 Way back when I started working on my master's, I knew I was going to have a graduation party once I was finished.  And I knew it was going to be book themed…to go along with my master's in library media education.  So after I graduated Friday night, we had my graduation party the next day at my parents.  Since we were in Gatlinburg until just a few hours before graduation, we really only had Friday night after graduation and Saturday morning to prepare; so it wasn't anything elaborate, but I love how it turned out.
Obviously this theme works well for a graduation party for someone graduation with a library media degree, but it could also work for a birthday party or a baby shower (have the guests bring children's books as their gifts).
Let's start with the invitations.  I wanted the invitations to be in the form of an old library card:
(FYI, this is not the exact invite that I sent out…I changed some of the more personal info for the one I wanted to post on here…gotta watch out for those creepers, ya know?)
This is the template that I used for the library card.  It was a Word document so I just edited it so that it had my party info on it and used the fonts I liked.  Then I printed the cards onto white card stock and cut them out (four to a piece of card stock).
Here's one that you could use if you have Photoshop (I don't, so I couldn't use it, but I thought it was cute)
Also, another one, another one, and another one
I found the card pocket template here
I traced the template onto those yellow file folders, cut them out, folded them, and stamped them with a stamp that we have that says "From the *OUR NAME* Family Library"
Then I just put them in small, card-sized envelopes and mailed them off.
Once that was done, it was on to the party details.  I really wanted the food to go along with books but it also needed to be really simple since we didn't have much time to spend cooking.  I searched online and asked for ideas from my Facebook friends (I got tons of super creative ones!).  This is what I came up with:
1. Green Eggs and Ham………………………..deviled eggs and ham sandwiches (the filling for the deviled eggs was supposed to be tinted green but I completely forgot to do that!)
2. Cloudy With a Chance of Meatballs……………………..meatballs
3. The Three Little Pigs…………………………………pigs in blankets
4. The Very Hungry Caterpillar……………………fruit salad
5. Peter Rabbit………………………….veggies and dip (from Mr. MacGregor's garden)
6a. Charlie and the Chocolate Factory………………………chocolate cupcakes
6b. James and the Gian Peach…………………….peach cobbler
The decorations were also very simple – mostly we just displayed some of my favorite books
1. basket of favorite books and books on the table (some Baby Sitter's Club, Baby Sitter's Little Sister, and The Silver Slippers)
2. favorite young adult books (Harry Potter, Twilight, and Hunger Games)
3. more favorites on the end table: Deputy Dan Gets His Man, Amelia Bedelia, and Junie B. Jones
4. centerpiece on the table: stack of Little House on the Prairie books, jar full of chunky/baby books, Beach Day, and my all time favorite book – Brown Bear, Brown Bear
we also invited the guests to write some of their favorite books on the chalkboard wall in the kitchen
So there you have it: very simple, quick, and easy, but also very fun.  I was pleased with how it turned out!
Linking up to Works for Me Wednesday
P.S. We're headed to Chicago this weekend (yay!).  Neither of us have been before…so feel free to leave suggestions of where to eat/what to do/where to go/things to visit (or places/things to avoid)