It's back to school time and while I'm not actually going back to school (this is the first time in 22 years that I haven't had a "first day of school" either as a student or a teacher…so weird!) I know I have a lot of teachers who read my blog so I thought I'd share how I'd be using oils at school if I were still teaching.
I didn't start using essential oils until a week before I went into labor so I haven't gotten to try them out in a school setting.  I SO wish I had though!  I always (well, until I got pregnant and couldn't stand most smells) had a Scentsy warmer running in my classroom/library.  I loved making it smell nice and I think it felt more homey.  I would have loved to use my diffuser so that it would have been beneficial and more than just an enjoyable scent.
---
This post contains affiliate links.  I am a Young Living independent distributor so if you purchase a product through my link I make a commission at no cost to you.  You become part of my Oily Moments community and we will be here to help you with your new oils.  Thanks for joining with me!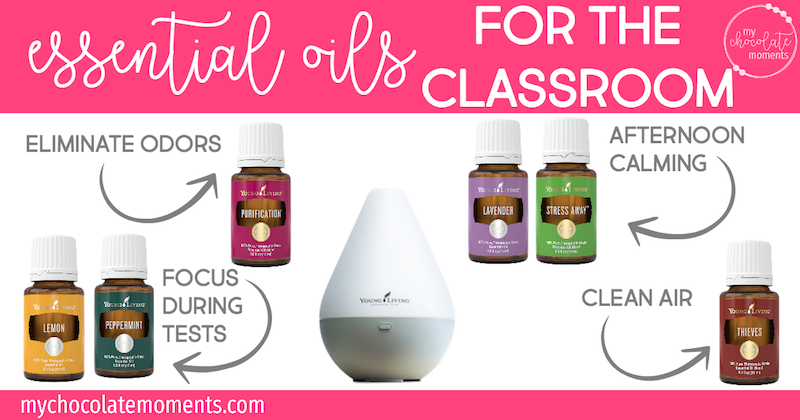 If I were going to be diffusing oils in my classroom, these are the ones I would use.
In the morning: Joy and peppermint to get us woken up and in a happy mood (that's my favorite combo when I'm cranky or need some pep in my step).
After gym class: Purification to combat that sweaty kid smell.  Shew.  That is not a pleasant aroma, y'all.  I wish I could say that's limited to middle school but this is not the case.
To keep the air clean:  Thieves for sure!  I'd use this one regularly, especially during the winter.
During a test: Did you know Peppermint and lemon help to support cognitive function?  So cool!  I'd for sure be diffusing those a lot, especially during tests, to try to help my students do their best!  (can you see why I totally wish I'd had oils earlier?!?).  Plus they are both very uplifting oils.
During that wild, hour-before-school-is-out time:  Lavender, Peace & Calming, or Stress Away are all good choices to help calm the afternoon crazies and keep the kiddos from bouncing off the walls.
So, who's ready for a great school year?  What oil would you like to use most in your classroom?
Ready to kick of the school year with oils?  Go here.  Want to read more about my classroom?  Check out my classroom organization series.