Last night I helped teach a class on DIY (Do It Yourself) products using essential oils.  One of the recipes I shared was my DIY foaming hand soap recipe and since I love it so much I thought I'd share it with you too.
When we first started to move toward a more natural lifestyle I began making my own cleaning supplies, laundry soap, etc.  It just made sense to make my own hand soap too!  I found a recipe online and made a big batch but it was a disaster.  It was difficult – you had to grate a bar of soap and cook it in water basically until is melted.  The consistency was disgusting – it looked and felt like snot.  So gross.  The only thing it had going for it was is smelled good.  We used it for awhile (although if guests were coming over I switched out with a bottle of store bought soap because the homemade stuff was just embarrassing) but eventually just switched back to buying soap.
Then I got into essential oils and I found a recipe for DIY foaming hand soap.  I've never liked foaming soap but I figured foaming was better than snotty so I gave it a whirl.  I've gotten used to the foam by now and I love making my own because I know it's not full of nasty junk!
---
This post may contain affiliate links.  If you purchase a product through an affiliate link I make a small commission at no cost to you.  This helps keep my blog running so thanks for your support!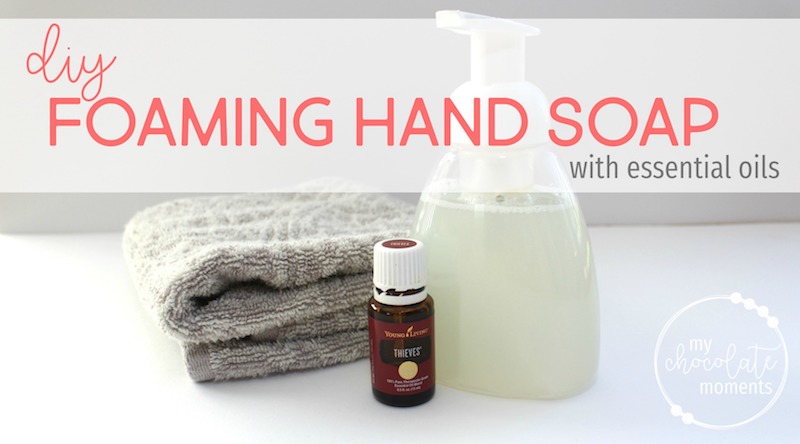 Supplies needed
Recipe
Mix 1/4 cup castile soap, 1 tsp glycerine, and 5 – 10 drops of essential oil in your soap container.  Fill the rest with water and give it a shake to mix.
I don't measure (that makes Michael crazy!  I cook that way too) so these measurements are a rough estimate.  Basically I just do a big squirt of soap, a smaller squirt of glycerin, then add a few drops of oil and the water.  It's so fast, takes me just a minute to refill all the soap dispensers in the house.  I like to do them all at once, assembly-line style.
You can change this and make all kinds of combinations!  Dr. Bronner's has several scents (lavender, peppermint, orange, almond, and baby mild are the ones I've seen in stores; they also have rose, eucalyptus, and tea tree, which I've only seen online) and then of course there are tons of essential oil options you could use.  Baby Mild is my favorite because it's unscented so you can do any combo of essential oils you want.  I've also used the peppermint Dr. Bronner's some too and that one makes a nice combo with my Thieves oil (very Christmasy!).
Be creative!  I usually stick to Thieves oil just because of it's wonderful cleansing properties but really any essential oil that smells nice to you would be a good choice.  Some that I think would smell lovely are lemon and lavender, orange, Stress Away, and lemongrass.
This is a really easy step you can take into switching your household products to something more natural.  I think it would be really fun to get together with a bunch of friends for everyone to make some soap to take home!
Have you made soap before?  Did you like it?  What combinations do you think would smell good?
Oh and if DIY is just not your thing, you can buy foaming hand soap from Young Living; they have Thieves and lavender.   Ask your favorite friendly Young Living distributor (me of course) how to order.
Want your own oils so you can get started making your own soap plus lots of other fun DIYs?  Let's make that happen!