Whole30 Week 3 – done!  It was hard, hard, HARD!  Definitely my most challenging week yet.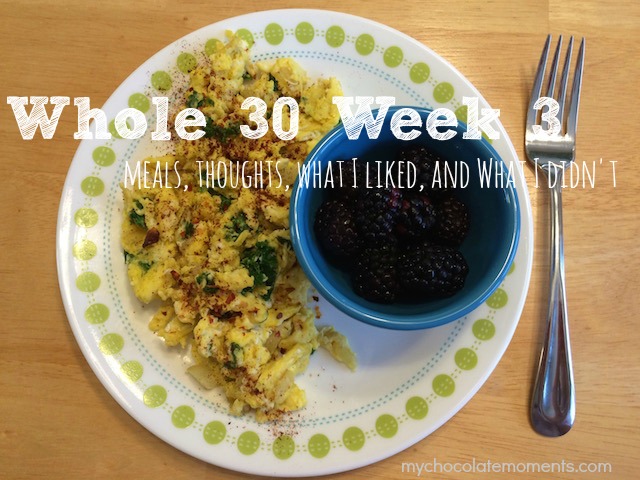 Rather than repeating myself every day I'm just going to write it here that snacks each day were (all, some, or none of) these things: apple with almond butter, fruit, smoothies (avocado + coconut milk + banana + blueberries + almond butter + spinach)
Also, I have to apologize because I did a terrible job taking pictures of my meals this week so it's a pretty boring post.
Day 15 (Sunday)
breakfast – Sweet potato hash with two fried eggs, bone broth
lunch – Leftover chipotle chicken from our meal Saturday over extra sweet potato hash from breakfast and grapes.
dinner – Salad with chicken, hard boiled egg, sunflower seeds, and orange poppyseed dressing and berries.
thoughts – My milk seems to be back!  Yay!  Hudson nursed well at each feeding.
Hudson and I left after a quick lunch Sunday to go stay with my mom for part of the week.  She is thankfully 100% supportive and plans to make strictly Whole30 food while I'm there plus I brought some of my own stuff from home, but I know it will still be somewhat challenging since it's not our normal routine or my own kitchen.
Day 16 (Monday)
breakfast – Sweet potato hash with fried eggs and bone broth
lunch – Leftover chipotle chicken over sweet potato hash and grapes.
dinner – Shrimp gumbo and berries.
I've never had gumbo before but Mom and I found some recipes that we were able to modify into a Whole30 compliant meal.  It was very good!
thoughts – Today I felt mad.  I was just mad that I couldn't eat whatever I wanted.  Here I am staying with my mom and I can't have any of my favorite comfort foods like chicken and dumplings or homemade milkshakes.  I sure hope this "Tiger Blood" I keep hearing about kicks in soon so I can quit craving things that I can't have!
I haven't done as well with my veggies yesterday or today so I need to try to increase those.
But on a positive note, my milk has been fine today.  Hudson nursed less than normal since he was so distracted playing and being in a different environment, but when he did nurse there was plenty of milk.  Looks like adding in the extra fat via smoothies is working so I will continue doing that!
Day 17 (Tuesday)
breakfast – same as previous days
lunch – Leftover chipotle chicken over leftover sweet potato hash and leftover gumbo.
dinner – Steak, roasted green beans, mashed potatoes, salad, and fruit.
Day 18 (Wednesday)
breakfast – same
lunch – Leftover steak, green beans, and gumbo
dinner – Fish (I don't even know what kind, my mom cooked it), steamed broccoli, sweet potato hash, squash, and fruit.
thoughts – Reeses.  No bake chocolate oatmeal cookies.  Chocolate cake.  Cake batter ice cream.  THAT is what I really want.
Seriously.  I am SO over Whole30 right now.  I am tired tired tired of eggs, avocados, and sweet potatoes.  I want a yummy dessert.  I also feel like it isn't working for me – I don't feel any better or more energetic than I did before…in fact, I feel pretty much exactly the same.  I also don't feel like I've lost a single pound.  My wedding ring (and not even my real wedding rings but my stand in ring until my real ones fit again) doesn't feel the least bit looser than it did 18 days ago.  I so badly want to wear my real rings again!
Don't worry, I am going to see these 30 days through.  Just 12 more days to go.  But I'm definitely feeling very discouraged and questioning whether or not it has been worth it.
Day 19 (Thursday)
breakfast – same, minus broth because I ran out
lunch – Leftover steak, squash, sweet potato hash, and an apple with almond butter.
dinner – Chicken breast and a hashbrown-type thing (basically the same recipe as the sweet potato hash but with white potatoes).
Dinner was a big fail.  Michael and I both got back from being out of town to nothing in our fridge and nothing planned so we had to throw something together.  The chicken was ok but the hashbrowns didn't turn out good at all (plus if I can't have ketchup on my hashbrowns then I just don't want them…).
thoughts – Over.It.
I am so sick and tired of eating the same things over and over.  So boring.  I have to find some other things to add in if I'm going to finish out these 30 days!
Day 20 (Friday)
breakfast – Scrambled eggs with onions and kale, blackberries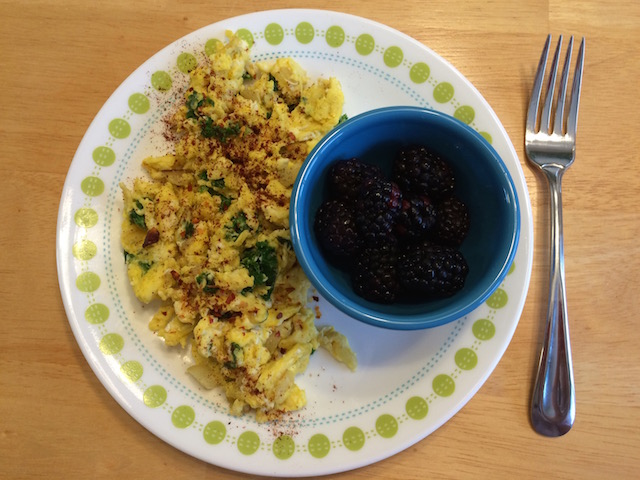 lunch – Avocado tuna with radishes and grapes
dinner – Vegetable soup and tangerines
I modified my usual vegetable soup recipe – took out the corn and peas and added in some okra instead.  Not the most exciting soup ever but it was pretty good.
thoughts – Being home made Whole30 much easier.  I wasn't as angry about "having" to eat this way and my intense frustration and desire to quit have chilled out.  Also some friends talked me down from the ledge ;).  I also broke the Whole30 rules and weighed myself.  I had told myself that if I got on the scale and hadn't lost any weight then I was just going to quit.  However, I have lost some (not tons, but some) so I'm going to keep going.
Day 21 (Saturday)
breakfast – Two fried eggs, blackberries, and broth
lunch – Avocado tuna with radishes and grapes
dinner – Vegetable soup, leftover tuna from lunch, grapes, and tangerine
thoughts – Today was a little hard.  We had our church ladies' retreat this weekend and instead of getting to eat the yummy food they made I ate my own.  Friday night I ate supper before I went, Saturday morning I ate breakfast before I went (I drove back and forth Friday and Saturday instead of spending the night), I took my lunch with me, and then I left before supper so I could eat at home.  It wasn't awful but I was kind of bummed to miss out on the meals.
I got tired of my smoothie so I didn't eat one Thursday, Friday, or Saturday and I felt like my milk had dropped so I'll start drinking those again.
Also….dare I say it?…I am very tentatively, fingers crossed, thinking that maybe, just maybe, my (stand in) wedding ring is feeling a teeny tiny bit loose.  I'm trying not to get too excited but I'm really hoping that's the case.  I SO BADLY want to be able to wear my real wedding rings again!!
Thoughts for the week
Well as you can tell I really struggled this week.  Now that the end is in sight and I've already gotten past the events where I really missed getting to eat anything I wanted (staying with my mom and being on ladies retreat) I think I can make it for nine more days.  It may be a boring nine days (although I'm going to work on getting some more variety) but I can do it.  I'm not going to say that I'm enjoying it, and to be quite honest I pretty much hate it, but I'm going to see it through.