Diffuser necklaces are such a great way to use your essential oils on the go.  The way most diffuser jewelry works is you put a drop of essential oil on a little pad (leather, felt, or paper are popular) inside a locket that has holes in it – it acts like a mini diffuser and you can smell and benefit from your oils all day long.  Diffuser necklaces are super popular among the oily crowd and you can buy them lots of places but if you are a little bit crafty you can also make them fairly inexpensively.  They are very easy, even for someone who has never made jewelry before (aka me)!
---
This post may contain affiliate links.  If you purchase a product through an affiliate link I make a small commission at no cost to you.  This helps keep my blog running so thanks for your support!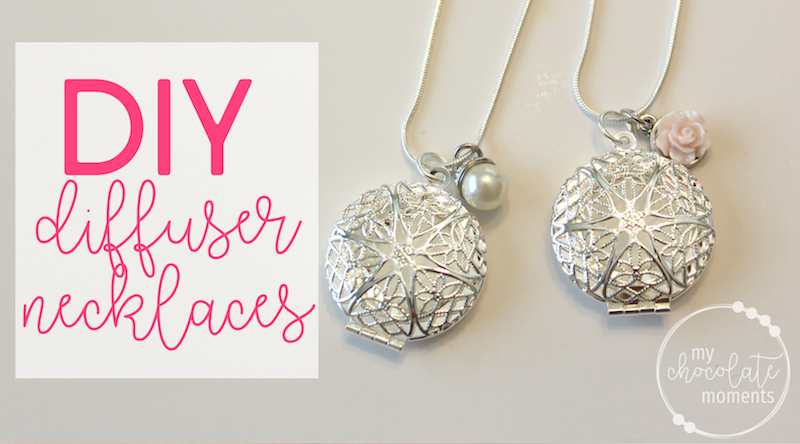 What you need:
I buy "in bulk" because I make a lot of necklaces at once to have on hand to use as gifts, sign up incentives for new members, giveaways, make 'n take items for my team, etc.  These are the supplies I use.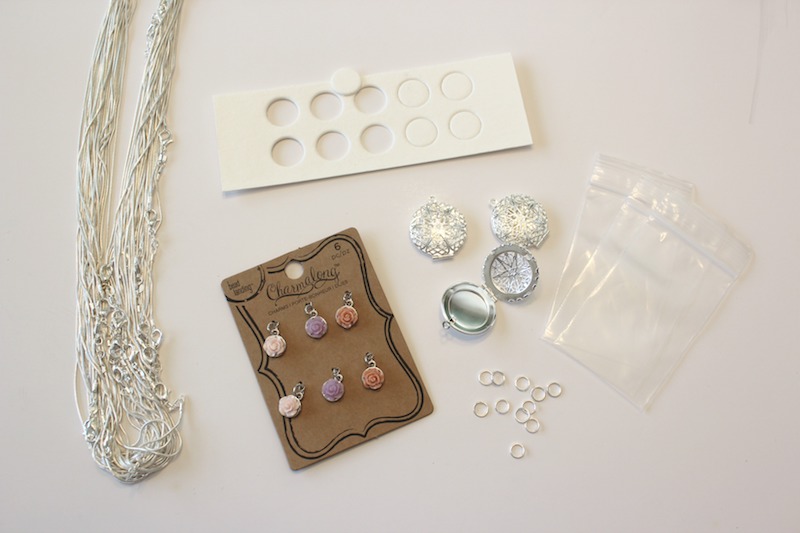 diffuser locket
 – I buy the 20 pack but they also sell them in packs as small as just 5, I believe
chain
 – There are lots of different lengths to choose from, I went with 24 inch chains which are a good length for most adults but would probably be too long for a child.
jump rings
 – This is what connects the pendant to the chain.
disc for inside the pendant
 – I put one drop of oil on one of these discs and I can usually smell that oil for at least a week.  I also just reuse the disc and put new oils on it when I want to change; I've been using it for months and so far it's held up well.
charms – I purchase my charms at Hobby Lobby or Michael's in their jewelry section.  There are all kinds of cute charms that slip right on the chain; I usually use flowers, pearls, or gemstones but there are more personalized options too.  The charm is optional of course but I think it adds a nice touch to the necklace.
jewelry bags
 – Also optional, but trust me that you want these if you are going to be making a lot of necklaces.  This prevents them from becoming a big tangled mess as you try to keep them separate.  I bought my bags from Hobby Lobby but they are also on Amazon.
If you are not interested in making a bunch of these and just want to make one or two for yourself, Hobby Lobby (and probably other craft stores) has most of these items that you can purchase individually.  I've seen at least two different types of metal lockets that have the openings and could be used for the diffuser locket, you can purchase small packs of jump rings and individual (or small packs of) chains.  The only thing they don't have are the discs (that I've found), but you could just use a small piece of leather or felt and cut your own, or buy the pack from Amazon and then have extras.
Note: these are not super high quality materials.  My pendant has held up great but you can definitely tell a difference in the weight and quality of it compared to some of the other, more expensive places you can purchase.  But if money is an issue or you're wanting to make lots of these, I think this is a great alternative and the quality is good for the price (in my opinion).
Speaking of price, I did the math at one point (based on the prices when I purchased – you know how things on Amazon can change from hour-to-hour) and the necklaces came out to $3-$5 each, depending on which charms you choose to use and where you buy them.
What you do:
Step 1: Open each locket and put a disc inside.
Step 2: Attach a jump ring to the locket.  This is the only part that requires any real "assembling".  The jump ring has a break in it and the two ends of the metal are slightly bent away from each other so that there is an opening to put in on the locket.  Once you put the jump ring on the locket then you grab each of the openings and pull them in towards each other – that should then even them out so that they meet in the middle.  Some of the things I read online about how to make jewelry mention using pliers to do this but I have been very easily able to do this without needing any tools.
I tried to take a picture of this step but it was impossible for me to get my camera to focus on that tiny jump ring so hopefully my written explanation was clear!
Step 3: Use the jump ring to slide the locket onto the chain.
Step 4: Add any charms that you want as embellishments.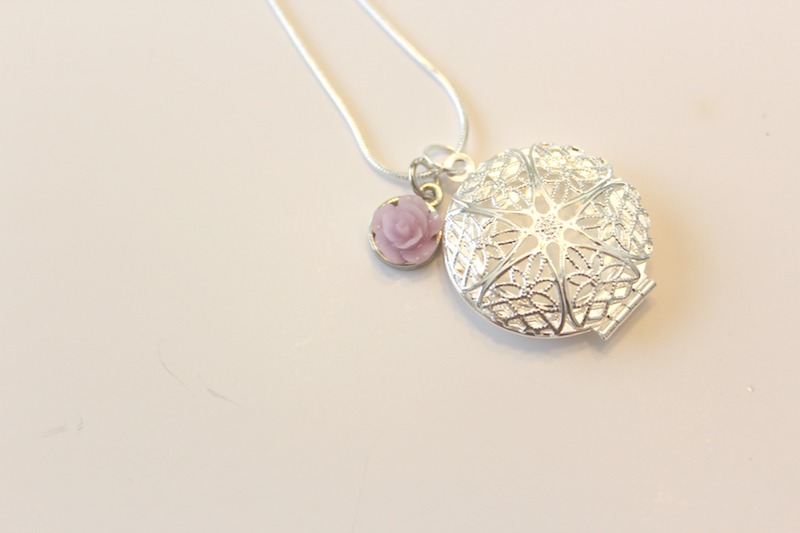 That's all!  Easy peasy!
If you aren't the DIY type and don't want to make one at all there are tons of places you can purchase them.  There are lots and lots on Etsy as well as various other companies and shops that make them (I really like Sacred Arrow – they also have bracelets, earrings, and jewelry for men).
Add oils and enjoy!
Some of my favorites for my necklace are Valor, Joy, White Angelica, Stress Away, and Abundance.
(Not an oiler yet?  Want to be?  Here's how to sign up and get started using these super fabulous essential oils!)