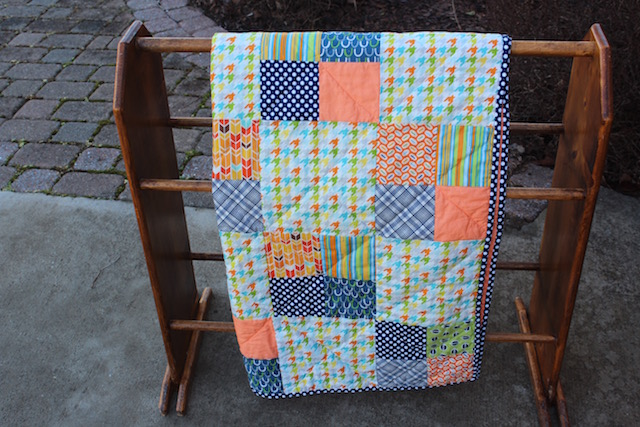 I thought there was no way I'd get Parker's baby quilt done before he was born and yet here I am, still pregnant at 40 weeks 2 days and his quilt is totally, 100% done!  Yay!  I absolutely love how it turned out too!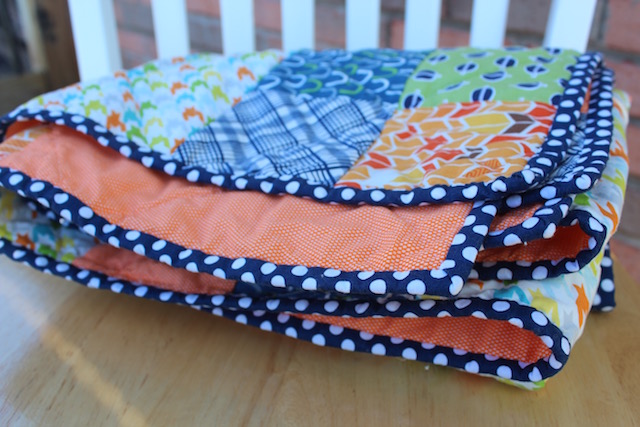 This was by far the quickest and easiest quilt I've done.  I'm sure part of that is because I'm getting better at it as I do more quilts but I also think this was a pretty easy quilt pattern in general to piece together and would be a good one for someone who is somewhat of a beginner like me.  I used this pattern and tutorial to make the top and then quilted it by hand.
I went Wednesday morning to my favorite fabric place (seriously, if you are in south central Kentucky you need to check out Whittle's…way better selection and prices than Hobby Lobby or Hancock's!).  Wednesday afternoon I got all the squares cut out.  I am not a fast cutter…at least not when I'm trying to be accurate, like I was with this quilt, but even at that it didn't take me long to get all the squares cut out.  Wednesday night after Hudson was in bed I pieced the top together and I think that took me about 3 hours (which is not bad in my experience for putting the top together!).  Thursday I made the back, basted it together, and began quilting Thursday night.  I've been working on it since then, mostly after Hudson was asleep at night and sometimes during nap.  I finished up the quilting and did the binding yesterday (Tuesday).  So all in all the quilt took me not quite a week to finish, working on it mostly after Hudson was in bed.  Fairly quick compared to others I've done!
I love a stack of freshly cut fabric ready to be turned into something beautiful!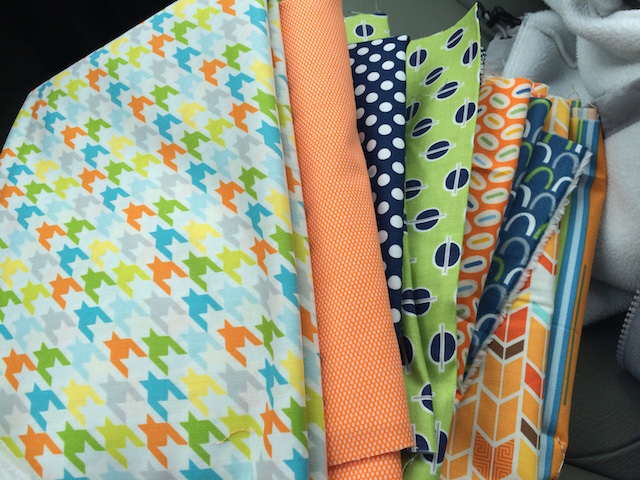 laying out the cut blocks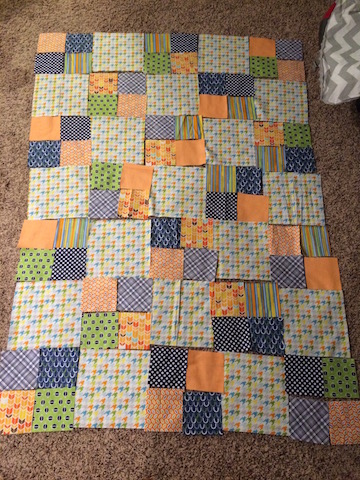 quilt top done!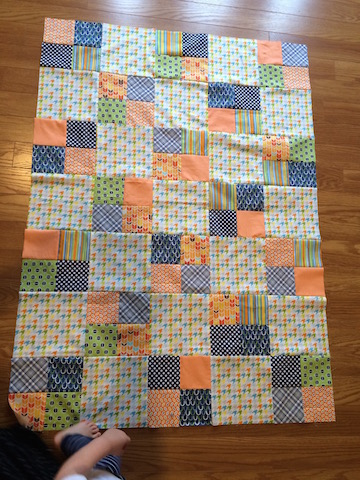 quilting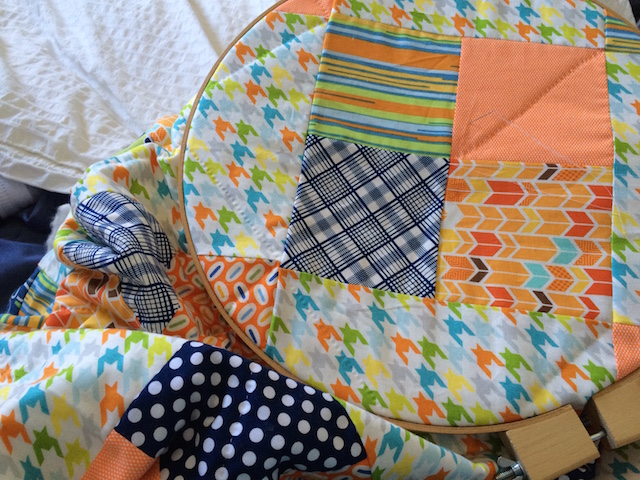 completed quilt last night before going into the washing machine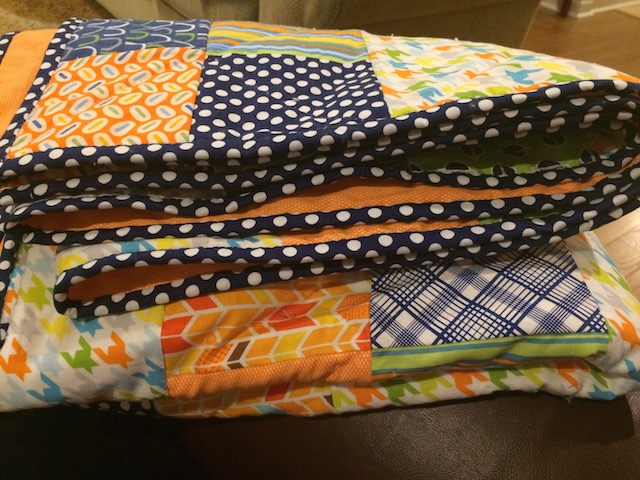 Picking simple quilting helped a lot too – usually I trace around each piece of fabric and follow the sewing lines so I cover a lot of area and I'm usually quilting through lots of layers of fabric since it's close to a seam.  This time I just did X's through the middle of each block so that went way faster.  I'm still learning but I think that was sufficient to hold it all together and I really like the effect it made, especially on the back!
(Sorry for the pictures…our porch was way too bright for good pictures but I'm impatient so maybe I'll go back and retake later.)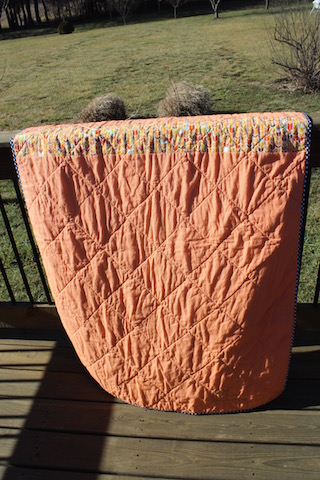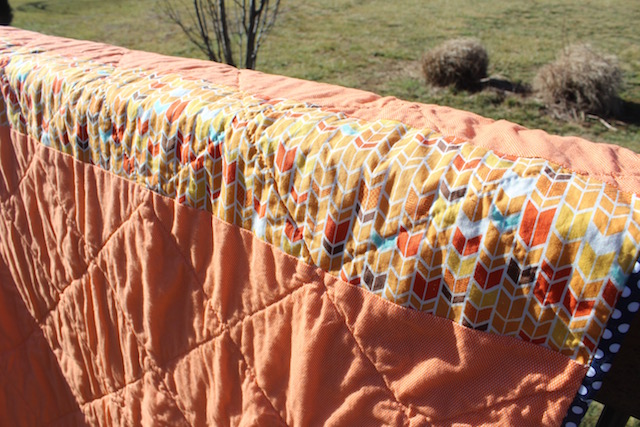 I have no idea how to actually embroider so I make it up as I go and it's not the prettiest but the quilt is signed and tagged and made with love so that's what is important.  In case you can't read it, it says "to Parker, love Mommy, February 2016".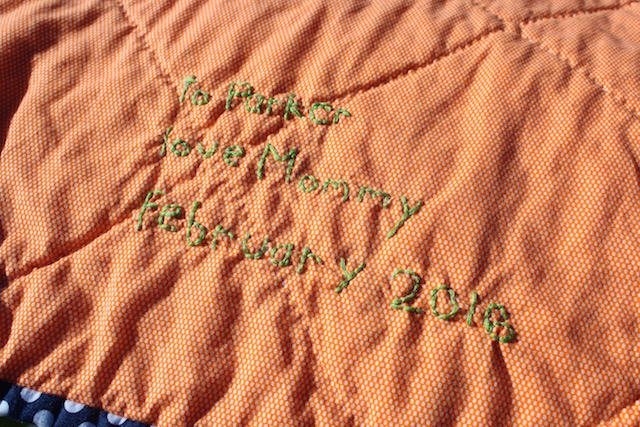 I love the color combination and how it turned out!  It's exactly what I wanted – different from Hudson's quilt but still compliments the green, blue, and navy colors in their room (if they ever end up actually using their room…) and isn't too babyish so it could be used later on too.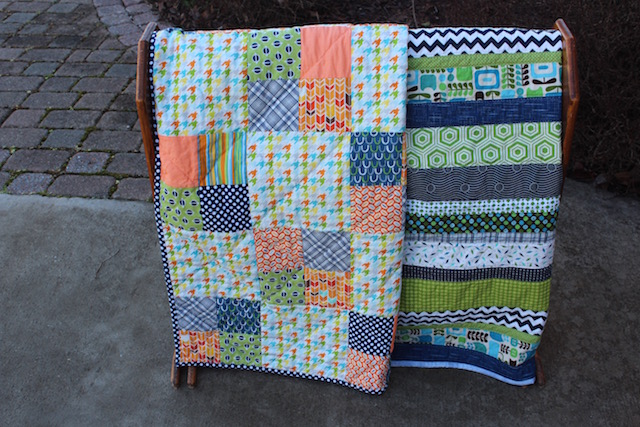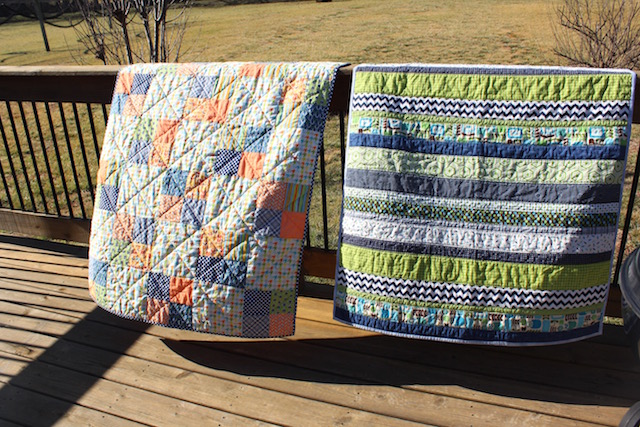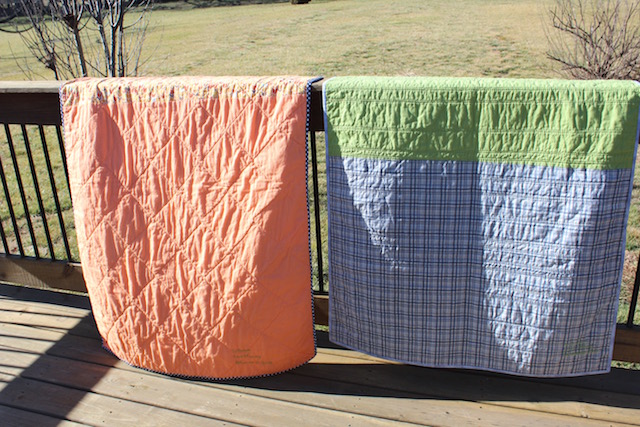 And now that I've knocked the final thing off my baby to-do list I am more than ready for Parker to make his appearance!  Until then I have a quilt I've been slowly working on for…ummm…3ish years now?  So while I'm in quilting mode I guess I'll keep chugging along on that to keep me occupied while I wait.