I'm dubbing 2016 The Non-Toxic Beauty Makeover Year.  Apparently being pregnant makes me want to totally overhaul things.  In January of 2014, when I was pregnant with Hudson, I decided to quit thinking about trying essential oils for a household cleaning solution and use my Christmas money to dive in and get a kit (and if you've been reading here long you know that decision has made a huge impact on how we care for our health as well as our finances).  In January of 2016, when I was pregnant with Parker, I decided to quit thinking about ditching my old makeup and trying to find something more natural – so again I used my Christmas money, threw out all my old makeup, did a bunch of research, and bought all new stuff.
*note* since I wrote this post Young Living came out with their own makeup line and I have switched over to using all their products.  I still think the makeup I shared about below is good, but I knowing Young Living's commitment to quality and being a YL distributor myself of course I wanted to use my own company's products.
---
This post may contain affiliate links.  If you purchase a product through an affiliate link I make a small commission at no cost to you.  This helps keep my blog running so thanks for your support!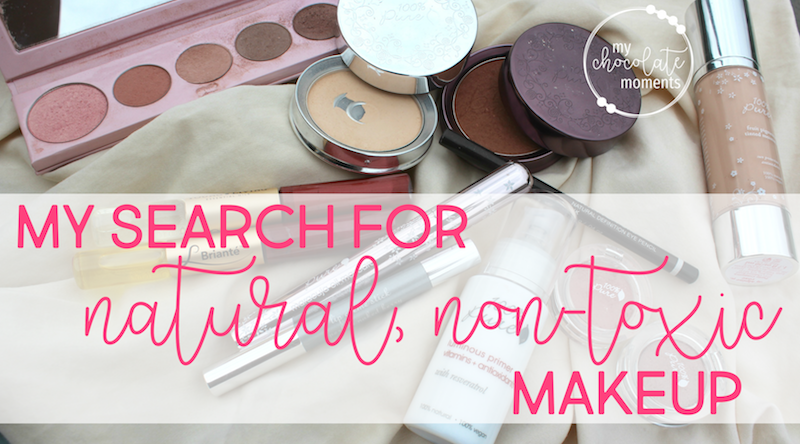 Yep.  For someone who doesn't wear a lot of makeup I sure had quite the stash!  It didn't help that I never threw any away unless I completely used it up so I had stuff in there from high school.  I gathered it all up and into the trash it went.  I kept a few things that I had been using on a regular basis (and weren't expired like 99% of what I owned) just in case all the natural things I tried bombed or I needed something for a special occasion (so far I haven't touched the stuff I put aside so I'll probably throw it away soon too).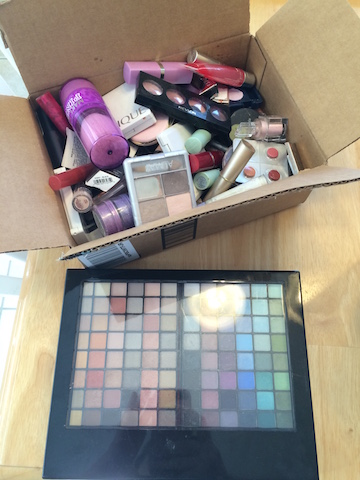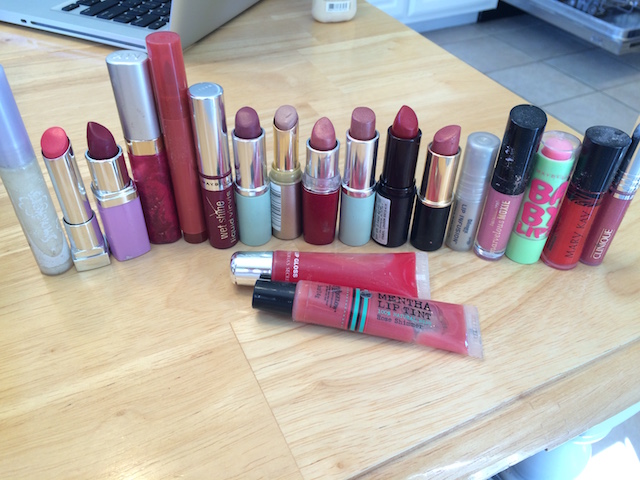 Look at all these lipsticks!  I don't even hardly wear lipstick.  I sure like to buy it though!
Obviously the most natural thing to do makeup-wise is to not wear any at all.  Back when I first started my journey toward natural things I said that I would change a lot of things but I'd never give up my makeup.  I've learned to never say never, so I guess it's potentially possible that someday I might go makeup free but I really don't see that happening in the near future.  However I really wanted to find a better alternative to what I was using.
Most makeup is full of hormone disrupting, cancer causing components.  I don't want that on my face (or anywhere on my body), not to mention I don't want it touching my kids when I kiss them or snuggle their faces to mine.  I'd switched out all my other personal care products to safer, more natural options but hadn't done anything about my makeup and decided it was time to get it done.
I did a lot of research.  I made a list of several companies that I'd heard were good non-toxic, free of harsh chemicals, natural options.  I then began looking at each one to see if I liked the products.  Some companies got thrown out, quite a few looked like good contenders.  Then I started comparing similar products from all of the companies (foundation from each company, eyeshadow from each, etc.).
In the end there were several that I was impressed with.  I only bought from two but there are really a lot of good choices out there!  (and I've actually heard of a few more even since I did my initial researching that I haven't checked out yet).  I'll include a list of all the companies I liked at the end of this post in case you want to try them out.
I really wanted to buy a little bit from each company so I could try them all out but when I realized that the shipping costs to buy an eyeshadow here, an eyeliner there, some blush at a third place, etc. was going to be pretty steep so I decided to just stick to a couple.
The two companies that I chose were 100% Pure and Alima Pure.  Here's why:
100% Pure
– TONS of options.  This was one of the biggest reasons.  There are a lot of great companies out there but many of them only carry a few things but not everything that you need.  100% Pure has every makeup item that I use and pretty much everything I could think of needing so you can do a one stop shop and not have to buy from multiple places.  Instead of just loose mineral powder they offer pressed powder, tinted moisturizer, BB cream, liquid foundation, and cream foundation.  The have primers, multiple types and colors of eyeshadows, tons of colors and types of lipstick and glosses, and so much more.
– Free shipping – no minimum order required
– Free returns.  This was a biggie too because I was making a huge leap buying makeup that I hadn't tried before.  I wasn't convinced that I'd find anything natural that actually worked so I liked that I could return anything if I didn't like it (and I have since used that feature and it was an incredibly smooth process)
– Lots and lots of reviews on their website so I was able to get real feedback on products I was interested in.
– Organic, vegan, cruelty free products.  (I don't care about vegan but I know that's important to some people so I threw it in here for your info)
– Most of their products contain more than just minerals, they're made with fruit and flower extracts too.
– Offered pressed powder foundation and eyeshadow.  I'm not a fan of loose powder and loose eyeshadow, I feel like it's super messy.  But since most natural makeup companies use mineral makeup then it's usually loose.  I liked that I could get pressed!
– They also have a rewards program where you get points for each purchase you make and once you've accumulated enough you can redeem them for free product (they did not have this when I placed my original order so it's wasn't a factor in my decision but they've since come out with it and it's something that I really like so I thought it was worth noting!)
Alima Pure
– Another one that offers pressed powder foundation.
– Offers little sample sizes that you can buy to try the powder before you commit.  They also have sampler pack thing where you can try multiple shades.
– Good reviews
– A ton of foundation color choices, probably more than any other company I looked at
– Free shipping over $35.
– I had found a $10 off coupon that I could use on my order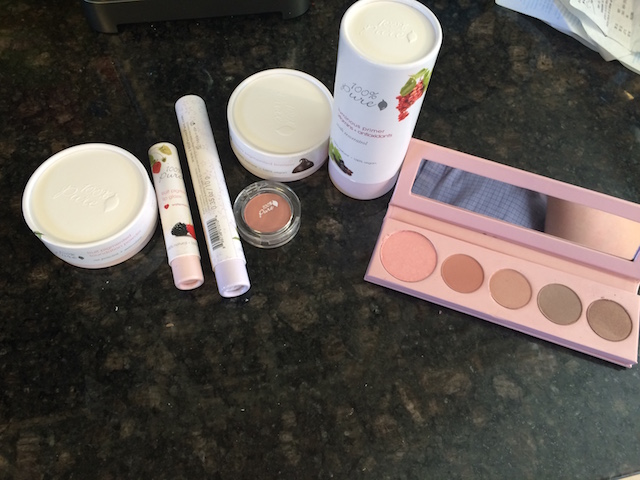 I bought the majority of my new makeup stash from 100% Pure since they had so many choices!  Here's a picture I snapped of my haul when it came in – the cardboard tube packaging is cute too!
Here's what all I currently have and what I think about each one: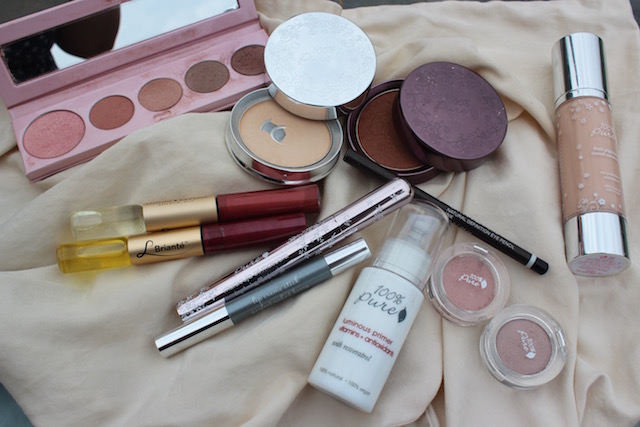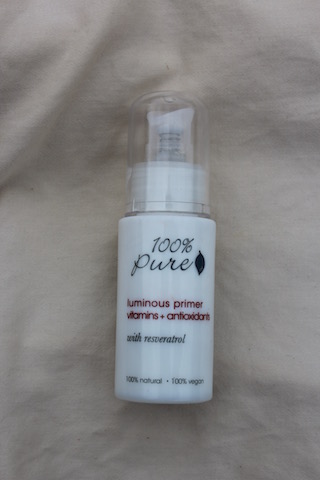 Luminous Primer – I had gotten used to using a primer because prior to my switch I was using Bare Minerals (not as natural as one might think…) – a primer with the powder foundation and mineral veil.  I loved that smooth feeling it gave my face and how easy my makeup went on so I was excited to find that 100% Pure had primer too!  It feels and works great too.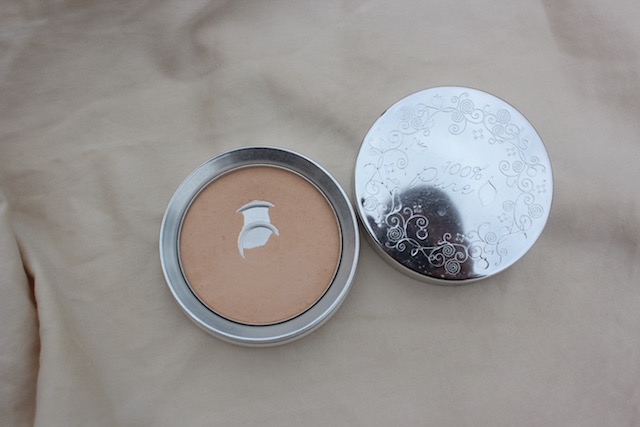 Fruit Pigmented Powder Foundation – I was worried about picking the right color (but since they have free returns I figured I could always switch if I needed to).  I chose the color Creme and it was perfect for me.  The coverage is a little lighter than what I was used to so that took a bit of adjusting but honestly it looks more natural on me and after the initial adjustment period now I like it better.  I don't have major blemishes, my issues are more about splotchy redness and this does a great job of covering without being heavy.
At $39.00 it was expensive but comparable to what I had been paying for Bare Minerals so I was ok with that.  However, it does not last nearly as long!  I've been using it since the end of January (so 3 months) and I don't even wear makeup every day (maybe 3-4 days a week) and you can already see the bottom of the pan!  That's my biggest complaint.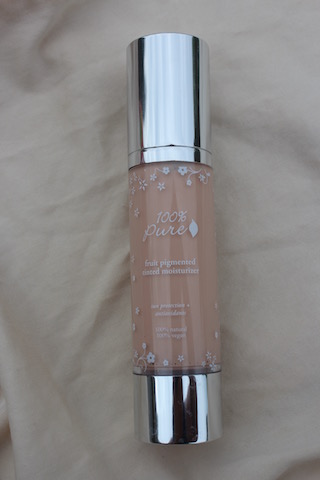 Fruit Pigmented Tinted Moisturizer – I did not buy this in my original order, this is something I added just in the last week.  I've actually never used a tinted moisturizer before but I thought it might be nice as a very light way to even out my skin tone.  So far I like it!  It has a sheer coverage like the powder but goes on easily with my fingers.  I do have to put a light dusting of powder over it (once I've done blush, bronzer, etc.) otherwise it looks a little too dewey/greasy.  Even though I got Creme powder, based on the reviews I read I bought a shade lighter in the tinted moisturizer (Alpine Rose) and it is a great shade so I think that was the right choice.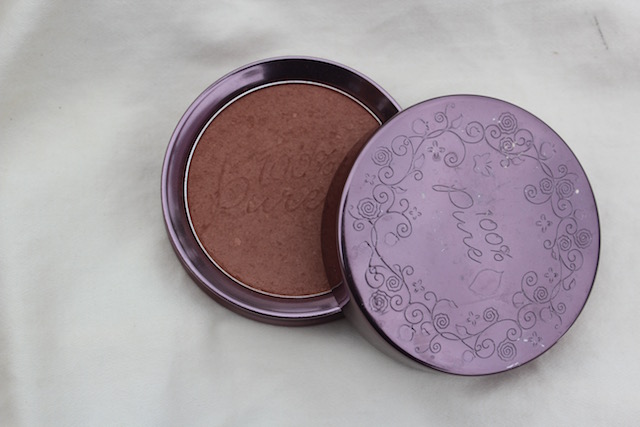 Cocoa Pigmented Bronzer – This stuff is intense!  I just barely touch my brush to the compact and still have to use a very light hand as I apply!  You can still see the "100% Pure" words in the powder so I've barely used any of it.  I got this the same day I got my foundation powder and always use both products so you can definitely see a difference in how much I've used of this versus the foundation (actually I've used this more often than my powder since I sometimes use another powder or tinted moisturizer but always use the same bronzer – a little goes a long way!).  As long as I'm careful applying though it gives a nice warm bronzing color. (*update* they added a new bronzer shade that is much lighter, I've switched to using that and it's much better with my skin tone)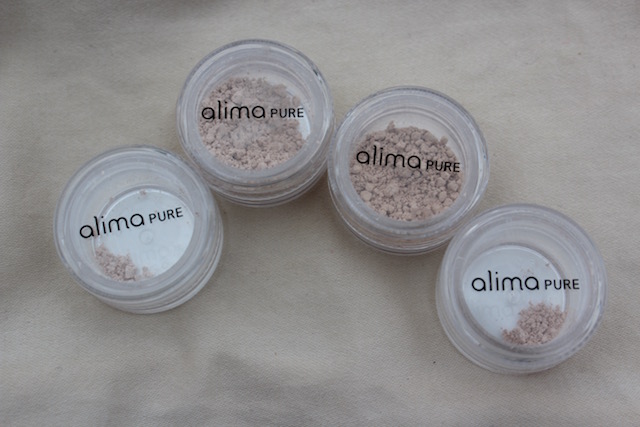 Alima Pure offers pressed powder foundation as well but they have a crazy ton of color choice, which is nice for finding the perfect match but hard because there are so many options. I picked four colors that I thought were close to what I needed and I figured once I picked my color then I'd buy the pressed powder version.  I haven't even tried them all yet but so far the coverage is good – light like the 100% Pure powder.  Of course it's messier than I prefer since it's a loose powder but really I can't tell a difference in this versus other loose (not as natural) mineral powders that I've used.
I chose the Pretty Naked Palette that came with Pink Champagne highlighter, a blush (Pretty Naked), and three eyeshadows (Flax Seed, Toffee, and Chestnut) to save on buying a large individual blush, highlighter, and multiple eyeshadows.  I also bought individual shadows in the shade Ginger (with my first order) and Sugared (in a later order).  As you can tell I tend to stick to a pink and brown theme.  As I order more I'll try to add some variety into my collection.
I was initially disappointed because the eyeshadows were not nearly as pigmented as what I had been used to (I was mainly using eyeshadows from the Urban Decay Naked palettes).  However, after using them I've come to actually prefer the more subtle shades – I think it looks more natural. Also, I apply with a brush, I think if you used an eye shadow sponge or even added a little water you could get much more pigment.
The highlighter is very pretty and the blush is not the color I would have picked on my own if I'd been buying it separately but I like it just fine.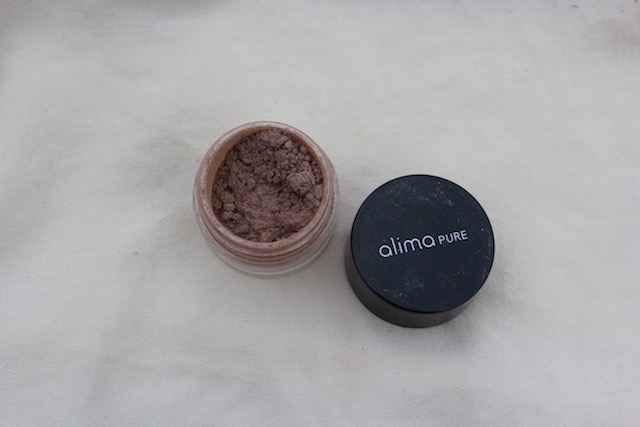 I also tried out one of Alima Pure's pearluster eyeshadows in Taupe.  They only have loose eye shadows and it can be a bit messy so I don't reach for this one as often as I do the ones from 100% Pure.  However, this one is a lot more shiny so I like it when I'm trying to dress up my eye a little bit or want to brighten up the matte look some.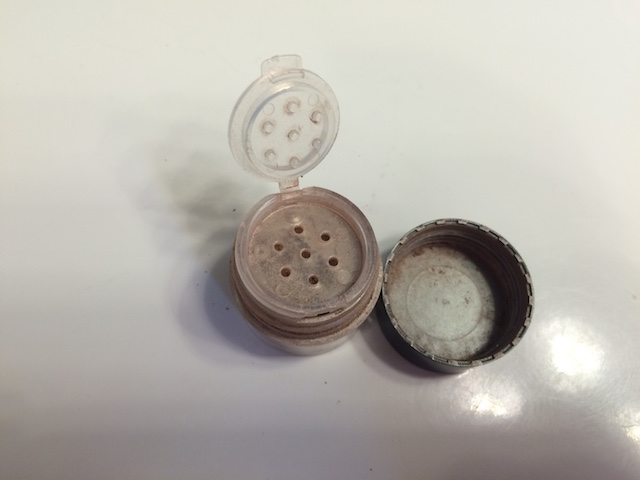 It came with this plastic piece with holes in it but (and maybe I'm missing something) I can't figure out how to get it to work other than to shake some into the lid, which is messy.  So I just took the plastic piece off altogether.  I wish I could figure out how to get the eyeshadow through the holes though without making a big mess.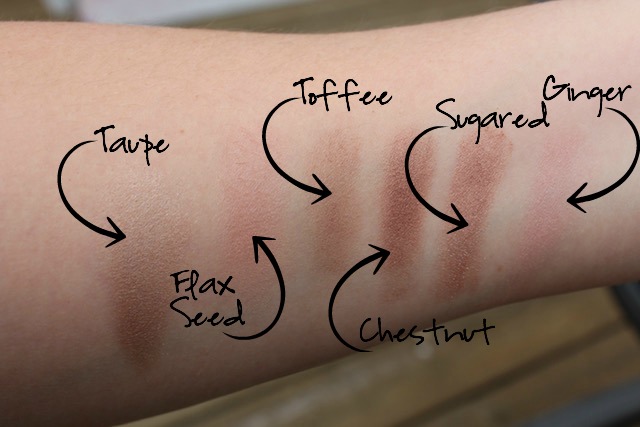 I am by no means a beauty blogger or expert or anything but I did attempt to swatch the colors on my arm so you could see them in action.  However I didn't do a very good job and they look a lot more similar on my arm than they do on my eyes (at least, I think so).  It's hard to tell the difference but I promise they are all (subtly) different.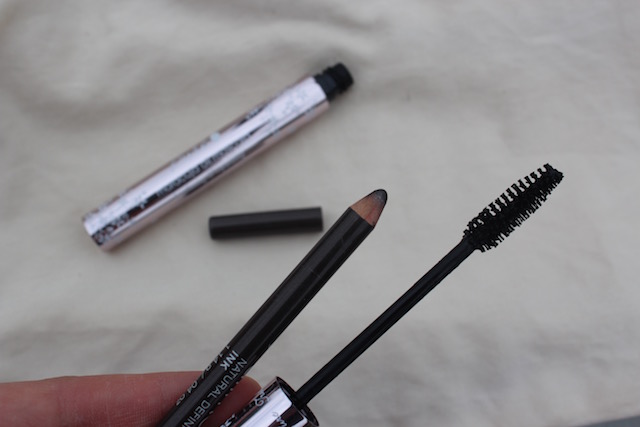 Mascara was one of the products I was most nervous about.  I'd heard it is really hard to find a natural mascara that actually works.  But I must say that I have been incredibly pleased with 100% Pure's Maracuja mascara.  It lasts just as long as my old mascara, is a good color, thickens my eyelashes, and smells nice and fruity.  It also comes off very easily with coconut oil (my eye makeup remover of choice).  It is not waterproof, which I don't care about, but that might be important to you.
The eyeliner came from Alima Pure.  Initially I was not impressed because I could get a good, dark line on my lower lid but I could hardly get it to make a mark on my upper lid on top of my eyeshadow.  It did fine on bare skin but wouldn't work on top of eyeshadow unless I wet the pencil and worked really hard to get it on there.  However, after I sharpened it the first time it started working fine.  I'm guessing there was some kind of coating or something on the brand new tip that caused it to not work as well.  It's great now and I'm pleased.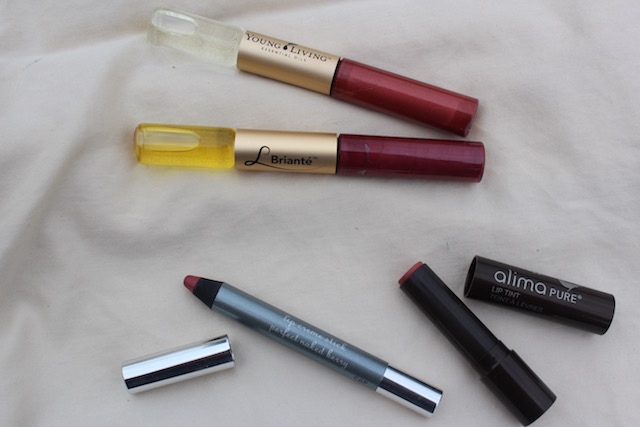 And finally, lips!
I got a lip tint from Alima Pure in the color Petal.  It is very sheer and pretty much the exact color of my lip so I guess that makes it the perfect nude shade.  I really don't wear lip color often so I'm good with a barely-there color.  It also makes a nice base under lip gloss.
I tried 100% Pure's lip glaze in Watermelon (not pictured) but it was the only product so far I haven't liked (and so I used their fab return policy and sent it back).  The color was nice but the color collected in a line on my lips and settled in my lip creases so I wasn't impressed with how it wore.
Then I tried 100% Pure's creamstick in Perfect Naked Berry.  I used to love Clinique's chubby sticks (like a big, fat lip pencil) and this looked very similar.  I wanted the Perfect Naked Pink (I tend to always choose pinks or corals) but it was sold out so I tried the berry.  It was darker than I tend to wear (although not dark by most standards) but I got several compliments on it (probably just because it's unusual to see me in lip color at all!) so I think I'll keep it and step outside of my makeup comfort zone.  This lip product did not settle in my creases or anything and actually stayed on much longer than most lipsticks (which is one of the reasons I don't wear much lipstick – I don't like having to reapply all the time).  Now that I've tried one of the creamsticks I want to get them all!  I hope the pink one comes back in stock. (*update* It did.  I got it.  And I love it.)
I also already had two lip glosses.  Young Living doesn't carry any other makeup (update: Young Living does carry a full line of makeup now that that is what I have switched to) but they do have three different lip gloss/essential oil blend combos (gloss on one end, oil blend to use as perfume on the other).  I have the red gloss/Amoressence scent (that's the bottom one with the yellow oil blend) and the pink gloss/summer scent (top).  I bought the red/Amoressence because I loved the smell of the Amoressence.  I was hesitant about getting red but it's not red at all and it's not dark either – more of a sheer berry color.  The pink gloss is definitely my favorite color though!  I like it best out of all four of my lip color options.  Since it's gloss it wears off faster than lipstick but thankfully it wears off evenly (instead of settling in creases) and it's not sticky like some glosses so I really like that.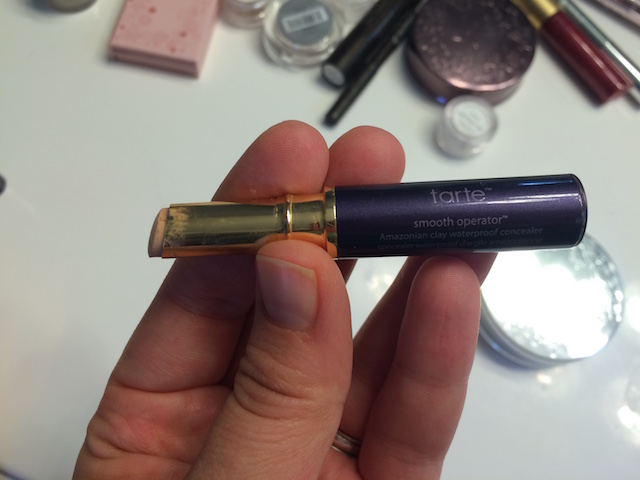 I did hang on to one of my old products – this Tarte concealer.  I honestly rarely use concealer (my issues are more all over redness rather than blemishes).  Tarte is more natural than many but still not quite what I would want, but since I rarely use it I didn't want to spend a lot of money on another one so I'm going to keep using this for now.
Again, I am no beauty blogger nor am I much of a selfie taker so try to look past the awkwardness of these next pictures.  I wanted to show you what the makeup looks like on so that you could see that it looks just as good as what you might buy elsewhere.  I feel like that's better seen in person but I tried anyway so maybe this will help!
No makeup at all.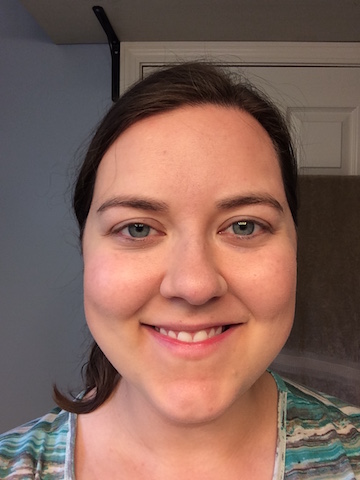 Face makeup done (primer, pressed powder foundation, bronzer, blush, highlighter) but eyes and lips still bare.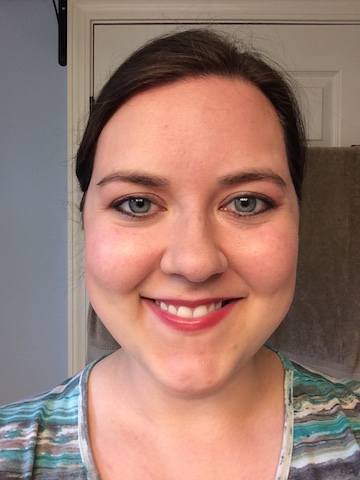 Full face of makeup.  I think the lip color is the 100% Pure creamstick in berry.
So in case you haven't gathered from the post I'll recap here: I have been incredibly pleased with the makeup I've gotten from 100% Pure and Alima Pure, both in the fact that it's so much better for me than my old makeup and in how well it works.  Of the two companies 100% Pure is my favorite but both are great.
Natural makeup is, as with most natural things, more expensive than their counterparts.  I typically bought brands like Clinique, Mary Kay, Bare Minerals, Urban Decay, etc. so I was used to spending a little more on makeup than if I'd bought it from Walmart, Target, etc.  However that might be a little bit of sticker shock for you so I wanted to give you a heads up!
In case you are curious here is a list of the other companies I looked at and some of my thoughts about them.  Most I would like to try at some points, it's just like I said before that didn't want to pay shipping for so many different companies so I had to narrow it down.
There were a couple of other companies I checked out that were not as natural as they claim or who have since (as in, since I did this research in January of this year) closed their doors and/or rebranded due to some internal scandals.  I'm not going to name names as my goal here is not to call out other companies.  These listed here are ones I suggest either from personal experience or my research as of a few months ago.  I'm sure there are other great ones out there, I just suggest you do some digging on your own to see if the makeup you are looking at is really natural.
And there you go!  If you read this far give yourself a pat on the back!  I know that was a lot of info.  I hope it's helpful and that you'll see that it's a lot easier to switch to natural makeup products than you might have thought.
Disclaimer: I bought all of this makeup with my own money.  None of these brands know who I am and I didn't receive any products for free.  This is my honest review based on what I purchased and my own experiences.  
Have you tried any of these brands?  What were your thoughts?  Do you have any questions about what I tried?