It's my opinion that hot chocolate or mochas can be enjoyed year round but not everyone agrees and since spring is upon us (unless you live in Kentucky where we pretty much skipped winter this year…) I figured I better post this recipe quick so you can enjoy a cup during our last few (I hope!) cold days.
Peppermint hot chocolate or a peppermint mocha is one of my favorite treats to enjoy at the end of the day.  I've shared a peppermint hot chocolate/mocha recipe before that I loved but after I started Trim Healthy Mama my sugar-laden version wasn't going to work for me anymore so I set out to create a THM friendly version!  I am very pleased with what I came up with!
---
This post may contain affiliate links.  If you purchase a product through an affiliate link I make a small commission at no cost to you.  This helps keep my blog running so thanks for your support!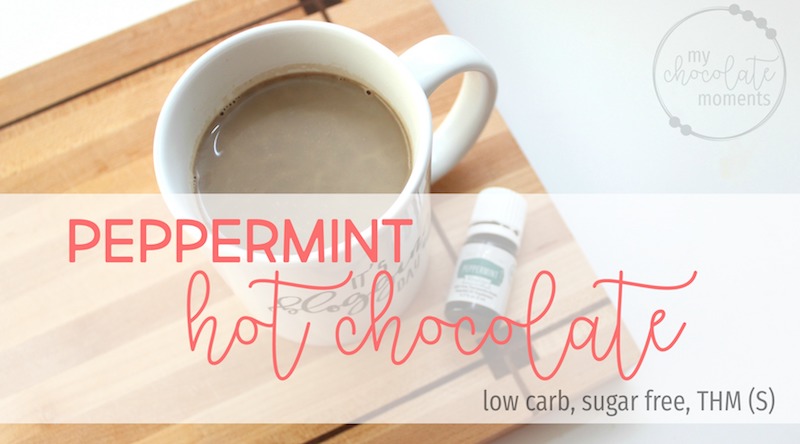 Some notes about this recipe:
Apparently there are all kinds of fancy cocoa powders out there but the one I always use is Hershey's Special Dark, 'cause that's what my Kroger carries, and I like it just fine.
Pyure is my Trim Healthy Mama sweetener of choice.  I've found it at our Walmart but usually purchase from Amazon.
Some of you may like a whole drop of peppermint essential oil in your cup but that is too strong and peppermint-y for me so I just use 1/2 drop.  Now the question is: how do I get 1/2 drop of peppermint essential oil, right?  What I do is I take a little glass container with a lid and put 4 tablespoons of whipping cream in the container with one drop of peppermint EO.  Then I use half of that (2 tablespoons, which has 1/2 drop of peppermint) in my drink and save the other half for the next day.  Sometimes I mix up larger batches too (like 8 drops of whipping cream with 2 drops peppermint = 4 cups of hot chocolate).  I use Young Living's peppermint vitality essential oil.
I make my own almond milk.  It's super easy!
If you want to make this a peppermint mocha instead of a peppermint hot chocolate (which is what I usually do), add a scoop of instant coffee.  I am in no way a coffee purist so instant is fine with me.  If instant sounds yucky then brew your own and do half coffee, half almond milk.
Enjoy this yummy sweet treat that will help you stick to your healthy eating goals!