Last week I shared my Trim Healthy Mama peppermint hot chocolate (or mocha) recipe with you and now this week I want to share a cold version: my peppermint mocha smoothie.
This smoothie, y'all.  Oh man.  It's SO good.  I love it so much that I drink one just about every morning for breakfast, or if not for breakfast then for my afternoon snack.  It is definitely filling enough to be a meal on it's own but it's not full of junky ingredients.  It's low carb and sugar free, making it a Trim Healthy Mama S meal.
---
This post may contain affiliate links.  If you purchase a product through an affiliate link I make a small commission at no cost to you.  This helps keep my blog running so thanks for your support!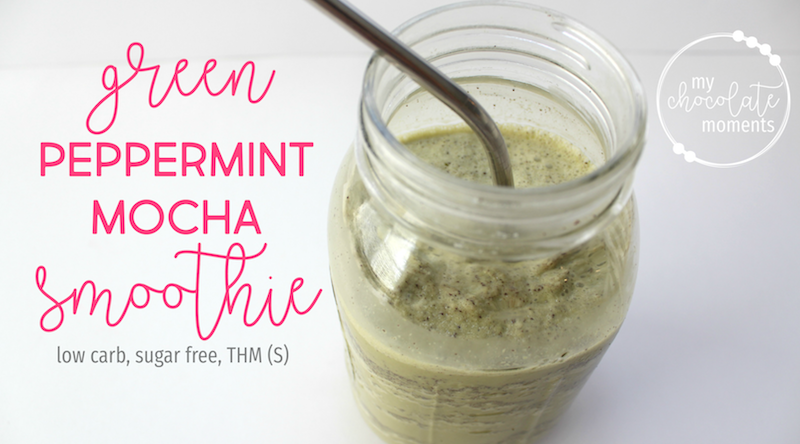 I have to admit that when I first started doing THM and I saw all these smoothie recipes that called for cottage cheese I was a *little* freaked out.  I'm not a huge fan of cottage cheese by itself so I thought it would be nasty but honestly you can't tell – it just makes the smoothie nice and creamy and adds some protein so you don't have to use protein powder (which is good because I think protein powder is even nastier than cottage cheese!  Ha!)
Also, if you aren't adding spinach or other greens to your smoothies you are missing out!  You can't taste them one bit and it's an easy way to get some extra greens into our diets.  Because although I try to eat healthy and I do eat a fair amount of veggies I know I'm still not getting all that I should so any time I can sneak some extra in I go for it!  Plus since this is a mint smoothie the green shade goes nicely ;).

Some notes about ingredients
If you are following Trim Healthy Mama your dark chocolate needs to be 85% or greater (unless you are using a Stevia sweetened chocolate like Lily's).
With my old blender I had to chop the chocolate up before I blended, otherwise there would still be huge chunks of chocolate left.  With my new blender (an Ambiano – Aldi's version of the Vitamix) though I can just drop the square of chocolate in and it blends it up great.
Pyure is the sweetener I always use, I get it from Amazon (it's also at Walmart…I just try to avoid going to Walmart if I don't have to)
I'll be honest, it's hard for me to believe sometimes that I've lost 51 pounds while eating delicious stuff like this but I have.  Trim Healthy Mama is amazing!